I don't know what happened or how it happened. Maybe it was just a fluke, but I'm certainly hoping it was not. For the first time in my daughter's 13 months of life, traveling with her was easy.
Last week, we went to Jackson Hole, Wyoming for one final chance to play in the snow before the flowers start to bloom and the bears come out of hibernation. It was fantastic!
I'll get to the actual vacation in just a minute, but first I just want to say HALLELUJAH! (Brief pause while I do my happy dance.) Our daughter, Avery, who has never been the easiest person to travel with, was a breeze this time around. She did great on the planes both there and back, which actually isn't too uncommon. An elderly man from Sweden sat next to us on the way there. When we landed, his wife came up to me while we were waiting for our luggage and told me that her husband doesn't like children, but that he was very impressed with our daughter, and how she handled herself on the plane. I'll take that as a compliment. #momwin
Avery also slept through the night two out of three nights we were there and napped everyday. That has never happened in a hotel! She was happy and joyful when we dropped her off and picked her up from the daycare center at the resort. And everywhere we went she was winning over the people at neighboring tables with her sweet disposition and smiles. A group of young men in their 20s sat at a table next to us one night after we got off the slopes and were eating in one of the restaurants in Jackson. Avery was waving and smiling and quite frankly flirting with them the entire time. Bless her heart, she was flirting so well, I didn't want to break it to her that the men were all gay. They loved her though and were waving back, smiling, and talking to her practically more than they were each other. #toddlerwin
All of this may not seem like a big deal to you unless you also have children and remember the toddler years. I won't say the toddler years are terrible. They're actually fun, but they can also be difficult. Toddlers are loose canons. They're emotional; they're unpredictable; and the smallest thing can send them flying off the handlebars and into a public meltdown. For example, today while at home, Avery lost it because I wouldn't let her eat dirt. She lost it because I had to change her diaper when she wanted to keep playing. She lost it because I wouldn't let her play in the dogs' water bowl. She lost it because I wouldn't give her my coffee… or my phone… or my shoe. Toddlers cry. They scream. They throw fits. They do so because they can't communicate in words. It's normal. Even the sweetest child has meltdowns.
But on this particular vacation, Avery was as close to an angel as possible. Sure, she got tired and cried at times. That is to be expected. But for the first time, I did not question our sanity for traveling with a baby or toddler.
I'm hoping this trend continues because it made this trip feel more like a vacation. The weather was wonderful, the skiing was terrific, and I was able to relax and enjoy our time as a family.
If you've never been to Jackson, Wyoming, I highly recommend you visit someday. You can read our full review here. If you aren't a fan of cold weather or winter sports, like skiing or snowboarding, I'd suggest going in the summer. But Jackson is beautiful in any season, even in winter and even if you aren't a skier. The Grand Tetons rise straight up out of the valley floor. They are rugged and majestic.
The town of Jackson is charming and quaint. Its Wild West feel will win over even the most devout urbanite. There is so much to do in Jackson Hole, from the nearby national parks, like Yellowstone and Grand Teton, to the family-friendly activities.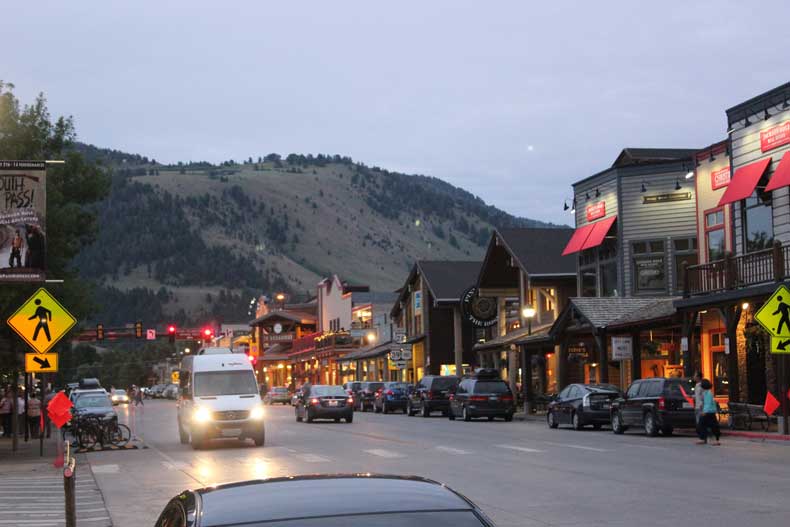 I know our little girl will spend many winters and summers in this beautiful part of the country. I just hope all future trips there will be just as easy as this one.