From tapas and sangria to late night flamenco shows and countless historical sites, Spain is bursting with unique and delightful experiences. With so much to see in Spain, it's no wonder people in the country partake in a daily siesta. You will probably need one, too, when visiting Spain! Regardless of what part of the country you visit, there are plenty of bucket list-worthy things to do in Spain. To make it easier to plan your Spain trip, we have outlined the top 40 most incredible experiences to add to your Spain bucket list.
Things to know before a bucket list trip to Spain
Before you plan a bucket list trip to Spain, here are a few important things to know about the country.
Geography
Spain is made up of 17 regions which are further divided into 50 provinces. Of the 17 regions, 15 of them are located in mainland Spain. The other two encompass the Canary Islands and the Balearic Islands. Spain shares the Iberian Peninsula with neighboring Portugal. It is also only 9 miles from the continent of Africa. In fact, it easy to combine a trip to Spain with a visit to Morocco. You can also visit Portugal, Spain and Morocco in one trip.
Government
Similar to the United Kingdom, Spain's government is a parliamentary monarchy. That means they have a ruling monarch who serves as the official head of state and a prime minister who serves as the head of government.
Currency
Like much of Europe, the Euro is the currency of Spain. From our experience, the country is fairly affordable to visit, at least compared to other parts of Europe, like Scandinavia, the United Kingdom, and France.
Culture
You will find a lot of Moorish influence in Spain, particularly in the region of Andalusia. Things also seem to happen at their own unique pace in Spain. With siesta hours in the afternoon when most everything closes down, to later-than-typical dinners, Spain is the type of place where you want to go with the flow and take things slowly.
Your ultimate Spain bucket list
Spain is an enthralling country, with so many traditions, festivals, incredible culinary dishes, and stunning architecture. It is one of those countries that deserves its own bucket list! So, we have outlined the top attractions and places to visit in Spain. These 40 experience deserve to be on everyone's Spain bucket list!
Visit the romantic village of Ronda
Ronda is one of the most beautiful and romantic places in Spain. Small enough that you can see most of Ronda, Spain in one day, this lovely cliff-side village in Andalusia is worth the trip. This village, which is the original home of bull-fighting, is best known for the picturesque Puente Nuevo, or new bridge. The architectural marvel spans El Tajo Gorge and looks like the real life setting of a Disney movie.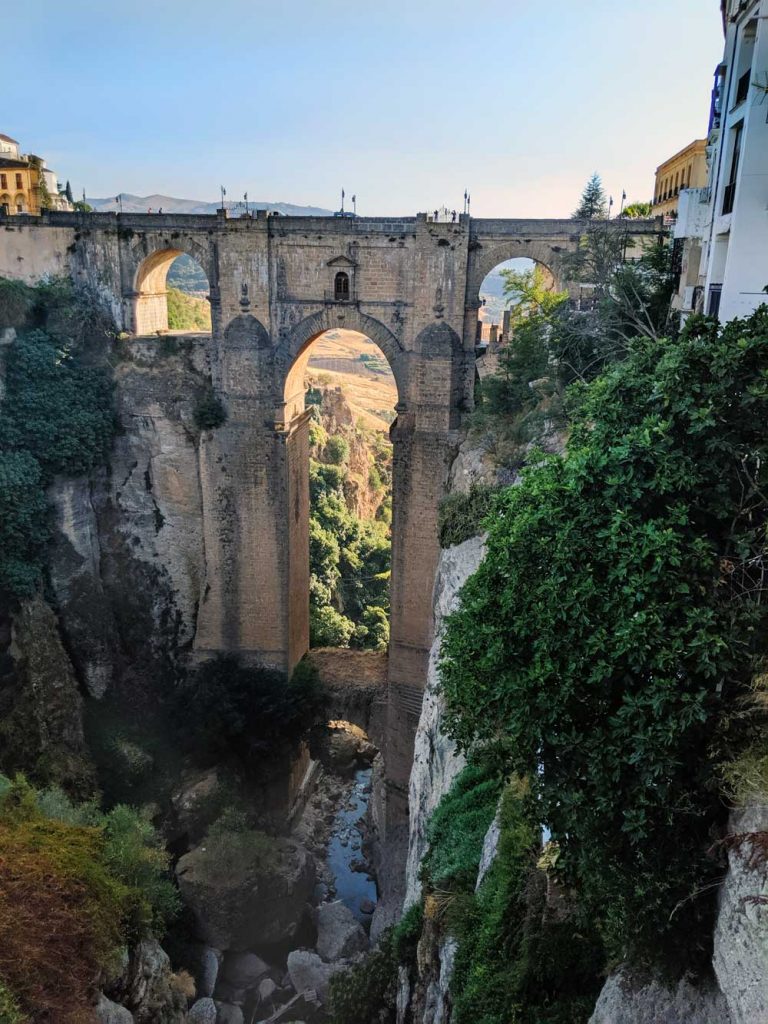 For the best views of the famous European bridge, you can hike to a lookout point in the gorge. The hike offers panoramic views of the white village on either side of the gorge which is connected beautifully by the Puente Nuevo. However, if you don't feel like hiking down the gorge, you can also see the bridge from an overlook called Mirador de Ronda. Mirador de Ronda is located adjacent to Plaza de Toros and the historic bullfighting arena in the center of the village.
Dip your toes in the Pink Lake in Torrevieja
Who would say no to visiting the Pink Lake in Torrevieja? So make sure you add it to your ultimate Spanish bucket list.
Pink Lake, or Laguna Rosa in Spanish, is a salt lake that gets its color from bacteria and algae that grow in salty places. The lake is quite big with various entrances shown on Google Maps. The one that will get you closest to the lake to dip your toes, is from Calle Munera and Via Verde de Torrevieja. Here, the bay is cleared to walk in the water whereas other entrances are covered in bushes.
Visiting Pink Lake in Torrevieja is possible as a day trip from Alicante. The best way is to rent a car and get closer to the entrance. Alternatively, there are frequent buses from Alicante to the town of Torrevieja, but you'll need to walk a lot.
One thing to note is that some sources say that bathing in the lake is forbidden, and if caught you get a fine. While others say it is allowed.
Contributed by Baia from Red Fedora Diary
Hike Caminito Del Rey
If there is one hike you must do in Spain it's the Caminito Del Rey. It's located in the El Chorro gorge in the province of Málaga and was once known as one of the most dangerous hikes in the world. The pathway began to deteriorate and it had to close indefinitely in 2000 after multiple fatalities. However, in 2011 repairs began and the trail safely reopened in 2015. It's now a popular day trip from Málaga and brings in 300,000 visitors each year.
The Caminito Del Rey hike is safe but is not for the faint of heart. The trail stretches 7.7 km and reaches up to 100 meters above the river below. The famous suspension bridge that takes you across the gorge is thrilling and the views are absolutely breathtaking. The Caminito Del Rey is accessible by car and train from many cities in Andalusia and makes for a fun adventure.
Contributed by Jeanine Romo from Le Wild Explorer
Climb the Giralda tower at the Seville Cathedral
The Giralda Bell Tower is a must-add to any Seville itinerary. Attached to the Seville Cathedral, the Giralda Bell Tower involves a series of spiraling ramps and steps that climb roughly 25 floors. The trek up can be a challenge, but the payoff is worth it for the panoramic views of the city!
The Seville Cathedral, also known as the Cathedral of Saint Mary of the See, is the largest gothic church in the world. It is also the burial place of Chistopher Columbus. The church is architecturally beautiful inside and out and is walking distance to most of Seville's other main attractions.
Marvel at the Segovia Aqueduct
A short distance north or Madrid lies the beautiful, historic city of Segovia. Segovia is a popular tourist day trip from Madrid and is primarily known for its unique cuisine, medieval castle, cathedral and, of course, the ancient Roman aqueduct.
The Aqueduct of Segovia, one of the most well-preserved marks of Roman history in the world, is the peak of the history and Roman ruin bucket list in Spain. The marvelous, enormous stone structure dominates the scene in the small city center.
Segovia's Roman marker is not only unique in its astonishing quality that has stood the test of time – it is one of the largest remaining aqueducts in the world. The aqueduct casually sits in the middle of town. The surrounding area is freely open for the public to explore. There are great views of the aqueduct from the adjacent plaza and along the hills on either end.
There are several reasons to visit Segovia, but catching a glimpse of this jaw-dropping ancient Roman wonder of Spain is reason enough.
Contributed by John Paul from The Hangry Backpacker.
Visit Barcelona's famous Sagrada Familia Basilica
This iconic UNESCO World Heritage Site in Barcelona is a must for any Spain bucket list. La Sagrada Familia is a large, still-unfinished Catholic church designed by Antoni Guadi. The most notable of all of Guadi's work, Basilica de la Sagrada Familia, or Basilica of the Holy Family, has been under construction since 1882. Gaudi, who died in 1926, devoted the latter part of his life to the project. He is now buried in the cathedrals' crypt. Upon his death, only about 20 percent of the church had been completed. However, the basilica is now in the final phase of its construction.
Once the final intricate spire is complete, Sagrada Familia is projected to be the tallest church building in the world, but it is already one of the most famous churches in Europe.
Walk the Camino de Santiago pilgrimage
The Camino de Santiago, or the Way of St.James, is a famous pilgrimage route to the tomb of Apostle St.James in the Cathedral of Santiago de Compostela in Spain. The first pilgrim on the Camino de Santiago was Spanish King Alfonso II who walked it in the IX century. Since then the route has gained popularity. Nowadays every year more than 340 000 pilgrims from all over the world come to Spain to walk the Camino. Yellow scallops and arrows are traditional symbols of the Camino that mark the route to Santiago.
The Camino de Santiago is not the only pilgrimage route in Europe but it's definitely the route with the best infrastructure which makes it very easy to walk even for first-time pilgrims. A wide network of budget albergues (pilgrims' hostels) significantly reduces the cost of the walk and solves the problem of finding accommodation. Walking the Camino is a unique way to see the country, to meet interesting people, to learn new things, and to go outside your comfort zone. Many people after completing the Way confess that it was a life-changing experience for them.
Contributed by Alya & Campbell from Stingy Nomads
Explore the dreamy pueblos blancos
The pueblos blancos, or white villages in Spain, are a must for anyone's Spain bucket list. Mostly located in the region of Andalusia, these small towns with white-washed walls are typically found in the mountains. Typically, the pueblos blancos have characteristic narrow, steep streets surrounded by simple white homes. The towns are perfect for roaming aimlessly and leisurely.
Although Ronda is one of the more famous pueblos blancos in Spain, there are several lesser known white villages that are equally as charming and much less crowded.
Stand in the geographical center of Spain
Although Madrid has been inhabited since the stone age, it didn't become the nation's capital until 1606. The center of Madrid is marked by a stone slab embedded in Puerta del Sol in 1950. This isn't the original slab; it has been changed quite a few times since then.
Any trip to Madrid wouldn't be complete without standing on the Zero Kilometre (or KM0) slab. This is the geographical center of Spain and from where all distances in Spain are measured. This includes the national roads as well as the streets, the lower the number, the closer the street is to KM0.
Puerta del Sol, where the KM0 slab is situated on the ground, is just in front of the clock tower of the Old Post Office Building. The square itself is lively, with the bustle of people, and roads going off at all tangents and surrounded by historical buildings. One of the most iconic is the Tio Pepe sign, which is a Spanish sherry.
Contributed by Becki from Meet Me In Departures
Eat Paella in Valencia
An unmissable Spanish bucket list is trying authentic paella. But if you're going to try this Spanish favourite, you should head to the region best known for it – Valencia. Paella actually takes its name from the wide and shallow pan used to make traditional paella. In fact, paella actually means "frying pan" in Valencian, the regional language of Valencia.
Originally a lunchtime staple, lunch is still the best time to consume paella. It is the perfect meal to eat before a long siesta to escape the sweltering summer heat.
This iconic dish consists of an olive oil base with round grain rice, green beans, rabbit, chicken, occasionally duck, and occasionally artichoke hearts. There are also a few other variations, including seafood (which normally contains huge and delicious shrimps) and mixed (which contains a combination of all ingredients).
Contributed by Ella from Many More Maps
Tour Alhambra outside Granada
This 9th-century fortress with its reddish walls and towers sits on top of a hill overlooking the town of Granada. Alhambra is a UNESCO World Heritage site that receives over two million tourists a year making it one of the most visited attractions in Spain. The Alhambra complex consists of Moorish palaces, imposing towers, and landscaped gardens that are surrounded by defensive walls. As you walk through this architectural treasure, you will be enchanted with its intricate stone carvings, geometrically carved wood ceilings, and elegant tiling. The perfectly manicured gardens are adorned with flowers of every hue, serene courtyards, pools, and gushing fountains.
As one of the most impressive examples of Islamic architecture in Spain, it's easy to see why Alhambra should be on every traveler's bucket list. Make sure to book your tickets in advance. When you visit the Nazrid palaces, you will be given a half-hour slot to enter so make sure to be there at least 10 minutes prior as they are very strict.
Contributed by Kristel and Gabriel Glasier from Chef Travel Guide
Get lost in the Real Alcazar in Seville
The Real Alcazar is a former palace adjacent to the Seville Cathedral. It is located in the heart of the capital city of Andalusia. With a well-restored interior and stunning exterior gardens that include beautiful fountains, the Real Alcazar is one of the most Instagrammable places in Spain. The compound dates back to the Middle Ages, and is one of the world's best examples of Mudéjar architecture.
This UNESCO World Heritage site's central location makes it easy to visit, even if you only have 2 or 3 days in Seville.
See the monkeys at the Rock of Gibraltar
While completing your Spain bucket list, remember that this country during centuries was influenced by other cultures. And visiting Gibraltar, which is a British Overseas Territory located on the Andalusian coast, is a perfect activity to add to your list.
On Gibraltar, you can enjoy a unique experience of visiting a charming British town surrounded by Spanish views and culture. Tea at 5 o'clock tastes very different in the shadow of Mediterranean palm trees.
The picturesque landscape of this region is dominated by the Rock of Gibraltar. And climbing its peak is one of the best activities to do while visiting Spain. This monumental rocky mountain is mostly covered by a nature reserve and offers incredible views.
But for many people, the biggest attraction of this place is its inhabitants – the famous Rock apes. The family of cute Barbary macaques is used to human presence and freely move around crowds of tourists. You can enjoy their companionship and even take some nice photos with them, but remember, they are wild animals. And they only wait for a moment when you lose your vigilance to steal you a snack. By the way, having food in hands is prohibited on the top of the mountain – for your and apes' safety.
You can climb the Rock of Gibraltar by foot or you can purchase a cable car ticket to quickly get to the top. Purchasing it online before your trip saves you a lot of time standing in a cash desk queue.
Contributed by Dominika Byś from Sunday In Wonderland
Tour the Grand Mosque of Cordoba
The mosque of Cordoba, also known as the cathedral of Cordoba or Mezquita, is the number one attraction in Cordoba. It was once an Islamic mosque but was later converted to a Catholic church.
Construction of the mosque dates back to the late 700s. Its main prayer hall consists of 856 Moorish columns connected by alternating white and red striped arches. The architecture is quite impressive for any era. However, when you consider just how long ago Mezquita was built, it will wow you.
Plan to spend at least one or two days in Cordoba, if you add the Grand Mosque to your Spain bucket list. There is so much more to see and do in the city than just touring Mezquita.
Cruise the Canary Islands
If you'd like to explore the Canary Islands but are short on time, a cruise is the best way to experience many of them in just one trip. Popular ports of call for Canary Island cruises are Tenerife, Lal Palmas, Gran Canaria, La Gomera and Lanzarote.
Marella Cruises offer a 7-night cruise around the Canary Islands departing from either Gran Canaria or Tenerife. The cruise ports at a different island each day so passengers can hop off the ship after breakfast, enjoy a day of sightseeing, and rejoin the ship in the afternoon.
For those who prefer to cruise from the UK, you can reach the Canary Islands on an 11- to 14-night round trip from Southampton with P&O Cruises, Royal Caribbean, MSC Cruises or Cunard.
A Canary Islands cruise is a great way to decide which island is your favorite, so you can return for a longer holiday in the future.
Contributed by Jenni from Cruise Mummy
Eat tapas and drink sangria
Spain is a wonderful country for foodies. And there is no better way to experience food in Spain than a tapas tour. Tapas are "small bites". You can order 3-4 tapas to make a meal or hit up several restaurants or bars and enjoy a variety of tapas at each. Depending on the type of tapa you order, they may be served cold or hot. For example, olives or cheese may be considered tapas. A potato omelette, known as a tortilla in Spain, may also be a tapa. Sharing food is part of the Spanish culture. So, naturally, having a variety of small, appetizer-sized bites that can be shared encourages conversation rather than putting the focus on food.
Sangria is a great beverage to order along with your tapas. Some may be disappointed to learn that sangria is actually a drink primarily consumed by tourists to Spain. However, don't let that stop you from ordering this refreshing beverage at least once while in Spain.
You can get into the traveler vs. tourist debate or you can sit on a patio, accept the fact that sangria is a tourist drink, and then order it anyway. 🙂 This sweet and delicious beverage contains juice, brandy, red wine, and fruit. It is served over ice, and is the perfect refreshing drink on a hot, summer day in Spain.
Explore the coastal towns outside Barcelona
A short hour-long train ride from busy Barcelona will take you to some magnificent and quiet coastal towns. Within an hour, you can go from appreciating the magnificent creations of Antoni Gaudi in Barcelona to running along a coastal area watching the waves of the oceans out of your window. When you feel like touching the water and putting your feet on the sand, just get off wherever the train stops.
Montgat is an interesting stop. But be sure to go as far as Costa del Maresme along the coastal line. If you start early, you can get back to Barcelona by evening with plenty of time to explore the coastal towns, have lunch in a seaside restaurant, soak in the sun on the numerous beaches and savor the purest clouds in the sky.
Tip: If you like this day trip, you will love this day trip from Barcelona to Montseny.
Contributed by Fuad Omar from A Walk in the World.
Take a day trip to Italica
Italica is located 15 minutes from Seville in Santiponce, Spain. It was once home to the 5th largest Roman amphitheater in the Empire. Italica grew up in central Spain as a settlement for The Roman General Scipio's soldiers who were at war with Hannibal as he made his way towards Rome. It is a large site that will take a few hours to explore.
The amphitheater at Italica held 25,000 Romans during its time They cheered and they geared the gladiatorial games. Included in these spectators were the Roman Emperors Trajan, Hadrian, and Theodosius who were born in Italica.
As of late, the Italica amphitheater has come back into focus thanks to the part it played in Game of Thrones. Italica was the setting for the meeting between John Snow, Queen Cersei and the Mother of Dragons. It also features in the last episode of Game Of Thrones when Bran was made king of the 6 kingdoms. The site contains ruins, statues and even mosaics have survived.
The easiest way to visit Italica is to catch a taxi from Seville it is only 9 kilometers away. Alternatively, you can catch a bus that drops off out the front of Italica. The bus back to Seville can be quite infrequent. The entry price is only 2 euros.
Contributed by Mark from Wyld Family Travel
Hike to los bunkers in Barcelona
For a bucket-list worthy experience in Barcelona, be sure to visit Los Bunkers del Carmel. Built during the Spanish Civil War to act as anti-aircraft fortifications, Los Bunkers are located high 262m above sea-level. They offer the most sweeping views in the entire city of Barcelona.
The ascent to the top is strenuous and steep but well-worth it for the views that span all the way to the Balearic Sea.
As Los Bunkers become better and better known, especially with the advent of Instagram and off-the-beaten-path tourist destinations, try to get there early in the morning.
To get to Los Bunkers, Google Maps is your best friend. Visiting is absolutely free, and the area is accessible at all hours of the day, every day of the year.
Los Bunkers is the ultimate destination if you want to see beautiful Barcelona and breathtaking views of the Catalonian capital. Don't forget to bring comfortable shoes, water, and your sense of adventure.
Contributed by Jade from The Migrant Yogi
Go Wine Tasting in Spain's Rioja Alavesa Wine Region
When you think of Spanish wine, you most probably think of the silky smooth reds of La Rioja. But what many people don't realize is that a large chunk of the world-renowned wine region – known as Rioja Alavesa – rests within the boundaries of the gastro-centric Basque Country.
As the smallest of the three wine-producing sub-regions in La Rioja, Rioja Alavesa's unique geography means it produces some of the finest wines in Spain. As you might imagine, there's a thriving wine tourism industry and almost all of the vineyards here offer fantastic tours and tastings.
Treat yourself to a luxury stay at the space-aged Marqués de Riscal winery and hotel, which boasts over 150 years of wine-making heritage and a contemporary architectural design by the legendary Frank Gehry. Sip wines made on the premises while looking out over the vines and Sierra de Cantabria mountain range, and make the most of the onsite gourmet dining options and five-star spa facilities. Oh, and definitely don't miss the tiny town of Laguardia. As the commercial and cultural heart of Rioja Alavesa this medieval town and fortress is full of great places to eat the Basque Country's famously hearty cuisine and sip its crimson delights by the bottle or glass.
Contributed by Ben Holbrook from Driftwood Journals.
Visit the University of Salamanca
When thinking of the most popular student cities in Spain, Salamanca, close to the border with Portugal, might not be the immediate choice. However, not only does the city boast one of the largest student populations in the country, the University of Salamanca is the third oldest in the world. Built in 1134, the beautiful old university buildings with their intricate stone facades form part of the historic center of Salamanca.
One of the most sought after carved figures adorning these buildings is Salamanca's famous frog. Hidden away among the many impressively sculpted images on Calle Libreros, finding the frog is said to grant good luck. Many of Salamanca's students, as well as plenty of visitors to the city, stand searching for the little frog in the hope it will help them with their exams.
There's no need to book a tour of the university as all the impressive buildings can be admired for free just by wandering the city. It's easy to see why Salamanca is often the most popular location for studying Spanish.
Contributed by Stuart Fahy from Just Travelling Through
Take in the colorful beauty of Park Güell in Barcelona
Park Güell holds the title for the most colorful photos on this Spain bucket list. It is one of the most famous sites in Barcelona. The public park is another great work of architect Antoni Guadi. Its incredible tile work and gingerbread-looking houses gives the park a whimsical appearance.
The park atop Carmel Hill is a great place to watch the sunset. Although much of Park Güell is free to visit, there is a fee to enter the monumental zone, which contains the architectural works of Guadi.
Walk the Cami de Cavalls in Menorca
If you want to experience the true essence of Menorca, walking the ruggedly beautiful Cami de Cavalls is an excellent place to start. Stretching the entire 185km coast, it's an ancient pathway that was once the main right-of-way around the island. It was created to help defend the island in case of attack. Nowadays, keen hikers and day walkers navigate the track to take in the spectacular scenery and wild landscapes. The track will lead you right to some of the most beautiful beaches in Menorca, before weaving back inland away from the summer crowds.
Although it's not a walk you'd likely complete in one trip (unless that was your sole reason for visiting the island), you'd benefit greatly from tackling at least one of its 20 'stages'. The trail is well marked and very well maintained. It is safe for kids (unlike some parts of the coastal tracks which hang precariously close to the cliffs), making it an excellent choice for families, too.
Contributed by Nadine Maffre from Le Long Weekend
Visit the Amphitheater de Tarraco in Tarragona
Every person who travels to Italy will probably visit at least one historical building from the Roman Empire's time. But did you know that there are plenty of them to see in Spain, too?
The amphitheater de Tarraco in Tarragona is probably one of the most famous sights from Roman times. Similar to the Colosseum in Rome, many events once took place here, such as Gladiator fights. Up to 15,000 visitors from the former important Roman port city of Tarraco (today Tarragona) had space in the arena to watch the events.
The special thing about this amphitheater is that it is located by the sea. So you have a magnificent view and a perfect spot for your holiday photo.
Tarragona is located in Catalonia and is considered the capital of the Costa Dorada. It is worth spending a few days here. However, if you have little time, you can visit the amphitheater and other fascinating attractions from the Roman era on a Tarragona day trip.
Contributed by Vicki from Vicki Viaja
Explore the Maspalomas Sand Dunes in Gran Canaria
Located south of Gran Canaria, Maspalomas sand dunes is a protected nature reserve. They occupy the area of 1000 acres of land, giving a look-alike feel like a mini Sahara desert.
Blue sky, sandy beaches and wind-sculpted dunes is something one can never miss out when travelling in Gran Canaria. The beach is divided into zones for families, nudists, and gay communities.
Ideal place to start exploring the dunes is from the Dunas Mirador in Playa del Inglés . Alternatively, walk towards Faro Maspalomas, a beautiful lighthouse from where Christopher Columbus started his journey to discover America.
Gran Canaria is a year round destination, but do note that the sand dunes get extremely hot during the peak summer months.
Contributed by Anuradha from Country Hopping Couple
Attend a flamenco performance in Seville
Flamenco is the official dance of Andalusia. This unique form of dance consists of hand clapping, tapping, and expressive body movement, usually accompanied by guitar playing. Watching one of these elegant Spanish dance performances is a great way to spend an evening in Seville.
For a fee, you can take in a show and learn the history of the artistic dance at the Flamenco Museum. If you're lucky, you can find free performance at a local bar, restaurant, or even on the street.
The Colomares Monument is located in a small town called Benalmadena. It's a great destination for a day trip from Malaga, that's just 25km away.
The castle was designed by a doctor, who felt like there wasn't a monument beautiful enough in the world dedicated to the great explorer, Christopher Columbus. It was built between 1987-1994 by two local stonemasons.
As for the architecture, the monument features a mix of the architectural styles that Spain is famous for, like the Mudejar (Moorish), Renaissance, Romanesque, and Gothic. It also features an eastern pagoda, symbolizing that Columbus was trying to find a way to China when he discovered the New World.
When visiting the monument, you have to pay a small fee of €3.00 to enter. Beside the castle itself, the views over the lands, and the sea are also breathtaking from here! Another reason to visit it!
Contributed by Helga from ShegoWandering
Climb the highest peak on the Iberian Peninsula
Hiking the highest peak of the Iberian Peninsula might sound like a real mission, but it's actually one of the best day trips from Malaga. You can easily drive to Capileira and get a shuttle from there up to an altitude of 2700 meters and hike the rest up to the peak that towers at 3479 meters. The hike is not difficult, but the altitude might make it hard to drag your legs up the last part which is quite rocky.
Mulhacen can also be done in two days, with a night at the Refugio Poqueira or you can ask for a permit to tent in the National Park. If you opt for a day trip, the shuttle bus will pick you up exactly 6 hours after drop-off. This gives you just enough time to enjoy the hike with stops for photos and lunch. Remember to bring enough water and food for the day. The weather can shift, so you want to bring layers of clothing in your backpack. too.
Contributed by Linn Haglund from Brainy Backpackers
Sleep inside the Royal Monastery of Guadalupe
Did you know that in Spain you can enjoy a romantic dinner inside the cloister courtyard of a working monastery, and even sleep there overnight, all for a very reasonable price? And we're not talking about just any monastery, we're talking about the Monastery of Santa María de Guadalupe, which for centuries was the most important monastery in the whole country.
As the royal monastery, it benefited from the patronage of many Spanish kings and queens. Members of the royal family would come here to pray and sometimes also held important official ceremonies here. For example, this is where the royal couple Ferdinand and Isabella signed the document approving Christopher Columbus' first voyage.
In fact, many of the conquistadors who invaded the Americas came from Guadalupe and other nearby towns in the Extremadura region. They spread their devotion to Our Lady of Guadalupe throughout the New World, which is why there's now a huge basilica dedicated to her in Mexico City.
Contributed by Wendy Werneth from The Nomadic Vegan
Go hiking in Picos de Europa
Hidden on the North Coast of Spain is the incredibly diverse Picos de Europa National Park. This sprawling natural landscape showcases rugged limestone peaks, scenic canyons, snowy summits, various fauna, and charming mountain hamlets. The Picos de Europa National Park stretches over three autonomous communities of Spain: Cantabria, León, and Asturias. When visiting the Picos, leave behind all the typical stereotypes of Spain and enter an enchanting region that feels almost Alp-like.
For being such a majestic region, the Picos still remain quite untouched. The inviting gritty mountains attract hikers, rock climbers, and those intrepid travelers looking for something a little different.
The park boasts stunning day hikes like the Ruta del Cares, which transverses along both sides of the Rio Cares, through caves and over bridges. Be in awe of trickling waterfalls and the engulfing peaks. Of course, there are plenty of mountain refuge huts to help break up strenuous multi-day treks. The best way to experience this unique park is to rent a car and follow along with a road trip like this.
Contributed by Megs from Packing up the Pieces
Palau de la Música Catalana
One of the most famous and beautiful spots to add to your Barcelona itinerary is Palau de la Música Catalana. Built in 1905 by architect, Lluís Domènech i Montaner, it's nowhere near as crowded and touristic as some Barcelona attractions like the Sagrada de Familia. This decadent concert hall is still used for occasional performances, but it's visited most frequently by travelers to Barcelona who want to peek at the ornate colors, shapes and designs inside.
The most impressive part of Palace of Music is the concert hall itself, which features huge stained glass chandeliers. You can almost cast your mind back to 100 years ago when the wealthy classes would spend Friday night watching concerts and shows. Another photo-worthy place you'll visit on a guided tour is the outside courtyard, known for its spectacular mosaic pillars. Entrance and a tour is €20 or €11 for students.
Contributed by Rose from Where goes Rose
The Volcanic Region of Garrotxa
The volcanic region of Garrotxa, in Catalonia, surely has to be included in any Spain bucket list. Lesser known to international travelers, this is a place Spanish and especially Catalan people truly love. It's the kind of region where you can expect to experience all sorts of activities – from visiting quaint villages and small towns, to enjoying nature and food.
The main city in Garrotxa is Olot, famous for being set on top of two extinguished volcanoes and home of many beautifully kept art nouveau buildings.
Besalu is another must see. It's a small village with a gorgeous old bridge (Pont Vell), incredibly scenic views of the river, beautiful churches and even the remains of Jewish baths.
Finally, make sure to enjoy the many hikes in the area. Other than the easy hiking trails of La Garrotxa Volcanic Zone Natural Park, experienced hikers can have a try at the challenging Cami de Gantxos, which goes all the way to a mountaintop hermitage.
You can easily reach the Volcanic Region of Garrotxa by bus from Girona, which is well connected to the rest of Europe via budget flights; or from Barcelona. The best way to move around there is by car.
Contributed by Claudia Tavani from My Adventures Across The World
Explore the Golden Triangle or Art in Madrid
Madrid is a historic and regal city with great food, rich heritage sites, and a vibrant classic and contemporary art scene. The Golden Triangle of Art is right in the heart of Madrid. It consists of three major art museums: Prado Museum, Reina Sofía Museum, and Thyssen-Bornemisza Museum.
Prado is one of the "must-sees" as it is constantly voted the most popular attraction in Madrid. Being one of the major art museums in Europe, Prado houses paintings from Spanish artists like Velázquez, Goya, and Rubens, along with other famous international artists.
Moving on to contemporary art, visit Reina Sofía to view the Guernica by Picasso; or explore the private collection in the Thyssen-Bornemisza.
The three museums are in walking distances from each other. Visitors can enjoy free access to the museums with a Madrid Card. Don't forget to stop by the Caixa Forum and Royal Botanic Garden on your way from Prado to Reina Sofía.
Contributed by Kenny from Knycx Journeying
Learn to kitesurf in Tarifa
Tarifa is the best place in Spain to learn or to perfect your water sports skills. Often referred to as the "Wind capital of Spain", Tarifa is a paradise for adventurous water sports, such as kitesurfing, windsurfing, and surfing in general. This little town has a privileged location on the coast of Cadiz, Costa de la Luz, where the Atlantic Ocean meets the Mediterranean Sea.
Kitesurfing is without a doubt one of the best things to do in Tarifa. There are over 60 schools in this town of only 18,000 inhabitants.
No matter if you are a beginner or an advanced, most of the schools will have a range of lessons, from a two hours private introduction to kitesurfing, to a full week of advanced courses. One of the great things about Tarifa is that you can come to learn how to kitesurf at any time of the year because of the mild temperatures, even in winter. You might not be able to sunbathe in January, but you can definitely surf the waves in a wetsuit.
Contributed by Joanna from Andalucia in My Pocket
Take a boat ride at Plaza de Espana in Seville
Plaza de Espana is one of the most iconic landmarks in Seville, if not in the entire country. The large plaza and its surrounding park is a wonderful place to relax and spend the morning or afternoon.
Rent a paddle boat and take a boat ride through the man-made canal or wander the semi-circular plaza. The plaze is adorned with colorful ceramic tiled alcoves. It is also a popular place to find street performers working for tips and locals lounging in the park underneath shade trees on a nice day.
Enjoy a relaxing day at Cabo de Gata
Cabo de Gata in Almería is a place that should definitely be on your Spain bucket list. Not only is it home to some of Spain's most secluded white sandy beaches, but the park also has many volcanic rocks scattered around the coastline – some of which are filled with water that you can bathe in. Not only does this natural park have beaches to offer, it also boasts a unique desert-like terrain in which thousands of plants are able to thrive. This is surprising to say that the park is one of the driest places in Europe.
If you're a fan of visiting sustainable travel destinations, you'll love what you find here. The natural park area is well preserved and in most cases well looked after by it's visitors. The small nearby towns are great places to get tapas. They are home to an exuberant nightlife scene that gives you the opportunity to taste the local way of life in this interesting southeastern corner of Spain.
Contributed by Daniel from Urban Abroad
Visit Salvador Dali's house
Touring Casa Salvador Dali—the Salvador Dali house museum in Cadaqués—should be on everyone's Spain wish list. The quirky, eccentric, and iconic ground-breaking artist lived and worked in his primary residence in the small village of Portlligat (Port Lligat) in Cadaqués for over 50 years. The house offers magnificent views of the gorgeous bay along the Costa Brava shoreline. It is a pilgrimage destination for art fans and curiosity seekers. Reservations are necessary to tour the Salvador Dali House Museum. Guests must claim their tickets 30 minutes prior to the scheduled time slot.
Salvador Dali acquired the very remote, difficult to access, dilapidated fishing hut property in 1930. Dali and his wife Gala continually modified and added buildings and rooms, creating a maze of multi-purpose areas. The essential guided tour visits their living, working, and entertaining spaces, offering fascinating glimpses into the genius' mind and life. Tour guests should allow time to visit all portions of the property prior to and after their tour.
Contributed by Charles McCool from McCool Travel
Attend Carnival in Cadiz
In case, you're making a list of things to do in Cadiz, the Carnival in Cadiz is-a-must. This happily anarchic celebration has been roused by Venice's carnival – a city with which Cádiz appreciated prosperous exchanging connections in the 16th century. The carnival's main aim is to spread humor and fun through sarcasm, mockery, and irony.
It deserves to be on a traveler's bucket list for Spain as it's the most-known carnival in the country. The carnival feature droll plays on words, biting criticism, stinging sarcasm, and irreverence of parody. There is music from every corner of the city. Additionally, the fancy costumes add the perfect finishing touch.
Moreover, the entire city takes an active part in the carnival, during February-March, which lasts for two weeks. The celebration holds various food-stalls where you can taste traditional and spicy food, participate in competitions, see fireworks, and more!
Contributed by Paulina from Visit Southern Spain
Walk on top of a giant mushroom in Seville
Metropol Parasol (Las Setas De Sevilla) or as it is affectionately known, the 'mushroom' is one of the top things to do in Seville. This unique and iconic structure opened in 2011. After six years of construction, it is said to be the largest wooden structure in the world. It consists of six parasols in the form of giant mushrooms – which means 'las setas' in Spanish.
To access the top of the 85 foot high structure you will need to take a lift up after paying an entrance fee (5 Euros per person). The panoramic views across the city are breathtaking. There are several walkways winding across the structure which offered great viewpoints and many amazing photo opportunities. The best time to visit is just before sunset for glorious red hued views of the city. The viewing decks can be a little busy though. So, if you want to visit with no crowds, head up first thing in the morning.
Contributed by Caroline from CK Travels
Hike in Sierra de Grazalema Natural Park
Sierra de Grazalema Natural Park is an under-visited wilderness area dotted with deep canyons, lush green vistas and craggy mountains. In early spring, this corner of southern Spain beckons hikers on trails bathed in sunshine and framed with colorful flowers.
Hiking in Sierra de Grazalema is a rewarding experience for adventurous families who like to get off-the-beaten-track. El Pinsapar trail is a half-day hike with an easy ridge climb. It offers excellent views over Andalucía then descends into the protected forest area which is the only place in the world that grows the Spanish fir tree (Pinsapo).
The highest point in the park is El Torreón. The 360-degree views from the summit include the mountains and valleys of Andalucía dotted with white villages, the rock of Gibraltar and the oceans that surround it. With good facilities and an easy climb to the top, it's an ideal adventure to add to your Spain bucket list.
Contributed by Paul from Anywhere We Roam
Why you should plan a Spain bucket list trip
Spain is one of those countries where you could spend months exploring and not grow tired of it. From the culture to the language, Spain offers visitors a beautiful experience and so many incredible things to do and see.
Like it? Pin it to save for later!
Have a question or comment about this Spain bucket list? Or do you have any other bucket list experiences in Spain that deserve to make the list? We'd love to hear from you! Leave your thoughts in the comments below.