Oklahoma City is an evolving metropolis. As the city grows rapidly and attracts new businesses and industries, the capital of Oklahoma is also becoming a more diverse and entertaining place to live and visit.
The city's continuous transformation is evident in it's budding art scene, particularly when it comes to public art and urban street art. In recent years, street art in Oklahoma City has transformed neighborhoods. It has changed blank walls into canvases of colorful expression.
Parts of the city that were once decaying and run-down are now thriving communities. In turn, those communities are now attracting millennial residents and the unique businesses that cater to them.
Where to find beautiful street art in Oklahoma City
While the metro area as a whole has changed a lot over the years, there are several neighborhoods in Oklahoma City where street art and murals have become an interesting part of the cityscape. I've always been a fan of street art.
For one, I appreciate the incredible talent it takes to create beautiful murals. In addition, a well-designed mural can add a focal piece to an otherwise boring wall or building. Street art can even change the atmosphere of an entire neighborhood, and can become an attraction in itself.
Here are some of my favorite places to find awesome street art in Oklahoma City and the surrounding area.
Plaza District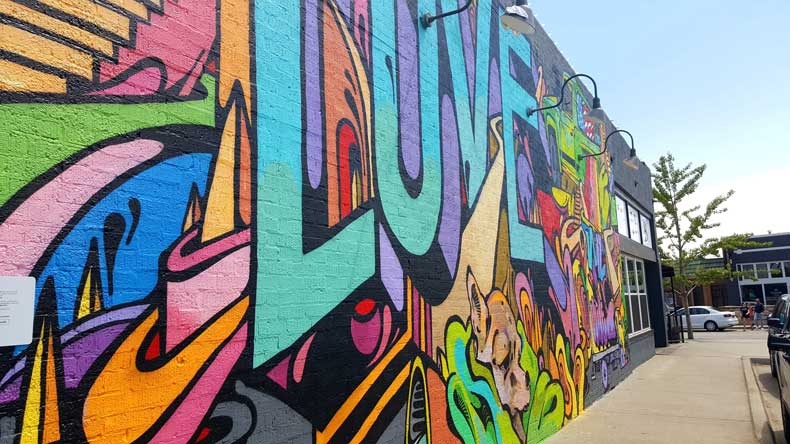 The Plaza District is a trendy, up-and-coming neighborhood with a lively atmosphere and quirky murals to match.
The district, located in Central Oklahoma City on NW 16th Street, is hands down the best place in OKC to appreciate beautiful street art. You'll find several colorful murals in Oklahoma City's Plaza District.
New murals are periodically painted over existing ones, so the neighborhood offers visitors an ever-changing artistic expression of creativity. For this reason, it is considered one of the most Instagrammable places in Oklahoma City!
Automobile Alley
Automobile Alley, on Broadway just north of Downtown OKC, isn't well-known for its murals, but I think the area has some of the most unique street art in Oklahoma City.
The district is a mix of residential and commercial development. Just off the main street you'll find some of the most Instagram-worthy murals in the metro.
Perhaps the most noteworthy is the eclectic Factory Obscura on the corner of NW 9th and Broadway.
This colorful building is not only visually interesting from the street front, the wall in the alleyway offers more eye-catching street art.
A block east on NW 9th, adjacent to the train tracks, another great mural walls offers street art lovers even more variety for their social media feed.
Bonus, if visiting OKC at Christmas time, Automobile Alley is also one of the best places to see holiday lights, as all the buildings are draped in colorful strands of lights.
Midtown
Midtown is another area of Oklahoma City that isn't typically known for its murals, but the popular district off NW 10th and Walker is quickly becoming a hot spot for street art in Oklahoma City.
No major city is complete without a wings mural, and Midtown is where you will find one in Oklahoma City. This wings mural is easy to miss. We drove by it several times in the past without ever noticing it.
It is located on the corner of Harvey and NW 11th Street. On the same wall as the wings mural there is an Oklahoma City mural that makes for a fun photo for out-of-town visitors.
About a block away, you can also find a "Keep Oklahoma City friendly" mural.
One day this phrase might characterize OKC the way the widely popular slogan "Keep Austin Weird" has somewhat defined Austin, Texas. (Maybe… but probably not.)
Bricktown
Bricktown is one of Oklahoma City's must-visit neighborhoods. Not only is it the tourist district of OKC, the popular business area along the canal is also a great place to find beautiful murals and street art in Oklahoma City.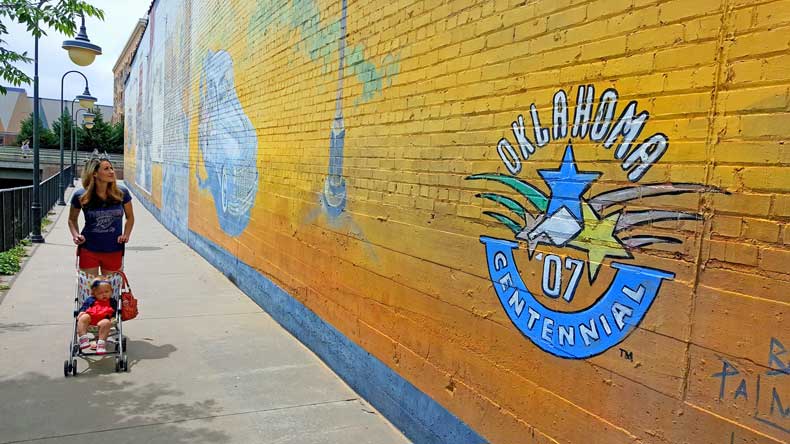 Some of the best murals in Bricktown are the yellow centennial wall that runs along the canal and the colorful underpasses.
My favorite underpass mural is a vibrant wall of leaf patterns in a multitude of yellow and red hues found on Reno Avenue and Gaylord, near the Amtrak station. (Adorable baby not included.)
VISITING WITH KIDS? CHECK OUT OUR POST ON THE 25 BEST THINGS TO DO IN OKC WITH KIDS.
Norman
Norman, Oklahoma is a suburb just 20 minutes south of downtown Oklahoma City. It is the home of the University of Oklahoma. Naturally, it has a youthful, hip college-town feel.
The fun atmosphere of the city lends itself to a quirky street art scene, as well. You'll find some of the best murals and public street art off of Gray and Main Streets in downtown Norman.
A few of the most popular murals in Norman are clustered together at Main Street and Porter, making for an easy walking tour or photo shoot.
If you are looking for something more whimsical and pastel in nature, one of my favorite walls in Norman happens to be a simple painted wall with vertical stripes on the side of a dentist's office on 24th Street between Robinson and Main.
It's cute and playful, and particularly great for photographing children.
Why Oklahoma City is a great city for street art
What I love most about street art in Oklahoma City is that it is unexpected.
Cities like Austin, Los Angeles, and San Francisco are known for their cool vibes and love of the arts. Oklahoma City doesn't necessarily have that same reputation, but it is one of the best places to visit in Oklahoma.
These colorful murals are a welcomed addition to the city.
While you will most certainly find street are every city, the murals in Oklahoma City are not only beautifying neighborhoods, they are redefining neighborhoods and creating a diverse atmosphere that many people seek out when visiting an area.
Oklahoma City is an underrated destination, and its street art scene is just one of the reasons why.
Have you seen any of these popular murals in OKC? What is your favorite neighborhood for street art in Oklahoma City? Let us know in the comments below!

Like it? Pin this guide to street art in Oklahoma City to save it for later!