We may earn money or products from the companies mentioned in this post.
Summer in Jackson Hole, Wyoming is what I would imagine any day in heaven would be like. The weather is perfect. Not too hot, not too cold. Wildflowers are in bloom. Babbling creeks and rivers run through the valley. Wildlife roams freely. And everywhere you look you are surrounded by the picture-perfect mountains that seem to jut straight up out of the valley floor. Beyond the abundance of nature, there are so many things to do in Jackson Hole in summer for the entire family. In fact, with so many summer activities in Jackson Hole, you could spend an entire season in this beautiful region of the world and never get bored.
This guide to the best summer activities in Jackson Hole, Wyoming highlights the top things to do in Jackson Hole in summer on a family vacation.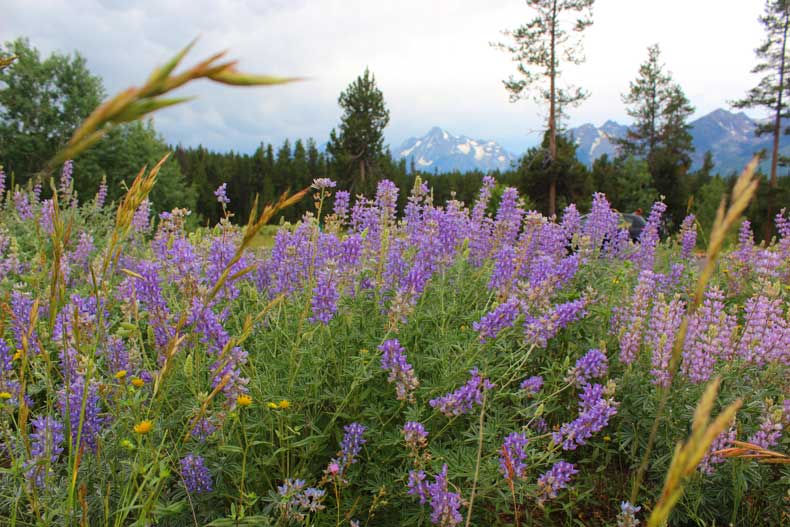 Why summer in Jackson Hole is the best time to visit
If the introduction paragraph didn't give it away, summer in Jackson Hole is definitely our favorite season. Although winter in Jackson, Wyoming is equally beautiful, with so many things to do in Jackson Hole in summer, it is easy to see why the area makes for the perfect family summer vacation. But, if visiting Jackson Hole with kids, this fascinating portion of the world is great year round.
The very best things to do in Jackson Hole in summer
During summer, locals and visitors to Jackson Hole alike take advantage of the three months when the weather is actually warm. Therefore, most people visiting Jackson, Wyoming in summer are doing so to spend time exploring the great outdoors. Whether you are looking for an adventure or a calm and relaxing getaway in nature, Jackson Hole has it all!
Nature lovers will find plenty of things to do in Jackson Hole in summer, with or without kids. If planning a trip to western Wyoming, here are the top summer activities in Jackson Hole to add to your list.
See hot springs and geysers in Yellowstone National Park
No trip to Jackson Hole in the summer is complete without making the hour-long drive to Yellowstone National Park. It is one of the most beautiful national parks in the United States and one of the most fascinating. Not only can you witness Old Faithful erupt, but you can view numerous geysers, hot springs, and beautiful waterfalls up close.
Plan to spend at least a full day, if not a few days, exploring Yellowstone. The national park is huge, and there are a lot of things to do in Yellowstone. In fact, we would recommend spending at least one night at one of the hotels or campsites in the national park. After spending a day hiking and exploring Yellowstone, you may not want to drive back to the town of Jackson.
See our recommended one-day and two-day itineraries of the best things to do in Yellowstone.
Children will love exploring Yellowstone National Park, as well. You will want to watch young children closely, and make sure they stay on the trails around the geysers. The ground can be soft and dangerous (if not fatal) if they fall through. Visiting Yellowstone with kids? This post will help you plan your trip.
Go on a Wildlife Safari
Western Wyoming is home to a wide variety of wildlife, particularly in the protected national parks. From bison and moose, to wolves, and even bears, Yellowstone and Grand Teton are home to 61 different mammals who live in and around the towering Teton Range.
Of course, you should always respect the wildlife for what it is: wild. It is best to stay in your car or keep your distance if you see a wild animal in the area. This area of the country is a playground for humans and wildlife alike. So, play by the rules and your family will stay safe and protected.
Explore the Majestic Grand Teton National Park
Like Yellowstone, Grand Teton National Park is a must-visit for anyone visiting Jackson Hole in summer. The two parks are adjacent to each other, making them easy to visit together. Grand Teton National Park is perhaps most known for its captivating views of the Teton Range, a sub-range of the Rocky Mountains, that are simply breathtaking.
Aside from wildlife spotting, hiking, camping, fishing, and canoeing are all popular things to do in Jackson Hole's Grand Teton National Park. If possible, you will want to give yourself about 2 days in Grand Teton National Park. That will give you enough time to do some of the most popular hikes and see the scenic spots within the park. Don't forget to bring your camera along, as the rugged scenery in the park is postcard-worthy.
Go for a Nature Hike
From Grand Teton to Yellowstone National Park, hiking is one of the most popular activities in and around Jackson Hole in the summer season. Jackson Hole has some of the most accessible hiking trails in the country. The trails are usually well-marked, defined, and range in length and difficulty. You can do a simple day hike, spend a couple hours hiking as a family, or buy a permit and spend several days in the back country hiking and camping out.
If you plan to hike in this area of the country, bear spray is strongly recommended. You can buy it at the Grand Teton National Park Visitor Center before your hike or at a number of stores in downtown Jackson, Wyoming.
Note: You cannot fly with bear spray, even if it is in your checked luggage. So, if you are traveling by plane to Jackson and plan to hike, you will need buy bear spray when you arrive. If you don't use it, (which hopefully you won't) you can donate it back to the national park.
Camp out under the stars
National park trips and camping go hand-in-hand. Camping is a great way to feel immersed in nature, disconnect, recharge, and bond as a family. So, naturally, a family camp out under the stars is one of the best things to do in Jackson Hole in summer. You'll have plenty of opportunities to stargaze at one of seven designated campgrounds in Grand Teton National Park or one of 12 campgrounds in Yellowstone. Campsites require advanced registration and can fill up quickly. Back country camping is also an option for more adventurous travelers. To pitch a tent in the back country, it requires a permit.
Planning to camp in Jackson Hole? Check out this list of essential camping gear first.
Go for a family bike ride
Cycling is another a popular summer activity in Jackson Hole, Wyoming. The roadways have great biking trails alongside to protect cyclists from oncoming traffic. The varying terrain makes for some exciting, yet difficult rides. And of course you have incredible scenery that would make anyone want to cycle longer.
If off-road mountain biking is more your style, head to Jackson Hole Mountain Resort. In summer, the challenging ski resort turns many of its ski runs into biking trails. You'll find trails for every level – from novice tracks to adrenaline pumping terrain and jumps.
Partake in Water Activities on the Snake River
Jackson Hole, Wyoming has some gorgeous lakes that are home to wild lake trout. Anglers might also enjoy fly fishing in the Snake River. If you prefer not to catch your food, you can at least sample some of the locally caught trout at one of the great restaurants in Jackson, Wyoming.
Aside from the national parks, visiting the Snake River is perhaps one of the most popular things to do in Jackson Hole in summer, and not just for the fishing. White water rafting, kayaking, canoeing, tubing, and swimming in the chilly water are all great summer activities in Jackson Hole. Be prepared, the water in the Snake River is freezing, even in summer!
Visit Teton Village and Jackson Hole Mountain Resort
Teton Village is another great summer destination in Jackson Hole. The base area for Jackson Hole Mountain Resort offers a lot of great summer activities, including a ropes course, mountain bike park, a climbing wall, bungee trampoline, and disc golf.
If you are up for something a bit more adventurous, paragliding is also offered at the Jackson Hole Mountain Resort in summer. Take the tram up to the top of the mountain, have waffles at Corbet's Cabin while enjoying spectacular views of the valley. And, if you are brave enough, go paragliding over it.
Jackson Hole Mountain Resort is best known for its world-class skiing and snowboarding. It is also home to one of the most dangerous ski runs in America, Corbet's Couloir. To understand why it is considered one of the most extreme ski runs, walk up to the edge of the cliff and peer down the run. It is enough to make me never want to ski it!
Wander the streets of a Wild West Town
The town of Jackson, Wyoming is a charming tourist destination in and of itself. With cute shops that line a wooden boardwalk filled with cascading flower baskets, downtown Jackson is worth spending a day. It is a modern tourist town with a "Wild West" feel, and lots of personality and character.
Read our full post on the best things to do in Downtown Jackson, Wyoming.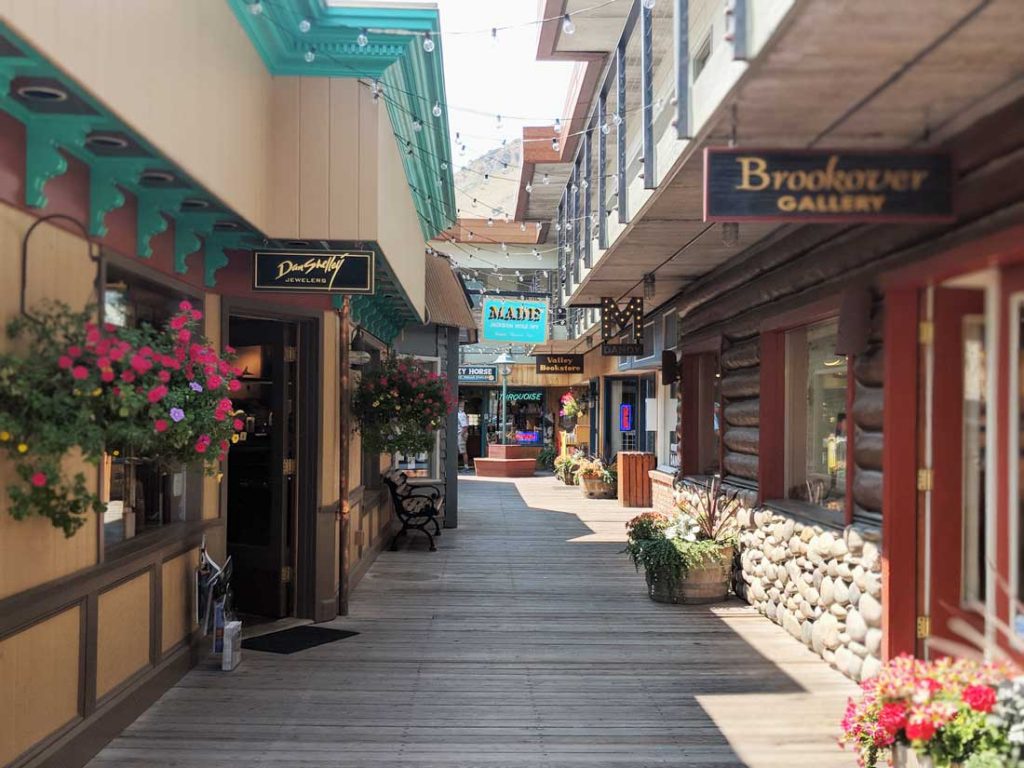 Stay at a Dude Ranch
To understand why you should stay at a dude ranch, we first should answer the question "what is a dude ranch?" A dude ranch is a working ranch that offers cabins or lodging to travelers or tourists. Back in the Old West, people visiting from the east coast were called "dude", thus the name for these ranches that offer private stays.
Guests at a dude ranch can typically go horseback riding, learn about tending to the animals and what it takes to run a ranch, participate in evening campfires, and even open fire cookouts. Some dude ranches offer additional activities and programs for people of all ages, making it a great escape to the real Wild West. To find the best dude ranches in Jackson Hole, click here.
Prefer a hotel to a working ranch? Read our post on the best lodging options in Jackson Hole.
Go Horseback Riding
Even if you don't stay at a dude ranch, you can still explore Jackson Hole the way the cowboys and cowgirls do – on horseback!
Horseback riding in Jackson Hole is a great way to see the breathtaking scenery of the Teton Range and Jackson Hole valley. You can take a half-day guided horseback tour through the Bridger-Teton National Forest and even learn about the historic fur trade that once made Jackson Hole a booming area.
See the Teton Range from Above
Finally, after exploring the Jackson Hole area on foot, horseback, or by car or boat, you will probably still not tire of the views of the incredible Grand Teton Mountain. What better way to see it than from above?! While you can get a pretty good view of the mountains from your plane window at take off or landing, there is perhaps nothing more magical than a sunrise hot air balloon ride over the Tetons. It is bucket list worthy for sure!
Have you been in Jackson Hole in summer? Leave us a comment below and let us know your favorite summer activities in Jackson Hole and what you think are the best things to do in Jackson Hole in summer.
Like it? Pin this list of things to do in Jackson Hole in summer to save for later!