This guide to Therme Erding – the largest thermal water spa in the world – includes tips for visiting and what to know before you book your water adventure.
What is Therme Erding?
Therme Erding offers a captivating retreat for visitors seeking tranquility and indulgence. But inside this massive facility located just outside of Munich, Germany, you'll find so much more than a thermal pool.
What will you find?
Therme Erding boasts 35 steam baths and saunas, 40 pools and different mineral health baths, as well as a lazy river, wave pool and 28 different water slides in the part of the facility known as Galaxy Water Park.
It also has an enchanting ambiance and diverse range of wellness experiences for those looking for something soothing and fun adventures for families looking for a day of smiles and laughter.
How to get to Therme Erding
This massive water spa and park is located in the town of Erding, roughly 40 minutes away from Munich. It is easily accessible by public transport. We took a train to the town of Erding and then hopped on a bus from the center of the town to Therme Erding.
BOOKING TRAIN TICKETS? READ OUR REVIEW OF RAIL EUROPE, WHICH WE USE TO BOOK ALL OUR TRAIN TRAVEL IN EUROPE – OR GO AHEAD AND BOOK HERE.
If you rent a car, getting to Therme Erding is equally easy and convenient, and parking at the thermal water spa is free.
ALSO READ: EUROPE ROAD TRIP TIPS
Where to Stay when visiting Therme Erding
Many people who want to have a full day and evening experience at Therme Erding book a stay at the Erding Spa Hotel.
Hotel Victory Therme Erding
Hotel Victory is located directly in the Therme Erding spa center. The rooms and restaurants in the hotel have a nautical theme to give the feeling of being on a luxurious yacht or ship.
Staying in the hotel does not come with complimentary access to the Therme Erding Spa, but you can purchase your ticket to the spa at the front desk when you check in.
Other Hotels Near Therme Erding
If you prefer not to stay at Therme Erding, there are plenty of lodging options in the charming town of Erding.
Hotel zum ERDINGER Weißbräu
Hotel zum ERDINGER Weißbräu is a quaint, boutique hotel attached to the Erdinger Brewery. The rooms have a romantic, traditional Bavarian elegance, and the hotel restaurant serves your favorite Bavarian faire.
Our Experience at Therme Erding Spa and Galaxy World Erding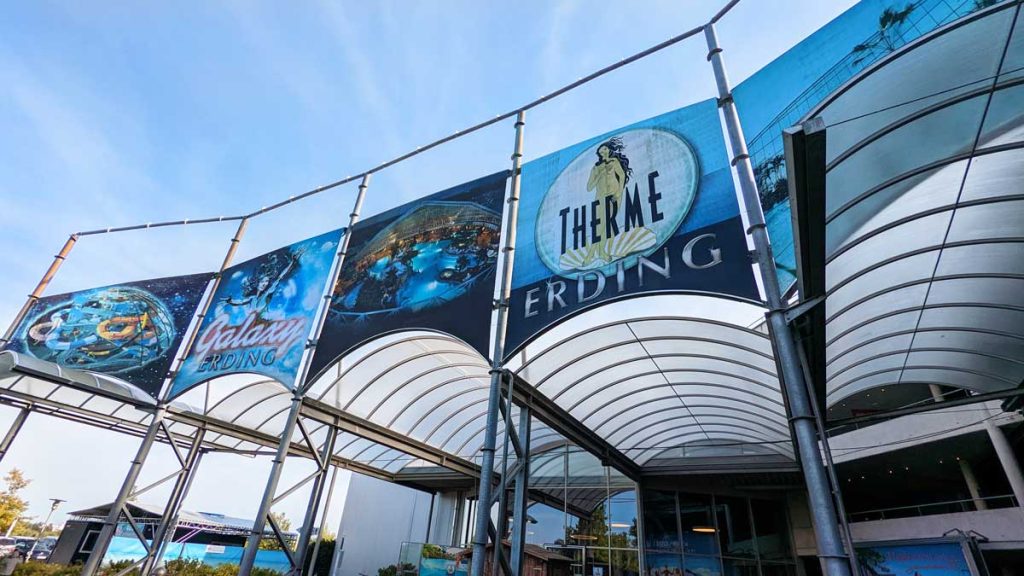 We visited Therme Erding and Galaxy World as a family when we traveled to Germany for Oktoberfest.
It was off-season, so it was not crowded and the lines for the water slides were short, luckily. However, because it was off-season, the outdoor areas were already closed for the season. But there was still plenty to do inside Therme Erding's Tropical area and Galaxy Water Slide World.
Check-in Process and Locker Rooms
The check-in process was simple and straightforward. You are given a wristband that serves as your digital locker key and can be scanned when you purchase food or drinks within the venue.
From the entrance, you'll pass through the locker rooms, where you can change and store your belongings before proceeding to the different spa areas.
Water Slide Safety and Personal Responsibility
Because we were visiting with a child, we spent most of our time in the Galaxy Water Slide World. The water slides were a blast.
One thing that stood out to us, when compared to water parks in the United States, is the level of personal responsibility you assume as a guest.
With the exception of the extreme slides, there were no slide attendants spacing out different slide riders, or ensuring children were of the suggested age to ride the slides. In fact, the posted age recommendations seemed to be just that, recommendations and not rules.
We also spent time hanging out in the Tropical Spa area, which is beautiful, includes a swim up bar, grottos and caves, and a passageway that you can swim or wade directly into the outdoor pool area.
Navigating Therme Erding and Finding the Wave Pool
The wave pool was somewhat hard to find, unless of course you are staying in the on-site hotel, because the wave pool area is in the center of the hotel.
So, to access the wave pool, you will feel like you are actually leaving Therme Erding and walking into a hotel instead.
What to Know Before Visiting Therme Erding in Germany
Before visiting Therme Erding in Germany, there are a few key things to keep in mind. Be sure to check the operating hours and plan your visit accordingly.
While reservations aren't required, the spa complex can get quite crowded, especially on weekends and holidays, so you may want to make a reservation in advance if you are visiting during peak times.
It's also a good idea to familiarize yourself with the various areas within the complex, such as the thermal pools, saunas, wave pools, and relaxation zones, to ensure you can navigate the expansive facilities efficiently.
It admittedly can be a little confusing trying to get around Therme Erding, and there are certain areas, like the Vitality Oasis, that are restricted for children.
Remember to bring your swimsuit, as it is mandatory to wear one in the pools and saunas. You'll also want to bring a towel or rent one at the facility.
Finally, there are certain things that aren't included with every admission package. Be prepared for the option of purchasing additional services or treatments, such as massages or beauty treatments.
Different Areas of the Erding Thermal Spa
Therme Erding is divided into several areas, and admittedly it was a little confusing to navigate. Here are the main areas to discover within the thermal spa and water slide park.
Galaxy Water Park
The resort's exhilarating Galaxy Water Slide World, offers both indoor and outdoor water slides making it a fantastic destination for families and thrill-seekers alike.
The water slides vary in length and intensity with plenty to do for all ages. There is even a virtual reality slide that will take you on a jungle or galaxy adventure while you ride down on your inner tube with your virtual headset.
You can also take a ride (or multiple) down the Magic Eye, which they call the longest closed tube slide in the world.
Although the slide doesn't actually hold that title (a slide in Malaysia does), it is still a blast to go down! And we recorded it so you can watch for yourself.
Tropical Spa
The thermal baths in the Tropical Spa area feature a variety of mineral-rich pools, each designed to provide therapeutic benefits and promote well-being.
Whether you're immersed in the warm thermal waters, floating in the brine grotto, or unwinding in the aromatic steam baths, the healing properties of the water envelop you, melting away stress and revitalizing your body and mind.
The Tropical Spa includes both a large indoor/outdoor pool that you can relax and swim in with little coves to discover, a wave pool, a "crazy river", whirlpools, and a kids' area for toddlers.
All of these are surrounded by large palm trees that give you the perception of being in a tropical paradise.
Vitality Oasis
The Vitality Oasis at Therme Erding is for guests 16 and up, so we did not book a ticket that included this section since we were visiting as a family with a younger child.
But the Vitality Oasis is the area to go to if you want a serene escape. With its tranquil ambiance, the Vitality Oasis caters to the holistic well-being of its visitors.
Whether you seek moments of quiet contemplation in the meditation rooms or desire invigorating hydrotherapy experiences in the various pools and cascades, this oasis is a place to truly pamper yourself.
There is an extensive array of saunas, ranging from traditional Finnish saunas to exotic themed saunas, allowing guests to experience a multitude of sauna rituals from around the world.
FAQS about Therme Erding Germany
When researching Therme Erding we didn't find a lot of information outside of the thermal spa's website.
So, after personally visiting Therme Erding, we compiled this guide and list of frequently asked questions about Therme Erding to help you plan your trip.
Do they speak English at Therme Erding?
Yes. As with many places in Germany and throughout Europe, much of the staff at Therme Erding speaks at least some English. Although, the signs throughout the spa and waterpark were mostly written in German.
What Do You Need to Bring to Therme Erding?
When visiting Therme Erding, you will want to bring your own towels and shower necessities, like soap and shampoo.
There are lockers to store your belongings, separate showers for men and for women, private changing rooms, and even family changing rooms.
You can rent towels while you are there or bring some with you from your hotel or home.
Additionally, you may want to bring pool shoes, although they are not required.
And don't worry about cash, anything you want to buy, like food or drinks can be charged using the wristband you are given, which is also used to lock and unlock your locker.
Is Therme Erding Worth It?
Therme Erding is a pricey experience, but you could spend an entire day there, making it well worth the cost of admission. For families, the Galaxy Erding Water Park is where you will likely want to spend most of your time.
Even if visiting Therme Erding in winter, large parts of the water park are indoors and the water is warm year round.
For couples or solo travelers, you may want to spring for the more private spa experience called the Vitality Oasis.
This area is restricted to 16 and up and includes saunas and wellness experiences that are clothing optional.
How much time do you need at Therme Erding?
If visiting with kids, you could spend an entire day at Therme Erding going back and forth between Galaxy Water Park and the Tropical Spa area where you can relax, grab a bite to eat, or soak in one of the many thermal pools.
For those who are wanting a more spa-like experience in the Vitality Oasis, this could also be a full day experience.
Here you'll find steam baths, soothing saunas with stress-relieving fragrances, a meditation room, sulfur pools, and both cold and warm pools with various healing properties.
You can also book massages and beauty treatments to enhance your experience. However, if you do not have a full day to spend, we'd recommend buying the 4 hour package to allow for you to experience everything you would like to see and do at Therme Erding.
Like it? Pin this travel guide to visiting Therme Erding to save it for later!
Have a question or comment about our Therme Erding review of Europe's largest thermal spa? We'd love to hear from you! Leave your thoughts in the comments below.
Did you know…
When you make a purchase or book hotels, tours, or other travel services, through our links, we receive a small commission, at no extra cost to you. We only EVER recommend service providers, websites, or products we personally use when booking our own travels. Your support enables us to keep producing helpful travel content. Thank you!