In the heart of downtown Oklahoma City, Oklahoma, you'll find a bustling entertainment and commercial district designed with tourism in mind. Restaurants, bars, hotels and even sports venues line a picturesque man-made canal that winds through historic red brick buildings in the urban area.
A great place to visit in Oklahoma City with kids or on an adults evening out, this lively area known as Bricktown is the perfect place to start any Oklahoma City trip.
There are a lot of fun and unique things to do in Bricktown, OKC and in the downtown Oklahoma City area, in general.
This guide to the top things to do in Bricktown OKC includes 11 fun activities plus tips from an Oklahoma City local on where to eat and where to stay in Bricktown Oklahoma City.
Thoughts on Bricktown Oklahoma City from a local
Bricktown is one of the best places to visit in Oklahoma and one of the more popular areas of Oklahoma City. It is the center for tourism in the city – which is why it is one of my favorite places to take friends and family who come to visit us in Oklahoma City.
When I first moved to Oklahoma many years ago, admittedly I had some preconceived ideas about the state. I thought it would lack excitement, personality, and identity. I was wrong.
Additionally, I thought there would be little more than red dirt, cowboys, and flat land. While Oklahoma does have a lot of all three of those, it has so much more to offer, especially in the metropolitan areas like Oklahoma City and Tulsa.
Even after more than a decade of living in Oklahoma City, I find myself still exploring all the area has to offer. And Bricktown is one of those areas of Oklahoma City that continues to draw me back.
Whether it's for a special occasion, a date night, or fun outing with the family, we love all the things to do in Bricktown OKC.
Things to do in Bricktown OKC – Oklahoma City's Riverwalk District
Bricktown is a fun and vibrant entertainment district in Oklahoma City. It is a walkable area of downtown Oklahoma City that is home to some of the best restaurants and activities.
If you are planning a trip to Oklahoma's capital and you're wondering what to do in Bricktown, OKC, here are the top attractions and activities in the district.
Walk along the Bricktown Canal
In the heart of Bricktown is a lovely man-made canal which is lined on each side with sidewalks, trails, green spaces, and of course the iconic red, brick buildings that give the district its name.
The Bricktown Canal is a great place to take a stroll on a nice day, or simply sit, chat with friends over a refreshing beverage at an outdoor restaurant.
Follow the path along the canal, watch the water taxis pass by, or spot ducks who occasionally stop for a swim in the canal.
During the holiday season in OKC, Christmas lights are strung up across the canal and the trees along the path are wrapped in lights, making a Bricktown Canal stroll one of the best Christmas activities in OKC.
Take a ride in a water taxi
Another one of the most popular things to do in Bricktown OKC is to take a ride down the canal in a water taxi.
The guides who operate the bright yellow Bricktown Water Taxis not only give fun facts about the history and development of Bricktown, but they point out various scenic areas and special sites along the short route.
It is a great opportunity to relax your legs after a stroll along the canal or a nice means of transportation to get around the entertainment district.
The water taxis cost $13 for adults, $10 for children 6-12, and $4 for children ages 5 and under.
Discover awesome street art and murals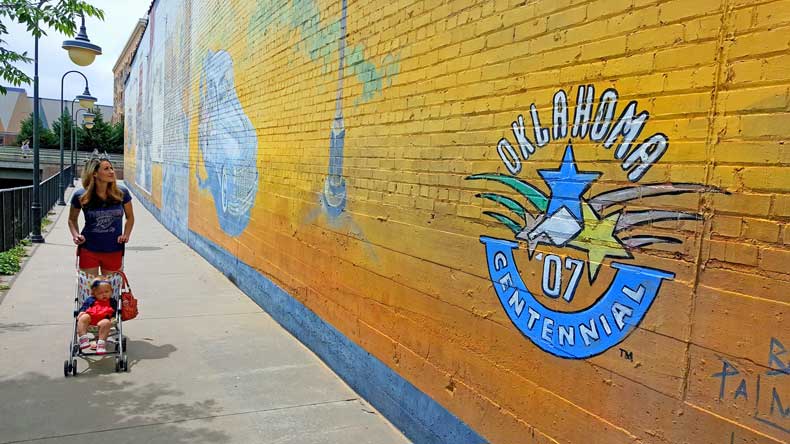 Street art in Oklahoma City will both surprise and impress you, and Bricktown is one of the best places in OKC to find cool, colorful murals.
From walls that depict the city's rich history to colorful, abstract underpasses, you'll find no shortage of vibrant murals in Bricktown.
Spend time wandering through the district and have fun taking candid photos along the canal and near the different murals that add color and fun to Oklahoma City's entertainment area.
Play games at Brickopolis
Brickopolis is the perfect place in the downtown OKC area for families. The attraction features an outdoor miniature golf course right on the canal.
There is also an indoor laser tag center, climbing wall, and an arcade, which older children and teenagers will also enjoy.
But this 3-story amusement center isn't just for kids. There is also a bar and grill inside the venue that has patio seating overlooking the canal.
And for something that feels truly out of an old Oklahoma western, Brickopolis also offers gemstone mining next to the 18-hole miniature golf course – for those who want to try their hand at sluice mining – which uses a stream of water that runs through a narrow channel to separate gems from gravel and sand.
Take a horse-drawn carriage ride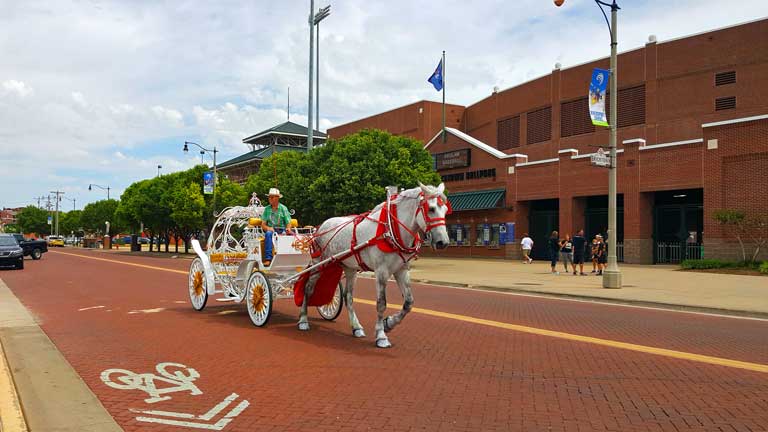 Whether you are looking for romantic things to do in Bricktown OKC or something that will interest a fairy tale-enthused child, a horse-drawn carriage ride through the streets of Bricktown is a magical activity.
The beautiful, Cinderella-inspired carriages are strung with lights to create a glowing ambiance at night.
Starting around $25 per carriage, the carriages typically operate Thursday through Saturday, weather permitting, and will take you through the brick streets of the historic district, by the Bricktown Ballpark and can even drop you off at your site of choice.
Watch an OKC Dodgers Game at Bricktown Ballpark
At the center of all the things to do in Bricktown OKC – the Chickasaw Bricktown Ballpark is where the Oklahoma City Dodgers play baseball.
The minor league baseball team and Triple A affiliate of the LA Dodgers is based in Oklahoma City.
Games are fun, inexpensive, and rarely crowded. If you're in town during baseball season, it is a great place to enjoy an American tradition.
Outside of baseball season, the ballpark often host other events like snow tubing in winter, which is one of the best things to do in Bricktown OKC during the winter season.
Test your climbing skills at Summit OKC in the Bricktown Silos
If you are looking for more challenging things to do in Bricktown OKC, then head to Summit OKC, formerly known as Climb Up OKC on the outskirts of Bricktown. The 90-foot tall climbing gym was converted from old grain silos.
There are several climbing routes on the outside of the silos as well as inside the climate-controlled building.
With a massive, colorful mural painted on the side of the silo, you can't miss this building when you are in Bricktown or simply driving by downtown OKC.
Tour the American Banjo Museum
Originally located in Guthrie, Oklahoma, the American Banjo Museum contains the world's largest collection of banjos on public display.
The museum in Bricktown is committed to preserving the history of this 4 or 5-string musical instrument – from its roots in slavery in the United States to its place in recent musical styles like Bluegrass.
The American Banjo Museum includes 400 instruments, recordings, sheet music, and other memorabilia associated with the American Banjo.
Bowl a strike at Revolutions by HeyDay
Revolutions by HeyDay Entertainment is a fun place to spend an afternoon. Redefining the entertainment landscape, this upscale venue combines entertainment, dining, and fun social opportunities all under one roof.
The bowling alley features 10 bowling lanes each with large LED screens above. You'll also find sports simulators and billiard tables to entertain you while you wait for a lane to open up.
Catch the latest movie at Harkins Bricktown Cinema
No entertainment district would be complete without a movie theater, and no surprise Bricktown has an incredible place to watch the latest flick.
Harkins Bricktown Cinema features 16 individual theaters with a variety of different seating options and even a child play area in the lobby.
Decorate your own cupcake at Pinkitzel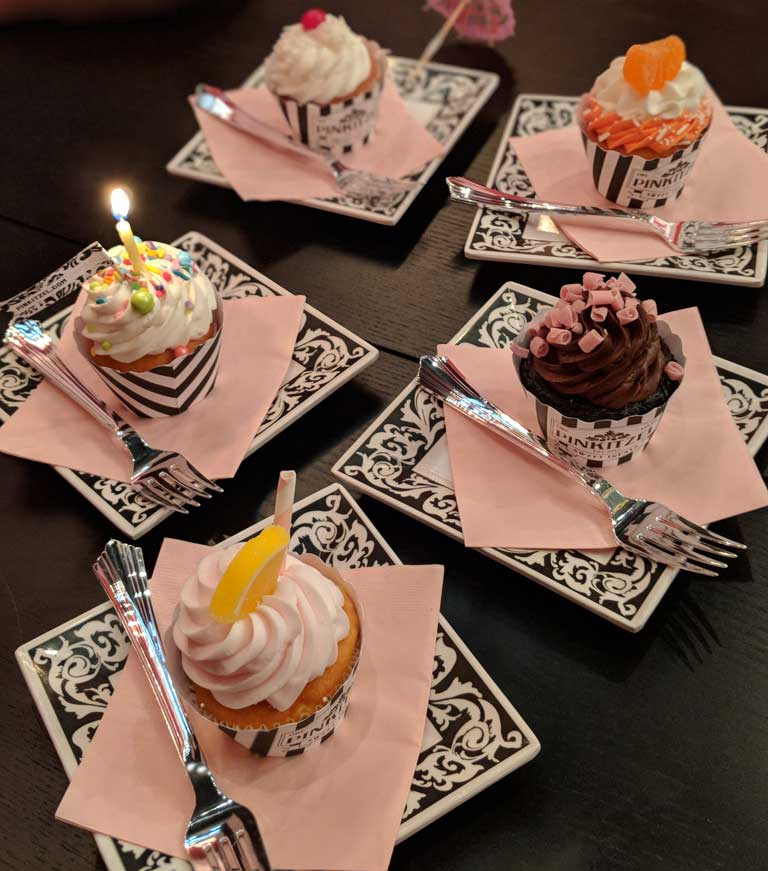 Adults and kids alike will love Pinkitzel, the gourmet cupcake shop on the edge of Bricktown. Located in the historic Santa Fe Train Depot, Pinkitzel is more than just a sweets shop.
This colorful bakery and boutique sweets store is a fun place to visit with or without kids. Purchase one of their signature cupcakes, or book an appointment to decorate your own.
You can also purchase macaroons, candy, and unique toys and souvenirs for the kids at Pinkitzel.
Where to Eat in Bricktown
One of the best things to do in Bricktown OKC is to enjoy one of the many restaurants along the canal and the streets throughout the entertainment district.
Casual dining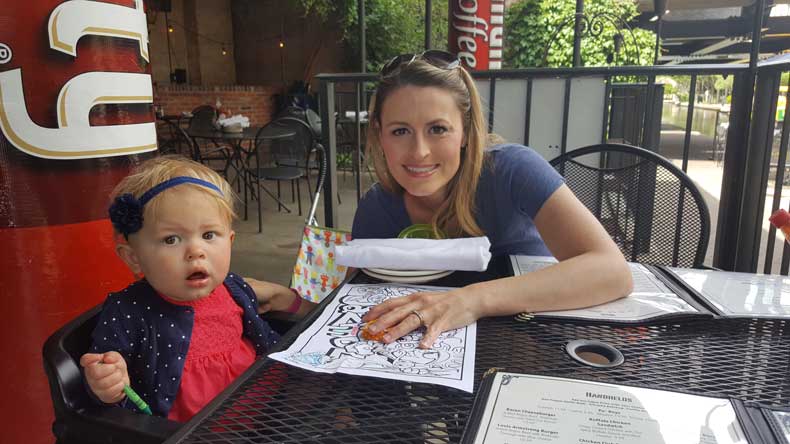 Bricktown offers lots of options for casual dining. Bourbon Street Cafe is a great place to have lunch if spending a day in Bricktown.
The Cajun food restaurant is located right on the canal, and the food and service are wonderful.
Sit outside on the covered patio and watch the ducks on the canal and the people strolling along the trails while you enjoy your meal.
Other great casual dining restaurants in Bricktown include Fuzzy's, Texadelphia, and Yucatan Taco Stand.
Upscale restaurants
Those looking for more upscale dining might enjoy Mickey Mantle's Steakhouse, located right across the Bricktown Ballpark on Mickey Mantle Street. It is the perfect place for a date night or celebratory occasion.
Other great restaurants for a special occasion include The Melting Pot, and Mantel Wine Bar.
Bars and Breweries in Bricktown
For those who are visiting Bricktown without kids, there are a number of bars and breweries in the downtown district that offer a fun environment and live music. There is a thriving craft brewery scene in OKC.
One of the most popular and oldest breweries in Oklahoma City, Bricktown Brewery, is a fun place to spend a night out.
If you prefer mixed drinks to beer, then head to Tipsy Tiki Dockside Bar for a fruity drink served in a pineapple or coconut cup.
Where to stay in Bricktown Oklahoma City
For those visiting OKC on a vacation, Bricktown is a great place to stay while you explore the city.
Residence Inn by Marriott is located directly across from the Bricktown Ballpark and offers family-size suites at a reasonable price.
For those looking for something more luxurious, the Omni Oklahoma City is one of the newest hotels in the area, while Aloft is considered one of the trendiest. And for those looking for historic charm, The Skirvin Hilton offers both luxury and history.
All three are located just outside of Bricktown, within a block from the entertainment district.
Other things to do within walking distance to Bricktown OKC
Bricktown is considered part of the greater downtown Oklahoma City area. So, naturally, there are a variety of other fun things to do in downtown Oklahoma City that lie just outside of Bricktown.
Skydance Bridge and Scissortail Park
Just outside of Bricktown and adjacent to the Omni Hotel, Scissortail Park is a beautiful urban greenspace.
One of the best things to do in OKC with kids, the park includes a playground, gardens, and lots of wide open grassy areas for picnics or play time.
From the park, take the short walk to Skydance Bridge, a unique pedestrian bridge that crosses Interstate 40.
The bridge is designed to look like the wings of the Scissortail, the state bird of Oklahoma and is illuminated at night.
Myriad Botanical Gardens
Another lovely greenspace in downtown Oklahoma City, Myriad Botanical Gardens offers both indoor and outdoor gardens to explore.
The Crystal Bridge Conservatory is the most popular area of the gardens.
The tropical conservatory recently underwent a complete renovation and reopened in 2022, with new pathways, an improved experience, and even more diverse plants for guests to appreciate.
Oklahoma City Museum of Art
The Museum of Art is downtown OKC's premiere destination for art lovers.
The museum routinely features unique, temporary exhibitions from glass artist Dale Chihuly, as well as paintings, photography, and other types of artistic expression as well as permanent collections.
OKC National Memorial and Museum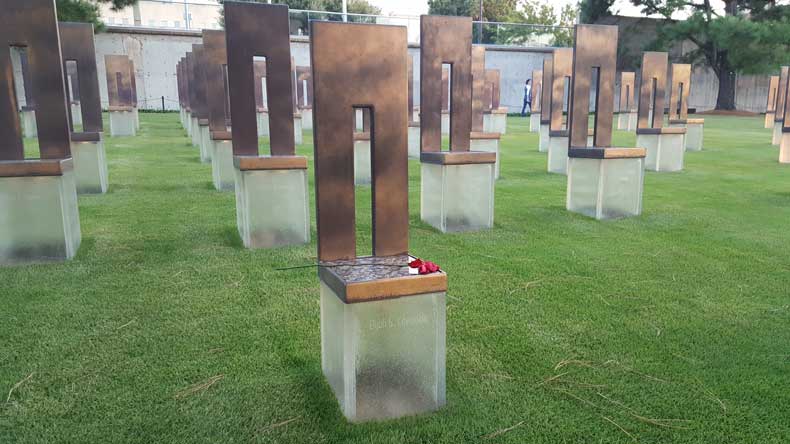 No visit to OKC would be complete without stopping by the Oklahoma City National Memorial, dedicated to the victims and survivors of the OKC Murrah Federal Building bombing in 1995.
The museum is very well curated and will make you feel as if you were there on that fateful day that 168 people, including 19 children, were killed in a domestic terrorist attack on the Alfred P. Murrah Federal Building.
The memorial itself is powerful and free to visit, but if you want to tour the museum, there is an admission fee of $15 per adult and $12 for children 6-17 years old.
Boathouse District
The Boathouse District runs adjacent to the Oklahoma River, just south of Bricktown.
There, you can take a ride on a whitewater rafting or kayaking course, go ziplining or test out your balance on an adrenaline pumping sky trail, the tallest adventure course of its kind in the world!
A vibrant and picturesque destination, the Boathouse District perfectly combines nature, recreation, and entertainment.
This fun district is a haven for outdoor enthusiasts and water sports enthusiasts alike.
Bricktown – a tourist district locals enjoy, too
As an Oklahoma City native, there are so many things to do in Bricktown OKC that make it a fun district for both tourist and for locals.
A must-visit for anyone who lives in Oklahoma City or is planning a trip to the capital of Oklahoma, Bricktown is a gem where history and urban development unite.
Have you visited Bricktown in Oklahoma City? What were your favorite things to do in Bricktown OKC? We'd love to hear about your experience. Let us know in the comments below.
Like it? Pin this guide to the best things to do in Bricktown OKC to save it for later!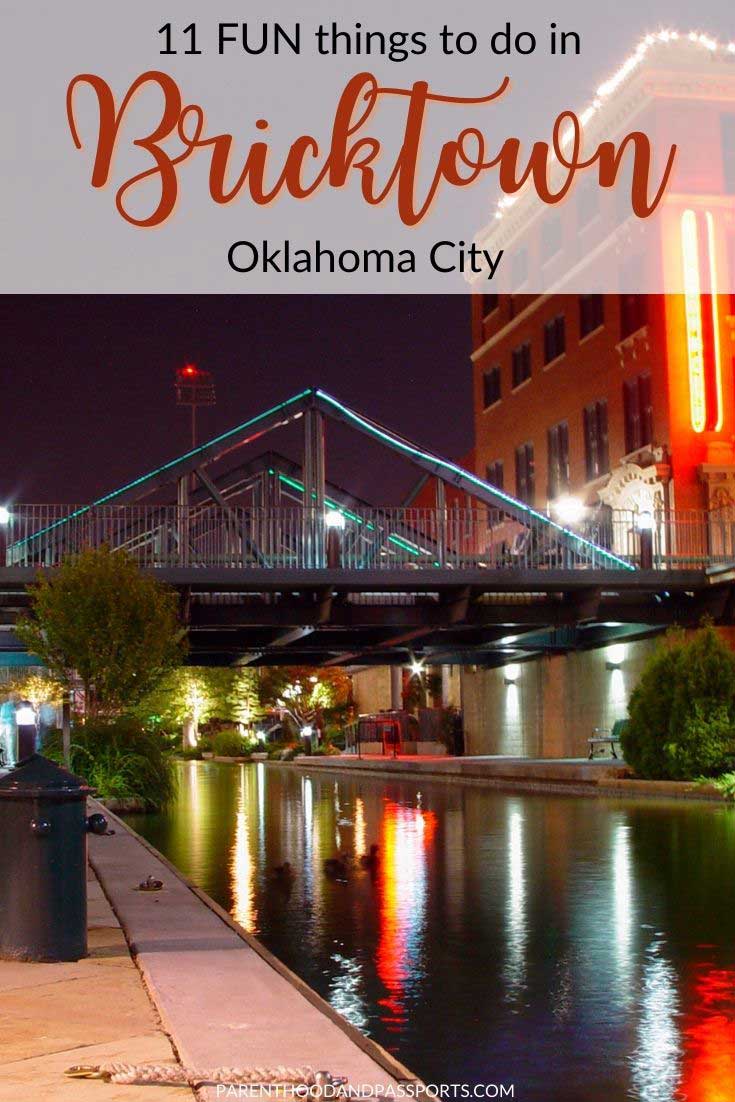 This guide to the best things to do in Bricktown OKC was first published in May 2016 and was most recently updated in May 2023 for accuracy and current information.