Are you planning a trip to the picturesque village of Castle Combe in the Cotswolds? You're in for a treat! This charming little corner of England is truly a dreamy destination filled with quaint cottages, historic buildings, and breathtaking countryside views.
From strolling through idyllic gardens to indulging in delicious local treats, here are some of the best things to do in Castle Combe to make your visit unforgettable. So grab a cuppa and get ready for some delightful discoveries!
This guide to the Castle Combe Cotswolds village details all the tourist information you need to know from how to get there, where to park, and the best things to do in Castle Combe, England.
Where is Castle Combe in the Cotswolds?
Located in Wiltshire, England, this delightful village of 344 residents is roughly 5 miles northwest of Chippenham.
Often considered one of the prettiest villages in the Cotswolds, Castle Combe is a bit more off-the-beaten-path than some of the other popular villages that dot the Cotswolds.
While many self-guided routes and guided Cotswolds tours take you to the North and Central Cotswolds, Castle Combe is a bit further, located in the South Cotswolds.
How to get to Castle Combe
Castle Combe is easy to get to from London by car, as it isn't too far off the M4. About 100 miles from the center of London, it will take you about 2 hours to drive to Castle Combe. And, yes, you will need a car.
There is no train or public transport to Castle Combe. To visit this pretty village you either need to rent a car and drive or take a guided tour.
Ready to rent a car? We always use AutoEurope to compare prices and book a rental when traveling in Europe.
Castle Combe Parking
As previously mentioned, Castle Combe is a tiny village. In fact, there are only a few streets in the entire village, so parking in the village is very limited. Don't worry though. There is a tourist parking lot (or car park for our UK readers) just up the hill from the village.
From the parking area it is a lovely 5-10 minute stroll down a tree-lined street to the center of Castle Combe.
Once you are in the village, there is no need for a car. It is easy to walk from one end of the village to the other in a matter of minutes.
About Castle Combe, England
Stepping into Castle Combe will feel like stepping back in time. The well-preserved medieval village is beautiful and somehow feels untainted by its tourist appeal.
You won't find rows of souvenir shops in Castle Combe selling over-priced trinkets or Castle Combe magnets. Nor will you find street vendors or a restaurant in every other building.
In fact, you'll just find a beautiful village with a handful of residents simply going about their daily life. I like to say that if Castle Combe was a person – it would be the strikingly gorgeous girl who doesn't know she's beautiful and doesn't see what all the fuss is about.
History of Castle Combe
Castle Combe gets its name from the 12th century castle that once stood in the area but was demolished centuries ago. While this village has been around for at least 900 years, there haven't been any new houses built in the historic town since around 1600!
Located in the Cotswolds, a scenic area of England known for its gold-colored Cotswold stone villages and rolling hills, Castle Combe has become more popular in recent history – thanks in large part to several movies and television shows that have been filmed there.
Parts of Steven Spielberg's War Horse and scenes of the hit series Downton Abbey were both filmed in Castle Combe.
Best things to do in Castle Combe Cotswolds Village
To help you plan your trip to this enchanting village, we've laid out the best things to do in Castle Combe.
Whether you're on a day trip from London, or slow traveling through England's famous area of outstanding natural beauty, be sure you don't miss these 10 Castle Combe things to do and photo spots.
Relax at the Market Cross
Don't expect an actual cross. Dating back to the 14th century, the medieval market cross in Castle Combe is really a pavilion located in the center of the town.
The Market Cross is a popular gathering place where you can sit and relax with a cup of tea or coffee, chat with friends, and enjoy a quiet moment with a view.
Perhaps it is called a cross because this area, which used to hold markets for trade, is situated where 3 roads cross or meet each other.
Be sure to take a moment and admire the stone carvings on the medieval market cross in the center of the covered pavilion, as they have survived for centuries, as well.
Visit St. Andrew's Church
Directly in front of the market cross, stands the stately St. Andrews Church. The lovely parish is still an active church for the town residents.
The original church and the surrounding churchyard or cemetery date back to the 13th century, but the church was completely restored and parts of the structure entirely rebuilt in the 1800s.
The church houses what is believed to be one of the oldest working clocks in the United Kingdom. The faceless clock which rings the church bell was probably crafted in the late 15th century, although there is no record of when it was first installed.
Spend a moment wandering the churchyard, where you'll find some graves that are so old the engraving has worn off.
There is just something poetically beautiful about cemeteries that date back many centuries.
Wander the main street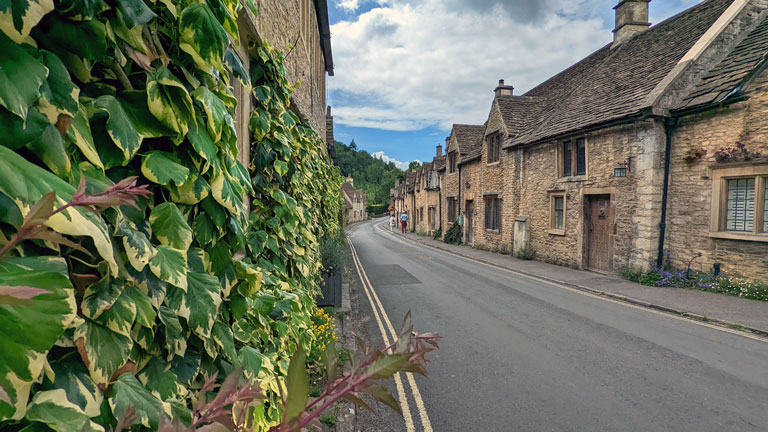 Castle Combe really has just one main street. While technically, there are three streets in the village, most people take a stroll from the Market Cross to the Castle Combe bridge. This small street is the most picturesque and photographed part of Castle Combe.
While there are some smaller side streets, these are private drives, and are either barricaded off or there are signs stating "private property".
When visiting Castle Combe, be courteous of the residents whose small village has seen an influx in visitors in recent years and please do not trespass on private property for a photo op.
Take a photo at the Castle Combe bridge
Luckily, if you want a great photo, you don't have to go far in Castle Combe. Head down the main street toward the small bridge at the edge of the village.
From this scenic bridge, which crosses a babbling brook, you'll get a postcard-perfect view looking back at the village with the church steeple rising above the golden stone homes.
This bridge is the most photographed spot in Castle Combe.
Soak in the natural beauty surrounding the village
Aside from the lovely stone villages, like Castle Combe, the Cotswolds are known for their rolling hills and idyllic natural landscapes.
The countryside around the village is perfect for leisure walks or cycling. You can even duck into the woods on your way back to the parking lot to feel surrounded by nature and take in the natural beauty along a quiet wooded path.
Buy a coffee, afternoon tea, or sweet treat from a village resident
One of the most unique things to do in Castle Combe is to knock on the door of a local house and purchase a fresh cup of tea, coffee, or a sweet treat.
Sure, you could go to a nearby tearoom, but that isn't near as fun as meeting friendly Castle Combe residents who sell homemade treats and drinks from their front door.
The residents who offer things for purchase have a sign up by their home when they are welcoming business.
You can take your mid-morning or afternoon snack to the Market Cross where there are plenty of places to sit and enjoy your cuppa and treat.
Additionally, you can often find homemade crafts at the Castle Combe market if you happen to visit when it is operating.
Enjoy a relaxing lunch
Lunch in Castle Combe can be as low-key or high end as you would like it to be. If you're hungry and want to grab a bite to eat in this delightful village you have a few options for restaurants in Castle Combe.
The main restaurant, The White Hart, has a cozy pub feel and serves hearty cuisine like burgers and fish and chips. If you prefer something on the lighter side, head to the Little Picnic Shop where you can order sandwiches to take away and enjoy picnic style in the small village.
Finally, for a luxury dining experience, the Manor House Hotel has both afternoon tea rooms and a high-end restaurant serving delicious cuisine.
Splurge on a luxury manor stay
If you're looking for a luxurious experience in Castle Combe, splurge on a stay at the Manor House Hotel. It's hands down one of the best things you can do in this charming English village.
From the moment you step inside this stunning 14th-century property, you'll feel like royalty. The luxurious rooms are beautifully decorated and feature every comfort you could possibly want.
The hotel is situated in the heart of Castle Combe, but tucked away at the end of a lesser visited street, so you'll have a relaxing and truly secluded stay.
If you're a golfer, the Manor House Hotel is located on a beautiful golf course, so you bring your clubs and book a time to tee off.
Catch a race at the Castle Combe Circuit
The Castle Combe Circuit is one of the United Kingdom's best motorsport venues. The speedway, or circuit, is not located in the village of Castle Combe, but sits just outside the village.
The circuit hosts car and bike races, as well as racing school experiences and car shows.
So, if your Castle Combe day trip happens to fall on a day that the circuit is hosting a race or other event, you can add a little adrenaline to your otherwise cozy day in the village.
Where to stay in Castle Combe
While you can't go wrong booking a stay at the Manor House Hotel, this stunning country home retreat comes with a high price.
For a less expensive yet still wonderful option, stay at the Castle Inn in the heart of town. This boutique inn is small and intimate and offers the same centuries-old charm that you'll find at the Manor House.
Is Castle Combe worth visiting?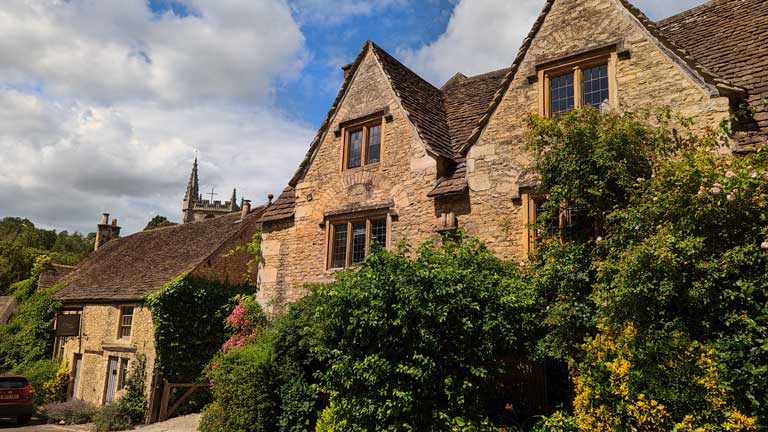 Castle Combe is definitely worth visiting if you are looking to experience the charm and serenity of the Cotswolds. It is an easy addition to a Cotswolds day trip and can be combined with the city of Bath and nearby Biddlestone to round out your day trip itinerary.
While many of the golden-hued villages that are sprinkled across the central Cotswolds can get very crowded, visit Castle Combe in the morning hours, and you may luck out, like we did, and find very few others roaming the quaint streets of the sleepy village.
Have a question about the Castle Combe Cotswolds village? We'd love to hear from you! Leave your thoughts in the comments below.
Like this travel guide to things to do in Castle Combe, England? Pin it to save it for later!
Did you know…
When you make a purchase or book hotels, tours, or other travel services, through our links, we receive a small commission, at no extra cost to you. We only EVER recommend service providers, websites, or products we personally use when booking our own travels. Your support enables us to keep producing helpful travel content. Thank you!
Photo credits: 1 & 7 - George Ciobra from Unsplash | Photo 3 - Ivy BarnS from Unsplash