Chiang Mai is an enchanting city where ancient temples, vibrant markets, and stunning natural landscapes await! Nestled in a mountainous area of Northern Thailand, Chiang Mai has a way of captivating visitors. Whether you're interested in culture, thrill-seeking activities, educational experiences or simply a relaxing connection with nature, you'll find what you are looking for in Chiang Mai.
From interacting with majestic elephants to ziplining and hiking through the jungle, we've rounded up the best things to do in Chiang Mai with kids that will create unforgettable memories for the whole family. So pack your sense of adventure and get ready for an extraordinary journey through Chiang Mai for families!
This family travel guide to the best things to do in Chiang Mai with kids includes 15 fun family-friendly activities that will make your Thailand vacation a truly memorable experience.
Check prices and find the best Chiang Mai kids activities, tours and excursions HERE
Where to stay in Chiang Mai with kids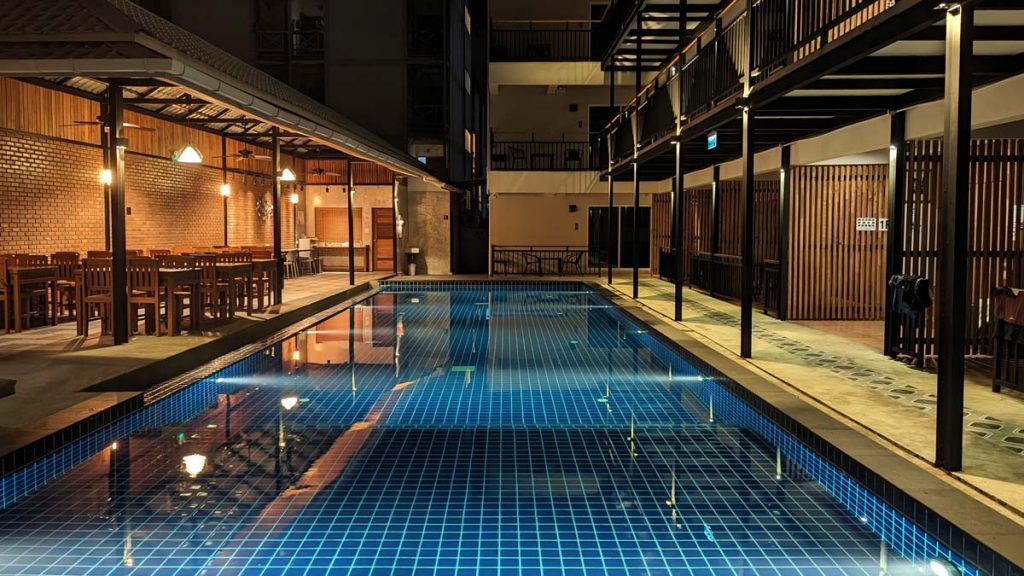 Chiang Mai is a family friendly city, and you'll find plenty of unique lodging options that are great for those traveling with kids in tow.
Many of the best places to stay in Chiang Mai with kids are in or near the Old City. Whether you stay within the Old City gates or just outside the gates, you'll find lots of conveniently located places to stay.
Here are a few budget friendly options that are within walking distance to many of Chiang Mai's top attractions.
When to Go to Chiang Mai
The best time of year to visit Chiang Mai is during the cool and dry season, which typically spans from November to February. While Thailand is always hot, the temperatures during these months are more mild, making it ideal for exploring without being overwhelmed by the weather.
From February through April, Northern Thailand experiences what is often referred to as "burning season". During these months, the farmers burn their fields to prepare the land for the next season. This can cause the air to be hazy and smoky, which can be problematic for those with allergies or asthma.
Finally, the rainy season in Chiang Mai lasts from May through October, with the wettest months being July and August. However, don't let that discourage you from visiting Chiang Mai during the summer.
We visited Chiang Mai during the wet season and experienced heavy rain one afternoon, which lasted for about an hour before it cleared. It also rained overnight but it did not put a damper on any of our plans.
How to get to Chiang Mai
You can either fly or take the overnight sleeper train from Bangkok to Chiang Mai. Both are convenient options when visiting Chiang Mai with kids.
After spending 4 days in Bangkok, we took the train to Chiang Mai, and then flew to Krabi. Both were great ways to travel.
If you prefer to fly, there are direct flights to Chiang Mai from Bangkok, Phuket, Krabi, Koh Samui, and even from cities in other countries like Singapore, Taipei, and Hong Kong.
Fun Things to Do in Chiang Mai with Kids
When we were planning our trip to Thailand we read so many articles raving about Chiang Mai, but it just didn't seem like there was a lot to do there. Within a few minutes of checking into our hotel and seeing all the brochures at the concierge's desk, we realized there are so many unique things to do in Chiang Mai with kids!
Here is a list of our favorite, family-friendly activities in Chiang Mai.
Visit an Elephant Sanctuary
Hands down visiting an ethical elephant sanctuary is one of the best things to do in Chiang Mai with kids. Chiang Mai and its surrounding regions are home to numerous elephant sanctuaries, where the welfare and well-being of these majestic creatures take center stage.
Elephant Nature Park is the most well-known, but there are other elephant sanctuaries in Chiang Mai, like Into the Wild Elephant Camp, that are also ethical and a lot of fun for families.
These sanctuaries provide a compassionate and ethical alternative to traditional elephant tourism, which once involved riding on elephants or forcing the elephants to perform for tourists.
Visitors to these sanctuaries have the opportunity to observe elephants in their natural habitats, roam alongside them, and even engage in activities such as feeding or bathing these magnificent animals.
The elephant sanctuaries near Chiang Mai offer one of the most unforgettable and surreal experiences you can have in Chiang Mai. It is an experience that will leave you with a profound appreciation for these incredible, large creatures.
Just do your research and make sure the "sanctuary" you are visiting is an actual sanctuary and doesn't keep the elephants in small enclosures or abuse them to make them comply with activities for the delight of tourists.
Make Paper from Poop at the Elephant PooPooPaper Park
Yes, you read that correctly. Your eyes are not deceiving you. One of the best things to do in Chiang Mai with kids is to learn about making elephant poop paper products!
Elephant PooPooPaper Park is a fun, eco-friendly, and kid-friendly attraction in Chiang Mai, Thailand.
This one-of-a-kind park showcases the unique and innovative process used to transform elephant dung into remarkable handmade paper products. Visitors are not only greeted by the resident elephants but also get a chance to witness the sustainable and creative approach of recycling their dung into usable paper.
The experience begins with an educational tour, highlighting the importance of conservation and environmental awareness. You and your kids can then participate in the paper-making process, seeing firsthand how waste is turned into artistic treasure.
As visitors leave Elephant PooPooPaper Park, they carry with them fascinating souvenirs and, hopefully, a renewed sense of responsibility towards nature and wildlife.
Visit Wat Phra That Doi Suthep
There is a saying in Thailand that you haven't visited Chiang Mai unless you've tasted Khao Soi and visited Doi Suthep.
This awe-inspiring Buddhist temple perched atop Doi Suthep mountain outside of Chiang Mai is a sacred and spiritual place. One of the most famous temples in Thailand, visiting Wat Phra That Doi Suthep requires you to ascend 300 steps or opt for a cable car ride to reach its hallowed grounds.
Built in the 14th century, the temple is adorned with intricate golden pagodas, mesmerizing murals, and splendid sculptures that showcase the region's unique architecture. The breathtaking panoramic views of Chiang Mai city below serve as a reminder of the temple's sacred significance and the beauty of the surrounding natural landscape.
The majestic temple can be a unique and enriching educational experience in Chiang Mai for children, introducing them to Buddhist traditions and Thai culture.
Climb Sticky Waterfall
The Sticky Waterfall, also known as Bua Tong Waterfall, is a unique and fun attraction in Chiang Mai for kids.
Unlike traditional waterfalls, this extraordinary waterfall features limestone rocks with a porous texture, allowing visitors to climb directly up the cascading water without slipping. The mineral-rich water provides an almost magical grip, making it possible for people of all ages to ascend the falls and explore its multi-tiered levels.
The Sticky Waterfall offers a refreshing escape from the heat. It is included as a stop on many elephant sanctuary tours or day trips to Wat Phra That Doi Suthep.
Zipline and Navigate a Ropes Course through the Jungle
One of the best things to do in Chiang Mai with kids, Pongyang Adventure Park features ziplining, a ropes course, and an exhilarating mountain coaster set against a backdrop of lush green hills and even a scenic waterfall.
The zip lines are short, so if you have ziplined in Costa Rica, for example, this is a much different experience. The zip lines are much smaller and lower to the ground, but the course is fun, safe, and great for kids..
After a day filled with excitement, guests can unwind and savor a delightful meal at the park's restaurant or lounge on a hammock bed at the café and enjoy a coffee, tea, or smoothie with a waterfall view.
Prefer longer ziplines or to zipline only? Check out Thailand's longest zip line roller coaster HERE.
Explore Chiang Mai's Many Temples
Chiang Mai is a city with so many temples.
In fact, there are more than 300 temples in the city, with some of the most noteworthy found within Chiang Mai's Old City.
One of the must-visit temples is Wat Phra Singh, a revered and significant site housing the famous Phra Singh Buddha statue. Its intricate Lanna-style architecture and ornate detailing make it a captivating sight for visitors.
Another highlight is Wat Chedi Luang, known for its towering pagoda that once stood as the tallest structure in ancient Chiang Mai. This temple exudes a sense of awe and history, with ruins of smaller chedis surrounding the main structure. It's important to know that there are parts of the Wat Chedi Luang complex that women are not allowed to enter.
For a serene and contemplative experience, Wat Chiang Man, the oldest temple in Chiang Mai, provides a tranquil escape with its beautiful gardens and ancient relics
Exploring these enchanting temples in Chiang Mai's Old City will leave a lasting impression on you.
Take a Thai Cooking Class
A cooking class is a wonderful hands-on way to get your little ones excited about Thai food.
This fun culinary adventure walks you through the traditional techniques used in crafting Thai cuisine and gets kids involved in the process – from handpicking the ingredients to prepping the vegetables, and mixing everything together to create the perfect pad Thai or savory stir-fry.
Not only will your family leave with full bellies and unforgettable memories, but you'll gain new knowledge that you can bring home to recreate the flavors of Thailand in your own kitchen.
Peruse the Night Markets
Chiang Mai boasts some of the most captivating night markets in Thailand. One of the most famous and beloved night markets is the Sunday Walking Street on Rachadamnoen Road. Here, the entire street comes alive with a kaleidoscope of colorful stalls selling handcrafted souvenirs, traditional Thai clothing, artwork, and delectable street food.
The Saturday Night Market on Wua Lai Road is another gem, renowned for its silverware and handicrafts, as well as its lively atmosphere filled with music and street performances. F
or a taste of the local lifestyle, the Chang Puak Gate Night Market is a must-visit, where visitors can indulge in authentic Northern Thai cuisine and mingle with friendly locals.
Meanwhile, the Chiang Mai Night Bazaar on Chang Klan Road is one of our personal favorites. It offers a mix of traditional crafts and modern goods, making it an ideal spot to shop for souvenirs and enjoy some really great street food. 
Also read our posts on the Damnoen Floating Market and the Train Market near Bangkok.
Meet the Animals at the Chiang Mai Zoo
While the elephant sanctuaries are undoubtedly the best animal experiences in Thailand, the Chiang Mai Zoo is another great attraction where your kids can learn about some of the native species in Asia.
The Giant Pandas – on loan from China – are the gems of the zoo, and Chiang Mai is one of less than 30 zoos in the world where you can see these majestic, endangered creatures.
The 200-acre zoo is a prominent conservation hub, housing more than 400 species, both native and exotic. Kids and adults alike will enjoy seeing the diverse array of animals living in the zoo's thoughtfully designed enclosures which provide a semblance of each animal's natural habitat.
Beyond the captivating wildlife encounters, Chiang Mai Zoo also boasts an aquarium with one of the world's longest aquatic tunnels, an education center, and beautiful, lush grounds adorned with colorful flowers, streams and waterfalls.
Get a Thai Massage
A massage may seem like an experience geared more toward adults. However, if visiting Thailand with kids, your grade-school and teen children can also partake in this relaxing experience. And our daughter loved it!
With its roots in ancient Thailand, this therapeutic massage is a rejuvenating experience. Unlike traditional massages, Thai Massage is a dynamic and interactive practice, combining acupressure, stretching, and yoga-like postures to release tension and restore balance.
The massage therapist uses hands, elbows, knees, and feet to apply rhythmic pressure to stimulate the body's natural flow of energy.
Of course, children will receive a less intense massage than their parents.
Through gentle stretching and passive yoga movements, the massage promotes flexibility, relieves muscle stiffness, and improves overall circulation.
You'll find numerous Thai Massage spas in and around the old town area of Chiang Mai, with costs starting around $7 USD (200 Thai baht) for a half hour to hour long massage.
Visit Hill Tribe Villages
Visiting the small tribal villages in Northern Thailand is a great way to see daily life outside of the developed city of Chiang Mai.
Nestled amidst lush tropical landscapes, the villages exuded an air of tranquility and authenticity. You'll get to learn about the different tribes and their traditions and distinctive way of life.
You can engage with the villagers, enjoy a Thai lunch and shop for handicrafts such as colorful, woven textiles and exquisite jewelry.
A visit to these tribal communities will leave an indelible mark on both you and your children.
Indulge in Mango Sticky Rice
Mango Sticky Rice is a delectable dessert with its origin in Thailand. The heavenly combination of sweet, fragrant mangoes and creamy coconut-infused sticky rice is popular across Thailand, but Chiang Mai is said to have some of the best restaurants serving this delicious treat!
The rice is cooked to a chewy texture and blended with coconut milk and sugar. It is topped with ripe, juicy mango slices, adding a refreshing and tangy contrast to the sweet creaminess of the rice.
Along with Khao Soi, which is a spicy, coconut curry soup, Mango Sticky Rice is a must-try in Chiang Mai, especially if visiting Chiang Mai with kids.
As a beloved staple, sampling this delightful dessert is one of the best things to do in Chiang Mai for families.
Visit One of Chiang Mai's Unique Cafes
Chiang Mai has some really unique and charming cafés that have become quite popular in recent years among visitors to the city.
You'll find numerous cat cafés in Chiang Mai, where visitors can enjoy a cup of coffee surrounded by adorable and playful rescue cats. The cafés offer a relaxing and heartwarming experience for animal lovers.
There's also Carp Café, which offers you the unique experience of dining at tables surrounded by a huge and picturesque pond of carp that you can see and even feed. This is one of the best places to go in Chiang Mai with kids!
Finally, perhaps the most famous café in Chiang Mai – made popular by its Instagrammable appeal – Chom Café and Restaurant has a rainforest setting that looks like something out of a fairytale.
Of course, these are just a few of the fun cafes in Chiang Mai. You'll also find cafes for book lovers and art lovers.
Go for a Hike in Doi Inthanon National Park
Doi Inthanon National Park, located southwest of Chiang Mai city, offers a myriad of unforgettable experiences for nature enthusiasts and adventure seeking families.
Home to the highest peak in the country, Doi Inthanon rewards travelers with breathtaking panoramic views of misty mountains and cascading waterfalls.
Exploring the hiking trails amidst lush forests, home to rare bird species and visit the twin pagodas, perched majestically on the mountain's summit.
Your kids will also enjoy seeing the stunning Wachirathan and Sirithan waterfalls, where the sound of rushing water adds to the park's beauty and excitement.
Visit the Grand Canyon Water Park
Another fun thing to do in Chiang Mai with kids, the Grand Canyon Water Park beckons visitors seeking respite from the tropical heat with an adrenaline-fueled water adventure.
Located in the picturesque Mae Rim district of Chiang Mai, this former limestone quarry has been transformed into a family-friendly water park, with a mix of exhilarating activities and serene relaxation spots.
Thrill-seekers can indulge in heart-pounding jumps from high platforms into the deep water below or test their skills on inflatable obstacle courses. For those seeking a more leisurely experience, you can float on a rented raft or unwind on the sandy shores while basking in the sun.
Conclusion: Chiang Mai with kids
Chiang Mai offers an abundance of family-friendly activities that are sure to create lasting memories for both kids and adults alike. From touring inspiring temples to exploring some of the incredible hiking trails nearby, Chiang Mai truly stands out as a top destination for families seeking adventure and educational experiences.
Here are a couple of frequently asked questions you might have when planning your trip to Chiang Mai.
Is Chiang Mai worth visiting?
Chiang Mai is not only one of the best places to visit in Thailand with kids, it is one of the best places in Asia for a family vacation.
So, if you are considering whether or not to skip Chiang Mai because it is so far north from Phuket or Bangkok, we'd strongly recommend fitting it into your Thailand itinerary.
How much time do you need in Chiang Mai with kids?
You could easily spend a week or more in Chiang Mai with kids. For many, including us, the city is their favorite destination in Thailand.
However, if you have a limited amount of time, we'd recommend spending about 3 or 4 days in Bangkok, and at least 3 days in Chiang Mai before moving on to Chiang Rai, or the beautiful beaches Thailand is known for.
Although 3 days isn't enough time to do all of these fun things to do in Chiang Mai with kids, it will give you enough time to check out the night markets and temples, visit an elephant sanctuary, and do a fun hike.
Like it? Pin this list of the best things to do in Chiang Mai with kids to save it for later!
Do you have a question or comment about any of these things to do in Chiang Mai for kids? We'd love to hear from you! Leave your thoughts in the comments below.
Did you know…
When you make a purchase or book hotels, tours, or other travel services, through our links, we receive a small commission, at no extra cost to you. We only EVER recommend service providers, websites, or products we personally use when booking our own travels. Your support enables us to keep producing helpful travel content. Thank you!