New England has so many cool things for visiting families to do. Among the most popular states in New England, Massachusetts offers visitors a mix of fascinating US history, fun attractions, and interactive museums.
From attractions that appeal to children of all ages and interests to experiences that can even provide them with an education without them knowing it – Massachusetts is great for families.
With so many fun things to do in Massachusetts with kids, your little ones will have just as much fun as you and treasure the lifelong memories they'll form in this historical state.
If you are looking for the best things to do in Massachusetts with kids, this family travel guide includes the 21 best places to visit on a Massachusetts family vacation.
About Massachusetts
Although Massachusetts may be the sixth smallest state in the United States, it is big on fun! And truly – nothing feels small about it. The 15th most populous state, Massachusetts offers big city vibes in Boston and endless coastal views in Cape Cod. You'll even find plenty of hidden gems in the New England state.
Quick Facts about Massachusetts
Population: 6.985 Million
Borders: Connecticut, Rhode Island, New Hampshire, Vermont, and New York
Capital: Boston
Famous for: One of the early English colonies, settled by the Pilgrims who came over on the Mayflower.
Other notable historical events that took place in Massachusetts: the Salem witch trials and the Boston Tea Party which was an important catalyst for the American Revolution.
Best destinations in Massachusetts to Visit with Kids
If you're planning a family trip to Massachusetts and want to visit multiple places in the state, here are some of the most popular cities in Massachusetts to visit.
Boston
There is no question that the capital city of Massachusetts deserves a visit. Boston is fun, family-friendly, and teeming with historical significance.
With its many incredible museums, its delicious food, and even one of the best beer gardens in the United States, Boston is among the most popular places to visit in Massachusetts for families.
Cape Cod
The hook-shaped peninsula of Massachusetts is best known for its charming villages, pristine shoreline, and fresh seafood.
New Englanders often venture to Cape Cod during the summer to escape the cities and enjoy the laid back atmosphere in one of the quaint villages that dot the peninsula.
Salem
Perhaps the most popular Halloween destination in the United States, the town of Salem, Massachusetts has a dark history that will captivate anyone who has ever studied colonial US history.
The town is notorious for its witch trials that took place in the late-1600s. In a span of 2 years hundreds innocent people, mostly women, were accused of the Puritan crime of witchcraft.
Many were convicted, and nearly 2 dozen were killed or died in one of the most notable cases of mass hysteria ever recorded.
Nantucket and Martha's Vineyard
The islands of Nantucket and Martha's Vineyard are popular summer destinations in Massachusetts. Known for their relaxed beaches, lighthouses, and wharfs, these islands off the coast of Cape Cod are incredible places for weekend getaways in Massachusetts.
Where to stay in Massachusetts with Kids
If you are planning a family trip to Massachusetts with kids, you'll want to split your time between some of the cities in Massachusetts and the cape and islands.
In Boston, staying near the Boston Harbor puts you within a convenient distance to the Freedom Trail and many of the other popular things to do in Boston for kids.
Search for hotels near the Boston Harbor
In Cape Cod, choose a hotel or vacation home near Chatham or Hyannis for a central location to many of the best things to do with kids along Massachusetts' famous peninsula. It also puts you close to the ferries to Martha's Vineyard and Nantucket, both of which you can catch at the Hyannis Harbor.
Search for hotels near Hyannis, Massachusetts
Map of the Best Things to Do with Kids in Massachusetts
If you've never been to Massachusetts or you aren't that familiar with where the cities and popular destinations are located, we've put together a map of the best things to do in Massachusetts with kids.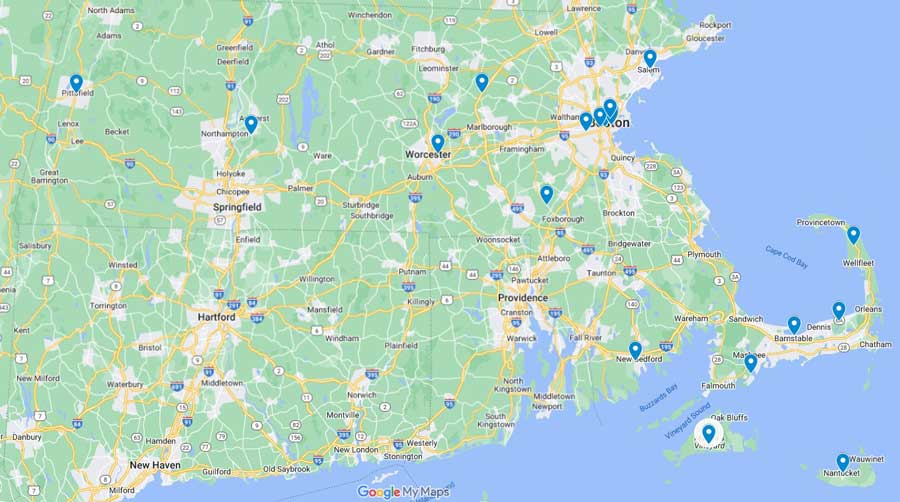 20 Fun Things to Do in Massachusetts with Kids
If planning a trip to Massachusetts, here are some of the best places and attractions to explore with your kids.
1. Tour The New England Pirate Museum – Salem
While Salem is best known for witches, your kids can also learn about pirates in the Massachusetts town!
Pirates fascinate kids because their stories are full of adventure. Most pirate tales take place back in time, but your children could see them brought to life at the New England Pirate Museum. The property has artifacts and treasures that dazzle people of all ages.
Your family will especially love the massive cave replicating a secret cove with hidden treasure. It's a memorable place to take family photos.
2. Go for a Ride on the Boston Duck Tours – Boston, MA
A great way to kick off your trip is by taking a Boston Duck Tour. The most popular tour in Boston, this unique tour "vehicle" is both a bus and a boat! You can start in one of three departure locations just minutes from the airport if you're flying in.
The kid-friendly tour takes you to historical landmarks and through unique neighborhoods in Boston. Duck tour operators make the experience extra fun and educational.
Does your family read "Make Way for Ducklings" together? The story is about a family of Mallard ducks in Boston, and the city has duckling statues in its Public Garden.
You can see them from your boat tour and get back on land in the tour company's amphibious WWII vehicles.
3. Relax at the Cape Cod National Seashore – Wellfleet, MA
The Cape Cod National Seashore offers a unique blend of natural beauty, cultural attractions, and educational opportunities, making it an excellent choice for a family vacation in Massachusetts.
Home to 40 miles of some of the most picturesque beaches in the United States, Cape Cod offers stunning views, clear waters, and soft sand for kids to play on. You can enjoy swimming, surfing, boating, and many other water activities.
With a robust network of hiking and biking trails, it is an excellent destination for families looking to enjoy the outdoors during the warm months.
4. Explore The Cape Cod Children's Museum – Mashpee, MA
Younger kids may not have the patience to walk through a traditional museum, but if you're visiting Massachusetts with toddlers, they'll love the Cape Cod Children's Museum.
There are life-sized castles, pirate ships and treehouses to explore between visiting interactive exhibits and craft classes.
Even kids who proclaim they're bored on vacations can find something thrilling in the 8,000-square-foot museum. 
5. Have a Deliciously Good Time on a Boston Haunted Pizza Walk – Boston, MA
It's challenging to find a kid who says they don't like pizza. Luckily, Boston has plenty of it! In fact, Boston has numerous pizza walks your family can take to explore the downtown area, but it's even more fun to book an experience with the Boston Haunted Pizza Walk company.
You'll tour crypts beneath the earth and learn about the Salem witch trials before climbing back into the open air for dinner.
After a tour guide takes you through Boston's infamous Murder District, you'll each get two slices from one of the numerous pizzerias along the tour.
This family activity doubles as a reason to wear the oil-free sunscreen in your trusted travel bag – especially in those sunny summer months. It'll protect your skin from UV rays without interfering with your makeup.
Stay safe in the sunshine to maximize your family's fun while learning some spooky history.
6. Take the Ferry to the Island of Nantucket – Hyannis, MA to Nantucket
Nantucket is a beautiful island off the coast of southern Cape Cod which plays host to tens of thousands of tourists each summer.
Known for its pristine beaches, rich history, and charming downtown area, a day trip or multi-day trip to Nantucket is one of the best things to do in Massachusetts with kids.
Wander through the cobblestone streets or visit the Whaling Museum to learn about the island's history and maritime heritage.
Of course, in summer, children will love playing in the sand, swimming in the ocean, and exploring the tide pools.
The one-hour ferry ride from Hyannis aboard a high-speed catamaran is an adventure in itself. Kids will stay entertained looking out at the ocean and trying to spot wildlife.
7. Visit The Cape Cod Museum of Natural History – Brewster
Natural history museums combine education and entertainment in one location. Cape Cod's will wow your family while teaching your kids with exhibits like live honeybee displays and a full aquarium.
Don't miss out on the guided nature walks if you visit the cape in the summer. These walks are a great way for kids to learn about the plants and animals that call the area home.
8. Tour the Boston Tea Party Ships and Museum – Boston
Students often hear about the Boston Tea Party in their first American history class. Your kids likely already learned about it if they're in grade school, so take them to where it occurred. They'll never forget the lessons they learned when they head back to school.
Once you arrive, your family can board a replica tea party ship and participate in an interactive drama. Tour guides explain the historical significance of everything you'll see along the way.
You can even enjoy tea together and taste the same blends people dumped in the harbor so long ago.
9. See a Real Mummy at The Berkshire Museum – Pittsfield
Dazzle your family with the collection of artifacts and art at the Berkshire Museum in Pittsfield.
Everyone's jaw will drop when they see the real-life mummy, insect collection, and crystal display. Little ones who don't enjoy stand-still exhibitions will enjoy the museum's aquarium.
There are even children's programs throughout the year that provide hands-on fun they'll never forget. See what's happening with the museum's calendar before making it a pitstop on your trip through Massachusetts with kids.
10. Catch a Red Sox Game or Tour Fenway Park – Boston, MA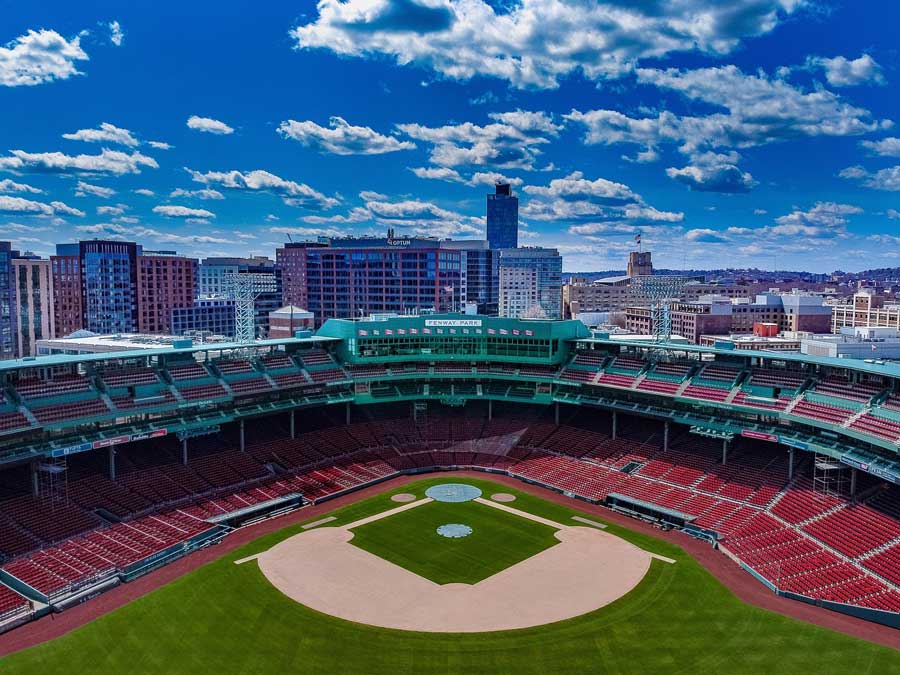 Families who love baseball or have kids who play on Little League teams should consider a Fenway Park tour. You'll see the historic park and even walk onto the field if the excursion happens early in the day.
Remember to plan your transportation before you go. Locals recommend that families ride the Green Line T into the park. You'll avoid the costly parking fees and late-night traffic if you stay for a game after your tour.
Baseball-loving parents don't have to skip out on an upcoming game if their kids aren't interested in baseball. When they get disinterested in what's happening on the field, numerous activities are waiting for them at the Kids Concourse.
They could have someone paint their faces, color free coloring pages or practice their batting average in the instructor-led batting cages.
11. Meet Exotic Creatures at the Animal Adventures Family Zoo and Rescue Center – Boston, MA
Kids who love animals may find that the Animal Adventures Family Zoo and Rescue Center becomes their next favorite vacation spot. It has exotic creatures rescued from around the world.
Watch one of the daily shows to see the animals hang out with trained experts and learn more about their species.
12. Learn about the Bewitching History at The Salem Witch Museum – Salem, MA
You can't vacation near Salem without stopping by the Salem Witch Museum. Its arching stone walls invite people inside to learn the truth behind the witch hunts and watch dramas that recreate history on stage sets.
The museum features exhibits and displays that explore the history of the witch trials in Salem, including life-size dioramas and an interactive exhibit that allows visitors to learn about the accused witches.
It's extra busy around Halloween, but you can take your family any time of the year.
Be sure to book a ghosts of Salem walking tour and visit the Rebecca Nurse homestead, one of the few surviving buildings in Salem connected to the witch hunts.
13. Ignite a Love for the Outdoors at The EcoTarium – Worcester MA
When your children play outside, do they ever come back cupping a frog in their hands? The EcoTarium is excellent for kids who love the outdoors and small animals like amphibians or reptiles.
The facility also has an interactive outdoor exhibit for young kids who want to climb, build and dig in a play area while their older siblings explore the museum.
Located in the Central Massachusetts city of Worcester, this is an easy day trip destination if visiting Boston with kids.
14. Take a Walk Back in Time along the Freedom Trail – Boston, MA
The American Revolution left many historic sites on the East Coast. From Yorktown and Williamsburg, Virginia, to Boston's National Historical Park, the East Coast is filled with sites that can engage and educate children on early American history.
Boston is home to some of the most fascinating historic spots in the United States. 
Along the 2.5-mile-long Freedom Trail which winds through the city, visitors can explore 16 historic sites, including the Massachusetts State House, the Paul Revere House, and the Old North Church.
Take a self-guided tour to see the Paul Revere house and a few places that helped enslaved people find freedom through the Underground Railroad.
Keep in mind that some of the sites may be more suitable for older kids and teens, while younger children may need more interactive and hands-on experiences.
15. Hit the Trails at Stony Brook Wildlife Sanctuary – Norfolk, MA
The Stony Brook Wildlife Sanctuary is a 120-acre preserve which features a variety of habitats, including meadows, forests, ponds, and wetlands. These habitats provide a home to a diverse array of wildlife species.
Stretch your legs by walking one of the many trails through the sanctuary. The paths vary in length, so young kids and adults can enjoy the outdoors together.
If you happen to stop by on a Nature Play Day, your kids can have self-directed playtime to engage their fine motor skills while solving outdoor puzzles and games.
16. Go Whale Spotting on a Hyannis Whale Watcher Cruise – Barnstable, MA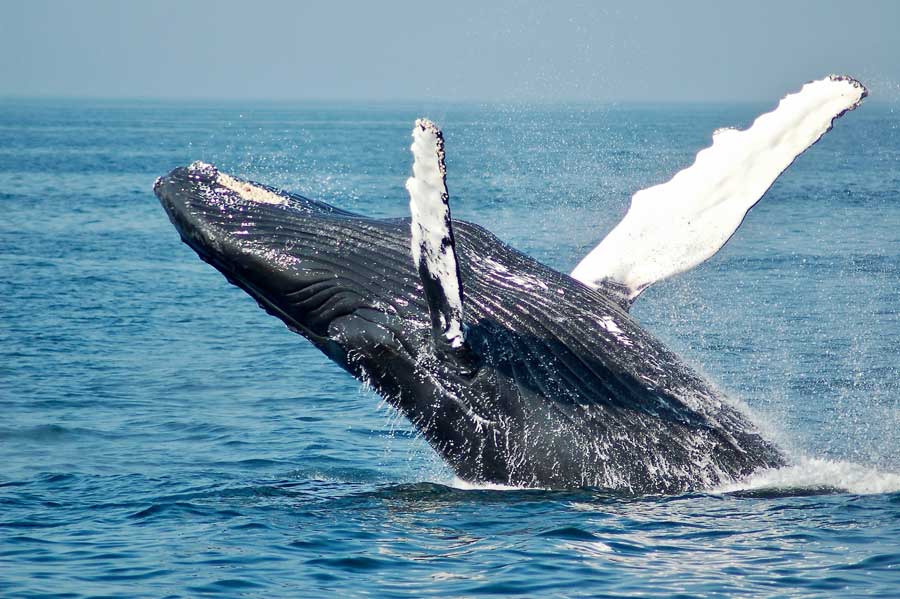 While in Cape Cod, spend a day out on the water by booking a whale watcher cruise.
The Hyannis Whale Watcher Cruise company takes visitors along the Cape Cod coast to see humpback whales during the spring, summer and early fall.
If your kids are interested in the three-and-a-half-hour tour, they'll have a blast out on the waves.
17. Learn about Wildlife at The Buttonwood Park Zoo – New Bedford, MA
Animal lovers often stop by New Bedford's Buttonwood Park Zoo to see the 200 species housed on the property. The small zoo covers 10 acres and features animals from around the world.
Your family can learn about each one through educational signs and even ride a train around the zoo to cool off in the summer. There are also family-friendly attractions like a carousel, and a playground.
Zoos, while sometimes debated, are great places to encourage a love of animals in children.
18. Explore Life Under the Sea at The New England Aquarium – Boston, MA
Aquariums dazzle kids because aquatic creatures look magical swimming around in front of your eyes.
Your family might enjoy seeing the recreated Caribbean reef before stopping by the penguin exhibit or the interactive tide pool at the New England Aquarium. There are even a few rare fish on display from ancient periods. 
The property plays daily IMAX ocean movies ideal for young ones too tired to finish walking through the aquarium. They'll feel like they're swimming with the fish and turtles while resting in their reclining chairs.
19. Learn about All Things Water at The Metropolitan Waterworks Museum – Chestnut Hill, MA
Children who adore steam locomotives and teens interested in engineering might find common ground at the Metropolitan Waterworks Museum, located in the Boston suburb of Chestnut Hill.
Its reservoir, built hundreds of years ago, was the first waterworks system on the East Coast. Your family could also see coal-powered engines up close on a guided tour.
The museum has a variety of exhibits and interactive displays that will engage children and help them to learn about the importance of clean water and how water is treated and delivered.
20. Unleash your Inner Artist at The Eric Carle Museum of Picture Book Art – Amherst, MA
Fans of Emily Dickinson's poetry or the Apple TV show about her will likely want to visit Amherst to explore her hometown.
While you're there, you can take your younger kids to the Eric Carle Museum to see picture book art.
The exhibits change throughout the year, but there are always opportunities for young visitors to make their own art and walk through the property's apple orchard.
21. Cycle around Martha's Vineyard
From beaches to farm visits, and even the country's oldest operating carousel, Martha's Vineyard is another great island destination in Massachusetts for families.
Martha's Vineyard has several family-friendly beaches, such as South Beach, Oak Bluffs Town Beach, and Menemsha Beach, as well as hiking and biking trails and plenty of scenic views.
Cycle down streets lined with cozy cottages or enjoy a lobster lunch with a harbor view. It's impossible to not feel relaxed and make cherished family memories in Martha's Vineyard.
FAQs about Visiting Massachusetts with Kids
When planning a trip to a new state, it is natural to have questions while planning your itinerary. Here are some of the most frequently asked questions about visiting Massachusetts with kids.
What is the number one attraction in Massachusetts for kids?
There are many great attractions for kids in Massachusetts, so it's difficult to pick just one as the number one. However, one of the most popular and highly rated attractions for families in Massachusetts is the Boston Duck Tours.
Kids will love boarding the boat/bus that takes you to explore the city by both land and water. It's one of the best things to do in Massachusetts with kids.
Is Boston a good trip for kids?
Boston is an incredible place for families to visit. From its many historical sites located along the Freedom Trail to its delicious foods like clam chowder and lobster rolls, Boston has all the makings of a memorable family vacation.
How many days do you need for a family trip to Massachusetts?
Although a small state, you'll need at least a week in Massachusetts if you want to visit many of these top things to do in Massachusetts with kids.
Spend a few days in Boston, taking in the city's historic attractions and museums, the head to Cape Cod and the islands for a relaxing change of pace along the beautiful shores of Massachusetts.
When is the best time of year to visit Massachusetts?
Summer is a wonderful time to visit Massachusetts, although the state is fun to visit year round. If visiting in fall or winter, you may want to journey north to some of the other parts of New England.
New Hampshire offers beautiful fall colors in autumn and is home to Ice Castles, Santa's Village, and family ski mountains in winter.
And of course, visiting Maine with kids offers loads of outdoor activities and unique New England experiences and activities.
Conclusion: Have Fun in Massachusetts with kids
Start planning your trip to these places in Massachusetts to visit with kids. No matter where you go in the state, every city has something for families to do.
Consider if your children are more energetic and ready to explore or interested in history to pinpoint the best spots to see while you're in this fascinating state.
There's no shortage of things to do in Massachusetts with kids and your family will create memories together while exploring everything this New England state has to offer.
Have a question about any of these fun things to do in Massachusetts with kids? We'd love to hear from you! Leave your thoughts in the comments below.
Like this guide to the best things to do in Massachusetts with kids? Pin it to save these kids activities in Massachusetts for later!
About the author of this guide to the best things to do in Massachusetts with kids: Cora Gold is the Editor in Chief of women's lifestyle magazine, Revivalist. She loves to write about travel, family and adventure. Follow Cora on LinkedIn and Twitter.