Medora, North Dakota is a teeny tiny town with massive charm.
Located in the southwestern part of the state, there are roughly 100 residents in the town. But as the gateway to the south unit of Theodore Roosevelt National Park, there are so many fun things to do in Medora, North Dakota despite its small size. 
This list of fun things to do in Medora, North Dakota includes the most popular attractions in Medora and the best activities for visitors to the small town. Plus, our Medora, North Dakota travel guide includes recommendations on where to stay, what to eat, and when to visit for the best experience.
About Medora, North Dakota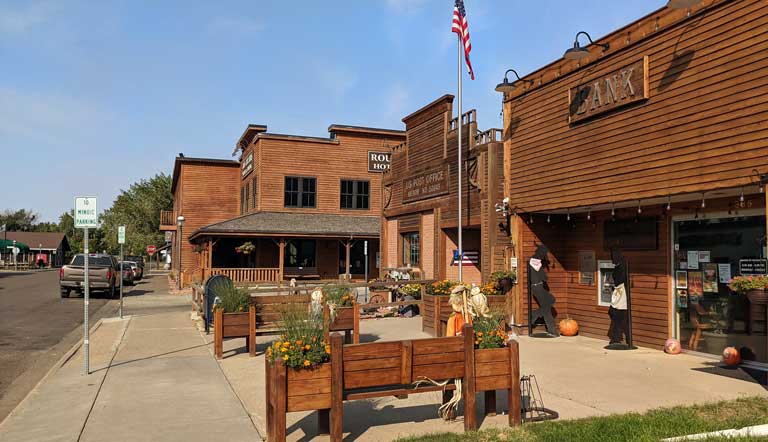 Medora is a cute town of historic character. The rustic Old West architecture blends perfectly with the surrounding badlands. It feels like a place virtually untouched by centuries of industrialization and modernization.
Instead, you'll feel like you just stepped into the 1800s – or at the very least – like you're on the set of a western movie. In fact, it's the preservation of Medora's original heritage that easily makes it one of the cutest small towns to visit in the United States.
While Medora is a tiny town, it is designed for entertainment, so there are a lot of great things to do in Medora, North Dakota for all ages and types of travelers.
Best time to visit
Summer is the best time to visit Medora. Although the town is beautiful anytime of year, many of the best things to do in Medora, North Dakota are seasonal. In fact, many businesses are only open from May through mid-September.
To beat the crowds, enjoy great weather, and hopefully see fall color in western North Dakota, plan your visit in early September, if possible for an ideal experience.
How to get to Medora
Medora is located in the southwestern corner of North Dakota, and as the base camp for visitors to Theodore Roosevelt National Park, it is one of the most popular places to visit in the state.
If flying into North Dakota to visit Medora, it is easiest to fly into the town of Dickinson, which is about 30 minutes east of Medora.
Where to stay in Medora, ND
There are several places to stay in and around Medora, North Dakota that will add to your trip and experience. The Rough Riders Hotel, located in the heart of the small town, is a luxurious hotel that gives guests that same western feel that the town beautifully exemplifies.
For something a bit more private and rugged stay at the Maltese Ranch Cabins.
The town of Dickinson, North Dakota is another option as a base town if you plan to visit Medora. Located just 30 minutes east of Medora, Dickinson is a much larger town with lots of fun things to do, as well.
La Quinta Inn and Suites in Dickinson is located directly off the highway making it a great place to stay if you want to visit Medora – to the west – or the Enchanted Highway – to the east.
If you plan to stay in Dickinson, it is easy to experience many of the best things to do in Medora in just one day.
Fun things to do in Medora North Dakota with kids
Although it's a very small town, there are a lot of fun things to do in Medora, North Dakota. From playgrounds and kids activities to hiking trails and historic sites, here are the top 13 things to do in Medora.
Explore Theodore Roosevelt National Park
Theodore Roosevelt National Park is the primary draw to western North Dakota. It is undoubtedly one of the best national parks in the Midwest parks region. As the gateway town to the national park's south unit, it is very likely the park is part of your North Dakota itinerary.
There are a lot of great, short hiking trails in Theodore Roosevelt National Park that are ideal for families, beginner hikers, or those who have a limited amount of time to spend exploring the park.
The entrance to the south unit of Theodore Roosevelt National Park is within walking distance from the heart of Medora. However, to truly experience the park in all its glory, you will want a car.
Drive the scenic loop, and stop at a hiking trail or two to enjoy the scenic views of the Badlands.
Wind Canyon and Buck Hill were two of our favorite family hikes. Both are relatively easy and offer stunning views.
Attend the Medora Musical
Perhaps one of the most popular things to do in Medora, the Medora Musical is a fun live performance that will have you singing along.
This outdoor country musical at the Burning Hills Amphitheater is entertaining for the entire family. The musical pays tribute to the American West, Theodore Roosevelt and the state of North Dakota. 
The musical is full of dancing, singing, storytelling and historical references. It will have you laughing, tapping your feet, chair dancing, or singing along with the cast of performers.
But the Medora Musical isn't a year-round attraction, so if this is one of the things to do in Medora that you don't want to miss, be sure to plan your visit during the summer months.
Go mini golfing at Bully Pulpit Golf Course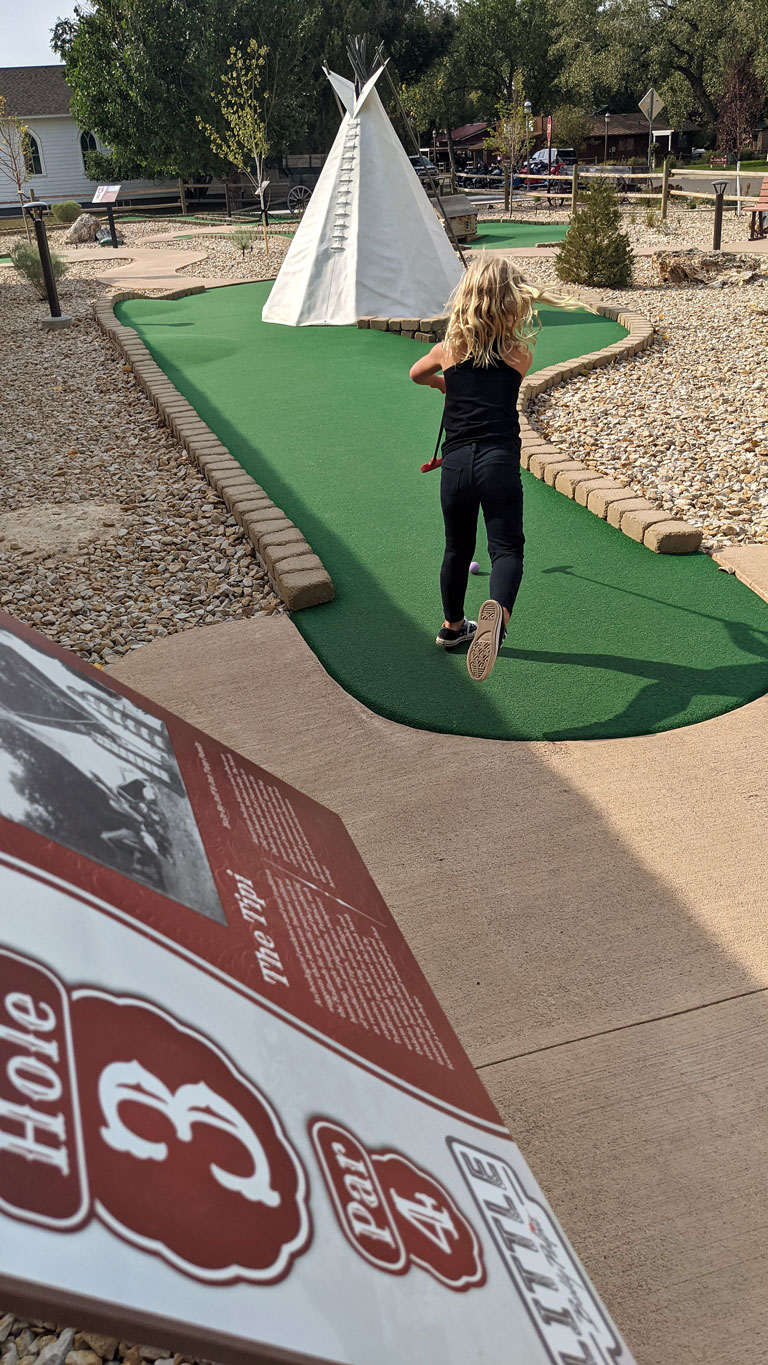 Bully Pulpit Golf Course is a fun, North Dakota-themed miniature golf course in the heart of Medora. Each of the 18 holes represents a different aspect of the state.
From the grasslands to the Badlands, to the bison and the original indigenous settlers, the golf course pays honor to the many unique aspects that make North Dakota great.
It's a fun place to spend an hour or so, give the kids a break from sightseeing, and enjoy a fun round of mini golf.
Take a tour of Chateau de Mores State Historic Site
Chateau de Mores is an impressive estate of a French aristocrat that settled in Medora in the late 1880s. The Marquis de Mores came to the Dakota territory with hopes of making a fortune in the cattle ranching industry.
Although the Marquis' business endeavors failed, his 26-room home on the outskirts of Medora still stands as a historic site.
Today, visitors can tour the historic home, which is decorated with original American-made furniture, rich Asian décor, and French artwork.
Burn energy playing at Medora Children's Park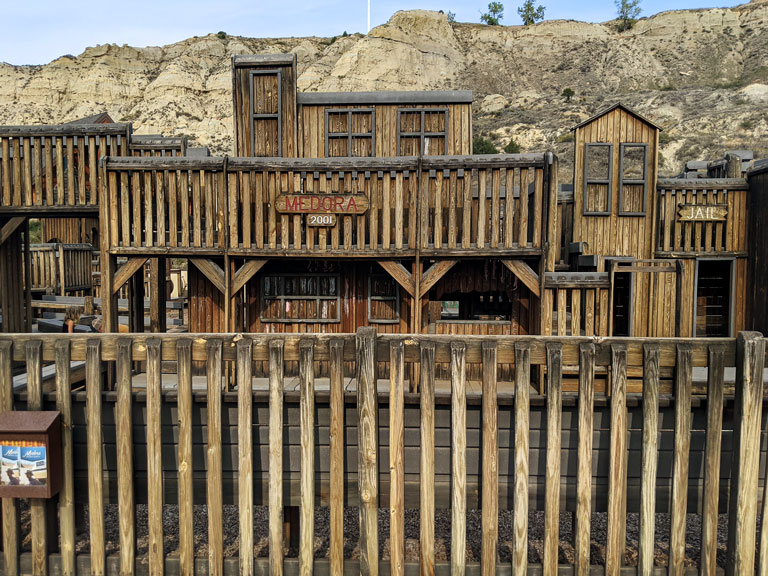 The Medora Children's Park is as western themed as the rest of the town. In fact, the front of the park looks like the facades of old western buildings.
With regular swings, rope walks, monkey bars, wobbly bridges, tire swings, and lots of other fun places to explore and play, the Medora Children's Park is great for kids of all ages. 
There is an area of the playground specifically for toddlers and young children, and other activities more appropriate a s challenging for older kids.
Go for a hike on Maah Daah Hey Trail
The Maah Daah Hey Trail through the Little Missouri National Grasslands is one of the most popular hiking and biking trails in southwestern North Dakota.
The 144 mile long trail traverses the badlands, stretches through parts of Theodore Roosevelt National Park, and is considered one of the premier backpacking trails in the United States. 
The trail follows portions of the Little Missouri River all the way from Medora to the North Unit of Theodore Roosevelt National Park.
You can hike a portion of the trail if visiting Medora with kids, or for those looking for something extremely adventurous and more extreme, spend a few days cycling, backpacking and camping along the trail.
Do an amateur photo shoot in the tiny town's quaint streets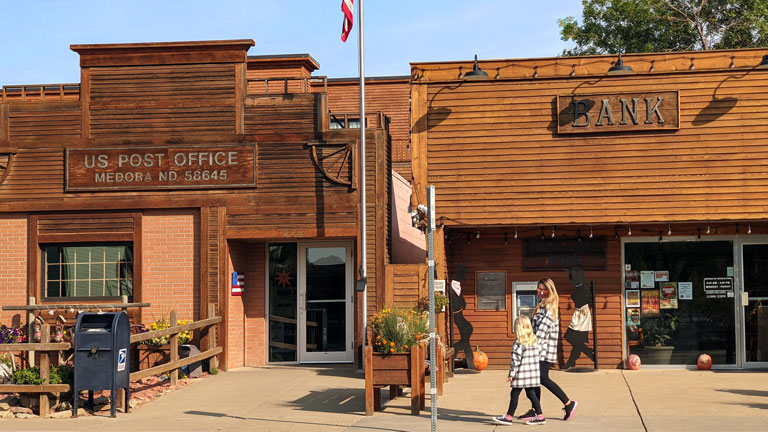 The town of Medora looks like a postcard straight out of the Wild West. With wooden facades designed to look like old western buildings, it is the ideal place for an impromptu photo shoot.
Wander the streets and explore the tiny town, stop into shops, and take lots of photos while you roam around Medora. 
For the best photo opportunity, wake up early and hit the streets before the town gets busy with visitors making their way to the national park.
Race down a Point to Point Zipline
The Manitou Point to Point Zipline is located near the Bully Pulpit Mini Golf course.
Unlike the zip lining course in Costa Rica that we did, this thrill ride in Medora takes you up one zip line then drops you back down. You are in a seat rather than a harness, and can go two at a time, so it may be less intimidating for people zip-lining for the first time. 
There are some height restrictions, so this activity might not be suitable for young children, and like many businesses in Medora, the point to point zip line is not open year round.
Indulge your sweet tooth at Candy Barn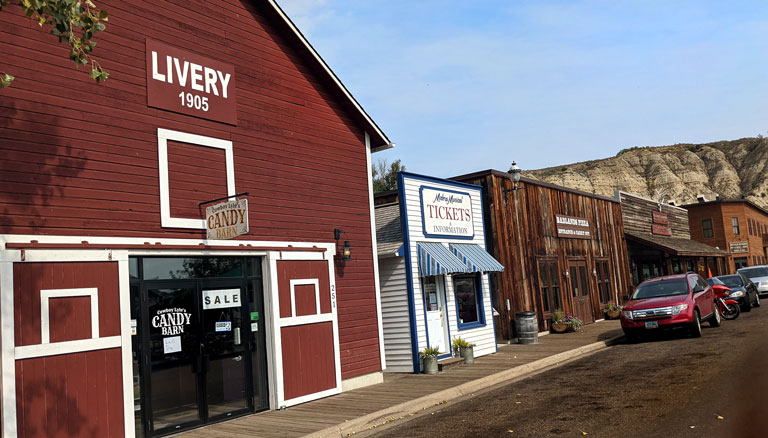 What kid doesn't love a good candy store?! The Candy Barn is an old-fashioned candy store where you can buy candy by the ounce or pound. Or select from a variety of colorful, oversized spiraled lollipops, chocolates, or even your favorite single serving candies.
This is a seasonal store, so if you want to indulge in sweet treats, you have to do so before mid-to-late September.
Indulge your sweet tooth again at Medora Fudge and Ice Cream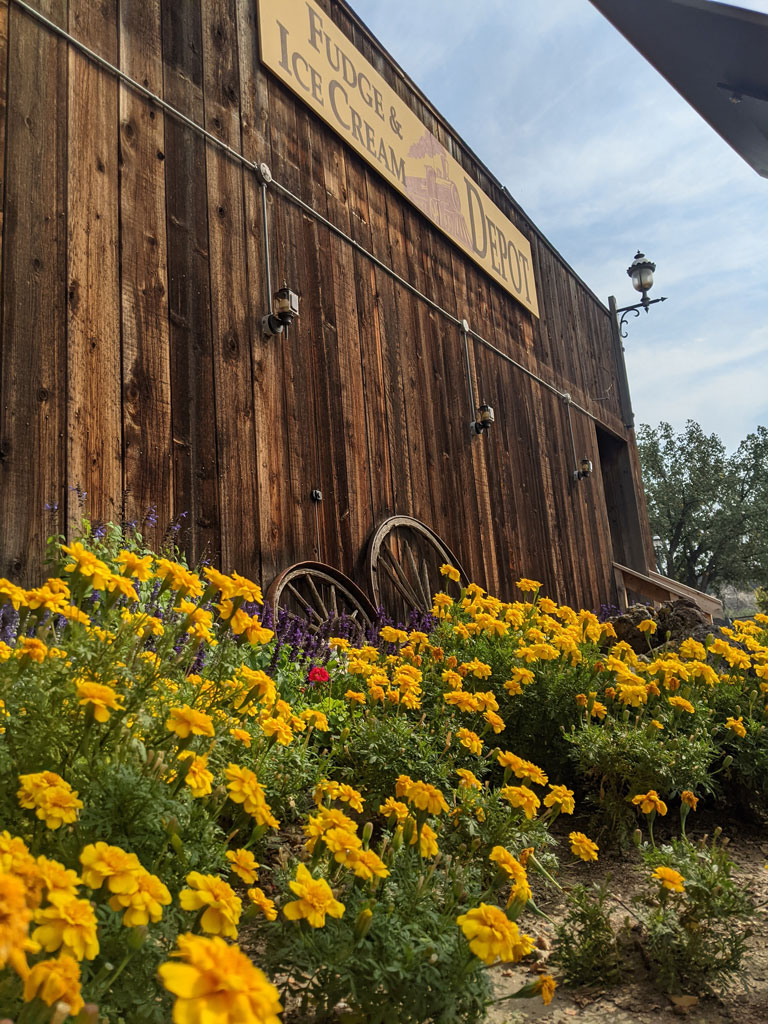 Another seasonal attraction that is a must-visit during the summer months, Medora Fudge and Ice Cream is the quintessential small town fudge shop.
Located on the main thoroughfare in Medora, this old-fashioned fudge and ice cream shop sells a variety of melt-in-your mouth fudge, ice cream, and other delicious concoctions.
So, if candy isn't your thing, head to the fudge and ice cream shop instead to satisfy your craving for something sweet. 
Go horseback riding at the Medora Riding Stables
One of the best things to do in Medora and the surrounding North Dakota badlands is to hit the trails on horseback.
Saddle up and experience the beauty of western North Dakota the way Theodore Roosevelt would have in the 1880s.
Located just outside of Medora, The Medora Riding Stables are perfect for even inexperienced and young horseback riders.
Experienced guides lead small groups on scenic trails through the badlands, along buttes and down into canyons, depending on the level of experience of those in your group.
Let your mind play tricks on you inside Perception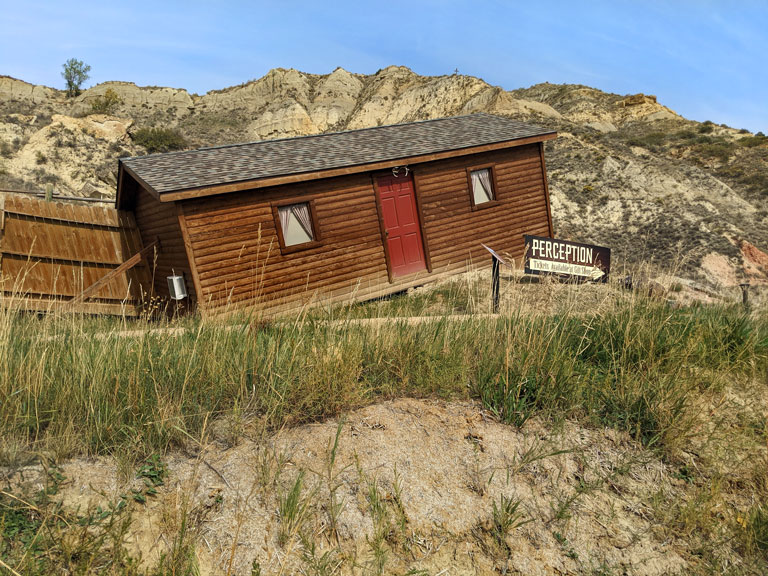 Perception is a relatively new attraction that makes for a fun photo op. Your mind will be turned upside down by optical illusions that deceive the eye and challenge the laws of gravity and perception.
For $15 per adult, you can tour the slanted house and go on a guided, interactive tour through an illusions exhibit.
Take a stroll through the memorial wind garden
Across the street from the Medora Children's Park, the memorial wind garden is a beautiful display of different wind spinners and sculptures.
Next to the Harold Schafer Heritage Center, the Andrist Wind Garden, also known as Elaine's Garden, features seven metal sculptures that spin and twirl in the wind.
It is a serene place to sit and enjoy a quiet moment of reflection while kids roam about and explore. 
Whereas many of the other great things to do in Medora include some level of physical exertion, the memorial wind garden is a place to let your body and your mind relax.
Where to eat in Medora, North Dakota
Because Medora is a tourist town, you'll find no shortage of restaurants and great places to eat. However, if visiting Medora with kids there are a few dining experiences that stand out among the rest.
One of the most popular things to eat in Medora is Pitchfork Steak Fondue. The steaks are stuck on a pitchfork and cooked over a grill to perfection.
Within walking distance to the Burning Hills Amphitheater, this dining experience pairs wonderfully with an evening at the Medora Musical. 
For something a bit more low-key, Badlands Pizza in downtown Medora has delicious pizza that even the pickiest of young eaters will love. 
Regardless of where or what you eat exploring the delightful cuisine of southwest North Dakota is one of the best things to do in Medora.
Is Medora worth visiting?
Medora is perhaps one of the most enchanting places in North Dakota. With small town charm, history, nature, and a fun cowboy culture, Medora is definitely worth visiting. With some many things to do in Medora, North Dakota, you could spend several days in this tiny town.
Whether you're traveling with kids or without them, you will have a blast and surely fall in love with Medora!
This trip and all activities in Medora North Dakota were sponsored by the North Dakota Tourism Board.
Like it? Pin this list of things to do in Medora, North Dakota to save it for later!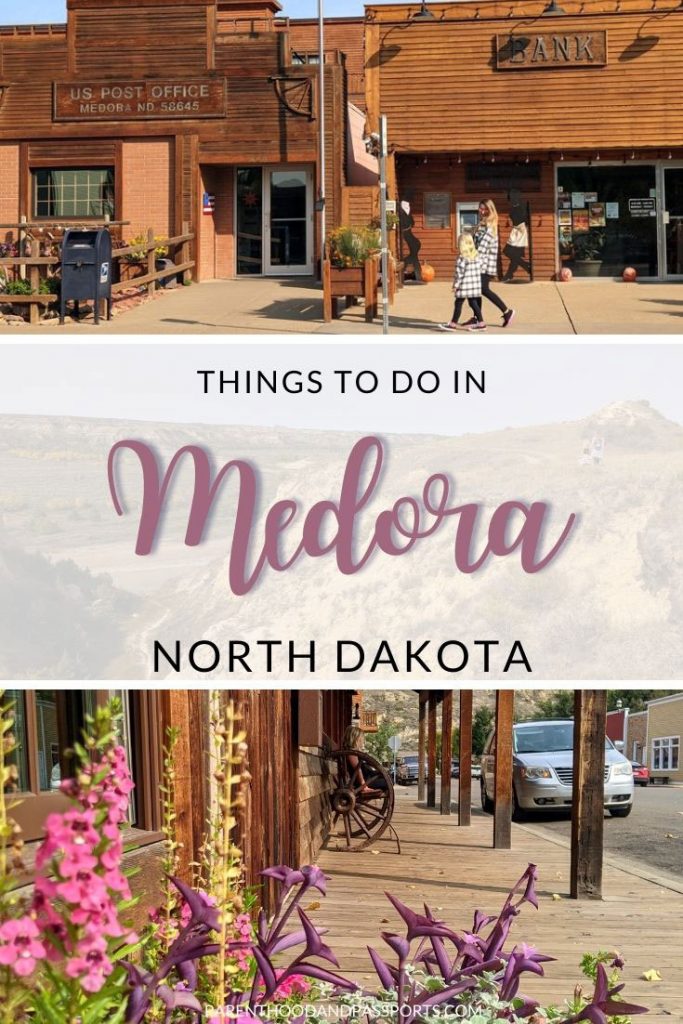 Have a question or comment about the best things to do in Medora, North Dakota? We'd love to hear from you! Leave your thoughts in the comments below.
This post on the best things to do in Medora ND was first written in October 2022 but was updated in May 2023 for accuracy and current information.