Rothenburg ob der Tauber, Germany is one of the most picturesque towns in the world. The colorful, walled city looks like the setting of just about every Disney movie ever made. Roam through the cobblestone streets long enough and you may actually start to feel like Belle in the movie Beauty and the Beast.
Aesthetics aside, the small town along Germany's famous Romantic Road boasts several must-see attractions. There are so many fun things to do in Rothenburg ob der Tauber, Germany for all types of travelers.
Whether traveling solo, as a couple, or visiting Rothenburg, Germany with kids, this family-friendly town is a perfect addition to any Germany or Central Europe itinerary.
Children and adults of all ages will find this charming town quite magical. It truly is like stepping into a fairy tale!
This guide to the best things to do in Rothenburg ob der Tauber, Germany includes 10 fun Rothenburg attractions, plus tips for visiting to enhance your experience.
About Rothenburg ob der Tauber
Rothenburg ob der Tauber is located in the Franconia region of northern Bavaria in Germany.
The town is almost equidistant from the cities of Munich, Frankfurt, Nuremberg, and Stuttgart, which makes Rothenburg an easy day trip from any of these larger German cities.
FIND AND BOOK THE BEST DAY TRIPS TO ROTHENBURG OB DER TAUBER HERE.
Known for its medieval appeal, the beautiful town of just over 10,000 residents is one of the most visited places in all of Europe. In fact, more than 2.5 million people visit Rothenburg ob der Tauber each year!
Take one look at photos of Rothenburg ob der Tauber and it is no wonder why the town has captivated so many.
The red-roof town is located on a plateau overlooking the Tauber River. That's why it is aptly named "Rothenburg ob der Tauber" which is German for "Red castle above the Tauber".
It is historically believed that the town dates back to at least 950 A.D when it was first settled by the Celts.
The city has survived hundreds of years and several wars. In fact, during World War II, when much of Germany was destroyed by bombings, Rothenburg was widely spared.
Rather than leveling this quintessential German town, the Allied forces sent soldiers into Rothenburg on a mission to negotiate the town's surrender. These negotiations were successful, and Rothenburg ob der Tauber was spared from complete destruction.
To this day, Rothenburg is considered one of the oldest and most historic medieval towns along Germany's Romantic Road.
Looking for other cute German towns? Check our Erding – home to Europe's largest thermal bath spa
How many days should you spend in Rothenburg ob der Tauber?
Give yourself at least one full day in Rothenburg ob der Tauber. As mentioned above, it is easy to do a Rothenburg day trip from various cities in the region.
While some visitors to the town only spend a few hours, or at most one night, in Rothenburg ob der Tauber, if time allows, we recommend giving yourself at least two days in Rothenburg ob der Tauber to truly experience the beauty of the town.
The extra day will allow you more time to tour some of the unique museums, wander the colorful streets, and experience everything this small town has to offer both during the day and at night.
Is one day enough time in Rothenburg ob der Tauber, Germany?
Although you can see almost everything in Rothenburg ob der Tauber in a day, we strongly believe that a full weekend (or 2-3 days) is the perfect amount of time to visit the sights and enjoy the magic of this little Bavarian village.
The Old Town area is somewhat compact, so if one day in Rothenburg is all you have, it is easy enough to explore.
An extra day or two gives you the opportunity to relax, take a coffee break or enjoy a refreshing beverage in a Rothenburg biergarden in the afternoon, and just take in the enchanting atmosphere for the town.
Things to do in Rothenburg ob der Tauber
Rothenburg ob der Tauber is hands down the most popular stop along Germany's Romantic Road. As with many other romantic towns around Germany's Rhineland and Bavaria regions, Rothenburg ob der Tauber offers visitors a storybook charm with cobblestone streets and colorful buildings.
Adults and children alike will love this beautiful village.
If you only have one day in the German town, here are the top ten things to do in Rothenburg ob der Tauber.
1: Roam the streets and find the forked street in Rothenburg
Rothenburg is home to one of the most photographed streets in the world. If there is one picture that comes to mind when you think of Rothenburg ob der Tauber, it is the forked streets of Kobolzeller Steige and Untere Schmiedgasse.
Right before you reach the south gates of the town, the cobblestone street comes to a fork, splitting into upper and lower lanes, surrounded by half-timbered houses.
In the center of the fork is one of the prettiest buildings in the entire town.
The center building which stands at the entrance to the Spital quarter of Rothenburg, also has a small fountain in front of it.
Referred to as Plönlein, which translates to 'small square at a fountain', the yellow, half-timbered house with the pointed gable and window boxes filled with bright red flowers really does look like something out of a fairy tale.
Many people who visit Rothenburg come to take a photo at Plonlein and then leave without exploring much more of the town.
Aside from this forked intersection, the rest of Rothenburg is equally picturesque. So, spend some time roaming the streets, taking photos of the colorful buildings and let your mind wander into a fairy tale.
2: Walk along the town walls
Although it is a small town today, Rothenburg ob der Tauber was once the second largest city in Germany.
From the Middle Ages through the early 1800s, it was an Imperial Free City, which means it was an autonomous and self-ruling entity. As an Imperial Free City, protecting and defending the town's border was imperative. That's why Rothenburg ob der Tauber was originally a walled city.
The medieval city walls still stand today. And walking on the walls is one of the best things to do in Rothenburg ob der Tauber.
As one of the best preserved walled cities in all of Europe, there are more than 40 guard towers surrounding Rothenburg. Most of those towers are directly along the town walls.
Part of the town wall did come down during World War II, but much of the original wall remains intact. While Allied forces found the town of Rothenburg too quaint to destroy, the town suffered some damage.
A 2,000 foot section of the wall and 312 homes and buildings were damaged or destroyed. Those areas were subsequently restored and rebuilt to their original state following the end of the war.
It is just a short climb up one flight of steps to walk on Rothenburg's wall. You will get a beautiful view of the town, the rolling hills of Bavaria outside the town's gates, and the vineyards of the Tauber Valley.
Perhaps the best part, walking on the wall is free!
Although it is fairly safe for families to walk on the town walls in Rothenburg, we recommend watching young children carefully. There is a side railing to protect from falls and plenty of openings for smaller children to peer out. However, the walking path is narrow and may require squeezing by other visitors.
To beat the crowds, we recommend starting your morning with a walk on the Rothenburg town walls.
3: Visit the Medieval Crime and Justice Museum
A visit to such a unique medieval town wouldn't be complete without learning a bit about the historic time-frame the town is known for.
The Medieval Crime and Justice Museum, often referred to as the torture museum details the various punishments used during the Medieval era.
From the iron maiden to cages and torturous instruments that will make you grimace yet leave you with a morbid fascination, the Medieval Crime Museum is a unique account of history.
If visiting Rothenburg ob der Tauber with kids, this is definitely one of those sites more suited for older children due to the nature and content of the museum. However, the museum portrays all devices from a historical perspective, so it is still appropriate for children of all ages.
Tickets for the museum can be purchased online for €9 per adult or €22 for a family pass.
4: Experience Christmas all year long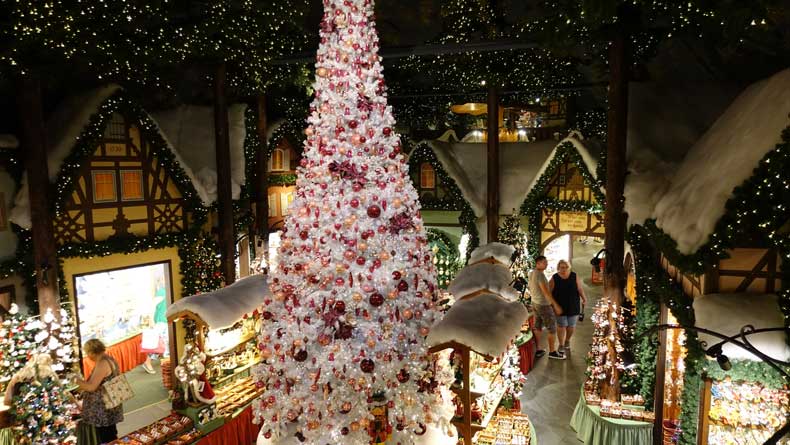 Much less heavy than the previous museum, Rothenburg is also home to the German Christmas Museum.
Forget the North Pole. Rothenburg ob der Tauber could be the Christmas capital of the world!
If you happen to visit during the holiday season, Rothenburg hosts a charming Christmas market where you can indulge in seasonal favors like mulled wine and roasted chestnuts or hot apple cider.
But even if visiting Rothenburg outside of the Christmas season in Europe, you can experience the holidays year round in the lovely town.
Rothenburg boasts a great little German Christmas Museum that will put you in the holiday spirit any time of year.
Tucked inside a beautiful Christmas store just off the main market square, the museum walks you through the history of Christmas and how the holiday's traditions and decorations have evolved through the years.
Young kids will love the colors, lights, and stimulating sights of the museum, while older children and teens may actually learn something about the Christian holiday and its pre-Christian origins.
It is inexpensive to visit, costing about €5 per adult or approximately €11 for a family.
The museum is open year round as is the Christmas store where you can buy souvenirs, ornaments, and unique Christmas décor to take home.
It is easy to find the Christmas store and museum, which is just off the main square. There is typically a van parked in front that is wrapped like a present.
LOVE CHRISTMAS? CHECK OUT THIS POST FOR OTHER GREAT CHRISTMAS DESTINATIONS AROUND THE WORLD.
5: Go on the Night Watchman tour
The Night Watchman tour is one of the most popular and top rated guided tours in Rothenburg ob der Tauber, and it is fun for adults and kids alike.
The one hour tour starts at 8pm, so younger children may have to stay up past their bedtime for this one. But if you are looking for unique things to do in Rothenburg ob der Tauber with kids – or without – this is a neat, family-friendly experience.
The night watchman leads the tour from the Marktplatz, or Market Square, dressed in his traditional medieval attire. He takes tourists back in time during the one-hour walk through the narrow cobblestone streets.
The pace is slow and easy enough that young children or older adults who may have minor mobility challenges can keep up and enjoy the tour.
The night watchman recounts historical stories, legends, and even adds humorous anecdotes as the group weaves through the brightly colored, enchanting buildings inside the city walls.
To join the group tour it is €9 per adult and kids under 12 are free. If you prefer a private tour over over a large group, you can also schedule private night watchman tours for your family or group.
6: Watch the clock chime in Marktplaz and climb the Town Hall Tower
Marktplatz is the town's central square and meeting place in Rothenburg ob der Tauber.
One of the prominent features of the square is a lovely clock that chimes every hour.
The animated clock comes to life as it chimes. The small windows next to the clock's face open up and characters are seen drinking their steins of beer. Crowds typically gather each hour to watch the clock do its thing.
Outdoor cafés, taverns, and bakeries line the square as well as the small streets surrounding the Marktplatz. These are great places to sit and enjoy a nice lunch, dinner, a coffee, or a refreshing German beer.
On the west side of Marktplatz, the impressive and large Town Hall greets guests. One of the best things to do in Rothenburg ob der Tauber is to climb the Town Hall Tower.
From the 200-foot tall (60 meters) observation platform of the City Hall Tower, you can look out over the village and the Tauber Valley. Keep in mind that the 214 steps are narrow and steep near the top.
7: Have a schneebälle
The schneebälle is a must-try dessert while in Rothenburg ob der Tauber. This deep-fried, powdered sugar-covered dough ball is a popular treat in the small town.
Aside from the traditional powdered sugar schneeballe you can also find them prepared with chocolate, nuts or other toppings. The dry, cookie-like pastry is difficult to find anywhere else in Germany, or the world for that matter, but in Rothenburg, you can find countless cafes and bakeries selling the delicious pastry!
Don't miss this delectable treat while in Rothenburg ob der Tauber.
8: Shop or simply visit the many toy stores
What charming Christmas town would be complete without a smattering of toy stores? There are several toy stores inside the Rothenburg city walls that sell unique toys, dolls, and children's souvenirs.
If you are visiting Rothenburg ob der Tauber with kids you will want to check out one or two of they town's toy stores. They are great places to find something interesting or even handmade to take home as a keepsake or souvenir.
Many of the toy stores even have samples of their products out for kids to play with, which is always great when traveling with children!
TeddyLand is one toy store that is not to miss when you visit Rothenburg. The small shop is dedicated specifically to teddy bears.
It was a personal favorite of ours. Our daughter loves stuffed animals, so this was a fun little store to visit.
Not far from the main square, TeddyLand has a giant teddy bear on display in front of the store welcoming guests as they enter.
9: Tour St. James Church
Europe is known for its incredible cathedrals, and Rothenburg is no different. The city's main Gothic church, St. James Cathedral, dates back to 1485. With two towers capped with spires, and tall, narrow stained glass windows, the church took more than 170 years to build.
Although some visitors may think to skip St. James Cathedral if they only have one day in Rothenburg ob der Tauber, it is worth a quick peek inside.
Located in the heart of the old city, you can take a guided tour of St. James Church or get an audio guide to learn more about the church as you roam at your own pace. The church has two altars, the most notable being the Holy Blood altar. The intricately carved wooden altar depicts scenes from Christ's life.
St. James Church in Rothenburg is also a stop on one of the Camino de Santiago pilgrimage routes. While there are many routes, they all end at Santiago de Compostela in Spain, widely considered a Spain bucket list experience and destination.
10: Relax at Castle Garden
Once upon a time, there was an actual castle in Rothenburg.
The castle was destroyed a long time ago – in the mid-1300s, but a castle would perhaps be the only thing that could make Rothenburg ob der Tauber even more like a storybook setting.
Burggarden, or Castle Garden, now marks the spot where the castle once stood.
On the short walk to Burggarden you'll have beautiful views of the Tauber Valley. The public park, on the western end of the city, is a great place to relax. You'll find vastly fewer crowds in the garden than you will within the city walls.
A great place to let kids roam and play, Burggarden is another one of the great FREE things to do in Rothenburg ob der Tauber, Germany.
Visiting Rothenburg ob der Tauber with kids
While the town of Rothenburg ob der Tauber is a perfect destination for families, there are a few things to keep in mind if visiting Rothenburg ob der Tauber with kids.
The cobblestone streets aren't really stroller-friendly.
If you are traveling with a baby or a toddler, we recommend a baby carrier or a child carrier, depending on the age of your little one.
CHECK OUT OUR COMPLETE LIST OF THE BEST BABY CARRIERS FOR TRAVEL.
If you want to attempt a stroller, we recommend a lightweight yet durable jogging stroller for the cobblestone streets. The larger wheels of a jogging stroller will help you navigate a bit more smoothly on uneven or bumpy surfaces.
Overall, Rothenburg ob der Tauber is a great German town to visit with kids.
From the atmosphere to the food and all the unique things to do in Rothenburg, Germany, it will be a memorable experience for your children and for you.
Where to stay in Rothenburg ob der Tauber
Rothenburg ob der Tauber is a small town, and while it is easy to see Rothenburg in a day, you will want to spend a night there. It is such a stunning place to visit, and when the day-trip crowds leave, the town becomes even more charming without the masses.
The buildings are all illuminated with the glow from street lamps and exterior lighting, giving the town a magical feel that you just want to breathe in and absorb.
We recommend staying within the walls of the old town, and as close to the main square as possible. The main square is lively at night, with musicians and street performers.
During Christmas time it plays host to the Rothenburg Christmas Market. It is a fantastic place to sit outdoors any time of year.
Hotel Eisenhut is located less than a block from the main square. It is a cute, mid-range budget, boutique hotel within walking distance to everything in Rothenburg. It also offers a wonderful view of the valley from the back patio, which was a favorite breakfast spot for us each morning.
However, there are dozens of hotels in Old Town to choose from.
We spent two nights in Rothenburg ob der Tauber. While we could have seen all the main attractions in Rothenburg in less time, after seeing this beautiful town, who would ever want to leave?!
Is Rothenburg ob der Tauber, Germany worth visiting?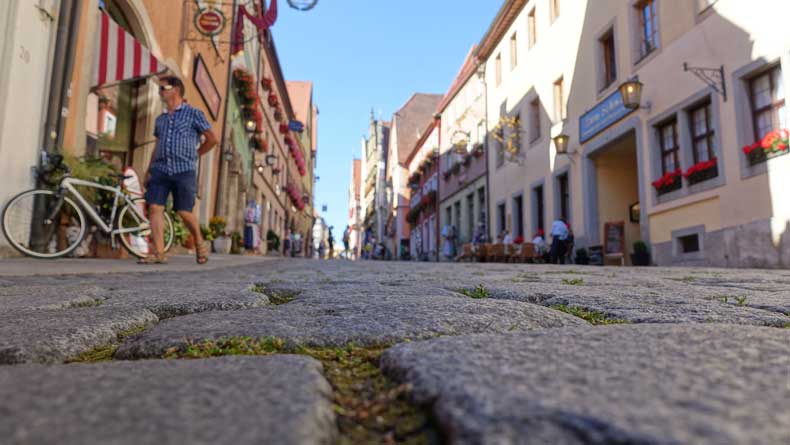 If you are wondering if or why you should visit Rothenburg, the picturesque German town of Rothenburg ob der Tauber is a photographer's dream destination.
Every street offers Instagram-worthy views. The stunning buildings with their flower-filled window boxes and breathtaking medieval architecture will bring out the romantic in everyone.
But beyond its picturesque appeal, there are a great number of things to do in Rothenburg ob der Tauber that make for a memorable stop on any European road trip.
Have a comment or question about things to do in Rothenburg ob der Tauber? We'd love to hear from you. Leave your thoughts in the comments below.
Like it? Pin this guide to the best things to do in Rothenburg ob der Tauber to save it for later!
This article on the best things to do in Rothenburg ob der Tauber was first written in September 2016 but was updated in August 2023 for accuracy and current information.