San Francisco is a lively city on the stunning Californian coast, offering lots of exciting and family-friendly activities that cater to the curiosity of children.
From iconic landmarks such as the Golden Gate Bridge and Alcatraz Island to the interactive wonders of the Exploratorium and the immersive magic of the Walt Disney Family Museum, there are so many fun things to do in San Francisco with kids – making the Bay Area a great place for a family vacation or long weekend getaway.
Whether embarking on a thrilling cable car ride through the heart of the city or exploring the San Francisco Bay, this guide to the best things to do in San Francisco for kids promises to help you create cherished memories for both children and adults alike.
About San Francisco, California
There are good reasons why California is the most visited state in the nation and a popular location for family vacations. The weather is amazing across the whole coast, and every part of the state offers attractions and fun things to do, including San Francisco.
While the mouse to the south may attract your children's attention, there's plenty in the Golden City to fascinate your little ones and make their vacation memorable.
The region also indulges parents — so, you can find a hotel that offers babysitting services and sneak off for a glass of the region's famous wine while the kiddos play.
Are you ready to plan the Northern California getaway of your children's dreams? Keep reading for the top 21 best things to do in San Francisco with kids.
Quick facts about San Francisco, California
Population: 815,201
Location: San Francisco Peninsula, Northern California
Best Nearby National Parks and Monuments: Muir Woods National Monument, Redwood National Park, Golden Gate National Recreation Area
Top Attractions: Golden Gate Bridge, Alcatraz Island, Pier 39, Lombard Street
Fun Fact: 5th most visited city in the USA
What Makes San Francisco a Winning Destination for People With Kids?
San Francisco is the ultimate family-friendly vacation spot for many reasons. One is the weather. Temperatures rarely soar above 83 degrees Fahrenheit in summer or drop below 39 degrees in winter, meaning families can enjoy outdoor adventure fun all year round.
Another reason San Francisco rules as a kid-friendly vacation destination is the area's rich history. Although California is among the youngest states in an already youthful nation, this city's history goes back nearly 250 years – making it one of the best historical places to visit in the United States.
Who says you have to stay on the East Coast to learn about how America came to be?
Where to Stay in San Francisco with Kids
Choosing a hotel with a babysitting service helps you make the most of your trip. You don't even have to leave the property for a night on the town with your sweetie when your lodging features a restaurant and bar, and you'll feel secure knowing the kiddos are safely supervised.
The area around Union Square, San Francisco's commercial district, offers a lot of hotels and fun things to do.
If you're looking for something more swanky with a quintessential San Francisco vibe with steep streets dotted with restaurants, Nob Hill is a great family-friendly area in which to stay.
FIND A HOTEL NEAR UNION SQUARE OR NOB HILL
How Should You Prepare for Your San Francisco Getaway with Kids?
Packing for your San Francisco getaway is a breeze. The mild climate means you can get by with mix-and-match layers that won't take up much suitcase space. However, heeding the tips below can make your journey to your destination less stressful and much more enjoyable.
Tips for Traveling to San Francisco with Kids
The following tips can make traveling with kids less stressful and more fun, whether you are visiting San Francisco with kids or traveling somewhere else.
Come Prepared with a Stroller
Even big boys and girls need a stroller now and then. San Francisco is one of those places where a stroller might be beneficial, thanks to steep streets that will make little legs more tired.
Bring a lightweight one or risk an achy back from piggyback rides.
Carry a first aid kit
Cuts, scrapes and bruises happen, and you don't want to search for a pharmacy when your baby has an owie. So, pack a compact first aid kit in your day pack and enjoy a day sightseeing without worries.
Pack a snack
Kids can get unruly when hungry or tired. Keeping snacks on hand manages the former, with the stroller picking up the rest.
While you will find no shortage of restaurants in San Francisco, packing snacks will save you money and save time so you aren't constantly stopping for a snack. Plus, you can choose healthier options! It's a win-win!
Leave extra time
Everything takes longer when you have to coordinate multiple people. Leave at least 15 additional minutes to reach your destination, and consider a "downtime" day where you do what you feel like instead of following a schedule.
Stay safe
A backup lock for your hotel room costs little, as does a travel belt that keeps your essential documents, cash and credit card safely against your body instead of a vulnerable pocket.
Additionally, it's very important in San Francisco not to leave anything – including your luggage or daypack in your vehicle. Car break-ins are unfortunately common in the Golden City.
Fun Things to Do in San Francisco with Kids
Using the tips above ensures the fun begins even before reaching your destination. What should you do when you get there?
Here are 21 fun things to do in San Francisco with kids.
1. Visit the Aquarium of the Bay
Teach your children about aquatic life with a "field trip" that won't feel like going to school.
The Aquarium of the Bay in San Francisco, located at the iconic Pier 39, offers an immersive and educational experience that showcases the captivating marine life of the San Francisco Bay and its surrounding waters. The aquarium is home to over 20,000 marine animals, including sharks, jellyfish, and otters.
Visitors can wander through transparent tunnels surrounded by schools of fish, or check out interactive exhibits detailing the significance of preserving the fragile habitats of the San Francisco Bay Area.
Get your kids excited about this outing with a virtual visit before you arrive. Check out the upcoming programs for a list of family-friendly activities.
BOOK TICKETS TO AQUARIUM OF THE BAY
2. Ride a Cable Car
To see the best views of San Francisco, ride a cable car up and down the hilly streets.
San Francisco's iconic cable cars are a cherished symbol of the city dating back to the late 19th century.
These historic vehicles navigate steep slopes and sharp turns, providing passengers with panoramic views of the city's stunning architecture and are a testament to San Francisco's cultural heritage, earning them a well-deserved place on the list of National Historic Landmarks.
To get the full experience, you can also visit the Cable Car Museum and learn about how the cable cars operate.
3. Explore the Exploratorium in the Embarcadero
How much of what humans know is influenced by their perception? Do various people perceive the world in different ways? Discover more at the Exploratorium in the Embarcadero, where kids can explore their worlds through sight, hearing, smell, taste and touch.
Renowned for its hands-on approach to science, art, and human perception, this museum beckons visitors to engage with the different exhibits and thought-provoking installations.
From playful experiments that demonstrate the laws of physics to immersive displays that illuminate the intricacies of the human mind, the museum offers an engaging experience that stimulates the senses.
With a commitment to education and exploration, the Exploratorium is definitely one of the best things to do in San Francisco with kids.
BOOK TICKETS TO EXPLORATORIUM
4. See the Walt Disney Family Museum
The lines at Disneyland can drive you mad. However, you won't find very many of them at the Walt Disney Family Museum. Learn about the man who invented the world's most famous mouse, and learn about the history of animation throughout the years.
Located in the scenic Presidio of San Francisco, this museum stands as a tribute to the life and legacy of one of the most influential figures in the entertainment industry.
The museum offers a glimpse into the remarkable journey of Walt Disney, showcasing his pioneering spirit, visionary creativity, and enduring impact on the world of animation and storytelling.
With an impressive collection of artifacts, original drawings, and immersive exhibitions, the museum walks through the life of Walt Disney from his early days as a young artist to the establishment of the world-renowned Disney Studios.
BOOK TICKETS TO THE WALT DISNEY FAMILY MUSEUM
5. Tour the California Academy of Sciences
If your kiddos can't get enough science, make the California Academy of Sciences your next stop.
This learning center features a planetarium, aquarium and a four-story rainforest exhibit to let children explore nature's wonders. Through its commitment to sustainability and ecological preservation, the institution also raises awareness about pressing environmental issues and inspires a deeper appreciation and understanding of the interconnectedness of life on earth.
Want a fun overnight excursion to make your vacation memorable? Book one of their sleepovers for children four through 14, who must be accompanied by an adult 25 or older.
BOOK TICKETS TO THE CALIFORNIA ACADEMY OF SCIENCES
6. Get Crafty at the Children's Creativity Museum
San Francisco is teeming with immersive things to do for kids. The Children's Creativity Museum is no different.
This interactive space is dedicated to nurturing the creative and innovative potential of young minds.
With hands-on exhibits and workshops designed to ignite imagination and foster critical thinking skills in children, the museum provides a stimulating environment for children to explore their artistic talents and technological curiosity.
Your kids can explore the community garden or make beautiful music in the studio at this fun San Francisco spot. They can also create their own animations or enjoy a picnic lunch in Storybook Park.
7. Hike Muir Woods
Do your kids love the woods? Situated just north of San Francisco, Muir Woods National Monument is an enchanting redwood forest that highlights the natural beauty of Northern California.
The tranquil landscape is characterized by towering ancient redwoods, some of which are over 1,000 years old and reach heights of nearly 260 feet.
Visitors will find a network of well-maintained trails, many of which are perfect for those visiting San Francisco with kids. Hiking through this national monument is a fun excursion for kids of all ages in San Francisco. Little legs might need a piggyback ride by the end, but it's worth it to see the redwoods.
BOOK A SHUTTLE TO THE MUIR WOODS NATIONAL MONUMENT
8. Escape the Pier 39 Escape Room
Pier 39 is a bustling entertainment hub with lots of shopping, dining options, kid-friendly attractions, and stunning views of the Bay.
Among the many things to do, Pier 39 Escape Room offers a challenge your older kids are sure to love. You can choose from two adventures: Alcatraz or a speakeasy. Each one takes roughly 30 minutes to complete, giving you plenty of time to explore the rest of the pier, grab an ice cream or stop in for a meal at one of the many eateries.
9. Lock 'Em Up at Alcatraz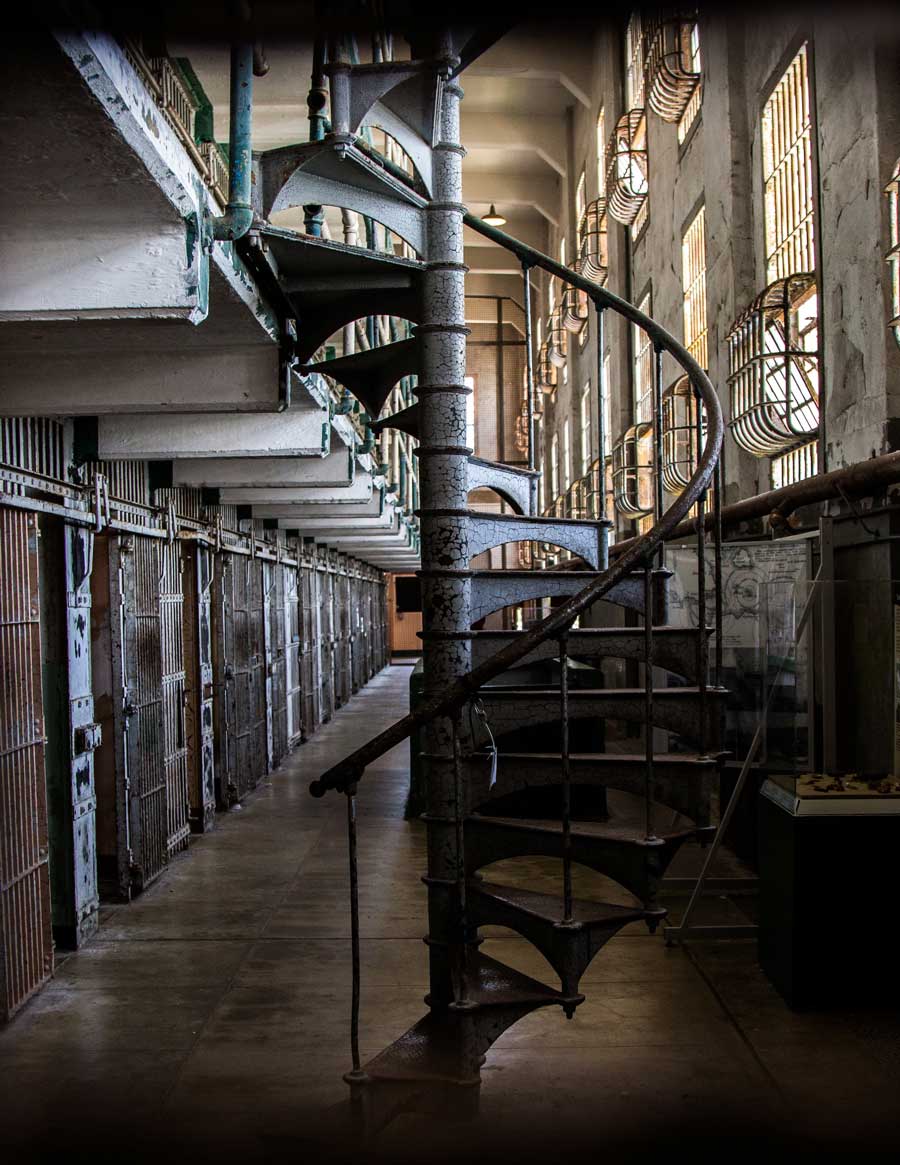 The real Alcatraz lies a short ferry ride away from the San Francisco shore. Although this prison is no longer in use, you might run into some of its spookier residents, as it's reportedly haunted. Bring your "Ghost Radar" app!
The historic landmark that has captured the public's fascination for decades. Once a notorious federal penitentiary that housed some of America's most infamous criminals, including Al Capone and "Machine Gun" Kelly, Alcatraz is now a popular dark tourism attraction.
BOOK A VISIT TO ALCATRAZ WITH A SAN FRANCISCO BAY CRUISE
10. Play at Golden Gate Park
Golden Gate Park spans over a thousand acres of lakes and meadows. From its meticulously curated botanical gardens and serene lakes to its trails and open spaces, the park provides a welcome escape from the urban bustle.
Swing by the bison paddock to safely view these magnificent animals in the flesh — your kids will marvel at how big they are. Then, explore over 1,700 species of plants at the Conservatory of Flowers, followed by a ride on the Koret Children's Quarter and Carousel.
11. Catch a Game at Oracle Park
You don't have to be a Giants fan to enjoy a game at Oracle Park. Baseball enthusiasts will love this iconic stadium thanks to its scenic views of the waterfront and the Bay Bridge.
Even if it's not baseball season, it's worth booking a tour of this impressive stadium. Ensure you have plenty of storage space for pictures, as this location offers sweeping views that no other stadium in the United States can rival.
FIND TICKETS TO A GIANTS GAME AT ORACLE PARK
12. Play Miniature Golf at Urban Putt
Miniature golf keeps you active on your vacation and offers fun for the whole family, and this course takes about an hour to play. Then get dinner at the on-site restaurant, where you can enjoy kid-friendly favorites like pizza, tacos and sliders.
Located in the heart of San Francisco's Mission district, this indoor miniature golf course features a 14-hole high tech miniature golf course. Keep in mind if visiting San Francisco with kids, this establishment becomes 21 and up only after 8pm.
13. Photograph the Golden Gate Bridge
Maybe your 4-year-old is a budding photographer. Let the kids test their skills by taking a picture of the iconic Golden Gate Bridge at sunset. Those who are truly brave can cross the icy seas below on the pedestrian walkway along the west side.
The famous bridge is a majestic engineering marvel, a symbol of San Francisco, and one of the most recognizable landmarks in the United States.
Spanning 1.7 miles over the Golden Gate Strait, the suspension bridge's vibrant international orange color accentuates its massive art deco towers, which soar above the bay.
The bridge is so well-known and well-engineered, that its design has even been replicated elsewhere. In fact, one of Europe's most famous bridges, the Ponte 25 de Abril in Lisbon, Portugal greatly resembles the Golden Gate Bridge.
14. Get Wild at the San Francisco Zoo
If your little wild thing loves animals, you'll find over 2,000 species at the San Francisco Zoo. Many of them are exotic, endangered, or rescued. From invertebrates to mammals, you'll find something for fans of all things fins and fur at this fun spot to hit.
Visitors can embark on a journey through various exhibits curated to mirror the animals' natural habitats, including the African Savanna, Penguin Island, and the Grizzly Gulch, fostering an intimate connection with creatures ranging from majestic lions to playful penguins.
15. Drive Down Lombard Street
If your little one loves cars, Lombard Street is a must-see. This windy road has the distinction of being the world's most crooked street.
It features eight hairpin turns that will make your child feel as if they won a starring role in the next Porsche commercial.
Lombard Street is not only a renowned San Francisco landmark, a visit to the street and its many sharp turns is considered one of the best things to do in San Francisco with kids.
Located in the Russian Hill neighborhood, the eight sharp turns were designed to help vehicles navigate the block's steep incline.
Flanked by vibrant flower beds and elegant houses, the switchbacks create a picturesque and whimsical setting that has become a favorite destination for tourists.
16. Cruise Around the Bay Area
Do your little ones have their sea legs? They'll need them for this fun thing to do in San Francisco with kids: Book a cruise of the Bay. What makes this serene-sounding getaway a blast for kids? The chance to see whales live and in the flesh!
Whale watching tours can be a memorable experience – which is why they are popular activities in San Francisco and other places like Seattle, Washington and on the east coast in Maine and Massachusetts. That's why a whale watching cruise around the Bay Area is one of the best things to do in San Francisco with kids.
During your bay cruise, you also get the chance to see the Golden Gate Bridge and the historic Alcatraz Island from the water.
17. Have a Fun Day at The Crossing
The Crossing is the place to be for athletic kiddos and adults. Your family can play pickleball or street soccer on a drop-in basis, or squeeze in a workout in the outdoor fitness center.
This open-air venue also features spectacular nighttime entertainment, including comedy shows and special events for youth.
18. See the Future at the Golden Gate Fortune Cookie Factory
What kid doesn't love a sweet treat? Cookies are even better when they predict the future. Your kids can find out what their fates hold when they sample one of the many handcrafted delights with a tiny paper slip inside.
The Golden Gate Fortune Cookie Factory is a treasured cultural gem in the heart of San Francisco's Chinatown. Watch skilled artisans meticulously handcrafting fortune cookies and witness the intricate process firsthand.
Aside from the Fortune Cookie Factory, take some time to explore the lively Chinatown District. San Francisco boasts one of the best Chinatown's in the world – rivaling Chinatown in Singapore and Chinatown in Bangkok for its authentic atmosphere and delicious food.
19. Indulge Your Sweet Tooth at Ghirardelli Square
Ghirardelli Square is named after the famous chocolate factory established there in 1983. You can step inside their shop for artisan candy goodness. However, save some room for less sugary foods, as you'll find plenty of dining, including steaks, seafood and tacos, around this hot spot.
With its red-brick buildings and elegant courtyards, the square exudes charm. Beyond its culinary offerings, Ghirardelli Square boasts an array of boutique shops, galleries, and cultural events, making it a hub where tourists can immerse themselves in the city's arts and culture scene.
20. Ride the Skystar Wheel
You've probably seen this famous Ferris wheel in films. Ride it in the flesh when you visit San Francisco with your kids. Each gondola is fully enclosed, meaning there are no restrictions for age, height or weight — everyone can see the city from the air.
The Skystar Wheel is located in Golden Gate Park. This towering observation wheel stands 150 feet tall and is adorned with vibrant LED lights, creating a magnificent addition to the San Francisco skyline.
21. Get Airborne at House of Air
Do your kids want to fly high without a protective cage? Visit House of Air, an indoor trampoline park where they can jump to their heart's content. Join in the fun and hop around with your family.
With a dodgeball zone, a trampoline basketball court, athletic training area, and a main trampoline zone consisting of 42 conjoined trampolines, families will have a blast jumping together in this massive indoor trampoline playground.
Getting Around San Francisco With Kids
You'll have no trouble hailing an Uber or Lyft in San Francisco. However, your best investment is a CityPASS.
This one ticket wins you admission to multiple destinations on this list and lets you access MuniMobile, your key to getting around via bus, trains and the iconic cable cars.
BUY YOUR SAN FRANCISCO CITYPASS
Fun Things for You and Your Kids in San Francisco
California emerges as the hands-down winner for the favorite vacation state in the U.S. for several good reasons. One of them is San Francisco. There are tons of fun things for you and your kids to do in the Golden City.
Book your tickets, get your CityPASS, and begin planning your itinerary filled with fun things to do in San Francisco with kids today.
The adventure of a lifetime awaits — what cool things will you and your kids do in San Francisco?
Do you have a question or comment about the best things to do in San Francisco with kids? We'd love to hear from you! Leave your thoughts on these kids activities in San Francisco in the comments below.
About the author of this guide to the best things to do in San Francisco with kids: Cora Gold is the Editor in Chief of women's lifestyle magazine, Revivalist. She loves to write about travel, family and adventure. Follow Cora on LinkedIn and Twitter.

Like it? Pin this list of the best things to do in San Francisco with kids to save it for later!
Did you know…
When you make a purchase or book hotels, tours, or other travel services, through our links, we receive a small commission, at no extra cost to you. We only EVER recommend service providers, websites, or products we personally use when booking our own travels. Your support enables us to keep producing helpful travel content. Thank you!