New Mexico is one of the most underrated states in the USA. It is one of only a few states that has a true distinguishing identity.
From the food to the architecture, there is a uniqueness to New Mexico that many other states simply lack. And for those visiting New Mexico with kids, you'll find no shortage of interesting things to do.
This travel guide to the best things to do in New Mexico with kids details the top 12 places to visit in New Mexico and things to do in this incredible, family-friendly state in the southwest USA.
About New Mexico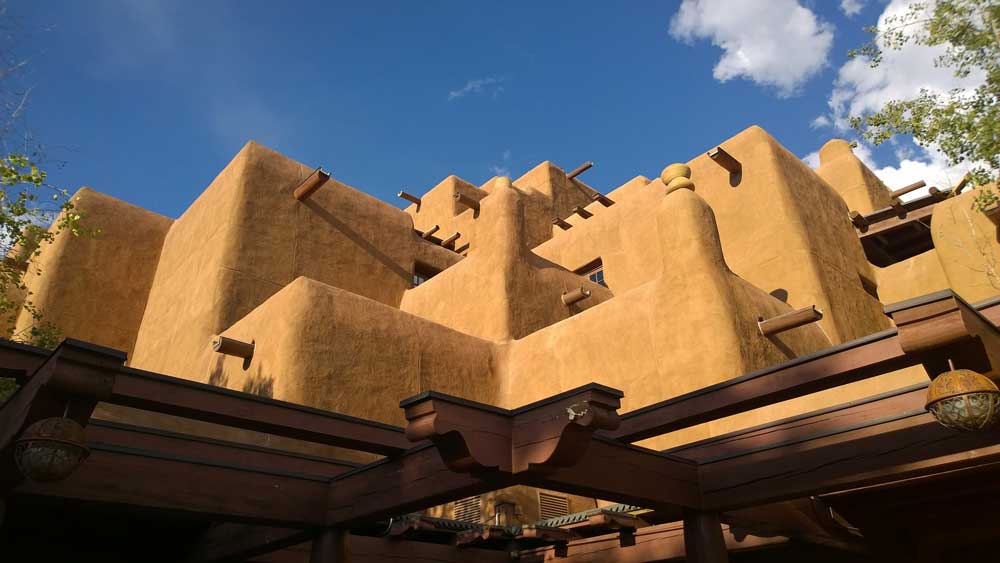 New Mexico is known as the Land of Enchantment. If you are looking for a cultural experience in the United States, the American Southwest – particularly New Mexico – is where you will find it.
To appreciate many of the best things to do in New Mexico with kids – you first need to understand a little bit about the state's past.
New Mexico has a rich and deep Native American history that has influenced almost every aspect of the state.
The Pueblo Indians were the original settlers of New Mexico, long before it was a state and before the USA was even a country.
Then came Spanish explorers who settled in New Mexico in the 16th century. They brought their own culture, food, and way of life.
Although it probably wasn't a popular union at the time, these two cultural influences have shaped New Mexico into what it is today.
New Mexican Cuisine
The fusion of the Indigenous and Spanish cultures is very apparent in the state's traditional cuisine. New Mexico is known for a very unique type of Latin-style food prepared with hatch green chile peppers.
If you happen to find it on the menu, order enchiladas "Christmas style". They are served stacked, not rolled, and are smothered in red sauce on one side of the plate and green sauce on the other side. You can also order your enchiladas with a fried egg on top.
Indian squaw bread, also known as Navajo fry bread, is also a popular food choice that is somewhat specific to New Mexico.
Additionally, foods like chile rellenos (stuffed chiles), blue corn tortilla chips, and posole are all popular dishes in New Mexico.
New Mexico Architecture
The Native American history hasn't just inspired the delicious food, the architecture and décor you will find in many parts of New Mexico is also different from what you may find elsewhere.
Adobe, or mud brick, is a common building material found throughout the southwest and especially in New Mexico.
Hanging on the outside of many of the adobe buildings, whether homes or storefronts, you'll commonly see chile ristras.
I'm not sure how these strands of large dried chiles became so popular in New Mexico, but they are practically synonymous with the state.
Top 12 things to do in New Mexico with kids
Although the architecture and cuisine are quite unique, there are a lot of things to do in New Mexico besides eating delicious, authentic food and looking at cool buildings.
Those visiting New Mexico with kids will enjoy exploring the varying landscapes across the state. From mountains to deserts, to caves, and sand dunes, New Mexico has a little bit of everything.
If you are planning a New Mexico family vacation, here are the top 12 best things to do in New Mexico with kids.
Go sand boarding at White Sands National Park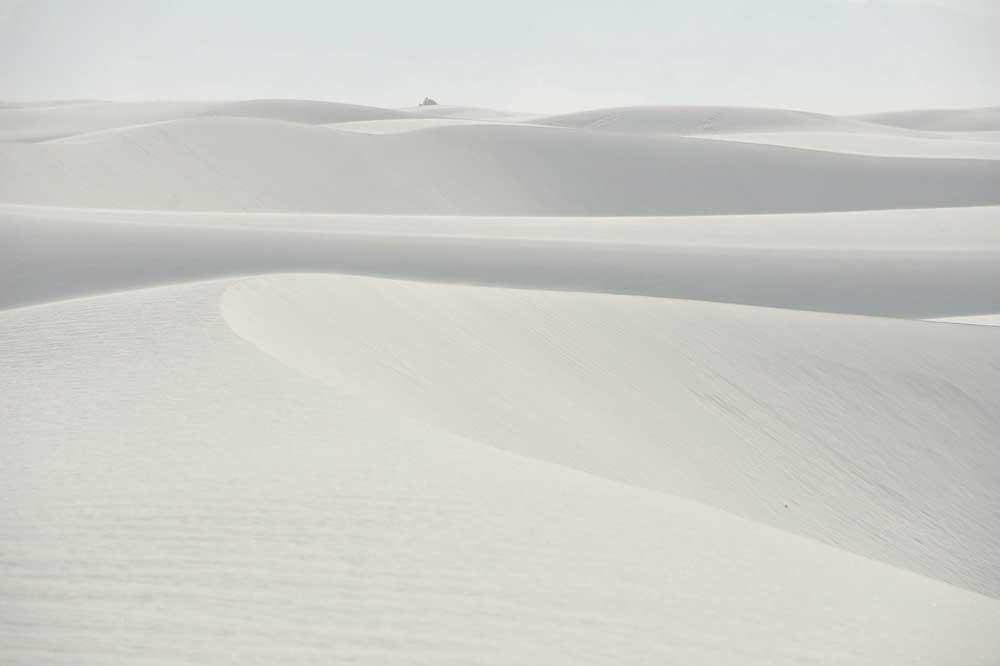 White Sands is one of the most recently added national parks in the United States National Park system.
Designated a national park in 2019, White Sands is beautiful and picturesque. Spanning 275 square miles, the park consists of white sand dunes composed of gypsum crystals.
It is the largest field of sand dunes of its kind on earth.
If the Sahara desert and the beaches of the Bahamas had a love child, it would be White Sands National Park. Imagine white sand stretching for miles forming gentle, rolling dunes as far as the eye could see.
Although somewhat remote, there are plenty of things to do in and around White Sands National Park.
I recommend packing a picnic lunch and bringing a sled. Adults and kids alike will have a blast sledding down the hills of pristine white sand.
Unlike normal sand, the gypsum sand that makes up White Sands National Park never gets hot, so you can walk on it barefooted even in the heat of the New Mexico summer. However, two of the most important things to pack when you visit White Sands are water and sunscreen.
In summer, temperatures here often reach highs around 100 degrees Fahrenheit (38 degrees Celsius). The sun reflects off the sand and can cause sunburns, even if you are not visiting during the peak summer months.
Where to stay near White Sands National Park
Tour New Mexico's Underworld at Carlsbad Caverns National Park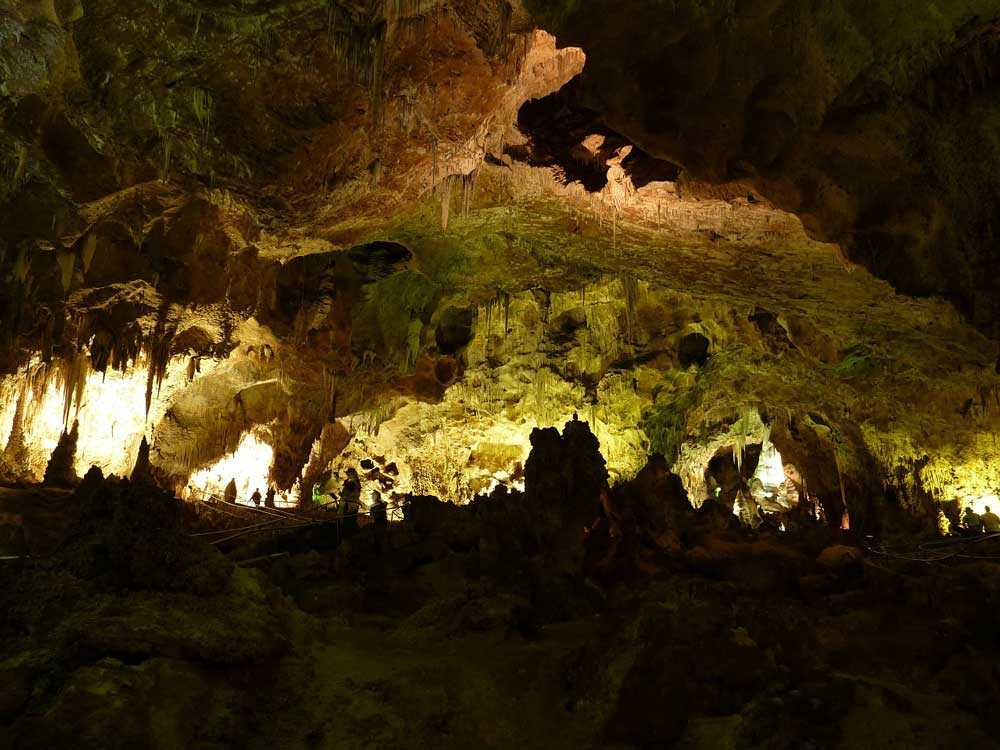 When it comes to caves, Carlsbad Caverns may be the most impressive and beautiful system of underground caverns in North America. In my opinion, it is one of the top natural wonders in the United States.
It was discovered in the late 1800s and named a national park in 1930. It is also one of only two caves in the United States that is a designated UNESCO World Heritage Site.
Today, more than 400,000 people visit the caverns each year.
There are several named rooms in the cave system that visitors can explore. One of the most popular is known as The Hall of the Giants or Big Room.
The Big Room is the largest chamber inside Carlsbad Caverns, and the largest accessible limestone chamber in North America. The caves are not only beautiful and mysterious but are fascinating to tour.
Stay until sunset and you'll get to watch hundreds of thousands of bats emerge from the cave's natural entrance and spiral into the night sky. The national park is home to 17 different species of bats.
If you plan to visit both White Sands and Carlsbad Caverns during your family vacation to New Mexico, be sure to buy an America the Beautiful National Park Pass – which will cover admission to both national parks.
Learn about Aliens in Roswell
Fun fact, I actually lived in Roswell, New Mexico for more than a decade. Known by conspiracy theorists as the town where the aliens landed in 1947, Roswell has become a bit of a tourist site over the years.
Growing up in Roswell I always knew of the supposed alien spaceship crash, but no one made anything of it. It definitely didn't define the town the way it does now.
Fast forward a few years and a few alien movies later, Roswell has become the Mecca for all the fanatical alien believers around the world.
Drive down Main Street in the small town and everything from the local McDonald's to the street lamps are alien themed.
If you plan to visit Roswell, New Mexico take the time to tour the Alien Museum and learn about the history of the town's mysterious alien sighting.
Admire the landscape at Bisti / De-Na-Zin Badlands
After you've visited Roswell and your kids are convinced aliens exist, take them to Bisti / De-Na-Zin Badlands, outside of Farmington, New Mexico. The landscape of this area will make them feel like they're in an alien land.
The unique rock formations look other-worldly. The wilderness area is free to enter and offers some really great and picturesque desert hikes.
Beware, there are no marked trails so know where you are going and don't get lost!
Although the Bisti Badlands are barren lands now, at one point in time this area was a coastal swamp, which helps explain the unique formations of peaks and valleys.
Where to stay near Bisti Badlands
Explore Cliff Dwellings at Bandelier National Monument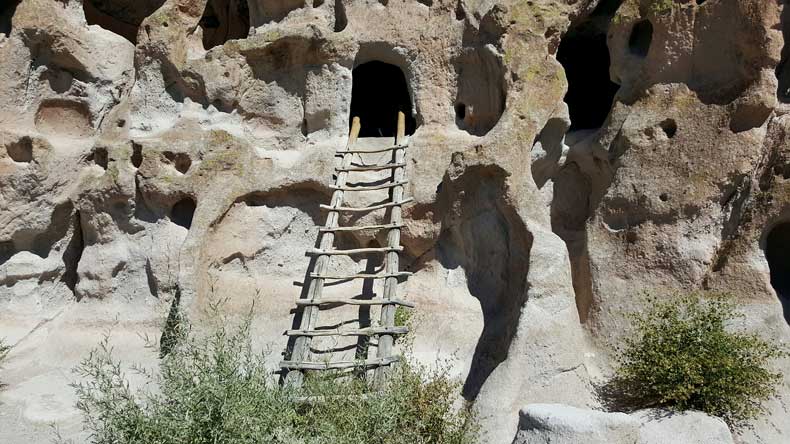 There is no place better than New Mexico in the entire US to learn about the original, indigenous people of the Americas. Native American culture is deeply entwined in the state's history.
At Bandelier National Monument, just outside Los Alamos, one of the best small towns in the US, you'll find evidence of human settlement that dates back 11,000 years when the Pueblo Indians built cliff dwellings to survive.
Visitors to Bandelier National Monument can even climb ladders to explore some of the cave-like homes built into the limestone cliffs.
I first visited Bandelier National Monument as a child growing up in New Mexico. I was fascinated by the well-preserved glimpse of life long before modern times. Now, as a mother myself, I see this as a valuable place to teach my own child about our country's history and its original people.
When visiting New Mexico with kids, one of the best things to do is to show them the history and culture that make the state so unique.

Where to stay near Bandelier National Monument
Relax in the Mountain Town of Ruidoso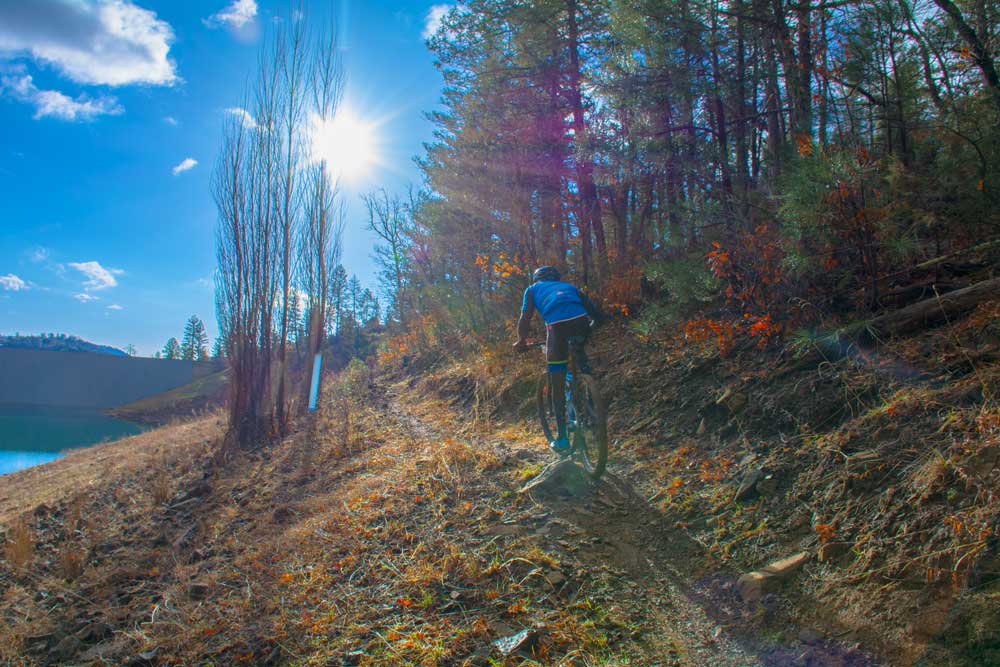 Ruidoso is a picturesque mountain town that you will find to be significantly less crowded than most resort towns.
In winter, skiers and snowboarders will enjoy the small but adequate ski mountain, Ski Apache. It is a wonderful and gentle mountain resort to teach young children how to ski.
And in summer, hikers and mountain bikers will find no shortage of trails to explore. In the midtown area, you'll find unique shops carrying everything from turquoise jewelry to souvenirs and Native American artwork.
I spent many summers and winters in Ruidoso as a child and have so many fond memories of this beautiful, small town. It is truly one of the best places to visit in New Mexico for families.
Discover Old Town Albuquerque and it's many family-friendly museums
Albuquerque is one of the greatest cities in New Mexico to visit with children. I'd recommend spending a few days in Albuquerque with kids.
To get a good feel for the city, start out with a visit to Old Town Albuquerque.
This historic area of Albuquerque features narrow streets lined with adobe buildings. A variety of great shops and cafes run by local artisans and restaurateurs make Old Town a great place to shop locally and support small businesses.
This area is also a great place to sample authentic New Mexico cuisine.
You can take a self-guided walking tour, or for a more cultural experience, book a guided walking tour.
For an extra unique experience, you can take the popular Ghost Tour of Old Town. On the tour, you'll learn about the legends, folklore, and ghost stories that have become a part of the area's 300+ year haunted history.
There are plenty of things to do in Albuquerque with kids to keep the family entertained for a few days.
Kids will love the BioPark zoo and aquarium, the Natural History Museum, and Explora Science Museum. All of these are within a short drive from Old Town.
Go on a Hot Air Balloon Ride
If you visit New Mexico during early-October, you'll get an extra special treat, because each year Albuquerque hosts the largest hot air balloon festival in the world!
The Albuquerque International Balloon Fiesta is one of the most incredible things to experience in New Mexico.
Unfortunately, it's only 9 days long, so you have to plan your trip accordingly if you want to witness hundreds of hot air balloons take to the skies.
However, even if you aren't visiting during the festival, you can book a sunrise hot air balloon ride any time of year.
Take a Ride on the Sandia Peak Tramway
Just outside of Albuquerque, a trip up the scenic Sandia Peak Tramway is a must.
The longest tramway in the United States, the Sandia Peak Tramway runs 2.7 miles and takes roughly 10-15 minutes to get to the top.
The views from inside the tram, as well as from the top of the mountain range are beautiful. Enjoy a nice lunch at the top, or simply hike around and explore on a nice day.
Where to stay in Albuquerque
Explore the Charming City of Santa Fe
A trip to New Mexico with kids wouldn't be complete without visiting the state capital of Santa Fe. Santa Fe gives you a true sense of the state.
The former Spanish settlement maintains much of its original charm and history, while also embodying a quirky artist vibe. As a first-time visitor to Santa Fe, you'll want to head to the plaza and walk through the surrounding streets.
Take time to dip into some of the many art galleries in the area, and of course enjoy a traditional New Mexican meal made with hatch green chiles.
For an extra unique experience, book a 3-hour interactive scavenger hunt that combines Amazing Race-type family fun with sightseeing!
If visiting New Mexico with kids, the immersive Meow Wolf installation is also a must-visit! Meow Wolf has other locations in Denver, Las Vegas, and Grapevine, Texas – located between Dallas and Fort Worth.
Where to stay in Santa Fe
Tour the Taos Pueblo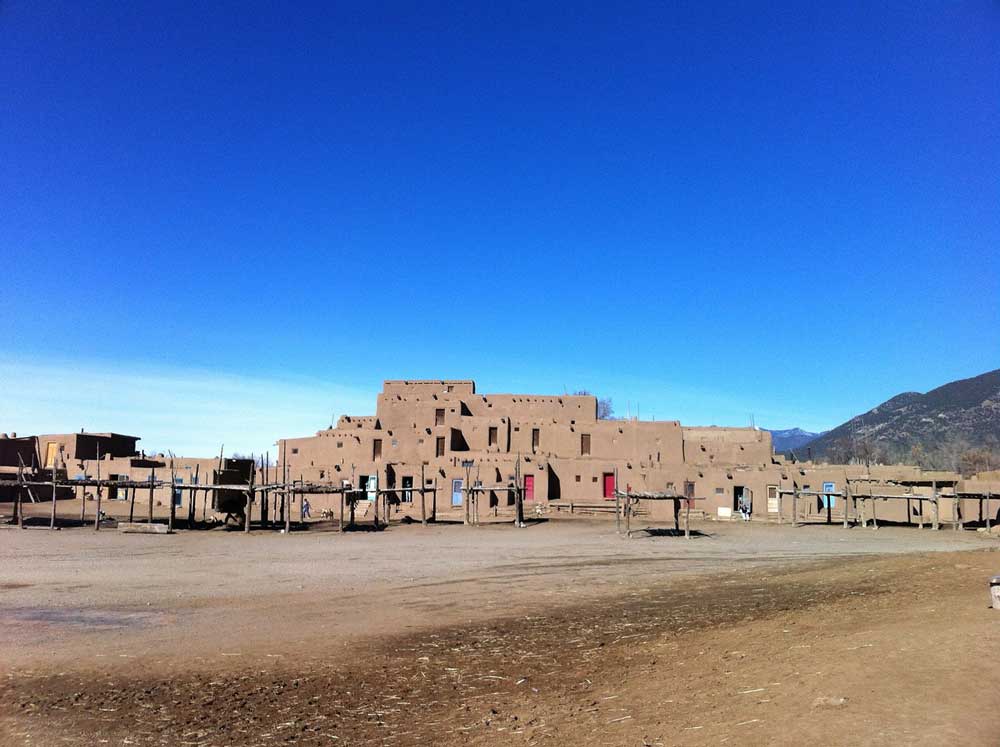 The Taos Pueblo is commonly believed to be the oldest continuously inhabited community in the United States. The multi-story adobe complex is home to about 150 Pueblo Indians and is considered a UNESCO World Heritage Site.
Visitors to the Taos Pueblo can tour the community, learn about life at the Pueblo, and witness tribal events like ceremonial dances and feasts. It is one of the best cultural experiences in New Mexico!
If visiting New Mexico in winter, Taos is also home to one of the best ski resorts in New Mexico.
Marvel at 3,000-year-old petroglyphs
Petroglyph National Monument is an archaeological treasure that bears witness to the rich cultural heritage of the American Southwest.
This remarkable site, spanning over 17 miles on the outskirts of Albuquerque, is home to thousands of ancient petroglyphs etched into volcanic rock by Indigenous peoples and early Spanish settlers.
These intricate carvings and symbols, some dating back over 3,000 years, offer a window into the spiritual beliefs, daily life, and artistic expressions of those who once inhabited this arid landscape.
Visitors to Petroglyph National Monument can explore its numerous hiking trails and witness the enduring mysteries of the Southwest's ancient cultures.
Map of the Best Things to Do in New Mexico with Kids
New Mexico is a big state. You can plan one big road trip across New Mexico or see different parts of the state on different trips. For example, you can fit parts of Northern New Mexico into a southwest USA road trip.
Alternatively, you can add parts of southeastern New Mexico to a West Texas road trip.
Either way, it's good to have an idea of where each of these best things to do in New Mexico with kids is located and the distance and travel time between them.
Why you should visit New Mexico with kids
New Mexico is a fascinating state for kids. It is a place where children will not only learn about – but learn to love – history, culture, and geography.
Exploring New Mexico with kids is a great way for families to turn a road trip into an adventure. From artsy urban areas to barren badlands and even aliens, New Mexico is a must for anyone wanting to experience something different!
Have you visited New Mexico with kids – or without? What are your favorite places to visit on New Mexico family vacations? Leave your thoughts in the comments below.
Like it? Pin this list of the best things to do in New Mexico with kids to save it for later!
Did you know…
When you make a purchase or book hotels, tours, or other travel services, through our links, we receive a small commission, at no extra cost to you. We only EVER recommend service providers, websites, or products we personally use when booking our own travels. Your support enables us to keep producing helpful travel content. Thank you!
This post on the best things to do in New Mexico with kids was first published in February 2019 and was updated in September 2023 for accuracy and current information.