Oklahoma City is one of those places that is surprisingly REALLY cool. For some, the capital of the state of Oklahoma is an overnight stop along Route 66. But for many, it isn't even on their radar… but it should be. As OKC locals, we've spent years exploring Oklahoma City and its surrounding areas and still feel like we've only scratched the surface. There are so many fun things to do in Oklahoma City with kids or without.
From museums to water activities and rope courses, OKC is the perfect destination for a long weekend getaway from Dallas or Fort Worth, Tulsa, Wichita, Kansas City, or Little Rock.
Things you should know about Oklahoma City before you visit
Oklahoma City is located nearly in the center of the state and is the largest city in Oklahoma. There are roughly 1.4 million people that live in the metro area.
The city and its surrounding suburbs cover more than 6,000 square miles… which means it is spread out.
The greater Los Angeles area, for example, only covers about 4,800 square miles despite having nearly 18 million residents. So at times, when exploring OKC, you may feel like you are driving forever.
And speaking of driving, that is something you will have to do. Although Oklahoma City has a lot of great things, public transportation is not one of them.
There are public bus lines within the city itself and more recently even a streetcar system connecting the downtown areas. But we do not recommend relying on public transportation as a way to get around the city as a tourist.
While Uber, Lyft and traditional taxis are also available, you will definitely want your own vehicle when exploring Oklahoma City with kids.
Luckily, traffic is not usually bad in Oklahoma City. Sure, the city has it's peak rush hour times during business days, but even then it is not as daunting as traffic in cities like Los Angeles, Dallas, Houston, or New York.
A few other details about Oklahoma
Oklahoma City is one of the best places to visit in Oklahoma. While in Oklahoma City, you will likely hear locals call it "OKC" or "the Metro". People also love college football in Oklahoma and treat it as a professional sport.
Finally, Oklahoma has a rich Native American history, which is visible throughout the city. There are several museums, statues, and shops that showcase this great history if you are interested in learning more.
Where to Stay in Oklahoma City with Kids
For those visiting OKC with kids on a family vacation, the downtown area is a great place to stay while you explore the city.
Residence Inn by Marriott is located directly across from the Chickasaw Bricktown Ballpark and offers family-size suites at a reasonable price.
For those looking for something more luxurious, the Omni Oklahoma City is one of the newest hotels in the area, while Aloft is considered one of the trendiest. And for those looking for historic charm, The Skirvin Hilton offers both luxury and history.
Staying in downtown not only lets you utilize the OKC Streetcars to visit some of the popular downtown OKC attractions, but you're perfectly situated between the outlying suburbs, where you'll find some of the other attractions on our list of things to do in Oklahoma City with kids.
Top Things to Do in Oklahoma City with Kids – or Without Them!
We have lived in Oklahoma City for about a decade, and we're still discovering great activities to do on weekends. It is no wonder Oklahoma City is considered one of the most underrated cities in the United States.
If you are looking to plan a trip to Oklahoma City or just looking for a few things to do while passing through on a road trip, this is a list of some of the best things to do in Oklahoma City.
Take a boat ride down the Bricktown canal
Bricktown is OKC's tourist district. It is filled with restaurants, bars, awesome street art, an arcade, and even a putt-putt golf course.
At the heart of Bricktown is a man-made canal that you can take a boat ride on, or if you prefer you can take a walking tour or street car tour.
It is one of the more scenic areas of the city and the atmosphere is lively and vibrant. Visiting Bricktown is definitely one of the more fun things to do in OKC with kids.
Check out our full post on Bricktown here.
Ride the Ferris Wheel at Wheeler Riverfront Plaza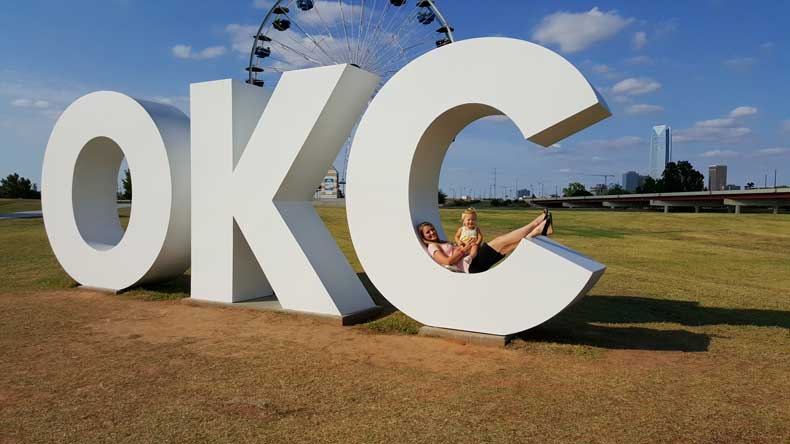 Along the Oklahoma River, just southwest of downtown, you'll find an area of Oklahoma City that is quickly growing and development.
Wheeler Riverfront Plaza is home to a 10-foot tall OKC sign, a few food trucks, and a semi-famous Ferris Wheel. The Ferris Wheel used to sit on California's iconic Santa Monica Pier, and has been featured in 28 movies, including Iron Man.
The Wheeler District is an up-and-coming, mix-use urban development with an emphasis on providing a safe area for pedestrian and cyclists.
As it continues to grow and expand, the district will likely become one of Oklahoma City's premier neighborhoods, and it already has a good start with its trendy riverfront plaza.
Have an adrenaline-pumping experience at Frontier City
From roller coasters to water rides, Frontier City in northeast Oklahoma City is a fun place to spend the day especially if visiting OKC with older kids and teens.
The Wild West-themed amusement park operated by Six Flags has been a favorite family activity in OKC for 60 years.
The park has more than 30 exciting rides and entertaining shows suitable for toddlers to adults. The whole family will have a blast!
Get adventurous at RIVERSPORT Adventure Park
Another awesome family activity that tops my list of things to do in Oklahoma City is the RIVERSPORT Adventure Park. This is a particularly great activity for adrenaline seekers and those traveling with older kids.
With white water rapids, kayaking, zip-lining, and a ropes course, this is definitely a fun way to spend the afternoon.
RIVERSPORT Adventure Park is located just south of Downtown along the Oklahoma River in an area called the Boathouse District.
Reflect on the past at the Oklahoma City National Memorial and Museum
Oklahoma City is probably most notable for being the site of a horrific terrorist attack in 1995.
In April of that year, 168 people, including 19 children, senselessly lost their lives when a man by the name of Timothy McVey parked a moving truck full of explosives next to the Alfred P. Murrah Federal Building and detonated it.
The area where the building once stood is now a memorial dedicated to the victims. The memorial museum is also one of the most powerful and moving museums you will ever visit.
While the museum may not be suitable for young children, the memorial itself is free to visit and is OK for families.
Read our full post on the OKC Bombing and the Oklahoma City National Memorial here.
Make a splash at Hurricane Harbor OKC
If you prefer water parks rather than amusement parks or museums then spend a summer afternoon at Hurricane Harbor Water Park.
Located in far west OKC, Hurricane Harbor, which is also operated by Six Flags, boasts numerous water slides and raft rides, as well as a wave pool, kiddie area, and lazy river.
Summers in Oklahoma City can get hot, so a water park is the perfect place to cool off. And with 25-acres of fun, 12 slides and three big pools, Hurricane Harbor is a great sunny day activity.
Get lost in the beauty of Myriad Botanical Gardens
In Downtown Oklahoma City, check out the Myriad Botanical Gardens. The 15-acre urban nature escape is mostly free and open to the public. You will find beautiful gardens, a playground and splash fountains, a dog park, and walking trails.
While the gardens are free to visit, there is a small charge to enter the Crystal Bridge Tropical Conservatory at the center of the gardens.
The 13,000 square foot tropical greenhouse houses more than 750 different plants and multiple waterfalls. Completely renovated in November 2022, price of admission is $10.50 for adults and $5.50 for kids 4+.
Enjoy the outdoors at Scissortail Park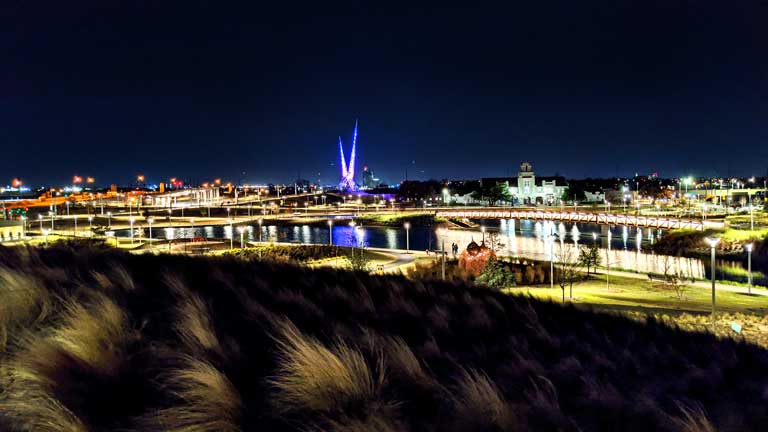 This 70-acre public green space just south of downtown is a must-visit attraction for kids in Oklahoma City.
With a world class playground, splash pad, paddle boats, dog park, outdoor roller rink, and plenty of green lawn areas for picnics, you could easily spend a full day at Scissortail Park.
Don't miss Skydance Bridge near the park. This pedestrian bridge crossing over I-40 is designed to resemble the wings of the scissor-tailed flycatch, the state bird of Oklahoma. At night, the bridge is colorfully illuminated, making for a great photo spot in OKC.
Catch an OKC Thunder game
Depending on the time of year you visit Oklahoma City and the NBA schedule, a professional basketball game may or may not be a feasible activity. But if you happen to be in Oklahoma City when the OKC Thunder basketball team are playing a home game, it is an electrifying experience.
Oklahoma City went many years without a professional sports team, so when the Thunder finally came to town Oklahomans showed their support.
The atmosphere at a Thunder game is dynamic! It's loud, it's exciting, and the fans really get into the game. If you are planning to attend a game with a baby or toddler, bring a set of noise reducing headphones to protect their tiny ears.
Watch a Dodgers game at Bricktown Ballpark
An OKC Dodgers game is another fun sporting option that is also dependent on the season. If professional basketball isn't your thing, perhaps you would enjoy the slower pace of a minor league baseball game.
The OKC Dodgers are the Triple A affiliate of the Los Angeles Dodgers.
If you happen to be in Oklahoma City on a Thursday evening when the Dodgers are in town, you can enjoy $1 beers, sodas, and hot dogs at the ballpark.
The ballpark is located right in the heart of Bricktown, too, making it convenient to other major attractions.
Learn to ice skate at Devon Ice Skating Rink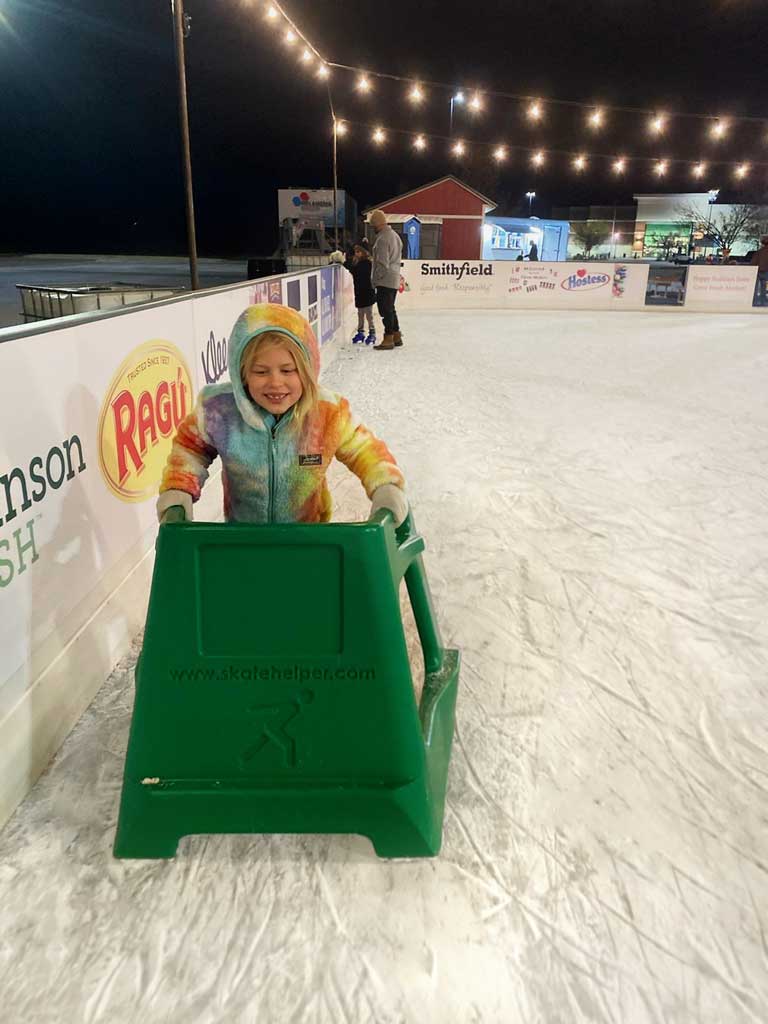 Visiting OKC in winter? Don't worry there are plenty of family things to do in OKC when the weather isn't ideal. Winters in Oklahoma are typically mild.
Although the state has its fair share of cold weather, you don't usually see extreme temperatures that would warrant staying inside for days on end.
In fact, if visiting OKC with kids during wintertime, head downtown to the Devon Ice Skating Rink. This winter time experience is fun for even the clumsiest among us.
Tour the Oklahoma State Capitol
If you love visiting state and national capitol buildings or enjoy historical sites, the Oklahoma State Capitol is one of the more notable Oklahoma City attractions.
The interior is elegant with a grand rotunda and ornate dome and historical portraits adorning the walls.
But one of the things that stands out about the Oklahoma State Capitol is the giant, unsightly oil derrick in front of the building.
This is the only capitol in the world surrounded by working oil wells. Only in Oklahoma. You can take a free self-guided tour of the Oklahoma State Capitol any day of the week, or take a free guided tour on weekdays.
Immerse yourself in the strange at Factory Obscura
One of the funkiest places in all Oklahoma, Factory Obscura, isn't just for kids. Adults will also love this immersive art installation. It's vibrant and weird, hands-on, and kind of feels like you're in some sort of psychedelic dream world.
Located in Automobile Alley, the 6,000 square foot immersive museum is worth visiting and may be one of the most memorable experiences for kids in Oklahoma City.
The art installation, often referred to as Mixed Tape, takes you on a choose-your-own-path journey through a variety of different themed-rooms.
How you get there and what you discover in each room, is solely up to you.
The art installation is meant to be a multi-sensory experience. Guests are encouraged to touch things, listen, and climb through the immersive museum.
Try something new at Pops Soda Ranch
Pops Soda Ranch is an old-fashioned soda shop and restaurant located just east of Oklahoma City along Route 66. It is in a small town called Arcadia and is a unique pit stop along the historic highway.
You can't miss it. There is a giant spiraling neon soda bottle that towers 66 feet high standing along the road that just begs you to stop and check it out.
You can literally find hundreds of different flavors of soda in the store, including some flavors that only children would dare try. Anyone care for a Bug Barf Soda or Dirt Soda?
One of our favorite things to do is to build our own six pack of different sodas to take home and try.
Prefer your fizzy beverages with alcohol? Check out our post about the best breweries in Oklahoma City!
Stroll around Lake Hefner
Lake Hefner is located in the northwest part of Oklahoma City. It is a lovely lake that is popular among kite surfers during the summer months. There are well paved and lit walking and cycling trails around the entire lake and convenient parking.
After a stroller around the lake, stop in for dinner and some live music at Red Rock Canyon Grill, one of several great restaurants located right on the water.
With wonderful views of the iconic Lake Hefner Lighthouse, it is a perfect place to relax on a patio and watch the sunset.
Bowl a strike at Hey Day
Bowling at Hey Day is a great way to pass time on a rainy or cold day. This isn't just your ordinary bowling experience though.
With giant big screen TVs over the bowling lanes and friendly waitstaff that take your order and deliver your food right to your lane, Hey Day is a state-of-the-art family experience.
There are locations in both Bricktown and Norman, one of Oklahoma City's southernmost suburbs. Each location has a fun arcade attached, as well.
Meet the animals at the Oklahoma City Zoo
The Oklahoma City Zoo is one of the top zoos in the country. It is well laid out and has nearly 1,500 animals.
I know not everyone supports zoos, but if you love them, this is a good one to visit. My daughter particularly likes the giraffe exhibit. You can hand-feed the giraffes for an additional fee.
A visit to the Oklahoma City Zoo could easily take half a day, at least, but it is one of the best things to do in Oklahoma City with kids. There is a lot of walking at the zoo, so if visiting with young children, a stroller is a must.
Explore and learn at the Science Museum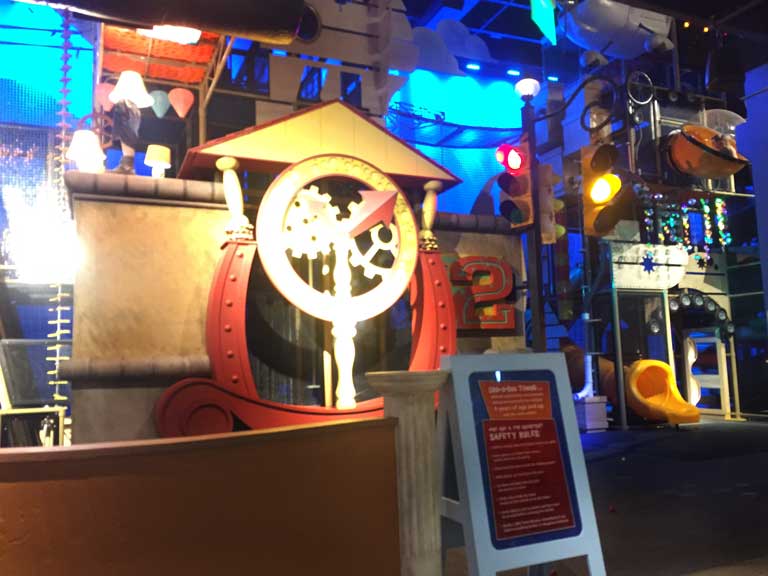 The Science Museum will bring out the kid in everyone. From space and weather to physics and the human body, the Science Museum has two stories of fascinating hands-on activities that kids and adults will love.
Located right next to the Oklahoma City Zoo, you could easily spend a full day in this area of the city alone. Even toddlers will have a blast at the Oklahoma City Science Museum.
Visit a working farm with lots of fun activities for kids
While most seasonal activities seem to be geared more toward summer or winter, Orr Family Farm is one that is best enjoyed in fall. If you happen to visit Oklahoma City in fall, definitely check out Orr Family Farm in the southern suburb of Moore.
Moore is located just 20 minutes south of downtown. If you are looking for things to do in Oklahoma City with kids, Orr Family Farm has a lot to offer for children of all ages.
From a pumpkin patch and petting zoo, to a train, carousel, playground, and bounce houses, Orr Family Farm is a favorite for families. With new attractions seemingly added each year, you can also wander through a corn maze or sunflower field in the fall.
Although Orr Family Farm is only open during the spring and fall seasons, you can even stay the night in a teepee or covered wagon on the property year round.
Watch a movie on one of the largest IMAX screens in the world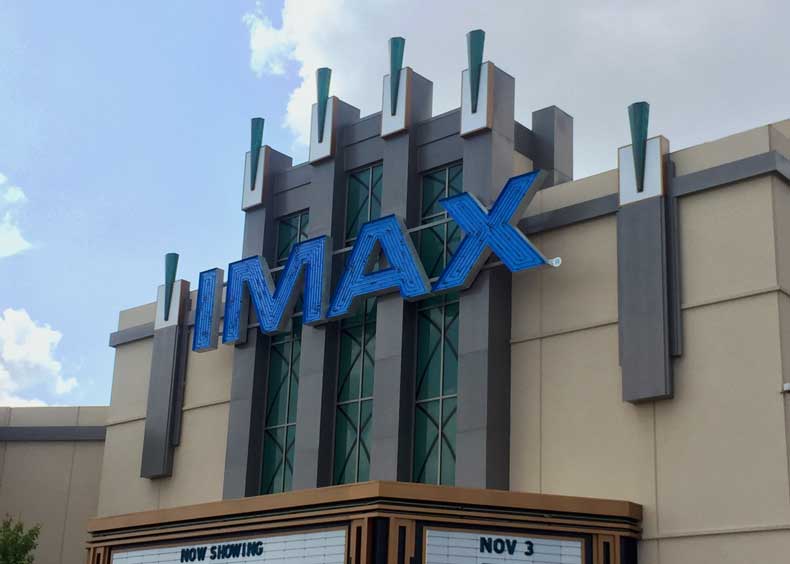 While in Moore, you can also check out a movie at the Moore Warren Theater. We wouldn't typically list a movie theater as a top attraction, especially in the age of home premiers, but this theater is definitely better than most.
The 3D digital IMAX screen at the Moore Warren was once said to be the largest in the world, although it is unclear whether that remains true.
The theater offers a 4DX viewing experience, which delivers a multi-sensory cinematic experience that makes you feel immersed in the movie.
One of the great things about the IMAX at the Regal Moore Warren is there is also a family room, so you can bring a baby or toddler without having to worry about disrupting the movie if your child cries.
Outside the IMAX, there are also private director's suites with balcony seating, recliners, and food service from the bar and restaurant just outside the suites.
Visit The University of Oklahoma campus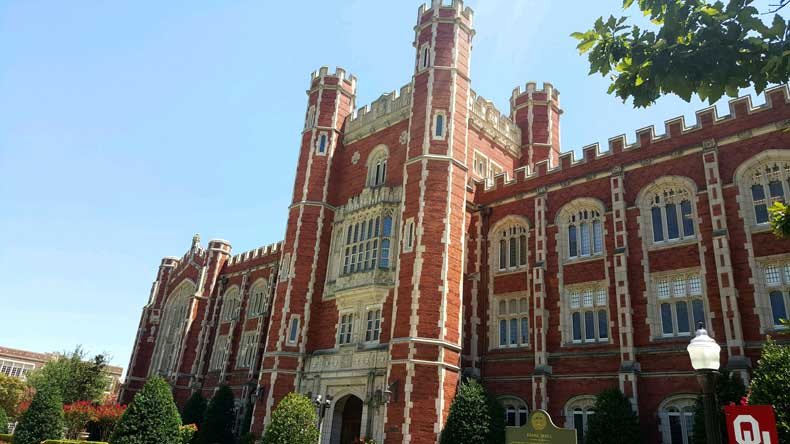 Remember how we said Oklahomans treat college football like a professional sport? About 30 minutes south of downtown lies the reason… Oklahoma University. OU is a state university with a highly renowned football program.
If you want to instill excitement for education and build up a desire to go to college in your children, I always recommend visiting college campuses when you travel.
Universities are usually very picturesque places with amazing architecture, and OU is no different. In fact, the University of Oklahoma library is the closest thing resembling a castle in the entire state.
Learn about tornadoes at the National Weather Center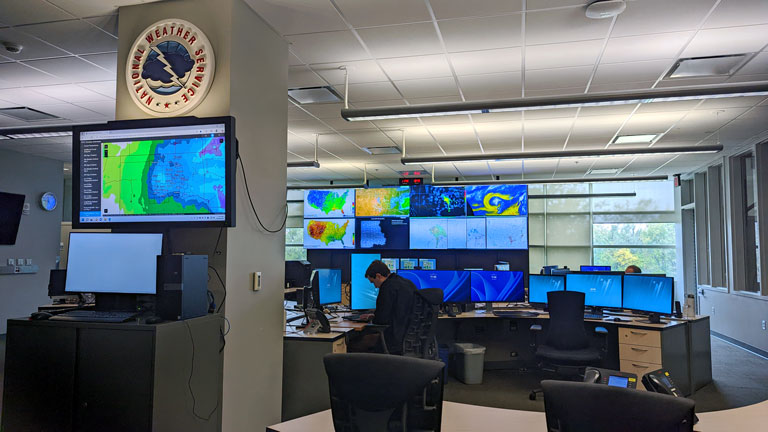 The National Weather Center is located on the University of Oklahoma campus, so you could also tour this government building while in Norman.
There is nowhere more fascinating to learn about weather than Oklahoma City, the heart of tornado alley!
Tours of the National Weather Center are free, but you need to book in advance, and if you are visiting from another country, there is a special form you must fill out two weeks prior to receive clearance.
Experience OKC's western heritage in the Historic Stockyards City
The Oklahoma City Stockyards is one of the best places in Oklahoma to learn about the state's western heritage and to find western clothing, souvenirs, and food. Similar in nature to the Fort Worth Historic Stockyards, you can try on some cowboy boots and western wear in one of several shops and stores.
Afterward, have dinner at the famous Cattlemen's Steakhouse. Cattlemen's is the oldest continuously operating restaurant in Oklahoma City, but don't expect many vegetarian or vegan menu options.
As the name suggests, Cattlemen's is a steakhouse. However, there are plenty of incredible vegan restaurants in Oklahoma City if you follow a plant-based diet.
Have a bone-chilling good time at the Museum of Osteology
The Museum of Osteology is one of the more interesting museums in Oklahoma. The museum, which houses more than 350 skeletons from animals around the world, is one of two osteology museums in the United States.
It's a cool experience for both kids and adults. Where else can you see the actual skeleton of a giant hump back whale?
Fun fact: The founders of the two museums own the largest privately held collection of bones in the world.
People watch in the Plaza District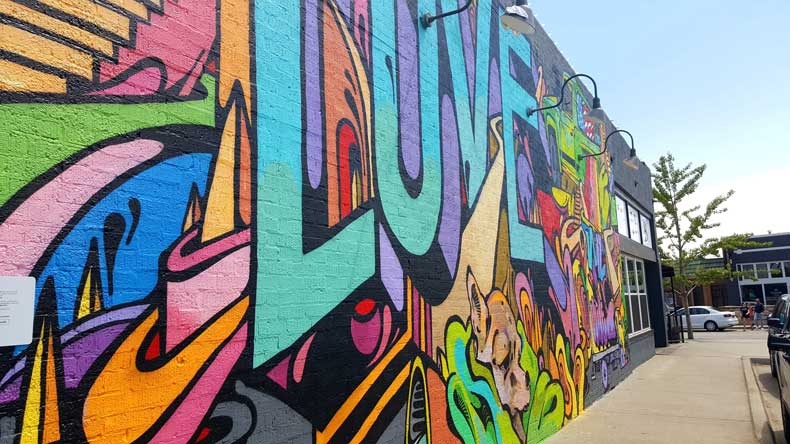 The Plaza District is one of those things to do in Oklahoma City that isn't as well known.
It's a trendy area just north of downtown that boasts colorful murals, funky restaurants and coffee shops, and plenty of bearded, man-bun wearing hipsters.
It's a fun place to hang out, people watch and pass the time. You can enjoy a craft beer on a patio or have a homemade slice of heaven at the locally pie shop, Pie Junkie.
Go plane spotting at Charles B. Hall Airpark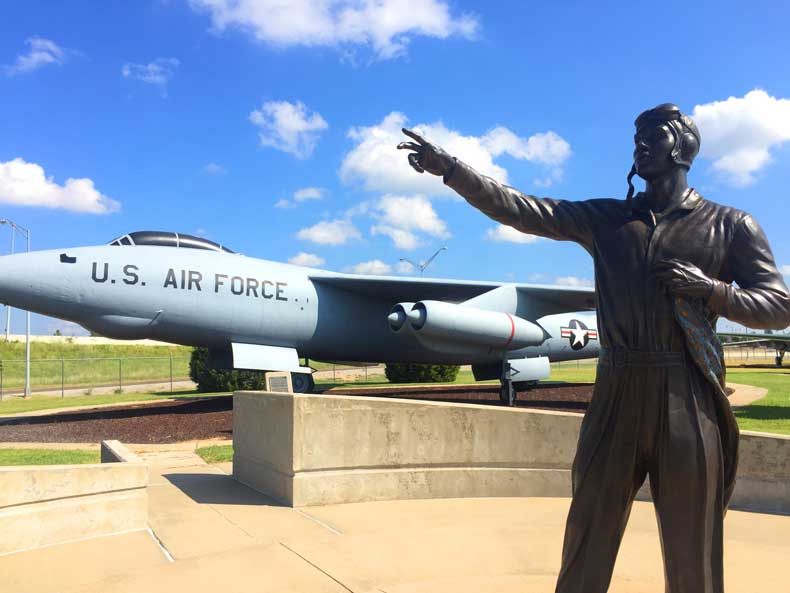 Another one of the lesser known AND FREE things to do with kids in Oklahoma City is the Charles B. Hall Airpark. Not far from the Museum of Osteology, the airpark has a variety of restored aircraft on display.
Aviation enthusiasts will love walking through the airpark and viewing the different planes.
There are also a number of sculptures and memorials located at the airpark, including one of Charles B. Hall, the first African American airman to down an enemy aircraft.
Take photos in wildflowers
Your kids may groan at this one, but what parent doesn't want an adorable photo of their child in a field of wildflowers. Luckily, Oklahoma has some of the most beautiful wildflowers in the country.
From vibrant red Indian Paintbrush fields to acres of canary yellow canola, you don't even have to drive all that far from the city limits to find some of the best Oklahoma wildflowers.
Looking for other great towns to visit in Oklahoma? Check out Medicine Park – Oklahoma's cobblestone community and Guthrie, Oklahoma – the state's original capital.
Have you been to OKC with kids? What would you add to this list?? Leave us a comment and let us know your favorite things to do in Oklahoma City with kids.

Like it? Pin this list of fun things to do in OKC for kids to save for later!
This article on the best things to do in Oklahoma City with kids was first published in September 2017 and was most recently updated in May 2023 for accuracy and current information.
Did you know…
When you make a purchase or book hotels, tours, or other travel services, through our links, we receive a small commission, at no extra cost to you. We only EVER recommend service providers, websites, or products we personally use when booking our own travels. Your support enables us to keep producing helpful travel content. Thank you!