We may earn money or products from the companies mentioned in this post.
San Ignacio will give you a true Belizean experience, and one you will likely find unforgettable. From the food to the rugged lodging, you will get a real look at the culture and the way of life in western Belize. Although the small town draws its fair share of tourism, it does not have a touristy feel at all. Still you'll find plenty of things to do in San Ignacio, Belize even when traveling with kids.
About San Ignacio, Belize
San Ignacio is located in the Cayo District of far western Belize. It is roughly 20 minutes from the Guatemalan border, and a popular base for adventure-seekers who want to explore this area of the country. The Cayo District is known for its dense jungles, ancient Mayan ruins, and eerie caves that you can tour.
With a population of less than 20,000, San Ignacio is a relatively small town, although it is the second largest city in the country. You will not find fast food restaurants or American chains here. Instead, you'll find delicious, homegrown food prepared in locally-owned restaurants. You'll stay in boutique hotels and eco-lodges. And the shops are run by local artisans and vendors. It's a refreshing place to slow down and enjoy a simpler way of life.
For more information on visiting Belize with kids and a look at our complete kid-friendly itinerary, click here.
The most memorable things to do in San Ignacio
While many people stay in the town and venture out to explore the area around it, there are plenty of things to do in San Ignacio, as well. If you plan to visit this part of Belize, here are six awesome and memorable things to do in San Ignacio.
Stroll through town and eat!
Swim or relax by the river
Stay in an eco-lodge jungle resort
In the remote jungle surrounding San Ignacio you will find a variety of beautiful, relaxing resorts offering private cabanas and plenty of activities on property. Many of them are sustainable Eco-lodges and utilize commercialized fans powered by solar energy instead of air conditioning. In this area of the country, very few buildings or homes have central heat or air. In eco-lodges, electricity and WiFi may be limited, food may be grown on the property, and the water from the faucet may be collected rain water.
While this type of green lodging may sound a bit different that what you may be used to, it is anything but basic or primitive. Many of these jungle resorts offer exceptional family amenities and activities like canoeing and hiking on-site. The properties are beautiful and luxurious and intended to help you relax while reducing the inflated carbon footprint many typical hotels create. Staying in a jungle eco-lodge in San Ignacio allows families to escape the busyness of modern life and explore nature off the grid.
Stroll through the streets of San Ignacio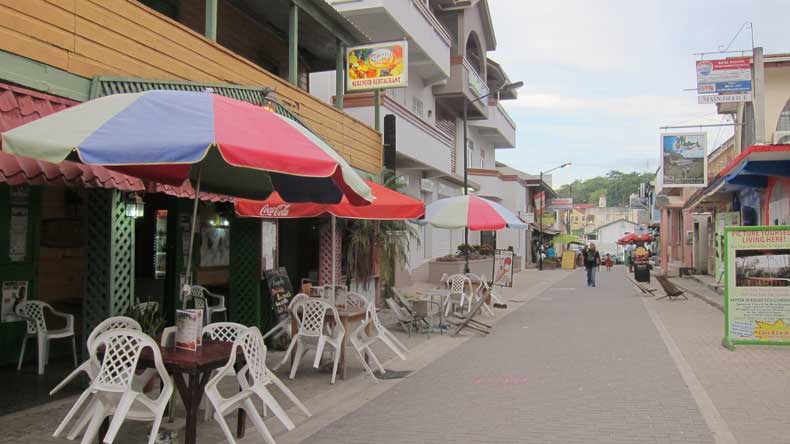 In the heart of San Ignacio there are a variety of unique shops and restaurants. This is a great place to spend an afternoon shopping and roaming the streets. I'd recommend eating at least one meal at one of the locally-owned restaurants in the town. Many of the restaurants serve authentic Belizean cuisine.
Belize has some of the best food that we have tried throughout our travels across Central America. Rice and beans are both staples in Belize as they are in many Latin cultures. In fact, beans are often served with breakfast, lunch, and dinner. Fry jacks are another incredible food often served with breakfast in Belize. A fry jack is similar to a sopapilla and can be dipped in honey if you like your breakfast on the sweet side. We found the price of food and drinks in San Ignacio very reasonable and inexpensive. Our beers cost about $2 American dollars. A margarita or mixed drink will cost about $5 American dollars. A plate of food typically costs less than $10.
Visit the San Ignacio Market
Saturday is a great day to walk around San Ignacio because the city hosts a large weekend market. Local vendors bring their goods, fresh produce, and handmade crafts to market to sell. It is a great atmosphere! When you buy from the market you know you are also helping to support a local family. The prices are all very inexpensive compared to American standards. You can find some unique gifts or special souvenirs. Our 16 month old daughter loved walking around the market as there are a lot of new and great sights, sounds, and smells. Plus, the locals are very friendly and loved her.
Visit Mayan Ruins of Cahal Pech and Xunantunich
Around San Ignacio, you will find several Mayan ruins to explore. Cahal Pech is located in near the southern edge of town, and is definitely worth a short visit. You can easily walk to it from the town center. Although not as impressive as some of Belize's other Mayan ruins, it is conveniently located and doesn't take long to explore.
About 10-15 minutes outside of San Ignacio and about a mile from the Guatemala border, you'll find Xunantunich, one of the best Mayan sites in all Belize. From Xunantunich you can look across the border into Guatemala.
Both sites are great, but the best Mayan ruins in Central America are located about two hours away from San Ignacio, right across the Guatemalan border. Getting from San Ignacio to Tikal National Park in Guatemala can easily be done by car or through a tour group.
Visit the Mountain Pine Ridge Reserve
Another one of the great things to do in San Ignacio, or in the nearby area, is the Mountain Pine Ridge Reserve. There are a few great caves, swimming holes, and waterfalls located in the Mountain Pine Reserve that you can explore with kids. If taking a guided tour to Caracol (the largest Mayan ruins in Belize), the tour takes you through Mountain Pine Ridge Forest Reserve, and stops at one of the best caves and waterfalls in the national park. This is a great way to visit the park if you did not rent a car or prefer a guide or tour group.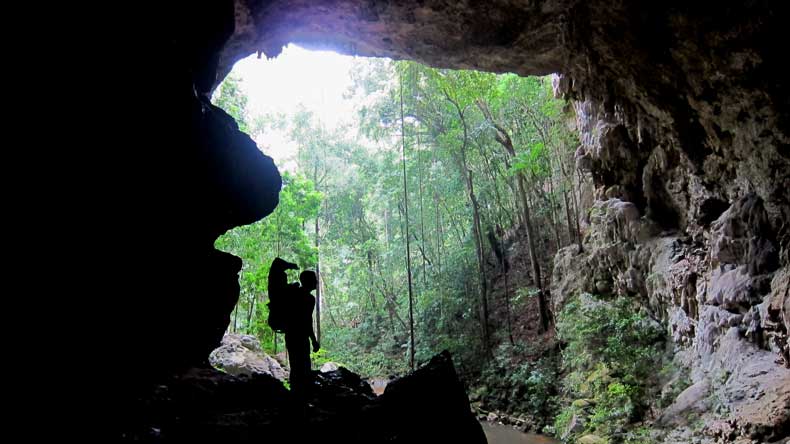 For adults and those traveling with older children, San Ignacio is also a great place to stay if you plan to visit the Actun Tunichil Muknal (ATM) cave, one of the more adventurous and challenging cave experiences in Belize. This tour cannot be done with a baby or toddler, but would be a blast if traveling with school-aged children.
Swim or relax by the river
Right next to the market, you'll find a shallow river, the Macal River, where locals like to splash and play. If you aren't staying at a resort or property near the river that offers water activities, this is a great free place to enjoy the water and relax for awhile. It is especially refreshing on a hot, muggy summer day.
Like it? Pin it to save for later!
Have a question about things to do in San Ignacio, Belize with kids? We'd love to hear from you! Leave your thoughts in the comments below.