San Ignacio is a popular hub for adventure-seekers to Belize and one of the best places to visit in Central America. Located in the Cayo District in far western Belize, a visit to San Ignacio will not only give you a true taste of Belizean culture, it will situate you nearby many of the most popular things to do in mainland Belize.
From Mayan ruins to waterfalls, caves, nightlife and rugged Eco-friendly lodging, San Ignacio is an unforgettable experience.
Traveling to this region of Belize provides a real understanding of the culture and the way of life in western Belize. Although the small town draws its fair share of tourism, it does not have a touristy feel at all.
Still you'll find plenty of things to do in San Ignacio, Belize whether you're visiting Belize with kids, traveling alone, or traveling as a couple.
This San Ignacio travel guide details the best places to visit and the most popular tours and things to do in San Ignacio and the surrounding area.
About San Ignacio, Belize
San Ignacio is roughly 20 minutes from the Guatemalan border. It serves as a popular base town for adventurers who want to explore the dense jungles of Belize and visit some of the famous Mayan ruins in Belize. It also is a great stopping point for backpackers who are planning to cross into Guatemala from Belize.
The Cayo District is known for its dense forest filled with ancient archaeological wonders and natural beauty.
With a population of less than 25,000, San Ignacio is a relatively small town, although it is the second largest city in the country. You will not find fast food restaurants or American chains in San Ignacio. Instead, you'll find delicious, homegrown food prepared in locally-owned restaurants.
You'll stay in boutique hotels and Eco-lodges, and shop in local markets and small businesses run by local artisans and pop-up vendors.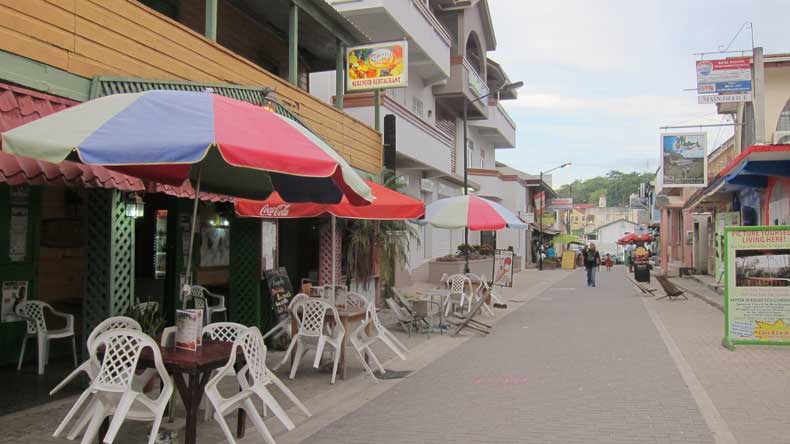 It is a refreshing place to slow down and enjoy a simpler way of life, to connect with nature, and feel completely immersed in a culture that may feel very different from that which you are accustomed to.
Also read: Weird things you'll see in Belize and Guatemala
The most memorable things to do in San Ignacio, Belize
While many people stay in the town and venture out to explore the area around it, there are plenty of things to do in San Ignacio, as well. If you plan to visit this part of Belize, here are seven awesome and memorable things to do in San Ignacio and the Cayo District.
Stay in a jungle lodge
Enjoy the atmosphere of the town
Get in touch with nature

Green Iguana Conservation Project
Medicinal Jungle Trail
Green Hills Butterfly Ranch

Visit Mayan ruins
Visit majestic waterfalls
Explore the underworld
Swim, tube, or canoe along the Macal River
Day-trip into Guatemala
See the best excursions and guided tours in San Ignacio, Belize
Stay in an Eco-lodge jungle resort
In the remote jungle surrounding San Ignacio you will find a variety of beautiful, relaxing resorts offering private cabanas and plenty of on-site activities. Many of these jungle lodges are sustainable and Eco-friendly.
While many think that green lodging will be basic or primitive, that is not the case at many of the jungle lodges in Belize. Many offer exceptional family amenities and on-site activities like canoeing and hiking, and have concierge services that can assist in booking excursions or guided tours.
The properties are beautiful and luxurious and intended to help you relax while reducing the inflated carbon footprint many typical hotels create.
Staying in a jungle Eco-lodge in San Ignacio allows families to escape the busyness of modern life and explore nature off the grid.
Here are the best Eco-lodges near San Ignacio.
Table Rock Jungle Lodge
Table Rock Jungle Lodge is one of the premier places to stay in San Ignacio. Located about 10 miles outside the town, down a small, rural road, the property utilizes commercial fans powered by solar energy instead of air conditioning.
In this area of the country, very few buildings or homes have central heat or air. Electricity and WiFi are also limited.
Food is grown on the property. And the water from the faucet is not drinkable because it is rain water that has been collected for use.
Complimentary on-site activities include hiking, canoeing, bird watching, swimming, and visiting the resident donkeys.
Read our full review of Table Rock Jungle Lodge or book your stay here.
The Lodge at Chaa-Chaa Creek
The Lodge at Chaa-Chaa Creek is perhaps one of the most popular jungle lodges in Belize, particularly for family travelers.
Set on a 33-acre organic farm in the secluded jungle, this jungle resort offers complimentary guided tours of the Rainforest Medicine Trail and their on-site Butterfly Farm, as well as canoeing, hiking and bird watching with a naturalist guide.
The accommodations range from Eco-pods, similar to tree houses, to fully air-conditioned villas with private Jacuzzi and butler.
Other places to stay in San Ignacio
Not interested in a jungle lodge? San Ignacio Resort Hotel will give you the jungle feel with the luxury of a modern resort.
Bonus: it is in town within walking distance to restaurants and shops and right next to the Iguana Project!
Enjoy the atmosphere of the town of San Ignacio
In the heart of San Ignacio there are a variety of unique shops and restaurants. It is a great place to spend an afternoon shopping and roaming the streets or an evening out enjoying the atmosphere and nightlife.
Eat at least one meal at one of the locally-owned restaurants in the town and order authentic Belizean cuisine.
Belize has some of the best food that we have tried throughout our travels across Central America. Rice and beans are both staples in Belize, as they are in many Latin cultures. In fact, beans are often served with breakfast, lunch, and dinner.
Fry jacks are another incredible food often served with breakfast in Belize. A fry jack is similar to a sopapilla and can be dipped in honey if you like your breakfast on the sweet side.
We found the price of food and drinks in San Ignacio very reasonable and inexpensive. Our beers cost about $2 American dollars.
A margarita or mixed drink will cost about $5 American dollars. A plate of food typically costs less than $10.
Visit the San Ignacio Market
Saturday is a great day to walk around San Ignacio because the city hosts a thriving large weekend market. Local vendors bring their goods, fresh produce, and handmade crafts to the market to sell.
Music carries across the tents and stalls, and you'll find locals breaking out in spontaneous dance. It is a great atmosphere!
When you buy from the market you know you are also helping to support a local family. The prices are all very inexpensive compared to American standards. You can find some unique gifts or special souvenirs.
We loved walking around the market, perusing the different tents, and taking in all the sights, sounds, and smells.
Get in touch with nature
All around San Ignacio you'll find jungles, nature reserves, and conservation initiatives aimed at maintaining and restoring the natural ecosystem in the Central American country.
In fact, learning about the plants, animals and wildlife that are native to the country is one of the best things to do in San Ignacio, Belize and the surrounding area because it will give you a better appreciation of the region.
Green Iguana Conservation Project
Iguanas are native to Belize and can be found throughout Central America, the Caribbean, and South America.
At the Green Iguana Conservation Project, run by the San Ignacio Resort Hotel, you can learn about the Green Iguana, it's threatened habitat, its life cycle, and its vital role in maintaining ecological balance.
The iguanas at the sanctuary are very friendly and are not scared of humans, so you'll have the opportunity to hold them and bond with these beautiful creatures.
Medicine Jungle Trail
The Medicine Jungle Trail is a quick 45-minute leisure walk surrounded by plants and herbs that have been used for medicinal purposes for centuries. Some of the plants are believed to have antibacterial and anti-fungal properties while others are used to treat stomach aches, cramps, or numb pain.
You'll also find plants that were once used as a form or torture by the ancient Maya people due to the painful blistery rash, similar to poison ivy.
Green Hills Butterfly Ranch
Belize is home to more than 700 species of butterflies. The largest live butterfly display in the country can be found just outside San Ignacio at Green Hills Butterfly Ranch.
You'll find a variety of different butterflies at the ranch, including the beautiful Blue Morpho, one of the main attractions at the ranch.
Visit ancient ruins
Around San Ignacio, you will find several of the best Mayan ruins in Belize. While there are ruins across the country, the tallest, largest, and most impressive ruins are located in the Cayo District, where San Ignacio is located.
Cahal Pech
Cahal Pech is located near the southern edge of San Ignacio, and it is definitely worth a short visit. You can easily walk to it from the town center.
Although not as impressive as some of Belize's other Mayan ruins, it is conveniently located and doesn't take long to explore. It was once believed to be the home of a wealthy and powerful Maya family.
Xunantunich
About 10-15 minutes outside of San Ignacio and about a mile from the Guatemala border, you'll find Xunantunich. Xunantunich is the tallest of the Mayan pyramids in Belize. In fact, from Xunantunich you can look across the border into Guatemala.
It is an easy self-drive if you are renting a car and driving in Belize, or you can book an excursion or guided tour.
Caracol
Although Caracol is roughly a 2-hour drive from San Ignacio, we are including it because most people who visit Caracol stay near San Ignacio and book a guided excursion.
Caracol is the largest of the excavated Mayan ruins in Belize, making it the most impressive to visit.
Getting to Caracol from San Ignacio requires driving through a mountain forest reserve on some very bumpy dirt roads, so if you do not rent an SUV, we strongly recommend booking a guided tour that will pick you up at your hotel, hostel, or jungle lodge.
Discover majestic waterfalls
Another one of the great things to do in San Ignacio, or in the nearby area, is to venture into the Mountain Pine Ridge Forest Reserve.
The reserve is home to several popular waterfalls, including Thousand Foot Falls, the highest waterfall in Central America. The cascading waterfall, also known as Hidden Valley Falls, plunges 1,600 feet into a deep pool at the bottom of the mountain.
Other great waterfalls in Mountain Pine Ridge Reserve include Big Rock Falls and Rio On Pools. Both are great for swimming, as well.
Plan to spend a full day in Mountain Pine Ridge Reserve, as the road is very rough and bumpy, so driving will be slow and challenging.
Explore the underworld of Belize
Besides ruins, mainland Belize is perhaps best known for its extensive systems of caves, and there are several notable around San Ignacio to explore.
ATM Cave
For adults and those traveling with older children, San Ignacio is also a great place to stay if you plan to visit the Actun Tunichil Muknal (ATM) cave, one of the more adventurous and challenging cave experiences in Belize.
ATM is the most popular cave tour in Belize, and takes you deep into a cave once used for human sacrifices to the Mayan gods.
Getting into the cave requires hiking and swimming, but once inside you'll see ancient artifacts and skeletons of those sacrificed and left in their final resting place.
Rio Frio Cave
One of the only dry caves you can explore near San Ignacio, Rio Frio Cave is also the cave with the largest natural opening in Belize. The 70-foot high opening to the cave greets visitors with what promises to be an exciting adventure.
Located in Mountain Pine Ridge Forest Reserve, and not far from Rio On Pools, Rio Frio Cave is home to enormous boulders you can scramble across as you make your way through the dimly lit cave surrounded by stalactites and stalagmites.
The walk through the entire cave from the main entrance to the other side is roughly a quarter of a mile. Unlike many other caves in Belize, this one can be explored without a guide.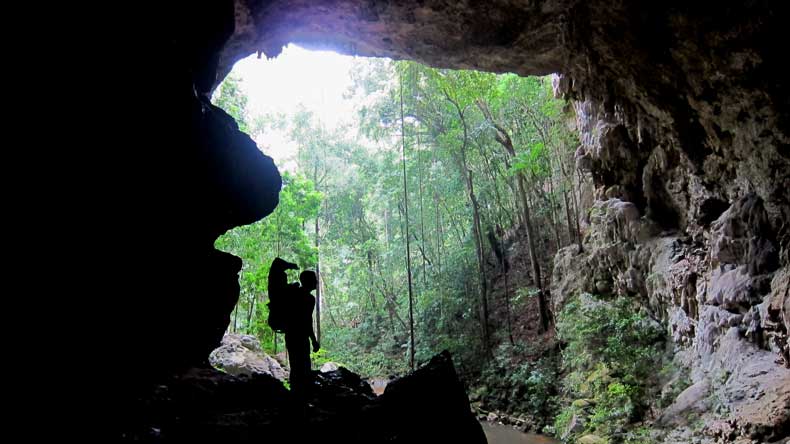 Barton Creek Cave
Barton Creek is another popular wet cave near San Ignacio, Belize. But rather than swimming to get inside the cave, you'll canoe into it. Because Barton Creek Cave is another significant Mayan archeological site where remains from at least 28 people have been found, touring it requires a guide. But because no swimming is required, this tour is more suitable if visiting Belize with young children, elderly individuals or those with physical limitations.
Swim or canoe in the Macal River
Right next to the market in San Ignacio, you'll find a shallow river where locals like to splash and play.
The Macal River also runs directly through many of the jungle lodges, many of which offer complimentary canoes and river tubes for guests enjoyment. River activities are especially refreshing on a hot, muggy summer day.
Day trip into Guatemala
San Ignacio's location in far west Belize makes it the perfect place to base yourself for a quick day trip into neighboring Guatemala. In fact, perhaps one of the best things to do in San Ignacio, Belize is to leave it – at least for a day.
Just on the other side of the Belize-Guatemala border, about 2.5 hours away from San Ignacio, you'll find the largest excavated Mayan ruins site in the world. Tikal National Park in Eastern Guatemala is an easy and incredible day trip.
With jaw-dropping pyramids, this ancient city was once believed to be home to at least 90,000 Maya people!
Tikal is much easier to visit from San Ignacio, Belize then it is from Guatemala City, so it is a must-do on any San Ignacio itinerary. Plus, its a great history lesson and educational opportunity if visiting Tikal in Guatemala with kids.
How much time do you need in San Ignacio?
Many of the best things to do in San Ignacio, Belize are actually found outside of the town. So, give yourself at least three days in San Ignacio, as each day will likely require some driving to get to your adventure.
However, be sure to give yourself plenty of time to relax, unwind, and enjoy the beauty of nature in the Cayo District. So, while three days may be enough time to see and do all the best activities in San Ignacio, four or five days would be even better! 🙂
Have a question about things to do in San Ignacio, Belize with kids? We'd love to hear from you! Leave your thoughts in the comments below.
Like it? Pin this list of things to do in San Ignacio to save for later!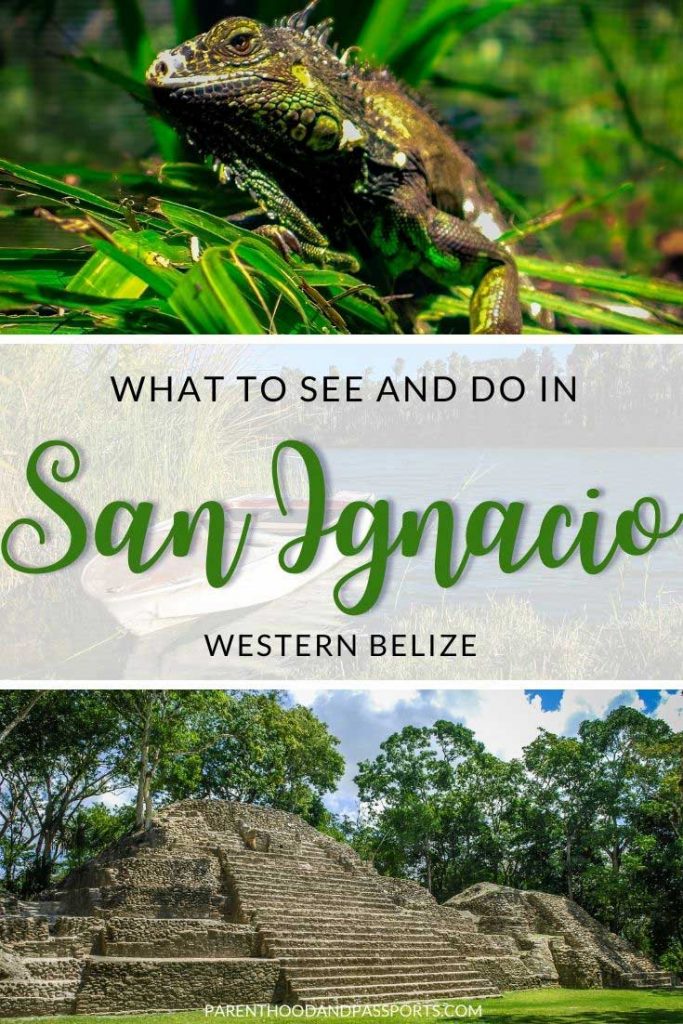 This post on the best things to do in San Ignacio, Belize was originally published in June 2016 and has been updated for accuracy and current information.