Wilmington, North Carolina is a vibrant port city that boasts beautiful beaches just minutes away, an historic downtown area, and a trendy riverfront district. Considered one of the best places for a family vacation in North Carolina, there are a lot of fun things to do with kids in Wilmington NC.
The city, with a population around 125,000, offers a good mix of Southern charm, history, and modern family fun. Located in New Hanover County in southern North Carolina, the city sits on the Cape Fear River.
It's an easy road trip from Charlotte, Raleigh-Durham, or even destinations that are further away, like Charleston or Savannah, GA to the south or Washington DC, Norfolk or Williamsburg, VA to the north. 
This guide to the best things to do with kids in Wilmington NC includes a look at the best beaches, parks, and family-friendly museums in Wilmington NC for kids.
Our personal experience in Wilmington, North Carolina with kids
We have been visiting Wilmington at least once a year for nearly a decade. Having family in the Wilmington area, it gives us the unique opportunity to explore different parts of Wilmington and visit different attractions every time we are there.
And because we have visited many times and have family there, we get a local's perspective as well as a tourist's perspective of the city.
With so many Wilmington kids' activities, it is a fun place to visit on the East Coast and makes for a great vacation destination. 
Where to stay in Wilmington NC with kids
Wilmington is an easy city to get around. However, staying in the heart of town near the riverfront boardwalk puts you close to many of the main attractions, like the Battleship North Carolina, Wilmington Railroad Museum and The Children's Museum of Wilmington, all of which are worth visiting.
Hotel Ballast, Hampton Inn Wilmington Downtown, and Embassy Suites Wilmington Riverfront are all great options within or near the historic district for families visiting Wilmington with kids.
CHECK PRICING AND AVAILABILITY ON ALL WILMINGTON NC HOTELS HERE
The best things to do in Wilmington with kids
If you're planning a family vacation to Wilmington and looking for the best things to do with kids in Wilmington NC, we've laid out the best museums, parks, downtown activities, nearby beaches and attractions to visit in Wilmington with kids.
Things to do with kids in Wilmington NC: Museums
Wilmington has some really great kid-friendly museums that families will love. Here are the best museums to visit in Wilmington NC with kids.
Step aboard a 100-year-old battleship
Across the Cape Fear River from Downtown Wilmington sits the USS North Carolina Battleship. The World War II combat ship is now a museum that visitors can tour year round.
Go below deck and see how sailors lived out on the ocean for months at a time and step back in history as you hear actual stories and see photos and mementos from the men who served onboard the ship. 
Tours of the battleship can get very hot during the summer months, particularly in the afternoon hours.
If visiting Wilmington in summer and you want to see the popular Battleship North Carolina attraction, plan your visit for the morning hours, and buy your tickets online ahead of time.  
Let your imagination loose at the Children's Museum of Wilmington
If visiting Wilmington with kids under the age of ten, the Children's Museum is a fun place for imaginative play.
With interactive exhibits, fun educational programs and unique areas where children can learn through hands-on play, the museum is the perfect place to spend a couple hours on a hot afternoon.  
The museum has a kid-size market and discovery diner aimed at teaching kids about nutrition and healthy food choices. You'll also find a play-pirate ship and a toddler tree house that are fun for little ones to explore and pretend.
See a giant sloth skeleton at the Cape Fear Museum of History and Science
Visiting Wilmington with kids who might be too old for the Children's Museum? The Cape Fear Museum is a nice alternative for older children.
There are several interesting exhibits that offer unique science lessons centered around space exploration, water, fire, and the earth's different ecosystems. 
Kids will especially like seeing the replica skeleton of a Giant Ground Sloth, and learning about the massive creature which researchers believe lived in the region that is now North Carolina 1.5 million years ago.
Check out a massive model train set at the Wilmington Railroad Museum
Children (and adults) who love trains will enjoy a visit to the Wilmington Railroad Museum. This educational museum is one of the best things to do with kids in Wilmington NC.
You can climb aboard a real caboose and steam locomotive and learn about the fascinating history of the railroads in Wilmington and what life was like for the men who worked on the railroad in its early days.
The museum's model railroads are especially fun for kids who can see actual working models of the Wilmington Railroad.
Your kids will be begging to build one at home. Luckily, you'll find lots of railroad items for sale in the gift shop so you can do just that!  
Things to do with kids in Wilmington NC: Parks and Gardens
For families who love exploring the outdoors, head to one of the relaxing green spaces or delightful gardens.
Take in the scenery at Airlie Gardens
Airlie Gardens is a lovely southern botanic garden that spans more than 67 acres. See love oaks covered in Spanish moss, seasonal flowers, and exceptional bird watching.
You can learn about the importance of pollinators, surround yourself with colorful butterflies in the Butterfly House exhibit, or simply enjoy the green space.
The garden does require admission to visit, and you must book your tickets in advance.
Enjoy the free gardens at New Hanover County Arboretum
If you're looking for a free garden to visit, the New Hanover County Arboretum is an excellent choice. You'll find numerous specialty gardens including native plants, rose gardens, pollinator gardens and Japanese gardens, all intended for educational purposes and enjoyment for residents.
Kids will love playing in the Children's Garden Cottage at the Arboretum, and parents will enjoy the many festivals held at the garden throughout the year.
Go on a carnivorous plant hike at Carolina Beach State Park
On the west side of Paradise Island opposite Carolina Beach, the Carolina Beach State Park is a unique place to visit because it is the native home to one of the most interesting plants in the world – the Venus Flytrap.
One of the best activities in the park is to join a park ranger on a carnivorous plant hike, where adults and kids alike will learn about the different habitats in the park, and about its fascinating plants that trap and gain nutrients from live prey such as flies, spiders, and crickets.
The state park also includes campgrounds, hiking trails, and fishing spots, as well.
See Venus Flytraps at Stanley Rehder Carnivorous Plant Garden
If you want to see and learn about carnivorous plants without making the drive to Paradise Island, Stanley Rehder Garden at the Piney Ridge Nature Preserve is an option located within Wilmington proper.
The small garden, just under ¾ of an acre, is home to Venus Flytraps and Pitcher Plants among others. It doesn't take long to walk through the public park, and it is worth the visit to see the carnivorous Flytraps, which only grow native within a 70 mile radius of Wilmington.
Things to do in Wilmington NC for kids: Nearby Attractions
Looking for an adventure? Some of the best activities for kids in Wilmington NC will take you down thrilling water slides or put you face-to-face with sharks… with a thick pane of glass between you, of course.
Learn about marine life at the North Carolina Aquarium at Fort Fisher
The North Carolina Aquarium is located on Paradise Island and is one of the top things to do with kids in Wilmington NC.
To visit the aquarium, you'll want to buy your tickets in advance since they often sell out, particularly during peak season.
Watch adorable sea otters play or spot sharks and eels glide through a massive indoor tank surrounded by schools of brightly colored fish. You can also see jellyfish, sea horses, and sea turtles.
The aquarium also has an outdoor garden where you can see a rescued bald eagle, and count hundreds of turtles as they bask in the sun. 
Hunt for prehistoric shark teeth on Shark Tooth Island
Board a tandem kayak and head to the small landmass in the middle of the Cape Fear River known as Shark Tooth Island. The island gets its name from the many prehistoric shark teeth that are found on it.
You can join a guided tour, like this one, which lasts approximately 3 hours and includes the short kayak journey to the island and plenty of time to hunt for fossils, shark teeth and other treasures!
Make a splash at Jungle Rapids Family Fun Park
Jungle Rapids is a water park and entertainment venue all wrapped up into one. The water park features a lazy river, wave pool, splash pad, and at least 5 big slides for kids.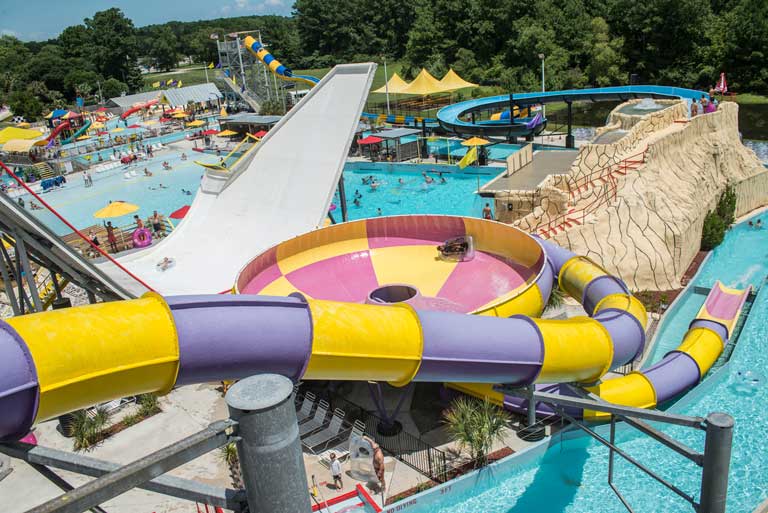 But you could easily make a full day at the park which also has miniature golf, laser tag, an arcade, go karts, and more. And when the family gets hungry, there is a cafe serving up all the favorite kid foods, like pizza, hot dogs, and cheeseburgers.
The water park is seasonal, so be sure to check the dates and hours of operation when planning your trip to Wilmington with kids.
Watch the pelicans in Southport
Near the mouth of the Cape Fear, Southport is a small town with picturesque coastal appeal.
Located about 45 minutes south of Wilmington or accessible by ferry from Fort Fisher, Southport is an easy day trip from Wilmington with kids.
In summer, enjoy some seafood by the waterfront at Fishy Fishy Cafe and watch pelicans as they swoop down over the water to catch their own lunch. 
In winter, The Christmas House is a must visit. With a huge selection of holiday decor and a lovely outdoor gazebo and wrap-around porch, you'll be sure to find a souvenir ornament and enjoy the atmosphere.
Things to do with kids in Wilmington NC: Beaches
One of the best things to do with kids in Wilmington NC is to head to one of nearby beaches for a day of fun in the sun. We have personally been to most of the beaches in the Wilmington area and have loved them all. Here are some of the best beaches in Wilmington.
Carolina Beach
Carolina Beach, located 15 miles south of Wilmington, has a lot to offer. It is the most popular beach in the Wilmington area.
The beach has a shallow shoreline that extends fairly far and some of the best waves in the area. It is an exceptional beach for body surfing or boogie boarding.
Kids will love the boardwalk with a Ferris Wheel and carnival-style rides, while adults will love the restaurant variety and laid-back vibes.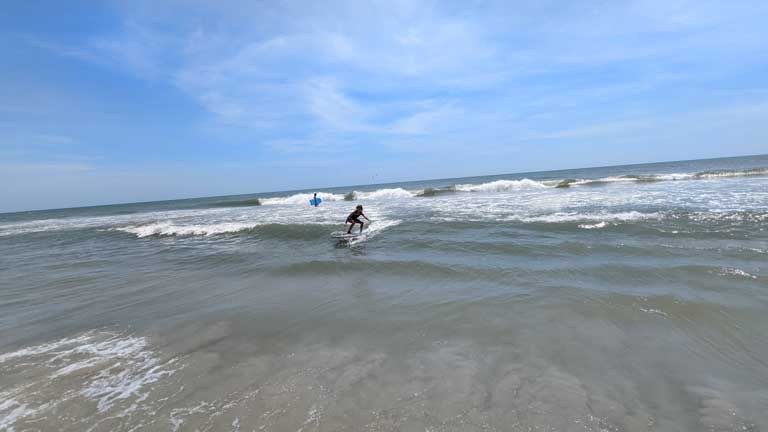 Kure Beach
Just down the road from Carolina Beach, Kure Beach is another popular option on Pleasure Island. It is the closest beach to the North Carolina Aquarium and the Fort Fisher State Historic Site.
Kure Beach is a convenient beach option with a low-key small town feel for those who want to spend some time splashing in the water after checking out some of the other sites near Fort Fisher.
Wrightsville Beach
Wrightsville Beach is the closest beach to Wilmington and the easiest one to get to. Because of that, it is typically the most crowded. But don't let that scare you.
Wrightsville is a great beach for kids in the Wilmington area. In fact, it has been voted one of the south's best beaches. Wrightsville is also a great beach for surfing and a cute town area. 
Oak Island Beach
Although the furthest beach area from Wilmington on our list, Oak Island is an uncrowded, quiet beach with a calm surf. Located on the southern end of North Carolina's coastline Oak Island is ideal for both sunrises and sunsets due to its south facing shoreline.
Oak Island is a convenient option for those who want to spend some time exploring the cute seaside town of Southport, as well. 
Districts to visit in Wilmington NC with kids
Whether you're looking for something historic or something more quirky and urban, you'll find both in Wilmington North Carolina.
Riverwalk/Historic Downtown
The downtown area which runs along the Cape Fear River is on the National Register of Historic Places. In this district you'll find elegant Victorian-era architecture, including some older homes you can tour, like the Bellamy Mansion Museum.
You can also take a horse drawn tour through the streets, a sightseeing riverboat cruise, or simply walk along the Riverwalk. 
The scenic wooden boardwalk that runs along the riverfront spans a full mile and offers lovely views overlooking the river while also connecting visitors to cafes, restaurants, bistros, and stores.
Southfront District
A hip, up-and-coming district with mixed-use development and an urban, industrial feel, Southfront is a fun place to visit for a casual lunch or dinner.
Grab some craft tacos at Block Taco, or go for gourmet pizza at Benny's Big Time Pizzeria. It's the type of neighborhood where dogs and kids are welcome in many establishments.
Have a question or comment about any of the best things to do with kids in Wilmington NC? We'd love to hear from you. Leave your thoughts in the comments below.
Like it? Pin this list of things to do with kids in Wilmington NC to save it for later!