There are plenty of things to do in the Yucatan with kids. So, if you are considering a family trip to Mexico but you are not sure how you are going to keep the little ones occupied and happy, rest assured, you will not be short of things to do.
The Yucatan is one of the most historical and culturally-rich parts of Mexico. Better yet, it is also one of the safest areas to travel in the country.
You could easily dedicate a month to exploring the Yucatan peninsula and still feel as though you have barely scratched the surface of everything this vibrant region has to offer. 
About the Yucatan Peninsula
The Yucatan Peninsula is a large landmass located in southeastern Mexico, separating the Caribbean Sea from the Gulf of Mexico. It is primarily composed of the Mexican states of Yucatan, Quintana Roo, and Campeche.
However, the country of Belize and a part of Guatemala is also located on the peninsula.
However, the Yucatan Peninsula is best known for its popular tourist destinations in Mexico, including the renowned beach resort city of Cancun, the ancient Mayan ruins of Chichen Itza and Tulum, and the beautiful coastal town of Playa del Carmen.
With a tropical climate, dense jungles, and stunning coral reefs, the area is teeming with wildlife, including various bird species, jaguars, monkeys, and sea turtles.
Where to stay in the Yucatan Peninsula with kids
Many visitors to Mexico's Yucatan Peninsula stay in one of the region's most popular tourist cities, like Cancun, Tulum, and Playa del Carmen. You'll find lots of family-friendly, all-inclusive resorts as well as boutique hotels and apartments to rent in all three.
But for a more authentic experience, head to the north coast of the peninsula to the coastal city of Mérida. The capital of Yucatan, Mérida is a great place for families and has been named the safest city in Mexico and the second safest city in North America!
Things to do in the Yucatan with kids
While many people associate the Yucatan Peninsula with Cancun, Playa del Carmen, or Tulum, there are so many more unique places to visit in the Yucatan with kids. Here are a few fun things to do in the Yucatan for kids and adults alike!
Visit Sendero Jurásico in Chicxulub
Unless you are highly into history, you may not have heard of Chicxulub. This small, sleepy fishing town is home to some of the most beautiful beaches in the Yucatan.
However, Chicxulub is also the area where the meteor that wiped out the dinosaurs hit the earth some 45,000,000 years ago! When the meteor hit, it didn't just kill off the dinosaurs, it wiped out more than 85% of the animals living on earth at that time. Unfortunately, you cannot see the impact site as it is beneath the water.
However, a nice thing to do in the area if traveling in the Yucatan with kids is to visit the Sendero Jurásico. This dinosaur-themed park sits right beside where the meteor hit.
You drive through the park in the same way that you would in a safari park. As you go, you will pass gigantic life size models of dinosaurs.
The park intends to provide an educational experience for children but it can be fun and interesting for all the family. You can stop and take photos with the dinosaurs and when you exit the park, there is a stall to buy dinosaur balloons, toys and other souvenirs.
You can spend the morning at the park. Then, grab lunch in the nearby beach town of Progreso and spend the afternoon swimming in the translucent blue waters at Progreso beach.
Pet the mini pigs at Pig Beach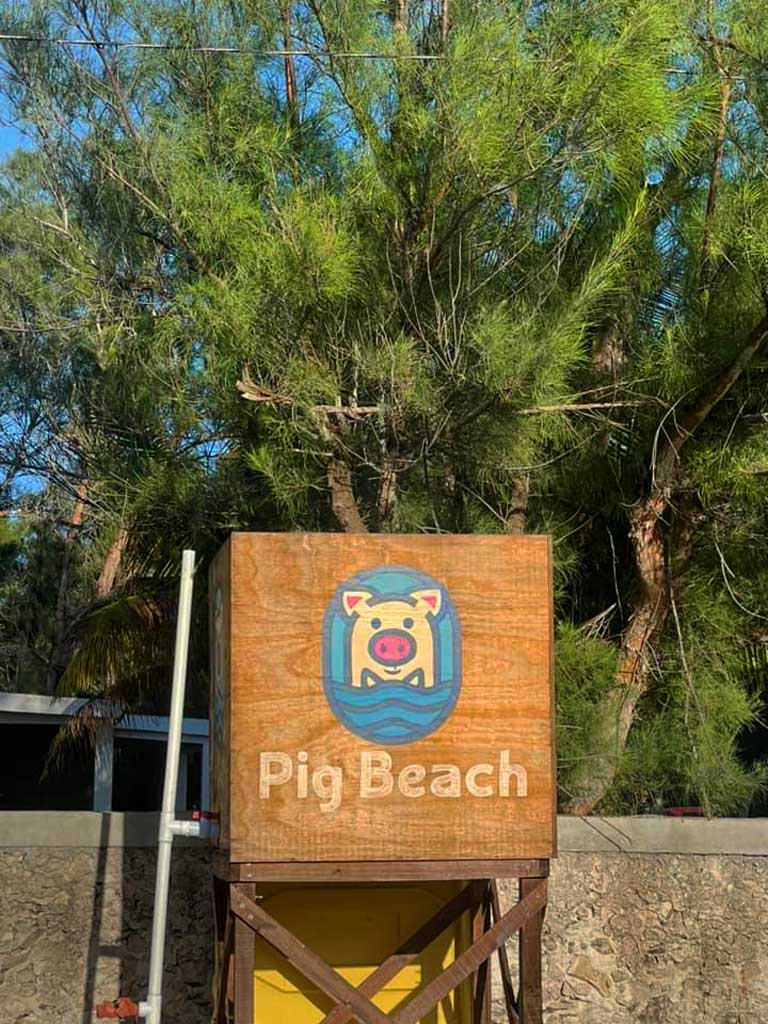 In Yucalpeten, on the outskirts of the town of Progreso, there is a gorgeous stretch of coastline that has been named "pig beach". This is on account of 8 adorable little mini pigs that were sadly found abandoned here at the end of 2021.
Although a tropical beach is not exactly a natural habitat for pigs, the animals have adapted well to their surroundings. They continue to live on the white sands of the beach and are cared for by volunteers of a local animal charity.
The pigs have a little pen where they snooze a lot of the time. However they are also let out to enjoy the beach as they please.
Kids will love swimming with the piggies and petting them. The animals have grown accustomed to being around humans and are very friendly and receptive to attention.
Think of this as Mexico's answer to pig beach in the Bahamas. You can purchase T-shirts, hats and other merchandise at the little stall at the entrance and all proceeds go towards helping the pigs.
Learn to kitesurf in El Cuyo
El Cuyo is one of the Yucatan's best-kept secrets, at least for the time being. While tourists flock in mass to places like Cancun and Tulum, the beach at El Cuyo offers a secluded, tranquil slice of paradise. You could think of El Cuyo as how Tulum was some 15 years or so ago.
El Cuyo is little more than a long, gorgeous stretch of coastline with a few hotels and restaurants scattered along its length. You will often find that you have it virtually all to yourself. The sunsets and sunrises from here are breathtaking and sunrises are well worth getting up early for.
The conditions on the far end of the beach are perfect for kitesurfing and that is the main reason why a little community settled here. Kitesurfing enthusiasts from across the world venture to El Cuyo to ride the waves in this tropical paradise.
Even if you have never tried kitesurfing before or even considered it, you may enjoy taking a lesson from one of the academies here.
When visiting the Yucatan with kids, children aged 10 and above can also have beginners lessons under the careful supervision of experienced kitesurfers.
See flamingos in Celestun
Many birds and animal species call the Yucatan their home and many are indigenous to this part of the world. One of the most beautiful (and loved by kids!) is perhaps the American pink flamingo.
Depending on what time of year you visit Mexico, you may have the opportunity to see the birds in their natural habitat. Between November and April every year, more than 40,000 flamingos nest at the Ria Biosphere reserve in Celestun.
You can take a boat through the lakes and waterways of reserves to see the flamingos. This is a protected nature reserve and fortunately, the people that work here are very respectful of the animals. They allow you to get close enough to see them while maintaining a respectful distance.
As you navigate through the waters, your guide will share many interesting facts about the birds and the other animals that live here. For example, did you know that flamingos are not born pink? They get their vibrant red color from the red brine shrimp that they eat!
During your boat tour, you may be fortunate enough to catch a glimpse of other creatures in this area. For instance, crocodiles and pelicans.
Watch a Pok-a-Tok reenactment in Merida
Pok-a-Tok is the name of the ballgame that was played by the Ancient Maya throughout Mesoamerica. You can see the remains of old Pok-a-Tok ball courts at several Mayan cities such as Uxmal and Chichen Itza in the Yucatan and Teotihuacan outside of Mexico City.
The game was extremely challenging; players had to get a heavy rubber ball through stone hoops that were mounted very high on the walls. They were not allowed to touch the ball with their hands and they had to try and hit it through the hoops using their hips!
The game is no longer played today. However if you spend some time in the Yucatan capital of Merida, you will be able to see a reenactment that takes place every Friday evening in front of the Merida cathedral.
The game is free to watch and fun to see. 
To help prepare kids for your family trip to the Yucatan, the animated movie "The Road to El Dorado" shows the game of Pok-a-Tok being played. The film follows the story of two Spanish men who go on an adventure to an Ancient Mayan city.
Like many animated movies with real life settings and historical references, "The Road to El Dorado" is a great way to expose children to Mayan culture before your travels.
Visit Chichen Itza and other ruins
No trip to the Yucatan is complete without visiting Chichen Itza. The historic city dates back to the early 400s AD and is one of the "new" seven wonders of the world.
The city is actually much larger than photos and social media posts would make you think. You need a good 2-3 hours to explore it in its entirety.
There are other Mayan cities that are equally deserving of your time. Uxmal, Mayapan, Ek Balam and Dzibilchaltun are also fascinating. However if you only have time (or your kids only have the attention span) for one Mayan ruin, Chichen Itza is a good shout.
Try and get there first thing in the morning to avoid the crowds and the intensity of the midday sun. The site opens at 8am daily, and it is a good idea to be there as soon as it opens or book a skip-the-line entrance ticket or an early access tour.
You can hire a guide for 200 pesos in order to learn more about the various structures and their history or book a guided tour online that includes a visit to Chichen Itza, the town of Valladolid, and the Saamal Cenote.
Older kids will love hearing some of the gruesome stories behind some of the buildings. For example, the cenote where human sacrifices were made or the platform where human heads were stacked in a line to scare off other tribes!
Mayan culture is an important part of history in Mexico and throughout Central America.
Aside from Mexico, you'll find fascinating Mayan ruins in Belize and in Guatemala, home to Tikal, one of the largest Mayan archeological sites ever discovered.
Play paintball in an abandoned ghost town
The ghost town of Misnebalam is an abandoned settlement just 25 minutes north of the city of Merida. During the henequen boom, the town was home to a glorious hacienda and over 150 workers.
Sadly, the town eventually fell into abandon and disrepair, and the final residents moved out in 2005.
Time has seen the old hacienda, the church, and various other houses here become overgrown and reclaimed by nature. All of this gives the area an eerie vibe that feels almost as if you are exploring a movie set.
One of the most popular unofficial activities in the area is now… paintball! If you stop by here on weekends, you will see groups of local kids and teens from the nearby villages playing paintball with each other.
In the village of Sac Nicte, you can buy and borrow equipment from the convenience stores. Misnebalam is safe, and if you are visiting with older teens, they will love having a paintball match with their family and the locals in a place that looks like something straight out of a horror movie!
Visit El Corchito and an island of raccoons
On the outskirts of Progreso beach town and close to Sendera Jurasico, you will find the island in the El Corchito Reserve. The is a small island in the center of the protected nature reserve that is home to dozens of raccoons ("mapachas" in Spanish).
The island is open from 8am until 3pm daily and a small wooden boat transports you to and from it. The queue for the boat sometimes looks quite long but tends to move quite quickly.
Here you can see the raccoons in their natural habitats. There are also several walking trails around the small tropical island that are pleasant when it isn't too hot.
Pack your swimsuit and towel as there is also a small cenote here where you can swim.
Visit XCaret Ecological Theme Park
Xcaret Park stands out as one of the best things to do on the Yucatan Peninsula, especially when exploring the region with kids.
This magnificent ecological theme park offers a unique blend of adventure, culture, and natural beauty.
From thrilling water activities in crystal-clear underground rivers to vibrant cultural shows that showcase the rich traditions of Mexico, Xcaret Park offers an array of attractions that captivate children's imaginations. 
Kids can snorkel among colorful marine life, swim in natural pools, and interact with dolphins or turtles in a safe and educational environment. They can also learn about Mayan history through interactive exhibits and witness impressive archaeological sites.
Xcaret Park is considered one of the top tourist attractions in Mexico and ranks among the best things to do in the Yucatan Peninsula with kids.
Swim in the Yucatan cenotes
When the Chicxulub meteor smashed into the earth all those millions of years ago, it massively weakened the earth's surface. In its wake, it created cenotes: underwater sinkholes.
There are more than 7,000 cenotes in the Yucatan peninsula! Today, locals and tourists love to go swimming in cenotes but historically, the Mayans would use them for spiritual and religious rituals.
It can be fun to visit several different cenotes. Many are inside dramatic caves with incredible rock formations and stalagmites inside.
Sometimes, entrances to cenotes are little more than just holes in the ground with ladders leading down into the darkness and no indication of what is inside.
Of course, safety can be a concern when visiting cenotes with children but rest-assured, there are plenty of family-friendly options.
Homun is a little town in the center of the Yucatan with more than 30 cenotes! Many of the cenotes here are good for children and people that cannot swim.
Several have platforms above the water where you can simply sit and dip your legs in the water if you don't want to swim. You will be able to rent life jackets for adults and children for a very small fee.
A good thing to do in Homun is to take a cenote tour via a tuk tuk. For 200 pesos, you board the back of a motorbike taxi and your driver will take you to 4-5 cenotes throughout the day.
You can specify to your driver what kinds of cenotes that you are looking for and they will take you to a place that meets your preferences. For instance, cenotes that aren't known by tourists, cenotes with platforms for kids that can't swim, etc.
Sample the local food
One of the main highlights of traveling to Mexico is experimenting with local food. Like the food unique to Mexico City, the Yucatan area is home to its own cuisine that dates back thousands of years and is only available in this part of the country.
Many Yucatecan recipes used today still follow the same cooking methods that the Ancient Maya used!
One of the most popular and beloved regional dishes is cochinita pibil – slow cooked, marinated pork that is cooked in an underground oven known as a "pib". The meat is seasoned with orange rind and achiote and has a unique flavor. Think of it as the ancient version of pulled pork!
Marquesitas (Yucatecan crepes), pollo pibil (slow cooked marinated chicken breast) and queso relleno (Edam cheese stuffed with beef and pork) are unique dishes that you should add to your radar.
For the best local food experience, dine at a blend of street food markets and local restaurants.
Get your adrenaline pumping at XPlor
Xplor is an exhilarating adventure park operated by XCaret that promises an adrenaline-packed experience. Located in the heart of the Riviera Maya, Xplor offers a wide range of thrilling activities that cater to adventure enthusiasts of all ages.
From zip-lining high above the lush jungle canopy to navigating through underground rivers in a raft or by swimming, the park provides an immersive and action-packed day for visitors.
Kids and adults alike can unleash their inner explorer as they conquer challenging obstacles, drive amphibious vehicles through the jungle, and marvel at the stunning stalactite formations as they swim through the frigid underground rivers.
Take a cooking class or food tour
A really fun and hands-on activity for all the family is to take a cooking class. You will find these in Merida as well as in some touristic hotels and resorts.
Learn how to make traditional Yucatecan and Mexican classic dishes. When you get back home, you will be able to wow your friends and family with the international fare you serve at dinner parties.
Many cooking classes also include a market tour portion of the activity. So, you will navigate your way through a bustling local market accompanied by your expert guide.
Seeing Mexican mercados is an experience in itself. Watch on as locals haggle with street vendors over the price of the ingredients for their Sunday dinner.
The colorful stalls stacked high with unfamiliar fruit and veg are a photographer's dream!
Have a question or comment about visiting Mexico's Yucatan Peninsula with kids? We'd love to hear from you! Leave your thoughts in the comments below.
About the Author of this Yucatan with kids guide: 

Melissa Douglas is a British Travel Writer based in Merida, Mexico. She has written for a number of high profile travel publications around the world and writes about Mexico travel off-the-beaten-path on her website Mexico Travel Secrets. 

Like it? Pin this guide to the best things to do in the Yucatan with kids to save it for later!
Did you know…
When you make a purchase or book hotels, tours, or other travel services, through our links, we receive a small commission, at no extra cost to you. We only EVER recommend service providers, websites, or products we personally use when booking our own travels. Your support enables us to keep producing helpful travel content. Thank you!
This guide to the best things to do on Mexico's Yucatan Peninsula with kids was first written in July 2022 and was updated in June 2023 for accuracy and additional travel information.