Tivoli Gardens in the beautiful Scandinavian city of Copenhagen, Denmark is one of the best and most famous amusement parks in the world. It is not only a beautiful garden filled with flowers, fountains, lanterns, and decorative buildings, it is a fun and exciting theme park with roller coasters and rides for all ages.
There are a lot of different rides at Tivoli Gardens.
Whether you are looking for adrenaline pumping roller coasters that send you (and your stomach) upside down or if you are visiting Tivoli Gardens with a toddler and seeking excitement on a lower level, there is enough to keep you entertained for hours.
Tivoli Gardens' rides appeal to everyone – from thrill-seekers to families with young children.
Our experience at Tivoli Gardens with a toddler

We visited Tivoli Gardens when our daughter was just 3 ½ years old. The iconic amusement park is one of the best things to do in Copenhagen with kids. But prior to visiting, we assumed Tivoli Gardens was primarily for older kids and teens.
Having visited various amusement parks growing up, I remember the disappointment of not getting to ride certain rides because I was too young and too small. So I didn't expect to find many rides at Tivoli Gardens that our toddler could go on, too.
We had purchased the Copenhagen Card, so our admission to Tivoli Gardens was included.
We were planning to basically walk through the park, take a few photos, buy a yummy treat for the little one, and ride one or two rides. But we quickly realized there is so much more to do at Tivoli Gardens with a toddler.

Why you should visit Tivoli Gardens with toddlers
We have never been much for theme parks. I'll be the first to admit that we prefer cultural vacations over amusement parks, but you can't visit Copenhagen and NOT go to Tivoli Gardens.
It is one of the most famous and oldest amusement parks in the world. Tivoli Gardens is hands down, one of the best experiences in Copenhagen.
Like Busch Gardens in Williamsburg, Virginia, aesthetics and beauty at Tivoli are just as important as the rides.
Our daughter is officially reaching the age where theme parks, roller coasters, and costumed characters are the coolest things in the world, so our vacations are quickly evolving to include more things to peak her interest. After all, I want our trips to be just as memorable for her as they are for us.
Even if you don't have kids, you will enjoy Tivoli Gardens. There is so much more than roller coasters and rides at Tivoli Gardens.
From concerts to parades there is so much to do at the park. But since this post is about Tivoli Gardens' rides, here are the best rides at Tivoli Gardens for toddlers and young kids.
Tivoli Gardens rides for toddlers
We did not ride every one of Tivoli Gardens' rides that were suitable for toddlers and young children. We spent about 8 hours at the amusement park, which was a good amount of time.
While we were there, we had both lunch and dinner at the park, watch a parade, enjoy a concert on the lawn, and rode a lot of rides at Tivoli Gardens. We went on some of the rides multiple times because our daughter absolutely loved them!
Here is a list and description of the best Tivoli Gardens' rides for toddlers and young children.
Ferris wheel
A classic amusement park ride, the Ferris wheel is a rite of passage for every child. The Ferris wheel was one of the first rides at Tivoli Gardens that we went on. Each passenger car on the Ferris wheel is shaped like a hot air balloon.
It was fun and went faster than we expected. Our daughter was all smiles on the Ferris wheel.
Adventure Rating: 2
Flying Trunk
The Flying Trunk is a calm, indoor ride. It's the perfect ride to go on when you are tired of walking or just want to to wind down for a few minutes. Sit back, relax, and enjoy the journey as various fairy tales come to life.
The fairy tales depicted are all written by Hans Christian Andersen, notable for stories like The Princess and the Pea and The Ugly Duckling.
Adventure Rating: 1
Little Dragon
Do you have an independent toddler who wants to ride by himself? The Little Dragon is perfect for your family! Kids three years old and older can go on this ride at Tivoli Gardens alone.
Hop into one of the dragon cars and control how high the dragon goes. Each dragon car is suitable for two people, so a parent can ride with younger kids if desired.
Adventure Rating: 1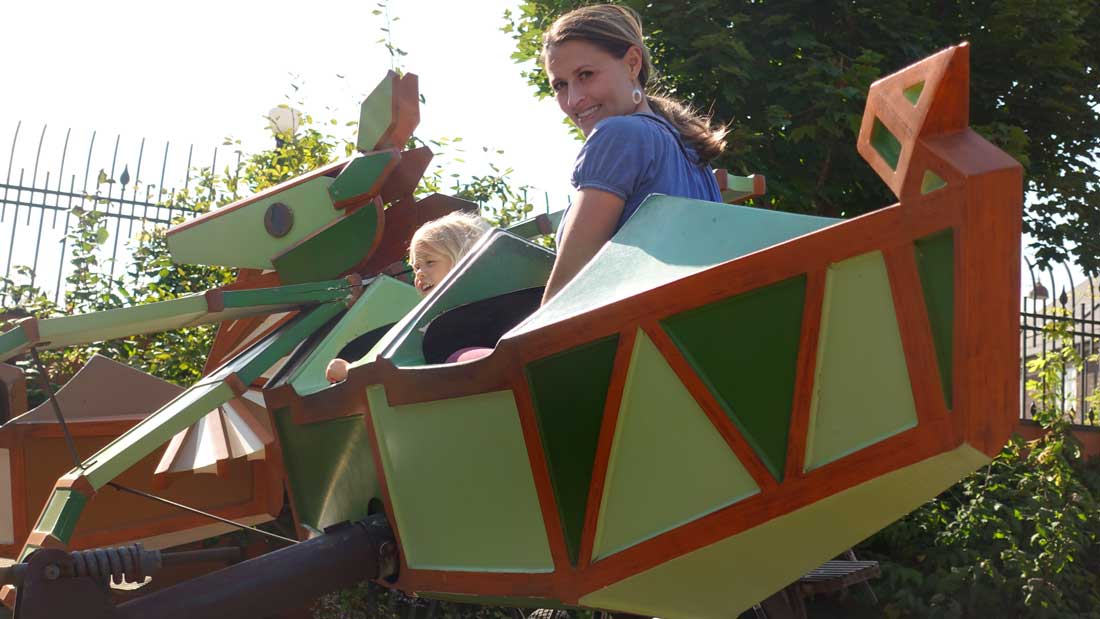 The Astronomer
Jump into a spaceship and guide your ship up and down as the ride goes around the central observatory.
This ride is similar to the Little Dragon and puts the rider in control.
Adventure Rating: 1
Dragon Boats
The Dragon Boats is another ride that puts you in control. You or your little one can steer the small boat across the picturesque pond, returning to the dock only when your time is up and your boat's number pops up on the sign.
Our daughter had fun trying to navigate the boat and learning the basics of steering to make the boat go in the direction she wanted to go. She needed our help steering the boat, so this is a ride that will require assistance from an adult or older sibling.
Adventure Rating: 2
The Lighthouse
The Lighthouse is a cute and fun ride for kids at Tivoli Gardens. Each boat is designed to look like a prehistoric animal. The ride required peddling your legs to go higher in the air.
It's a gentle ride, but it does take some effort.
Adventure Rating: 1
The classic carousel
The carousel is a classic ride for people of all ages. Who doesn't love a carousel?!
This is one of the tamest rides at Tivoli Gardens, but even older kids will love choosing their animal on the carousel.
Adventure Rating: 1
The Galley Ships
This was one of the fastest rides at Tivoli Gardens that we took our toddler on. I can already tell our toddler will be a thrill seeker someday. She wanted to ride it over and over again.
After a few times, my husband and I were getting a bit queasy. (My inner 14-year-old is rolling her eyes right now.) Board a small galley ship and then prepare yourself for the fun.
It spins and turns as it goes around a sloped circular track. Although kids as young as two are welcome with a paying adult or person over 14, you would possibly want to have an adult sit on each side of a younger child.
It goes fairly fast, and I had to hold onto the bar to keep from sliding into my daughter and squishing her too much between my husband and me.
Adventure Rating: 3
The Mine
The Mine is a log ride a Tivoli Gardens that takes you inside a mine, where animated characters are working. Kids can use the attached laser guns to shoot at targets, or sit back and enjoy the ride.
It's fun and has a few short drops and a surprise at the end that will make you duck, squeal, and laugh!
Adventure Rating: 2
The Panda
A mini version of those tower rides that take you up in the air and drop you, the Panda is much smaller and is perfect for toddlers.
My husband sat this one out and chatting with another family while I rode along with our 3-year-old daughter. She laughed, put her hands up, and had a blast. We rode this ride multiple times.
Adventure Rating: 2
The Camel
A gentle rollercoaster with several small slopes. This ride is good for those who want to test how their little ones will do on a higher speed, more adventurous ride.
Adventure Rating: 3
The Odin Express
This is another good introduction to a rollercoaster. With a few small drops and faster turns,
The Odin Express is an exciting train ride that will have kids and parents alike smiling the entire time.
Adventure Rating: 3
The Rollercoaster
One of the most popular rides at Tivoli Gardens and definitely our daughter's favorite, The Rollercoaster is a ton of fun. Combining speed, ups and downs, and quick turns, The Rollercoaster goes in and out of the dark.
Older toddlers, big kids, teens, and even adults will love this ride.
Our tiny three-year-old daughter was the smallest person in line, so we questioned whether it was going to be too scary for her. But we ended up riding it 6 times.
It's a good idea to sit small children between two adults or between an adult and older child.
Adventure Rating: 3
Trolley Car
The Trolley Car has been around since the park opened. It's just a leisurely trolley around the park. I wouldn't really call this a ride. But it's a nice way to rest your legs and take in the beauty of the gardens.
Adventure Rating: 1
The vintage cars
While most Tivoli Gardens rides for toddlers require a parent or adult to ride with them, the vintage cars are perfect for 3 year olds to ride alone.
You can tell our little independent daughter loved feeling in control.
Adventure Rating: 1
The spinning cups
What amusement park is complete without spinning cups? We did not go on this ride, although it is perfectly suitable for toddlers to go on with an adult or even a teenage sibling.
When I was a child, I had an unfortunate puking incident on the spinning cups, and it scarred me for life so this was a hard pass for me. However, if you don't mind spinning round and round in a giant tea cup, by all means, take your toddler and make yourself dizzy.
Adventure Rating: 2
The Funhouse
It's a playground designed for confusion. Nothing is as it seems in The Funhouse at Tivoli Gardens. With weird staircases, mirrors, slides, and lots of activities for kids, this isn't as much a ride as it is an experience.
Adventure Rating: 1
Other things to do besides rides at Tivoli Gardens
Beyond Tivoli Gardens' rides, little ones will enjoy the world class playground, entertaining shows, and playing in the grassy area during concerts. You can even eat lunch or dinner on a real pirate ship.
Stay until after sunset and the gardens come alive with beautiful lights. At 10:30 p.m., if your young children are not exhausted and ready for bed, there is a light show which is supposedly awesome to watch.
We missed it during our visit because naturally our 3-year-old was completely wiped out by about 8 p.m. and crashed in the child carrier that we bring with us everywhere.
Should you buy a wristband at Tivoli Gardens?
When we first got to Tivoli Gardens our plan was to ride one or two rides, explore the park, then leave. We quickly realized there were a lot of rides that our toddler could go on and would love! So after buying an initial 20 tickets, we decided to invest in wristbands.
The wristbands give you unlimited access to all the rides at Tivoli Gardens. Buying the wristband is definitely worth the money if you plan to spend at least one day at Tivoli Gardens.
Overall, Tivoli Gardens was the highlight of our time in Copenhagen.
Our Scandinavian trip took us from Copenhagen, to West Sweden, up to Oslo, Norway, and through the Norwegian fjords, but for our daughter, the day we spent at Tivoli was the most memorable part of our 2-week trip.
If you are traveling with kids, I guarantee you, it will be the most memorable part of your trip, too.
Have you visited Copenhagen's iconic theme park? What rides at Tivoli Gardens were your favorite? We'd love to hear from you! Leave your thoughts in the comments below.
Like it? Pin this list of Tivoli Gardens rides for toddlers to save for later!