We may earn money or products from the companies mentioned in this post.
Travel is a great way to teach children about the world. Through travel, we've been able to introduce our daughter to the many different cultures, people, and ways of life that make this world great. And even when we aren't traveling, we like to feed our child's curiosity with toys, books, and other items that fuel her love for the world. We're constantly looking out for travel-inspired gift ideas for kids. We've created a list of the best travel gifts for kids of all ages that your little globetrotter will be sure to love! Hopefully, these gifts will bring that travel feeling into their everyday lives.
Don't have time to read now? Pin it for later!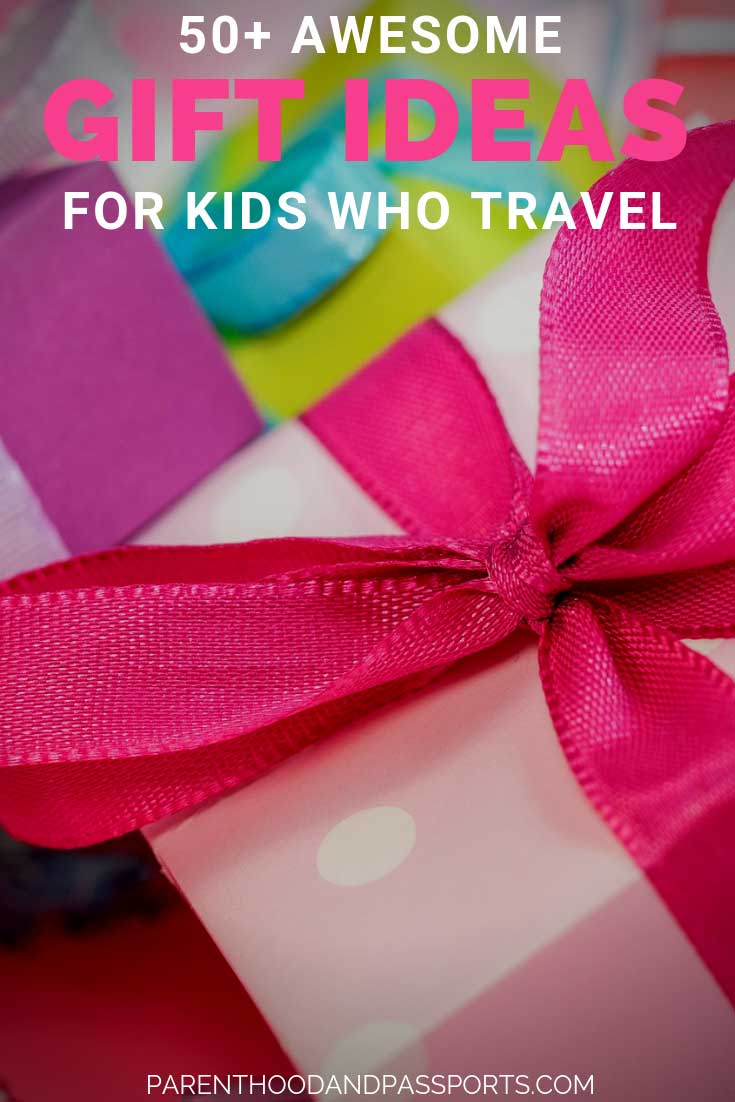 The Ultimate List of Travel Gifts for Kids
To help you find the perfect present for your young traveler, we've broken this list into several categories and created a table of contents to take you directly to the category that is best suited for your child's age and interests.
Travel gifts for babies (0-18 months)
Travel doesn't have to stop when you have a baby. In fact, why not start developing a love for travel as soon as your little one is born? These travel gifts for babies are sure to start molding your tiny traveler's wanderlust from the very start.
Travel gifts for toddlers (18 months - 4 years old)
Toddlers are at the perfect age to truly start developing their unique interests and building upon those learning experiences they get during travel. Pretend play is important during this stage of development, and these travel gifts for kids ages 1 1/2 to 4 years old are perfect to help them expand their minds and develop a worldly perspective.
Travel-inspired toys and gifts for kids (5-12 years old)
Grade school kids are at the perfect age to learn through imaginative play. Nurture their love for the world with these awesome travel-inspired gifts for kids ages 5-12 years old.
Travel gifts for kids ages preteen and teen
Buying for preteens and teenagers can be a challenge, especially if you are trying to buy them anything educational. But even the hard-to-buy-for preteen or teenager will like one of these awesome travel gifts for older kids and teenagers.
Photo Credit: Amazon.com
It glows, it changes colors, and it levitates. This globe doesn't get any cooler! It's the perfect gift for a teenager's desk.
Photo Credit: Amazon.com
Looking for customizable travel gifts for kids or teenagers?
A charm bracelet with different charms representing the places they've been is a gift that is as unique as they are! This is a great gift for a teenage girl who is developing a passion for travel.
Photo Credit: Amazon.com
Teen girls who love travel will find this duvet set perfect for a travel-themed teen bedroom. Teenage boys who love to travel may prefer this duvet set instead.
Photo Credit: Amazon.com
Gaming is popular among preteens and teenagers regardless of gender. And the Nintendo Switch Lite is a great gift for kids to take on trips and keep them entertained for hours on planes, trains, and on road trips.
Photo Credit: Amazon.com
Not that we want to give our teenagers another way to tune us out, but noise cancelling headphones are one of the must-have travel essentials. So, help your teenager become a pro traveler with their very own pair of headphones that will reduce the sound of traffic, airport noise, and
younger siblings. 🙂
Photo Credit: Amazon.com
This makes for a perfect stocking stuffer or small gift your teen can give to friends. These reusable straws with a key-chain carrying case, are great for the environmentally-conscious teenager or preteen. Made from stainless steel and collapsible, these straws can go to school, on trips, or anywhere else with your child. They will be reducing environmental waste while making a small, positive impact on the world around them.
Photo Credit: Amazon.com
Next time your teen tells you to get lost, tell them OK! This decal of a short and sweet travel quote is perfect for the teen who has developed an attitude and love for travel.
Photo Credit: Amazon.com
Prepare your teen for a lifetime of travel by buying them travel gear that will grow with them. This 4-piece luggage set comes with 2 spinner rolling suitcases, plus an overnight back and a toiletry kit. It is the perfect set to ensure they will have everything they need on your family travels and afterward. Don't forget a fun luggage tag to match! Luggage tags make for the perfect stocking stuffer!
Photo Credit: Amazon.com
When your young traveler graduates to a not-so-young traveler, this travel journal may be more their speed. It's perfect for pre-teens and teenagers who love to travel.
Edible kids travel gift ideas
There is something great about a gift you can eat. And these edible gifts are even better because they are travel inspired!
Photo Credit: Amazon.com
Let your child's taste buds take a trip around the world, even during the times of the year you cannot. These awesome Cadbury chocolate bars bring a taste of the United Kingdom home to you. They even come in a fun UK-flag gift box!
Photo Credit: Amazon.com
Looking for international variety in your edible travel gift for your kids? How about a snack box with an assortment of treats from Eastern Europe. This box includes pre-packaged snacks from Russia, Romania, Serbia, Ukraine, and Croatia, a country with some delicious cuisine!
Photo Credit: Amazon.com
If you want to bring the taste of Asian sweets home to your kids, this box is more suited for your family. With 40 different candies from China, Vietnam, Korea and Japan, your kids will love all the variety and the fun packaging. In fact, during our travels through Japan, the fun candies and food were two of the awesome reasons we loved Japan.
Have a question or comment about these travel gifts for kids? Leave a comment below!
Like it? Pin this list of travel gifts for kids to save for later!
This post was originally published in November 2018 and was updated in September 2021 to include the latest and best travel gifts for kids in 2021.