Scandinavia is a wonderful, safe, family-friendly region of northern Europe that will make for an unforgettable vacation. It is one of the more expensive areas of Europe to visit, but it is worth the money to see the natural beauty of this area.
We spent 12 days in Scandinavia and loved every single one of them. Our trip started in one of the most popular Scandinavian cities, Copenhagen, Denmark, and it ended in Bergen, Norway.
We were able to see parts of Denmark, Sweden, and Norway, although by no means were we able to see and experience everything we wanted to in this region.
A lot of people have asked us about this trip, so I wanted to lay out all of the details in a full overview of Scandinavia… A complete Scandinavia itinerary – 12 days, 6 stops.
This Scandinavia itinerary for 12 days briefly covers all the cities, towns, and villages we visited, the places we stayed, how much money we spent, and the attractions we were able to see.
Although you could easily spend 10 days in Norway alone, we only had 12 days for all of Scandinavia. So this whirlwind Scandinavia travel itinerary covers a lot of ground.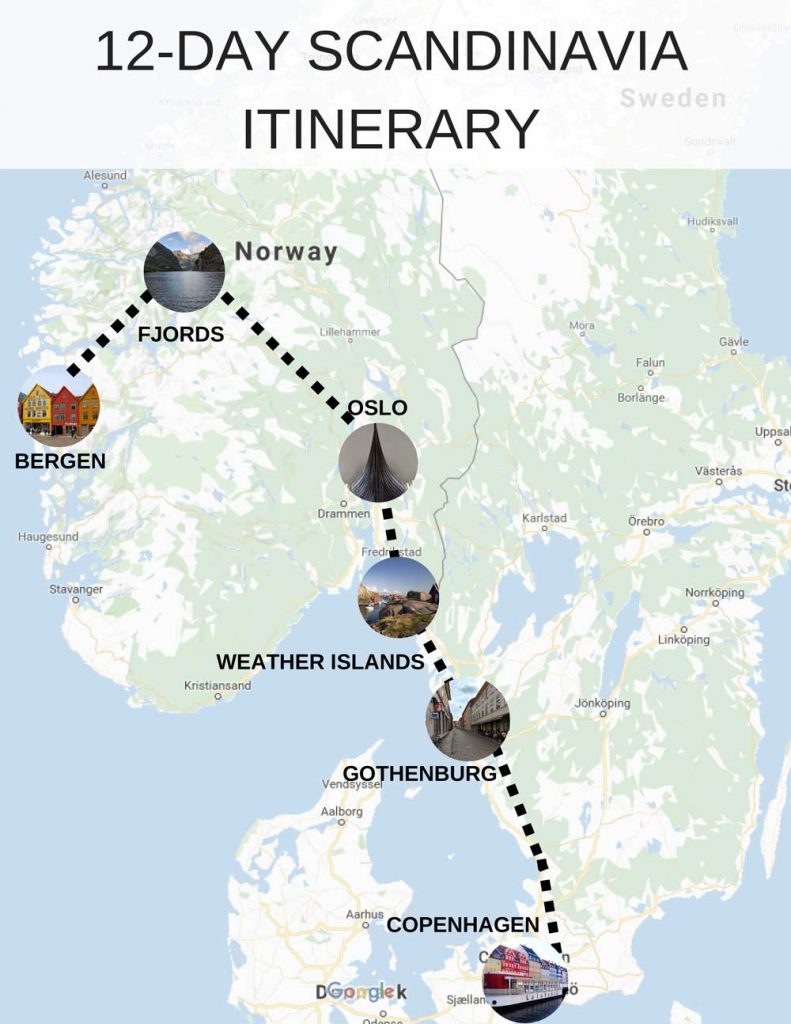 Useful things you will need for Scandinavia
Because you will be changing cities and hotels every couple of days, I recommend backpacking rather than bringing rolling luggage with you. Depending on the time of year you visit, you may also need rain gear. After all, Norway is lush and green for a reason. It rains a lot!
In fact, it rains a lot in Denmark and western Sweden, too. There is a good chance it will rain at least once during your 12 days in Scandinavia. Here are a few must-have items for your trip.
About Scandinavia and the Nordic North
The Nordic north region of Europe consists of five countries: Denmark, Norway, Sweden, Finland, and Iceland. However, only three of those countries are considered Scandinavia: Denmark, Norway, and Sweden.
Although many throughout the world use the terms "Nordic" and "Scandinavian" interchangeably, they are not the same, and locals in Iceland and Finland will make sure to correct you if you make that assumption.
The Scandinavian region of the Nordic north refers to the ancient territory of the Norsemen.
While the five countries that make up the Nordic north are all similar in economic structure, politics, and history, for the purpose of this itinerary, the term Scandinavia refers only to Norway, Sweden, and Denmark.  
How to get around Scandinavia
The major cities and tourist sites in Scandinavia are well connected by trains, buses, and even boats. But for part of our Scandinavia itinerary we decided to rent a car and road trip. This allowed us to visit some of the smaller, charming fishing villages in western Sweden that aren't very accessible using public transport.
We always book rental cars in Europe through AutoEurope, so we can compare prices and get the best deal.
We book our train tickets using RailEurope, which partners with train companies across the continent.
ALSO READ: AN HONEST RAIL EUROPE REVIEW
Overview of this Scandinavia itinerary
Here is a brief outline of our 12 day travel itinerary for Scandinavia. We will get into more details below on each city or region. Keep scrolling to see a day-by-day breakdown of what to see and do on your Scandinavia trip.
Copenhagen, Denmark (Day 1-3)
Gothenburg, Sweden (Day 4)
Smogen (Day 5)
Weather Islands (Day 6)
Oslo, Norway (Day 7-8)
Flam, Norway (Day 9)
Bergen, Norway (Day 10-12)
The different regions you'll visit on this 12-day Scandinavia itinerary
The Scandinavian peninsula is huge, so if you only have 12 days in Scandinavia, I'd recommend not trying to see it all.
You'll need to narrow down your Scandinavia itinerary to just a few places otherwise you'll spend all your time driving or on a train.
This 12-day Scandinavia itinerary takes you through the majestic fjords of Norway, to the rugged west coast of Sweden, and to the bicycle-friendly streets of beautiful Copenhagen.
Fair warning, it will leave you wanting to see more. You see, Scandinavia isn't just big, it's incredible! Here are some of the highlights you'll see in Denmark, Sweden, and Norway.
Copenhagen, Denmark
Copenhagen is one of the most family-friendly cities in the world. Not only is it home to one of the best amusement parks in the world, but outside of that, there are so many things to do in Copenhagen with kids or without.
From the vibrant, photogenic canal street, Nyhavn, to the stunning Rosenborg castle and its surrounding gardens, you will love exploring the streets and sites of Copenhagen.
West Sweden coast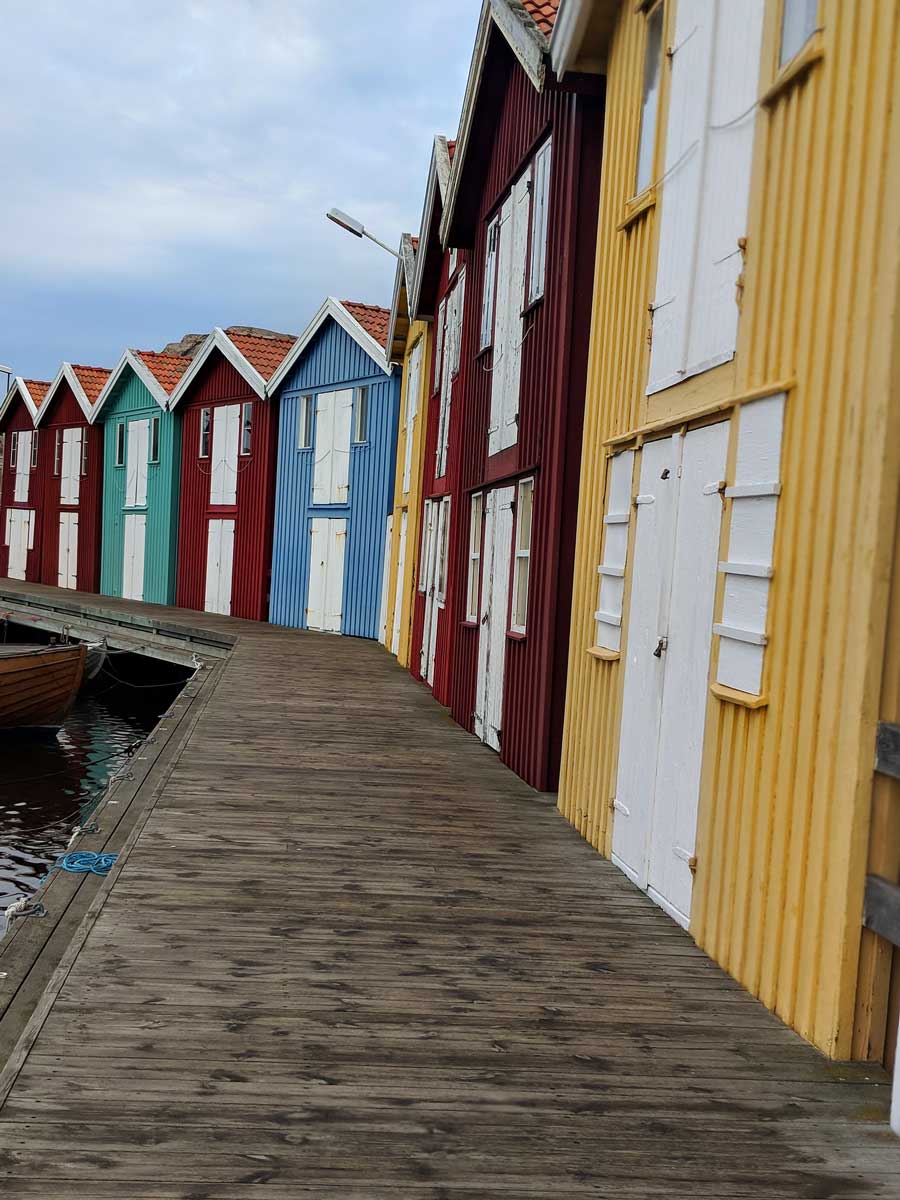 Relaxing, serene, and rugged – the West Coast of Sweden will be a tranquil escape during your busy 12 days in Scandinavia.
The coast is dotted with quaint fishing villages and an untainted and primarily uninhabited archipelago begging to be explored.
Oslo, Norway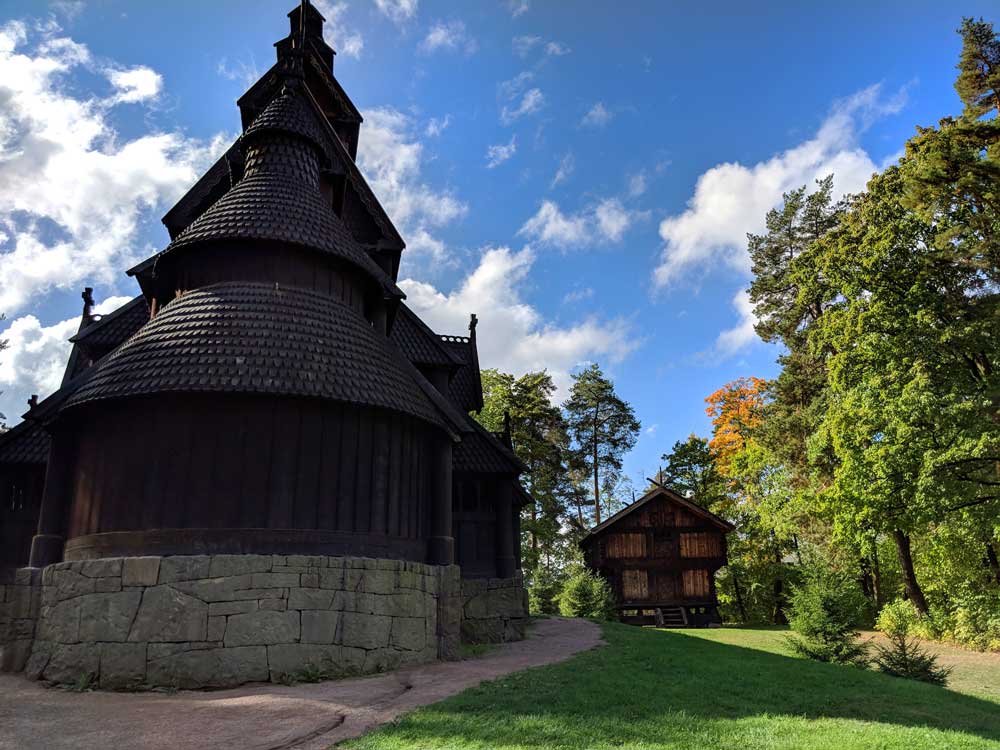 The capital city of Norway is a great place to get a grasp on Scandinavian culture, history, and Nordic life in general.
With countless museums spanning various interests like art, Viking history, and even skiing, Oslo, Norway is a chic metropolitan area with a friendly and extremely safe vibe.
Norway fjords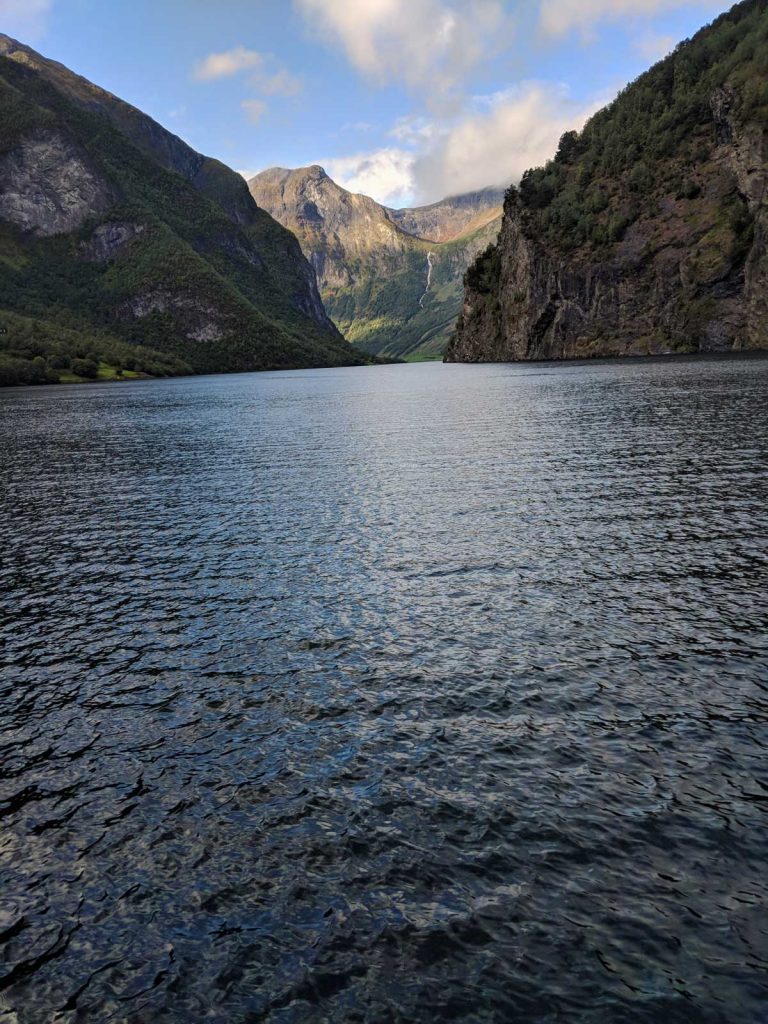 The fjords of Norway are practically supernatural. They are beyond majestic. I'd go as far as to say they are heavenly. The fjords are the number one tourist draw for Norway, and for a very good reason.
This area of Norway, near the village of Flam, is one of the most naturally beautiful regions of the world.
A fjord is a deep, narrow body of water surrounded by steep mountains. In the fjords, you'll see countless waterfalls, enjoy scenic hikes, and feel completely immersed in nature.
Bergen and the west Norway coast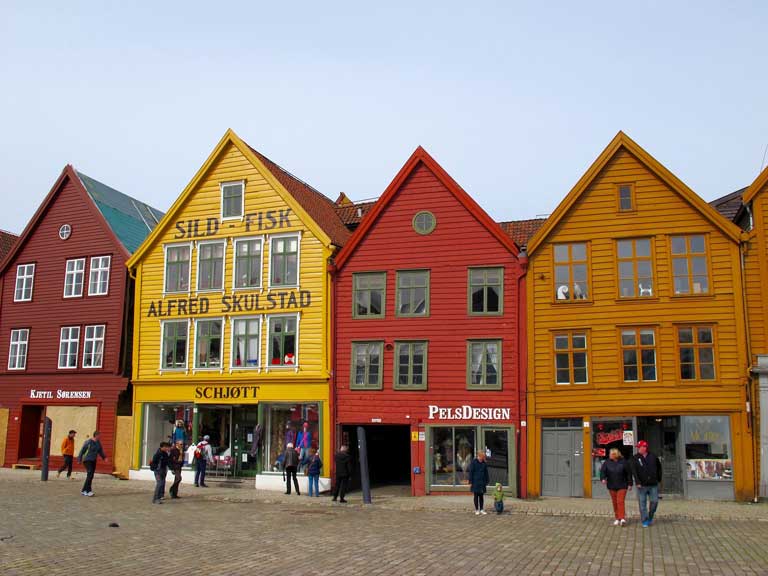 Bergen is a quaint city at the mouth of the fjords. Sitting on the southwestern coast of Norway, Bergen is the rainiest city in Europe.
It is surrounded by mountains and is often called the gateway to the fjords, as it is the starting point of many of Norway's most popular and picturesque fjord tours. This colorful city has a whimsical, almost fairytale-like charm.
With a row of colorful wooden buildings lining the old wharf, the city is often a starting or ending point on many Norway itineraries, including this 12-day Scandinavia itinerary.
But what about Stockholm?
Stockholm is one of the most beautiful cities in Scandinavia, so why isn't it included in our itinerary?
Time constraints and distance are the two main reasons that Sweden's capital city is not on our Scandinavia travel itinerary. 
If you have a full two weeks in Scandinavia you could visit Stockholm for a couple days then fly to Copenhagen and follow the rest of our itinerary. Or, you can always add Stockholm to a trip that includes Helsinki, Finland and the country of Estonia, instead.
Our Personal Experience following this Scandinavia travel guide
We traveled across Scandinavia with our then 3-year-old daughter, so nothing on this itinerary is extremely strenuous.
Although the days are filled with a ton of activities, this Scandinavia 12-day itinerary isn't so full that you won't be able to simply sit and enjoy a gelato, a glass of wine, or a fika in Sweden.
Although there isn't anything on this itinerary that a toddler wouldn't be able to do, if you are looking to take part in more adventurous activities, like some of the longer, strenuous hikes in Norway, you can still follow this itinerary and just modify your activities each day.
Scandinavia itinerary 12 Days
This itinerary gives you a rough idea of how you can feasibly spend 12 days in Scandinavia, what to see, how much time you will need, and how to get around the easiest.
Day 1 – Copenhagen, Denmark
You'll start your 12-day Scandinavia itinerary in Copenhagen, Denmark. We arrived by plane mid-morning and took the train to the central train station (also known as Kobenhavn H). At the airport you can also pick up your Copenhagen Card.
You will want to buy one for the 2-3 days you are in Copenhagen, as admission to everything on this itinerary is included in the price.
From Kobenhavn H train station it is a short walk to Steelhouse Hostel, where we stayed in a private hostel room that was perfect for traveling with kids.
There are various other hotels and accommodations in the area, as well if hostels aren't your thing. Regardless of where you stay, you'll want to drop off your bags at your hotel so you can spend your afternoon exploring luggage-free.
Your first Copenhagen experience will be a Carlsberg Brewery tour. The self-guided tour takes a couple of hours. It's interesting and includes beer! The brewery has a free shuttle bus which picks you up across the street from the train station and runs hourly until 5 p.m.
After the brewery tour, enjoy your two beers then either shuttle, take the metro, or walk back to your hotel and enjoy a late lunch or early dinner at one of the nearby restaurants.
Day 1 Highlights
Carlsberg Brewery tour
Explore Vesterbro District
Day 2 – Copenhagen, Denmark
This will be a busy day of sightseeing, so wear comfortable walking shoes and consider renting bicycles to get around the city faster like the locals do.
Start your day walking toward Stroget, the busy shopping district in Copenhagen. You'll find plenty of places where you can grab breakfast along the way.
From there head to Nyhavn to stroll along the picturesque canal street before making your way to Amalienborg Palace to watch the changing of the guards at noon. Afterwards, you'll hit up Kastellet, and the Little Mermaid, one of the most famous statues in Europe.
We walked back to Nyhavn afterwards for a late lunch along the canal and a boat tour. Afterwards, visit Christiansborg Palace, the Rundetaarn, and Rosenborg Castle. Dinner on day 2 will be Torvehallerne market.
Day 2 Highlights
Strøget
Amalienborg Royal Palace
little Mermaid
Nyhavn
Christiansborg Palace
Round Tower
Rosenborg Castle
Torvehallerne Market
Day 3 – Copenhagen, Denmark
If you are visiting Scandinavia with kids, this day will be their favorite.
Start by taking the free shuttle to Den Bla Planet, the National Aquarium Denmark. It is the largest aquarium in northern Europe, so you can spend hours exploring and learning about marine life. This will take up a large part of your morning.
The rest of your day, including lunch and dinner, should be spent at Tivoli Gardens, the world's second oldest theme park.
Day 3 Highlights
Den Bla Planet
Tivoli Gardens
Read about all of the Copenhagen attractions mentioned in this itinerary.
Day 4 – Gothenburg, Sweden
The fourth day of your 12-day tour of Scandinavia, you'll take a morning train to Gothenburg, Sweden. The train ride takes roughly 3 ½ hours and requires switching trains in Malmo, Sweden.
Drop off your bags at your hotel and spend your afternoon exploring Gothenburg. You'll want to check out the Feskekorka Fish Market and partake in the Swedish tradition of fika in the Haga district.
Day 4 Highlights
Haga
Feskekorka Fish Market
Gothenburg Botanical Garden
Day 5 – Smögen, Sweden and the west coast
After exploring Gothenburg, the second largest city in Sweden, you'll get a break from the city streets on day 5 of your 12-day Scandinavia itinerary. This day will be spent exploring the charming fishing villages along the west coast of Sweden. Pick up your rental car and spend the day in rural, coastal Sweden.
Smogen is one of the most popular and picturesque fishing villages in west Sweden, primarily due to a pretty row of colorful fishing houses along the boardwalk. Make sure you enjoy a fresh seafood lunch while in Smogen. You can also stop at Bohus Fortress and the Pilane Sculpture Park.
Day 5 Highlights
Smögen
Bohus Fortress
Pilane Park
Day 6 – Fjallbacka, Sweden and Weather Islands
Fjallbacka and the Weather Islands are both equally fun to explore. In Fjallbacka, you can do an easy hike up Kungsklyftan and before catching a ferry to the Weather Islands.
The desolate islands are home to colonies of seals, so you may spot a few lounging on the rocky islands as you pass by in the ferry.
The ferry will drop you off at one of the only islands that is actually inhabited. Have lunch and walk around the island for a while to escape the crowds and recharge. Afterward, head to Grebbestad where you can relax and have fun in a huge indoor pool with a water slide at Tanumstrand Resort.
Discover all the best stops in West Sweden.
Day 6 Highlights
Fjallbacka
King's Cleft Hike
Weather Islands tour
Day 7 – Oslo, Norway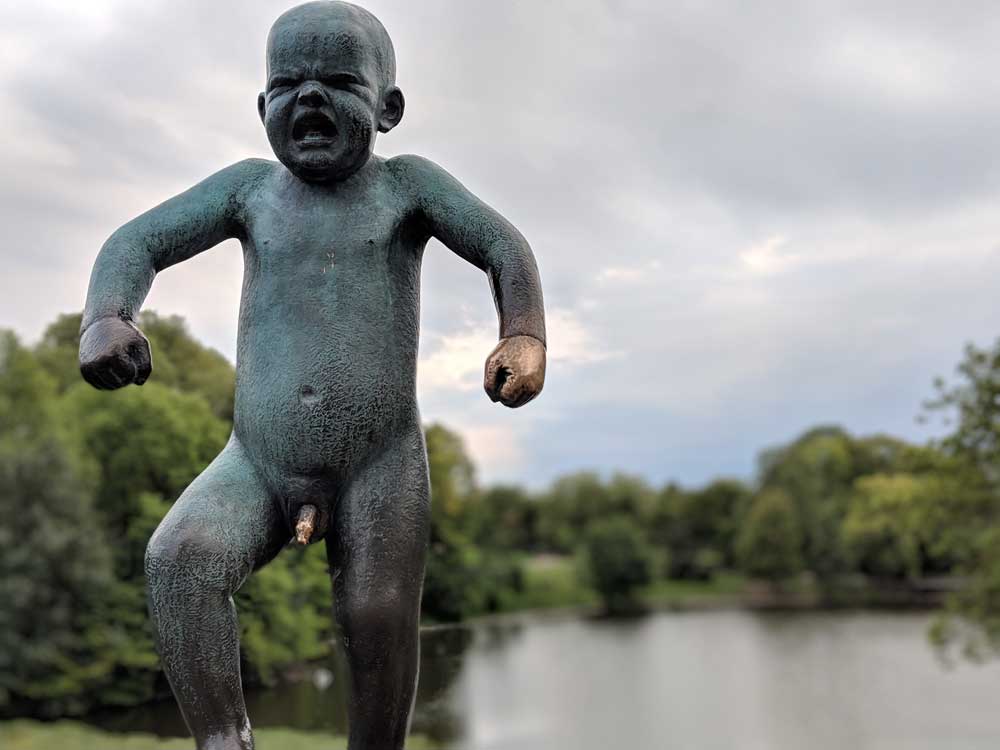 From Grebbestad, it is about a 2-hour drive to Oslo, Norway. On your first day in Oslo, you will want to visit the National Museum, Slottsplassen, the Nobel Peace Center and Frogner Park. Have dinner that night along Karls Johans Gate.
When you arrive in Oslo, you will want to drop off your rental car, and then drop off your luggage at the hotel.
I recommend staying somewhere near the Central Train Station and getting an Oslo Pass. It will save you a ton of money if you plan to visit multiple museums and attractions in Oslo.
Day 7 Highlights
National Museum
Karls Johans Gate
Nobel Peace Center
Frogner Park
Day 8 – Oslo, Norway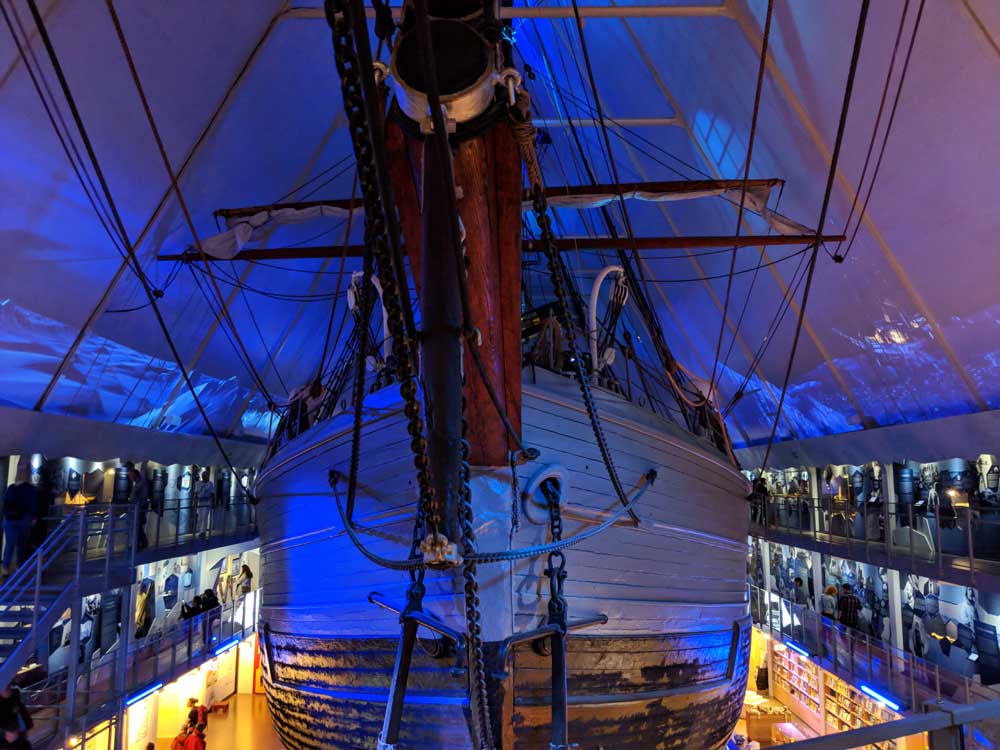 There is so much to do in Oslo that if you have the time, you could spend 3 or 4 days exploring the city. Your second day will primarily be spent on the Bygdøy peninsula.
You can take an Oslofjord tour that morning, which departs near the Olso City Hall and the city's famous opera house.
From there, you'll ferry over to the peninsula to check out the Fram Museum, Kon-Tiki Museum, Viking Museum, and the Norwegian Museum of Cultural History.
If you aren't a big fan of museums, you can pick and choose which ones you want to visit, but I'd definitely recommend the Fram and Cultural History museums.
In the afternoon, you'll want to catch a train to the suburb of Holmenkollen to see the Olympic Ski Jump and Ski Museum. It's a great place to watch the sunset over the Oslofjord.
Check out our full Oslo itinerary and read more about the Oslo attractions we recommend.
Day 8 Highlights
Oslo City Hall
Oslo Opera House
Fram Museum
Viking Ship Museum (reopening in 2025)
Norwegian Museum of Cultural History
Holmenkollen
Day 9 Flam, Norway
On the ninth day of your 12-day Scandinavia tour you'll catch an early train to Flam. This is a popular route that is part of the "Norway in a Nutshell" Package.
The train ride takes roughly 6 hours. You'll change trains in Myrdal to board a smaller tourist train on the Flam Railway.
It is considered one of the most scenic train journeys in the world. When in Flam, you can hike to the Brekkefossen waterfall or kayak through the fjord.
You'll want to spend at least one night in Flam, however if you have more time, this is another wonderful place to connect with nature and unplug.
Check out all the great things to do in Flam.
Day 9 Highlights
Flam Railway
Brekkefossen hike
Kayaking
Day 10 – Norway fjord cruise
The best way to experience the Norway fjords is by water. A fjord cruise will take you from Flam to Gudvangen.
The 3 hour cruise takes you past countless waterfalls and gives you incredible views of one of the most stunning fjords in Norway. After the fjord cruise, you'll board a luxury bus to the town of Voss.
The bus ride is equally picturesque and winds through steep canyons surrounded by mountains.
In Voss, you will transfer once again to a train that will take you to Bergen. All transportation on this day is also included in the "Norway in a Nutshell" package.
Book your Norway in a Nutshell package.
Day 10 Highlights
Fjord Cruise and bus to Bergen
Day 11 – Bergen, Norway
You'll have a few hours on day 10 to explore Bergen, but day 11 will be spent exploring all the city has to offer. You'll want to see Bryggen, the Bergen fish market, and take the Fløibanen funicular and/or the Ulriken cable car to get a bird's eye view of the city.
If you plan to do some hiking in Norway, Bergen is a great place to base yourself and you'll want to pad the end of your itinerary with an extra day or so and do a day trip to hike some of Norway's famous Trolltunga hiking trail.
Day 11 Highlights
Bryggen
Bergen Fish Market
Fløibanen Funicular
Ulriken Cable Car
Day 12 Bergen, Norway
Finally, say goodbye to Scandinavia. Your 12-day experience in Scandinavia comes to an end. Depending on where you are from, you will fly out in the morning, afternoon, or evening to head home.
Spend your final hours shopping for those necessary souvenirs you won't want to leave without, or if you have the time and like famous European churches, head to Fantoft to see a historical stave church.
Get more ideas of things to do in Bergen and read about all the experiences and attractions mentioned here.
Get more ideas of things to do in Bergen and read about all the experiences and attractions mentioned here.
Day 12 Highlights
Gamle Strandgaten -or-
Fantoft Stave Church
Best way to get around Scandinavia
This is one of those trips that requires utilizing every single mode of transportation, trains, a rental car, bus, and a ferry.
You'll have to take a train from Copenhagen to Gothenburg and rent a car in Gothenburg to explore the coast. That is really the only way to visit the quaint fishing villages along the coast.
Then you will travel by train, ferry and bus across Norway to see the fjords. But don't worry, booking all those different modes of transportation doesn't have to be difficult.
You can book all of your transportation across Norway by purchasing the Norway in a Nutshell package. Your rental car can be reserved here and you can book your train from Copenhagen to Gothenburg here.
How much does a 12-day trip to Scandinavia cost?
If you've done any research about Scandinavia or the Nordic countries you probably already know that it is expensive.
We are neither luxury or budget travel. Like most families traveling with kids, we travel on a moderate-budget and book mid-range accommodations.
Comfort and convenience are important to us. We may splurge for a hotel or apartment in the right location, but eat street food instead of dining in restaurants.
For 12 days in Scandinavia during the off-season, not including flights, our family of three spent approximately $4,000 USD. That covered lodging, transportation, food, admission to attractions, and small souvenirs. Luckily, we got a great deal on our flights, too.
I typically don't discuss money or the amount we spend traveling, but in the interest of full disclosure and to help you plan effectively for your trip, I thought cost was an important part of the equation to include.
However, how much you'll spend in 12 days in Scandinavia can vary greatly depending on how many people you are traveling with, the time of year you go, where you stay and eat, and what activities you add to this itinerary.
FAQs about traveling in Scandinavia
It's only natural to have questions when planning a trip to Scandinavia – or anywhere else for that matter. Here are a few of the most frequently asked questions that we have gotten about travel in Scandinavia.
Is Scandinavia expensive?
The short answer is yes. Scandinavia is an expensive region of the world to visit or to live in. But while you will spend more on a hotel room and food, there are plenty of free things you can do to offset the cost.
 
Scandinavia's natural beauty means there are lots of great hiking trails and plenty of nature walks that will cost you absolutely nothing. So, one of our best Scandinavia travel tips is to seek out free activities and take advantage of the stunning natural beauty which is completely free to enjoy!
How many days do you need for Scandinavia?
How many days you need in Scandinavia depends on what all you want to do and see there.
While you can easily follow this 12 Day Scandinavia itinerary and enjoy yourself, if you add an extra week to the itinerary you can visit Stockholm or make your way up into the Arctic Circle and the Laplands in northern Sweden and northern Norway. And depending on the time of year, you might even get to see the Northern Lights!
What is the best month to visit Scandinavia?
Because Scandinavia sits so far north, the weather is most pleasant during the summer months. However, with the pleasant temperatures comes larger crowds. 
But, if you visit in early May or early September, you will miss most of the crowds and still have decent weather, although long sleeves and layers will likely be needed. 
Winter is cold and dark in Scandinavia, but your odds of seeing the bucket list-worthy Aurora Borealis from late fall to early spring is really good.
Have you visited Denmark, Sweden, or Norway? What would you add to this Scandinavia 12-day itinerary (besides 12 more days)?
Like it? Pin this Scandinavia itinerary to save it for later!
Did you know…
When you make a purchase or book hotels, tours, or other travel services, through our links, we receive a small commission, at no extra cost to you. We only EVER recommend service providers, websites, or products we personally use when booking our own travels. Your support enables us to keep producing helpful travel content. Thank you!
This Scandinavia itinerary for 12 Days was first written in June 2019 and was updated in March 2023 for accuracy and current information.