Iceland is known for its incredible scenery. From the milky blue waters of the Blue Lagoon, to volcanic craters, ice caves, and massive glaciers, it is a country of fascinating topography and scientific wonders. But it is also a country with hundreds of majestic waterfalls.
There are so many incredible waterfalls in Iceland that it would be hard to see them all, even if you lived there. That's why we've narrowed down the 16 best waterfalls in Iceland to add to your itinerary.
Whether you have just 4 days in Iceland or 4 weeks to explore the island, you can see many of these incredible displays of nature if you really plan out your Iceland itinerary.
This guide to the best waterfalls in Iceland includes necessary travel information on how and where to see each of these cascades, plus a map to the most beautiful waterfalls in Iceland.
The best waterfalls in Iceland
There is something mesmerizing about waterfalls. I could sit and gaze at a waterfall for hours. It is strangely peaceful to witness the sheer power of water as it mightily cascades from the top of a cliff or mountain.
Words often escape me when I try to describe the roar of the rushing water, the feeling of the mist when it hits your face from meters away, and the overall beauty of these natural wonders.
We seek out waterfalls everywhere we go, and Iceland's waterfalls are some of the most beautiful in the world.
We have visited many of the best waterfalls in Iceland personally and have compiled a list of the top 16 Iceland waterfalls you don't want to miss.
Gullfoss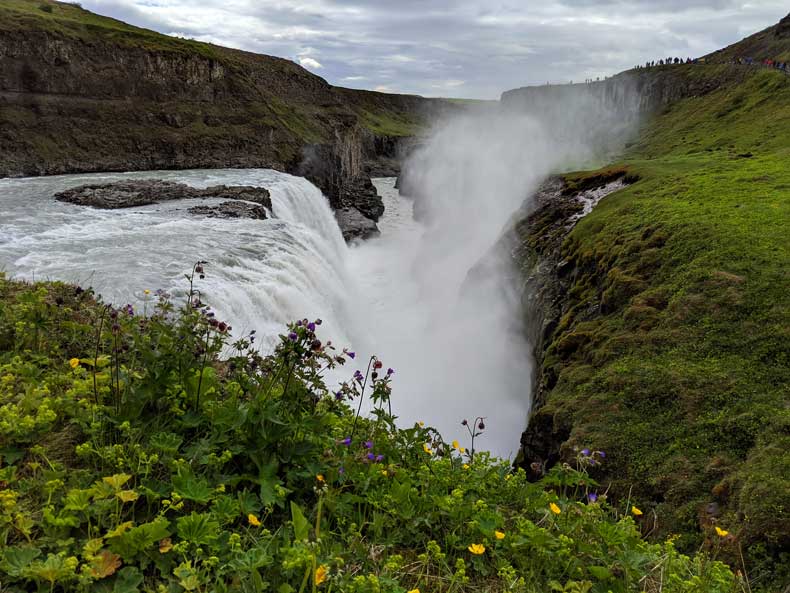 Gullfoss is one of the best-known waterfalls in Iceland. This massive waterfall has two drops and is around 105 feet high.  It is only 1.5 hours away from Reykjavik, and it is located on the Golden Circle.
A lot of people rent a car and drive in Iceland to see this magical waterfall, but if you are not comfortable with driving, there are plenty of tour guides that can take you to Gullfoss.
FIND A TOUR TO GULLFOSS AND THE GOLDEN CIRCLE.
You can visit Gullfoss all year round, even if visiting Iceland in winter, and there is no entrance fee. There is a visitor center with a restaurant/café so you can relax and spend lunch here.
Gullfoss is easily accessible, so you don't need to hike or do anything too strenuous. All you have to do is park, and then walk up and take in the views!
Because of how easy it is to see the waterfall, the area can get extremely crowded, but it is worth fighting the crowds to see one of the most powerful and best waterfalls in Iceland.
Even with the crowds, there is plenty of room to take great pictures. You might even get lucky and spot a rainbow!
Gullfoss is definitely one of those spots that you can't miss when you get to Iceland.
The beauty of this waterfall is one of a kind.
Recommended by Michelle – The Wandering Queen
Seljalandsfoss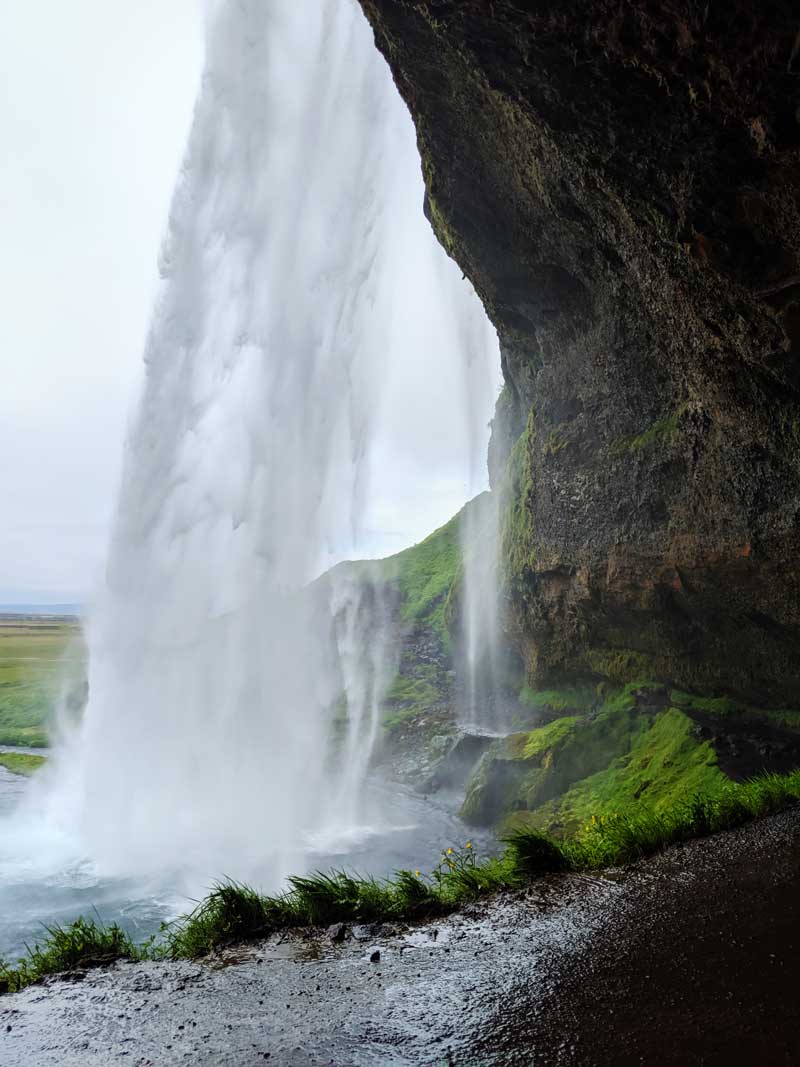 Seljalandsfoss is a spectacular waterfall in the southern part of Iceland. The narrow cascade of the falls drops about 60 meters (200 feet). 
What makes Seljalandsfoss so unique is that you can walk behind the waterfall! It is so cool to be able to see the falls from every side.
Don't forget to add a rain jacket to your Iceland packing list! You won't get soaked, but the spray is pretty strong at the sides of the waterfall.
The path around the waterfall isn't too long, but it is slippery and has a few steps.
It's recommended to walk counterclockwise around the falls.
The waterfall is very close to the parking lot. You don't need to walk too far or even go behind the waterfall to be able to enjoy it.
The path in front of the falls, along the hillside, will give you different views of the waterfall and take you to some smaller waterfalls nearby.
Seljalandsfoss is located slightly off the ring road and easy to find. If you drive yourself you will need to pay 800 ISK ($6 USD) for parking.
There are many tours you can join that include a visit to the waterfall if you are not planning on renting a car in Iceland. There are toilets and a small café stand in the parking lot.
However you reach the falls, make sure to include Seljalandsfoss on your list of best waterfalls to visit in Iceland.
Recommended by Elizabeth – The Fearless Foreigner
Skogafoss
When it comes to waterfalls in Iceland, Skogafoss might rival Gullfoss for the country's most famous. 
Located on the southern part of the Ring Road, between Reykjavik and Vik, it's an easy day trip from Reykjavik for anyone with a car since the drive is only about two hours (though you can also visit with an organized tour).
So if you're based in the capital, don't be afraid to add a day trip to Skogafoss to your Reykjavik itinerary. 
You can visit Skogafoss year-round. There's no cost to visit, and you can park nearby for an easy walk over to the waterfall. There is a small cost to use the restroom if you need to during your visit.
One of the best things about Skogafoss is that there are always rainbows visible (sometimes even more than one!), so make sure you give yourself time to photograph the site while you're there.
You can even take the hike up to see the waterfall from above.
Most people don't spend too much time near Skogar, but one must-see nearby is the Skogar Village Museum.
Here you can see turf houses, an original village painted church, and objects from the history of southern Iceland.
Recommended by Stephanie – History FanGirl
Góðafoss
The gem of Northern Iceland, Goðafoss or Godafoss in English, is located off the Ring Road about 45 minutes from the town of Akureyri. 
The water cascades about 12 meters (39 feet) and spans a width of 30 meters (98 feet).
A highlight of many North Iceland tour packages, a visit to Godafoss can easily be combined with a tour of another one of the best waterfalls in Iceland – Dettifoss. 
Accessible year round, this horseshoe shaped waterfall is one of the biggest in Iceland. 
Cloaked in folklore, Godafoss translates to "Waterfall of the gods". The legend says that in 1000 AD the leader of Iceland threw his pagan statues into the waterfall as a symbol that the country would claim Christianity as its official religion.
Whether the legend holds any truth or not, Godafoss is a heavenly sight to see and one of the best waterfalls in Iceland.
Gljufrabui
Gljufrabui is known as Iceland's secret waterfall – and for good reason. In order to view it, visitors have to wade through the shallow exit stream or climb up a rocky outcropping that hides it from view.
The stream is often less than a foot deep, so you'll be able to keep your feet dry if you wear rain boots. You may even be able to step from rock to rock and hold onto the wall for balance without even stepping in the water.
However, prepare to get drenched from the mist inside the narrow canyon.
The path to see Gljufrabui from above climbs the front of the rocks closing off the cavern. It isn't too steep, but there is a section where you need to hold onto chains for balance near a small drop.
Whichever path you take you'll have a blast and enjoy getting in on the "secret."
The stream that feeds Gljufrabui tumbles into a misty cavern surrounded by rock on almost all sides and the reward of seeing this graceful but shy waterfall is well worth the effort.
The best part is that it's easy to get to and right at a spot almost everyone stops anyway.
It shares a parking area with the more famous Seljalandsfoss.
A lot of guided tours do not allow time for Gljufrabui, but this one does. If you're driving the Ring Road, make the extra stop. It's well worth the extra time!
From Seljalandsfoss, continue over the little bridge and follow the path for a few hundred feet. You'll see signs for Gljufrabui there and find the stream where it exits the grotto.
Recommended by Kris – Nomad by Trade
ALSO READ: What to pack for Iceland in summer
Fagrifoss
While Iceland has plenty of waterfalls, most tourists congregate around the ones that are easiest to reach.
This means that, if you don't want to be jostling for position with a bunch of selfie-stick-toting tourists, it's worth seeking out some of the more out-of-the-way waterfalls, as well.
Fagrifoss certainly fits that description. Although it is one of the best waterfalls in Iceland, it is quite literally off the beaten path, as the only way to reach it is via a bumpy drive along a rough dirt road that involves crossing a river.
Don't even think about attempting this without a four-wheel-drive vehicle!
While getting here isn't easy, it's definitely worth it. The word "Fagrifoss" actually means "beautiful waterfall" in Icelandic, and it certainly lives up to its name.
Fagrifoss is not an especially mighty or powerful waterfall, so don't expect something thunderous like Niagara Falls in North America or Iguazu Falls in South America.
But what it lacks in might and volume it makes up for with beauty and elegance. The curtain of water gently cascading down the mossy rocks is a sight that you won't easily forget.
Fagrifoss is on the way to the Laki Craters, so if you're thinking of visiting the craters (and you should!), be sure to take the opportunity and stop at Fagrifoss.
In a country that's suffering from overtourism, at least during the high season, the Fagrifoss waterfall is a real hidden gem.
Recommended by Wendy – The Nomadic Vegan
Kirkjufellfoss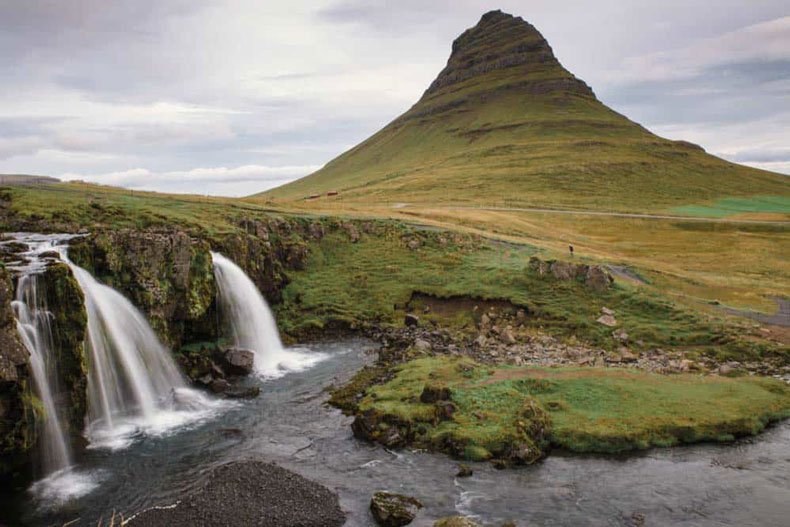 Chances are if you have seen any images of Iceland, you will have seen the iconic Kirkjufellsfoss and Kirkjufell in the background.
Located near Grundarfjörður, on the northern coast of the Snæfellsnes peninsula, Kirkjufellsfoss is perhaps itself unimpressive when you compare the short drop of the falls to many of the other amazing waterfalls in Iceland.
What makes these falls really stand out is the scenery. Kirkjufell means Church Mountain and it is easy to imagine how this free-standing mountain came across its name.
Despite looking remote in the photographs, it is simple to reach this location – either by car or guided tour.
There is a free parking lot / carpark right on the main road near the mountain and it is an easy, short walk to the falls.
There is a small loop path that will take you over the falls. Once you cross the bridge and look back towards the mountain you get the iconic scene from all the photographs.
If you are planning on taking your own photograph of the falls be warned that this spot can get extremely busy and you may have to wait your turn. It is also a great idea to have a tripod and have the right equipment to protect your camera from the wet weather.
It is easy to spot the mountain from the ring road and if you plan on driving from the capital Reykjavik it is around a 2-2.5 hour drive.
It is also a fantastic spot for photographing the Northern Lights.
Recommended by Kristi – Travel with Meraki
Svartifoss
If you love to hike and be surrounded by nature, Svartifoss gives you the opportunity to do just that.
Located in southwest Iceland, on the way to the Jokulsarlon Glacier Lagoon, Svartifoss is one of the more distinct waterfalls in Iceland.
Situated in the area around Skaftafell in Vatnajokull National Park, Svartifoss is a must visit. There is a 1000 ISK ($9 USD) fee to park, which can be paid at the visitor's center when you arrive.
From the trailhead, it is an easy hike on a mostly well-maintained, gravel path.
The hike to the waterfall takes about an hour and it is roughly a mile and a half long. If you prefer, you can hike a 3.5 mile loop, or head back on the same path from the waterfall to the parking lot.
It is a pretty hike, and the waterfall itself is breathtaking. The narrow stream of water plunges down a wall of rectangular stacked lava columns which gives the waterfall its unique appeal.
Svartifoss, which means "Black Falls" in Icelandic, was formed by slow cooling lava resulting in the rectangular pillars.
It is not only one of the best waterfalls in Iceland, the design of Hallgrimskirkja church in Reykjavik – one of the most famous churches in Europe – is actually based on this waterfall's interesting look.
Dettifoss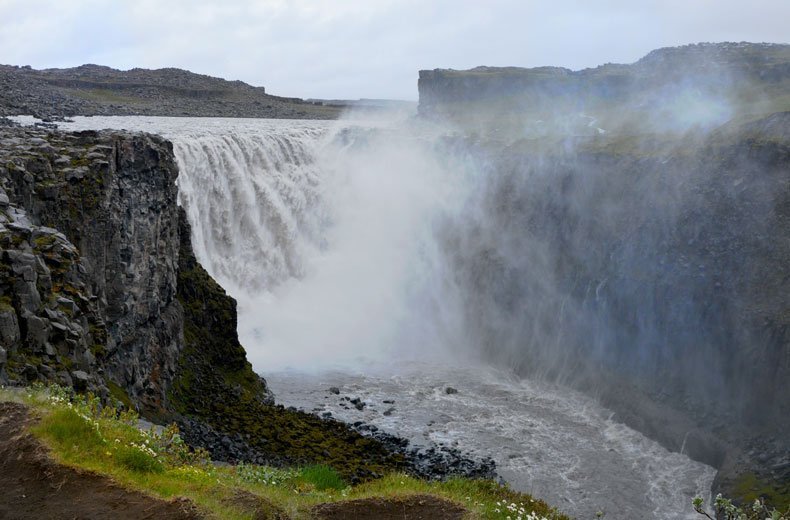 Iceland is a country known for its waterfalls, and Dettifoss is one of the most beautiful waterfalls in Iceland. It's not as well known as the popular waterfalls in South Iceland, but its intensity is unparalleled.
It is located in the Diamond Circle of North Iceland and the most powerful waterfall in all of Europe.  Its milky-gray water comes from the Vatnajökull Glacier.
The viewpoint for Dettifoss is at the top of the falls, and you are able to get quite close to the extremely powerful falls and feel its impressive spray.
There are no safety railings, so this was one where you should make sure that your kids stayed far back from the edge, especially if you visit on a windy day. (Iceland is VERY windy!)
From the parking lot, it is about a 10 minute walk on a gravel path to the overlook for Dettifoss.
The hike is one of the more strenuous walks in Iceland. However, even young children and toddlers can do most of the walk by themselves. 
Visiting Dettifoss is one of the greatest things to do in North Iceland and definitely one of the best Icelandic waterfalls.
Recommended by Catherine D'Cruz – We Go With Kids
Bruarfoss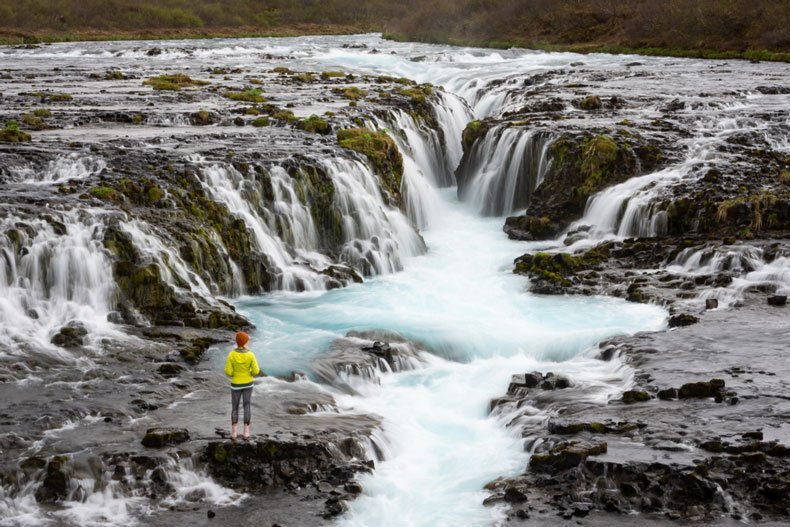 Bruarfoss is a spectacular waterfall located in Southern Iceland and definitely one that you shouldn't miss during your trip! 
It is one of the best waterfalls in Iceland not only because of its unique, vibrantly colored water but also because it is far less crowded than most of the others that you'll encounter on your vacation.
The reason that it's not as crowded as some of Iceland's other waterfalls is that it's not nearly as easy to get to. 
You'll need to park at the designated parking lot off Route 37 and then hike 2.2 miles each way. The dirt path is mostly flat but gets quite muddy if it's been raining so wear shoes with decent traction.
There are several turns that you'll need to make along the way but there are hand-painted signs that will point you in the right direction.
Technically, you could drive almost all the way to the waterfall but there is nowhere to park and the neighbors won't appreciate it if you block their driveways.
Once you cross the small wooden bridge and get a glimpse of Bruarfoss, you'll know that all the effort was worth it!
Turquoise blue water cascades over the jet black rocks creating one of the most striking landscapes in all of Iceland! 
Truly no waterfall on the island is anything like it.
You can enjoy the view from the wooden bridge or take the small dirt pathway on the left side of the bridge to the base of the waterfall for an up-close view. In fact, there are no ropes or signs here so you are free to scramble around the rocks surrounding the waterfall without fear of violating any rules.
The parking lot is free and entrance to the waterfall is free. Be sure to pack plenty of snacks and water as it will take several hours to get there and back.
Recommended by Val & Nick – Wandering Wheatleys
Urriðafoss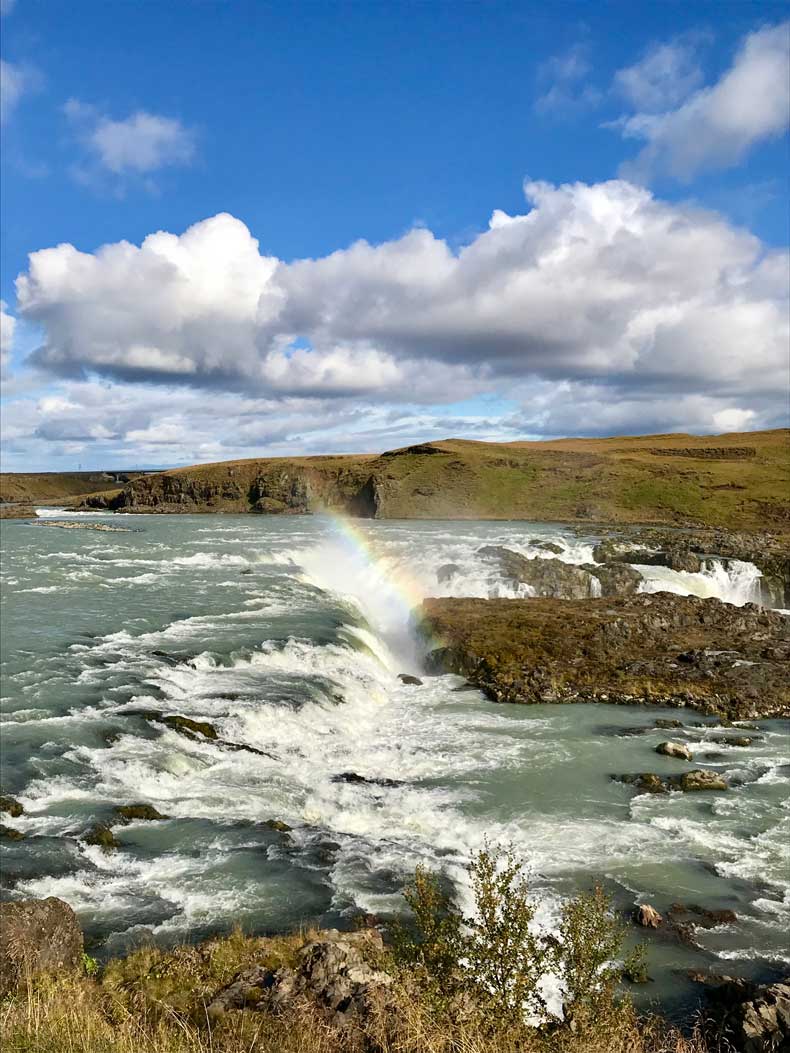 Along the main Iceland Golden Circle route, there is a beautiful waterfall, which is often missed by tourists, despite the fact you can drive right to it on Highway 1.
Urriðafoss is not as widely visited as some of the other more famous waterfalls in Iceland and, whilst this only adds to its appeal, it is puzzling why so many tourists miss this wonderful waterfall.
Although less known, Urriðafoss is actually rather significant, it has some of the wildest salmon in all of Iceland and has more water flowing through it from the mighty Þjórsá River than any other Icelandic waterfall.
With free parking and picnic benches, Urriðafoss is the perfect place to take a moment to enjoy the natural wonders of one of the best waterfalls in Iceland.
It is one of the most beautiful spots to visit in Southern Iceland, though its connection to Iceland's longest river and its sheer volume has made it the potential place to build a hydropower plant.
The plans to build power plants at Urriðafoss could mean this waterfall may disappear forever. Locals are protesting against any actions to build the hydropower plant, but there is no time like the present to see the beauty of Urriðafoss, perhaps before it's too late.
Recommended by Jasmine – The Life of a Social Butterfly
Dynjandi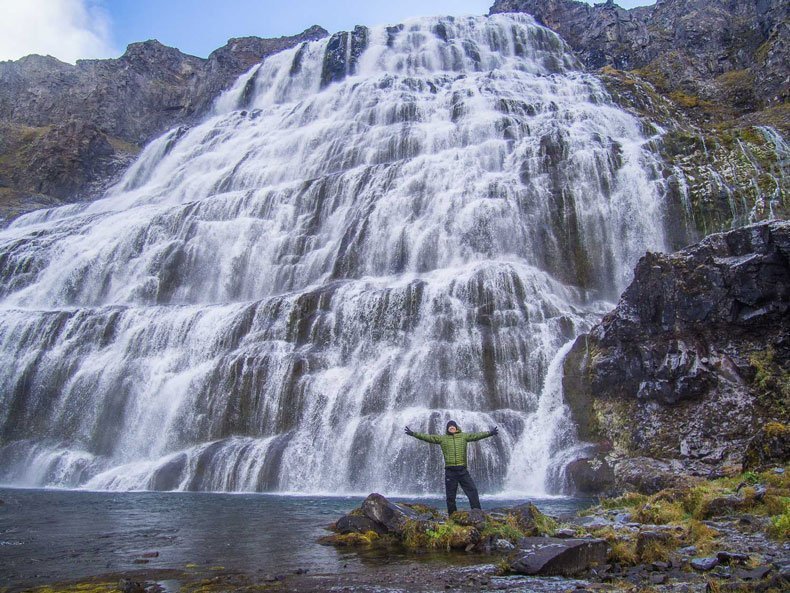 If you're looking for a less crowded waterfall in Iceland that doesn't require a long hike, I recommend Dynjandi. It's located in the remote Westfjords, one of the most beautiful and least visited parts of the country. 
It's best visited with your own vehicle although you could take a day tour from Ísafjörður, the largest town in the Westfjords.
The drive to Dynjandi is spectacular and it's the ideal place to break the journey between Brjánslækur, where the ferry arrives from the Snæfellsnes peninsula, and Ísafjörður. We passed mountains, waterfalls, lakes, frosty lava fields, and fjords. 
Dynjandi has a beautiful location on the edge of a fjord. From the parking area it's a 1.2km (0.75 mile) walk up to the main falls and along the way you can enjoy the many small falls that cascade down the mountain.
The huge main falls, which are up to 60 meters wide, are even more impressive when you get up close. The views are stunning from the top.
The walk up only takes about 15 minutes, but you can easily spend an hour and a half at the falls exploring and eating a packed lunch at the picnic tables nearby. (There are toilets, too).
Make sure you wear decent shoes as the path is rocky and muddy and can be icy near the top.
Dynjandi is a highlight of any longer Iceland itinerary. There's so much to see in the Westfjords and this quiet part of Iceland. 
Recommended by Erin – Never Ending Voyage
Oxarfoss
One of the most spectacular waterfalls in Iceland that's easily accessible from Reykjavik on the Golden Circle Route in Thingvellir National Park is Oxararfoss waterfall. 
The falls drop 20 meters or 66 feet and are breathtaking to witness in person. No matter when you visit you may experience something different than others as the water flow highly depends on the temperature.
The best part about accessing Oxarafoss is that the waterfall is really easy to access and only requires about a 10-20 minute walk, depending on your speed, from the parking lot in Thingvellir National Park.
There's a slow gradual climb up to the falls on an easy to access pathway.
While many of the waterfalls in Iceland are natural wonders, Oxarafoss was actually man made. In the 9th century, the river Oxara was moved to feed water to the Icelandic parliament Althingi, where the Thingvellir church is today.
Even though it's man made it still is absolutely stunning to witness in person and an easy waterfall to visit during your trip to Iceland.
Recommended by Megan – Bobo and Chichi
Faxafoss
Faxafoss in Iceland, or "Faxi" for short, is an often overlooked waterfall in the Golden Circle. Faxi is a little different than most Iceland waterfalls in that it's much wider than it is tall. 
Faxafoss also goes by the name Vatnsleysufoss, which means "the waterfall with a shortage of water." (Likely based more on its size than the actual lack of water.)
Faxafoss is much less touristy than many other sights along the Golden Circle, which makes it a great place to just take in nature without the imposing gift shops and facilities found at other stops.
It is easy to fit Faxafoss into a Golden Circle tour even if you only have 3 days in Iceland.  
Faxafoss is easy to get to, with a gravel access road off the main highway.
There's a parking lot at the upper level that offers the best view and vantage point for a photo.
The area around the waterfall also has a few picnic tables, and there's a lower level area that you can walk to and get closer to the waterfall.
In addition to hiking around the waterfall, Faxi is also known as a prime salmon fishing spot. 
Recommended by Amanda – Toddling Traveler
Þórufoss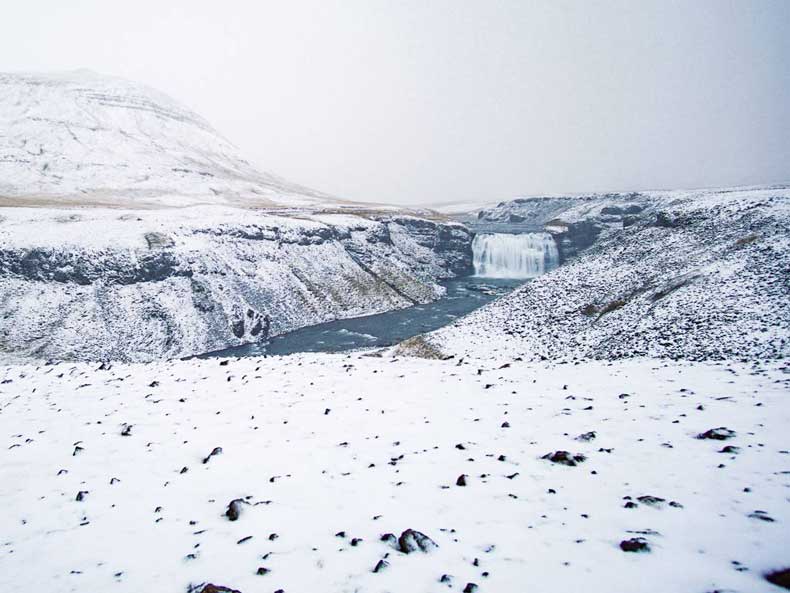 Iceland's Þórufoss waterfall is located 37 minutes by car from Reykjavik at the very beginning of the Golden Circle route.  
Being lesser known, it is often skipped over by other travelers to Iceland.  
The Þórufoss waterfall is completely free to visit. It isn't well marked, though, so it's best to download the route on Google Maps ahead of time to ensure you don't miss it.
Take caution while driving, as the area is a bit mountainous and the weather can often be snowy and windy, especially in winter.
Take Route 36 until the left turn onto Route 48, and drive a short distance to the simple sign marked Þórufoss. Just off this quiet road you'll see a small area for parking.
Once you exit the car, you won't see the waterfall right away, but follow the sounds of the rushing water to the edge of the parking area.
You'll see there is a drop off into a deep valley with a rushing river flowing through it. In the distance is the modest waterfall in its solitude, flowing water into the river with likely no one but you to witness it.
If visiting in winter, this snowy peaceful scene looks like something that could be in a snow globe, and it was the perfect introduction to Iceland.
There are so few opportunities on the Golden Circle to have a view like this all to yourself, which is what makes a stop here so worthwhile.
Recommended by Theresa – Fueled By Wanderlust
Hraunfossar & Barnafoss
Iceland is filled with dramatic waterfalls.
Skógafoss, Seljalandsfoss, Dettifoss, Goðafoss, and Gullfoss… these are some of the most well-known attractions on the island.
Among all the best waterfalls in Iceland, it's a bit surprising that two neighboring waterfalls, Hraunfossar and Barnafoss, don't get as much attention as the other sites.
Hraunfossar is also called the "Lava Falls". It is on the way to the Langjökull and Hallmundarhraun lava field in the highlands, Borgarfjörður.
The waterfall is only 12 meters high, and neither considerable in height or volume. However, the waterfall is a unique natural phenomenon.
The origin of Hraunfossar is the Langjökull glacier; the glacial water flows through the lava field formed from a volcano eruption that turned the water turquoise.
It is a unique and distinctive sight as the hundreds of streams of spring water running out through the cracks of lava rocks and churning down into the Hvita River.
The water streams run along the edge with a distance of 900 meters long. Barnafoss is a rapid waterfall at the end of Hraunfossar, as the water flowed from the river finally cascading into a narrow valley.
The site is a great example of the ever-changing Iceland's scenery – you never know what to expect.
Recommended by Kenny – KNYCX Journeying
Where to find the best waterfalls in Iceland – North or South Iceland?
Many of the best waterfalls in Iceland can easily be found along the southern coast, between Reykjavik and Jokulsarlon Glacier Lagoon. But others are definitely more off the beaten path.
So, we've included a map to help you find these incredible wonders and witness them for yourself.
Looking at the map, it's easy to see why the southern coast of Iceland is extremely popular among tourists, but don't discount the north-side of the island, either. You'll find a lot of amazing waterfalls in North Iceland, as well.
Many of them are just less heard of and less visited than those that are closer to the capital city of Reykjavik and the main tourist sites.
There are so many fascinating things about Iceland that will make you want to visit. The plethora of beautiful waterfalls is just one of them. It is a beautiful country in both summer and in winter.
And whether you are visiting Iceland to chase after beautiful waterfalls, or you want to take in the country's other amazing scenery and scientific wonders, it is an experience you won't forget.
Like it? Pin this list of waterfalls in Iceland for later!
Have a question or comment about any of the best waterfalls in Iceland? We'd love to hear from you! Leave your thoughts or questions in the comments below.
Did you know…
When you make a purchase or book hotels, tours, or other travel services, through our links, we receive a small commission, at no extra cost to you. We only EVER recommend service providers, websites, or products we personally use when booking our own travels. Your support enables us to keep producing helpful travel content. Thank you!