Ireland is a small country yet holds a big reputation. From its stunning natural beauty to its rich cultural traditions, there are many reasons why Ireland is famous around the world.
When you think of Ireland, ancient castles, green landscapes, and quaint pubs may come to mind. But what is Ireland famous for really? The country has given the world more than just refreshing pints and shamrocks.
In this Ireland overview, we will explore 15 of the many things that Ireland is famous for, including its history, its landmarks, its food and drink, and its contributions to the arts.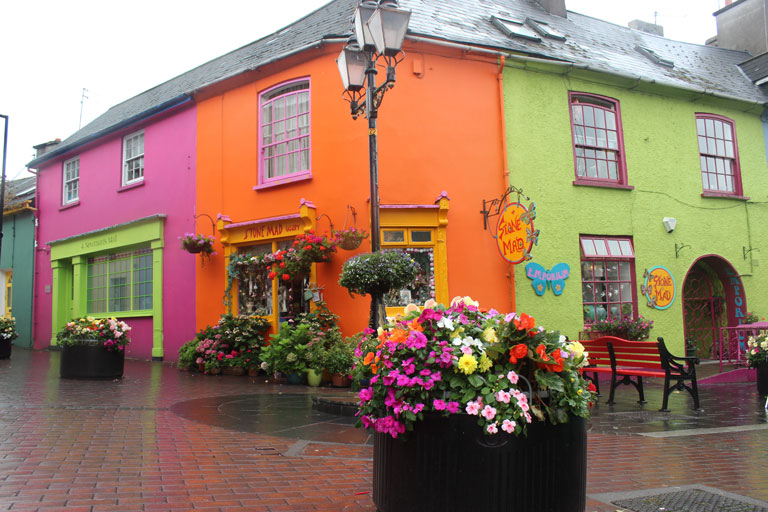 FIND THE BEST GUIDED TOURS, DAY TRIPS, AND EXCURSIONS IN IRELAND
What is Ireland famous for? Ireland's 15 top claims to fame
Whether you are planning a trip to the Emerald Isle or simply want to learn more about this unique and fascinating country, this list will give you an idea of some of the things that make Ireland so special. So, let's take a look at what Ireland is famous for!
Stunning natural beauty
Firstly, Ireland is famous for its breathtaking natural beauty, with iconic landmarks such as the Cliffs of Moher, the Giant's Causeway, and the Ring of Kerry. The Cliffs of Moher are a must-see for any visitor to Ireland, with their dramatic cliffs rising up from the Atlantic Ocean.
The Giant's Causeway, a UNESCO World Heritage Site, is an otherworldly landscape of hexagonal basalt columns formed by ancient volcanic activity. It's one of the most Instagrammable places in Northern Ireland.
The Ring of Kerry is a stunning drive around the Iveragh Peninsula, with breathtaking views of the Atlantic coastline and the Macgillycuddy's Reeks mountain range.
Rich history and cultural traditions
Ireland has a rich and vibrant culture, with a long history of Gaelic language and literature, traditional Irish music and dance, and a deep connection to the land. The Gaelic language and literature have a long and storied history in Ireland.
Traditional Irish music and dance are an integral part of Irish culture, with live music sessions in pubs and festivals throughout the country.
Irish traditional music is its own genre of music that was developed in Ireland. Distinctive for instruments such as the fiddle, flute, harp, banjo, and mandolin, Irish folk music is popular throughout the country and recognizable throughout the world.
The Irish love Ireland, and the Irish culture and way of life is deeply cherished.
The luck of the Irish
Ireland is also known for its iconic symbols, such as the shamrock, the leprechaun, and the harp. The shamrock, a type of clover, usually a four-leaf clover, is a symbol of Ireland and is often associated with St. Patrick, the patron saint of Ireland.
It is said that St. Patrick actually used the 3-leaf clover in sermons to symbolize the Christian Holy Trinity. Since then, this native shamrock, although not unique to Ireland, has become a famous symbol of the country.
So, just as the Netherlands is associated with Tulips and Texas has its bluebonnet fields, Ireland is known for the green clovers, which have become the unofficial national flower of Ireland.
The leprechaun is a mischievous fairy-like creature in Irish folklore, often depicted as a shoemaker or a mischievous trickster. It's said to be found at the end of rainbows and is also associated with gold and money.
The harp is another important symbol of Ireland, with a long history dating back to ancient times. The harp is depicted on the Irish coat of arms and is an important part of Irish cultural traditions.
Commonly, Ireland is associated with green due to the clover, leprechauns and St. Patrick.
Famous writers and poets
Ireland has a long and distinguished literary tradition, with famous writers and poets such as W.B. Yeats, James Joyce, and Seamus Heaney, all making significant contributions to the country's literary heritage which is famous all around the world.
W.B. Yeats is one of the most celebrated poets in Irish history, with a career spanning more than 50 years. C. S. Lewis, who wrote The Chronicles of Narnia, was also from Belfast.
Warm and friendly people
The Irish are known for being warm and friendly, as well as being known for their hospitality and sense of humor. Irish people have a love of a good chat and a laugh, and visitors to the country often comment on the friendly and welcoming nature of the people.
This hospitality extends to the country's many bed and breakfasts, guesthouses, and hotels, where visitors can expect a warm welcome and a comfortable stay.
The phrase "they could talk to a brick wall" could not be more applicable than to the Irish.
Vibrant cities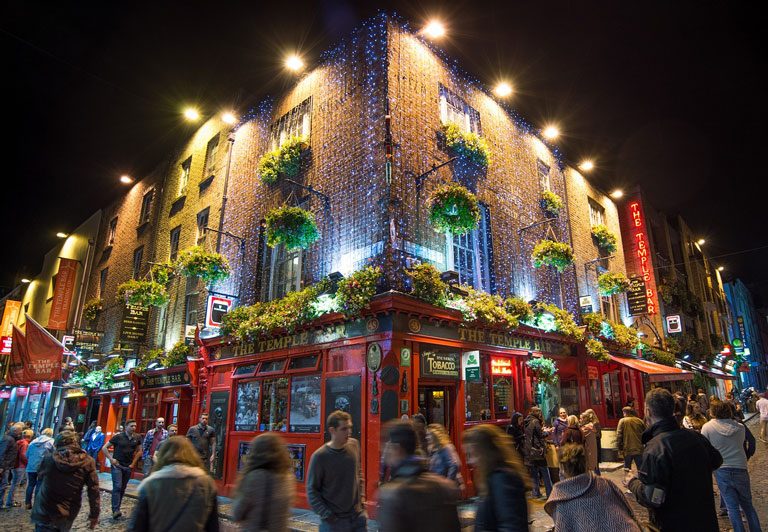 Ireland has a number of vibrant cities which are famous all around the world and are popular travel destinations for visitors to the country. Some examples include Dublin, Cork, and Galway.
Dublin, the capital city and the biggest city on the island of Ireland, is a lively and vibrant city with a rich cultural heritage. It is also very crowded. One of the fun facts about Dublin – 20 percent of the country's population call the city home.
Visitors can explore the city's many museums and galleries, sample the local cuisine, or enjoy the city's lively nightlife at some of Dublin's best Irish pubs.
Home to one of Europe's most notable bridges, as well as one of the continent's most beautiful cathedrals, Dublin is worth visiting, without a doubt!
Ancient mythology and folklore
At number seven is Ireland's mythology and folklore. Ireland has a strong tradition of ancient mythology and folklore, with tales of fairies, leprechauns, and giants all an important part of the country's cultural heritage.
These stories and legends are an integral part of Irish culture and are passed down from generation to generation. Many of these stories and legends are associated with specific locations in the country.
For example, the Giant's Causeway was said to be made by Finn McCool. In Irish mythology, Finn McCool was a hero and leader of the Fianna bands of nomadic hunters and warriors. He was said to have a magic thumb of knowledge, and built the Giant's Causeway as stepping-stones to Scotland.
Beautiful castles
Ireland is home to a number of beautiful castles. Two prime examples which sum up the beauty of the best castles in Ireland are Kilkenny Castle and Ashford Castle.
Kilkenny Castle has a long and storied history and has been home to some of the most influential families in Irish history from as far back as the 12 century.
Ashford Castle is another beautiful castle which dates back to the 13th century and has been restored and is now a luxury hotel. A hotel where you can experience the famously great Irish hospitality.
Another notable Irish castle, located in County Cork, the Blarney Castle is one of the most visited castles in Ireland. A popular tradition among visitors to this ancient castle, kissing the Blarney Stone is said to bring you "the gift of gab".
But in order to achieve this feat and be granted conversational eloquence, you must lie down and lean over backwards to kiss the stone on the roof of the castle.
Trinity College
Ireland is also famous due to Trinity College Dublin. Trinity is one of the oldest and most prestigious universities in Ireland, with a long and distinguished history.
The university is known for its beautiful campus, which includes the iconic Old Library and the Book of Kells, an illuminated manuscript from the 9th century widely considered to be one of the oldest books in the world.
With tours offered every 30 minutes, Trinity College Library is one of Dublin's top tourist sites, and touring the library and viewing the Book of Kells is considered one of the best things to do in Dublin.
Trinity College is also home to a number of important cultural institutions, such as the National Museum of Ireland and the National Gallery of Ireland.
Partition of Ireland and Northern Ireland
The partition of Ireland alongside the creation of Northern Ireland is an important and controversial event in Irish history. In 1920, the British government passed the Government of Ireland Act, which divided Ireland into two separate entities: the Irish Free State (which later became the Republic of Ireland) and Northern Ireland.
This partition was met with significant opposition and violence, and the issue of Northern Ireland's status remains a contentious and sensitive topic to this day. It's best not to bring this up if you visit Ireland!
Nonetheless, the partition of Ireland along with the wars and troubles that followed are famous worldwide.
Irish accent
The Irish accent is famous around the world and is often associated with the warmth and friendliness of the Irish people, as said above.
Perhaps one of the most recognizable and endearing access, the Irish accent is known for its lilting rhythms and soft, musical quality, and is often imitated by actors and comedians. An example of an Irish pronunciation would be to pronounce "thirty" like "tur-tee".
Guinness
Guinness is a world-famous Irish stout, brewed at the Guinness Brewery in Dublin. The brewery, which was founded in 1759, is a popular tourist attraction and is known for its iconic Guinness Storehouse, which offers tours and tastings of the famous stout.
You can even learn how to pour the perfect pint of Guinness.
Guinness is known for its rich, dark color and creamy head, and is enjoyed by millions of people around the world. It's delicious and tastes better nowhere else other than in Ireland itself!
St. Patrick's Day
St. Patrick's Day is a national holiday in Ireland and is famous all around the world. "St. Paddy's Day" is celebrated on March 17th in honor of St. Patrick, the patron saint of Ireland.
It's a day filled with celebration of Irish culture and heritage, with parades, music, and other festivities taking place throughout the country.
The holiday is also celebrated around the world, with many cities holding their own St. Patrick's Day parades and celebrations. Sydney in Australia is famous for its St. Patrick's Day celebrations, for example.
Ginger Hair
Ireland is famous for its high concentration of people with red hair, and the country is often associated with the stereotype of the "ginger-haired Irishman."
The prevalence of red hair in Ireland can be attributed to both historical and genetic factors. The Celtic heritage of the Irish people, who migrated to the island thousands of years ago, brought with them a genetic predisposition for red hair.
The unique combination of genetics and the isolated nature of the island allowed this distinct trait to thrive and spread throughout the population.
While it is true that there is a higher proportion of redheads in Ireland than in many other countries, it is worth noting that red hair is not exclusive to Ireland and can be found in many other parts of the world.
Gaelic Sports
Lastly, Ireland is famous because of Gaelic sport. Sports such as Gaelic football and hurling, are an integral part of Irish culture and are an important part of what makes Ireland famous.
Pop into any Irish pub on a weekend and you'll find tables of friendly locals enjoying a pint while watching Gaelic sports on the televisions.
These sports are believed to have ancient origins and are played at both a local and national level, with the All-Ireland championships in Gaelic football and hurling being highly prestigious events. Ireland is also said to be the origin of hopscotch!
A Quick List of Things Ireland is Famous For
Famous Irish People: Oscar Wilde (author), James Joyce (author), CS Lewis (author), Liam Neeson (actor), Bono (musician – lead singer U2), George Bernard Shaw (playwright), Pierce Brosnan (actor), Colin Farrel (Actor)
Famous landmarks in Ireland: Cliffs of Moher, Ring of Kerry, Wild Atlantic Way, Giant's Causeway, Guinness Storehouse, Rock of Cashel, St. Patrick's Cathedral, Newgrange Tomb
Famous Irish food and drinks: Irish Stew, Irish Soda Bread, Colcannon and Champ, Fish and Chips, Guinness, Whiskey
Famous Irish filming locations: Cliffs of Moher (The Princess Bride and Harry Potter and the Half Blood Prince), Skellig Michael (Star Wars: The Force Awakens), Dark Hedges in Northern Ireland (Game of Thrones), Curracloe Strand (Saving Private Ryan), Powerscourt Estate (Ella Enchanted, The Tudors)
What is Ireland famous for?: Conclusion
And there you have it. 15 things Ireland is famous for and gave to the world. From the culture to the Guinness, or from the natural beauty to the gingers, Ireland has a little bit of everything. It is an amazing country, and if you get the opportunity to visit, do it.
Ireland has something for everyone. With its warm and friendly people, vibrant cities, and rich mythology and folklore, Ireland is a unique and fascinating place that is well worth exploring.
Have other questions besides "What is Ireland famous for?" or are there any famous Irish things you would add to this list? We'd love to hear from you! Leave your thoughts in the comments below.
About the Author of this post on What Ireland is Famous For: This post was written by Josh Band from A Backpacker's World. Josh loves to write about backpacking all around the world. From Southeast Asia to Europe, and everything in between, Josh loves to explore and spend as little as possible while doing so. Who doesn't love budget traveling, right?!
Did this post answer your question "What is Ireland famous for?" Pin it to save it for later.
This post on What Ireland is famous for was first written in January 2023 but was most recently updated in August 2023 to include the most current and accurate information.