We may earn money or products from the companies mentioned in this post.
For five years, I called Fort Worth, Texas my home. I lived and worked there and loved everything about it! Since moving away from this amazing city in North Texas, I've come to realize I took for granted all of the great and FREE things to do in Fort Worth. Often it is a big event hosted at Texas Motor Speedway or at nearby AT&T Stadium in Arlington that brings people to Fort Worth for the first time. But there is so much to do in the city of nearly 900,000 people, you would be remiss not to spend some time exploring this extremely family-friendly city.
Fort Worth, Texas: A big city with cowboy roots
Nicknamed "Cowtown", Fort Worth, Texas has a long and rich history as a stop along the historic Chisholm Trail, which was used for many years to drive cattle overland from Texas to Kansas. The city grew quickly and became somewhat of a hub for ranching and cattle raising in the United States. The cowboy culture is still very prevalent in Fort Worth, although you'll also find a good mix of metropolitan influence, as well.
How much time to spend in Fort Worth, Texas
Many people combine their visit to Fort Worth with a visit to Dallas, located just 45 minutes east, or with a visit to one of the other popular North Texas cities like Arlington or Grapevine. You can hit the highlights of Fort Worth in one weekend. I would give yourself 2-3 days to truly experience Fort Worth and all it has to offer, and a week to experience all of North Texas. If you are looking for free things to do in Fort Worth, the city has plenty of budget-friendly options which make for a fairly inexpensive getaway with kids.
How to Get To Fort Worth, Texas
Fort Worth is just west of Dallas, Texas. In fact the region, which includes the two cities and all the suburbs is often called DFW, short for Dallas-Fort Worth. If you are flying into the Dallas-Fort Worth International Airport, it's about a 35 minute drive to downtown Fort Worth, depending on traffic. It's about a one hour drive from Dallas Lovefield Airport. Traffic is quite congested in the DFW metro area, and road construction on the freeways can slow things down quite a bit. Prepare yourself for that frustration.
Where to Stay in Fort Worth
Because traffic in Fort Worth can be a bit of a headache, I recommend staying somewhat close to downtown, if not in downtown. Most of the attractions you will want to visit are within a few miles of the downtown area. Plus, Fort Worth has a great downtown area that is both safe and walkable. Sundance Square is in the heart of downtown. There are plenty of wonderful restaurants (and bars: if traveling sans kids) and a lively, fun nightlife. Staying downtown gives you convenient access to all of that without having to worry about finding parking.
Getting around North Texas
Most people drive in North Texas, hence why traffic is horrendous. But Uber and taxi services are also options. There is rail service that connects Dallas to Fort Worth, and connects downtown Dallas to the airport and other outlying areas, but it is not as widely used by locals.
Best time to visit Fort Worth
Texas is known for being painfully hot in the summer. Temperatures can easily reach 100 degrees Fahrenheit (38 Celsius) or higher in July and August. My favorite season to visit Texas is spring, especially during the months of March and April. The weather is cool and the bluebonnets are in bloom.
Best inexpensive or free things to do in Fort Worth with kids
While there are plenty of museums and theaters to visit in Fort Worth, my favorite things to do in Fort Worth are free! Here are our top 22 inexpensive and free things to do in Fort Worth that will help you plan the perfect, budget-friendly family trip.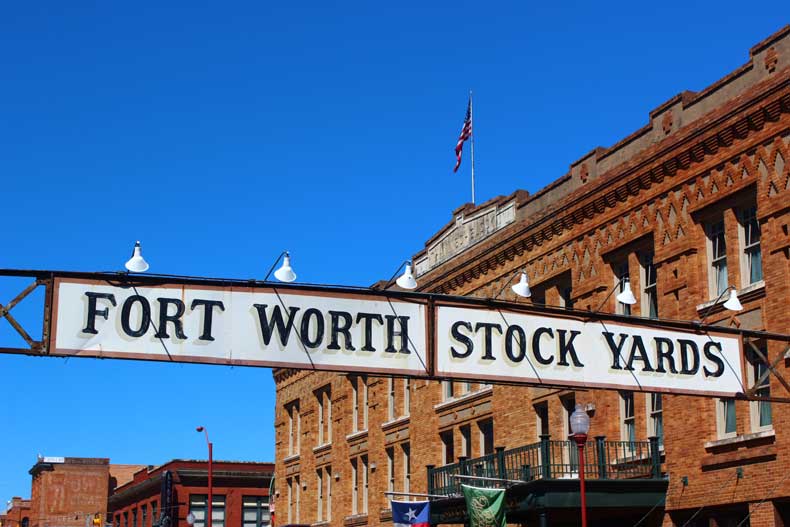 1: Watch the world's only twice daily cattle drive in the Fort Worth Stockyards (free)
2: Tour the Stockyards Museum (free)
3: Visit the Fort Worth Zoo ($14 adults, $10 kids)
4: Ride the miniature train at Forest Park ($5 adults, $4 kids)
5: Visit the Amon Carter Museum (free)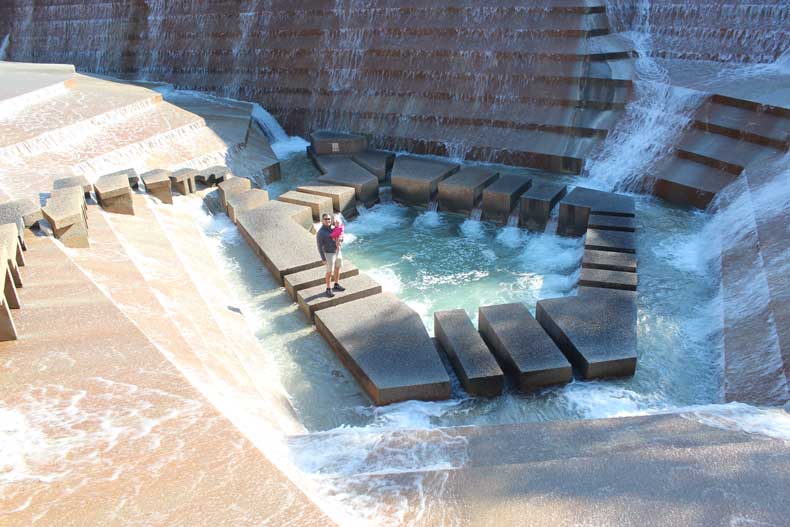 6: Visit the Fort Worth Water Gardens (free)
7: Relax under an umbrella in Sundance Square (free)
8: Play in the splash fountain at Sundance Square (free)
9: Take a guided tour of the US Bureau of Engraving and Printing and see US Dollars get printed (free)
10: Visit the Botanic Gardens (free)
11: Feed the ducks at Trinity Park. (free)
12: Explore the Trinity Trails on foot or bike. The Trinity Trails are great for those looking for scenic walking and hiking trails in Dallas-Fort Worth. (free)
13: Paddle board on the Trinity River ($15 paddle board, paddles, and life jacket rental)
14: Check out quirky public art and restaurants on Magnolia Avenue (free to visit)
15:Attend a festival in Sundance Square (free)
16: Watch a Cowboy Opry perform live in the Stockyards (free)
17:Take photos in a patch of Bluebonnets in spring (free)
18: Learn to two step at a family-friendly Texas Honky Tonk ($2-$5 depending on the day)
19: Learn about plants and conservation at the Botanical Research Institute of Texas (free)
20: Explore and learn at the Fort Worth Museum of Science and History ($15 adults, $12 kids)
21: Watch actors in authentic 1800s closing showcase life on the frontier at Log Cabin Village ($4.50 per person )
22: Check out western art at the Sid Richardson Museum (free)
Have you been to Fort Worth, Texas? What are your favorite inexpensive or free things to do in Fort Worth? We'd love to hear from you! Let us know in the comments below.
Like it? Pin it to save for later!