For five years, Fort Worth, Texas was my home. I lived and worked there and loved everything about it! Since moving away from this amazing city in North Texas, I've come to realize I took for granted all of the great and FREE things to do in Fort Worth.
Often it is a big event hosted at Texas Motor Speedway or at nearby AT&T Stadium in Arlington that brings people to Fort Worth for the first time. But there is so much to do in the city of nearly 900,000 people, you would be remiss not to spend some time exploring this extremely family-friendly city.
This guide to the best things to do in Fort Worth Texas with kids includes fun activities that are free or moderately priced for families.
Fort Worth, Texas: A big city with cowboy roots
Nicknamed "Cowtown", Fort Worth, Texas has a long and rich history as a stop along the historic Chisholm Trail, which was used for many years to drive cattle overland from Texas to Kansas. The city grew quickly and became somewhat of a hub for ranching and cattle raising in the United States. The cowboy culture is still very prevalent in Fort Worth, although you'll also find a good mix of metropolitan influence, as well.
How much time to spend in Fort Worth, Texas
Many people combine their visit to Fort Worth with a visit to Dallas, located just 45 minutes east, or with a visit to one of the other popular North Texas cities like Arlington, Denton, or Grapevine. You can hit the highlights of Fort Worth in one weekend. However, there are a lot of fun things to do in Dallas and the rest of the metroplex, as well. I would give yourself 2-3 days to truly experience Fort Worth and all it has to offer, and a week to experience all of North Texas. If you are looking for free things to do in Fort Worth, the city has plenty of budget-friendly options which make for a fairly inexpensive getaway with kids.
How to Get To Fort Worth, Texas
Fort Worth is just west of Dallas, Texas. In fact the region, which includes the two cities and all the suburbs, is often called DFW, short for Dallas-Fort Worth. If you are flying into the Dallas-Fort Worth International Airport, it's about a 35 minute drive to downtown Fort Worth, depending on traffic. It's about a one hour drive from Dallas Lovefield Airport. Traffic is quite congested in the DFW metro area, and road construction on the freeways can slow things down quite a bit. Prepare yourself for that frustration.
Getting around North Texas
Most people drive in North Texas, hence why traffic is horrendous. But Uber and taxi services are also options. There is rail service that connects Dallas to Fort Worth, and connects downtown Dallas to the airport and other outlying areas, but it is not as widely used by locals.
Best time to visit Fort Worth
Texas is known for being painfully hot in the summer. Temperatures can easily reach 100 degrees Fahrenheit (38 Celsius) or higher in July and August. My favorite season to visit Texas is spring, especially during the months of March and April. The weather is cool and the bluebonnets are in bloom.
Where to Stay in Fort Worth
Because traffic in Fort Worth can be a bit of a headache, I recommend staying somewhat close to downtown. Most of the attractions you will want to visit are within a few miles of the downtown area. Plus, Fort Worth has a great downtown area that is both safe and walkable. Sundance Square is in the heart of downtown. There are plenty of wonderful restaurants (and bars: if traveling sans kids) and a lively, fun nightlife. Staying downtown gives you convenient access to all of that without having to worry about finding parking.
Best inexpensive or free things to do in Fort Worth with kids
While there are plenty of museums and theaters to visit in Fort Worth, my favorite things to do in Fort Worth are free! Here are our top 22 inexpensive and free things to do in Fort Worth that will help you plan the perfect, budget-friendly family trip.
1: Watch the world's only twice daily cattle drive
The cattle drive in the Historic Fort Worth Stockyards is one of the most popular free activities in Fort Worth. Twice a day at 11:30 a.m. and 4:00 p.m. cowboys dressed in early 20th century attire drive a herd of longhorns through the old brick streets of the Fort Worth Stockyards. This is the only place in the world where you can watch a live cattle drive twice each day.

Price: free
2: Tour the Stockyards Museum
After watching the cattle drive, head over to the Stockyards Museum where you can learn about the history of this unique district of Fort Worth and about how the ranching and cattle raising industry shaped the North Texas city. The museum is free to visit, although a $2 donation per adult is recommended to help cover the cost of operations.

Price: free
3: Visit the Amon Carter Museum
The Amon Carter Museum of American Art is one of the best art museums in Fort Worth. Although most kids don't typically enjoy art museums, Amon Carter often hosts exhibits and events that are great for children and families. Frequently, this museum located in Fort Worth's cultural district has immersive exhibits and events and workshops that are entirely geared toward toddlers and young children.
Price: free
4: Visit the Fort Worth Water Gardens
A visit to the Fort Worth Water Gardens is one of the most unique free things to do in Fort Worth, Texas. This serene urban oasis in the midst of a concrete jungle boasts a tranquility pool, aerating pool, and the main draw – an active pool. The active pool is a massive man-made waterfall that you can descend down into to fill completely surrounded by running water.
While the water gardens are a great place to visit, watch young children carefully, as the active pool in particular can be dangerous for u supervised kids.
Price: free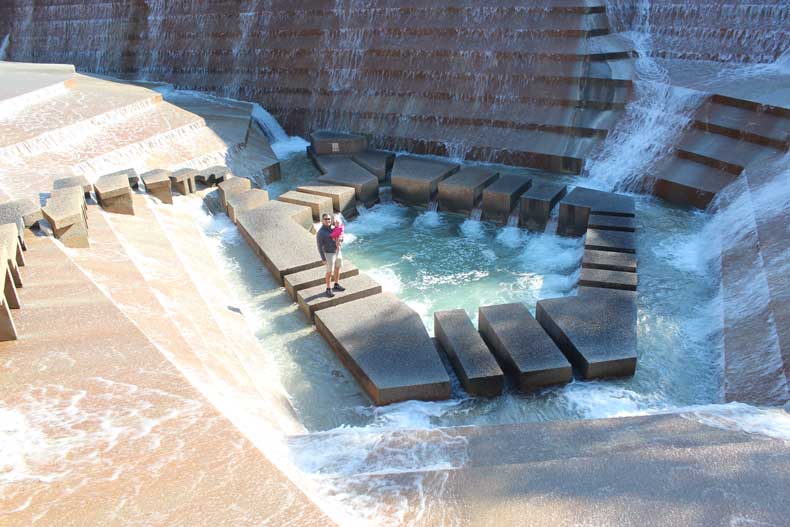 5: Watch real money get printed
Fort Worth is one of the few places in the United States where you can watch actual money getting printed. The US Bureau of Engraving and Printing offers free self-guided audio tours where you can learn about the process of printing currency. The process is much more complicated than you might think. So, it is an interesting and educational tour for both kids and adults alike. A word of caution, cell phones and cameras are not permitted on the tours or in the building.
Price: free
Note: This activity is currently paused due to the pandemic.
6: Ride the miniature train at Forest Park
The Forest Park miniature railroad has been a favorite Fort Worth activity for kids since it opened in the late 1950s. Once the longest miniature train in the world, this small locomotive takes you around Fort Worth's Trinity Park. From the depot, the five-mile ride travels under the highway, across six bridges and the Trinity River, and through miles of beautiful, scenic green space. While it isn't free, it is still one of the most inexpensive things to do in Fort Worth. The 40-minute ride is just $5 per child and $6 per adult. Catch the train from 10 a.m. to 3 p.m. every Saturday and Sunday.
Price: $6 per adult, $5 per child (Cash only)
7: Relax under an umbrella in Sundance Square
Sundance Square is the heart of downtown Fort Worth. The urban plaza is lined with restaurants and shops and often hosts community events and festivals. There are large umbrellas that stretch out across portions of the plaza offering shaded areas to relax and enjoy the atmosphere of the square.
Sitting under the umbrellas is one of the best free things to do in Fort Worth on a nice weather day.
Price: free
8: Play in the splash fountain at Sundance Square
While you relax under an umbrella kids can play and splash around in the fun water features. To make the plaza a more interactive place, the city installed splashing water features that shoot water up from the ground periodically.
This is great for kids or even adventurous adults who don't mind getting wet. Be sure to bring a change of clothes if you want to visit one of the nearby restaurants afterward or shop for Texas souvenirs!
Price: free
9: Feed the ducks at Trinity Park
Trinity Park is a wonderful place to spend time on a nice day when the weather is warm. The park is home to lots of ducks that are always happy to be fed. Just make sure to bring actual duck food rather than bread crumbs, as it's healthier for the ducks. Enjoy an afternoon relaxing under the large shade trees, bring a picnic basket, or let the kids run and play at the Dream Park, an all-inclusive playground in Trinity Park where kids of all abilities can let their imagination lead.
Price: free
10: Explore the Trinity Trails on foot or bike
The Trinity Trails are great for those looking for scenic walking and hiking trails in Dallas-Fort Worth. These free, public trails extend more than 100 miles and are great for those looking for fresh air and exercise! The system of trails takes you along the Trinity River, through the city and numerous parks.
In recent years, the trails have also become a popular place for geocaching. In fact, there are more than 30 geocaches hidden along the Trinity River.
Price: free
11: Paddle board on the Trinity River
As Fort Worth has grown into a more trendy, urban area, it has naturally attracted more residents who are interested in outdoor activities designed for both wellness and recreation.
Paddle boarding and kayaking are two activities that have become more popular in Fort Worth over the last few years. If you own your own paddle board or kayak, you can take part in these free Fort Worth things to do along the Trinity River.
You can also rent paddle boards, paddles, kayaks and life jackets from Panther Island Pavilion for a small fee if you are visiting and want to spend a few hours on the river.
Price: Free if you have your own paddleboard. |$15 to rent paddle board, paddles, and life jacket
12: Check out quirky public art and restaurants on Magnolia Avenue
Staying true to its nickname, Funky Town, Fort Worth has a budding street art scene. There are several neighborhoods where the street art particularly stands out, and Magnolia Avenue is easily number one.
The Magnolia district which was once riddled with crime and falling into disrepair, has gone through a transition in the last decade. This hip area of town replaced graffiti with colorful murals and empty storefronts with vegan and fusion restaurants and locally owned boutiques. Wander the streets and take your time finding the best murals, then stop in for lunch at one of the local restaurants.
Price: free
13: Watch actors in authentic 1800s closing showcase life on the frontier
For another glimpse at Fort Worth in the mid 1800s, visit the Log Cabin Village. This historic site is one of the best things to do in Fort Worth with kids.
Actors in authentic period clothing give visitors a look at what life was like on the frontier when Fort Worth was first founded. It is a great, inexpensive way to learn more about Fort Worth's incredible history and life in the mid-to- late-1800s.
Price: $7 per adult | $6 per child
14: Learn to two step at a family-friendly Texas Honky Tonk
Fort Worth is home to the largest dance hall in Texas. And there is no place better in all of Texas to learn how to country western dance than Billy Bob's in the Fort Worth Stockyard.
The dance hall is a true Texas-sized honky tonk, with 100,000 square feet of entertainment space. It has hosted concerts by the largest names in country music. While tickets to concerts come with a higher price, to visit Billy Bob's on a normal day, the cover charge is minimal. The Fort Worth dance hall allows children if accompanied by a parent or guardian. We recommend going in the afternoon if visiting with kids. At night, the atmosphere is very much like a traditional bar.
Price: $3-$6 depending on the day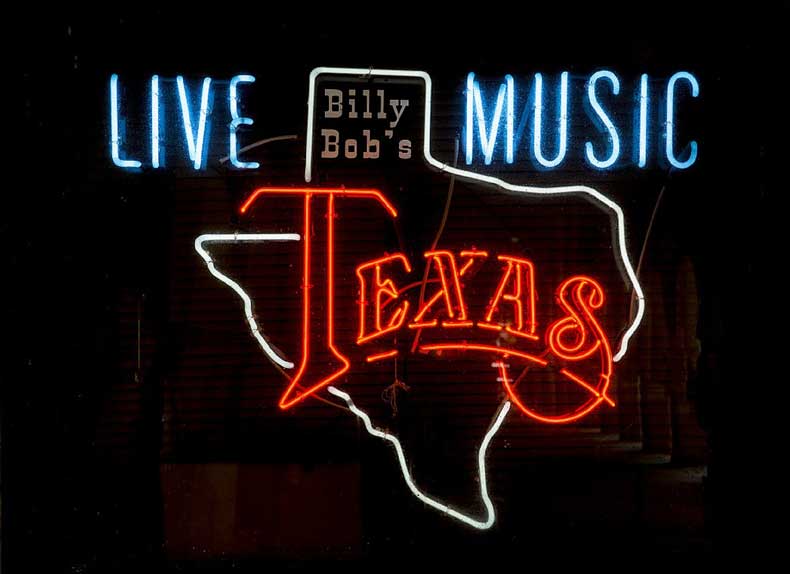 15. Kimbell Art Museum
Although we don't tend to visit many art museums when traveling with kids, the Kimbell Art Museum is worth a visit. The museum features art from all over the world including famous works from Asia, Africa, and Europe.
You'll see dozens of paintings including Girl on the Pier by Edvard Munch. The famous Norwegian artist is best known for painting The Scream, which is on display in Oslo, Norway.
The free museum also features ceramics and sculpture art, some of which were created by the links of Bourdelle and Picasso, who created some of the most famous sculptures in Europe.
Price: Free (although special exhibitions and programs often require a ticket fee)
16: Visit the Fort Worth Botanic Garden
The Fort Worth Botanic Garden features 110 acres of beautiful green space that you can roam through and explore. The outdoor area just west of downtown features 2,500 types of plants over a variety of different gardens, including the cactus garden, vegetable garden, rose gardens and rainforest conservatory. You'll find pathways lined with flowers and other pollinator plants, native grasses, and groves of trees.

Although portions of the botanic garden were once free to visit, there is now an admission fee. But that fee grants visitors access to all areas of the gardens, including the Japanese Garden, which is one of the most popular attractions in the gardens. To avoid the fees, however, you can check out a Botanic Pass from the Fort Worth Public Library. You will need a library card in order to do so
Price: $12 per adult | $6 per child ages 6-15 | Free for children 0-5 years old | Free if you check out a Botanic Pass from the Fort Worth Public Library
17:Attend a festival in Sundance Square
As previously mentioned, Sundance Square plays host to lots of different events and festivals throughout the year. There always seems to be something going on in this bustling city center. From the popular Main Street Arts Festival to music and even film festivals, there are some great community events that take place annually in Sundance Square. The best part is that many of them are free to attend!
Although many of the festivals are free to attend, the food, drinks, and various vendors come with a cost.
Price: varies by event but often free
18: Watch the Cowtown Opry perform live in the Stockyards
The Cowtown Opry Club is a group of performers dedicated to upholding the musical heritage of Texas. The group performs free on Sunday afternoons in the Historic Fort Worth Stockyards. Depending on the weather, you'll find them performing on either the porch or in the lobby of the Livestock Exchange Building.
If you're lucky enough to catch a performance, you'll hear a mix of country western music, old cowboy ballads, and western swing songs.
Price: free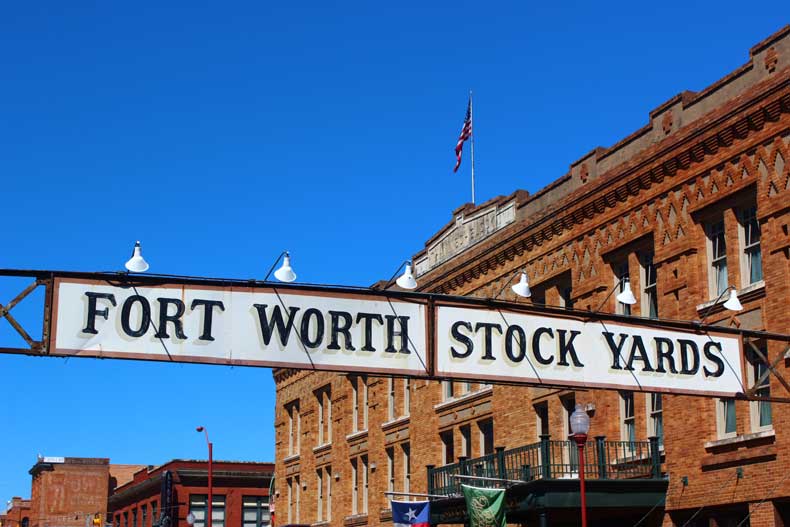 19: Visit the Fort Worth Zoo
Although the zoo is not a free activity in Fort Worth, it is still one or the best things to do in FTW. On Wednesdays, admission is half price making a more affordable activity.
The Fort Worth Zoo has been named one of the best zoos in the United States due to its high standard of animal care and guest enrichment. So, if time and money allow, the zoo is one of the best things to do with kids in Fort Worth.
The zoo is home to 68 endangered species and 542 total species. Guests will particularly want to check out the elephant exhibit, as the Fort Worth Zoo leads the world in conservation efforts of the Asian Elephant.
Price: $16 adults | $12 kids | Admission is half price on Wednesdays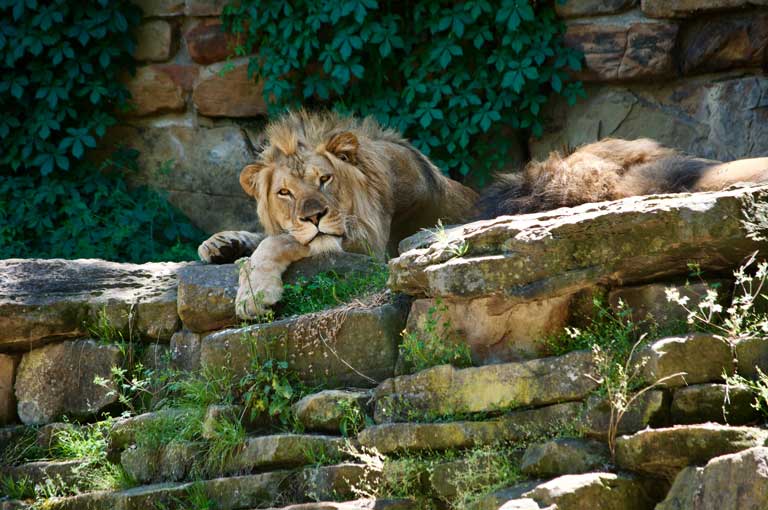 20: Take photos in a patch of bluebonnets
If visiting Texas in springtime, one of the best free things to do in Fort Worth is to find a patch of Bluebonnets and do an impromptu photo shoot. Bluebonnets are a type of lupine wildflower that now grows native in Texas. You'll find bluebonnets across most areas of Texas. In fact, you can find patches of these vibrant blue or purple flowers growing along the sides of highways, roads and around area lakes.
If you want to see one of the most impressive displays of Texas Bluebonnets, head southeast of Fort Worth to drive the Ennis Bluebonnet Trails.
Price: free
21: Check out western art
Located in Sundance Square, the Sid Richardson Museum may not be one of the most exciting activities in Fort Worth for kids, but it is still one of the best free things to do in Fort Worth, Texas!
This art museum features permanent and special exhibitions from some of the most notable Western artists and painters. The art tells beautiful stories about the indigenous people of the American west, cowboys and life on the frontier. In many ways, it is both a history lesson and an art lesson.
You can stop in and take a self-guided tour. For larger groups, request a guided tour on their website with an option for a hands-on studio experience for kids.
Price: free
22: Explore and learn at the Fort Worth Museum of Science and History
Like the zoo, the Fort Worth Museum of Science and History is not free, but for the amount of time you will likely spend at this incredible museum, the price – while moderate – is actually well worth it.
The museum offers various permanent exhibits including a dinosaur exhibit, an innovation studio where kids can invent, design, and doodle, a children's museum that lets children play and learn, and a space exhibit. Admission to the Fort Worth Museum of Science and History also includes admission to the planetarium, which is especially fun for space-loving kids!
Price: $16 per adults | $12 per child
Have you been to Fort Worth, Texas? What are your favorite inexpensive or free things to do in Fort Worth? We'd love to hear from you! Let us know in the comments below.
Like it? Pin this list of free things to do in Fort Worth Texas to save it for later!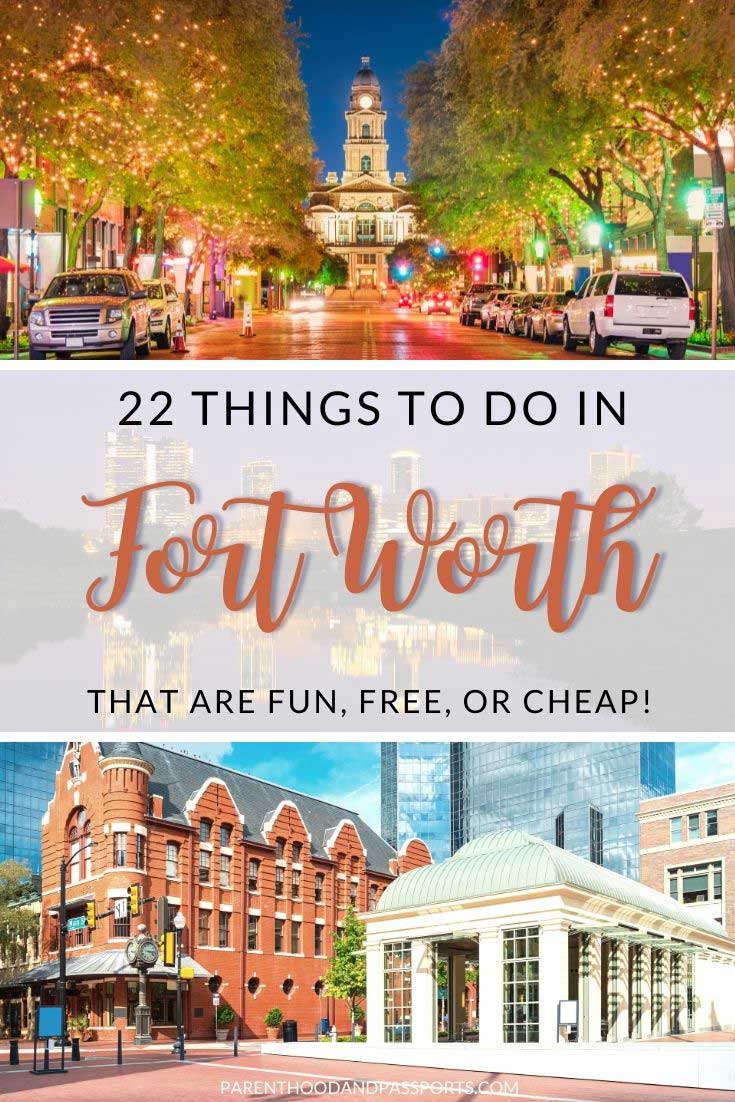 This list of inexpensive and free things to do in Fort Worth was first published in March 2018 and was updated in November 2021 for accuracy and current information.