Planning a trip to the city on water and wondering what to do in Venice, Italy? Here are 8 unmissable experiences and things to see in Venice, Italy!
Venice, Italy is one of those magical places that I still can't believe actually exists. People who have visited Venice usually either love it or hate it.  I knew I would love Venice before I ever stepped foot in Italy.
The island city built on water has fascinated me since I was a child. So naturally, the first time I ventured across the pond from the United States to Europe, I had to go to Venice.
Venice is one of the more pricey cities to visit in Italy, mainly because it caters to tourists which ultimately drives the cost up. However, we found plenty of inexpensive and even free things to do in Venice, Italy to keep us entertained during our short stay.
If you are looking for a few ideas for what to do in Venice, Italy, we've laid out our top 8 favorite experiences in Venice to ensure you have a great time.
Although Venice is usually extremely crowded, particularly during the summer months or tourist season, if you visit in the off-season you'll find fewer people and possibly have a better experience.
How to get to Venice, Italy
Venice, Italy is easily accessible by plane, train, or cruise. If flying into Venice, Italy, you will likely arrive at Marco Polo Airport, located five miles north of Venice on the mainland of Italy.
From the airport, you can either take a water taxi directly to your hotel, a water bus to the nearest stop, or take a land taxi or shuttle bus to Piazzale Roma, the only place in Venice that is reachable by car.
This is also where you will find the main train station in Venice, Stazione di Venezia Santa Lucia, if you are arriving or departing by train. It is worth including Venice on any Italian vacation itinerary. 
Many people visit Venice as a day trip from Florence or Milan. It is also extremely easy to get to Venice from Verona.
Although, if planning an Italy vacation and time allows, plan to spend a couple of days in Venice, at least one day in Milan, a few days in Florence, and possibly up to a week in Rome. Venice was our second stop in Italy.
We trained down through Switzerland, into Milan and across Northern Italy to Venice as part of a Switzerland and multi-city Italian itinerary.
Getting around Venice, Italy
There are no cars in Venice, but there are still several options to get around the city. Venice does have both public and private transportation, but it all takes place on the water.
Water ferries or vaporetti
Much like a city with streets has a bus route, Venice has a water ferry route.
Their water ferries, also known as vaporetti (or vaporetto in the singular form), are like public buses that take you to various stops along the Grand Canal.
You can buy a one-time pass on a vaporetto, a day-pass, or a multi-day pass at the little kiosks outside the train station or at the ferry stops. They do take a credit card, so no need to have cash on hand.
Water taxis
If the water buses are like public street buses, the water taxis would be like an actual taxi offering a ride in a private boat. They are smaller, motorized boats, similar to what you would see on a lake, that can carry small groups of people along the Grand Canal. They need to be booked in advance, usually.
We personally did not use this form of transportation because we found the vaporetti system so convenient. However, if arriving at Marco Polo Airport, a water taxi transfer directly to your hotel is a great introduction to Venice.
Gondola
When you think of Venice, images of long, paddle boats with a singular operator may come to mind. Sure, it's pricey to take a gondola ride in Venice, but when and where will you ever have the opportunity to ride in a gondola again?
The small banana-shaped paddle boat will take you through some of the smaller, more charming canals in Venice, Italy. The gondola operator may even serenade you with an Italian song.
Walking
The canals of Venice are beautiful but so are the streets. Spend some time walking around, exploring and getting lost in this amazing city.
You can join a guided walking tour of Venice or just wander aimlessly with no agenda. If you choose the latter, no matter how prepared you are, and even if you have a map, you will get lost. Embrace it. It's part of the experience.
Traveling to Venice, Italy with kids
Children will love the fairy-tale feel and maze of narrow passageways that make up Venice.
If you are traveling with small children, one thing to note is that it isn't the most stroller-friendly of cities. There are a lot of small bridges you will have to cross that only have stairs, and the streets are not all paved. Many are brick or cobblestone, so pushing a stroller won't always be smooth.
Instead, wear your baby or toddler in a travel carrier when he or she gets tired of walking.
Safety in Venice, Italy
When it comes to safety information, always look at current travel advisories and recommendations from your country's state department or government.
While we felt completely safe in Venice, safety information is anecdotal, and we can only speak to our experience.
As with any tourist city, petty crimes, pickpockets, and peddlers exist in Venice, too.
You should always be vigilant of your surroundings regardless of where you are, but you don't have to worry about getting lost in the "wrong part of town", so to speak, when you are in Venice.
Just watch your phone, purse, and wallet and you should be fine.
What to do in Venice, Italy
There are definitely a few must-see attractions in Venice, Italy that you will not want to miss. 
If you only have one day in Venice or just a few days to spend sightseeing, you will likely want to stay somewhere within walking distance to a lot of those attractions.
Although it is one of the more expensive cities in Italy because it appeals to tourists, it is still possible to visit Venice on a budget.
Several of the things on this list of what to do in Venice, Italy are free or cost a very minimal amount of money.
The number one thing to do in Venice is to simply enjoy the unique atmosphere of the city, and here are the eight best places and ways to do that.
1. Visit San Marco Square at night
San Marco Square, or Piazza San Marco, is the central gathering place in Venice, Italy. Make a point to visit the square during both the day and at night.
You will be amazed at how different the same place can feel.
At the eastern end of the piazza stands St. Mark's Basilica, which is a gorgeous cathedral, like all cathedrals in Italy seem to be, and one of the most notable churches in Europe.
The cathedral, also known as Basilica di San Marco, holds the remains of St. Mark, which were stolen in the 9th century, found in Egypt, and smuggled back to Venice.
The interior of the church boasts splendid mosaics, frescoes and paintings.
In addition to the stunning cathedral, San Marco Square is home to Doge's Palace. The palace and Venice landmark was once the official residence of the doge of Venice, the governing authority in Venice for more than 1,000 years.
The plaza is always busy with street entertainers, tourists, and vendors. Just outside of San Marco Square, the small streets that branch off are filled with shops selling everything from Murano glass to Venetian masks.
You'll also find a variety of high end retailers and a lot of restaurants and delicious gelato shops.
2. Take a photo atop the Rialto Bridge
The Rialto Bridge in Venice, Italy is one of the most famous bridges in Europe. It extends across the Grand Canal of Venice connecting the two sides of this island. But the bridge isn't simply a means of getting from one place to another, the unique architecture of the Rialto Bridge makes it aesthetically beautiful.
Construction on the bridge began in the 16th century, making it the oldest of the four bridges that cross the Grand Canal, or Canal Grande in Italian.
Tourists are drawn to the bridge and often pause for a quick photo at the top because it offers spectacular views of the Grand Canal.
Viewing the bridge itself is best done by water. You will get a great view of the bridge from any water taxi or boat along the Grand Canal, which is the main and largest waterway in Venice.
The Rialto Bridge is also one of the most widely used water taxi or vaporetto stops, so you can always take a vaporetto to the bridge, get off there and walk up to the top to enjoy the view.
3. Steal a kiss at sunset under the Bridge of Sighs
The Bridge of Sighs is another beautiful, historical, and legendary sight to behold in the city of Venice, Italy.
History of the Bridge of Sighs
Historically, the enclosed bridge was once connected to the city's prison.
Supposedly the last view of Venice convicts had prior to imprisonment was through the small square windows on this lovely bridge.
It gets it's name from the sigh of grief prisoners would let out upon seeing freedom for the final time.
Although the history is mildly – if not greatly – depressing, there is also a local legend associated with this bridge that isn't as melancholy.
Legend has it that if lovers kiss underneath this bridge at sunset while riding in a gondola, they will be granted eternal love and bliss.
While we didn't test out the legend, we did get to see this lovely bridge at sunset. Perhaps this legend is one of the reasons many people consider Venice to be one of the most romantic places in Europe.
4. Watch artists make blown glass on the Island of Murano
Murano is a small island located about 10-15 minutes away from the mainland of Venice. It is worth the water taxi or water bus ride over to explore the less crowded island and see some beautiful glass art.
On the island, you can watch glass artisans make blown glass sculptures for a very small fee.
It only costs a couple of dollars to watch the demonstration. Afterwards, you are escorted to a glass showroom, where you will likely encounter some persistent sales people.
You can also schedule a tour to Murano that picks you up at your hotel and takes you to Murano for a tour of the glass factories.
About Murano Glass
Murano Glass is known worldwide. It is beautiful and elaborate and has been made on this small island for approximately 1,500 years!
Acclaimed for its craftsmanship, vivid colors, and unsurpassed quality, Venetian glass made in Murano is easily a keepsake to pass down, and is one of the top souvenirs to bring home from Italy.
We chose to go to the island of Murano by vaporetto. Once there you can pop into one of the demonstrations to watch them blow the glass into beautiful art.
The process is fascinating and fun to see in person. The guides then escort you into the showroom where you can look around, purchase something, or simply leave to avoid sales people. 
5. Explore the colorful island of Burano
Burano was our personal favorite Venetian island! If you have a couple of days in Venice, plan to spend one day visiting Murano and Burano. You can take a vaporetto to this exquisite, colorful island, as well.
Burano is a small fishing village, and the homes are all brightly painted.
The vibrant colors were originally intended to help fishermen returning home in the fog find their house among the canals of buildings. But now, this charming village is more of a tourist attraction than anything.
With that said, it is way less crowded than the streets, walkways and canals on the main portions of Venice.
You will find plenty of small restaurants and shops in Burano.
The small island also sells beautifully crafted lace products. But, the main draw is simply the colorful island's photogenic appeal.
Spend a few hours in Burano, walk around, have lunch, and take lots of pictures. The island is small so even if you get lost, you will quickly find your way back to the main canal and eventually the water bus stops.
The best way to get to Burano is by vaporetto, although you can also book a tour or private transportation to the island.
You can purchase a day pass for the vaporettos which stop fairly regularly in Burano throughout the day. And you can easily visit both Burano and Murano in one day.
But if you are wondering what to do in Venice to escape crowds, you'll want to leave the main area of Venice and visit the smaller islands.
6. Visit San Maria della Salute
For those who are intrigued by the time period when the black plague swept through Europe, a visit to San Maria della Salute, commonly called the Salute, is a fascinating experience.
The cathedral, known in English as Saint Mary of Health, was built beginning in 1631, as an offering to the Catholic Saint of Health after the devastating plague swept through Venice killing nearly a third of the city's population.
Inside the chapel, much of the art you will see reference the Black Death. 
San Maria della Salute is located across the Grand Canal from Piazza San Marco and is one of the most recognizable buildings on the Venice skyline.
7. Climb the bell tower at San Giorgio Maggiore
A small island south of the main island group in Venice, San Giorgio Maggiore is another unique part of the city to visit. The church on the island by the same name, is another important landmark in the city.
The cathedral, which was completed in 1576, contains various famous paintings and masterpieces throughout its three floors.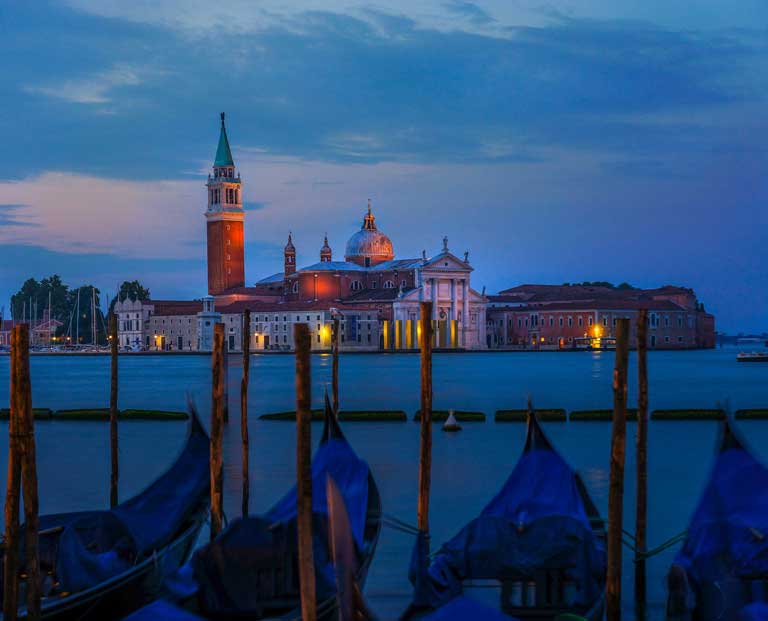 But the church's bell tower is perhaps the biggest draw for visitors who make the quick vaporetto ride to the island.
From the observation deck in the tower, you will have epic views of the main portions of Venice.  
8. Get wonderfully lost
Venice, Italy is a maze… It is a grown up maze!
The streets vary in width, they dead end, they turn, they change names, they aren't well marked, and all of them are surrounded by buildings several stories tall preventing you from seeing landmarks or other familiar sites that might help you gain your bearings.
It is the perfect recipe for getting lost… and you will get lost in Venice.
Let me emphasize that: you will get REALLY lost.
You will get completely, wonderfully, wander-around-for-hours-and-have-to-stop-for-a-glass-of-wine lost. But don't let the thought of that stress you out.
Getting lost is actually one of the best things to do in Venice!
So, if you are wondering what to do in Venice, Italy – turn your phone's navigation app off, ignore the urge to open Google Maps, and let yourself wander and discover beauty around every corner. 
Why you WANT to get lost in Venice
Getting lost in Venice is part of the experience. Learn to embrace and enjoy it. You will discover new, magical things waiting down every narrow alley.
When we were in Venice, we laughed like kids again as we tried to figure out where we were. Even with a map in hand, we were clueless. But it was fun. And it was beautiful.
We wandered around, made wrong turn after wrong turn, and would stumble upon a quaint piazza or plaza, a quirky bookstore, or a beautiful church which was free to enter.
Unlike many of the churches in other parts of Europe, most of the churches in Venice are free to tour. 
Getting lost in Venice is not only a right of passage that every traveler who has ever been there talks about, but it is how you will find the best little restaurant or meet the nicest people.
You will find yourself far away from all the crowds centered around San Marco Square, and this is where you will fall in love with Venice.
Wandering aimlessly through the city is truly the BEST way to experience it.
Where to stay in Venice, Italy
There are so many places to stay in Venice that it can become overwhelming trying to select the right accommodations.
If luxury is your style, some of the best hotels in Venice are located right off the Grand Canal.
Ruzzini Palace
But if old-world charm and quiet elegance is what you seek, Ruzzini Palace Hotel is perfect!
Housed in a 18th century palazzo that was once the home of one of the most prominent families in Venice, Ruzzini Palace is a 4-star hotel with an incredibly romantic setting.
With a grand staircase and beautiful chandelier made from Murano glass, this hotel is a wonderful Venetian experience in and of itself.
You can access Ruzzini Palace from either the Rialto Bridge water bus stop or by private boat, which will drop you off directly at the entrance of the hotel.
If you choose to arrive by a water bus, write down or save the directions to the hotel on your phone or else you will get lost. And while getting lost in Venice is fun, you don't want to get lost while carrying all of your luggage.
The hotel rooms are well furnished and large by European standards. The bathrooms are nicely renovated, and come stocked with toiletries. Our room even had a large walk-in closet. Not a feature you find in many hotels.
And the view from our room was quintessential Venice!
Ruzzini Palace is approximately a 10 minute walk to the Rialto Bridge and to San Marco Square… That is, if you don't get lost.
The street side of the hotel is located in Santa Maria Formosa square, a quaint, little plaza where children play, and diners eat and drink at small outdoor cafes.
How long should you spend in Venice?
With all of the great things to do in Venice, Italy, it is worth spending at least three days exploring the city.
Although I've heard many complaints about Venice being overcrowded, expensive, and even dirty, I found it enchanting and unlike any other place on earth.
Although Venice can be crowded, that is expected in a tourist city and shouldn't stop you from visiting. But there are plenty of quiet canals and tiny alleyways where you'll feel like you're the only person in the city.
Let yourself wander, and chances are you will fall in love with Venice and enjoy your time there, as well.
Have a question or comment about what to do in Venice, Italy or visiting Venice with kids or do you have suggestions for other things to do in Venice? We'd love to hear from you. Leave your thoughts in the comments below!
Like it? Pin this list of what to do in Venice, Italy to save for later!
This Venice travel guide on what to do in Venice Italy was first written in 2018 but was most recently updated in June 2022 for accuracy and the most current travel information.