Prior to children, packing was a quick and easy process. We would throw a few clothes and the bare necessities in a carry-on and off we went. But packing for a baby is a bit more detailed.
Despite how small babies are, they require a lot of stuff! Thankfully, after a few rough trips without all the baby travel essentials, we learned from our mistakes. We have now practically perfected the art of packing as a family and know exactly what to pack for a baby and what to leave at home.
You don't need an exhaustive list of travel items for your baby, at least not for most trips. In fact, using this baby packing list, you can still manage to travel with only your carry-on luggage.
What to pack for a baby: the top baby travel essentials
When space is minimal, deciding what to pack for a baby (and what to go without) can be difficult. Having a packing list for your baby will ensure you don't forget anything important when you're traveling.
Keep reading for our complete list, or simply scroll to the bottom to get our free, printable baby packing list.
Baby travel essentials may vary based on your destination and length of stay
When determining what to bring and what to leave behind, the main things to consider is how long you plan to be away from home and where you are going.
If traveling abroad with your baby, keep in mind not every country has the same products or safety devices for children you'll find at home. But if you are just traveling to another city a couple hours away, you'll find all the same family-friendly conveniences to which you are likely accustomed.
Still there are a few key travel items you will definitely pack anytime you go anywhere with your baby.
Diapers, wipes, rash cream, baby wash, lotion, more diapers, sanitizer, a blanket, a pacifier, more diapers, baby food, formula, bottles, soap to wash the bottles, a kitchen sink to wash the bottles in… And that's just for a trip to the grocery store! Kidding… Kinda.
As parents, you want to be prepared should anything happen, but you also want to be practical and travel as light as possible.
A flight delay or an unexpected, extended layover may throw you a curve-ball, and you don't want to be stuck somewhere without the essential baby items needed for travel.
That's why we have created this handy packing list for traveling with a baby to make life easier for you. It includes all the baby travel essentials and nothing else. Most of these items are probably already in your diaper bag!
Note: This list covers the essential travel items for babies and toddlers up to about two years old. After the age of two, some of the items on this list may no longer be needed.
Packing list for baby – complete list of travel baby essentials
We hope this checklist helps you prepare for your next trip, whether it's to another country or to grandma's house. Keep in mind, if you need to save space, some items, like diapers, can usually be purchased at your destination.
When it comes to the travel essentials for a baby, we recommend bringing at least enough for the amount of time you will be in transition to your destination plus three days.
You never know what could happen. Layovers, cancellations, missed flights, or other unexpected changes can leave you stranded somewhere without access to a store to buy those items. And if something happens, you want to be prepared.
Even if you are planning to check luggage, some of these baby items should be carried in your carry-on bag so you will have them with you on the plane, or, even worse, if your luggage is lost.
Diapers, wipes, and rash cream
If traveling for an extended stay, you likely won't have to bring enough diapers and wipes for an entire trip. These items can usually be purchased at your destination.
However, as mentioned above, we recommend bringing at least three days worth of diapers and wipes in your carry-on bag. This typically means bringing a small package of disposable diapers and a pack of wipes with you.
Diapers can take up quite a bit of space in your bag. But don't worry, most of the other items on this baby packing list are much smaller.
Cloth Diapering?
If you exclusively cloth diaper your baby, traveling can be a bit trickier. While we cloth diapered at home, we chose to use disposable diapers when traveling.
If bringing cloth diapers, you will still want to be sure to have enough diapers for three days without laundering. You will also want to make sure your hotel or Airbnb has self-laundering facilities.
All those cloth diapers can be extremely bulky, hence why we always opted for disposable diapers when traveling.
Rash cream is a must whether you use disposable or cloth diapers. Even babies can get traveler's tummy, especially older babies who are already eating solid foods.
Changes in a baby's bowel movements when traveling are common and can lead to more frequent diaper changes and ultimately diaper rash.
To prevent or treat diaper rash, be sure to bring diaper rash cream with you on any trip.
This diaper rash cream is great for disposable or cloth diapered babies and is the only one we used.
Formula / Expressed Breast Milk / Baby Food Pouches
Unlike diapers and wipes, we do not recommend trying to buy baby formula or baby food at your destination.
Even if only traveling a few hours away, there is no guarantee your specific brand of formula or food will be available in stores at your destination. This is especially important if your baby must have a specialty formula or has a sensitive stomach.
You will want to bring more than enough formula for your entire trip, as your baby may require more than usual when traveling and you do NOT want to run out.
Note: If traveling to a country with unsafe tap water, only mix your formula with bottled water.
Exclusively breastfeeding?
Feeding on the go when traveling is even easier if you exclusively breastfeed your baby! However, you may still want to bring some expressed breast milk and your breast pump with you.
Whether you want to have an alcoholic beverage on a trip or simply want to give grandma the bonding experience of feeding the baby, there are several reasons why you may opt for a bottle instead of the boob.
Additionally, traveling can dehydrate you and throw your body out of whack. Your supply may temporarily slow or your baby may need more milk than usual to combat dehydration.
You may also get sick during your trip and not feel up to nursing, which means someone else may need to step in and give your baby a bottle. Like I said, there are a lot of reasons you may want to bring expressed breast milk or formula with you even if you exclusively nurse.
Be sure to check out our post on traveling with expressed breast milk, liquid formula, or baby food before your trip for our tips and airport security information.
When traveling with baby food, we recommend opting for baby food pouches instead of jars. They are perfect for planes or car rides since no spoon is required. Many babies can learn early on how to self-feed with a baby food pouch.
Bottles / Sippy Cups and Cleaning Tablets
Whether you formula feed, plan to give your baby a bottle of breast milk while traveling or your baby is old enough for water, you will want to bring some bottles or sippy cups with you on your trip.
Bring enough bottles or non-spillable sippy cups with you for a full day, and plan to wash them each night.
Note: If visiting a country where the tap water is not safe to drink, we recommend boiling water to wash your bottles or using bottled water. If staying in an apartment or Airbnb, boiling water won't be difficult.

In a hotel, you can typically ask for hot or boiled water from the concierge or room service to clean your baby's items. Running them through a dishwasher on high hear will also sanitize bottles, if a dishwasher is an option.
Most hotels and many Airbnbs do not provide dish soap. So it is best to bring some with you since you will need it to sterilizing your bottles each night.
You can bring a small reusable bottle filled with dish soap from home rather than buying a travel-sized bottle. In fact, we use reusable bottles for most of our baby products to avoid single use plastic.
Another option is to purchase bottle sanitizing tablets for your trip. These are so convenient when you are on the go!
Extra Pacifiers
If your baby uses one, a pacifier can be a lifesaver on a trip, particularly on flights when the cabin pressure can effect their ears during take off or descent.
You will want to pack multiple pacifiers! Babies will spit them out in some of the grossest places.
We aren't typically germophobic, but putting a pacifier back in our babies mouth after it has been on an airplane floor where thousands of people have walked or had their nasty feet is a no for me. 🤢
You also don't want to risk losing a pacifier during your travels and not having another one for the rest of your trip. Particularly if your baby is likes ours was and would only take one specific type of pacifier. If you're wondering this pacifier was the only one our baby would take.
Even with multiple pacifiers on hand, it is a good idea to bring pacifier wipes, too, for those clean-on-the-go moments.
Clothes
This may seem like an obvious item, but you want to make sure you bring enough clothes.
How many outfits should you bring when traveling with a baby? We recommend two baby outfits per day.
Babies are messy and will likely require a clothing change at some point during the day. If staying in a place with a washer and dryer, you can get by with only 3-4 days worth of clothes (6-8 baby outfits).
When our trips include multiple cities over several weeks, we always try to reserve a hotel or Airbnb with a washer dryer about every four days so we can do laundry and avoid having to bring a whole trip's worth of clothing.
You'll also want to bring two pair of pajamas, a cool pair and a warm pair.
Pajamas can typically be worn multiple nights in a row but you never know what the temperature or air conditioning will be like in your hotel room or apartment.
Note: be sure to pack at least one change of clothes in your personal item on the plane in case of an accident. If not, you may end up like us on our flight to Germany from the USA, with a baby in only a diaper for the whole flight. 😵
Also read: 10 items to have in your baby's carry-on bag
Socks and Shoes
Socks and shoes are a must for all babies when traveling, even if your baby isn't yet an early walker. They will keep their feet warm and protect them.
We recommend an easy and flexible pair of soft-soled shoes or moccasins for babies. As babies get closer to the toddler stage, they will likely need shoes with a firmer sole.
Plan to bring a couple of pairs of shoes in case one gets dirty, wet, or lost. Our daughter once lost a shoe at Tikal National Park in Guatemala half way through our trip. Luckily, we had another pair packed that she wore the rest of the trip.
Wet bag
You will need a way to store and carry dirty, soiled or wet clothes in your luggage while keeping them separate from clean clothes. A sealable wet bag is not only convenient, it is a baby travel essential!
While a Ziploc bag works, wet bags are reusable and machine washable, so you can just throw it in the washing machine with the rest of your laundry rather than tossing it in the trash.
Baby bath products
Babies have sensitive skin, so soaps provided by hotels may be too harsh for their skin. Additionally, hotel soap and shampoo will burn if it gets in your baby's eyes. You don't have to go out and buy travel-sized bath products for your baby.
Once again, we use reusable bottles and fill them from our larger bottles of baby bath and lotion that we have at home.
Medicine and first aid kit
We NEVER travel anymore without bringing medicine for usual ailments and some general first-aid items. We made this mistake once on a trip to China and ended up in a panic when we had to find the appropriate medicine and dosing requirements for our baby when everything was written in Chinese!
Now, we bring along infant pain reliever, gas drops, congestion or allergy medicine, antiseptic cleansing wipes and Band-Aids on every trip.
This kit has many of the baby medicine essentials mentioned above already included.
Infant Nail Clippers
If your trip is only a few days, you can probably skip this one and just clip your baby's nails before you leave. But if you plan to travel for 9 days or more, it's a good idea to pack your infant nail clippers.
Inevitably, on the trips we have failed to pack these, our baby ended up scratching her face at night. Those baby nails are sharp and grow quickly!
Nose Frida Nasal Aspirator
Air travel can cause babies to become extra congested. So can a change of environment, so you'll want a way to help clean out your baby's nose to help them breath comfortably.
The Nose Frida, while it may seem disgusting, works better than any bulb aspirator on the market. Seriously, this is an essential baby item for travel or at home.
Sanitizing Wipes
While you could use a baby wipe to wipe down high-touch surfaces in airplanes, hotel rooms, or restaurants, they won't do much in the way of sanitizing.
Nowadays, we are much more sensitive to germs when we travel. So a pack of sanitizing wipes are always in our carry-on bag and day-pack when traveling.
Sound Machine
When staying in a hotel or even an Airbnb apartment, you never quite know what you can expect.
Will the hotel be on a noisy street where the sound of car horns and revving engines continues through the night? Will there be loud guests in neighboring units who return to their room at 3am? You never know until you are there, so you want to be prepared so your baby can sleep soundly.
For this reason, a small, compact sound machine is a must. It will help your baby sleep better in a hotel.
Crib Sheet and Comfort Item
Along the same lines of improving your baby's sleep, we recommend bringing a crib sheet or pack n play sheet from home, if you plan to use the crib or pack n play provided by the hotel.
This extra step will bring the smell and comfort of home with you on your trip, giving your baby the feeling of familiarity in a new environment. If your baby has a special blanket or comfort item, like a lovey, you will want to pack that, as well.
Travel already disrupts a baby's sleeping pattern, so anything you can do to emulate home will help your little one sleep better in a new environment.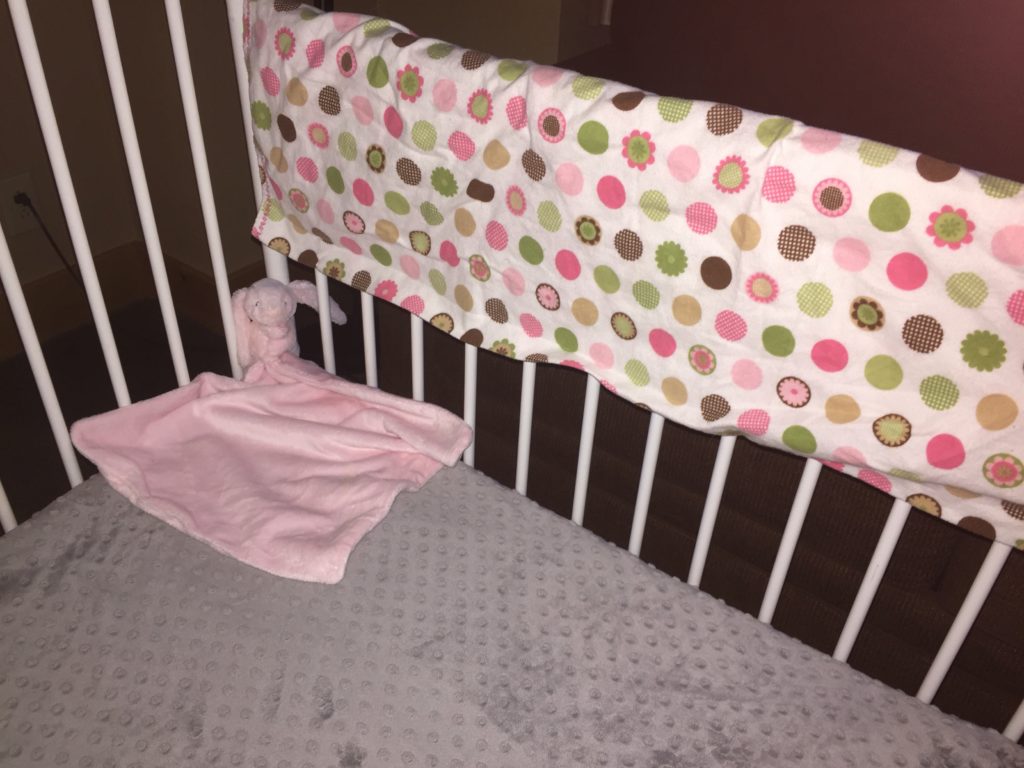 Swaddle Blanket
Whether your baby sleeps swaddled or not, a lightweight, muslin swaddle blanket is one of those travel baby essentials because of its versatility. They make for great covers when nursing on a plane or in public.
Slightly larger than a typical receiving blanket, swaddles are also great to lay out on an airport floor to create a little play area for your baby or to cover a changing table or other area for diaper changes.
Plus, the light, breathable fabric are great even in hot weather climates.
Travel Toys and Books
Any time you are flying with a baby or flying with a toddler you will want to make sure to have plenty of entertainment on the plane. Be sure to pack a few of your babies favorite toys or books.
We also like to bring at least one new travel toy and introduce it on the flight as a new toy tends to keep a baby's interest longer.
Baby Carrier
While some might consider a baby carrier as "travel gear" rather than a baby "travel essential", after countless trips with a baby, we will argue a baby carrier is a must! Strollers can be bulky, and not all streets or places are stroller-friendly.
But a baby carrier, like the Ergobaby 360, keeps your baby comfortably and safely close to you while allowing you the convenience of being hands-free while you sight-see.
Also read: best baby carriers for travel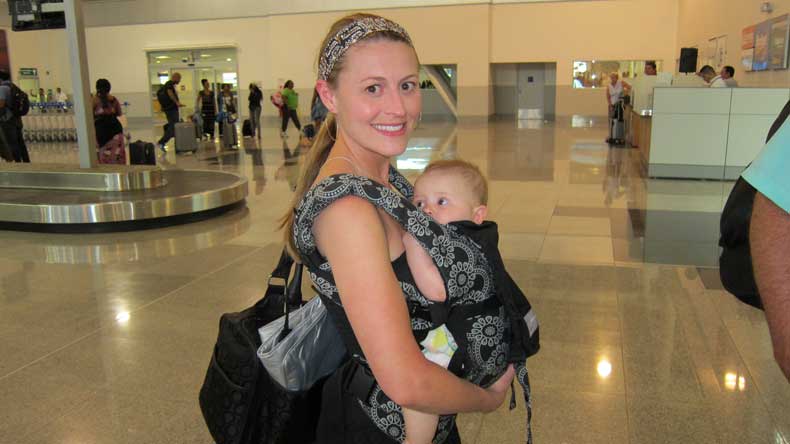 Your Camera!
OK, so this one is actually for you rather than your baby, and it is probably a no-brainer. But you will look back and cherish every trip with your baby forever, so pictures of your family travels are priceless.
Travel gear to pack for a baby
Depending on where you are going you may want to consider bringing along travel gear. I don't necessarily consider all of these baby travel essentials, as many of them can be left behind.
You can often get by without things like a travel crib, portable high chair, collapsible travel stroller or even a car seat. Hotels and rental car companies often provide cribs and car seats, and if you bring a baby carrier, which we do consider essential, you won't need a stroller.
Travel gear may be beneficial if you'll be staying somewhere for an extended amount of time or traveling to a destination where these things are not provided, but most of the time you can get by without them. If you do need to bring travel gear with you, we do have links to our recommended products below.
How to pack for a baby
It takes days of thoughtful planning, list making, and even shopping to pack for the tiniest human in our household. That's why we did a lot of the work for you by making this list!
Depending on the season, you can often pack everything for you and your baby in just a small rolling suitcase or a large travel backpack. In winter, packing requires a bit more work (and more bulky stuff), especially if packing for a ski trip.
Besides your baby's daily clothes and essentials listed above, in winter you have to bring boots, gloves, hats, and coats. All that extra stuff takes up a lot of room in a suitcase! In those instances, you likely will need to bring a larger rolling duffel bag or full-size suitcase and check your luggage.
There are also a unique set of travel necessities for your your baby if planning a beach vacation. Things like sunscreen and swim diapers would be considered beach essentials.
See our complete list of beach essentials for baby here.
Packing tips to travel light with your baby travel essentials
Our years of backpacking prior to having a baby made us extremely organized packers.
Here are a few tips we've learned over the years to save space and make packing for a baby easier.
Roll clothes instead of fold them
With baby clothes, we like to roll entire baby outfits (pants and shirt) together. Baby outfits are much smaller and compact, so they roll nicely as a set.
This not only saves room, but it makes selecting an outfit each day easier.
Stuff baby socks or other small items inside adult shoes
Small items like baby socks can be stuffed inside any adult shoes packed in your suitcase to save room.
Invest in packing cubes
We were packing cube skeptics for many years. But after we had a baby and began sharing a suitcase, packing cubes became a lifesaver!
Packing cubes help everything stay organized in our luggage and keep our clothes separate from baby clothes.
This packing cube set comes with a laundry bag and a shoe bag to keep everything organized and CLEAN!
Stay in an apartment with a washing machine
We mentioned this above, but it bares repeating. If you want to travel light with a baby and only being the baby travel essentials, you will want to stay in a place with a washing machine at least every 4 days.
This will greatly cut down on the number of clothes you have to bring, not only for your baby, but for yourself, too!
Also read: Apartments vs. Hotels – the pros and cons of each for family travel
Shop like a local
Now that we travel with a tiny human in tow, one of our first stops on any trip, is to a general store or market so we can buy bulky items like diapers.
We often replenish baby snacks and even buy food to make for dinner at the apartment or hotel for those days our baby needs to go to bed early.
Have you traveled with your baby yet? If so, what baby travel essentials would you add to this packing list for babies? We'd love to hear from you! Let us know in the comments below.
Like it? Pin this list of baby travel essentials to save for later!