When planning our trip to southern Spain, there was one place that looked so dreamy, so magical, so picture-perfect that nothing was going to stop us from visiting: Ronda, Spain. Just writing the name of this gorgeous cliff-side village takes me back. The village looks like something out of a storybook or perhaps a real life setting of a children's movie. O.K., actually it is the setting of the children's movie, Ferdinand. It's a really cute movie. If you have kids, you should definitely watch it. But, I digress. Back to Ronda.
Ronda, Spain is a popular day trip from Seville, but I strongly recommend spending the night in Ronda, if possible. If you are wondering what to see in Ronda, Spain in one day, you can hit the top attractions in a day trip, but you may want to book a hotel or apartment for the night, anyway. You will want a full 24 hours in Ronda – if not more – to experience this small, yet alluring village to its full extent.
What to see in Ronda, Spain in one day
For a small village there are so many things to do in Ronda, Spain. If visiting Ronda on a day trip from Seville, you'll want to get there as early as possible. Many people rent a car and include Ronda on an Andalusia road trip. We arrived by train from Cordoba and decided to stay the night so we would have a full 24 hours in Ronda. But whether you get a hotel or not here are the top things to see in Ronda in one day.
Puente Nuevo
El Tajo Gorge
Baños Arabes
Puente Viejo
Casa del Rey Moro Water Mine
FIND THE BEST TOURS AND DAY TRIPS TO RONDA HERE.
Description and review of the top things to do in Ronda in a day
While everyone visits Ronda to see the iconic Puente Nuevo (New Bridge in English), there is so much more to see in Ronda then one bridge. In fact, Ronda is one of the most beautiful and popular white villages in Spain.
Puente Nuevo Ronda (New Bridge)
Undoubtedly, it is the top attraction in Ronda and with good reason. Puente Nuevo is beautiful. It is the type of bridge that you can stare at for hours. And I did, from the balcony of our apartment. Spanning a picturesque gorge that divides the village of Ronda, Puente Nuevo is 120 meters (393 feet) long.
In the 1700s the village was growing faster than its older bridges could handle. To address the overcrowding issues on its smaller bridges, they decided to build a larger bridge across the high gorge, directly connecting the two sides of the town. It took more than three decades to complete construction on the bridge, and sadly, dozens of people died in the process. The outcome though was spectacular and has made Ronda one of the most popular tourist attractions in southern Spain and one of the most famous bridges in Europe!
Cost: Free to enjoy!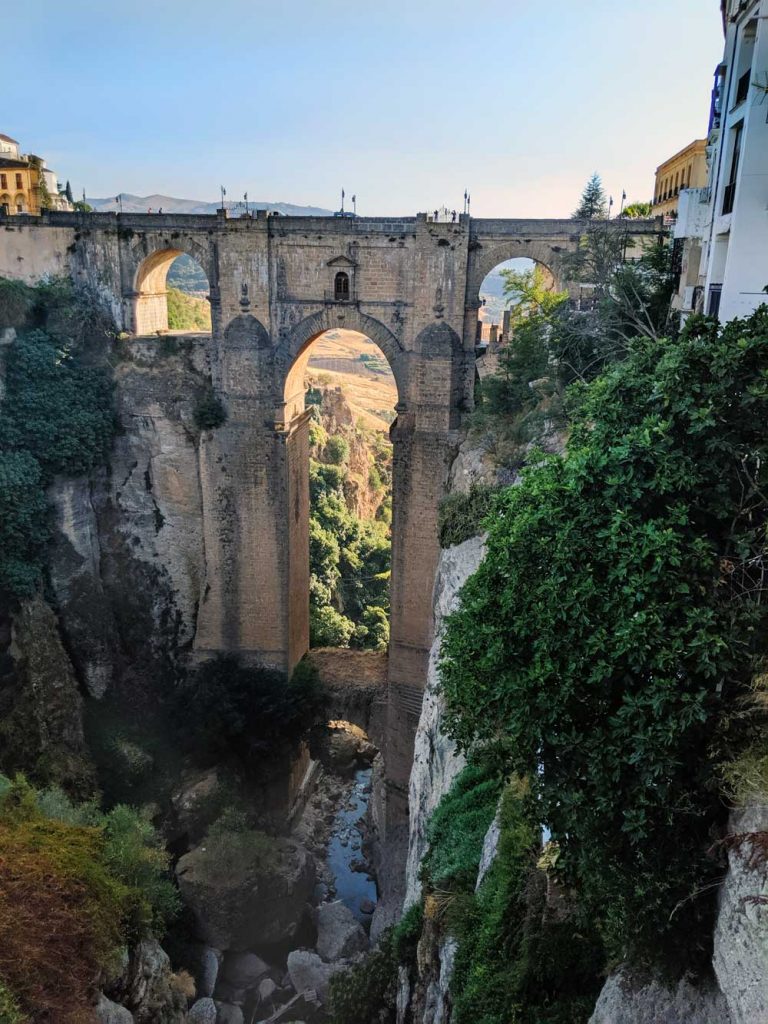 Hike El Tajo Gorge
Puente Nuevo extends across El Tajo Gorge. There is a beautiful hike to the bottom of the gorge which gives you a picture-perfect view of Puente Nuevo and the town of Ronda behind it. Since you have already started researching things to do in Ronda, Spain, it is likely that you have already seen a picture of the bridge taken from the small platform at the bottom of the gorge that people often hike to.The view from the bottom of Tajo de Ronda looking up at the town is considered one of the most beautiful landscapes in Spain.
The short hike isn't all that difficult, but keep in mind you do have to hike back up to the town, as well. The view is well worth it though! For the best view, hike the gorge at sunrise.
Cost: Only a little bit of sweat and possibly sore muscles.
Plaza de Toros de Ronda (Plaza of Bulls)
Ronda is the birthplace of bullfighting in Spain. While it is a controversial "sport" and one we personally find unethical and cruel, it is an important part of the town's history. Not far from Puente Nuevo, you will find Plaza de Toros, or Plaza of Bulls. At the heart of the plaza, is the still-active bullfighting ring, which you can tour along with the museum.
However, since we choose not to support bullfighting in any way, we skipped the tour. We have listed the price of admission below despite our personal stance, because not everyone shares our same views and we aim to be a resource for all travelers planning trips.
Even if you don't visit the bullfighting ring or the museum, the exterior plaza is still worth visiting. It is a lively place with vendors selling crafts and musicians performing for the crowds. There is a lovely garden area adjacent to the plaza that leads to the stunning outlook point called Mirador de Ronda.
Cost: Approximately $8.00 USD per person
Baños Arabes (Arabian Baths)
Once a thriving religious center for purification, the Arabian baths were a place where Moors, a group of Muslim settlers, would come to sweat out toxins and cleanse the body of impurities before entering the mosque. The ruins of the ancient Arabian bath house are available to tour for a small fee. A portion of the baths are underground, which is the most popular portion of the attraction.
Cost: Approximately $4.50 adults and $2 for children)
Puente Viejo de Ronda (Old Bridge)
Not far from the Arabian Baths, Puente Viejoo (Old Bridge in English) was the original bridge connecting the two sides of Ronda. The small bridge became impractical as the town outgrew it, which ultimately led to the construction of the unquestionably beautiful Puente Nuevo. Puente Viejo in Ronda crosses the water closer to the bottom of the gorge, and it is still an operational bridge, although it currently serves as a pedestrian bridge only.
Cost: Free!
Casa del Rey Moro Water Mine
Casa del Rey Moro in Ronda was one of the highlights of our visit. If you only have one day in Ronda and you're wondering what to see, don't miss Casa del Rey Moro. The water well is the main attraction at Casa del Rey Moro. The somewhat strenuous walk down the 231 steps that spiral down the well takes you to the bottom of the gorge.
After walking down, and subsequently back up the 231 steps, you will have a new appreciation for people who at one time used the well to access water and bring it back to their homes. While the walk is strenuous, if you are relatively in good shape you shouldn't have a problem. I was able to climb down and back up while wearing a 4-year-old. Although, at times I was regretting that decision!
Cost: $6 for adults | under 12 is free
Tips for visiting Ronda, Spain
Beyond just knowing what to do in Ronda, Spain, there are a few tips and things to consider to make your trip more enjoyable.
Give yourself more than one day in Ronda, Spain
You may be seeking information on what to see in Ronda, Spain in one day, but I recommend giving yourself more time in this charmingly beautiful village. If you try to cram all the activities above into just one day, you won't have time to simply relax and enjoy the views, which are some of the best views in the entire country! Sure, it's possible, but it isn't as enjoyable, and chances are you won't leave Ronda with the same nostalgic feeling of serenity that I have.
Spend at least one night
Many people visit Ronda as a day trip from Seville or Cordoba. But if you spend at least one night in Ronda, you will get to see the village after the other tourists leave. Plus, there is something so magical about Puente Nuevo at night when it is illuminated.
After the sunset, I sat on our balcony for hours, which had incredible views of the bridge. (Keep reading for our lodging recommendations if you are wondering where to stay in Ronda, Spain.) I had a glass of wine and just relaxed. Life stood still. It was a fantastic break in the middle of a jam-packed 2-week itinerary that took us around Spain Portugal and Morocco. We started in Lisbon, visited Sintra, Portugal, the Algarve coast, then on to Seville and Cordoba, Spain and Ronda, before finally across the Strait of Gibraltar to Morocco.
Make sure to try the wine
Ronda is in the heart of Spain's exquisite wine country known as Serrania de Ronda. So make sure you enjoy a glass of local wine during your visit. The region is known for delicious reds. Tempranillo is my personal favorite. Visit a small market and buy a bottle or two to enjoy at home, so you can feel like you're traveling even when you are home. The wine is not only delicious but it's relatively inexpensive. Bonus!
Book the apartment we stayed in… seriously just do it.
If I could live in this apartment, I would. This 2-story, 4 bedroom apartment isn't only luxurious and HUGE, it literally offers the best views in the entire village. See the picture above for proof! It can sleep a large family or an extended family traveling together. But even if traveling as a couple or a small family, it would be worth splurging just for the priceless views.
We decided to hit up the small corner store. We bought some meat, cheese, wine and other snack items and had dinner at the apartment simply because we didn't want to leave the balcony even for a short dinner. In fact, I didn't want to leave ever! If we have the privilege of returning to Ronda someday, we would book this exact same apartment in a heartbeat.
How to make the most of one day in Ronda, Spain
If you can't spend a night in Ronda but still want to visit as a day trip, it's important to make the most of your time. You'll want to get an early start to your day. Begin your sightseeing tour at Plaza de Toros before heading to the main attraction, Puente Nuevo.
From there, cross the bridge and head to Casa del Rey Moro, the Arabian Baths, and Puente Viejo.
Finally head back toward the Plaza de Toros, grab a bite to eat, and if time allows, hike to the Tajo Gorge viewpoint of the new bridge. This is a walking tour of Ronda, so no need for transportation. You'll be tired at the end of the day, trip, but you will have seen the best of Ronda, Spain all in one day.
Like it? Pin this guide to what to see in Ronda Spain in one day to save for later!
Have a comment or question about what to see in Ronda, Spain in one day? We'd love to hear from you and always try to respond to our readers, when possible. Leave your thoughts or questions in the comments below.