We may earn money or products from the companies mentioned in this post.
Traveling with kids has changed our standards when it comes to the type of lodging that we deem acceptable. I'll never forget backpacking through Europe before our daughter was born. We stayed in a hotel room that literally had a full-sized bed and nothing else. Our backpacks sat in front of the door to our room and we had to pick them up every time we walked out. The bathroom had a pocket door and was no bigger than an airplane lavatory. But the hotel was ideally located and within our budget. So at the time, it was perfect! That same perfect hotel room would never fly now. In fact, now that we travel with a toddler, we aim for apartments instead of hotels whenever possible. The extra space, amenities, and separate living area makes traveling with our daughter much easier. Of course, I always do my research and read online reviews before booking. I've been fortunate to never have had a bad experience. (Knock on wood.) But when determining where to stay in Kyoto, Japan, we ultimately took a leap of faith and booked an apartment that had ZERO online reviews. It was one of the best places we've ever stayed!
Where to stay in Kyoto, Japan
When determining where to stay in Kyoto, Japan, you have several options to consider. There are plenty of large hotels and western chains. You can also stay in a ryokan, which is a traditional Japanese inn that often includes communal baths or onsens. While ryokans offer guests a unique experience, we opted for even more privacy and authenticity and stayed in a traditional Japanese townhouse. If you are looking for an apartment or townhouse to rent for a few days or weeks in Kyoto, you can't go wrong with Rinn Gion yasakamae.
CLICK HERE TO CHECK PRICES AND BOOK YOUR STAY AT RINN GION YASAKAMAE.
Location of Rinn Gion yasakamae townhouse
Rinn Gion yasakamae is located in the heart of Gion, tucked away in a quiet alleyway. It's just a 7-minute walk from the metro station, which you can use to navigate around the city to the various tourist sites in Kyoto.
Gion neighborhood and nearby attractions
The Gion neighborhood is also known as the geisha district, because you can often catch a glimpse of a real geisha going to and from a performance or teahouse. Right outside of the townhouse is a quiet sushi restaurant where we enjoyed a lovely dinner. The staff was friendly, accommodating to our toddler, and the sushi chef took pride in the presentation of the meal. About a 3-5 minute walk from the townhouse you'll fins at one of the main streets in Gion: Shijo Dori and the beautiful Yasaka Shrine.
Checking in at Rinn Gion yasakamae
The check-in process for our townhouse was easy and the management staff was extremely nice. We arrived at Kyoto Station by train from Nara in the late afternoon. The check-in office was about a 10-minute walk from Kyoto Station. After checking in, a staff member will drive you to the apartment, give you a tour, and explain the rules and how things operate. The staff spoke great English and were all very professional and welcoming.
Rinn Gion yasakamae amenities
Upon walking into the townhouse, it was clear that we had made the right choice on where to stay in Kyoto. The place was pristine! And because it had not been on the market for long it was about ⅔ the price of the surrounding hotels, so it was a steal! The two-story townhouse can sleep six people comfortably and has a full kitchen on the first floor, so it would probably be too big if you are visiting Kyoto as a solo traveler, but it is the perfect size for families!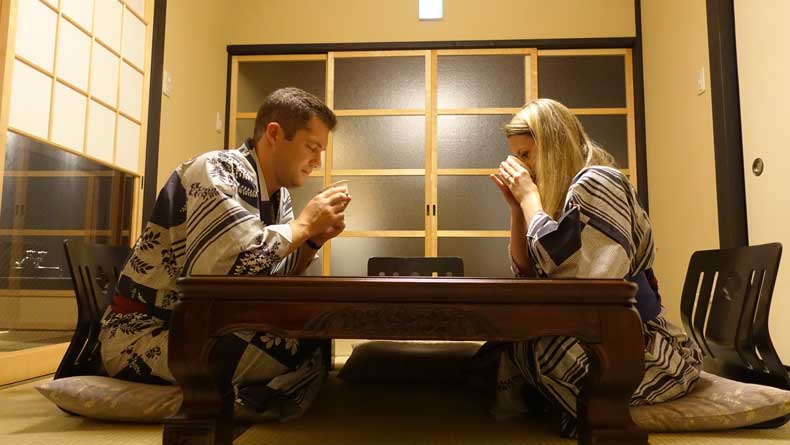 Like most Japanese townhouses, Rinn Gion yasakamae, has a small entryway where you are asked to remove your shoes and leave rolling luggage. This is a common practice in Japanese culture. Up a few steps was a bathroom with a washing machine, shower, and a separate outdoor tub on a private enclosed patio that opened to the tatami room.
The tatami room is a traditional Japanese style room with woven straw mats covering the floor. This room is typically used as a reception or family gathering space. You'll usually find a small table in the center of the room where you can have your morning breakfast or evening tea. You will also find complimentary lounge wear that you can use during your stay. This is also quite common in Japanese hotels, ryokans, or townhouses.
Upstairs were two spacious bedrooms separate by a sliding room divider. One room had two full-size beds. The other had a cozy futon mattress on the floor.
Across from the bedrooms was a small powder room with a toilet and sink. The toilets, like most in Japan, had various settings and temperature controls for the seat and the bidet.
What it's like staying in a traditional Japanese townhouse
Staying in a traditional Japanese townhouse was a unique experience. We had all the comforts of home with a dash of the culture. At night, we were able to relax in a soothing bath on our enclosed patio. It was like having our own private onsen just for our family. My husband and I were able to sit in the tatami room after our daughter went to sleep and enjoy a cup of tea. The entire experience was one of peace and serenity. The design, environment, and furnishings of the townhouse made me feel a sense of balance and tranquility, which rarely happens when traveling with kids.
Overall, I would recommend the Rinn Gion yasakamae townhouses to anyone, but it's especially beneficial to those who might need a little extra space, privacy, or are seeking a relaxing and quiet experience.
Have a question about where to stay in Kyoto, Japan or about our experience at Rinn Gion yasakamae? We'd love to hear from you! Leave a comment below!
Like it? Pin it!