When I was a kid, growing up in New Mexico, I lived a somewhat sheltered life. I grew up in a stable family with loving parents and a sense of security that every child should feel.
In the small town where we lived, kids could freely ride their bikes around the neighborhood for hours, only returning home when the sun started to set. I'm sure our town had its fair share of problems. I'm sure there were robberies, burglaries, and other crimes, but my innocent self simply wasn't privy to it.
My perspective of the world changed on April 19, 1995. That day will forever be etched into my mind. I was in the seventh grade. I remember getting out of school and walking home with my best friend, Sara, like I did every day. We went inside her house for an afternoon snack.
Her mom was sitting at the kitchen table watching the news. They had a small television in their eat-in kitchen. By today's standards that television would be bulky and antiquated, but at the time I thought it was so cool that they had a little TV in the kitchen. I remember the volume was much louder than it ordinarily would be, and Sara's mom didn't so much as glance up at us when we walked in.
She looked worried. Usually, she would ask about our day while making us a snack, and we would cheerfully fill her in on all of the seemingly relevant happenings at school. But that day was different. She didn't ask us about school. She didn't make us a snack. And when she finally looked up at us, I could see the concern in her eyes.
"Girls, something bad happened today," she said at last. "There's been a bombing." We sat down at the kitchen table and she told us about the bombing at the Alfred P. Murrah Federal Building in Oklahoma City, Oklahoma.
She told us that there were a lot of people killed including children. Sara and I sat with her mom at the kitchen table watching the small television as images of the building half blown away and firefighters digging in piles of rubble flashed across the screen.
It was the first time I realized that evil existed in the world.
My innocent mind couldn't understand why this happened. I couldn't understand why someone would want to harm – to kill – complete strangers. I look back at the Oklahoma City bombing and how it changed my perspective of the world. From that moment on the word "terrorism" was part of my vocabulary.
Sadly, terrorism has become an all too familiar word these days. Today's children are forced to come to the same realization that I did much earlier than the seventh grade. My daughter will grow up in a world where we are not only cautious when we cross the street, we are cautious when we go to airports; we are cautious when we go to tourist sites; we are cautious when we go anywhere with large crowds. She will grow up in a world where terrorism is a very real threat.
As fate would have it, I left that small town where I was raised and eventually moved to the Oklahoma City area. I now live in a town called Moore. It's a small suburb just on the outskirts of Oklahoma City. I've been to the Oklahoma City National Memorial many times. I take visitors there every time we have family or friends in town, too.
The Oklahoma City Bombing National Memorial
The memorial is one of the best places to visit in Oklahoma. It is located in Downtown Oklahoma City, not far from Bricktown, the city's tourism and entertainment district. It is quite beautiful and serene to visit. There is a shallow reflection pool that runs where the street used to. On each side of the pool, an archway stands. One archway reads 9:01, the other 9:03, one minute after the bomb exploded. In essence, it symbolizes how much can change in just minutes.
Metal chairs, one for each of the victims, line a grassy area next to the reflection pool where the federal building used to stand. There are 19 smaller chairs that represent the 19 children who died in the day care center on the second floor.
The museum is worth a tour, as well, if you are ever in Oklahoma City. Overall, it is very well done.
Today, people across our city, our state, and perhaps even our nation are remembering the anniversary of the Oklahoma City bombing. It's a somber day. More than twenty years ago, 168 people were killed.
Thousands of people lost someone they loved. A community, a nation, and a seventh grade girl were forever changed. Today, I mourn along with so many.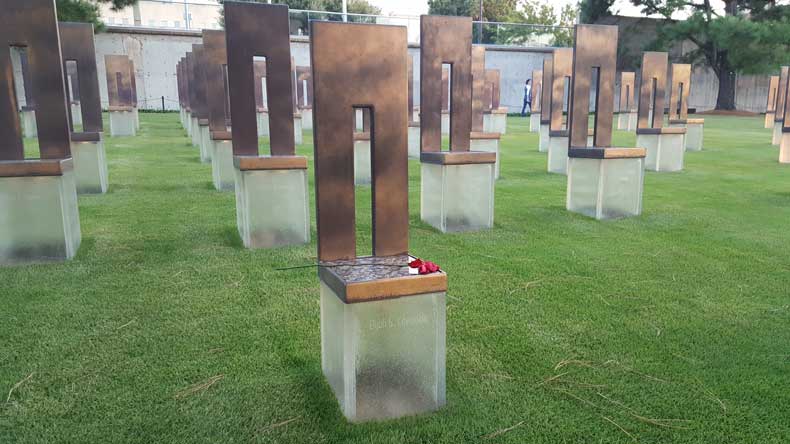 "We come here to remember those who were killed, those who survived and those changed forever. May all who leave here know the impact of violence. May this memorial offer comfort, strength, peace, hope and serenity."