There are few states in the USA with a better food identity than Hawaii. It is like no other state that I've ever visited, and Hawaiian food is just as unique as the state itself. So, if you are wondering what to eat in Hawaii, we're here to help!
I am by no means a food blogger. I don't spend hours researching the best restaurants before trips, and I rarely write about the food that I eat while traveling. However, something about all the unique, authentic Hawaiian dishes inspired me.
This guide to what to eat in Hawaii details 10 delicious Hawaiian foods to try in Oahu or any of the other Hawaiian islands.
About Hawaiian Food
Perhaps it is Hawaii's distance from the mainland that makes its food stand apart. Or maybe it's simply that the types of food found on the islands and in the ocean surrounding them make traditional Hawaiian food so differently delicious.
Hawaiian cuisine is a delightful fusion of diverse flavors. Known for its vibrant and tropical ingredients, Hawaiian food embraces the land and sea, offering a mouthwatering array of dishes.
The unique blend of influences from Polynesian, Asian, and European cuisines results in delightful creations. Fresh tropical fruits often add a burst of sweetness to Hawaiian dishes.
Eating Hawaiian food is a culinary adventure that captures the essence of this island paradise.
If you plan to visit Hawaii soon, I hope this list of the best things to eat in Oahu will tempt your taste buds and help prepare you for a culinary experience unlike any other place you'll visit in the United States.
Top 10 things to eat in Oahu (or any other Hawaiian island)
Although many of these traditional Hawaiian dishes can be found throughout the various islands that make up Hawaii, I have personally only visited Oahu, so all of these foods are things to eat in Oahu. Although I'm sure many of them are popular and available on the other islands, as well.
I cannot speak for all the islands, as I'm sure they each have a unique culture and identity. But some of the foods, particularly the fruits, are native to all the islands and can most certainly be found on all of them.
VISITING HAWAII? CLICK HERE TO FIND OUT HOW TO SEE THE BEST OF OAHU IN JUST 4 DAYS.
Malasadas
If there is one type of food I love most it is sweets. I have a serious sweet tooth, and when I travel I basically use it as an excuse to eat anything containing copious amounts of sugar.
So, in Hawaii I loved starting each day with a malasada from Leonard's Bakery, one of the best places to eat in Oahu.
These Portuguese-style donuts are soft, fluffy little pillows of goodness. Unlike traditional donuts, these deep-fried dough balls do not have a hole in the middle.
You can also get crème-filled or chocolate-filled malasadas in Hawaii if you are wanting something extra special or extra gooey.
Malasadas are topped off with a sprinkle of sugar and sometimes cinnamon.
Poke
I'm pretty sure I ate my weight in poke while I was in Hawaii. If you like sushi, you'll love poke. Poke (pronounced poke-ay) is a traditional Hawaiian dish consisting of diced raw fish in a bowl of rice.
It can be eaten as an appetizer or a main course and usually has other side items, like kimchi or soy beans, tossed into it.
Poke is extremely popular in Hawaii and is one of the yummiest things to eat in Hawaii, especially if you are a fish lover.
Finding poke in Hawaii won't be hard. If you're wondering what to eat in Hawaii, definitely try poke. Here are some of the best poke places in Oahu.
Kalua pork
If you've ever researched a luau, chances are you've heard of kalua pork. Kalua literally means "cooked in an underground oven".
The entire pig is prepared then buried in the ground. It is covered in banana leaves, vegetation, or wet burlap to trap in the smoke while the meat cooks for several hours.
At luaus the pig is then unearthed as part of the traditional Hawaiian celebration and feast. If cooked correctly, kalua pork is juicy, tender, and has a characteristic smoky flavor.
Loco Moco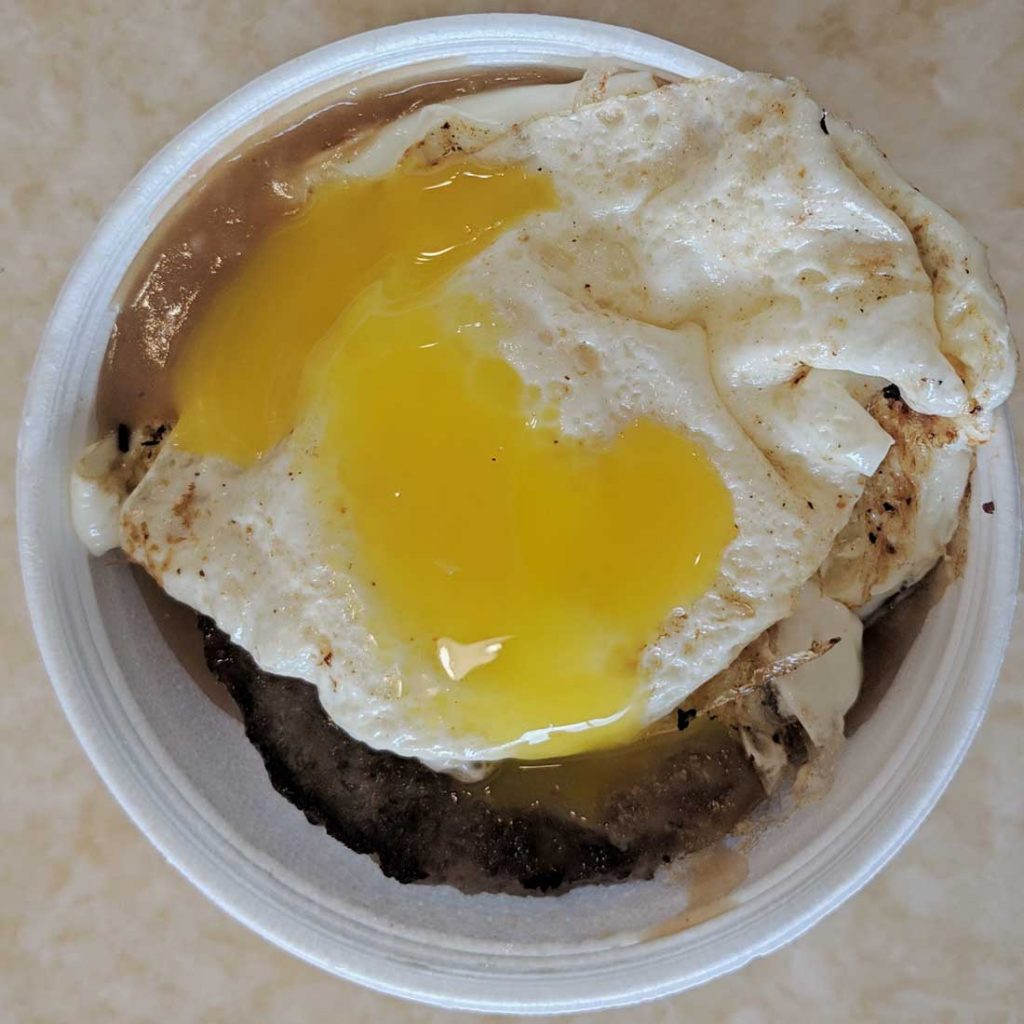 Loco Moco is as yummy as it is authentic to Hawaii. It is what I would consider "Hawaiian comfort food".
This contemporary Hawaiian dish consists of white rice, topped with a hamburger patty, fried egg, and brown gravy. I loved it!
The gravy adds a lot of flavor and moisture to the rice and mixes well with the egg yolk.
Just like any dish, Loco Moco has evolved over time. You can find interesting variations of the dish that include additional ingredients or substitutes for the meat patty.
Poi

Poi is a pale purple paste that comes from the root of the taro plant. The root is mashed and pounded until it forms a paste that can be eaten as a garnish or baked into bread or pastries.
Although I thought poi paste tasted like bland yogurt and didn't really care for it by itself, when baked into donuts I loved the taste and texture!
A poi donut's texture is more like a funnel cake and the donut didn't taste as sugary.
Acai bowl
Acai bowls are a healthier alternative to malasadas or poi donuts for breakfast in Oahu. Although not specific to Hawaii, these fruit-filled, superfood bowls are popular in Oahu.
Acai is a superfood that is packed with antioxidants and countless health benefits.
Originating from Brazil, acai bowls are made using frozen, pureed acai fruit. The purplish smoothie is served in a bowl and topped with other fruit and granola.
Manapua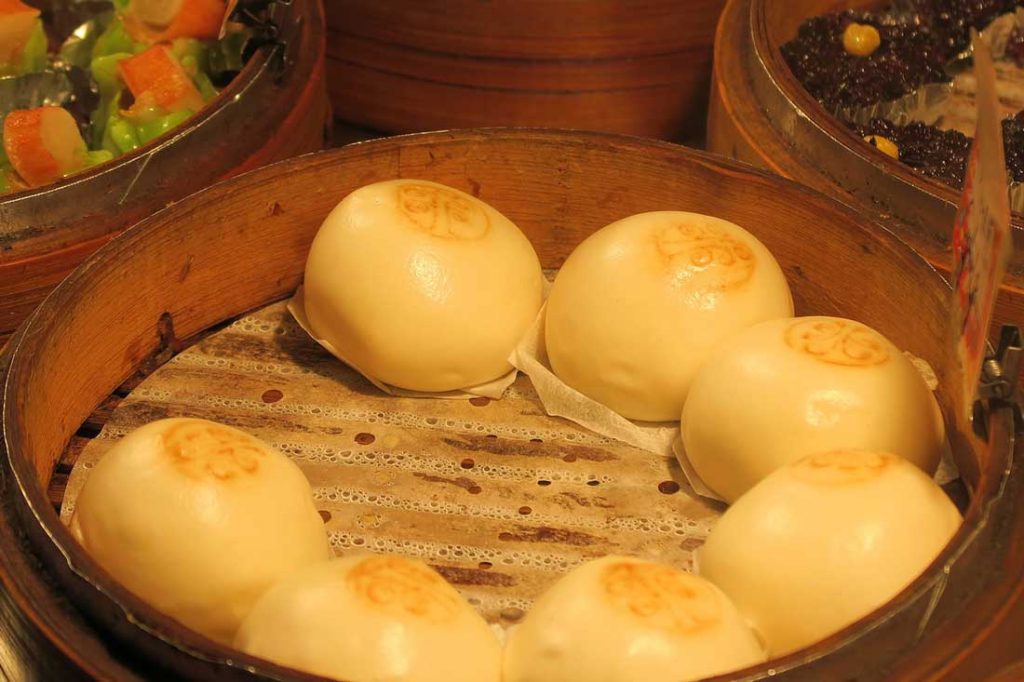 If you like dim sum, you'll love manapua. Manapua is the Hawaiian version of the Chinese dish cha siu bao.
These delicious steamed buns are usually filled with pork and sauces like barbeque, curry, or teriyaki, although you can also find them stuffed with chicken, hamburger, and even hot dogs.
Manapua can be found at convenience stores, food trucks, and numerous restaurants in Oahu. Depending on the size, manapua can be eaten as a snack or a full meal.
Musubi
This was admittedly the Hawaiian food that I least wanted to try. But it is one of those must-have foods to eat in Oahu simply because it is so popular with locals. Musubi is basically a slice of SPAM on a bed of rice wrapped in seaweed.
You can buy them everywhere, even at the convenience store, which is where I bought mine. SPAM is strangely popular in Hawaii.
My friend who lives there tells me it became popular because it was one of the only meats that would stay fresh on the cargo ship when coming from the mainland. I guess there is some benefit to canned meat that doesn't require refrigeration. It has a long shelf life!
I am not a fan of SPAM. Just the thought of the processed meat in a can makes me gag. But in the name of research I tried musubi in Oahu.
The consensus? Honestly, I didn't hate it. I didn't love it either. But it wasn't horrible. Mine had a spicy garlic glaze on top. However, if you prefer, you can get all kinds of different flavors of musubi.
Personally, I would not order musubi again but if it was served to me in someone's home, I would graciously eat it. It's worth trying in Hawaii, if for no other reason than curiosity.
Coconut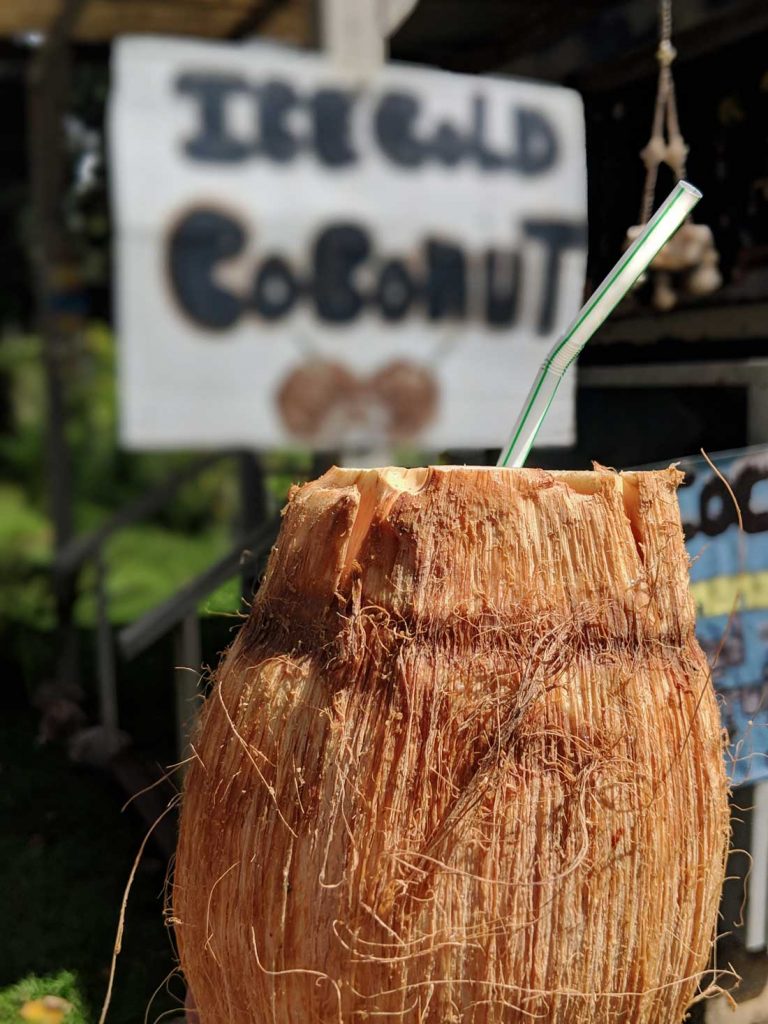 Coconuts grow native on the island of Oahu which not only makes it one of the best things to eat in Oahu, it makes it one of the easiest to find.
Drive the North Shore and you'll find plenty of roadside vendors selling ice cold coconuts.
They simply chop the top off the coconut and serve with a straw. (Or help the environment and buy your own reusable straw and bring it with you!)
Coconut water is so refreshing and tastes delicious. I have had bottled coconut water before and did not care for it. But drinking the liquid straight from a fresh coconut tastes completely different and is fantastic!
Pineapple
Pineapple is another fruit found throughout Hawaii. The island of Oahu is actually home to the Dole Pineapple Plantation.
There are many traditional Hawaiian dishes that are made with pineapple, but you can also order a smoothie or ice cream drink served directly in the pineapple.
It's the perfect snack to indulge in while spending a day at one of the beaches along the North Shore!
Other things to eat in Hawaii
If you're like me and love everything about Japan and Japanese food, you'll love the food in Oahu. Although it is not actually Hawaiian food, you will find plenty of sushi, ramen, and other core Japanese dishes in Oahu.
Oahu has a large Japanese and Japanese-American population, so you'll find numerous restaurants that serve and specialize in authentic Japanese food.
Macaroni salad is another widely popular food in Oahu. The side dish is served with everything so you will almost certainly have macaroni salad if you visit Oahu! It isn't something I usually eat, but I enjoyed it in Hawaii.
Of course, being a tropical island, some of the most popular things to eat in Oahu are served cold.
Shaved ice and ice cream are two refreshing desserts that you'll find everywhere, from the beaches and shopping centers to the non-touristy streets of Honolulu.
Since Japanese food, shaved ice, and ice cream aren't particularly unique to Hawaii I didn't include them in my list of the top ten things to eat in Oahu. But if you visit Oahu, you will surely see (and hopefully eat) a lot of these foods, as well.
WANT TO TRY ALL THESE AWESOME THINGS TO EAT IN HAWAII? BOOK A FOOD TOUR ON OAHU OR ON KAUAI
Have you been to Oahu, Hawaii? What are your favorite Hawaiian foods or things to eat in Hawaii? We'd love to hear from you! Leave your suggestions or thoughts in the comments below.
Like it? Pin this list of what to eat in Hawaii to save it for later!
This post on what to eat in Hawaii was first written in April 2019 but was updated in May 2023 for accuracy and current information.