The Wieliczka Salt Mine is one of the most fascinating attractions in Poland. This historic UNESCO World Heritage Site takes you 135 meters below the earth's surface to discover the historic and beautiful salt mines near Krakow.
On the guided Wieliczka Salt Mines tour, you'll learn about the history of salt mining in Poland and marvel at the beautiful art and intricate chambers all carved from this common mineral.
This comprehensive guide to the Wieliczka Salt Mine Tour includes what to expect, tips for visiting the Poland Wieliczka Salt Mines, and information on the different tour options available.
What is the Wieliczka Salt Mine?
The Wieliczka Salt Mine in Poland is an impressive UNESCO World Heritage Site, located just a short drive from Krakow, and is one of the best things to do when visiting Krakow – a city that is very much worth visiting.
These mines, which have been in operation for more than 700 years making them some of the oldest salt mines in the world.
A Wieliczka Salt Mine tour offers visitors a unique opportunity to explore an underground world of salt chambers, chapels, and tunnels that have been carved out by hand.
History of the Wieliczka Salt Mine
The Wieliczka Salt Mine has a rich history dating back to the 13th century. The mines were one of the world's largest producers of salt for centuries.
In the Middle Ages, salt was a prized trading commodity. It wasn't just used for seasoning but more importantly it was the only means of preserving food prior to modern-day refrigeration.
So, where there were salt mines, there was also great wealth. In fact, the salt mined from Wieliczka was a major source of income accounting for about ⅓ of the total wealth for the region and its rulers.
Salt production continued in Wieliczka until 1996, when the decision was made to stop the active mining of salt within the nine-level mine.
Over the years, the miners who worked in Wieliczka left behind a legacy of stunning sculptures and art, including an underground chapel dedicated to St. Kinga, the patron saint of miners.
These extraordinary works of art are the main tourist draw and the reason an estimated 2 million people go on a Wieliczka Salt Mine tour each year.
What to Expect on a Wieliczka Salt Mine Tour
There are a variety of Wieliczka Salt Mine tours, ranging from standard tours that last about 2-3 hours to longer, more in-depth tours that can last up to 6 hours.
Tourist Route
The standard tour, known as the tourist route, takes visitors through a series of salt chambers, tunnels, and chapels, including the famous St. Kinga Chapel, which features incredible sculptures and carvings made entirely out of salt.
Visitors should expect to do a lot of walking, as the mines are quite extensive and cover several levels.
Visitors should also expect to descend a long staircase with approximately 800 stairs that takes you 135 meters down into the mines at the start of the tour.
You'll ascend back up to the surface at the end, but there is a lift or elevator, making the way up a less challenging feat.
There are also a number of steps and uneven surfaces throughout the tour, so comfortable shoes are a must. The temperature in the mines is around 14 degrees Celsius (57 Fahrenheit), so visitors should dress accordingly.
The tour takes you through a labyrinth of underground corridors and large chambers filled with salt carvings, intricate sculptures, and even a giant underground salt lake.
Throughout the Wieliczka Salt Mine Tour you'll learn about the history of the mine, how the mining process evolved over the years, the different uses and health benefits of salt, and hear various legends and stories about the mine's past.
St. Kinga's Chapel
The highlight of the Wieliczka Salt Mine Tour is St. Kinga's Chapel, dedicated to the Patron Saint of Mining.
Everything inside the chapel, from the chandeliers to the sculptures, is hand-carved entirely from salt. This underground chapel is one of the most unique and beautiful chapels in the world.
Miners' Route
For those who want to experience something more in depth and hand on, you can elect to book the Miners' Route within the Wieliczka Salt Mine.
This organized tour, which is only suitable for those over the age of 10 years old, takes you down a mining shaft where headlamps and lanterns are your only sources of light.
You'll get a true sense of what the miners who worked here daily felt in the subterranean depths of the working mine.
You'll get to perform small mining tasks as you explore the underground salt chambers.
While this tour is an interesting experience, it does not take you St. Kinga's Chapel or any other part of the traditional tourist route where salt carvings abound.
Other Things to Do at Wieliczka Salt Mine
At the ground level, there are several other things to do near the Wieliczka Salt Mines.
Graduation Tower
At the Graduation Tower you can experience the health benefits of salt first hand.
Inside the Graduation Tower you can breathe in the concentrated misty salt air, believed to increase the body's energy, soothe stress and fatigue, and help with ailments like asthma, allergies, arthritis, and psoriasis.
It is believed to help purify your respiratory tract, particularly of benefit to those who live in large urban areas with polluted air.
Salt Mine Resort
For those who are truly interested in the healing activities of salt, you can even book a stay at the Salt Mine Health Resort.
Visitors can spend a night in a subterranean resort breathing in the purified, humid, cool salt air and discover the power of relaxation in the underground mine.
Practical Information Regarding the Wieliczka Salt Mine Tour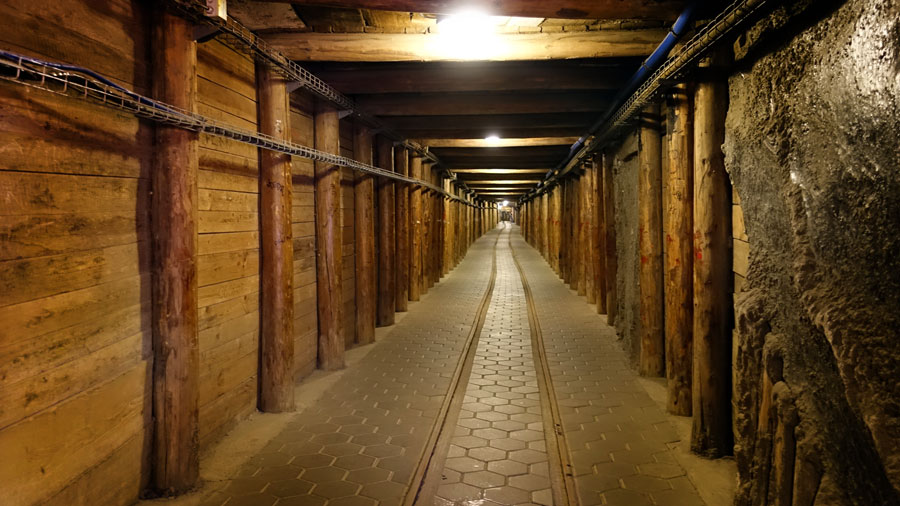 If you are planning a visit to the Wieliczka Salt Mine, there are a few important things to know before your visit to enhance the experience and make
Directions and Parking
Wieliczka is located just outside of Krakow, Poland, about a 20 minute drive from Old Town. We rented a car and drove ourselves. There is paid parking near the salt mines, and parking attendants to direct you.
You can also reach Wieliczka by bus. Or, if you prefer, there are tours that include hotel pick up and transportation to and from the mine.
Booking and Admission Cost for the Wieliczka Salt Mine Tour
The Wieliczka Salt Mine Tour, with a skip-the-line ticket costs roughly $35 USD per person for the basic tourist route.
Book your tour in advance, as tours can sell out quickly during peak season. When not sold out, tickets can be purchased on site at the mine.
They do take credit cards, but expect a wait if you don't purchase tickets in advance because a limited number of people are allowed on each guided tour.
Be sure to arrive early to allow time to park and get oriented before the tour begins.
If you aren't booking in advance, I would recommend planning a tour earlier in the day, as the afternoon tours book up quickly.
Food vendors, souvenirs, and restrooms
There are food stands outside the mine that sell food and drinks, as well as a snack bar and gift shop half way through the tour.
A full restaurant and another gift shop are located at the end of the tour if you are wanting to buy Polish salt stones to take home or eat a meal.
There are also bathrooms at the halfway point of the Wieliczka salt mine tour, but if visiting with kids, it is a good idea to have them use the restroom before the tour begins.
Photography
Photography can be a challenge on the Wieliczka salt mine tour.
The lighting is dim in most places and you're constantly moving, which makes it difficult to truly capture quality photos if you are an amateur photographer.
There are some areas of the mine where photography is not allowed, as well.
Where to stay when visiting the Wieliczka Salt Mine
If visiting Wieliczka Salt Mine, you don't necessarily have to stay in Wieliczka. The town is only 20 minutes from Old Town, Krakow, so you can stay in Krakow and just plan to spend one day or even half a day in Wieliczka.
Here are a few conveniently located hotels near Old Town Krakow.
Helpful tips for Visitors to the Wieliczka Salt Mine
Touring the salt mines in Poland is a unique and memorable experience. The only way to visit the Wieliczka salt mines is on a guided tour.
Here are a few helpful tips if touring the Wieliczka salt mine, especially for those visiting with kids.
Dress Accordingly
Keep in mind, you will be visiting a mine deep under the earth's surface. It is cold in the mines and you need to dress you and your little ones accordingly.
You don't need to bundle up in coats, gloves, and hats, but you should dress in long sleeves and pants. A fleece pullover or a lightweight jacket should be sufficient.
You'll also want to wear comfortable walking shoes.
Be Prepared for a Lengthy Wieliczka Salt Mine Tour
The Wieliczka Salt Mine tour takes approximately three hours. And once you start the guided tour, you're committed. There is no place to bail out early or explore on a self-guided adventure.
If visiting with little ones, bring snacks and water, a tablet and headphones loaded with their favorite cartoons, or anything else that might keep them entertained on the tour.
You may find the mine fascinating and remarkably beautiful, but your kids won't appreciate the age-old carvings and lessons in Polish history.
They will probably like the Wieliczka underground salt mine tour for a little while because it's something new and unique, but be prepared and find creative ways to make the tour fun for kids, as well.
We stayed toward the back of the tour group so we didn't bother anyone since we were on the tour with a toddler.
Although the English-speaking guide is with you the entire time, you listen to him speak on a headset as the group tour moves through the mine, so all guests are wearing a headset to listen to the guide, which was a relief when our daughter got fussy.
Bring a Child Carrier instead of a Stroller
The mines are not stroller friendly. Although you could bring a lightweight umbrella stroller, you would have to carry it all the way down the 800 stairs at the beginning of the tour. There are a lot of stairs!
Don't worry, you only have to walk down them. You'll take an elevator out at the end. But with that said, a child carrier is a better option for young kids instead of a stroller.
It will make the tour much easier, keep little ones contained, and allow you to move at the group's pace. There is a lot of walking, so be prepared to wear or carry your child for at least part of the way.
Don't Touch the Sculptures
This should go without saying, but avoid touching the salt sculptures or carvings. The salt can be easily damaged, so touching the art or the features in any of the salt chambers is strictly prohibited.
Are the Wieliczka Salt Mines worth visiting?
The Wieliczka Salt Mine Tour is definitely worth visiting. It is a fascinating and unique attraction that offers visitors a glimpse into Poland's rich history and culture.
With a little planning and preparation, visitors can have an unforgettable experience exploring this underground wonderland of salt.
Book a Wieliczka Salt Mine Tour Online
Have a question or comment about the Polish Salt Mines in Wieliczka or the Wieliczka Salt Mine tour? We'd love to hear from you! Leave your thoughts in the comments below.
Like it? Pin this guide to the Wieliczka Salt Mine tour to save it for later!
This guide to the Wieliczka Salt Mine Tour near Krakow was first written in March 2017 but was most recently updated in May 2023 for accuracy and current information.