Traveling with a baby can be a challenging and exhausting task, especially when it comes to getting a good night's sleep. Whether you're on vacation or traveling to see family, staying at a hotel with a baby can disrupt your little one's sleep routine and make for a restless night for everyone.
However, if you're planning your first hotel stay with a baby, there are several tips and tricks that can help you and your little one sleep better while away from home.
This guide to staying at a hotel with a baby includes some practical advice on how to get a good night's sleep when staying at a hotel with a baby, so you and your little one can wake up feeling refreshed and ready to take on the day.
Our Personal Experience Staying at a Hotel with a Baby
Our daughter was a terrible sleeper. Like, seriously, terrible. At ten months old, she had only slept through the night a handful of times and it was always hit or miss. With that said, years later, she still sleeps horrible when she is in an unfamiliar environment. Yet, we haven't given up traveling.
Instead, we modified our travel style and made sure we were putting a few easy tricks and tips into practice.
The tips we are sharing below help us when we travel to make wherever we stay feel like home. This was absolutely critical when our daughter was a baby. The extra level of comfort takes minimal preparation but will nurture and encourage a sounder sleeping environment when staying at a hotel with a baby.
We know, some kids are naturally better sleepers than others. So, if you have a good sleeper, you may find that your little one will sleep just fine in a hotel.
But if you have a terrible sleeper, like we did, it might take a little extra effort to lull your kiddo off to sleep when staying in a hotel room with your baby for the first time.
Tips for staying at a hotel with a baby
If you also struggle with getting your baby or toddler to sleep in a hotel, these few simple steps can help your terrible sleeper feel a little more at ease when you travel. The key is to mimic your child's sleeping environment and bedtime routine at home as best as you can.
Tip #1: Call the hotel prior to arrival
Many hotels and resorts offer rollaway hotel cribs or pack n plays that you can use free of charge during your stay. Those are often first-come-first-served, so call ahead to request one. This will ensure you aren't left without a safe and comfortable place for your baby to sleep when you get to your destination.
If you are planning to stay in a hostel with kids, it's important to note not all hostels offer cribs – even if booking a private room, so it is even more important to call ahead to clarify what your options are.
While on the phone with the hotel representative, make sure you ask whether the baby bed provided will be an actual crib or a pack n play. That information will be beneficial for tip #2.
If the hotel in which you are staying does not provide baby cribs, I would recommend bringing a lightweight, portable crib for your baby or a travel bed for toddlers.
This travel crib is great because it has convenient straps that allow you to carry it on your back and sets up in just 15 seconds. So, if you're dealing with baby or toddler jet lag or arrive at your hotel late at night, you can have your child's bed set up in no time!
Tip #2: Bring your own crib sheets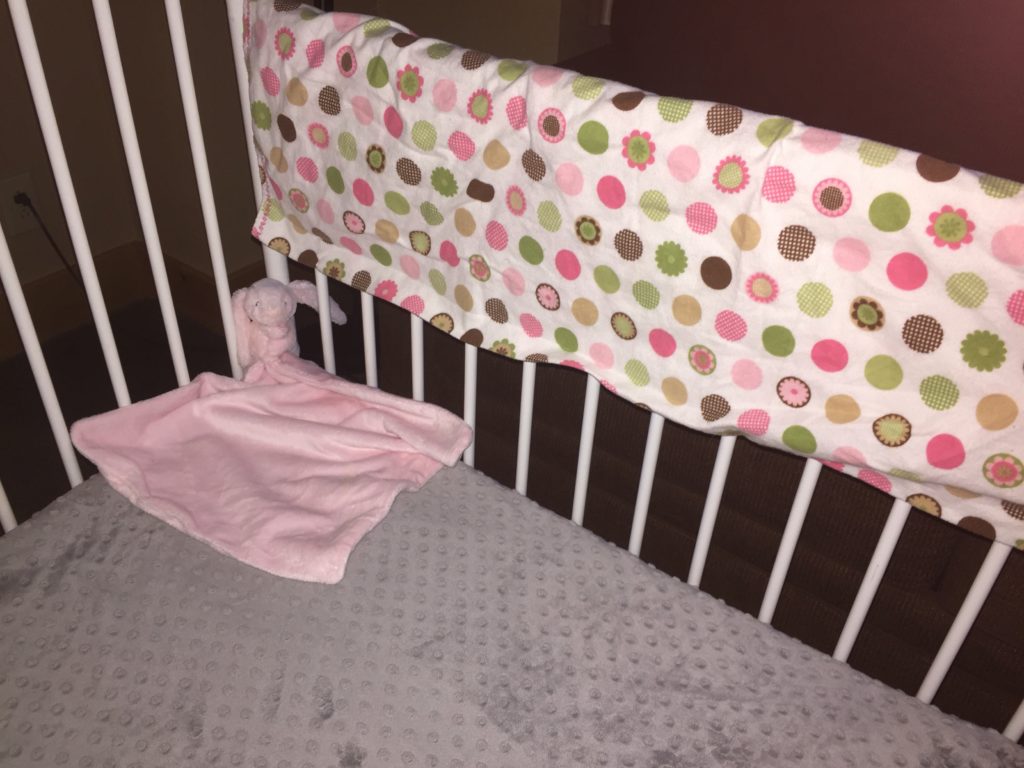 Once you find out whether the hotel will provide a crib or a pack n play, you'll want to make sure to pack a fitted sheet from home for that particular type of baby bed.
Even if the hotel provides bedding, you'll score extra comfort points with your little one if the sheet they are laying on feels and smells like home. We often would take the sheet directly off our daughter's crib that she slept on the night before our trip. The sheets will smell and feel familiar, which will make your baby feel more at home in the hotel.
Our daughter's crib sheets were super soft, minky sheets. These sheets have a very specific feel to them.
So, when we were going to be staying at a hotel with our baby, we would bring them with us and it instantly made her feel more comfortable when it was time to sleep.
Tip #3: Keep a routine
This one is a bit tricky on vacation but it is possibly the most important tip when staying in a hotel with a baby. Sleep and routine are vital for babies and toddlers. Little ones need a routine to sleep well at night, and vacation and travel often interrupt that routine.
So, we recommend planning your daily activities and visits to attractions around your child's typical nap time and bedtime. For us, that meant waking up early, eating an early dinner, and turning in early for the night.
When we were traveling with a baby, we were usually back in the hotel room at 7 p.m. so our daughter could be in bed by 8. As she got older, her bedtime obviously became later and we were able to spend less time in the hotel room and more time out and about.
Kids are only babies for a very short time, so if you want to travel with your baby, plan to stick somewhat closely to your little one's daily sleep routine. 
If you prefer not to return to your hotel room at nap time, a baby carrier can be very beneficial. Babies will often fall asleep and nap in the carrier while you continue sightseeing. But either way, make sure your baby gets sleep one way or another.
We also followed the exact same bedtime routine when traveling as we did at home: bath, song, bottle, bed… That set the stage for a better night's sleep.
Tip #4: Bring a lovey or comfort item from home
Every night when our daughter was a baby, our sweet little one fell asleep with the same little blanket/stuffed animal. When she would wake up in the middle of the night, she often looked for that lovey and then fell right back to sleep. That familiar item went with us everywhere.
Once again, having a small piece of home helps put babies at ease while traveling to new places. Loveys are great items to bring because they are compact enough to fit in a diaper bag or a carry-on bag.
Tip #5: Bring a portable white noise machine
Beginning right after birth, our daughter used a white noise machine in her nursery (which was travel themed) to help drown out any outside sounds. She eventually began associating that white noise with sleep. So, just like her lovey and her sheets, we always brought that small compact white noise machine with us when we traveled.
You never quite know how noisy a hotel might be. A white noise machine can muffle the sound of traffic or street noise, loud neighbors in a nearby hotel room, or hotel staff preparing for an early breakfast in a smaller, boutique hotel or bed and breakfast.
Traveling with a baby, ultimately means traveling with more stuff. But if it encourages a good night's sleep, the extra stuff is well worth the space in your luggage.
Tip #6: Upgrade to a suite or consider a rental apartment
Finally, one of the best tips for staying at a hotel with a baby is also likely the most expensive but also the most beneficial.
If your budget allows, upgrading to a hotel suite when traveling with kids will make your travel experience more enjoyable for everyone. Another option is to book a short-term rental apartment instead of a hotel.
But whether you opt for a hotel suite or an apartment, both will give everyone their own space. So, if you need to put your baby to bed at 7:30 or 8 p.m. you can put your little one to sleep in the bedroom and then stay up and enjoy a glass of wine in the living area.
Suites and apartments also typically include a small kitchen or kitchenette with a refrigerator, microwave and items you might need to cook and store food. This is extremely helpful when traveling with a baby!
You will not only have the option to refrigerate milk or liquid formula, but you can also plan out meals (if your baby is eating solid foods already). This makes traveling with breastmilk and formula much easier!
Do you have a question or comment about staying at a hotel with a baby? What other travel tips have worked for you? Leave us a comment and let us know your best travel hacks with kids.
Like it? Pin this list of tips to survive staying in a hotel with a baby to save it for later!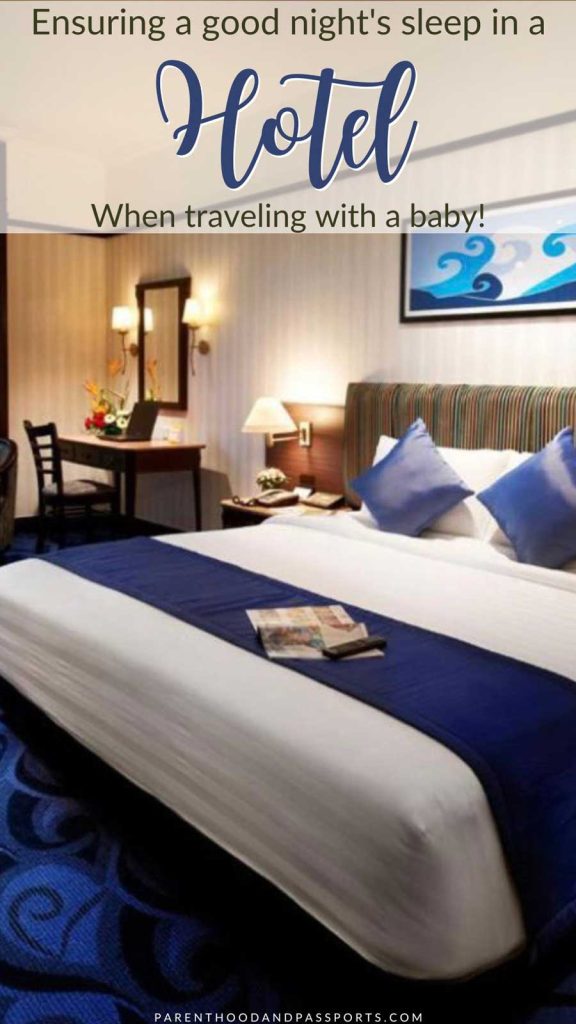 This family travel guide to hotel stays with a baby was first written in December 2015 but was most recently updated in March 2023 for accuracy and current information.
Did you know…
When you make a purchase or book hotels, tours, or other travel services, through our links, we receive a small commission, at no extra cost to you. We only EVER recommend service providers, websites, or products we personally use when booking our own travels. Your support enables us to keep producing helpful travel content. Thank you!