Flying with a baby can be a daunting experience. The mere thought of your baby crying nonstop on an airplane probably sends you into an instant flustered state. However, with a little extra planning and a few tips for flying with a baby, air travel with your infant can be very manageable.
We have never been proponents of sacrificing travel after having a child. In fact, we recommend flying as much as possible during the infant years, while your baby still flies free! Although there are a few more things to take into account when flying during the newborn stage, air travel with a baby or a toddler doesn't have to be a stressful experience.
Whether you're a first-time parent or a seasoned traveler looking to make your next flight with your little one a little smoother, here are a few easy tips for flying with a baby that we've found to be most beneficial.
Advice and Tips for Flying with a baby
You often hear parents say that babies don't come with an instruction manual or guide book. The same goes for traveling with them. Each baby is different, so there is no exact science to figure out what works best for soothing and calming your child during a flight.
Flying with a baby is trial and error. But these 9 tips for traveling with a baby on an airplane will hopefully help make life easier – at least from takeoff to landing.
Wear your baby in a baby carrier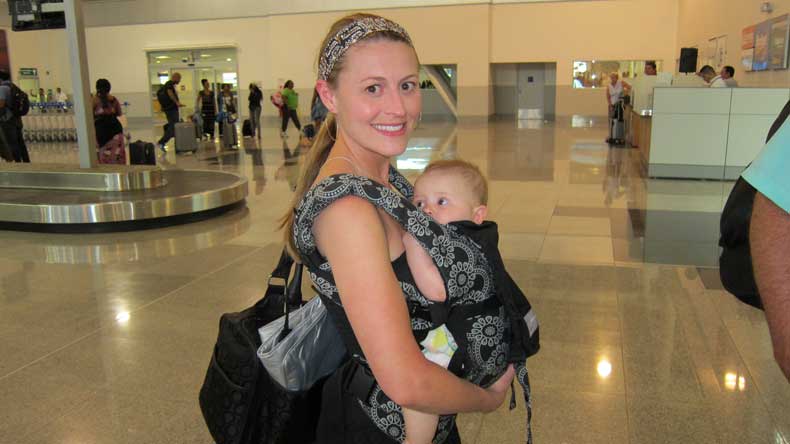 If you have a baby or toddler, the best way to travel throughout an airport is to wear them in a baby carrier.
Whether you use the ErgoBaby 360 Carrier, like we do, or another type of baby carrier for travel, babywearing makes flying with a baby so much easier.
Keeping your little one close to your body is calming for your baby and keeps you hands-free to pull a rolling suitcase, or juggle passports, boarding passes, or other children.
One of the best parts about wearing your baby through the airport is that you typically do not have to take them off to go through security. Airport security will do some additional testing after you go through the metal detector, like wiping your hands to test for gunpowder residue.
Wearing your baby in a baby carrier is also much easier than lugging a stroller around for your entire vacation. If you absolutely must bring a stroller, I'd recommend gate-checking it so you can use it while in the airport terminal.
READ OUR FULL POST ON THE BEST BABY CARRIERS FOR TRAVEL.
Nurse or bottle feed during take off and landing
The most challenging part of your first flight with your baby will likely be the departure or landing. As the aircraft gains or reduces altitude, changes in air pressure can cause discomfort in a baby's ears, leading to fussiness, crying, and potential ear pain.
The sucking motion associated with nursing or bottle feeding is not only soothing for babies, but it helps regulate the pressure in their ears. Adults can open their jaws to relieve the pressure that can build up as a plane makes an elevation change, but a baby cannot.
If you nurse or give your baby a bottle or sippy cup during the ascent and descent, your baby won't even notice the pressure change. Happy baby, happy parent, happy plane-full of passengers.
Feeding your little one may also make your baby fall asleep, which is every parent's dream on a flight.
NOT COMFORTABLE BREASTFEEDING ON A PLANE? HERE IS EVERYTHING YOU NEED TO KNOW ABOUT FLYING WITH EXPRESSED BREASTMILK OR FORMULA.
Book flights around your baby's sleep schedule, if possible
If you want to ensure your baby sleeps on the plane, try to book your flights around your baby's sleep schedule, if possible. This may also help prevent baby jet lag.
If your child takes an afternoon nap, and you're planning a short domestic trip, we recommend searching for flights around that time frame.
If you are lucky, your child will fall asleep once the plane is wheels up – especially if you nurse or bottle feed them. Then you can enjoy a mid-flight cocktail or a nap yourself.
A few minutes of shut eye on a flight is a rarity for parents. So, take it when you can get it. Having a baby is no joke, and parents live in a constant state of sleep deprivation!
Also, your fellow passengers will thank you.
Buy a new toy for your baby and give it to them on the plane
Sometimes you can plan your trip around your baby's sleep schedule, feed your little one during take off, and yet your pint sized co-passenger remains wide awake. Babies can easily get overstimulated in new environments and an airplane is certainly a new place for your tiny traveler.
In this scenario, a new toy is going to come in very handy.
Prior to each flight with my baby, I would buy a new toy. The new toy doesn't have to be expensive, but it must be new to your baby.
When my daughter was an infant, I would not show her the toy or let her play with it until we were on the plane. That way it was a new and therefore exciting, object to occupy her time for the duration of the flight.
This is one of those tips for flying with a baby you won't find many other places, but it has saved me on at least a few flights when my baby was on the edge of a boredom meltdown.
Once your little one is curiously distracted by their new toy, you can breathe a sigh of relief (along with all the passengers sitting directly adjacent to you – eying you nervously preparing for the screaming to start.)
We often still do this even though our daughter is older. It worked when traveling with a toddler, and even works when traveling with her as a grade-schooler.
Pack your carry-on bag for a baby emergency
Hungry? I've got snacks. Bored? I've got toys, games and downloaded children's shows on a fully charged tablet.
A diaper blowout clear up to the neck? No problem, I have, not one, but two complete changes or clothes. Plus disinfectant wipes and a wet bag to store the dirty clothes. Can't function without their beloved lovey or stuffed animal? Mom to the rescue. Let me just reach into my carry-on.
My carry-on bag is essentially an arsenal kit for attacking any baby emergency.
Whether you're traveling as a family or flying alone with an infant, the moment you sense a baby crisis on the verge of occurring, you need to be ready to break out your baby's carry on essentials.
Our carry on is absolutely essential for air travel, long layovers, or road trips with a baby. Every. Parent. Must. Have. One.
While there are certain travel essentials for babies that can go in your checked luggage, your baby carry-on bag should have enough diapers and formula (if formula fed) and baby food for the duration of your travel day plus one additional day.
You should also have an extra change of clothing for a leaky diaper accident or a spill. And a medicine kit.
Planes can easily make babies congested and gassy, so having a medicine kit handy is a must when flying with a baby.
FIND OUT WHAT TO PACK IN YOUR CARRY ON BAG WHEN FLYING WITH A BABY HERE.
Use a backpack style diaper bag for your baby's carry-on bag
Speaking of your baby's carry-on bag, one of the best tips for flying with a baby is to invest in a backpack style diaper bag rather than one that has a shoulder strap. This just frees up a hand and makes walking through the narrow airplane aisles easier when you have your little one in tow.
While any backpack might work, we recommend one with a fold out changing pad and different compartments to make things easily accessible from underneath the seat.
When your baby gets fussy on the plane, you want to make sure you can quickly get whatever you need to soothe your upset travel companion.
Upgrade to the bulkhead
This is another one of the travel tips for flying with babies that we don't see or hear often, but one that has personally been beneficial for us – particularly on long haul flights.
There are both pros and cons to booking the bulkhead seat on a plane, but for parents traveling with a baby, there are mostly pros! Who would have thought a few extra inches would make such a big difference?
Having the bulkhead allows your child room to stand, stretch, or even sit on the floor in front of you and play for a few minutes. (You will want to do a quick check under the seat and around the area for anything a baby or toddler might try to grab or put in her mouth.)
If flying long distances, you can often request a bassinet from the airline for your baby to sleep in if you are in the bulkhead. The bassinets attach to the wall in the bulkhead seat, and therefore can only be used by passengers flying in this particular row.
Things to bring with you for baby's first flight
If this is your baby's first flight, there are a few things you will need to bring with you.
Identification for your baby
We always recommend bringing some sort of identification for your baby. For a domestic flight, a copy of your baby's birth certificate will suffice.
If flying internationally with a baby, your child will need a passport. Don't worry! We have tips for taking your baby's passport photo here.
Car Seat
You will want to consider your method of transportation once you arrive at your destination. If you will be driving, or traveling by car, you will either want to bring your baby's car seat or rent one at your destination.
In the United States, you can check your car seat for free if flying with a lap infant.
If you have purchased an extra seat for your baby, you can also bring your car seat on the plane, which may help your little one sleep better, particularly if they sleep well in a car seat during road trips or car rides.
If it isn't cost prohibitive, we recommend buying an extra seat for your baby for long haul or international flights. This will make you and your little one a bit more comfortable during the flight.
FAQs about Flying with a Baby
If you're planning your first flight with a baby, there are naturally a few questions you may have. In order to calm your anxiety, we're including some of the most frequently asked questions along with our best tips for flying with a baby.
How do I protect my baby's ears when flying?
The change in air pressure during take off and landing can be uncomfortable for babies. Aside from breastfeeding or bottle feeding, you can also offer a pacifier to encourage sucking, which can help equalize the pressure in the ears. Older toddlers can also be given a sippy cup.
Should I bring my baby's car seat on the plane?
If you purchase a seat for your baby, it may make sense to bring their car seat on the plane. This can provide an extra layer of protection for your child in the event of turbulence and also bring added comfort and familiarity during the flight.
However, some airlines do not allow car seats that are not FAA approved or will require you to take your baby out of the car seat and use a child restraint that attaches to the regular seat belt during take off and landing.
On a personal note, this only happened to us when flying a European regional airline, and our baby hated it and screamed the whole time. So, yeah, that was fun.
What is the hardest age to fly with a baby?
For us, the hardest age began around the time our baby started becoming mobile and lasted until about 2 years old.
So, the most challenging age was between 9 months old and 18 months old, when our little one found it challenging to sit still for an extended period of time.
This age presents unique challenges during air travel, and parents often need to be prepared with appropriate strategies and supplies to manage these challenges effectively – hence why we compiled this list of tips for flying with a baby.
What identification documents do I need for my baby for air travel?
The required identification documents for a baby may vary depending on the airline and the destination.
Domestic flights often do not require any documentation or identification for babies. However, we recommend bringing a copy of your baby's birth certificate in case there is any question about the baby's age or familial relation.
Your baby will need a passport if you are traveling internationally.
Additionally, if you are traveling alone with your child or without the other parent, some countries may require a notarized travel consent letter from the absent parent.
Where do I change my baby's diaper on a plane?
Most commercial aircraft are equipped with changing tables in the lavatories that fold down over the toilet. So, while the lavatories may be small, they are still the best place to change your baby.
This ensures the most hygienic experience for you and for other passengers, and gives you a proper place to dispose of the soiled diapers.
One Final Tip for Flying with a Baby
During air travel, sometimes you have to throw out all the tips for flying with a baby and just wing it. Give yourself grace. Traveling with little ones is hard.
Be sure to give yourself extra time at the airport. If you are rushed, you will inevitably be more stressed out. Your baby will be able to sense your stress and mirror the same.
Flying with a baby is already stressful enough, so having more time will give you one less thing to worry about.
Finally, try to relax, and repeat after me: "YOU GOT THIS!"
Do you have a comment or question about any of these flying with baby tips? We'd love to hear from you. Leave your thoughts in the comments below.
Like it? Pin this list of travel tips for flying with a baby!
This list of travel tips for flying with a baby was first written in December 2015 and was most recently updated in October 2023 for accuracy and more comprehensive information. 
Did you know…
When you make a purchase or book hotels, tours, or other travel services, through our links, we receive a small commission, at no extra cost to you. We only EVER recommend service providers, websites, or products we personally use when booking our own travels. Your support enables us to keep producing helpful travel content. Thank you!