Navigating an airport is often a stressful scenario, especially when it comes to going through security.
You have to remove your shoes and belt, separate liquids, and take your laptop out of its case. Then you pass through a body scanner or get subjected to an intrusive pat down just to get on an airplane. Throw a baby or toddler into the mix, and things instantly get more stressful. But there is one thing that can make the process significantly easier.
Babywearing at the airport makes traveling with little ones much more manageable. If you are preparing for your first flight with your baby and you're wondering "Can you wear a baby carrier through airport security?" – the answer is almost always – yes!
Although there are some stipulations that we will get into below, wearing a baby carrier through TSA or airport security is easy and convenient. In fact, my ErgoBaby 360 Baby Carrier was my number one travel necessity during our daughter's first few years of life.
This guide to wearing a baby carrier through airport security answers the question "can you wear a baby carrier through airport security?" and explains the dos and don'ts of babywearing at the airport. We also include important information on what type of baby carriers you don't have to take off when going through TSA and which ones you do.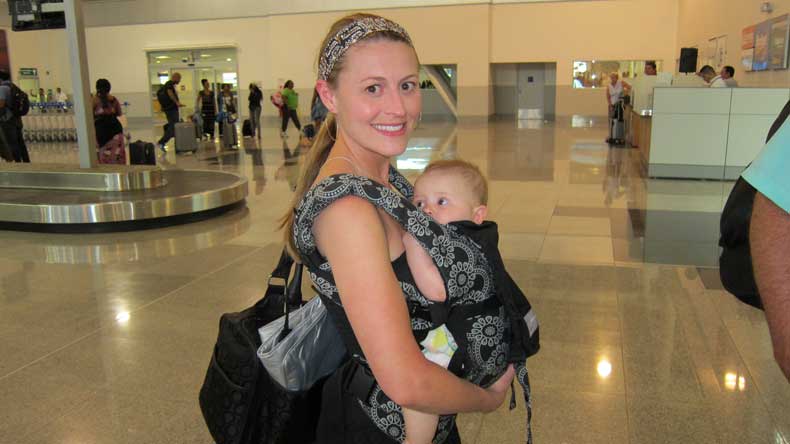 Tips for going through airport security with a baby
Everything seems to be twice as stressful and complicated when you travel with children, particularly babies and toddlers. So, we were pleasantly surprised to find that going through airport security with a baby can actually be easier than it is without!
Tip #1 – Leave the stroller at home or check it
Unless you are traveling with multiple children or you absolutely must bring your stroller, we recommend foregoing a stroller and using a baby carrier at the airport instead.
If you must bring a stroller, consider checking it through to your destination. Baby equipment like strollers and car seats typically are free to check as luggage.
Tip #2 – Keep baby items in a separate carry on bag
TSA allows a separate bag for baby necessities. That means your diaper bag will not count as your personal item or your carry on.
Even if you don't want to bring an extra bag, it's a good idea to keep any liquids, such as expressed breastmilk, formula or baby food that you will fly with in a Ziplock or separate compartment that is easy to remove from your carry on.
This will save time and make the security process faster.
Tip #3 – Get TSA Pre-Check
If you do not travel often, then you can probably do without TSA Pre-Check. However, if you plan to travel frequently during the baby stage, it is a good idea to invest in this pre-screening.
You will not have to remove your shoes or take anything out of your carry-on bags before going through the security checkpoint.
You also get to bypass the longer line and opt for the pre-screened TSA pre-check line, which is typically shorter and moves much quicker.
Tip #4 – Wear your baby in a carrier through airport security
If you haven't discovered babywearing yet, you are missing out. Baby carriers are adjustable to fit babies and parents of all sizes.
Whether you are petite or in need of a baby carrier for plus size moms, there are a variety of baby carriers on the market that will fit you perfectly.
And if you are planning a trip with an infant or toddler, do not travel without a baby carrier, especially if you are traveling alone with your child.
Although there are numerous light-weight, compact strollers on the market that are great for traveling families, I typically opt for a wrap or soft-bodied baby carrier when we travel because it allows me to be hands free, and makes the airport security process easier.
FIND OUR UPDATED LIST OF THE BEST BABY CARRIERS FOR TRAVEL IN 2023 HERE.
Can you wear a baby carrier through Airport Security / TSA?
There are a number of approved TSA baby carriers that you can wear through airport security.
In fact, perhaps the most convenient part about babywearing at the airport is passing through security checkpoints.
When you go through security in the United States, you do not have to remove your baby or your soft-bodied baby carrier.
We also traveled internationally quite a bit when our daughter was an infant, and most countries allowed us through airport security without removing our baby carrier.
However, keep in mind when traveling internationally, every country has their unique set of security protocols that may apply.
What to expect when going through TSA with a baby carrier
TSA agents will allow you to go through the metal detector while still wearing your baby in a soft-bodied carrier. In fact, in airports that have both a metal detector and a full-body scanner, you will be sent through the metal detector if you are wearing your baby through airport security.
Typically, the whole family, including your spouse if you are traveling together, will go through the metal detector. However, there have been times during our travels, where only the parent wearing the baby is directed to the metal detector, and the other parent is sent through the full body scanner.
After walking through the metal detector, the agent will swab your hands to test for gunpowder or explosive residue. It takes all of five extra seconds to get your hands swabbed and for the test to process.
It is significantly easier and quicker than removing your baby from the carrier, taking it off, and then putting it back on. You also get to avoid the body scanner of which many people aren't a fan.
Which baby carriers can you wear through airport security?
Not all baby carriers are created equal – especially when it comes to going through airport security with them.
It is important to note that only soft-bodied carriers without any metal buckles or rings can be worn through airport security.
That means wraps and most baby carriers with plastic buckles are acceptable, but ring slings or framed structured carriers must be removed before going through the metal detector.
A few carriers that are acceptable when going through airport security:
Types of carriers that you CANNOT wear through airport security
Any type of carrier that has metal pieces cannot be worn through airport security because it will set off the metal detector.
Framed child carriers
If you are using a framed child carrier, like the Deuter Kid Comfort designed for toddlers or older children, you will have to remove it and send it through the X-Ray machine.
If you are considering a framed child carrier, they are great for carrying older children and bigger toddlers, but they will need to be removed when going through TSA due to the metal rods that give them their sturdy, structured frame.
Ring slings
Ring slings are quite popular in the babywearing community. I used one myself many times at home.
Although a ring sling is a comfortable and convenient way to wear your baby, they are not the most convenient for traveling.
Because of the metal ring, they must be removed and sent through the X-ray machine. You will not be able to wear your baby through TSA in a ring sling carrier.
Other benefits to babywearing at the airport terminal
Being able to wear your baby carrier through airport security is perhaps the biggest benefit to babywearing at the airport, but there are other benefits as well.
Keeps others from touching your baby
Wearing your baby in a carrier not only keeps your hands free to hold your baby's carry-on bag or to scarf down a quick snack, but it keeps other people's hands off of your baby.
A lot of people love babies. They're adorable – with their ankle rolls and chubby fingers and tiny toes. But it's a pet peeve of mine when strangers come up and touch my child without asking.
I've found people are a lot less likely to do so if your child is snuggled up to your body in the confines of a carrier.
Keeps your baby from touching everything else
Babywearing also keeps your baby or toddler from putting their hands all over everything. This is especially an issue once your little one becomes mobile. Let's face it, airports aren't the cleanest of places.
It will make even the most chill parent cringe to watch their tiny human crawl around on the floor where thousands of people have just walked.
Many babies are content when in a baby carrier, thus when you wear your baby in a carrier at the airport, you can avoid some of the unwanted germs.
Babywearing during flight. Can you wear a baby carrier on an airplane
Once you are on the plane, you will need to take your baby or toddler out of the baby carrier during the flight. I'm not sure why they consider this safer, but I don't argue. It is an inconvenience, especially when you are flying with an infant who is sound asleep in the carrier.
If your baby is sleeping, some flight attendants might make an exception. But I've encountered some who strictly follow the rules, so be prepared to take your baby out of the carrier while in flight, even if they are asleep.
Nursing while traveling
I have never been one of those moms who felt comfortable breastfeeding in public without a nursing cover or a blanket draped over me. More power to you if you can do it!
I fully support every woman's right to feed her child at any place or any time without having to cover up.
Breastfeeding is a natural and beautiful thing. Personally, I was just never very comfortable nursing in public. But as much time as we spent in an airport when our daughter was still nursing, it was bound to happen.
If you're planning to travel with a breastfed baby, there will come a time when you have to nurse in the airport, on the plane, or out in public at a crowded tourist attraction.
If you're like me and don't want the world to see you do so, babywearing comes in quite handy.
It takes some practice and the right type of clothing, but I was able to figure out how to nurse my baby without ever taking her out of the carrier, and without strangers even realizing I was doing it.
My experience babywearing at the airport – domestically and internationally
Every country has its own security measures and standards.
We personally have not had to remove our baby from the carrier when going through security checkpoints in the United States, Canada, Central America, and in some European countries.
However, others traveling mamas have not had such luck. We've heard from several moms who were required to take their baby out of the carrier when traveling in Europe.
Overall, even if you have to take your little one out momentarily to pass through a metal detector, it is still a much easier solution than lugging a stroller around, juggling luggage with a baby on your hip, or chasing a toddler around the terminal.
Of course, flying with a baby or flying with a toddler is never easy, but babywearing will definitely help keep you and your little one happier while in transit.
Do you have other questions about babywearing besides 'can you wear a baby carrier through airport security'? We'd love to hear from you and help, if we can! Leave your thoughts in the comments below.
Like it? Pin this guide to wearing a baby carrier through airport security to save it for later!
This guide to wearing a baby carrier through airport security was first published in 2015 and was updated in August 2023 for accuracy and current information.