Babies can make great traveling companions. Unlike road trips with toddlers who seem to require constant entertainment, taking a road trip with a baby isn't as stressful as one might think. Up until they are about a year old, babies require at least 14 hours of sleep a day. So, that gives you plenty of time to drive while they sleep, making a road trip with an infant a breeze!
But if you are planning your first road trip with a newborn or infant, there are a few things to plan for a pack to make your long car journey with a baby easier and less stressful.
This travel guide to a successful road trip with your little one includes what to expect, tips, and a road trip with a baby packing list.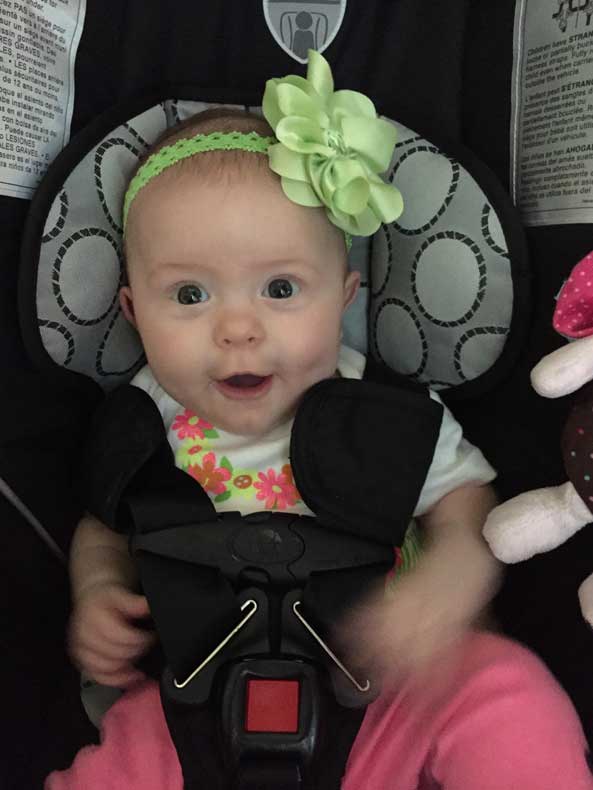 Our road trip with a baby experience
When our daughter was just a few weeks old, we took our first long car journey with our baby. It was a nine hour drive across Texas to visit family.
Of course, we were worried about how our sweet newborn would handle such a long drive. Turns out she did great! After that, we took her on many more road trips, all of which were fairly easy.
From 2-3 hour drives to multi-state adventures, we have taken lots of road trips with a baby, and have learned a thing or two from each journey.
Tips for taking a road trip with an infant
So how do you have a successful road trip with a baby?
Keep in mind there will be times when your baby gets fussy, irritable, or simply needs a break from the car seat. Roll with it, have patience, and stop if needed. But these simple tips will help make your road trip with a baby more enjoyable for everyone.
Travel during sleeping hours
It might mean driving at night, or at the very least leaving home right before nap time, but planning your travel during your baby's sleeping hours is going to buy you a few hours of uninterrupted time of peace and serenity in the front seat.
Our daughter luckily seemed to nap longer in the car, so leaving home right at nap time typically gave us a good 3 hours before we had to take a break.
Download or stream baby videos
Say what you will about screen time for babies, and go ahead and judge us, but baby videos help get through long car journeys with a baby without full on meltdowns.
For us, our baby would get fussy during car rides if she wasn't asleep. So, either my husband or I would end up sitting in the backseat to entertain her.
We found that downloadable baby videos kept her attention and calmed her down. She typically didn't watch TV at home. In fact, we limited TV at home until she was almost 2 years old. But we always allowed screen time on road trips, even when we were road tripping during the infant stage.
We always chose videos that were educational. And, keep in mind, if you are traveling in an area where the cell reception is spotty, it may be in your best interest to download a few videos for the road.
Plan for frequent stops
Babies have to breastfeed or take a bottle about every two hours when they are awake, so plan to stop every few hours for necessary diaper changes and your baby's meal time. Even if your baby isn't hungry or in need of a diaper change, it's a good idea to stop every couple of hours to simply get your little one out of the car seat and take a 20 minute break.
If our GPS told us a trip would take 6 hours, we typically factored in an extra couple of hours to account for stops.
We always plan to stop somewhere for a meal during the drive and we stay awhile, so our little one isn't strapped into a car seat for 6-8 hours straight.
Pack accordingly
Anytime you travel with a baby you can anticipate packing more than if you are traveling alone or even with an older child. Even if you just bring the travel essentials for your baby, it is still a lot of stuff!
You'll want to be sure to pack everything you'll need for the amount of time you'll be gone. But be sure when packing and loading your car that the things you may need most during the road trip with your baby are easily accessible.
Extra clothes should be easy to reach within your luggage in case there is a spit up or blow out situation. Other items you might need for quick stops, like your baby carrier for travel, should also be readily available. 
When we would go on road trips with our infant, we preferred to use a baby carrier instead of a stroller when we were getting out of the car to either check out a roadside attraction or run inside a convenience store.
Have someone ride in the backseat with the baby
How would you like to ride backwards, staring at the seat for 6 hours straight? No fun, right?
As long as you aren't alone on a road trip with a baby, it will definitely make things easier if someone rides in the backseat to play the role of entertainer.
When our baby would wake up from her (hopefully) extra long nap in the car, I would usually climb in the back and read her books, play with her, or feed her a food pouch while my husband drove. That would usually buy us a couple more hours to get to our destination.
You can also give your little one an infant massage while you sit with them. This helps babies to relax and soothes the aches that even babies get from long car rides.
Invest in a baby mirror
Babies and toddlers are required to ride rear facing in the U.S. until the age of 2. So, if you plan on a long car journey with an infant or toddler, an inexpensive baby mirror that straps to the backseat will definitely help ease your mind during the drive.
You'll be able to keep your eye on your baby from the front seat, and your baby will have the added enjoyment of looking at himself or herself in the mirror. (Babies are little narcissists. They love mirrors!)
How to feed your baby on road trips
It may be tempting when your baby is crying or hungry to take them out of the car seat while the car is moving "just for a minute" to feed or change your little one, but it really isn't worth the risk.
It's not only extremely dangerous, but it's also illegal. Instead, here is a little advice on how to feed your little one on road trips.
Breastfeeding
If you are exclusively breastfeeding, you'll likely want to pull over when your baby gets hungry to feed your little one. This is the safest thing to do for both you and your baby.
Another option would be to bring your breast pump and pump while you are riding in the car. Then you can bottle feed your baby your expressed breastmilk. This is an efficient way to feed your baby on a road trip without having to stop to breastfeed.
Bottle Feeding
Bottle feeding is an easy way to feed your baby on the go when taking a long car journey with an infant. If bottle feeding breastmilk or premade liquid formula, we recommend keeping the milk in a cooler so it stays fresh.
When it is time to feed your little one be sure to have someone sit in the backseat with them to hold the bottle rather than propping it up. This ensures your baby doesn't choke, drop the bottle, or spill the milk in the car.
Baby Food
If you are taking a road trip with a newborn who is still exclusively nursing or taking formula, you won't need to worry about baby food yet. However, once your child starts solids, baby food pouches can be great for road trips or air travel with a baby.
They are a bit more expensive than the jars or plastic containers of baby food, but they are organic, come in lots of interesting flavors and varieties, and are much easier to deal with while on a road trip with a baby. You can find them at basically any grocery store or online.
We love these three brands: Happy Baby, Sprout Organics, and Plum Organics, which you can find on Amazon for much less than you'll typically pay in a store!
(FYI, if traveling by air, the TSA liquids rule of 3 ounces or less doesn't apply to baby food.) Also, don't forget snacks! Puffs and Cheerios obviously work great.
What to pack for a road trip with a baby
As previously mentioned, packing requires more planning for any type of trip with a baby. But there are a few things you'll want to have readily available on a road trip with a baby.
Aside from a car seat, which is an obvious necessity, you'll want to have these other items within arms length.
Baby wipes
You'll go through so many of these! Whether you're wiping down your baby's face after eating, wiping down toys that they've tossed on the floor, or wiping down sticky baby hands, you will want and need baby wipes on any road trip.
Years have passed since our daughter was a baby, and we still keep baby wipes in the car and frequently use them.
Extra Clothes
Our baby had a tendency to spit up after she ate, so we often had to change her clothes at least once during a road trip.
Even if your baby doesn't spit up frequently, babies drool, and that drool often ends up around the collar of their shirt. So, to keep your kiddo comfortable, you'll want to be sure to change their outfit when it gets wet. 
Charging Pack or Batteries
If you plan to download baby videos for older babies, you'll want to be sure to bring a portable charging pack to keep it charged during the car ride.
The same goes for any batteries, if you bring any toys that require them. Keeping your baby entertained is the key to a successful road trip.
Car Seat Toys
Aside from a tablet, you will also want to bring some engaging toys for your baby. If you are anticipating a long road trip with a baby, you may want to buy a few new toys that your baby has not seen or played with yet. The new toys will likely keep their attention longer.
We personally loved these toys that dangled from the car seat and had different textures and bright colors that our daughter loved.
Portable changing mat or receiving blanket
When it comes to changing diapers on a road trip with a baby or toddler, you won't always have a changing table available. And even if one is available, they aren't always the cleanest. So, be prepared for diaper changes in the car.
It might mean pulling over on the side of the road and changing your baby in the back seat. If doing so, you'll want to have a portable changing pad or a blanket to cover the seat just in case things get messier than expected.
Wet bag and disposable trash bag
You'll want a wet bag for any soiled items that you'll want to wash at your destination. This would include clothes, blankets and cloth diapers.
You'll also want a small trash bag for any dirty disposable items, like baby wipes, disposable diapers, and empty food pouches.
Pacifiers
If your baby takes a pacifier, you will want to stock up on his or her favorite ones before a road trip.
For one, pacifiers will get lost, so you will want a spare, and a spare for the spare. Secondly, they will get dirty. Your baby will drop it, toss it, and it is easier to give them a clean one rather than constantly cleaning the same pacifier. 
Our daughter personally loved the Wubbanub pacifiers, which have little soothie animals attached to them. The extra weight of the soothie helps them stay put longer.
Of course you'll want to bring all the things you would typically bring in a carry-on bag for a baby, like diapers, infant medication, and burp cloths. But the biggest tip for a successful road trip with an infant or toddler is to pack patience and plan for itinerary changes.
Final thoughts on baby road trips
Safety is the most important thing to consider when planning a long car journey with an infant or toddler.
So, before any road trip, or better yet, before your little one is born, we recommend taking your car seat to a fire station or any other location where there are licensed car seat technicians who can make sure it is properly installed. Chances are, it is not. 
This free service will give you a little extra peace of mind that your baby will be safely secured in a properly installed car seat the entire length of the journey.
Traveling with toddlers or older kids? Check out these tips to keep them entertained in the car!
Have a comment or question about taking a road trip with a baby? We'd love to hear from you. Leave your thoughts in the comments below.
Like it? Pin this road trip with a baby guide to save it for later!
This infant road trip guide was first written in December 2015 and was most recently updated in April 2023 for accuracy and current information.