Taking a passport photo for a baby is fairly simple, yet so many of us are afraid to attempt it ourselves.
If you plan to travel internationally with your children they will need passports regardless of their age. So, it is not only important to know how to take your baby's passport photo but how to apply for a baby's passport. 
Our daughter got her first passport at three-months-old, prior to her first international trip to Costa Rica. Unfortunately, we failed in the baby passport photo department. Like many parents, we questioned our ability to take a photo that met all the government guidelines, and ended up getting it taken elsewhere.
In retrospect, it would have been easier and the outcome would have been better had we taken the photo ourselves.
In this article, we detail everything you will need to know to successfully take an infant passport photo, including the baby passport photo requirements set by the United States, tips for taking the perfect passport photo for a baby, and how and where to size and print your child's first passport photo.
US Passport photo requirements for baby passport photos
Admittedly, the United States has a lot of strict guidelines and requirements in place when it comes to acceptable passport photos for babies and for adults.
No wonder so many people get worried about screwing it up! But truthfully, the requirements aren't really that hard to meet.
In fact, you can easily take a baby's passport photo at home with your Smartphone and a bed sheet. Here are the US Passport photo guidelines to keep in mind.
Recent, colored photo
This one is basically a no-brainer. But any passport photo submitted must be in color and taken within the last 6 months.
Clear image
The image must be clear, not blurry, and unfiltered. That means, no LightRoom presets or Photoshop touch-ups are allowed.
Direct photo taken by someone else
Your baby's face needs to be facing the camera directly. That means, no tilted head or head turned to the side.
Also, in the age of selfies, it bears mentioning that selfies are not accessible for passport photos.
Although, this article is about how to take your baby's passport photo, so selfies are probably not something you need to worry about yet. 😉
What not to wear
The US Department of State has some very specific requirements on what your baby can and cannot wear.
Here are a few things to keep in mind. 
Remove eyeglasses – even if your infant needs them for medical reasons, they will need to be removed prior to taking the photo.
No hat or bow
No camouflage clothing or anything that looks like a uniform
If your baby is blessed with long hair, be sure to sweep it out of your baby's face before taking the photo.
Plain background
The background of your infant passport photo needs to be a plain, white background. Keep reading for tips on how to achieve that and examples of what is and is not acceptable.
Neutral facial expression or natural smile
There is a widely believed myth that smiling is not allowed in passport photos. However, that is not true. You can either have a neutral facial express or a natural smith.
So, letting your baby smile in a passport photo is totally OK, as long as it is a natural expression.
Eyes should be open
For infants and newborn passport photos, it is actually OK for their eyes to be closed which is why we say eyes "should" be open instead of eyes "must" be open.
Keep in mind, this will be your child's passport photo for the next five years.
So, it is best to try to snap a picture where your baby has his or her eyes open. This is much easier to achieve if taking your baby's passport photo at home.
No shadows
Your baby's passport photo should not have any shadows in the picture. That means no shadows cast onto the background and no shadows cast on them from you standing over them to take the photo.
How to take a perfect passport photo for a baby
Now that we have outlined the passport photo requirements, let's dive into how to take a baby's passport photo at home.
It's easier to do at home than you would likely think, and because you have time and the ability for retakes, the picture will probably turn out much better than it would if you had your baby's passport photo taken somewhere else.
What you'll need to take an infant passport photo
Your baby 🙂
Non-textured white sheet or white poster board
Good lighting
Camera or Smartphone
Tips for taking a baby passport photo
Here are a few tips and instructions to help you through the process of taking the perfect passport photo for a baby!
Use the right type of background
Lay your baby on the floor on a non-textured white sheet or white poster board. A textured blanket or an off-white sheet will result in a passport photo rejection.
The first two images below are blankets. The third is a pressed, white sheet, pulled tightly.
Take the photo from overhead
Depending on your baby's age, he or she likely cannot sit up alone, so it is easiest to take a photo overhead with your infant laying down on the white sheet. This way you do not have to worry about holding them up and keeping hands out of the picture.
If you take a passport photo of your baby at home, you can take as many pictures as you want and choose the best one.
Take advantage of a good mood
The biggest advantage to taking an infant passport photo yourself is that you can choose the timing that works best for your baby.
Babies can go from perfect bundles of happiness to teething, grouchy bundles of drool seemingly overnight.
So, aim for a time of day when your little one is typically alert and happy, so you have the best chance of getting a good passport photo with your baby's eyes open and a natural smile.
If the day you try to take your baby passport photo, your little one refuses to cooperate, it's OK! Just try again the next day.
Remember, your baby's head must be facing directly at the camera. In a baby passport photo, the head can not be tilted or turned even slightly to the side.
Play around with lighting
Natural light is usually best when taking a passport photo for a baby, however, sometimes natural lighting can make the white sheet look a bit more off-white or gray. If that is the case, try using a flash, but make sure it is not casting shadows.
There cannot be any shadows cast on your baby's face or around your baby's head.
Use an online cropping tool
It is easy to crop your infant passport photo to the correct 2×2 inch dimensions using an online passport tool.
The Department of State has passport cropping tool that you can then save the photo to your computer and print two copies at home using a colored printer.
Walmart also has an online passport cropping tool if you prefer to have your passport photos printed professionally.
Unacceptable vs. acceptable baby passport photo examples
We enlisted the help of our daughter to help demonstrate how to take a baby's passport photo properly.
Of course, if taking a passport photo for a toddler, you don't have to lay them down anymore. But obviously, with a baby, that is still the best option.
And our daughter was happy to play the part of a baby to help out. (We bribed her with ice cream.)
In the first photo her head is tilted. That would not work for a passport photo. You'll also notice wrinkles in the white sheet behind her. Also a no.
In the second photo, her eyes are closed, and while her smile is adorable, for a passport photo, they require a more natural expression.
Finally the third photo would be acceptable. She's looking straight at the camera, with a natural expression and a clean, pressed white background.
If you still don't trust yourself, take someone else with you to whatever passport photo station you choose to visit. The other person can hold the baby or stand behind the camera to get a natural smile or at least some type of expression.
Taking a baby passport photo really doesn't require a lot of effort or time. In fact, doing it yourself will save you money and stress.
And hopefully, you'll get a great photo that will make even the most serious of customs agents smile just a little.
Also read: Tips for flying with a baby and check out our complete list of Baby Travel Essentials
Next steps: How to apply for a passport photo for a baby
So, you've taken your baby passport photo, sized it, and printed it out. Now what?
First, you will need to apply for your baby's passport in person at your post office or passport acceptance facility.
Both legal parents need to authorize the issuance of the baby's passport, so either both parents need to go with your child to apply in person, or the unavailable parent needs to complete a statement of consent allowing the child to get a passport.
Here are a few things you need to bring with you to your passport appointment.
Two copies of the baby passport photo
A completed passport application/DS-11 form for your child.
Proof of your baby's citizenship, such as a birth certificate or certificate of citizenship if born abroad.
Proof of parental relationship. This could be a birth certificate, adoption decree, or divorce/custody decree.
Parents' Identification. Your driver's license or passport will suffice. (You need to provide or allow the passport office to make copies of your IDs and your child's proof of citizenship.)
Payment for all passport application fees.
Finally when applying for a new passport, make sure you submit your passport paperwork and baby passport photo well in advance before any planned travel – just in case there is an issue and you need to redo it.
Traveling internationally with your infant? Check out these tips to help your baby overcome jet lag.
Our personal passport photo fail: Baby passport photo or mugshot?
We decided to write this article after having somewhat of a baby passport photo fail after taking our daughter to a drugstore chain for her first passport picture. On the day of our daughter's first passport photo, admittedly she wasn't having the best day. So, she absolutely refused to smile.
Again, had we have taken the photo ourselves we could have done a retake or tried again on another day. But since we were planning an international trip, we only had a couple of months to submit the necessary paperwork and photos for our baby's first passport.
She could hold her head up decently at that age, but could not yet sit on her own. Because passport guidelines require that no other person, not even their hands, can be in a passport photo, we held her with awkwardly out-stretched arms trying to keep our body and hands out of the shot.
Apparently, the teenage clerk with the point-and-shoot camera didn't care that my sweet girl is infinitely cuter when she smiles. He made no attempt to get even a slight facial expression from our daughter when the photo was snapped. So, the end result was a baby who looks mildly annoyed, confused, and uncomfortable.
In all reality, our baby's first passport photo was fine, and more importantly it worked for her passport. But we learned a few lessons from that experience.
Mainly, we learned taking an infant passport photo at home is simple!
Like it? Pin this baby passport photo how-to guide to save for later!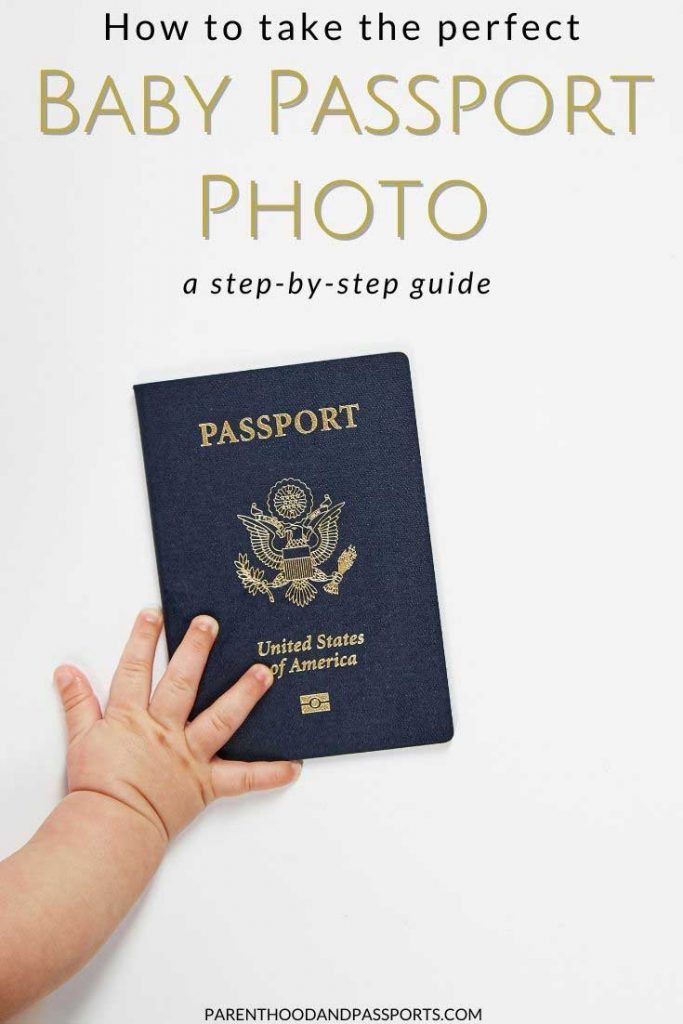 Did you take your baby's passport photo at home? How did it go? Let us know in the comments below!