We may earn money or products from the companies mentioned in this post.
Vienna, Austria is known worldwide as one of the greatest cultural experiences in Europe. The capital city has a rich history and was once home to some of the greatest artists and musical composers of all time. So naturally, I had to find a way to squeeze this incredible city into our last European trip. Our trip also included Germany, Poland, and Czech Republic. It was a whirlwind drive across central Europe that included numerous cities, so we only had a short amount of time to explore Vienna. Although we stayed two days, I laid out an itinerary for one day in Vienna, as we did most of our sightseeing on the first day. In such a short amount of time you will not be able to see everything, but you can see a good amount of the city if you plan your day right.
Staying a bit longer? Here are more of the top attractions in Vienna you won't want to miss.
Because there is so much to see and do in Vienna, I would recommend giving yourself more time than we did. Three days in Vienna would be a good amount of time to explore this amazing city. You could see a lot more of the tourist attractions in Vienna and even some of the lesser known places that are more off-the-beaten path.
Whether spending just one day in Vienna or many more, choose a hotel that is conveniently located. We stayed at the Hotel Beethoven Wien, which in my opinion has the perfect location and a really cool vibe.
CHECK OUT OUR FULL POST ON HOTEL BEETHOVEN WIEN HERE.
You will be able to see much more if you start your day early… and I mean really early. This is a lesson I learned from my toddler, but if you get up and and leave the hotel shortly after the sun comes up, you will miss all of the long lines and fit much more into your schedule.
Before you visit Vienna, check out this comprehensive guide to help you plan your trip.
Our one day in Vienna itinerary
As I mentioned earlier, Vienna is a city of culture, incredible European history, and awesome food and coffee. There are a lot of things to do in Vienna and this itinerary is going to cram a lot into a day in a Vienna.
Here is a look at what you can feasibly see in Vienna in one day.
7:00 a.m. Breakfast at Naschmarkt (or at hotel before visiting Naschmarkt)
8:00 a.m. Photo opportunity outside the State Opera House
8:30 a.m. Stroll through Karntner Stasse without 4 million people
9:00 a.m. Tour Stephenplatz
10:00 a.m. Tour Mozart's House
10:45 a.m. Plague Pillar (grab a snack along the way if hungry)
11:00 a.m. St. Peter's Catholic Church
12:00 p.m. Hofburg Imperial Palace
1:30 p.m. Leisure stroll Volksgarten
2:00 p.m. Late lunch at Rathuesplatz
3:00 p.m. Museum quarter
4:30 p.m. Continue touring museums or head to The Prater or Shonbrunn Palace
8:00 p.m. late dinner then bed
Naschmarkt
Any solid one-day itinerary for Vienna should start with breakfast and a strong cup of coffee (especially if you take my advice and get an early start to your day).
Begin with breakfast at the Naschmarkt where you will find a variety of restaurants and vendors selling produce, meats, and fresh baked breads. In the morning, its fun to get there early and watch the market workers lay out the fresh fish and other daily specials. By evening, this is a bustling area with tourists and locals alike coming to enjoy dinner, a glass of wine, a light snack, or dessert.
State Opera House
If you start your day early, chances are you won't get to go inside the State Opera House. Since it is one of the most famous opera houses in the world, visiting it requires you to book a tour. However, guided tours do not start until 9 a.m. so unfortunately, we missed out on seeing the inside. While we didn't get to see the inside, the exterior of the building is beautiful, as well. Although the opera house was still closed when we stopped by at 8 a.m., you could always fit this into your afternoon if you stay at Hotel Beethoven Wien or one of the other hotels in the area. The opera house was just a short walk from our hotel. The next experience made up for missing out on a guided tour of the opera house though.
Karnter Stasse and Stephenplatz
From the opera house, we walked down Karntner Stasse, which is a bustling shopping district when everything is open and made our way to Stephensplatz. This area is usually SWARMING with tourists. But we were some of the first people there. There's just something magical about getting to experience a city before the throngs of other tourists or even the locals descend for the day.
We arrived at St. Stephens Cathedral right as it opened and got a rare glimpse of this magnificent church while it was empty. You can climb the spiral staircase to the top — a total of 343 steps and enjoy the serene view with way fewer people pushing their way in for a selfie. If you are lucky and get there right when they open you may even get the viewing platform at the top all to yourself.
Mozart's House
After you climb the tower at St. Stephen's Cathedral head around the corner to Mozart's House. This is where the esteemed composer lived and produced some of his most famous masterpieces.
You could easily walk right by Mozart's House without realizing what it is since the outside is somewhat nondescript. But it's worth a quick tour, even if you have only one day in Vienna. It will be especially interesting if you are a lover of music, the arts, or history. They also have special audio guides for kids to keep them more entertained.
Graben and Kohlmakt (Plague Pillar)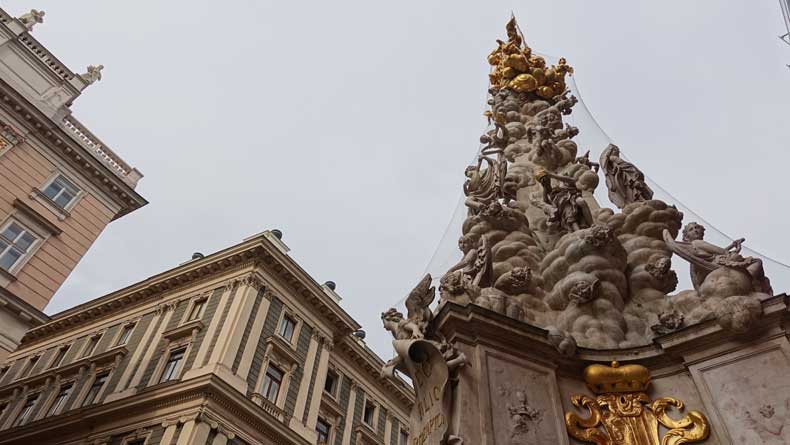 After visiting Mozart's House, head toward Hofburg Palace. On the way, pause and appreciate the Plague Pillar. In the late 1600's, Emperor Leopold I vowed to build a pillar of gratitude to God if the Lord would spare Vienna and end the plague that was killing so many people. The pillar is interesting and intricate and has a neat backstory. But take your time to really study this sculpture. There is so much detail in this piece of public art, and it really does tell the story perfectly.
St. Peter's Catholic Church
Another quick stop on the way to the palace is St. Peter's Catholic Church… If you like visiting churches in different cities, as I do, you will enjoy your visit to St. Peter's Cathedral. It is beautiful on the inside, and small enough that it doesn't take much time to visit. It is also free to visit making it all the more appealing!
Hofburg Imperial Palace
Hofburg Imperial Palace is huge. You could spend hours touring the palace, reading about the history, and exploring the gardens and grounds. There is a large courtyard with a small cafe if you want to get a coffee, a snack, or even lunch. Coffee in Vienna is fantastic, and you will definitely need a cup by this point in your day.
We spent a couple of hours at the palace, although you could spend more if you have more than one day in Vienna. Our daughter enjoyed running around the courtyard and the gardens. I enjoyed learning about Empress Elizabeth to whom I could completely relate. She loved to travel, just like I do, and was murdered during one of her many trips she took alone. The self-guided tour of the Imperial Apartments gives you a glimpse into the lives of royalty more than 600 years ago.
Volksgarten
A leisurely stroll through the Volksgarten is a great late morning break from all of the sightseeing packed into this itinerary. If you're traveling with kids, Volksgarten gives them plenty of green space to run around and burn some energy. The Volksgarten was the first public park in Vienna and houses the famous rose garden, which contains more than 3,000 rose bushes of hundreds of different varieties.
Rathuesplatz
By this point in the day, you will probably start to get hungry. Rathuesplatz is just a short walk from the Imperial Palace. On a nice day, it's great to sit outside the beautiful neo-Gothic city hall and have lunch in the plaza.There are numerous vendors selling crepes, bratwursts, and various types of cuisines. While you're there, have a radler, a refreshing drink that is half wheat beer/half lemonade. If you are visiting Vienna in winter, this area also hosts one of Europe's best Christmas markets and is also a popular place for outdoor ice skating.
Museum Quarter
The funny thing about traveling with a toddler is not only do you wake up early, you also need to make sure they get a good nap or else you will deal with the wrath of a two year old later in the day. After our lunch we started our walk back to the hotel. The museum quarter is on the way, so if you aren't dealing with a fussy toddler, spend the rest of the afternoon enjoying the museums. A good one for kids is the Natural History Museum.
Prater
After our daughter's nap (and ours… remember the cardinal rule of parenthood: sleep when your baby sleeps), we headed to the Prater. From our hotel, we needed to take the subway to get there, but it was only about a 10 minute ride and a $2 charge. The main attraction at the amusement park is the Giant Ferris Wheel, which is one of Vienna's most famous symbols.
A word of advice: skip it! If you've ever been to the London Eye, this Ferris Wheel will seem neither giant nor impressive. The park pales in comparison to theme parks in the United States, too. But if you have kids who are a little older (5-10 years old) who are tired of sightseeing, I guess the Prater would suffice and keep them entertained for the afternoon.
Afterward, we took a stroll along the river, before heading back toward the hotel for dinner and our toddler's bedtime.
What to do instead of the Prater if you only have one day in Vienna (or on day two or three)
If you decide to skip the Prater, head to Schloss Schonbrunn Palace instead and visit the children's museum, the maze, and the labyrinth playground. Kids can play, climb, and even challenge their mind with puzzles. Even adults will enjoy the labyrinth playground. If you have more than one day in Vienna, spend some time in the museums and visit Belvedere Palace on day two.
From Vienna, you could easily take a day trip to Bratislava, Slovakia, as well, which is only an hour's drive. Bratislava's Old Town is absolutely charming. Kids will enjoy finding and posing next to all of the fun statues around Old Town, and the food is definitely worth trying.
Need even more more information? Here's a great itinerary for two full days in Vienna – including some awesome restaurant and food recommendations!
Have you been to Vienna? What would you recommend to include in an itinerary for one day in Vienna?
Like it? Pin it!