Vienna, Austria is known worldwide as one of the greatest cultural experiences in Europe. The Austrian capital has a rich and royal history, and it was once home to some of the greatest artists and musical composers of all time.
While there are so many things to do in Vienna, most of the popular sightseeing spots are located in the city center and are within walking distance from each other. So, if you only have one day in Vienna, you can see a lot of the top attractions in Vienna in a short time.
This guide details how to spend one day in Vienna, where to stay to maximize your time, and provides a suggested one-day Vienna itinerary to follow.
Our personal experience in Vienna, Austria
We visited Vienna, Austria as part of a multi-city, multi-country road trip across Europe. Our trip included a couple stops in Austria, Germany, Poland, and the Czech Republic. While we were able to visit a lot of different places, we only had a short amount of time in each city.
We actually spent two days in the Austrian capital, but we did most of our sightseeing on the first day. So, we wanted to lay out an itinerary for one day in Vienna to show you what you can feasibly see and do in a short time.
Although admittedly, you will not be able to see every palace or tour every museum, if you plan your day right, you can see a good amount of the city, even if you only have 24 hours in Vienna.
Because there is so much to do in Vienna, you may want to give yourself an extra day or two, as well. In fact, a full three days in Vienna would be a good amount of time to explore this amazing city. With a couple extra days on your Vienna itinerary, you would be able to see more of the popular tourist attractions in Vienna and even some of the lesser known places that are more off-the-beaten path.
Another option would be to use Vienna as a base city and take a few day trips to places like Brno, Czech Republic or Bratislava, Slovakia. Both cities are incredible, accessible by train, and within 2 hours from Vienna.
Where to stay in Vienna
Whether spending just one day in Vienna or many more, choose a hotel that is conveniently located.
We stayed at the Hotel Beethoven Wien. The hotel is perfectly located near many of the popular tourist sites and metro stations. It also has nearby parking included if you are getting a rental car or driving like we did.
The hotel has a really cool vibe, and is one of the more memorable hotels in which we have stayed.
CHECK OUT OUR FULL POST ON WHERE TO STAY IN VIENNA HERE OR SEARCH FOR HOTELS AND APARTMENTS NEAR VIENNA'S CITY CENTER HERE.
How to see Vienna in one day
You will be able to see much more of Vienna in one day if you start your day early. This is a lesson we learned from our toddler. If you get up and leave the hotel shortly after the sun comes up, you will miss all of the long lines and be able to fit much more into your schedule.
Here are a few travel tips when sightseeing in Vienna that will help you maximize your day in Vienna.
Utilize public transportation or rent a car
Vienna is well connected and easy to navigate using public transportation. Their metro system is reliable and simple to use for anyone familiar with metros.
Although many of the main tourist sites in Vienna are within walking distance, several of them, like the Prater Amusement Park and Schonbrunn Palace, are easier to get to via the metro, especially if you are only in Vienna for a day.
Although public transportation is easy to use, if you are exploring Austria by car, having a rental car will help you maximize your time in Vienna.
For example, in a rental car, we were able to get from our hotel, near Naschmarkt to Schonbrunn Palace in about 10 minutes, whereas it would take approximately 30 minutes by public transport.
Compare prices and book a rental car on DiscoverCars
Map out your day
Any trip that we have a limited amount of time to spend in a city, we always map out the attractions we want to see using Google Maps.
Mapping our our route helps us plan out our day efficiently and not miss anything unknowingly.
With only one day in Vienna, mapping out your itinerary is a must! We've saved you this step, by mapping out our complete one day Vienna itinerary for you.
Buy Tourist Passes
Standing in a long queue or line of people to purchase tickets for a museum or attraction is a huge waste of time.
The Vienna Pass includes admission to most of the city's most popular sites. So, it not only saves you time, it saves you money!
Before you visit Vienna, check out this comprehensive guide to help you plan your trip.
Vienna one-day itinerary
As indicated above, Vienna is a city of culture and incredible European history, not to mention it has awesome food and coffee! There are a lot of things to do in Vienna, so a word of warning: this itinerary packs a whole lot into one day in Vienna.
You will not be able to linger or have as much time at each location as you probably would like if you follow this one day Vienna itinerary.
If you prefer to enjoy your day at a slower pace, cut out the Prater or Schonbrunn Palace and spend more time in the historic city center.
Here is a look at what you can feasibly see in Vienna in one day and a look at how to best spend your day.
7:00 a.m. Breakfast at Naschmarkt (or at hotel before visiting Naschmarkt)
8:00 a.m. Photo opportunity outside the State Opera House
8:30 a.m. Stroll through Karntner Stasse without 4 million people
9:00 a.m. Tour Stephansplatz and St. Stephan's Cathedral
10:00 a.m. Tour Mozart's House
10:45 a.m. Stroll down the Graben and marvel at the Plague Pillar (grab a snack along the way if hungry)
11:00 a.m. Peek inside St. Peter's Catholic Church
11:30 p.m. Visit Hofburg Imperial Palace
1:30 p.m. Leisure stroll through Volksgarten
1:45 p.m. Late lunch at Rathausplatz
2:30 p.m. Walk through the Museum quarter
3:30 p.m. Head to The Prater or Schonbrunn Palace
7:00 p.m. late dinner then bed
Things to do with just one day in Vienna
If you follow our suggested itinerary above, you will start sightseeing early and finish your day in Vienna fairly late, not even eating dinner until after 7pm. But you'll be able to hit most of the top attractions in Vienna in a short time.
Here is a detailed look at the things you'll see and do if following our one-day Vienna itinerary.
Naschmarkt
Any solid one-day itinerary for Vienna should start with breakfast and a strong cup of coffee (especially if you take our advice and get an early start to your day).
Naschmarkt is the perfect place to begin your day. It is Vienna's most popular street market. You will find more than 100 vendor stalls and restaurants selling produce, meats, and fresh baked breads.
In the morning, it's fun to get to Naschmarkt early and watch the market workers lay out the fresh fish and other daily specials.
By evening, this is a bustling area with tourists and locals alike coming to enjoy dinner, a glass of wine, a light snack, or dessert.
Naschmarkt has been a Vienna staple since the 16th century. It is one of the best places in the city to get a true taste of Austria, not only with the food, but with the local culture.
Unlike many of the tourist sites that specifically cater to travelers, Naschmarkt is a popular place for locals in Vienna to do their daily food shopping.
You'll find a good mix of people and food at this open-air market. While some shoppers are coming to purchase fresh meats and produce to take home and cook, there is also the option of seated dining.
Saturdays are particularly great for visiting Naschmarkt, as there is a flea market that takes place on the western edge. So, you can shop for unique souvenirs and handcrafted goods, as well.
Vienna State Opera House
The Vienna State Opera House was the first major building on the Vienna Ring Road.
Completed in 1869, it is one of the most famous and important opera houses in the world. Many of the greatest opera stars of all time have performed in this iconic venue.
While it has had many glory days, the opera house has also seen many dark times. It fell under Nazi rule during World World II and many of the performers were driven out of Austria or killed.
The building was even bombed in 1945 causing devastating damage. It was subsequently restored during the following decade and reopened in 1955 with a new auditorium and modern technology.
The auditorium features seating for 1,709 and offers nightly performance.
If you start your day early, chances are you won't get to go inside the Vienna State Opera House. Going inside the opera house does require you to book a tour or see a performance.
Guided tours do not start until 9 a.m. so unfortunately, we missed out on seeing the inside. While we didn't get to tour the Vienna Opera House, the exterior of the building is beautiful, as well.
Although the opera house was still closed when we stopped by at 8 a.m., you could always fit this into your afternoon if you stay in the 6th District or 7th District, in the area where we stayed. The opera house was just a short walk from our hotel.
The next experience made up for missing out on a guided tour of the opera house though.
Kärntner Straße
From the Vienna Opera House, take a stroll down Karntner Stasse, which is a bustling shopping district when everything is open. In fact, it is the most famous shopping street in Central Vienna and has been a significant thoroughfare in the city since the Middle Ages.
The pedestrian street runs from Ring Road (Ringstrasse) to Stephansplatz.
This area is usually swarming with tourists. But if you start your day early, you will be the first people there. There's just something magical about getting to experience a city before the throngs of people descend for the day.
Stephansplatz and Stephansdom
If you plan your day right, you should arrive at Stephansplatz right as St. Stephen's Cathedral opens to the public at 9 a.m. Stephansdom, as it is known in German, is a gothic cathedral that stands on the ruins of two earlier churches.
It is the most significant religious building in Vienna and is one of the most famous churches in Europe.
The cathedral is the seat of the Archbishop of Vienna and the mother church of the Roman Catholic Archdiocese of Vienna.
This beautiful church is perhaps most noted for its tiled roof. The ornate, colorful tiles form a mosaic double-headed eagle, a symbol of the Habsburg dynasty which ruled Vienna in the second millennium.
Getting to Stephansdom right when the cathedral opens will give you a rare glimpse of this magnificent church while it is empty.
Be sure to climb the spiral staircase of the cathedral's south tower. The tower has a total of 343 steps and boasts a serene view over the city, as it is one of the most prominent features of Vienna's skyline.
If you are lucky and get there right when the cathedral opens you may even get the viewing platform at the top all to yourself!
Mozart's House
After you climb the tower at St. Stephen's Cathedral head around the corner to Mozart's House. This is where the esteemed composer lived from 1784 to 1787 and where he produced some of his most famous masterpieces.
Mozart's House is one of the must-visit attractions in Vienna for music lovers, as the famous composer has become such a big part of Vienna's history.
You could easily walk right by Mozart's House without realizing what it is since the outside is somewhat nondescript. But it's worth a quick tour, even if you have only one day in Vienna. It will be especially interesting if you are a lover of music, the arts, or history.
The museum also has special audio guides for kids to keep them more entertained during the tour.
Mozart's House opens at 10 a.m., so this Vienna itinerary gives you one hour to spend at St. Stephen's Cathedral and in Stephansplatz and puts you at Mozart's House right when it opens – again beating the crowds to maximize your visit.
Graben and Plague Column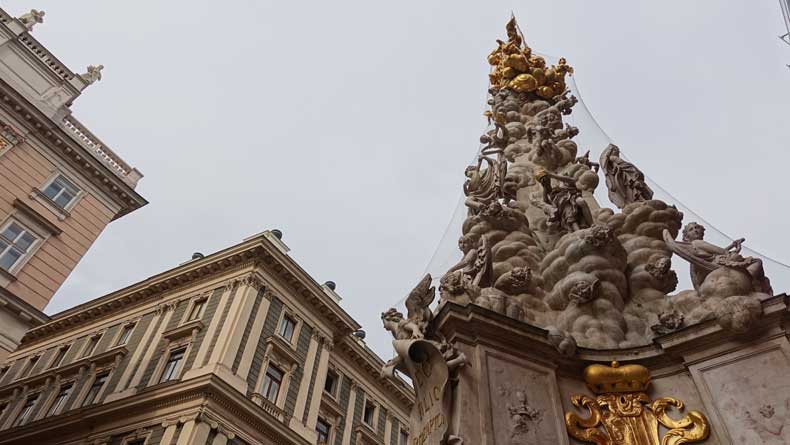 The Graben is one of the busiest pedestrian streets in Vienna and one of the most famous.
Dating back to Roman times, the shopping street in the city center takes you from Stephansplatz to Kohlmarkt, which will take you to the entrance to Hofburg Palace.
There are lots of cafes and restaurants which line the Graben. At this point in the itinerary you may want to grab a coffee and perhaps a cake or strudel.
Along the famous street, pause and appreciate the Plague Column, also known as the Column of Pest. In the late 1600's, Emperor Leopold I vowed to build a pillar of gratitude to God if the Lord would spare Vienna and end the plague that was killing so many people across Europe.
The pillar is interesting and intricate and the backstory only adds to its appeal, making it one of the most famous sculptures in all of Europe.
Take your time to really study this particular sculpture. There is so much detail in this piece of public art, and it really does tell the story perfectly.
St. Peter's Catholic Church
St. Peter's Catholic Church is another quick stop on the way to Hofburg Palace. The Baroque Roman Catholic parish church features a large teal-colored dome on the exterior, which you will notice as you approach the street it is seemingly tucked down.
The inside of the church is like a wave of color and shimmering gold statues. It is beautiful on the inside, and small enough that it doesn't take much time to visit.
If you like touring churches in different European cities, as we do, you will enjoy a quick stop to St. Peter's Cathedral in Vienna. It is free to visit, making it all the more appealing!
Hofburg Imperial Palace
Hofburg Imperial Palace is the official residence and workplace of the President of Austria. Formerly a medieval fortified castle and royal imperial palace, the Hofburg is huge.
There are 18 wings, 19 courtyards, and 2,600 rooms within the Hofburg Imperial Palace. Understandably not all of them are open to the public to tour and explore.
The imperial apartments are perhaps of most interest, and what we recommend touring during your one day in Vienna. The 24 rooms in the apartments give you a glimpse into the lives of royalty more than 600 years ago. You'll learn about the lives of Emperor Franz Joseph and his wife, Empress Elisabeth.
Elisabeth was particularly fascinating, as she was a unique, modern woman in an age of antiquity. She loved to travel and was ultimately murdered during one of her many trips she took alone.
Hofburg Palace is also home to the world-famous Spanish Riding School. For more than 450 years, the institution has practiced a highly stylized form of classical horseback riding called Haute Ecole. You can buy a ticket in advance to watch them train, or if you're lucky enough, maybe even catch a performance while you're in Vienna. However, if you plan to watch them train, you'll likely need an extra day in Vienna.
Located in the center of Vienna, the oldest part of the Hofburg palace dates back to the 13th century. You could spend hours touring the palace, reading about the history, and exploring the gardens and grounds.
We spent a couple of hours at the palace, although you could spend more if you have more than one day in Vienna.
There are large courtyards around the palace grounds and small cafes if you want to enjoy another delicious Viennese coffee, a snack, or even lunch.
Hofburg Palace opens up to Heldenplatz, or Hero's Square, which you will walk through to get to your next stop on our Vienna Itinerary.
Volksgarten
A leisurely stroll through the Volksgarten is a great late morning or early afternoon break from all of the sightseeing packed into this itinerary. If you're traveling with kids, Volksgarten gives them plenty of green space to run around and burn some energy.
The Volksgarten was the first public park in Vienna and houses the famous rose garden, which contains more than 3,000 rose bushes of hundreds of different varieties.
Part of the Hofburg Palace complex, the park was originally laid out in 1821 and opened to the public in 1823. It was built over an area that was once fortifications for the city. But the French emperor, Napoleon, destroyed them, which left a large area of empty space. The area was eventually turned into two parks as well as Heldenplatz Square.
At the center of the park, you'll find a smaller version of the Temple of Hephaestus in Athens, Greece. The neoclassical temple surrounded by its white pillars routinely hosts small art exhibitions.
The triangular park runs adjacent to Ring Road connects Heldenplatz, Austria's National Theater, and your next stop, Rathausplatz.
Rathausplatz
By this point in the day, you will probably start to get hungry, even if you have stopped for coffee and cakes. Luckily, Rathausplatz is a great place to grab a quick lunch.
The square outside the lovely Rathaus, or city hall, is a popular place for outdoor festivals, concerts, and events.
On a nice day, it's great to sit outside the beautiful neo-Gothic city hall and have lunch in the plaza. There are numerous vendors selling crepes, Viennese sausage, and various types of cuisines. While you're there, enjoy a radler, a refreshing drink that is half wheat beer/half lemonade.
If you are visiting Vienna in winter, the plaza also hosts one of Europe's finest Christmas markets and is a popular place for outdoor ice skating.
Museum Quarter
The Museum Quarter is another area of Vienna where you could spend hours, if not days! After a relaxing lunch, begin walking back down Ring Road toward the area known as Museum Quarter.
The Museum Quarter is on the way back toward the hotel that we recommended above, so by this point in your day, you will have essentially walked in a large square.
If you love museums, art, and history, you could choose to spend the rest of the afternoon here enjoying the museums.
If you plan to visit at least one of the museums, by this point in the itinerary it is well worth getting the Vienna Pass, as it provides admission to many of the attractions, plus free transportation on the hop-on hop-off buses and skip-the-line access.
The museums are especially great places to spend a rainy, snowy, or cold day in Vienna.
In Vienna's Museum Quarter you'll find the Museum of Modern Art, The ZOOM Children's Museum, and the Natural History Museum, among others.
Prater
Your next stop on your Vienna itinerary will be at either Schonbrunn Palace or the Prater. Either stop will require a short metro ride or drive, and both are great if visiting Vienna with kids. However, you will not have time for both, so you will have to make a choice which one you would like to see.
We decided to visit Prater Amusement Park, which was only about a 10-minute metro ride and a $2 charge because our child had enough of historical sites, palaces and gardens by this point.
The main attraction at the amusement park is the Viennese Giant Ferris Wheel, which is one of Vienna's most famous symbols. The Ferris Wheel has been a Viennese icon since 1827.
Although not as towering as the London Eye in London, the Prater Ferris Wheel offers great views over the city and nearby Stadtpark.
The amusement park, while fun for kids, pales in comparison to theme parks like Tivoli Gardens in Denmark, or Busch Gardens or Disney World in the United States.
With dozens of rides, roller coasters, and carnival-style games and booths, there are plenty of activities at the Prater to keep a family entertained for an afternoon. However, if theme parks aren't your thing you will likely prefer a visit to Schloss Schonbrunn Palace instead.
Schonbrunn Palace
Schloss Schonbrunn Palace is perhaps the best palace to visit in Vienna. Getting there also requires a 30 minute metro ride or 10 minute drive from the city center.
The former summer residence of the Habsburg dynasty, the impressive palace and its magnificent gardens really showcases what a powerful royal empire the Habsburgs built.
Unlike Hofburg Palace, Schonbrunn Palace is not currently used as a government building. Instead, the palace which was built and designed over a span of 300 years, is a UNESCO World Heritage Site and is the most popular tourist attraction in the city.
There are 45 rooms in the palace that are open to visitors for tours, as well as a children's museum where kids can learn how the kids of the imperial family lived, dressed, and played.
While the interior of the palace is mesmerizing and elegant, the Baroque Garden is perhaps an even greater gem!
With a labyrinth maze and fun games for kids and adults this is one of the best areas of the palace grounds to explore with children. Kids can play, climb, and even challenge their mind with puzzles located in the labyrinth playground.
If time allows, the complex also includes the Schonbrunn Zoo, the oldest zoo in the world!
You'll need to be at Schonbrunn Palace by 4 p.m., as the last ticketed time is 4:15. This will give you about an hour and a half to tour the palace before it closes for the day.
Other sightseeing options for one day in Vienna itinerary
If time allows, there are plenty of other great things to do in Vienna. However, if you only have one day in Vienna, it is likely you will not fit much more into your itinerary.
Still, here are a few other options for things to see and do in Vienna if you have an extra day to explore the capital city.
Austrian National Library
The Austrian National Library is one of the most beautiful libraries in the world. With more than 12 million items of literature, it is also Austria's largest library.
It is easy to stop into the National Library right before your visit to Hofburg Palace, as it is part of the Hofburg complex located in the Neue Burg Wing.
Belvedere Palace
If you can't get enough of the glorious palaces in Vienna, here is another to add to the list! A visit to Belvedere Palace makes a great addition to your day in Vienna or a good stop on day two or three if you plan to spend more time in Vienna.
Also a designated World Heritage Site, this Baroque palace is one of the oldest museums in the world.
The complex consists of the Upper Belvedere and Lower Belvedere buildings, and like other Viennese palaces, beautifully manicured gardens.
Day trips from Vienna
Vienna, Austria is a great place to base yourself if you prefer to stay in one place and venture out on day trips.
Here are a few popular day trips from Vienna.
Bratislava, Slovakia
One of the most popular Vienna day trips, Bratislava is only an hour's drive or shortly longer train ride. From Vienna, you could easily take a day trip to Bratislava, Slovakia and spend 8-12 hours exploring the capital of Slovakia.
Bratislava's Old Town is absolutely charming. Kids will enjoy finding and posing next to all of the fun statues around Old Town and venturing up the UFO bridge, one of the most famous bridges in Europe.
Slovakian food is definitely worth trying, as well.
Brno, Czech Republic
Brno, Czech Republic is another great day trip from Vienna. There are a lot of great things to do in Brno, including a visit to Europe's second largest ossuary, home to more than 50,000 skeletons!
If you want to spend a little extra time in Brno to explore this unique city in Czechia's Moravia region, it offers relatively affordable lodging in the heart of the city.
Salzburg, Austria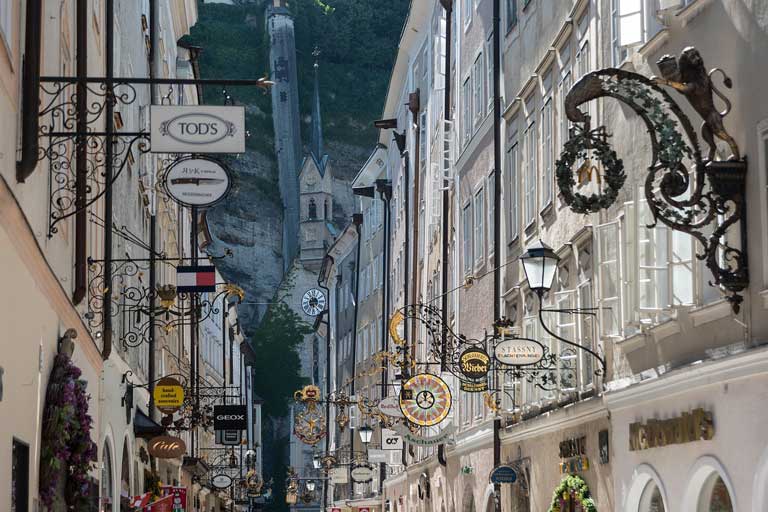 Finally, although a bit further away from Vienna than Brno or Bratislava, Salzburg is a great city to explore with kids. The Austrian city is a classic movie-lover's dream destination.
You'll find many Sound of Music filming sites in Salzburg, as well as in the nearby lake community of Mondsee, Austria.
Is one day in Vienna enough?
One day in Vienna is not enough to see all of the world-class museums, tour the palaces and cathedrals, relax in the delectable coffee houses, and have fun exploring. There is just too much to do in the Austrian capital for one day.
We spent two full days in Vienna and still didn't get to see everything that we wanted to.
But 24 hours in Vienna will give you a beautiful taste of this city.
If you have more time, plan to spend at least 2-3 days in Vienna, or better yet, stay for a week and add on a few day trips to the nearby cities.
Do you have a question or comment about this one day in Vienna guide? We'd love to hear from you. Leave your thoughts in the comments below.
Did you know…
When you make a purchase or book hotels, tours, or other travel services, through our links, we receive a small commission, at no extra cost to you. We only EVER recommend service providers, websites, or products we personally use when booking our own travels. Your support enables us to keep producing helpful travel content. Thank you!
Like it? Pin this one-day Vienna itinerary to save for later!
This guide to how to spend one day in Vienna was first written in December 2016 but was most recently updated in September 2023 for accuracy and current travel information.