Imagine the aroma of mulled wine and roasted chestnuts filling the crisp, winter air as you wander down cobbled streets surrounded by storybook buildings illuminated by a glow of white lights. That, my friends, is Christmas in Europe!
There is nothing quite as magical as the enchanting spirit of the holidays in Europe. There are so many fairytale towns and cities in Europe to visit at Christmas that come alive with twinkling lights, festive markets, and a palpable sense of Yuletide cheer.
From snow-draped alpine villages to bustling metropolises adorned with dazzling decorations, there are so many Christmas destinations in Europe that promise to kindle the holiday spirit in every traveler's heart.
The Best Christmas Destinations in Europe
From the biggest Christmas markets in Europe to lesser known towns with unique holiday traditions, these best Christmas destinations in Europe will have anyone feeling festive.
This list of the best holiday destinations in Europe include some of the top European cities to visit during Christmas time, as well as smaller towns and even the home of Saint Nicholas himself!
The Best European Christmas Destinations in Germany
Germany is often credited with creating the concept of the Christmas market, or the Christkindlmarkt in German. The country is, in fact, home to both the biggest Christmas market in Europe and the oldest Christmas market in Europe.
The history of these markets dates back to the Late Middle Ages in the German-speaking parts of Europe. Over time, this tradition spread across various European countries, each incorporating its unique cultural elements, and has now become a beloved part of the holiday season across the continent.
Because of the historical significance, Germany is home to several of the best places in Europe to spend Christmas.
Nuremberg, Germany
Nuremberg, Germany is brimming with enchanting holiday traditions. The city is home to the largest and one of the most renowned Christkindlesmarkts in Europe.
As you peruse the different stalls looking for handicrafts and souvenirs, the smell of spiced drinks and sugary sweets filling the air.
The medieval charm of the city is accentuated by its well-preserved architecture, creating a picturesque backdrop for the lively festivities.
Embracing the holiday spirit, Nuremberg transforms into a wonderland that brings people together outdoors even on the snowiest of nights – beckoning travelers to relish in the warmth of its traditional celebrations.
Dusseldorf, Germany
The Dusseldorf Christmas market shines bright during the festive season. Wondering why it stands out in Europe? Here's why and what you shouldn't miss.
Visit the Ferris wheel and enjoy the market surrounding it. You'll get a top view of the festive lights and the bustling crowd. Next, head to the Old Town Hall, constructed in 1570. The Christmas market around it, known as Craftsman Market, will impress you with its handmade gifts.
At the Old Town market, find the pyramid. It's famous for serving warm Gluhwein, perfect for the chilly weather. Another must-visit is the Engelchen market. Although tiny, it's decorated mainly with little angel figures.
Sip some hot chocolate here before heading to the ice rink. If you have kids, they'll love the ice rink. And there's a café nearby, ideal for a quick snack.
Königsallee is a shopping street you shouldn't miss. Stand on the bridge near Triton's statue, and you'll get a fantastic view of the ice rink and Lichterdom (a dome made of lights) – it's perfect for photos.
Lastly, the Fairy-Tale' Market is a hit with kids. With wooden fairy-tale figures and a carousel, the festive spirit is everywhere. There is also a Christmas Tower where stories are read out loud. If you time your visit right, you might see Sankt Nikolaus, the German Santa Claus!
Recommended by Jo from World Wild Schooling
Cologne, Germany
Christmas in Cologne, Germany is truly special. If you're into Christmas markets, uniquely themed markets, beautiful lights, and gluhwein, you'll quickly fall in love with this German city celebrating Christmas.
Although Cologne can be quite crowded in December, it is worth dealing with the crowds to at least see the big market underneath the Cologne Cathedral, one of the most famous churches in Europe. There's nothing like the big Christmas tree, the many lights, and the church looming in the background.
For couples, it's quite romantic walking around while sipping gluhwein while shopping for loved ones. You'll likely end up getting a lot of presents for both yourself and your family members after discovering some beautiful artisanal finds.
Even for those less into shopping, there are many things to do besides the markets and chocolate lovers will love the chocolate museum in Cologne.
Recommended by Karen from Wanderlusting K
Rothenburg ob der Tauber, Germany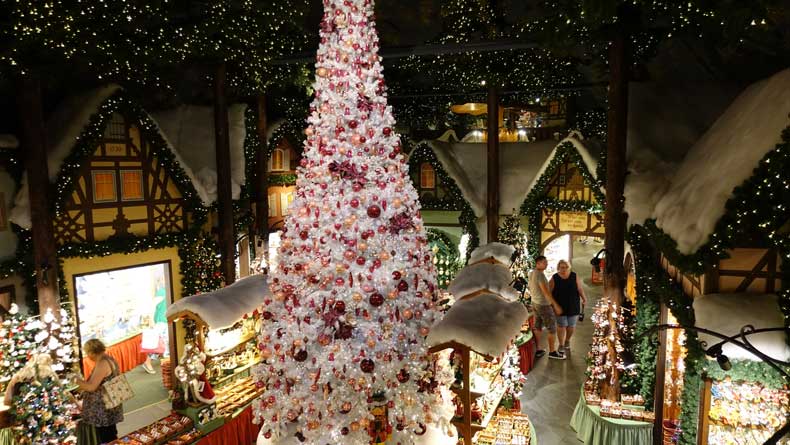 Situated in the northern part of Bavaria, Rothenburg ob der Tauber in Germany is an ideal day trip from major cities like Munich or Nuremberg.
With its half-timbered houses and cobblestone streets, Rothenburg ob der Tauber is one of the best destinations to visit in Germany. You'll feel like you're in a Christmas fairy tale!
Many charming cafes and restaurants line the streets, offering warm retreats from the chilly weather. Yet, the best activity here is savoring a cup of Glühwein, German mulled wine at the Christmas market, known as Reiterlesmarkt. Take note that the standard Glühwein contains alcohol, but a children's version, "Kinderglühwein," is available.
The market operates from December 1st to the 23rd and is next to the City Hall, making it hard to miss.
A heads-up though—most of the town has cobblestone pavements. Make sure to wear comfortable shoes when exploring Rothenburg.
Don't leave without a visit to the Käthe Wohlfahrt shop which is very close to the Christmas market. This store specializes in exquisite, handmade Christmas decorations.
If you want to escape the cold, you can also visit the German Christmas Museum which is open year round and one of the best things to do in Rothenburg ob der Tauber.
Recommended by Anna and Anne from Germany Things to Do
Best Europe Christmas Destinations in the United Kingdom
From the bustling streets of London to the picturesque countryside of the Cotswolds villages, the United Kingdom makes for a cozy December retreat.
Here are some of the best places to spend Christmas in Europe's United Kingdom.
London, England
Christmas in London is really magical. The whole city turns really festive around November.
Shops and restaurants will have beautiful decorations inside and outside. Streets will be lit up with gorgeous Christmas lights. There are many pop-up ice skating rinks all over the city.
Pubs will make a special menu for the festive season and try to make their place more inviting by coming up with cool ideas like installing curling lanes and igloos for the Christmas period.
The cinemas will start showing Christmas movies. One of the best places to catch a Christmas film in London, Backyard Cinema has a unique theme where you will walk through an Enchanted Woodland before arriving at the main area. Once there, you can make yourself comfy on bean bags or sofas to watch a festive film.
Of course, one of the best things to do in London during Christmas is visiting the Christmas markets. Winter Wonderland is the biggest one. It has lots of food stalls, rides, ice skating rink, circus and live music.
Even if you only have one day in London, it is an absolute must for everyone in the city during this time of the year!
Recommended by Enikő from Travel Hacker Girl
The Cotswolds, England
The charming Cotswolds is the perfect place in Europe to spend a cozy Christmas season. Known as one of the most beautiful areas of England, the quaint villages of the Cotswolds create the perfect holiday atmosphere.
The beautiful Cotswolds villages are decked out in Christmas decorations, from the iconic Christmas tree in the river at Bourton on the Water to the lights illuminating Broadway's historic high street.
Many villages and towns have Christmas markets, including Bath's large and vibrant market complete with a skating rink. Smaller markets happen in villages such as Tetbury and Moreton-in-Marsh.
Winter walks are a perfect way to spend a day in the Cotswolds, and the walk to Broadway Tower is one of the most scenic, especially in frosty conditions!
Broadway is also home to the Santa Express, a holiday steam train running between the village and Cheltenham–a brilliant way to keep kids busy in the area.
Warm up after time outdoors by visiting a cozy pub or tearoom. The Cotswolds are packed with charming spots to have a drink or a warming hot chocolate.
No matter how you spend Christmas in the Cotswolds, it's bound to be one of the most festive locations you've experienced the holidays in.
Recommended by Hannah from Art Distance
ALSO READ: CASTLE COMBE – THE COTSWOLDS PRETTIEST VILLAGE
Edinburgh, Scotland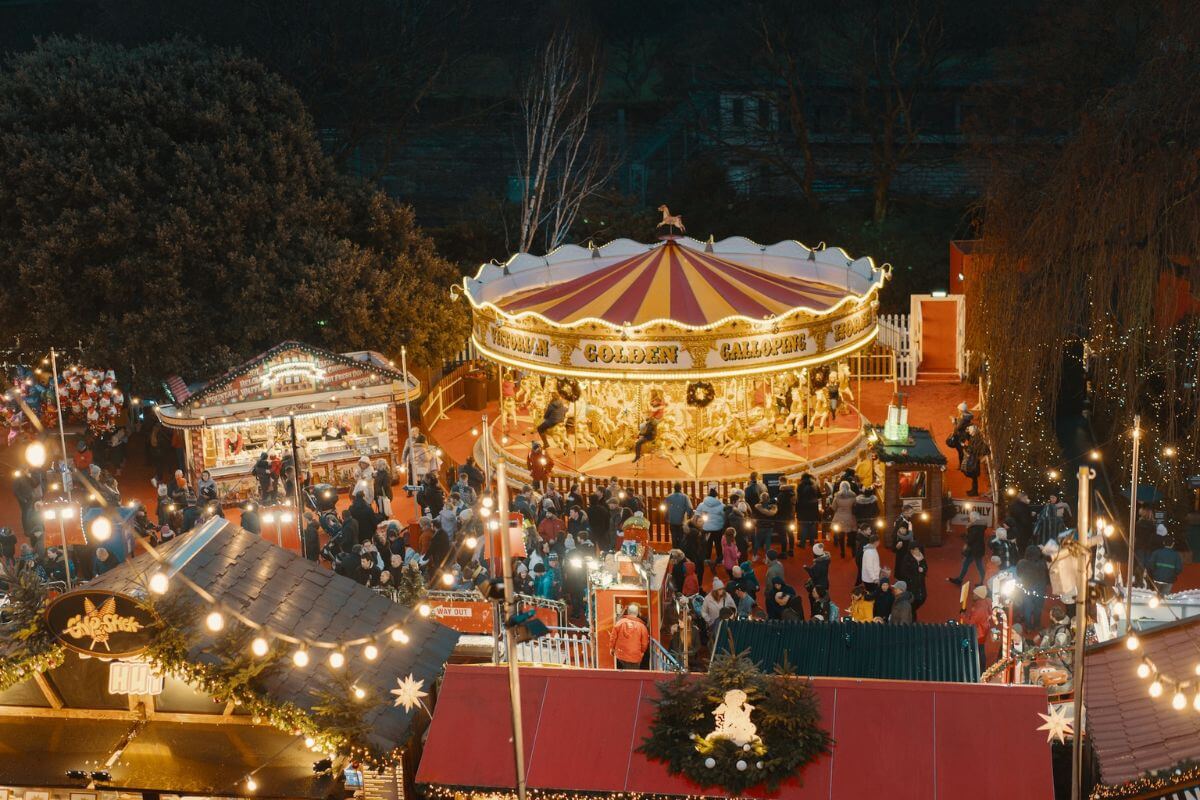 Nothing says Christmas like Edinburgh during the festive season!
From the end of November until the start of January, the historic Scottish capital transforms into a magical, winter wonderland attracting over 2.5 million visitors. Set against the backdrop of the iconic castle, you'll find the charming Christmas market where you'll discover around 70 quaint wooden chalets providing an abundance of unique, handcrafted treasures, Scottish fare and plenty of mulled wine.
Other festive attractions include the Big Wheel, fairground rides in West Princes Street Gardens, the ice-rink on George Street and Santa's Stories for little ones in St Andrews Square Winter Garden.
The city centre area does get very busy at week-ends so early arrival or week-day visits are recommended.
Among the many things to do in Edinburgh at Christmas, a glass of fizz at the Dome, a visit to the magical illuminations at the Royal Botanic Gardens or the light show at Edinburgh's castle are also a must. Not to mention, simply wandering around the charming streets and admiring the fabulous decorations and sparkling lights of this special city.
Recommended by Gillian of Scotland Bucket List
The Best European Christmas Destinations in the Benelux Region
Whether you're seeking a traditional Christmas experience steeped in centuries-old customs or a modern, vibrant celebration, the Benelux region has some of the most picture-perfect places to spend Christmas in Europe.
This region, which includes the Netherlands, Belgium, and Luxembourg knows how to make the holidays come alive. Here are some of the best European Christmas destinations in the Benelux Union.
Bruges, Belgium
Step into the magical winter decor of Bruges with its stepped-gable houses adorned with twinkling lights and cobbled streets echoing Christmas carols.
The main Christmas market in Bruges takes place at the enchanting Markt Square, in the shadow of the towering belfry. There's a secondary market at Simon Stevin Square while the decorated Christmas tree is located at Burg Square.
Immerse yourself in the cozy atmosphere as you snuggle up under a blanket during a romantic horse-drawn carriage ride accompanied by the rhythmic clip-clap of hooves. Explore the wintry landscape on a scenic canal tour as you learn about the fascinating history of this medieval city.
For a more active exploration of the, follow the Light and Experience Trail that leads along about a dozen spectacular light installations, or tie your skates on the artificial ice-skating rink at Minnewater.
Wash away the cold with a cup or glühwein at the convivial bar. When you've worked up an appetite, treat yourself to the most sumptuous waffles and some sweet marzipan. And don't forget to stock up on some festively wrapped boxes of chocolates from one of the gift shops so that your loved ones can experience a hint of Christmas in Bruges too.
Recommended by Sarah from Cosmopoliclan
SHORT ON TIME? CHECK OUT OUR BRUGES DAY TRIP ITINERARY.
Brussels, Belgium
Brussels is a wonderful Christmas destination in Europe. Throughout the whole of December, the city comes alive with Christmas decorations and markets.
These Christmas markets are fantastic, especially if you love international cuisine because, let me tell you, the food in Brussels is delicious! You could easily visit Brussels at Christmas for the food alone!
There are Belgian waffles with hundreds of different toppings, Belgian frites, hearty stews in the restaurants and Belgian beer (which is delicious). I highly recommend trying Flemish stew and Belgian waffles. And don't forget Belgian chocolate! A traditional hot chocolate is one of the best ways to keep warm if you're visiting the city in winter.
As well as exploring the Christmas markets, there are tons of other great things to do in Brussels in December.
Visit the Grand Palace (the Christmas market is underneath this during the festive season), see the Atomium all lit up, and admire the magnificent Parc du Cinquantenaire.
Plan to give yourself at least 2 days in Brussels. But if you have extra time, it's also worth taking a day trip to the beautiful cities of Bruges and Ghent which are easily accessible by train.
Recommended by Alice from Adventures of Alice
Luxembourg City, Luxembourg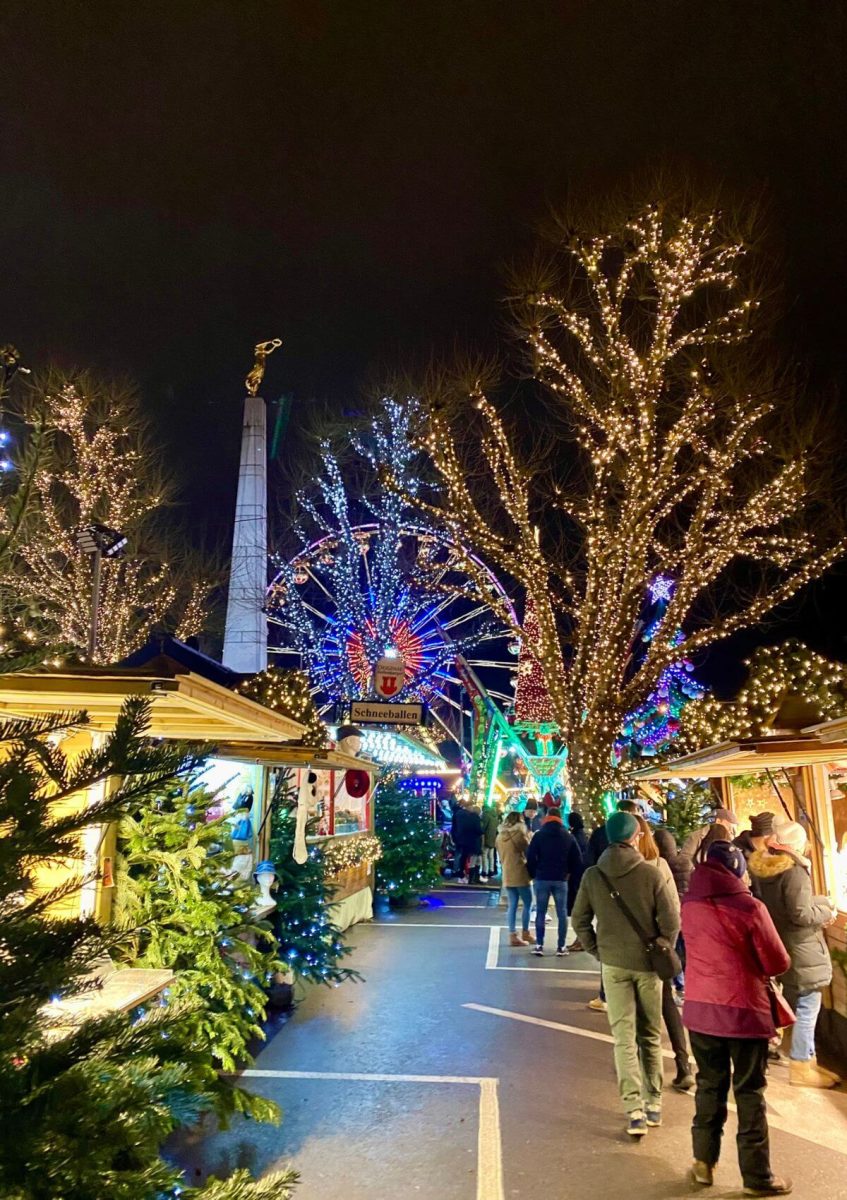 Luxembourg and its capital Luxembourg City are known for being small. But come Christmastime, their festive spirit is big!
Luxembourg City makes a great Christmas break because it is somewhat off the beaten path in terms of European Christmas destinations, but the compact city hosts several Christmas markets and pretty light displays. It also has some comforting traditional food that will help keep you warm on cold December days.
The biggest of the Luxembourg Christmas Markets is held at Place De La Constitution, a dramatic location on the fortified cliffs that surround the old city: when the Ferris wheel and trees are lit up at night, they can be seen for miles around. There's something for everyone here: fairground rides, alcoholic drinks, food and gifts.
There are slightly more adult-focused markets at both Place d'Armes and Place De Paris, where you'll find plenty of vin chaud and hot food. For ice skating, head to Parc Kinnekswiss and for little kids' rides, there's a fun fair at Cour De L'Ancien Athenee.
And outside of Christmas markets there are several sparkly light displays around the city and lots of other things to do in Luxembourg City.
For comforting winter food, in the markets, you should find plenty of street food favorites including sausages, crepes and Gromperekichelcher, which are delicious potato pancakes. If you eat out, try Luxembourgish kniddelen, which are dumplings served with a buttery sauce and bacon, or salmon. And for a festive toast, fill your glasses with Crémant de Luxembourg, the only Crémant produced outside of France.
Recommended by Martha from May Cause Wanderlust
Antwerp, Belgium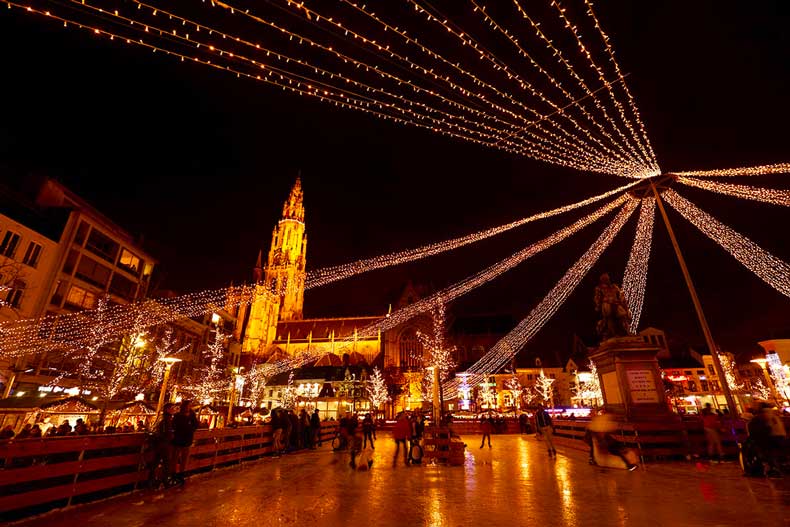 Antwerp is one of the best Christmas destinations in Belgium and an easy day trip from Amsterdam or Brussels. There is always so much to see and do in the city, and the holiday season is no exception.
First, there is of course the annual Antwerp Christmas Market in the most spectacular setting surrounded by the beautiful buildings of the old town.
Every evening the city comes to life with the hundreds of market stalls selling traditional arts, crafts, and all kinds of local food and drink specialties.
Don't miss the Belgian jenever, a traditional liquor of Belgium and the Netherlands, the predecessor of gin. Jenever comes in many different flavors and is as unmissable part of any Belgian Christmas Market as Glühwein is in Germany.
For families there is an ice skating rink and a sort of fair with all kinds of winter-themed rides for the children. Don't miss visiting Antwerp for the holidays!
Recommended by Jurga from Full Suitcase
Amsterdam, Netherlands
Christmas in Amsterdam is a memorable experience, not just because of events like the Amsterdam Light Festival or because the canals that the Netherlands is known for are beautifully lined with twinkling lights. But the thing that is most unique about Christmas in the Netherlands is its traditions.
There is a 20 day separation between gift giving and Christmas in the Netherlands.
On the first Saturday after November 11th, Dutch children welcome Sinterklaas (St. Nicholas) when he arrives by boat from Spain. Tall and stately, Sinterklaas wears the long, red robes and pointed mitre hat of a Catholic bishop.
Instead of Christmas Eve, presents arrive overnight on December 5th when Sinterklaas rides his white horse, Amerigo, over the rooftops and delivers gifts and other goodies to well-behaved children.
Rather than stockings, children put their shoes out with treats like carrots, hay, or sugar cubes for Amerigo. The shoes placed out are typically wooden clogs, like those made at the clog workshops in Zaanse Schans or Volendam/Marken and sold throughout the Netherlands as souvenirs in places like Amsterdam and The Hague.
In their place, along with gifts, Sinterklaas will leave treats like mandarin oranges and a chocolate letter of their first initial.
Christmas trees aren't put up until after Sinterklaas has brought presents and had his feast day, so don't expect to see them until December 7th.
Christmas is celebrated over two days in the Netherlands with both December 25th (Eerste Kerstdag or First Christmas Day) and December 26th (Tweede Kerstdag or Second Christmas Day) observed as public holidays.
Because gifts have already been delivered earlier in the month via Sinterklaas, the two days of Christmas are typically celebrated with a focus on quality time spent with family.
Recommended by Sage from Everyday Wanderer
LOOKING FOR OTHER FUN PLACES TO VISIT IN THE NETHERLANDS? CHECK OUT GIETHOORN – KNOWN AS THE VILLAGE WITH NO ROADS.
Best Christmas Destinations in France
France is another European country that deserves its one category on our list of the best Christmas destinations in Europe. Home to the City of Lights and plenty of small towns that look like the setting of a Disney movie, France is one of the best places in Europe to spend Christmas.
Here are a couple of the best places to visit in France during the holidays.
Paris, France
Paris, the capital of France, is one of the all-time favorite Christmas destinations in Europe. When the holiday season arrives, Paris' nickname of City of Lights takes on its full meaning: streets and monuments are entirely decorated with illuminations, Christmas trees, and festive embellishments, giving the city a magical feel, as if straight out of a Christmas movie.
Paris is home to lots of different Christmas markets waiting to be explored. Some of them are not to be missed, such as the one in the Jardin des Tuileries, or the one at Notre-Dame Cathedral. On the program: wooden chalets, mulled wine and chocolate tastings, merry-go-rounds, games, and other festive activities.
Paris in winter is very rainy and quite cold, although temperatures rarely drop below freezing. But you can always take shelter in the picturesque covered passageways scattered throughout the city, which are particularly beautiful during Christmas.
Visiting these covered passages (and the Champs Elysées!) is, in fact, one of the best things you can do when in Paris at Christmas!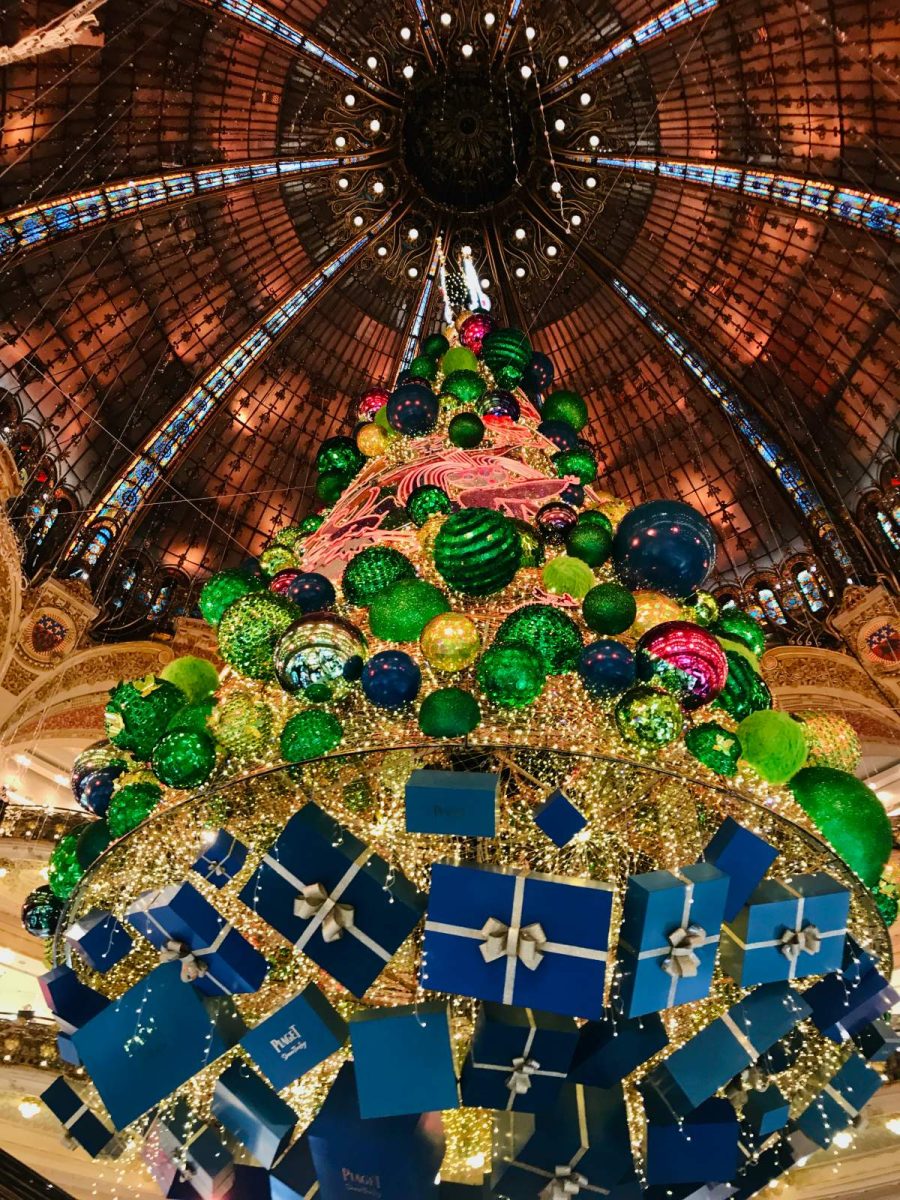 Another attraction that has become a Christmas tradition for the locals is visiting the Galeries Lafayette on Boulevard Haussmann. Every year, the department store unveils its monumental Christmas structure suspended beneath its glass roof, capturing the hearts of both locals and visitors alike!
Whether you have just one day in Paris or the entire month of December, the City of Lights will not disappoint.
By Nes from Kevmrc
Colmar, France
One of the best Christmas destinations in Europe is Colmar, France! Colmar is a charming town throughout the year, but the atmosphere of this fairy tale land reaches new heights during the holiday season!
The historic town in Alsace is dotted with wine cellars, magnificent shopfronts, secret museums, and cobblestone lanes. Half-timber houses adorned with Christmas decor border the city's canals, while choirs perform hymns on boats adorned with dazzling lights on winter evenings.
Explore the 50+ wooden stalls at Place de Dominicains, which is known for its 14th-century church and stained-glass window. Alternatively, head inside Koifhus market to get warm and take in the artisan crafts within.
The best Alsatian food is available in the gourmet market in Places Jeanne d'Arc and de la Cathédrale. Sweet gingerbread hearts dangle from silk ribbons, and food vendors offer customers truffle risotto, hearty stews, soups, and spiced drinks.
Try the Kugelhopf, the most well-known bell-shaped cake in Alsace, which is coated in sugar and sprinkled with almonds, for a sweet treat.
If you are traveling with kids, the charming canal-side neighborhood of Petite Venise offers a kid's area complete with an illuminated ice rink, an outdoor theater, and events for Christmas decoration competitions.
Recommended by April from Dreaming in French
Best Europe Christmas Destinations in Central and Eastern Europe
Across Europe, you'll find quaint Christmas markets and charming Old Towns with twinkling white lights strung up across the cobbled streets. So, if you are looking for Christmas holiday destinations, you really can't go wrong with anywhere in Europe.
Here are a few other places to spend Christmas in Central and Eastern Europe.
Prague, Czech Republic
Nothing says Christmas more than the European Christmas markets. The city of Prague, Czech Republic is one of the best cities to experience this European tradition.
Prague in December is magical; the famous Christmas Market set up in Old Town Square is picture perfect. Aside from hosting the beautiful Christmas Market, Old Town is home to some of the top landmarks and attractions in Prague.
For this reason, it is one of the best districts to stay in the city, as it is convenient for checking out the sights, Christmas events, and even some of Prague's really funky statues.
The weather is chilly, but it's great for sightseeing in Prague, and if you get cold get a cup of delicious mulled wine from the market. You'll also find many of the items at the markets were at least half the price compared to the German Christmas markets found in places like Munich.
Visiting the Old Town Christmas market is one of the best things to do in Prague with kids.
Recommended by Hannah from Getting Stamped
LOOKING FOR OTHER PLACES IN CZECH REPUBLIC TO VISIT? CHECK OUT BRNO!
Vienna, Austria
If you're after that magical European Christmas experience, you've got to make a beeline for Vienna. Imagine elegant Baroque architecture dusted with snow, the scent of spiced wine in the air, and Christmas markets that look like they're straight out of a storybook.
The most visited Christmas market in Vienna is found in Rathausplatz, the plaza in front of the capital's neo-gothic city hall, replete with a winter ice rink and wooden stalls selling everything from handcrafted ornaments to sizzling bratwurst.
For a traditional Viennese treat, grab a cozy booth in Cafe Landtmann for an apple strudel or indulge in a chocolatey sacher-torte from the original Hotel Sacher Wien. Top it off with a strong black coffee topped with whipped cream and you have yourself the perfect Austrian festive treat.
If you are into something a little more unique and a tad bit eerie, take part in the city's "Krampus Run", where people dress up as Krampus, the darker counterpart of St. Nicholas, and roam the streets. It's an interesting contrast to the usual holly-jolly activities.
Remember, the city is uber busy this time of year as one of the top destinations in Europe for Christmas markets, so book your hotel and any must-do activities in advance. Even if you only have one day in Vienna, it is well worth carving out time to see this European city at Christmas.
Recommended by Haley of Cool California Hotels
ALSO READ: WHERE TO STAY IN VIENNA
Bratislava, Slovakia
If you're looking for a really nice Christmas destination, then it's definitely worth traveling to Bratislava in Winter!
During a city trip, several enchanting, very traditional Christmas markets await you there, which score points above all with an authentic atmosphere, a good mood and, on top of that, a fairytale-like backdrop.
Actually, there is a nice little market on almost every corner of the charming old town, which is then also perfect for a sightseeing break or if visiting on a day trip to Bratislava. Another special feature in Bratislava is the Christmas streetcar, with which you can travel to the Christmas markets.
However, the biggest and most important Christmas market is the one on the main square Hlavné Námestie. Here many locals, but also some tourists, gather to experience the magical atmosphere on the Christmas decorated square.
You have the opportunity to try the best local specialties such as strudel, pancakes, lokschen, roast goose, potato pancakes and sausages. There is also homemade mulled wine, honey wine and also punch with or without alcohol.
Moreover, you can really experience a lot in Bratislava. Bratislava Castle towers majestically over the city and offers a picturesque view of the winter landscape. Along the Danube, cozy cafes and restaurants invite you to enjoy.
Ice skating on the Medická Záhrada ice rink is another highlight that makes winter in Bratislava unforgettable.
Recommended by Martina from Places of Juma
Vilnius, Lithuania
Are you looking for the best place in Europe to feel Christmas vibes? The answer is definitely Vilnius, Lithuania. Although the tradition of Christmas markets is rather new for Lithuania compared to some of the other European Christmas destinations, the city has embraced it and takes the decorations seriously.
The giant Christmas tree at the Cathedral Square is often considered one of the most beautiful Christmas trees around the world.
You can enjoy the Christmas market around the tree as well as in the City Hall Square, keep yourself warm with a glass of mulled wine or a local traditional hot beer with honey.
Children (and grown ups!) will for sure enjoy the Christmas train, which drives around the city center, and the 3D projection of fairy tales (every year a new one) on the walls of the Cathedral.
Although Christmas Eve (24th December) itself is traditionally celebrated at home with the family, you can enjoy the festive atmosphere all throughout December until the 6th of January.
Recommended by Ana from Merry Go Round Slowly
Tbilisi, Georgia
There are countless places around the world to experience the enchantment of Christmas, but if you're seeking a unique and memorable holiday season, spending Christmas in Tbilisi should be on your list.
Being an Orthodox Christian country, Georgia follows the Julian Calendar; therefore, Christmas is celebrated differently than anywhere, making it a one-of-a-kind experience. This signifies that every important event and religious festivity is observed 13 days later than in nations adhering to the Gregorian Calendar. As a result, Christmas in Georgia falls on January 7.
Nonetheless, the festive ambiance begins in mid-December, with the radiant glow of lights adorning the streets of Tbilisi and charming Christmas markets decorating main avenues and neighborhood squares. This joyous celebration continues through to January 19, culminating with Orthodox Epiphany.
The night of December 31 is the most important in the Christmas celebrations. There are concerts and various events in the city center for you to attend, but the most striking is the fireworks shot from every household. Getting to one of the viewpoints is an ideal spot to watch it.
On January 7 (Georgian Christmas Day), a religious procession known as Alilo gracefully parades through Tbilisi's main streets. Participants wear distinctive costumes and proudly carry Georgian flags, religious icons, and crucifixes from the First Republic Square to the Holy Trinity Church. Throughout this journey, they harmoniously sing Christmas songs and carols.
Recommended by Baia at Red Fedora Diary
Lucerne, Switzerland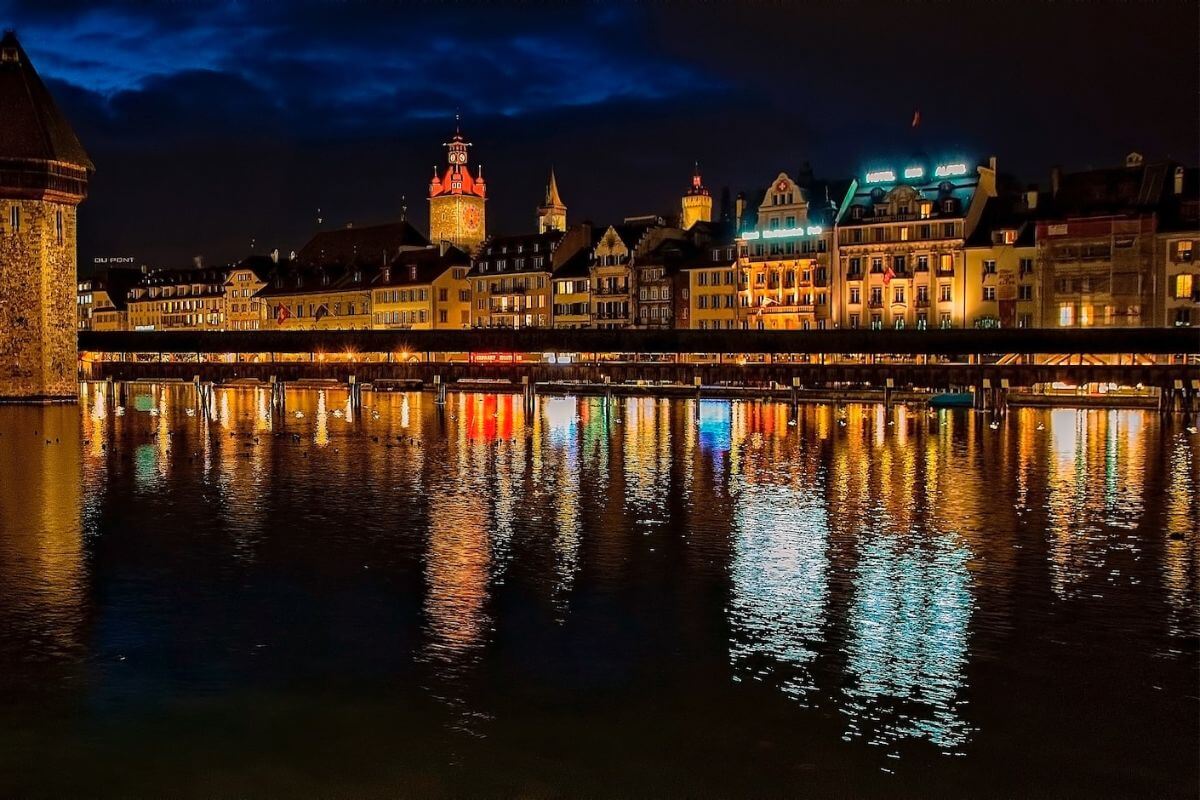 What's your perfect Christmas destination? A charming old village of snow-covered houses warmed by Christmas lights, festive decorations, and lively Christmas markets?
That village is Lucerne, a true winter wonderland and one of the best Christmas destinations in Europe.
One of the most magical things to do in Lucerne is to simply stroll around the Old Town up to the iconic Chapel Bridge. Walk onto the bridge and enjoy the beautiful paintings illustrating scenes from Swiss history.
Afterward, head towards the Musegg Wall and explore the Christmas Market. There, you can find unique handmade gifts, enjoy carolers singing festive songs, and savor a cup of hot mulled wine.
You can also warm up with a cup of hot cocoa in one of Lucerne's cafes or indulge in traditional Swiss dishes like fondue or rosti. Watch the world pass by while you savor the tranquil winter landscape.
Finally, take a boat ride on Lake Lucerne to capture some great snapshots of the snow-capped mountains, the icy lake, and the Chapel Bridge, one of the most famous bridges in Europe. Surely, Lucerne will get you in the mood for the festive season.
Additionally, if you extend your visit into January, you'll also get to experience Lucerne aglow with the 11-day Lilu Light Festival.
Recommended Gladis of Happiness on the Way
Best European Destinations for Christmas in the Nordic Region
The Nordic countries are perhaps best known for the Northern Lights during the winter months, but there are also lots of other reasons to visit this region of Europe during Christmas time.
Rovaniemi, Finland
Rovaniemi, located in the Lapland area in Finland, is easily one of the best destinations in Europe to spend the Christmas Holiday! Aside from the fact that this city is a complete winter wonderland, it is, in fact, the home of Santa! That means when you send your letter to Santa, it goes to Rovaniemi!
Head to Santa Land, where you can meet Father Christmas for yourself! The Santa Claus Village also has tons of additional activities, snowy trails, restaurants, and shopping, so there is something for everyone!
Aside from meeting the home of Santa, you also have the opportunity to see the Northern Lights in Rovaniemi around this time, making it even more magical! There are also other fun snow activities to enjoy, including dog sledding, snowmobiling, visiting reindeer farms, and ice fishing.
Rovaniemi is in the Arctic, so no matter what, you will want to make sure to add lots of warm layers to your Rovaniemi Lapland winter packing list.
If you are looking to escape the cold for a little bit, you can always enjoy a traditional Finnish Sauna, which is a must-do experience while in Finland! Some even include jacuzzis!
Recommended by Samantha Oppenheimer of Find Love and Travel
Copenhagen, Denmark
Christmas in Copenhagen is a magical experience with its festive atmosphere, beautiful decorations, and rich traditions. One of the main attractions in Copenhagen during the holiday season is the Tivoli Gardens, an amusement park that dates back to 1843. Tivoli transforms into a winter wonderland that is dreamy for those visiting Copenhagen with kids or without.
Various Christmas markets also spring up throughout the city.
The city also has a number of festive indoor activities and cozy spots if you need to escape the cold. The flagship Royal Copenhagen store sets up stunning themed Christmas tables annually with their high-quality porcelain. Indoor malls like Illum are perfect for Christmas shopping and enjoying the holiday ambiance.
Additionally, many venues in the city, such as The Royal Danish Theater, feature special Christmas-themed performances, ranging from ballets and plays to concerts.
One of the things that make Christmas in Copenhagen special is the traditional Danish holiday foods. Popular treats include æbleskiver (round pancakes served with powdered sugar and jam), risalamande (a rice pudding dessert with chopped almonds, served with cherry sauce), and gløgg (Danish mulled wine mixed with spices, almonds, and raisins).
These seasonal delicacies can be savored in both restaurants and Christmas markets. For an unforgettable Christmas dinner, don't forget to try the classic dishes, such as roast pork with crispy skin, roast duck, caramelized potatoes, and pickled red cabbage.
Recommended by Sophie from Delightful Travel Notes
Stockholm, Sweden
Spending Christmas time in Europe is a magical way of celebrating a holiday through the eyes of another culture. It feels almost like you're experiencing the holiday again, for the very first time.
Stockholm, Sweden is not only one of the most beautiful Scandinavian Cities, it makes for a wonderful Christmas destination in Europe, as well. Christmas Eve is actually the day when most people celebrate the Christmas holiday. Explore the Christmas market there and the charming Skansen folk village.
This traditional Swedish village recreates the holidays with traditional saffron cakes and mulled wine that is served on fine China and by candlelight. Besides the food, the village also has reindeer that you can see, traditional Christmas decorations on display, and even a special Christmas recital where traditional Christmas carols are performed in Swedish.
It is a truly enchanting experience that will help you embrace the true spirit of this beautiful holiday.
Recommended by Kelly from Girl with the Passport
Why you should visit one of these best places to spend Christmas in Europe
There is just something magical about the sparkling lights, the crisp winter air, the smell of cinnamon and spices, and the sound of fresh snow crunching beneath your feet.
While many like to stay close to home during the holiday season, it can also be a wonderful time to travel. If your hometown isn't known for its festive appeal, traveling is a way to experience the magic of Christmas in one of the many places that make the holiday truly come alive.
Whether you want to take advantage of your children's winter break in December and go somewhere new, or you simply want to experience the holidays in one of the best European cities to visit at Christmas, there are so many incredible places to spend Christmas in Europe where you can make memories and feel festive.
While Europe has lots of great cities that know how to spread holiday cheer, you can't go wrong visiting any of these top Christmas destinations in Europe.
Do you have a question about any of these best Christmas destinations in Europe? Let us know! Leave a comment below or chime in and tell us what you think are the best places to visit in Europe for Christmas.
Looking for more winter travel inspiration? Check out these real-life winter wonderlands around the world.
Like it? Pin this list of Best Christmas Destinations in Europe to save it for later!
This guide to the best places to visit in Europe for Christmas was first written in December 2017 and was updated in October 2023 for the most current travel information.

Did you know…
When you make a purchase or book hotels, tours, or other travel services, through our links, we receive a small commission, at no extra cost to you. We only EVER recommend service providers, websites, or products we personally use when booking our own travels. Your support enables us to keep producing helpful travel content. Thank you!