The holiday season brings about a flurry of festivities and yuletide cheer, and while Christmas is one of the busiest times of year for many families, the holidays are also a great time for a vacation. While the kids are out of school for winter break, it's the perfect chance to get away and spend quality time together as a family.
You don't have to jet off to Europe for Christmas, there are lots of great Christmas destinations in the US and Canada, as well.
So, as the air turns crisp and the neighbors start putting up their holiday decorations, we've compiled a list of the best Christmas vacations in the US and Canada for an unforgettable trip.
Whether you're dreaming of a snow-draped wonderland or a bustling urban escape brimming with holiday spirit, there are lots of great places to spend Christmas in the United States and Canada that are sure to make your seasonal celebrations truly magical.
From cozy towns blanketed in powdery snow to Christmas cities pulsating with joyous energy, this guide includes some of the most enchanting Christmas destinations across North America.
Best Christmas Vacations in the US
If you want to stay stateside and you're looking for the best Christmas cities in the US, here are the top places to visit in the United States at Christmas for a festive vacation.
New York City, New York
New York City, during the Christmas season, is an absolute dream come true for those seeking the most festive and enchanting holiday destinations in North America!
There are so many cool things to do in New York City at Christmas from hunting down all the famous landmarks you've seen in all the Christmas movies like Home Alone 2: Lost in New York, Elf, and more!
A must is visiting the Rockefeller Christmas Tree, you can ice skate here too if you want or ice skate at Bryant Park Winter Village, another must on your Christmas trip to the city.
Another one of the best ways to feel festive is to walk around and take in all the extravagant holiday displays at the department stores and luxury shops along 5th Avenue! And be sure not to miss the holiday light display on Saks Fifth Avenue, too (opposite of the Rockefeller Christmas Tree).
If you need to get inside and away from the cold, head to see the Radio City Christmas Spectacular starring the Rockettes, see the New York Ballet perform The Nutcracker, or head to one of the many holiday pop up bars in the city!
There are tons of Christmas markets, like the Union Square Holiday Market or Columbus Circle Holiday Market to shop and feel festive.
Head deep into Brooklyn to experience the famous Dyker Heights Christmas Lights where neighbors compete to have the most over the top holiday displays at their homes.
The entire city is bathed in the warm glow of holiday lights, and its streets come alive with a contagious sense of excitement. New York City creates lasting memories that capture the spirit of the season and exemplify the magic of Christmas.
By Megan of Your Brooklyn Guide
Leavenworth, Washington, USA
Nestled in the mountains of northern Washington is a small piece of European charm known as Leavenworth.
Established in the early 1900s as a logging town, the region nearly became a ghost town when the railroad was rerouted and the logging and sawmill operations moved away.
Rather than accept their dismal fate, the city planners decided to give the town a facelift patterned after the German state of Bavaria – home to notable European Christmas destinations like Rothenburg ob der Tauber and Munich. The concept worked, bringing millions of visitors to this Pacific Northwest village every year.
The most popular time of year to visit is probably during the annual holiday celebration. Starting the day after Thanksgiving with a European Christmas market, Leavenworth's calendar is jam packed with activities that will put you in the holiday spirit.
There are nutcracker hunts, a cookie crawl and free photos with Santa for the kids, concerts, plays, sleigh rides and craft fairs for everyone, and sledding, snowmobiling, skiing and snowshoe tours in the surrounding mountains.
The crowning event of the season is the celebratory lighting ceremony that takes place every Saturday and Sunday night in December. Front Street is blocked off to accommodate crowds and the scent of pine mingles with roasted nuts, hot chocolate, kettle corn and mini donuts from the pop-up stands lining the park. As the sun goes down (around 4:15 this far to the north) the spectacle begins.
During the ceremony, lighting "angels" march through the street, bringing more than half a million lights to life. Because most everything is compressed into the four blocks of Front Street, the view is truly breathtaking.
Recommended by Sherrie from The Wheel Traveler
LOOKING FOR OTHER PLACES TO VISIT IN THE PACIFIC NORTHWEST? CHECK OUT OUR SEATTLE ITINERARY AND DON'T FORGET TO VISIT MOUNT RAINIER NATIONAL PARK.
St. Augustine, Florida
The oldest city in America, (and one of the best places in the US for history lovers) St. Augustine, Florida transforms into a winter wonderland during the Christmas season.
Located just a quick 2-hour drive from Disney World or 45 minutes south of Jacksonville, FL, this city is filled with cobblestone streets and old Spanish-influenced architecture that transports visitors back in time.
During the winter months, St. Augustine hosts Nights of Lights. During this time, the city comes to life with millions of tiny white lights scattered throughout the city. These white lights decorate facades of buildings, palm trees, and streets, which makes for a magical atmosphere.
St. Augustine's Nights of Lights takes place from mid-November through January every year. This is the best time of year to visit St. Augustine because the weather is perfect! During the winter there is little to no rain and average temperatures are around 70 degrees.
Many visitors travel to St. Augustine for its famous Nights of Lights. To avoid crowds, consider planning your visit during the weekdays.
The Nights of Lights in St. Augustine is a magical Christmas experience from warm weather to enchanting streets. This is a Christmas destination worth visiting and one of the best day trips from Orlando.
Recommended by Danika from Destination Danika
Nantucket, Massachusetts
For an idyllic New England holiday escape, Nantucket is one of the best places to visit in Massachusetts with kids and is a magical place to have on your radar. Not only is the island postcard-worthy year round, but with gorgeous decorations at every turn in this picturesque coastal town, as well as tons of festive events all weekend long, it'll be hard to not find your Christmas spirit during your visit.
The Nantucket Christmas Stroll event takes place the first weekend in December each year, and features Santa's arrival by boat with a parade through Main Street, Victorian carol singers, craft fairs, special holiday shows, and tons more.
During your visit, be sure to snap a photo with the beautiful Brant Point Lighthouse, which is adorned with a giant holiday wreath, and makes the perfect backdrop for a family photo. On your way there, stop by Easy Street to see the cute little dory boat that's filled with a charming Christmas tree for another picture-perfect moment.
If you need a break from the chilly weather, head inside to some of the craft fairs and look for unique holiday gifts. The Christmas Market at St. Paul's Episcopal Church and the Yuletide Fair at Sherburne Hall are two of the best to check out.
The only way to get to Nantucket is by ferry or plane, and the ferry is the most common option. Ferries depart from Hyannis on Cape Cod, and it's best to book your ferry tickets months in advance, as ferries often sell out for the Stroll weekend.
Recommended by Sam from New England Wanderlust
Grapevine, Texas, USA
For some southern hospitality and a true Texas-sized Christmas celebration, head over to 'The Christmas Capital of Texas', Grapevine.
Grapevine is located just outside of Dallas and Fort Worth hosts 40 days of unique Christmas events each year.
The festivities kick off with a grand parade and tree lighting ceremony on Grapevine's historic Main Street.
After the opening ceremonies, spend time exploring everything Main Street has to offer. Not only is it dripping with lights this time of year, but you will also find several Christmas trees, a mistletoe kissing booth, and numerous boutiques selling Texas souvenirs, as well as wineries all decked out for the holiday season.
Kids will love hopping on the Grapevine Vintage Railroad to experience 'The North Pole Express,' a themed train ride complete with singing elves and an appearance from Santa and Mrs. Claus. Adults can also ride the Grapevine Vintage Railroad on a Christmas Wine Train where they will enjoy a special meal and two glasses of wine!
Adults and kids alike are awe inspired when they step into ICE! at The Gaylord Texan Hotel, a walk-through winter wonderland made entirely from ice.
If you have more time, then check out the Christmas concerts and movies taking place at the historic Palace Theatre. These are just a few of the many events that Grapevine, Texas has to offer.
Whether you want an exciting time with the kids, or a romantic evening, Grapevine will have you dreaming of Christmas in Texas in no time!
Recommended by Michelle from That Texas Couple
VISITING DFW? CHECK OUT OUR TEXAS BUCKET LIST AND DON'T FORGET TO VISIT DENTON DURING YOUR TRIP.
Minneapolis, Minnesota
If you're looking for the ultimate winter wonderland destination, then look no further than Minneapolis, Minnesota. Although this Midwestern state is known for being cold and snowy, locals know how to celebrate the holidays, despite the weather.
Kick off your holiday celebrations at the Union Depot, which is known as the 'Hub for the Holidays'.
Each season, you'll find all sorts of activities going on, including their popular European Christmas Market. It's the only authentic European market in the state, and it's well worth the visit. Inside the small wooden booths, you'll find everything from handmade gifts to the most delicious German potato pancakes. You can even grab a cup filled with mulled wine as a souvenir.
Minneapolis also has some amazing light festivals, including GLOW Festival. Walk through the shining lights, enjoy a cup of hot chocolate, and celebrate the holidays with your family.
If you want to escape the cold, there are also tons of Christmas markets that are held indoors throughout December. You can also visit the Guthrie Theater, which puts on A Christmas Carol each year on the main stage.
While unsuspecting, Minneapolis really is a great destination to visit for the holidays, and if you can brave the cold, you'll have a blast in Minnesota this December. And if it's cold enough, you may even get to see Ice Castles in the suburb of Maple Grove around the Christmas holiday.
Recommended by Kassidy from Kassidy's Journey
Disneyland – Anaheim, California
Disneyland Resort is always a fantastic place to visit, but when you go there during Christmas, it's like stepping into a whole new world of magic. Disneyland Park becomes a winter wonderland with its twinkling lights, beautiful decorations, and Christmas trees that make everything feel so festive. Plus, if you're lucky, you might even see some snow falling on Main Street.
Even famous rides like "It's a Small World" and "Haunted Mansion" get transformed for the holidays, adding to the fun.
There are also some extra special Christmas events to enjoy. The "Christmas Fantasy Parade" is a must-see where you can spot your favorite characters all dressed up for the season, and you might even catch a glimpse of Santa himself. And don't forget the "Believe… In Holiday Magic" fireworks show, which is simply breathtaking.
Over at Disney California Adventure, the "Festival of Holidays" lets you explore different holiday traditions from around the world, and "World of Color – Season of Light" is a nighttime show that will leave you in awe.
Both Disneyland Park and California Adventure also have the most adorable and tasty holiday treats to munch on, adding to the holiday cheer.
If you're in the mood for some holiday shopping or a delicious meal, Downtown Disney has got you covered.
All in all, Disneyland Resort during Christmas is like a dream come true, making it the perfect place for families and visitors of all ages to soak in the joy and spirit of the season.
Recommended by Kim from Traveling Swansons
Jackson, Wyoming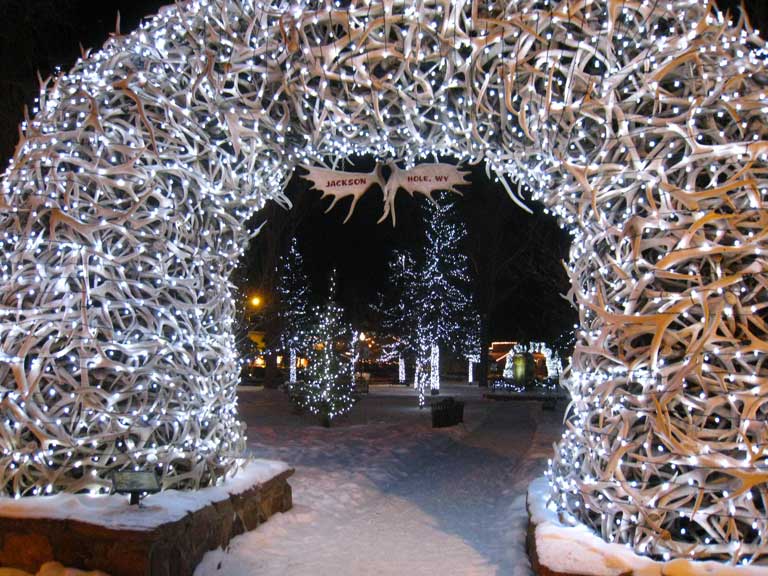 Jackson, Wyoming is one of our favorite locations any time of year, but the charming ski town is magical during the holidays and is considered one of the best Christmas destinations in the US.
White lights are strung across the streets and illuminate the town square. Winters in Jackson Hole, Wyoming are cold, but getting bundled up and walking the streets with hot cocoa makes the bitter chill bearable.
At Christmas time, the historic Wort Hotel in the heart of downtown Jackson is decked out in holiday decor. The grand staircase is beautifully decorated with lit garland, poinsettias and a large Christmas tree. It's perfect for a cozy Christmas in the US!
If you enjoy winter sports, Jackson Hole, Wyoming is also known for its skiing and snowboarding. But non-skiers will also enjoy this great part of the United States.
Activities like snowmobiling, dog sledding, sleigh rides through the National Elk Refuge, and hot springs make Jackson great for a family vacation and one of the best places to spend Christmas!
ALSO READ: BEST PLACES TO STAY IN JACKSON HOLE AND BEST PLACES TO EAT IN JACKSON HOLE
San Francisco, California
San Francisco is a wonderful place to visit during the Christmas season in the US. The city is covered with festive lights, casting a mesmerizing glow over the bay. The bustling Union Square becomes a hub of festivity with its dazzling Christmas tree and pop-up ice rink. It's a delightful place to shop for gifts or simply people-watch and soak in the holiday spirit.
Plus, it's a great time of year to explore the city's fantastic landmarks. There are so many great places to visit in San Francisco at Christmas, and the mild climate makes it super easy to see them without being either too cold or too hot. Admire the Golden Gate Bridge, take a boat to Alcatraz Island, or simply go Christmas shopping in the festively decorated stores and streets.
If you're visiting San Francisco with kids, don't miss the enchanting boat parade along the waterfront, where elaborately decorated boats glide through the bay.
With a great selection of cultural events, including ballet performances of "The Nutcracker", an annual holiday lights display at the San Francisco Zoo, and whimsical decorations in Fisherman's Wharf, the city radiates festive spirit. It's without a doubt one of the best places to visit in the US at Christmas.
Recommended by Alice from Adventures of Alice
Oklahoma City, Oklahoma
Oklahoma City, Oklahoma may be one of the most surprising Christmas destinations in the US.
Christmas in OKC is a delightful experience. The city comes alive with holiday lights strung across the canals in the lively Bricktown District and trees wrapped with twinkling lights.
If you visit Oklahoma City with kids, you'll find an ice skating rink directly beneath the city's tallest skyscraper, the Devon Tower, towering Christmas trees outside the Bricktown Ballpark and in Scissortail Park, and the Myriad Gardens all decorated with holiday lights.
The quirky Automobile Alley isn't just one of the best places in Oklahoma City for street art, it is also one of the best places for Christmas. All the buildings are draped in colorful lights from roof to pavement, making it one of the best areas of the city for a holiday outing or dinner out on the town.
ALSO READ: BEST PLACES TO VISIT IN OKLAHOMA
Branson, Missouri
If you're looking for the perfect place to experience the magic of Christmas, look no further than Branson, Missouri! Branson has everything you could want in a holiday getaway, from dazzling light displays to festive shows and events.
Among the top attractions is the Silver Dollar City Amusement Park, which truly shines at this time of year with its impressive 6.5 million lights throughout the park, holiday-themed shows, and special holiday parade.
And for some classic Christmas entertainment, check out shows like Dolly Parton's Stampede and the Branson Belle Dinner Cruise – both offer special holiday performances.
For the little ones, there's nothing quite like the Branson Scenic Railway's Polar Express, which promises an unforgettable ride to see holiday lights and meet Santa. And one thing you definitely don't want to miss is the impressive Chateau on the Lake Gingerbread Houses.
Many of these top attractions are indoors, making this a great destination regardless of the weather. You can even escape the cold at Silver Dollar City by taking a tour of the cave beneath the park.
Branson is a popular destination year-round, but it is especially busy during the holiday season. Make sure to purchase tickets in advance and leave yourself plenty of time to get around town.
Recommended by Caitlin from Twin Family Travels
Washington, DC
When searching for the best Christmas destinations in the US, you should consider taking a trip to Washington DC!
Firstly, Washington DC's peak tourism months are Spring and Autumn. So, visiting in December will mean that you can bag yourself a great deal at a hotel. Plus, there will be fewer crowds, too.
The Capitol at this time is magical. There are holiday markets, Christmas decorations everywhere, and parades in the streets, which will help get you into the festive spirit!
Some activities to enjoy include visiting The National Botanic Christmas Garden display or even ice skating at the National Sculpture Park. You also can't miss out on meandering around the National Mall.
To escape the cold, you can explore through one of the many Smithsonian Museums. Plus, this is one of the best free things to do in Washington DC!
During your visit, don't miss out on one of the most popular traditions in Washington DC; the lighting of the National Christmas tree. You can see this by heading to the Ellipse.
Just remember to pack a few extra layers, as Washington tends to be quite cold around this time of year.
Recommended by Samantha Oppenheimer from Find Love and Travel
Asheville, NC
Visiting Asheville, North Carolina during the Christmas season is akin to stepping into a picturesque mountain paradise.
Located in the Blue Ridge Mountains, the city in Western North Carolina transforms into a magical retreat adorned with festive lights and holiday cheer.
Every room in the impressive Biltmore Estate is decked out with elegant decorations and Christmas trees. Touring the old mansion during the holidays is a beloved tradition for many.
The 250 room estate and its 8,000 acre property was the home of the Vanderbilt family, once one of the wealthiest and most prominent families in the United States. The estate also includes pristine gardens, a hotel, a farmyard, hiking trails, and a family-friendly winery.
In the streets of downtown Asheville, artisanal craft shops and local boutiques offer unique gifts, while the charming restaurants serve up seasonal delights, making this enchanting mountain town one of the best places to spend Christmas in the United States.
Chicago, Illinois
Chicago's holiday magic makes it one of the most festive cities in the country.
Walking along North Michigan Avenue (aka: the magnificent mile) or State Street, you'll find yourself enchanted by the magical Christmas lights and beautifully decorated store windows. It's a sight to behold and an experience that truly embodies the spirit of Christmas.
The city's public transport gets a festive makeover during the holidays. The 'L' train transforms into the Holiday Train, complete with Santa and his sleigh. Riding this train is like stepping into a moving winter wonderland.
The German-inspired Christkindlmarket is a must-visit. It offers a unique shopping experience with vendors selling traditional handmade crafts and delicious treats. Don't forget to indulge in hot cocoa here to escape the cold!
Chicago also has some unique traditions. The Macy's holiday windows, for instance, are a sight to behold. Each year, they're decorated with intricate displays that tell a different story. Plus there's the Walnut Room, a restaurant inside Macy's that's been serving holiday meals since 1907. Eating here is like stepping back in time.
The best way to experience Chicago's Christmas charm is on foot. It can get cold in December, so dress warmly and wear comfortable shoes.
Recommended by Brodi from Our Offbeat Life
Kennebunkport, Maine
Kennebunkport, Maine truly shines as one of the best Christmas destinations in the US and Canada, perfectly blending traditional festivities with its unique coastal charm. You can kick off your visit by strolling through the port and shopping for holiday goodies, with Ireland on the Square and Maine-ly Drizzle being two popular choices.
Afterward, brave the chill to visit Kennebunk Beach, or escape it by diving into the lively pop-up music tents set just before the Mathew J. Lanigan Bridge, complete with standing heaters and mouth-watering food trucks and plenty of mulled wine to keep you toasty.
The real magic, however, lies in the town's unique traditions.
From the annual tree lighting in Dock Square on Friday and Saturday nights and the Friday night fireworks that light up the sky on the first weekend in December to watching Santa Claus sweep the city via lobster boat through the harbor, there's something magical around every corner. And who could forget the quirky Christmas hat parade and the adorable pooch parade?
Just be sure to start planning your trip early for all the fun. Kennebunkport is one of the best places to visit in Main with kids, and accommodations and parking spots tend to fill up fast during this festive season!
Recommended by Emily Concannon of Emily Embarks
Telluride, Colorado
While many will recommend visiting Aspen in winter, Vail, or even Steamboat Springs, the quaint town of Telluride tops our list of the best mountain towns in Colorado to visit at Christmas.
If you are looking for a small town that looks like something out of a Hallmark Christmas movie, Telluride, Colorado will check all the boxes. Charming Victorian architecture dripping with lights, festive decorations everywhere, an abundance of winter activities, with the backdrop of snow-capped mountains. It is positively dreamy!
As one of Colorado's premier ski towns, Telluride caters to both adventure seekers and those seeking a serene holiday escape. Because it is somewhat off the beaten path in Colorado, you can expect far fewer crowds than many of the resorts closer to Denver. 
The downtown area, accessible by a gondola from the base of the ski resort, features cozy restaurants and cute shops owned by local artisans and small businesses. It is one of the best US destinations for Christmas!
Las Vegas, Nevada
The holidays are a great time to visit Las Vegas. The City of Lights offers numerous special things to do around Christmas, from admiring gorgeous decorations to gorging on holiday-themed desserts.
One of the best things to do in Vegas is visit the conservatory and gardens at the Bellagio Resort. During the holidays, Christmas-themed decorations fill the space, from a working mini-train to tall Nutcrackers. Also at this time of the year, the stunning Bellagio fountains show is set to holiday music. Both Vegas holiday attractions are free!
Other resorts along Las Vegas Boulevard also have great holiday displays to admire. The pool at the Cosmopolitan is turned into an ice rink, and you can skate over real ice here during the holidays. Man-made snow falls, Vegas-style, at intervals on select nights.
Eating is a big part of visiting Las Vegas, and many restaurants offer holiday menus. Be sure to make dinner reservations ahead of your visit.
While daytime temperatures in December are generally in the high 50s or low 60s, it can get cold overnight. Vegas even gets dustings of real snow in the winter. Bring layers and dress warm for outdoor fun.
The holidays are a popular time to visit Las Vegas, so expect accommodations to be pricier at this time and book well in advance.
Recommended by Dhara of It's Not About the Miles
Best Christmas Destinations in Canada
Many places in Canada also know how to turn up the holiday spirit during the Christmas season. So, if you are looking for a great Christmas destination in Canada, these fun and festive destinations are worth considering.
Quebec City, Quebec
If you want to feel like you're in a whimsical European Christmas market but don't want to cross the Atlantic, then head to Quebec City in Canada for one of the best holiday and Christmas destinations in North America.
Quebec City is a beautiful city all year round, with some of the most beautiful architecture and streets that look straight out of a storybook. During the holidays the city transforms into a magical winter wonderland, making it one of the most enchanting destinations in North America.
Visitors can wander through their authentic German Christmas markets, sipping on hot mulled wine or schnapps and shopping from the little vendors who set up shop in this huge holiday market.
For more shopping, head to La Boutique de Noël de Québec, one of the best things to do in Quebec City in the winter if you're looking for the best holiday decor in this year-round Christmas shop!
Wander under the twinkling lights of Rue du Petit-Champlain, arguably the most charming area of Old Quebec City. And if you need a break from all the walking, take the Old Quebec Funicular from Lower Town to Upper Town or vice versa.
The piece de resistance is the towering Chateau Frontenac, illuminated against the wintry night sky, creating a picturesque scene that's straight out of a holiday postcard. The crisp air is filled with the sounds of carolers, and the scent of freshly baked gingerbread fills the air.
And when you need to warm up, head to Restaurant La Bûche for a traditional and savory Québécois meal.
By Megan of Bobo and Chichi
St.John's, Newfoundland and Labrador
Newfoundland may be part of Canada but there are some Christmas traditions here that you won't find anywhere else. It's full of the quirkiness that isolation often brings. Two of the most notable favorites are the celebration of Tibb's Eve and mummering.
Every year on the eve of Christmas Eve you'll find Newfoundlanders cracking open their Christmas stash of liquor and hosting a party.
Back in the day, Advent was a serious, sober time leading up to Christmas. After weeks of abstaining they just couldn't hold out any longer and in the mid-20th century created the made-up holiday of Tibb's Eve as an excuse to have a tipple before Christmas Day. It's now prime party time in St. John's.
Mummering is another unique Newfoundland Christmas experience. Between Christmas and Old Christmas Day you and your friends get dressed up in disguises and costumes and go knocking on doors in your neighborhood.
Neighbors would invite you in and offer you a drink while they tried to guess who you were. In the meantime, you'd pay for your drink with some tunes or a dance. With identities guessed, it was off to the next house to continue the party.
These are just two of many reasons why Newfoundland and Labrador, Canada is one of the best destinations for Christmas lovers.
Recommended by Melissa from Suitcase and Heels
Toronto, Ontario
Toronto is a great destination for a Christmas vacation.
In the heart of a Canadian winter you'll easily find yourself in the Christmas spirit with cool temperatures and a blanket of brilliant white snow. And around the holiday season there is plenty to do and see in Toronto. Christmas in Toronto means skating in Nathan Phillips Square, shopping at the Eaton Center – where you'll find Canada's largest Christmas tree, and checking out all the Christmas markets that take place across the city.
One great place to go to in Toronto for Christmas is Nathan Phillips Square where they hold Holiday Fair in the Square. This fair-meets-Christmas market will keep you busy on rides and shopping through the array of stalls. The square is also surrounded by a variety of food trucks.
But one of the best places to go in Toronto during the holiday season is the historic Distillery District. Here you'll find the Toronto Christmas Market that's dubbed one of the best in the world. Reminiscent of European Christmas Markets, Toronto's will certainly enchant you.
With carolers, a huge Christmas tree, lights strung up, and lots of market stalls for all your Christmas shopping needs, the Toronto Christmas Market is best experienced when the sun goes down. Enjoy a hot cider, as you wander over cobblestone alleyways, and shop the markets in search of the Christmas spirit in Toronto.
Recommended by Stephanie from The World As I See It
Banff, Alberta
Banff National Park is one of the most picturesque places in the world. But at Christmas time, the town of Banff, located within the park, comes alive with lights and holiday charm.
Located in the heart of the Canadian Rockies, Banff is a wonderful Christmas destination in North America. With so many things to do with kids in Banff, like ice skating, skiing and soaking in hot springs, the popular Alberta town is blanketed in snow and festive decorations during the month of December.
Be sure to visit the majestic Fairmont Banff Springs Hotel, which serves as a grand centerpiece for the town's holiday spirit. It is one of the best places to stay in Banff.
You can also take a gondola ride up the Banff Gondola to enjoy sweeping views of the snow-covered valley surrounded by jagged mountains while eating at one of the best restaurants in Banff.
Finally, adventure seekers will find great skiing at the 3 ski resorts located in the national park. If you journey to nearby Lake Louise, the largest of the ski resorts, don't forget to stop by the actual lake that the resort is named after. The lake, which freezes over in winter, is always filled with ice skaters and even a man-made ice castle that kids will love!
Vancouver, British Columbia
The beautiful coastal city of Vancouver, Canada makes for one of the best Christmas destinations in North America. Nestled between stunning snow-capped mountains and the shimmering Pacific Ocean, this city transforms during the Christmas season. Residential streets are lit up with beautiful light displays as locals embrace the festive spirit during the winter season.
Vancouver offers some of the mildest winter conditions in all of Canada with annual highs around 7℃ (44℉) in December. While you may be lucky to have some light snowfall at this time of year, rain is more common. A winter jacket and wearing layers are ideal to combat this unpredictable weather.
There are so many great things to do in Vancouver around Christmas, one of the best being visiting the Canyon Lights display at Capilano Suspension Bridge. The illuminations at VanDusen Botanical Gardens are also worth a visit.
Grab some hot apple cider and enjoy a taste of Europe as you stroll around the annual German-inspired Vancouver Christmas Market. For active travelers, enjoy the outdoor public skating rink in Robson Square in downtown Vancouver.
When planning a North American Christmas getaway, Vancouver should be a top pick to make festive memories. Be sure to give yourself plenty of time to relax and take in all the sites – three to 5 days in Vancouver is ideal!
Recommended by Samara from FC World Travel
Niagara Falls, Ontario
One of the best Christmas destinations in Canada is Niagara Falls. As a year-round destination, seeing the power and beauty of Niagara Falls is magical during the Christmas holidays.
Niagara Falls is bustling with Christmas cheer throughout December. The Winter Festival of Lights in Niagara Falls is an amazing light festival with over 3 million lights and over 70 light displays. It's the largest light festival in Canada, and if you visit over weekends in December and over Christmas, there are fireworks at night, too!
Stop along the Hot Chocolate Trail and pick up a hot beverage to keep you warm while strolling through the light displays and soaking in the Christmas magic. For those visiting with kids, you can also visit with Santa and have a free photo taken on special weekends!
From perusing Christmas markets to sampling seasonal local fare at restaurants, Niagara Falls offers something for everyone looking to have some festive fun.
For those looking to escape the cold, a visit to the Floral Showhouse will warm you up. The vibrant Annual Poinsettia Show is a stunning display of over 1400 red and white poinsettias arranged with traditional lights and colors.
Of course, there are always two casinos to pick from, with great shopping and dining, as well as indoor entertainment like Christmas on Ice and holiday concerts.
Be sure to book your accommodations early when planning to visit Niagara Falls during Christmas. Upgrade to a Falls view room to stay warm and cozy while watching the fireworks!
Recommended by Sarah Camp by In Search of Sarah
Why you should visit one of these best Christmas destinations in the US and Canada
While many people love to wake up in their own homes on Christmas, stay in their holiday pajamas all day, and open presents as a family around the tree, Christmas is also a wonderful time to travel – especially if you are visiting one of these best Christmas cities in the US and Canada.
You don't have to cross oceans or spend weeks away from home to visit these destinations. With so many great Christmas destinations in the US and Canada, you will likely find a festive city within a short drive from you.
So, pack a bag with warm clothes and start planning your next Christmas vacation in the US and Canada!
Like it? Pin this list of the best Christmas destinations in the US and Canada to save it for later!
This guide to the Best places to visit for Christmas in the USA and Canada was first written in December 2017 and was updated in October 2023 for the most current travel information.
Did you know…
When you make a purchase or book hotels, tours, or other travel services, through our links, we receive a small commission, at no extra cost to you. We only EVER recommend service providers, websites, or products we personally use when booking our own travels. Your support enables us to keep producing helpful travel content. Thank you!