When it comes to the best hotels in Jackson Hole, Wyoming, visitors to the charming mountain town have a lot of options to choose from. The valley, which sits below the Teton Mountain Range, is a popular destination year round.
One of the first things to decide when choosing between the best hotels in Jackson Hole, is whether you want to stay in the town of Jackson, Wyoming or at the Jackson Hole Mountain Resort, which is located about 10 minutes away.
Both options have their pros and cons. Staying in Teton Village, at the base of the ski resort, offers you convenience and easy access to the mountain if you are visiting in winter and plan to ski or snowboard.
While staying in the town of Jackson offers you a wider variety of great restaurants and nightlife within walking distance.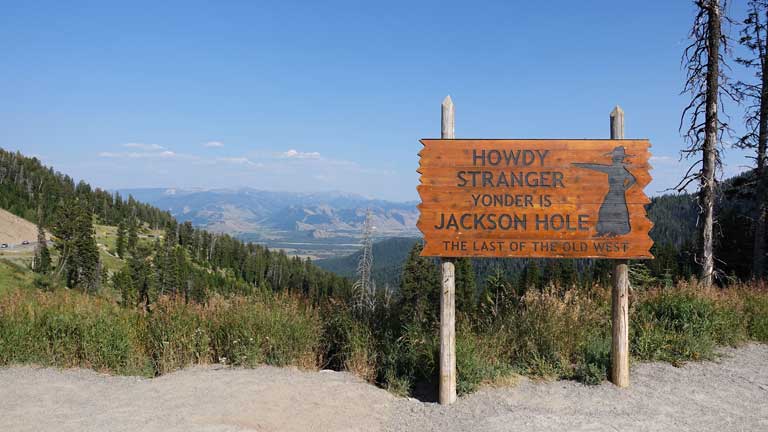 This guide to where to stay in Jackson Hole includes recommendations for 8 lodges, resorts, or hotels in Jackson Hole, Wyoming.
Whether you are visiting Jackson Hole with kids, or seeking a luxurious mountain escape, you're sure to find a hotel in Jackson Hole that will suit your needs and own unique travel style.
Where to stay in Jackson Hole Wyoming – Our Personal Experience
We travel to Jackson Hole frequently. It is among our favorite destinations in the world!
Home to a world-class ski resort with one of the scariest ski runs in North America, Corbet's Couloir, Jackson Hole has a reputation for being a rugged and adventurous destination.
It is also the gateway town to Grand Teton National Park and Yellowstone National Park, so as popular as it is in winter, it is even more popular in summer months.
We have visited this scenic part of the country in every season, and personally stayed at many of the best hotels in Jackson Hole that are on this list.
If trying to determine where to stay in Jackson Hole, an important thing to keep in mind is your budget. Jackson is an expensive destination.
Even a budget hotel or hostel might be more than you want to pay. But we've compiled this list of the best hotels in Jackson Hole with all types of travelers in mind – budget travelers, luxury travelers and those visiting Jackson Hole with kids.
Best Hotels in Jackson Hole, Wyoming (In Town)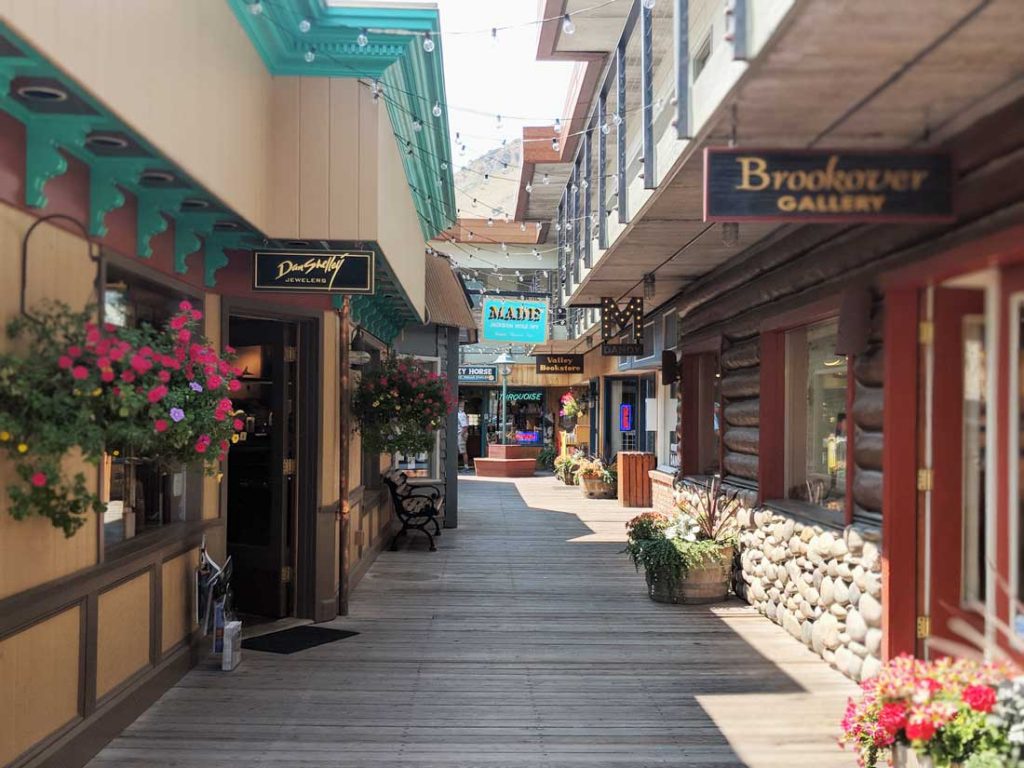 Staying in the town of Jackson is much cheaper than staying in Teton Village. And getting to the mountain resort from the town is easy, even if you do not have a car.
A shuttle bus runs continuously from the town to the ski resort. It costs roughly $3 a person to ride the bus to the resort, so for budget travelers who want to save some money, and still want to ski or visit the Jackson Hole Mountain Resort, staying in the adorable town of Jackson, Wyoming might be your best bet.
The downside to staying in town if you plan to ski or snowboard in Jackson Hole, is that you have to haul all your ski gear on and off the bus and to and from the bus stop.
The Wort Hotel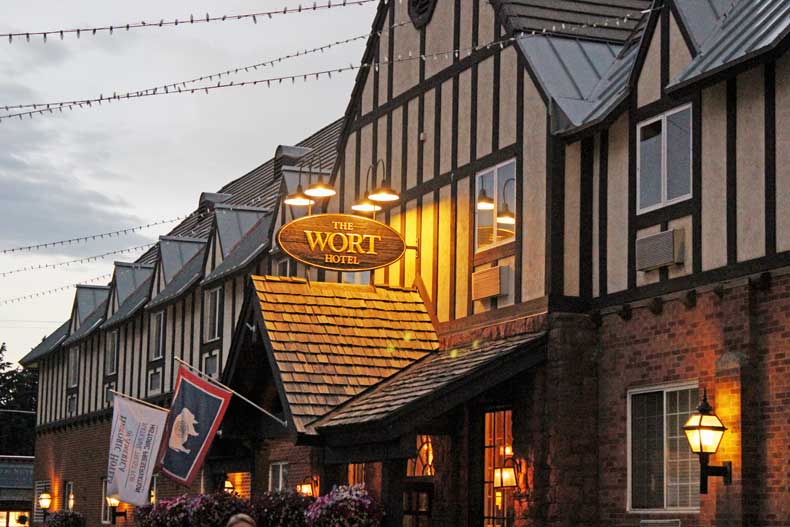 If you plan on staying in the town, The Wort Hotel is one of the best options for hotels in Jackson Hole, Wyoming if you are looking for a rustic, yet luxurious experience.
Located in the heart of downtown Jackson, the historic hotel is absolutely charming!
Both quaint and luxurious, this boutique western-themed hotel has rustic furniture and décor that matches the feel of the Wild West town. Even the light fixtures in the hotel are custom made and western-themed.
At Christmas, The Wort Hotel, is festively decorated for the season. A large Christmas tree graces the entry and poinsettias line the grand staircase, making The Wort and the entire Jackson Hole region one of the best destinations for Christmas lovers.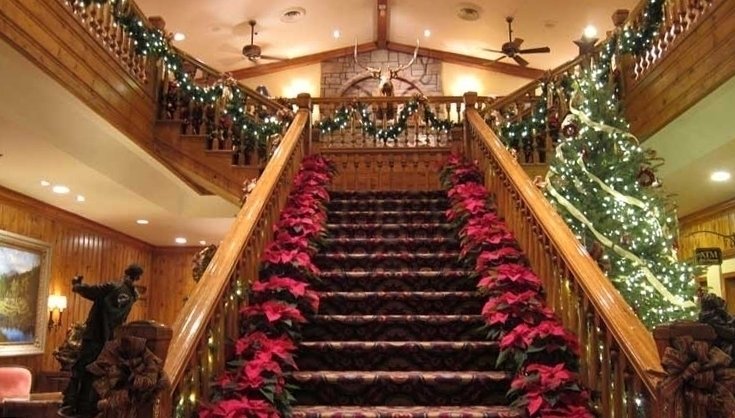 The Wort Hotel also provides the loveliest smelling Lemongrass Sage toiletries among its many amenities. The popular Wyoming-made products are available for purchase in the hotel gift shop, and make for great souvenirs.
One of the best places to eat in Jackson Hole is also housed in the historic hotel. The Silver Dollar Bar and Grill, the restaurant gets its name from the 2,032 uncirculated 1921 Morgan Silver Dollars that decorate the bar top.
But even if you don't want to dine at Silver Dollar Bar and Grill, The Wort is within walking distance to a ton of other great restaurants that offer traditional Wyoming game cuisine, as well as vegetarian and vegan options.
Mountain Modern Hotel Jackson Hole
The Mountain Modern Hotel is one of the best hotels to stay at in Jackson Hole.
The hotel's prime location is near multiple restaurants, such as Mexican and BBQ, that are within walking distance, making it convenient when you need to refuel on your trip.
The hotel's contemporary décor, including wooden accents and stone fireplaces, seamlessly matches the surrounding mountainous environment. Each room has a giant landscape picture for a backyard as well as comfortable plaid blankets.
Additionally, the hotel offers a range of amenities, including a fitness center, a heated pool, and a hot tub, which are perfect for relaxing after a long day exploring Jackson Hole.
It's also conveniently just off Highway 191, which you can follow north to visit Grand Teton National Park as well as Yellowstone National Park.
Recommended by Marissa from Postcards to Seattle
SpringHill Suites by Marriot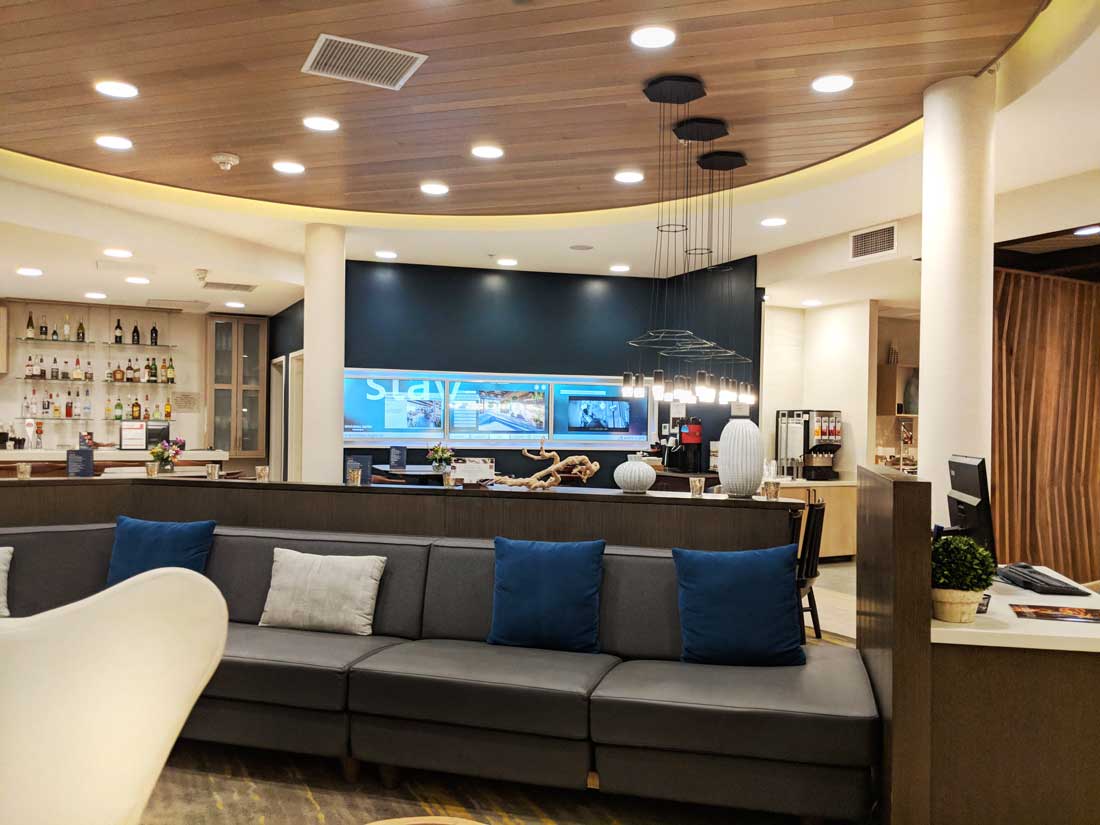 SpringHill Suites is a chain hotel owned by Marriott, but if you don't want to splurge on a fancy resort or lodge, this hotel is another nice alternative.
It is centrally located in the town of Jackson, just a couple of blocks from the town square and directly across the street from Snake River Brewing, one of our favorite places to eat and have a drink in Jackson Hole.
SpringHill offers a complimentary breakfast, which is a great way to save money on eating out. The inside of the hotel is clean and modern. The bedding is comfortable and the rooms are spacious.
Another reason Springhill makes the list of the best hotels in Jackson Hole, for those who travel on points, you can use Marriott Bonvoy points to make the hotel even more affordable.
The Lodge at Jackson Hole
Jackson Hole leans hard into the Western vibes and the Lodge at Jackson Hole is no exception, perfectly mixing upscale accommodations with a sense of Western coziness.
The rooms are spacious and immaculately clean, but the Lodge at Jackson Hole really shines in terms of the amenities it offers guests.
If you're visiting in the wintertime, there's a huge stone fireplace in the lobby that's perfect for cozying up next to as an apres-ski treat.
If you've spent all day exploring the trails of Grand Teton National Park, like Delta Lake or Inspiration Point, what could be better than relaxing in the property's indoor/outdoor pool, hot tub, and sauna.
To fuel up every morning before your adventures, you'll get a complimentary hot breakfast buffet every morning and getting around town is a breeze in the lodge's courtesy car or shuttle around Jackson Hole.
While the hotel is fantastic in and of itself, the friendly staff elevate the hotel to the next level, offering thoughtful advice on exploring Jackson Hole or simply a friendly face after a long day of adventuring.
Recommended by Jessica from Uprooted Traveler
Wyoming Inn
Wyoming Inn is a 3-star hotel with a true western feel, spacious rooms and accommodating staff. The walls in the rustic inn feature the stunning works of famed wildlife photographer, Thomas Mangelsen.
Considered one of the best hotels in Jackson Hole and in the entire state, guests will love relaxing in the Wyoming Inn's lodge-inspired lobby and having an evening drink by the fireplace.
Its location in Jackson is convenient for exploring the area, with many attractions and restaurants within walking distance. Within the hotel, The Whistling Grizzly Restaurant is not only a convenient place to eat if staying at the inn, but the food and service are exceptional.
If you want to save money on dining out, the hotel's complimentary breakfast buffet is a great way to start the day, with a variety of options to suit different tastes.
Best Hotels in Jackson Hole, Wyoming (In Teton Village)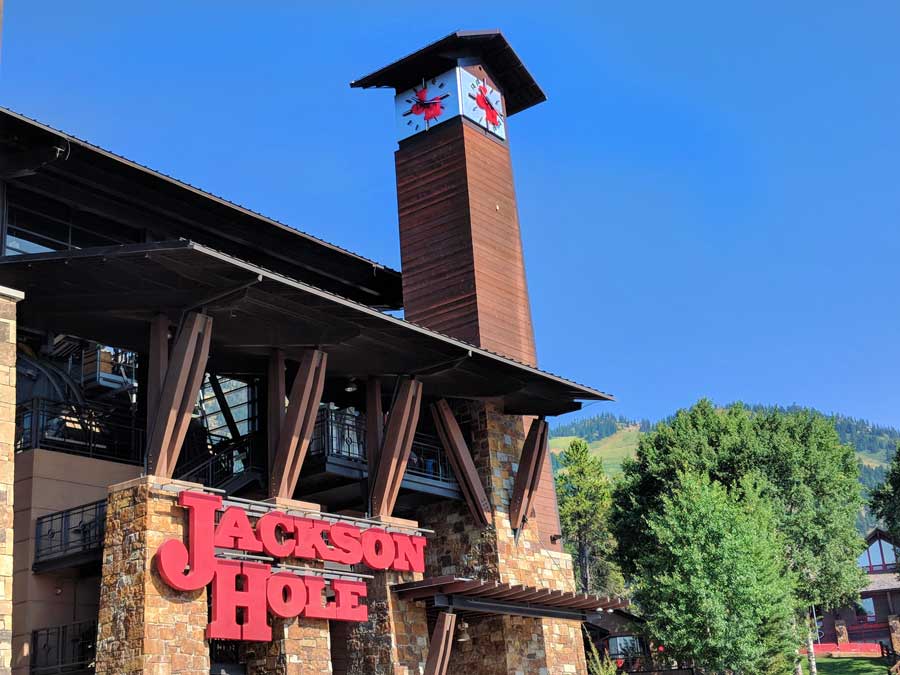 Staying in Teton Village offers you convenient access to the mountain resort. This is most beneficial in winter if you plan to ski or snowboard in Jackson Hole.
In summer, Teton Village offers mountain biking trails, hiking, ropes courses, and equally beautiful views as the mountain resort in winter.
Four Seasons Resort Jackson Hole
If you're seeking a posh, luxury experience, The Four Seasons Resort in Jackson Hole is considered one of the best hotels in the area.
The location of the resort is both breathtaking and convenient, nestled in the heart of the Teton Village, you'll be surrounded by stunning natural scenery that provide a true sense of escape and relaxation.
Additionally, the hotel offers luxurious amenities such as a heated outdoor pool, a world-class spa, and a fine dining restaurant that serves delectable cuisine.
The guest rooms are spacious, elegantly decorated, and equipped with modern amenities. Plus, the staff at the Four Seasons Resort is highly trained and attentive, ensuring that guests have a memorable and comfortable stay.
All of these factors make the Four Seasons Resort one of the top hotels in Jackson Hole, offering an unforgettable vacation experience.
Hotel Terra
Located at the base of the mountain near the tram, Hotel Terra is an ecologically friendly hotel that offers ski-in (but not ski-out) access.
The concept of the hotel and the convenience to the mountain are both incredible.
Designed to utilize natural lighting as much as possible, 100% of the hotel's electricity is offset with the purchase of alternative energy sources like wind, solar, and hydro sources.
They also use low-flow water features and provide refillable aluminum water bottles to use during their stay in effort to conserve water.
If you are staying at Hotel Terra in winter, you can store your skis in the rental shop next to the hotel. The rental shop is located by the front entrance to the hotel. It isn't the most convenient place to store your skis but it beats carrying them up to your hotel room each day.
The rooms at Hotel Terra are nice and modern; the hot tub on the roof is very cool, and I love that it is an environmentally friendly hotel.
Remote Lodging in Jackson Hole
If you prefer to stay further from town you'll find accommodations along the route to and even in the national parks. Here is an option for travelers looking for something more simple and rustic.
Colter Bay Village Cabins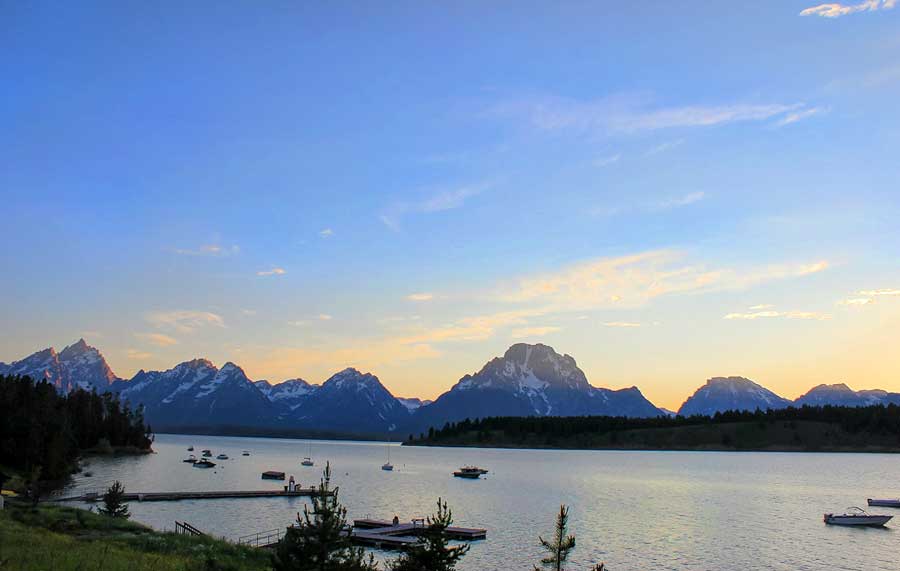 Colter Bay Village offers a unique way to stay inside a national park. With furnished log cabins, rustic tent cabins, and a spacious campground, Colter Bay in Grand Teton National Park offers something for every family.
The cabins at Colter Bay are historic homesteader cabins that were originally built in this area and moved to Colter Bay when John D. Rockefeller Jr. purchased this land.
Each cabin has a unique design and history, and includes the basic items needed for a comfortable stay such as beds, linens, and towels.
The tent cabins at Colter Bay Village offer a simple and more rustic way to stay in the Tetons, for those that wish to camp but don't want the hassle of bringing their own tent. And the Colter Bay Campground provides more adventurous guests a place to camp along Jackson Lake.
Guests of Colter Bay Village can canoe or kayak Jackson Lake, or rent a powerboat to cruise along the water.
Narrated scenic lake cruises or dinner cruises are offered, and the area is great for hiking, horseback riding, and fishing. After a day of exploring, guests can dine at the Ranch House Restaurant and Bar, or grab to-go pizza and wings at the Café Court Pizzeria located on site.
Recommended by Erin from Super Simple Salty Life
Where to stay in Jackson Hole: Teton Village or the town of Jackson?
As ski enthusiasts in the winter and avid hikers in summer Jackson Hole is the ideal vacation spot.
If you are skiing or visiting in winter, staying in Teton Village definitely offers you the most convenience. Jackson Hole is a premier ski resort, so if you love snow sports like we do, definitely check out Jackson Hole in winter.
Although the village is great for skiers, we also love staying in the town of Jackson, especially during the summer when the town truly comes alive with activities and visitors.
Summer is the most popular time to visit Jackson Hole, and if you do visit during the warmer season, staying in town is more convenient for shopping, dining, and exploring the outdoors and nearby national parks.
Conclusion: Jackson Hole Hotels vs AirBnBs
Luckily, there are plenty of great places to stay in Jackson Hole, regardless of whether you stay in the town or at the base of the mountain.
Renting a condo or an Airbnb is another option for those looking for lodging in Jackson Hole. There are some great Airbnbs in Jackson Hole for those who might want a little extra room, more privacy, or an awesome view of the Grand Tetons.
Have a comment or question about any of these hotels in Jackson Hole, Wyoming? We'd love to hear from you. Leave your thoughts in the comments below!
Like it? Pin this list of the best hotels in Jackson Hole, Wyoming to save for later!
This guide to the best hotels in Jackson Hole, Wyoming was first written in March 2016, but was updated in February 2023 for accuracy and current information.