Having a big family is great, but it can make planning a vacation quite complicated. Especially if you're on a budget! But never fear, multigenerational family vacations – trips that involve grandparents, parents, and children all at once – can be just the ticket for maximum fun at minimal cost.
With the right tips and tricks, you and your extended family can have an unforgettable trip without breaking the bank.
I've worked in the travel industry since 2016, so I know a thing or two about how to plan for travel, how to get the best deals, and how to keep it low stress.
Here is what I recommend when it comes to family vacations!
A Few Tips For A Fun Multigenerational Family Vacation
There are a lot of Big Things to plan for on a multigenerational family vacation, but a few Small Things can help bring it all together.
Here are a few tips from someone who has planned a lot of get togethers around the world.
1. Start Small.
This is all about enjoying your loved ones outside the home, so focus on that to begin with. Take it one step at a time and add things as you have space to. (This is why planning in advance is so worthwhile!)
2. Get Each Generation Involved In The Planning.
Not everyone will have the same idea about what "vacation" means, so check in with different groups and get their input. Heck, you could even recruit a little team to help you with the planning.
3. Plan Menus In Advance.
Families that have food sensitivities already know the drill, thanks to a life of planning menus in advance. But for everyone else, it would help to think ahead about what you'll want to make, how you'll get the supplies, and what the dietary preferences are of everyone involved.
4. Discuss Activities In Advance.
This allows you to gauge everyone's interests and to plan for alternate activities for different age groups.
5. Consider Physical Limitations.
Although climbing the tallest peak of a mountain range or museum hopping both sound fun, they may be a bit challenging for the grandparents or small children.
Consider the different physical limitations of each member of your family when booking excursions or planning outings.
6. Don't Force Togetherness.
Just because you're all there together does not mean that you all need to spend every waking moment together. Give everyone a little bit of privacy and space for downtime.
7. Consider Everyone's Sleep Schedules.
"Multigenerational" might as well mean "different circadian rhythms". If you make sleeping arrangements around this, then everyone will be grateful when the morning rolls around.
Babies or toddlers may need an earlier bedtime, while young adults may want to stay out exploring much later. Be sure to help plan sleeping arrangements and book hotel rooms to accommodate each person's schedules.
Also read: How to help babies sleep better in hotel rooms
8. Determine Finances.
This is so mundane but important anyway. It's easier to talk about this in advance so that everyone has clear expectations about who is paying for what. You don't want anyone to accidentally take the brunt of the cost and you definitely don't want any drama.
9. Remember To Relax!
Maybe this should have been first on the list because it's the most important, right?? Not only will you want some time to just breathe in the fresh air at your vacation spot, but you'll also want some space to breathe during the planning too.
And now, onto the Big Things for planning a family trip.
Planning a Multigenerational Family Vacation
You may be tempted to wait for the perfect deal or destination before planning your trip, but why not get in on the fun early? Booking your vacation far in advance means that you'll get a better choice when it comes to both flight and accommodation options.
You also might be able to take advantage of exclusive offers or discounts that are available only when you book well ahead of time. And who doesn't love saving money?
On top of that, booking your trip early will give you plenty of time to make sure everyone involved is prepared for the journey.
Here are a few areas to consider when you're planning your next trip.
Budget
Aside from booking budget vacation rentals and airlines, there are a few other ways to keep your budget relatively low on this family trip.
Traveling during off-peak times can help you save money on flights and accommodations. Consider traveling during the shoulder season or mid-week when prices are lower.
Many destinations offer free or low-cost activities for families. Do some research ahead of time to find parks, museums, and other attractions that are free or have discounted admission.
Eating out can quickly add up, especially when you're traveling with a large group. Consider renting a vacation home or apartment with a kitchen so you can cook some meals at home and save money on food. (More on that later!)
Popular tourist destinations can be expensive, so consider visiting less popular destinations that may be more affordable.
Length of stay
Depending on the length of stay, families need to prepare for different things when planning a family vacation. Here are some considerations based on the length of the trip:
Short trips (1-3 days):
Plan activities carefully to make the most of the limited time available.
Pack efficiently, as there won't be much time to do laundry or restock supplies.
Make sure all necessary items are packed and ready to go before leaving, to avoid last-minute stress.
Mid-length trips (4-7 days):
Consider bringing more items, such as a larger selection of clothes, toiletries, and activities, as there will be more time available.
Plan for potential changes in weather, such as bringing rain gear or warm clothing if needed.
Check if the accommodations have laundry facilities to avoid packing too much clothing.
Long trips (7+ days):
Plan for potential changes in climate and weather, and pack accordingly.
Consider purchasing items at the destination instead of packing everything, to avoid overpacking.
Make sure there is enough room in the luggage for souvenirs and purchases made during the trip.
If traveling abroad, make sure to have all necessary documentation, such as passports and visas.
Organize how you'll take care of any plants or pets, mail, or other things around the house while you're away.
You might also want to plan for the unique needs and preferences of all family members, including seniors and young children. You know best what your family needs. If you're not sure, then now is the time to ask!
Also read: What to Pack for your Baby | List of Baby Travel Essentials
Transportation
When planning a multigenerational vacation within driving distance, families can select a meeting point that is easy for everyone to get to, such as a central location or a point of interest.
From there, you could all drive to the destination together, making the road trip a part of the adventure. But if you're all coming from different locations or heading somewhere outside of driving distance, then there are a few ways to make the transportation a bit more comfortable.
Direct flights are generally more convenient and less stressful, especially if you are traveling with young children, seniors, or individuals with mobility issues. They also minimize the time spent waiting in airports and reduce the risk of missed connections.
However, direct flights may be more expensive than flights with layovers, especially during peak travel season.
Booking a few shorter flights with layovers may be more cost-effective, especially for larger families. Layovers can actually be a good thing. They allow for a break in between flights, which can be beneficial for children and seniors who need to stretch their legs or use the restroom.
However, layovers can be tiring and time-consuming, and there is always the risk of missing connecting flights due to delays or cancellations.
And if you're traveling internationally, then tracking all of the luggage in between flights across borders can turn into an absolute nightmare.
Websites like Kayak and Expedia offer discounted travel packages, including flights, hotels, and car rentals. You can often save money by booking these packages instead of booking everything separately.
Accommodations
Renting a vacation home or apartment can be a more affordable option than staying in a hotel, especially for larger families. Websites like Booking and VRBO offer a variety of vacation rental options.
When selecting a vacation rental, consider the location and size that best suits the needs of your family. Look for properties that are in safe and convenient neighborhoods, with easy access to nearby attractions and activities.
Consider the size of the property, the number of bedrooms and bathrooms, and the availability of common areas for socializing and relaxation.
Be sure to carefully review the amenities and features of the vacation rental property! Look for features like a fully equipped kitchen, laundry facilities, outdoor space, and parking. Determine what will be needed for the stay and confirm that the property has these features.
And lastly, before booking a vacation rental, read reviews from other guests who have stayed at the property. Look for comments about the cleanliness, safety, and accuracy of the listing, as well as any issues that have been reported.
Also read: Hotel vs Apartment – Pros and cons of each when traveling
Activities
Pleasing multiple generations at once isn't as hard as it might seem at first. Each family member just wants something to do and, well, even the most far flung destinations will be able to satisfy that!
Here are some things to keep in mind, whether you're visiting the beach, mountains, or taking a multigenerational family vacation to a popular city.
In the Mountains
For more adventurous families, a family gathering in the mountains means that the great outdoors can provide the perfect playground for everyone. There is plenty to do either with your whole family and even more for the exceptionally active family members too!
Hiking: Explore the natural beauty of the mountains with a hike suitable for all ages and fitness levels. Young kids can enjoy a bit of rock climbing on any boulders you pass on the trails. National parks like Theodore Roosevelt, Zion, or Arches, all offer easy hikes that are suitable for both young children and seniors.
Scenic drives: Enjoy the stunning mountain views on a leisurely drive, with plenty of stops for photo opportunities and scenic overlooks.
Skiing/snowboarding: Hit the slopes for a fun day of skiing or snowboarding. Many resorts offer lessons and activities for all ages and experience levels. Whether you are teaching young kids to ski, or are a family of experienced skiers, aim for a mountain resort that has terrain sufficient for everyone's comfort level. Mountain resorts like Steamboat, Vail, or Big Sky are great mountains for a multigenerational family vacation.
Mountain biking: Maybe this is not for the entire family, but young kids and active family members can explore the trails via mountain biking. Many mountain towns rent mountain bikes by the hour and even have guided tours.
At the Beach
Beaches are loved by children and grandparents alike. Family members with lots of energy can play in the waves and older adults with limited mobility can relax in the shade. And there is a whole lot in between!
Swimming: Take a refreshing swim in the ocean or enjoy playing in the waves. Many popular beach destinations will even rent things for various water sports, like floaties, or even jet skies… and everyone loves jet skies.
Building sandcastles: Have fun building sandcastles and sculptures on the beach.
Beach games: Play games like beach volleyball, frisbee, or paddle ball for some friendly competition.
Also read: Beach essentials for toddlers and babies
In a City
Cities can offer a total cultural immersion, even if in your own country. They can be loads of fun and completely manageable. Here are the most fun things to do in cities:
Walking tours: Take a walking tour of the city, exploring its history and culture.
Museums: Visit museums that are age-appropriate for all family members, such as art, history, or science museums.
Sightseeing: Take in the sights of the city, including famous landmarks and attractions.
Swimming pool: If you're staying in multiple hotel rooms, then meet up at the swimming pool for a fun (yet contained) day outside.
Also read: Underrated US Cities that Deserve More Tourists
Other Locations
Outdoor adventures: Try activities like zip lining, whitewater rafting, paddle boarding, rock climbing, fly fishing, or horseback riding for some thrilling outdoor fun.
Amusement parks: Visit amusement parks with rides and attractions that appeal to all ages, especially older children.
Cooking classes: Learn to cook a new dish or cuisine together as a family.
No matter the location, the key is to choose activities that are inclusive and enjoyable for all members of the family.
By planning ahead and taking everyone's interests and abilities into account, multigenerational families can create memorable experiences that they will cherish for years to come.
Best Multigenerational Family Vacations in the USA
To make sure everyone has something to do during the stay, look for destinations that offer activities suitable for all ages. There are so many great destinations in the United States for multigenerational family vacations.
Here are some of the best destinations for multigenerational family vacations.
Orlando, Florida
Home to some of the world's best theme parks, including Walt Disney World, Universal Studios, and SeaWorld, there's plenty to keep everyone in the family entertained for days in Orlando, Florida.
While Orlando is among the best multigenerational family vacations, costs can add up quickly if visiting the city's famous theme parks, so be sure to budget accordingly.
Grand Canyon, Arizona
A stunning natural wonder that offers scenic vistas, hiking trails, and river rafting trips, Grand Canyon National Park is worth exploring.
In fact, if you're interested in a southwest USA road trip, there are a lot of places in Arizona, New Mexico, southern Utah, and southern Colorado that are incredible for families looking to slow travel through this scenic area of the United States.
San Diego, California
With its sunny weather, sandy beaches, and family-friendly attractions like the San Diego Zoo and Legoland, this coastal city is perfect for a fun-filled multigenerational family vacation.
For the older generation, San Diego's rich history, cultural sites, and scenic beauty provide opportunities for exploration and relaxation. They can enjoy a visit to the historic Gaslamp Quarter, explore the USS Midway Museum, or take a stroll through the beautiful Balboa Park.
Yellowstone National Park, Wyoming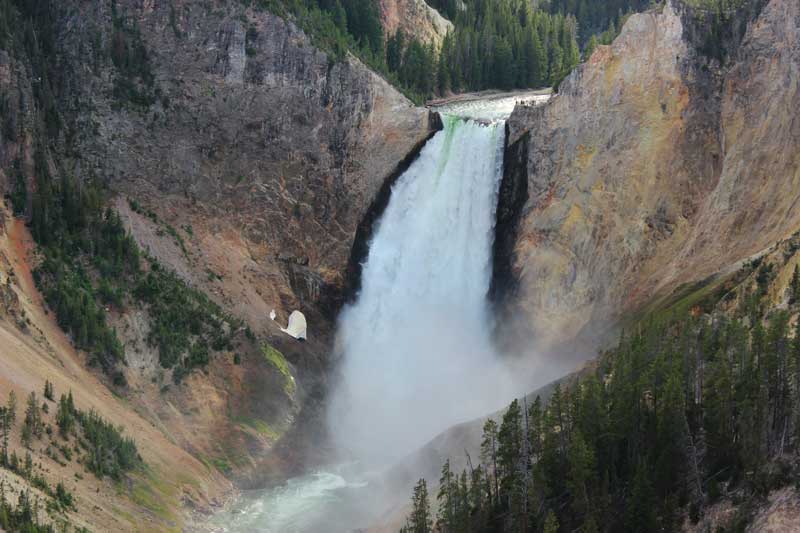 America's first national park is home to breathtaking natural wonders like geysers, hot springs, and wildlife, and offers plenty of outdoor activities like hiking and camping.
Yellowstone is a wonderful place to explore as a family with many scenic sights that are viewable from a car or a short, easy walk.
Myrtle Beach, South Carolina
With miles of sandy beaches, water parks, mini-golf, and amusement parks, Myrtle Beach is a great destination for multigenerational families looking for some fun in the sun.
The South Carolina beach town also boasts great shopping and dining options. The famous Broadway at the Beach complex features over 100 shops, restaurants, and attractions, providing a full day's worth of entertainment for the whole family.
Nearby Wilmington, North Carolina is also big on beaches and is teeming with lots of family fun without the crowds.
Grand Teton National Park, Wyoming
Another stunning national park with majestic mountains, crystal-clear lakes, and abundant wildlife, Grand Teton National Park is a great option for family travel.
In fact, the entire Jackson Hole region is perfect for families who enjoy great views and outdoor activities, while still having plenty of luxurious and family-friendly hotels and a wide variety of dining options.
Maui or Oahu, Hawaii
A tropical paradise with white sandy beaches, water activities, and cultural experiences like luaus, Hawaii is a beautiful destination for families. In fact, there are lots of great things to do on the island of Oahu with kids.
With careful planning and consideration of each family member's interests and abilities, a great vacation can be had almost anywhere in this island state!
Be sure to plan your Oahu itinerary or Maui itinerary, taking into account everyone's interests and abilities.
Best International Multigenerational Family Vacation Spots
There are many great international destinations for multigenerational trips that can be reached from the US. Here are a few options for a family vacation with the grandparents.
Mexico
Mexico offers a range of activities and experiences for multigenerational families, including beautiful beaches, historic sites, and cultural attractions. Popular destinations include Cancun, Playa del Carmen, or Tulum on the country's eastern shore, and Cabo San Lucas and Puerto Vallarta on the Pacific Coast.
There are plenty of opportunities for adventure activities, such as snorkeling, ziplining, and cenote visits, as well as cultural experiences like visiting museums and ancient ruins, like Chichén-Itzá on the Yucatan Peninsula and Teotihuacan outside of Mexico City.
Mexico is also an affordable destination which makes it a more accessible vacation option for extended families, especially those with different budgets.
Costa Rica
Costa Rica offers a variety of eco-adventures, including ziplining, hiking, wildlife viewing, hanging bridge tours through the rainforest. Families can also enjoy the country's beautiful beaches, waterfalls, and hot springs.
Whether you rent a car and drive to different parts of Costa Rica, or stay in one location, like an all-inclusive resort at the beach or an eco-lodge in the rainforest, Costa Rica is an ideal destination for families traveling with a young child or elderly adults.
Canada
Canada is a great destination for multigenerational families, with stunning natural scenery and a range of outdoor activities. Popular destinations include Banff and Jasper National Parks, as well as nearby Canmore.
While there are a lot of outdoor activities in Banff, you'll find many easy family-friendly hikes, relaxing hot springs, scenic drives, cozy shops and restaurants in Banff, and lots of great places to stay.
For families who prefer a city destination, the cities of Toronto and Vancouver are also popular options.
Europe
Europe offers a wealth of cultural experiences and historic sites, including art museums, castles, and historic landmarks. Popular destinations include London, Paris, and Rome.
Most of Europe is well connected and easy to navigate using public transportation. But many European destinations typically involve a lot of walking. So, when planning multigenerational trips, consider a Scandinavia itinerary, like a self-guided Norway in a Nutshell package.
You can also aim to visit smaller cities, like Bruges, Belgium, which pack a lot of beauty and European charm into a condensed area that doesn't involve as much walking for family members who may have mobility challenges or tire easily.
Caribbean Islands
The Caribbean offers beautiful beaches, crystal-clear waters, and a range of water activities, including snorkeling and diving. Popular destinations include the Bahamas, Jamaica, Puerto Rico, the Dominican Republic, and Sint Maarten.
There are a lot of Caribbean islands that are great for families. When planning multigenerational travel, all-inclusive resorts are typically great options, as their restaurants cater to a variety of dietary needs and offer lots of on-site activities for different interests.
When planning an international trip, families should consider factors like travel time, cost, and accessibility, as well as any cultural or language barriers.
Also read: Differences you'll notice when traveling internationally
Final Thoughts on Multigenerational Family Vacations
Make new memories whether you're taking your extended family on an epic vacation or just looking for a Mother Daughter getaway. Keeping everyone's interests in mind at the start will make the whole process a whole lot easier.
Have a question about how to plan a trip with grandparents or extended family? We'd love to hear from you! Leave your thoughts on a multigenerational family vacation in the comments below.
About the Author of this Multigenerational Vacation Guide: Marquis Matson
In 2015, Marquis from Kiki La Gringa left the US in 2015 and has been a nomad ever since. A very slow-moving nomad that has shiny object syndrome. She now works with Adventure Travel Company Explorer Chick to help women find their adventure.
Like this guide to planning a multigenerational family vacation? Pin it to save it for later!
Did you know…
When you make a purchase or book hotels, tours, or other travel services, through our links, we receive a small commission, at no extra cost to you. We only EVER recommend service providers, websites, or products we personally use when booking our own travels. Your support enables us to keep producing helpful travel content. Thank you!