A Bruges day trip is a wonderful  addition to several popular western European city itineraries. This storybook town in northwest Belgium is easy to get to from Brussels, Amsterdam, Paris, or London.
With its cobblestone streets and gingerbread-style houses lining picturesque canals, the town is definitely worth a visit, even if you only have one day in Bruges. 
Bruges is to Belgium what Rothenburg ob der Tauber is to Germany, what Sintra is to Portugal, or what Giethoorn or Zaanse Schans is to the Netherlands.
It's cute; it's charming; it's so picturesque it looks like a real-life Disney movie setting. You get the idea.
Beautiful Bruges is one of the prettiest places in Belgium, if not all of Europe.
If you're planning a Bruges day trip to see this enchanting fairytale town, we've prepared the perfect 1 day in Bruges itinerary and have laid out what to do in Bruges in a day to ensure your trip to this medieval city is as dreamy as possible. 
Travel Tips for Visiting Bruges in a Day
Before we jump into our Bruges day trip itinerary, there are a few things to know that will enhance your visit.
Get there early or spend a night to avoid crowds
Like any tourist town, Bruges can get very crowded, particularly in the peak summer season. Bruges is also a cruise port, so when a cruise ship is docked in Bruges, be prepared for the crowds to descend!
If you can avoid weekends or days when cruise ships are there, the town is less crowded. However, even on typically busy days you can avoid the crowds by starting your Bruges day trip early or by spending a night in the city.
Businesses and attractions in the town don't really open for the day until 10 a.m., when many daytrippers or cruises arrive. If you want to experience the streets without crowds, get there before 10 a.m. or stay at a hotel for the night.
Explore the side streets
Another great way to avoid crowds is to spend some time exploring the side streets. You'll find plenty of narrow alleyways and back streets that are just as beautiful as the main corridors but with far fewer people.
Wear walking shoes
Walking is the best way to get around Bruges. The city is small and easy to explore on foot. You'll want to wear a good pair of walking shoes to stay comfortable as you stroll through the city.
You may also want to bring a lightweight jacket, even in summer, as temperatures are rarely above 70 degrees Fahrenheit (21 Celsius) even at its hottest.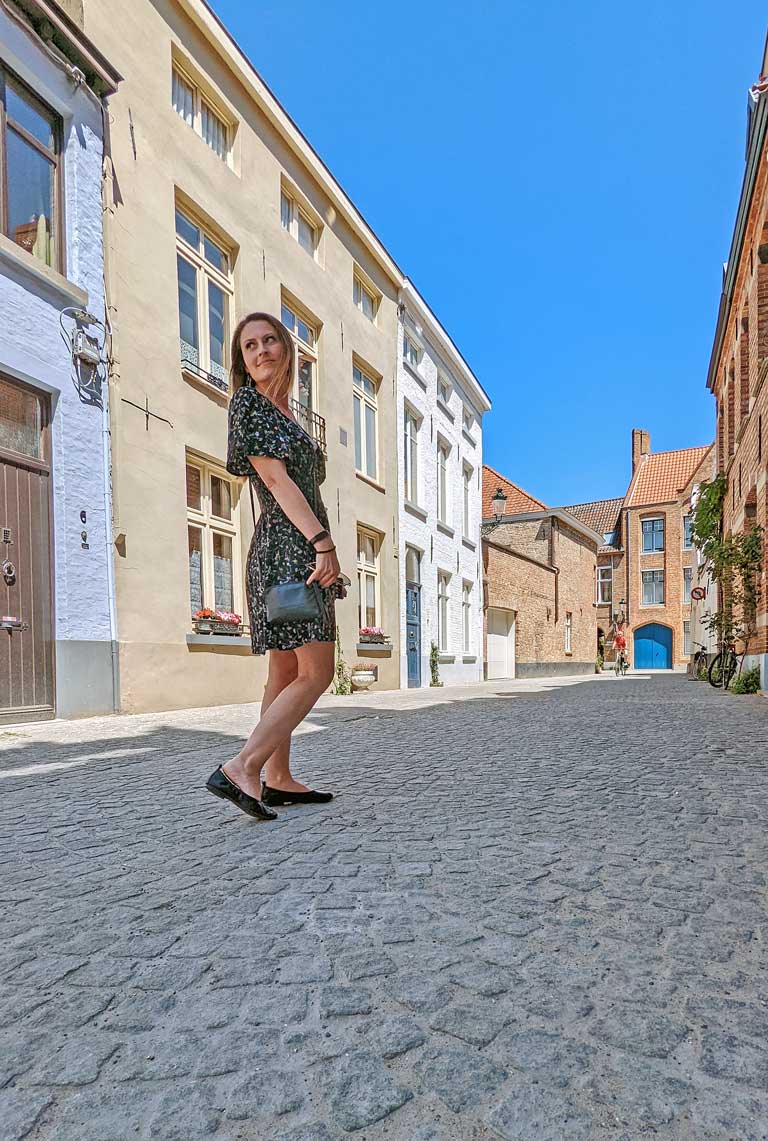 Most popular Bruges Day Trips
If you prefer guided tours or having someone else plan out your day trip, here are a few of the most popular Bruges day trips you can book.
Also read: 2-day Brussels itinerary
Bruges Belgium Day Trip Itinerary
Now that we've laid out our best Bruges travel tips and highlighted the top guided day trips to Bruges, let's get into the actual Bruges one day itinerary. Here is a realistic look at what to do in Bruges for a day.
Most day trips will get you to Bruges around 10 a.m., and as mentioned earlier, most businesses and attractions don't even open until then. So, if you arrive in Bruges earlier, spend that time wandering the quiet streets and taking photos.
10:00 a.m. – Minnewater Lake (Lake of Love)
11:00 a.m. – Stroll through the serene Beguinage
11:30 p.m. – lunch and beers at De Halve Maan Brewery
1:00 p.m. – Canal Cruise
2:00 p.m. – Church of Our Lady
2:30 p.m. – Take in the views for Bruges most picturesque bridge
2:45 p.m. – Snack time at FritBar
3:00 p.m. – Walk by the Quay of the Rosary
3:15 p.m. – See the holy relics at Basilica of the Holy Blood
3:30 p.m. – Stop in Bruges City Hall and Burg Square
4:30 p.m. – Enjoy the atmosphere at Market Square
5:00 p.m. – Climb the Belfry
6:00 p.m. – Time for chocolate
6:30 p.m. – Dinner followed by waffles for dessert
The Best Things to Do on a Bruges Day Trip
With the Bruges day trip itinerary laid out, let's explore each of the main things to do in further detail to help you plan out your day and decide which of these attractions in the UNESCO World Heritage designated Historic Center you want to see most.
Minnewater Lake
Located on the southern end of Bruges, Minnewater, also known as the Lake of Love is one of the most beautiful areas of Bruges, particularly in summer months when the surrounding trees are green and the swans swim gracefully across the water in the small lake.
On and near the lake you will find dozens of swans. There are so many, in fact, swans have somewhat become a symbol of Bruges. 
If arriving by train at Brugge Train Station, Minnewater makes for a convenient starting point for your day trip to Bruges, as it is just a short walk from the train station.
Beguinage Ten Wijngaerde (Begijnhof Brugge)
Another serene place to visit in Bruges, the Begijnhof was founded in 1245. A beguinage was similar in many ways to a convent or monastery.
A beguinage was a community of single or widowed women who chose to live a holy life of simplicity and dedication to God. Unlike nuns, beguines could leave the beguinage and marry at will if they decided to do so.
Nowadays, the Begijnhof is home to Benedictine nuns rather than beguines. There is a small church you can enter, and a large grassy courtyard with tall Poplar trees surrounded by groups of houses.
De Halve Maan Brewery
After leaving the begijnhof, head to De Halve Maan Brewery. It's just a short 2-5 minute walk away.
While you can tour the family-run brewery which showcases the old brewing techniques, you can also just choose to have a beer and lunch at the brewery, which offers indoor seating as well as outdoor seating on its beautiful courtyard patio.
One of the most unique things about this brewery is that its beer actually travels by pipeline through the city to get to the bottling plant.
The brewery launched this unique initiative in 2016 as a way to reduce truck traffic through the historic city center.  
Canal Cruise
A canal cruise is one of the most entertaining ways to see Bruges and one of the most popular activities in Bruges.
After lunch, hop on a small guided boat tour and relax as you cruise through the picturesque canals. You can easily walk up and book a cruise, although there is typically a short queue or line. 
There are also guided experiences that include both a historical walking tour and a canal cruise that you can book in advance.
Church of Our Lady
The most prominent landmark in Bruges, the steeple of the Church of Our Lady dominates the town's skyline.
Entering the church is free, but you do have to purchase tickets if you want to tour the museum section.
The impressive brick cathedral took 200 years to complete and contains one of the most famous Michelangelo sculptures of all time. 
The marble statue, Madonna and Child, depicts the Virgin Mary with her toddler son, Jesus, standing in front of her. Mother Mary is gazing solemnly downward, seeming to know the fate – and the cross – that would await her young child when he reached adulthood.
Bonifacius Bridge
One of the most picturesque bridges in Bruges sits right behind the Church of Our Lady. Known as Bonifacius Bridge, this small pedestrian bridge overlooks a lovely canal and offers beautiful views in every direction.
Cross the small bridge, pause for a photo or simply to admire the bridge before continuing on with your Bruges day trip.
Quay of the Rosary (Rozenhoedkaai)
After you cross the Bonifacius Bridge make your way toward Bruges City Hall. Along the way, you'll pass one of the most photographed sites in town.
Known as the Quay of the Rosary, this area where two canals meet near Tanners Square is beautifully preserved, with medieval buildings that touch the water and small terraces along the water.
It's a starting point for several canal cruises, so you'll be sure to see boats of tourists sharing the water with swans.
Bruges City Hall (Stadhuis) and Burg Square
The next stop on your self-guided Bruges walking tour is the elaborate city hall. One of the oldest municipal buildings in the region, the ornate medieval building dates back to the early 1400s.
Located at the heart of Burg Square, it is worth taking a peek inside the city hall. With a double vaulted timber ceiling and muraled walls the impressive Gothic Hall is a true sight to see.
There is a cost to tour the inside of Stadhuis, as the city hall is officially called in Bruges. You can buy your tickets on site or reserve them online.
Basilica of the Holy Blood
Tucked away in a corner of Burg Square, the Basilica of the Holy Blood is a small treasure that claims to hold a true historic treasure inside.
The 12th century Roman Catholic chapel claims to have a vial containing a cloth stained with the actual blood of Jesus Christ. 
According to a gospel that was not included in the Bible, Joseph of Arimathea preserved a cloth used to clean the body of Christ after he was crucified.
You cannot actually see the vial inside the church unless you go during certain times.
Our itinerary has you visiting the Basilica between 2-4 p.m. which is when the relic is on display most days of the week. On Fridays you can see it from 10:15-11am, only.
Be sure to check their website before your trip in case the times change. When not on display, it is securely kept behind a silver tabernacle in the side chapel of the church. The Basilica is free to enter.
Market Square
Market Square is the largest and most colorful square in Bruges. The Belfry towers over the square, which serves as a gathering place for locals and tourists alike. The square's pretty gilded houses have been transformed into restaurants and cafes.
On Wednesdays, the square still hosts a weekly market. 
Market Square is also where you'll find the popular Historium Museum, where you can journey back to the Middle Ages and learn about the history of Bruges through audio, video and even virtual reality.
Horse-drawn carriage rides through Bruges also start and end at this lively square.
Climb the Belfry
After seeing the sights of both Burg Square and Market Square, it's time to work off your lunch and afternoon snack with a fun climb up the bell tower that looms over Market Square.
Also called the Belfort, this remarkable tower is 86 meters (282 feet) tall.
There is an entrance fee to climb the 366 narrow and steep steps to the top. But, if you plan it right, you can not only get a bird's eye view of Bruges but be at the top of the tower when the 47 bells toll.
It's important to note, like many bell towers in Europe, the stairs up to the top are very narrow and steep at points and you will at times have to squeeze to make room for other visitors coming down the same staircase that you are going up.
It's an adventure, but not one for those with claustrophobia, health, or mobility challenges.
Sample Belgian Chocolate on your Bruges day trip
Bruges is the chocolate capital of Belgium. There are so many chocolate shops in Bruges that the town actually smells like chocolate.
Duck into any of the chocolate shops and purchase a variety of chocolates to sample. After climbing the Belfry, you've earned those calories! 
For an even better experience, book a chocolate making workshop and visit Choco-Story, Bruges' chocolate museum.
Best Time to Visit Bruges on a Day Trip
Summer is the most popular time to visit Bruges as the weather is ideal. However, that also means more crowds in the small town.
Winter is the second most popular time to visit, particularly around the holidays as the Bruges Christmas Market is one of the best in Europe.
Like many other beautiful Christmas towns around the world the smell of cider, hot cocoa and mulled wine fill the air when their market is going on. 
Is One Day in Bruges Enough?
If you're wondering if one day in Bruges, Belgium is enough or how many days in Bruges you should spend, it depends on your travel style and personal travel interests.
For example, if you prefer small, quaint villages to large cities, it might make sense for you to spend a few days in Bruges and take day trips to larger cities instead.
While you can easily see most of the highlights of the town on a day trip to Bruges, we decided to extend our stay so we could experience the enchanting town at night when it is far less crowded. In fact, nights and early mornings in Bruges are magical!
The streets are practically empty and you'll feel like you have the fairytale town to yourself.
However, if convenience is your travel style and you don't like to hotel hop, you can easily base yourself in Brussels and take day trips to Bruges, Luxembourg City, and lots of other nearby cities.
Where to stay in Bruges for One Night
There are several boutique hotels in the heart of Bruges that are perfect for those looking to spend a night or two in Bruges Belgium.
If you're looking for the best place to stay in Bruges, any hotel near the Church of our Lady will put you in walking distance to the main things to see in Bruges as well as the Brugge Railway Station.
We stayed at Hotel Het Gheestelic Hof which is a cozy 3-star boutique hotel in the medieval city center of Bruges. It is an 11-minute walk from the Bruges Train Station and conveniently located on a quiet yet central street.
Across from Hotel Het Gheestelic Hof, Hotel de Castillion is another great option. This elegant hotel offers a bit more luxury and is perfect for those looking for something more grand or romantic.
What to eat in Bruges, Belgium
Belgium is known for a few foods that you'll find all over Bruges. There are a few that are so popular that you would be remiss to not try while in Bruges.
Chocolate
Chocolate is one of the main things you must try while in Bruges. So much so, we included it as part of our 1-day Bruges itinerary.
We recommend getting a box of a dozen or so assorted chocolates so you can try multiple types with different flavors and fillings.
Belgian Waffles
Another widely popular and equally delicious staple in Bruges, waffles are to Belgium what Dutch Pancakes are to the Netherlands. They are sweet, customizable, and can be eaten any time of day.
Waffles aren't just a breakfast food in Belgium. In fact, many people eat them as a dessert or an afternoon indulgence.
If you have the time and want to really dive into this delightful food, you can book a 1.5 hour Waffle Workshop in Bruges where you learn to make them and eat as many as you'd like!
Pommes Frites
Pommes Frites are basically French Fries. Often served in paper cones and traditionally dipped in mayonnaise instead of ketchup, when in Belgium do as the Belgians do.
Pommes Frites make for a great take-away snack when in Bruges. Or, you can order them as a side or even a full meal.
We topped ours with Belgian Stew which made for a hearty, and probably very calorie-laden lunch! Totally worth it. 🙂
Belgian fries are such a staple in Bruges, there is a complete museum called Frietmuseum, dedicated to the history of the potato and this famous Belgian snack.
As an add-on bonus to the experience you can sample fries with various sauces and dressings.
Beer
Beer is the alcoholic drink of choice in Bruges – and much of Belgium. You'll find breweries and small pubs and unique beer bars like Le Trappiste around most corners.
The city even hosts an annual beer festival. Again, you'll find a brewery on our Bruges one day itinerary because a refreshing beer in Bruges is part of the experience!
Like it? Pin this Bruges Day Trip Itinerary to save it for later!
Have a question or comment about a Bruges Day Trip or about any of the things to do in Bruges in 1 day? We'd love to hear from you! Leave your thoughts in the comments below.