Brussels, Belgium offers both historic appeal and contemporary flare. And any 2-day Brussels itinerary will feature a good mix of both the medieval and the modern.
The city is not only the capital of Belgium, but Brussels is considered the capital of Europe because it is the administrative center of the European Union. For this reason, you'll find a diverse culture, multiple languages, global cuisine, and a lot of things to do.
But if you only have 2 days in Brussels, it is easy to see the highlights and main tourist attractions in Brussels without feeling rushed.
This 2-day Brussels itinerary details what to see in Brussels in 2 days, where to stay, what to eat, and answers your top frequently asked travel questions about Belgium's capital.
Quick Facts About Brussels Belgium
Because Brussels is the center for the European Union, it is the most densely populated and the wealthiest city in Belgium. Because it is always good to know a little bit about a place before you visit, here are a few quick facts about Brussels.
Population (metro area): 2.1 Million
Language: French and Dutch are both official languages in Brussels. However, French is most commonly spoken. German and English are widely known, as well, so you can get by in Brussels speaking English.
Official name: Bruxelles
Famous for: The EU administrative center
Best time to visit Brussels
The best time to visit Brussels depends on what you want to see and the type of weather you enjoy. The city experiences four true seasons. Summers tend to be the most popular, and therefore most crowded time to visit, although we found the crowds manageable and the weather pleasant when we visited in the late-June time frame.
However, if visiting Europe in winter, Brussels boasts one of the best Christmas markets on the continent. And on cold days, there is nothing better than warming up with a coffee and a Belgian waffle.
Where to stay in Brussels for 2 days
To maximize your 2 days in Brussels, plan to stay near Grand Place, the main square in Brussels.
Find hotels near Brussels Grand Place and compare rates
We stayed at Ibis Hotel Brussels off Grand Place which was a modern, comfortable mid-range hotel just 4-5 minutes from the Brussels-Central Railway Station on foot and literally a 1-minute walk from Grand Place.
2-day Brussels itinerary
With two days in Brussels, you want to split your time between the Historic Brussels City Center and the newer more modern areas of Brussels. Here is a look at your 2-day Brussels itinerary.
Day 1 of 2 days in Brussels
Breakfast near hotel
Galeries Royales Saint-Hubert
Grand Place
Manneken Pis
Stop for Belgian Frites, Beers, and Belgian Waffles near Manneken Pis
Chocolate Museum
Comic Strip Lane
Place Sainte-Catherine
Dinner near Place Sainte-Catherine
Day 2 of 2 days in Brussels
Breakfast near hotel
Mont des Arts
Royal Palace
Parc de Bruxelles
Walk by EU Parliament
Museum of Natural Science
Lunch in the European Quarter
Parc Du Cinquantenaire
Atomium
Mini Europe
Dinner near Grand Place
Find and book the best tours and experiences in Brussels, Belgium HERE.
Things to do during this 2-day Brussels itinerary
Now that we've laid out what you will see and do on each of your two days in Brussels, let's look at each one of the attractions in Brussels individually.
Galeries Royales Saint-Hubert
One of the oldest shopping arcades in Europe, Galeries Royales Saint-Hubert is a three-wing outdoor shopping center in central Brussels.
Similar to other famous shopping arcades like Galleria Vittorio Emanuele in Milan, Italy this shopping center is known as much for its beauty as it is for its shopping and dining.
Located right around the corner from Grand Place, the Galeries Royales features an elegant glass roof under which you'll find cafes, luxury stores, and even a theater.
Brussels Grand Place
Grand Place is the main public square in Brussels. Located in the very heart of the city, this central square is lined with beautiful historic buildings, many of which are accented with gold to create a sense of opulence and grandness.
One of the most prettiest medieval squares in Europe, it is the hub of tourism for Brussels. Spend time simply admiring the beauty of the 15th century, Gothic architecture of the Brussels Town Hall, take in the atmosphere or the typically crowded plaza, or duck into some of the shops or the Brussels City Museum.
Manneken Pis
Manneken Pis is one of the most famous statues in Europe. The small bronze sculpture of a little boy urinating into a fountain is only 24 inches tall. Yet, it has become somewhat of a mascot for Brussels and is loved by both tourists and locals alike.
In fact, Belgians love to dress up the tiny statue for special occasions. And for a little boy, he has a lot of clothes – more than 800 costumes to date – which you can view at Brussels City Museum (Musée de la ville de Bruxelles)!
The bronze boy is just a five minute walk from Grand Place at the corner of Rue du Chêne and Rue de l'Étuve. While Manneken Pis the most famous peeing statue in Brussels, it isn't the only one.
You can also find a peeing dog (Zinneke Pis) and a peeing girl (Jeanneke Pis)! Zinneke Pis is located on Rue des Chartreux, not far from Place Sainte-Catherine, and Jeanneke Pis is located along Imp. de la Fidélité in Old Town.
Like peeing statues? Who doesn't! Check out the quirky statue in Prague, Czech Republic called Piss!
Choco-Story Chocolate Museum
Choco-Story is a fun museum dedicated to the history of chocolate and how this sweet treat first came to Belgium. The self-guided experience includes an audio guide.
As you walk through you learn about how chocolate is made, its history in the Americas and ultimately how it came to be so popular in Belgium.
At the end of the tour, you can then sample chocolates from different countries like Peru and Costa Rica and then watch a live chocolate-making demonstration. You'll find a similar museum in the picturesque town of Bruges, a popular day trip from Brussels.
Comic Strip Lane
Visiting Belgium with kids is a great family vacation for multiple reasons, and Brussels' unique ties to comics is just one of them. Comic strips are to Brussels what Anime is to Tokyo, Japan.
The capital city has more than 60 murals scattered across the city dedicated to comic strips. You can even follow a map for the Brussels' Comic Strip Routes to navigate around the city center finding approximately 40 of the colorful, fun murals painted on the sides of buildings.
You can even purchase a digital land of comics exploration game and make the route interactive with clues to solve and puzzles on your phone.
For true comic book fanatics, there is even a Belgian Comic Strip Center, which is a full museum dedicated to the art of comic strips and cartoons.
Place Sainte-Catherine
A large square dominated by the magnificent St. Catherine Cathedral, Place Sainte-Catherine is usually bustling with activity. One of the most lively areas of Brussels, the square is lined with restaurants and bars, and is one of the best places in the city to grab dinner.
On Wednesdays, the plaza hosts a small organic market that brings out like-minded locals committed to buying organic and supporting farmers from the region.
Take a stroll through the streets, where you'll find cozy bookstores, fashion stores, and other fun places to discover in this little corner of Brussels.
Mont des Arts
One of the most photographed spots in Brussels, Mont des Arts is a must-see in Brussels. The historic site between Grand Place and the Royal Palace is a large outdoor space with a colorful urban garden in the center and rows of trees and fountains creating a shady walkway on each side.
Called Mount of the Arts or Hill of the Arts, the best views of this urban complex are from the top of the steps looking down over the public garden. You'll often find people gathering on the steps and musicians playing for tips at the top of the hill.
The grandiose beauty of Mont des Arts is met with modern contrast near the top steps, where you'll find a tunneled walkway that has been spray painted with urban street art.
Royal Palace
The official palace of the King and Queen of Belgium, the Royal Palace is the administrative offices of the Belgian monarchy, where the royal family receives heads of state and other guests.
You can only tour the palace from late July until September each year, but if you happen to be in Brussels when the palace is open to the public, it is free to visit and makes an opportune addition to your 2-day Brussels itinerary.
However, even if you can't go inside, it is nice to see the grand palace from the outside because it is an important part of Belgium's history and its modern-day government.
Parc de Bruxelles
Across from the Royal Palace, Parc de Bruxelles is the largest public park and green space in the city. Often referred to as Royal Park, this beautiful shady, fenced-in park was the first established park in the city, dating back to the Middle Ages.
The park boasts walking trails, fountains, sculptures, and outdoor cafes that are great places to relax under the shade with a cold drink during summer time.
EU Parliament
Brussels is the heart of European democracy. And on your way to the Museum of Natural Science, you'll walk right by the European Union headquarters.
You can book a visit to Hemicycle, where members of the European Parliament gather during sessions.
Or for a more immersive experience, you can visit the Parlamentarium, a museum that walks you through the history of European cooperation, including an interactive floor map, role playing games, and photo booths that put you in the seat of political action.
Museum of Natural Science
The Museum of Natural Science in Brussels is a fun experience for adults and kids alike. The museum boasts the largest dinosaur collection in all of Europe. There is also a gallery of evolution and humankind showing how man has evolved and changed through the years.
There is a fee to tour the museum, however admission is free with the Brussels City Card and on the first Wednesday afternoon of each month.
Parc Du Cinquantenaire
Located in the European Quarter of Brussels, Parc Du Cinquantenaire, or Jubilee Park, is a 74 acre park that frequently hosts festivals and events.
The most notable landmark in the park, the Arc du Cinquantenaire, is a picturesque memorial triple-arch topped by a bronze sculpture of a charioteer and her horses. The monument was completed in 1905 and was dedicated as part of Belgium's 75th anniversary of independence.
In front of the arch, a large fountain welcomes guests to the park, around which you'll find people enjoying a picnic or lounging with friends on nice days.
Atomium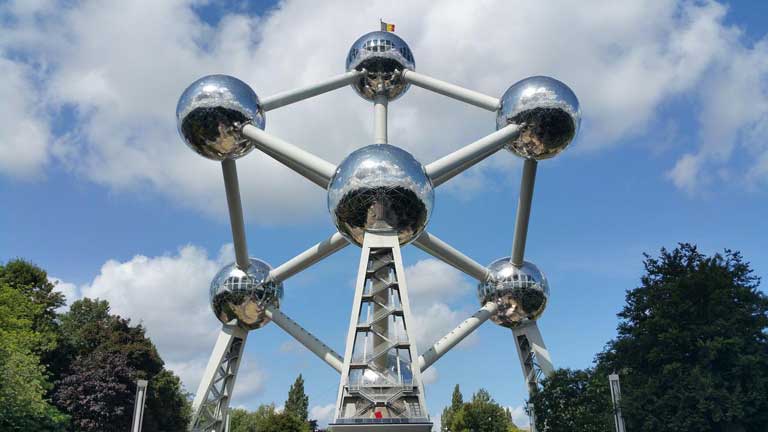 One of the most unique places to visit in Brussels on our 2-day Brussels itinerary, the Atomium is about a 15 minute metro ride from the city center, but it's worth visiting. While it may look like a very large public art sculpture, this atom-shaped structure is actually a building.
Although originally constructed for a world fair, the Atomium has become the most popular tourist attraction in Brussels and somewhat of a symbol of Belgium. Book a visit to go inside the building, which is often compared to the inside of a spaceship.
The building also hosts regular digital art installations, and a restaurant located in the highest sphere of the monumental building.
Mini Europe
The Hague, Netherlands has Madurodam, a miniature replica of The Netherlands, but Brussels has an entire Miniature Europe! The miniature park located at the foot of the Atomium is a great place to visit in Brussels with kids.
Mini-Europe has tiny replicas of 350 buildings and monuments from 90 different European cities. The open-air museum is the only place where you can visit all of Europe in a matter of hours.
You can see the Eiffel Tower without going to Paris, gaze upon a bullfighting arena without visiting Seville, see the Cathedral of Pisa and other famous European Churches, or see Big Ben without crossing the English Channel to visit London. It is a unique and fun adventure for the whole family.
Is 2 days in Brussels Belgium enough time?
Two days in Brussels is enough time to see the highlights of the city, most of which are included in our 2-day Brussels itinerary.
However, if you have more time, Brussels is a great place to base yourself if you want to take a day trip to Bruges, Ghent, or even the lovely Le Château De Vêvesor Castle or visit more of the museums in Brussels.
Other options if you have more than 2 days in Brussels
If you have extra time and want to take some fun day trips from Brussels, the city is conveniently located within a short train ride from several great cities and tourist destinations. A day trip to Bruges is perhaps the most popular day trip.
However, you can also visit Ghent, Antwerp, Amsterdam, or even Luxembourg City from Brussels.
Within the city, the Comic Strip Center, Autoworld Museum, and the Musical Instruments Museum are also worth visiting if you have more than 2 days in Brussels.
Brussels FAQs
Now that you have a 2-day Brussels itinerary to follow, here are a few frequently asked questions about visiting Brussels to help you prepare for your trip.
Is Brussels safe?
Yes, for the most part Brussels is a safe and welcoming city with kind residents. Unfortunately, petty crimes like theft and pick-pocketing are common throughout most major European cities.
We recommend in Brussels and every other city, carry your necessary belongings in a cross-body bag or purse, don't leave your cellphone or other valuables sitting on a table if dining outdoors, and purchase travel insurance anytime you go abroad.
How to get to Brussels city center from the airport?
The easiest way to get from the Brussels Airport is to take the train from Airport-Zaventem to Brussels Central, which takes about 20 minutes, and costs about a third of what a taxi would cost.
How do you get around Brussels?
Brussels has a great and reliable public transportation system with trains, a metro, and buses, which makes getting around Brussels easy without a car.
You can purchase a Brussels City Card with transportation that includes unlimited use of public transport services. You can also rent electric scooters all over town and pay using a credit card.
Is Brussels expensive?
Compared to other cities in Belgium, food and lodging is a bit more pricey in Brussels. However, compared to other European cities, Brussels isn't necessarily an expensive destination.
What food is popular in Brussels?
Belgium as a country is known for waffles, chocolate and beer. Belgian fries or frites are also a popular food choice, as is stoofvlees, which is a Belgian beef stew. Mussels are also very popular in Brussels.
Not only is moules frites (mussels and fries) the national dish, but having mussels in Brussels has a nice ring to it!
What is Brussels famous for?
Brussels, Belgium is most famous for being the administrative center for the European Union and is often called the "capital of Europe".
What's not to miss in Brussels?
If you only had a few hours in Brussels, the Old Town area is not to miss. Explore from Grand Place to Mont des Artes, which includes Manneken Pis and the Comic Strip Route.
Is Brussels a boring city?
Brussels has been called the most boring capital city in Europe. While we haven't personally visited every capital city in Europe, we have visited a lot of them! And with that said, I don't agree with that statement.
While Brussels lacks some of the old-world charm of Prague, or the romance of Paris, or even the stimulating nightlife of Amsterdam, it isn't a boring city by any means. As you can see in our 2-day Brussels itinerary, the city has a lot of fun and unique things to do!
How many days in Brussels?
You really only need one or two days in Brussels to see the main attractions and highlights. Although, you can visit Brussels as a day trip from Amsterdam, if you have more time to spend, you can always make Brussels your base and take a few day trips from Brussels to nearby cities instead, like Bruges, Ghent, Amsterdam, or even Luxembourg City.
Is Brussels worth visiting?
The short answer, yes! It is worth spending at least one or two days in Brussels, Belgium to see the top attractions and enjoy the delicious foods that Belgium is most known for.
Have a question or comment about this 2-day Brussels itinerary? We'd love to hear from you! Leave your thoughts in the comments below.
Like this 2-day Brussels itinerary? Pin our guide to the perfect two days in Brussels to save it for later!
This guide to 2 days in Brussels was first written in July 2022 but was most recently updated in July 2023 for accuracy and current travel information.
Did you know…
When you make a purchase or book hotels, tours, or other travel services, through our links, we receive a small commission, at no extra cost to you. We only EVER recommend service providers, websites, or products we personally use when booking our own travels. Your support enables us to keep producing helpful travel content. Thank you!