Prague is one of our favorite European cities. It is beautiful, romantic, and filled with history and culture. But one of the best things about Prague is that it is also filled with quirky, unique sculptures and statues. In fact, the capital city of Czech Republic is home to some of the strangest and most famous statues in Europe.
We loved the peculiar statues in Prague so much that we decided to compile a list of the strangest Prague statues and where to find them.
These quirky sculptures in Prague will have you stopping in your tracks, doing a double take, or pulling out your camera to snap a picture.
This guide to the 13 weirdest Prague statues describes each of the quirky or historical monuments in Prague, gives you a little background information on the Prague monument and sculptor, and most importantly tells you where to find each of them!
The Quirkiest statues in Prague
Like Bratislava, Slovakia, Prague is home to some of the weirdest statues in the world. While these brilliant and sometimes funny works of art have actual names, you'll likely refer to them by the same terms we did.
Crawling Babies Statues in Prague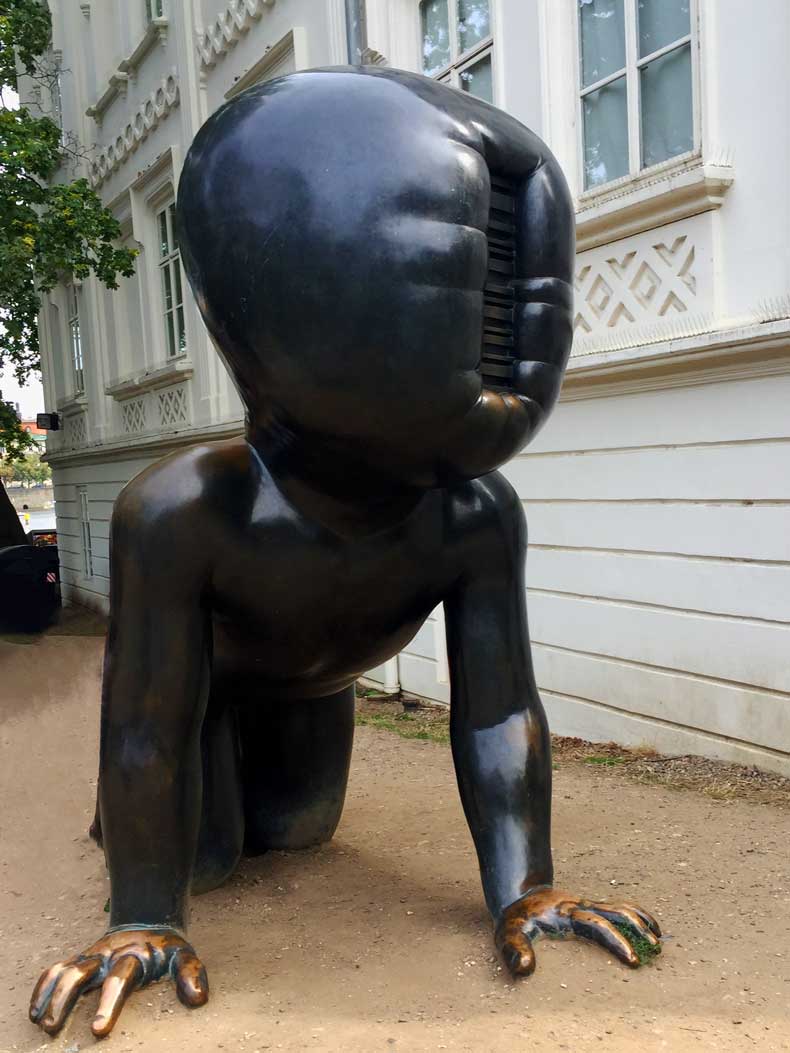 We didn't know what to think at first about these giant crawling baby statues in Prague. You can find them in Kampa Park just south of the Charles Bridge, one of the most iconic bridges in Europe. This public art display called Babies was created by sculptor David Černy and installed in 2008.
While it is intriguing, weird, and kinda disturbing, it is also fun for those visiting Prague with kids. Literally, kids were crawling up the butts and mounting these faceless babies as only innocent children and drunk people would.
It was actually kind of hard to get a good picture of the Prague crawling babies statues because there were playful children all over them.
For a stranger version of Babies head to the Žižkov Television Tower. There you'll find the same faceless, bronze babies crawling up the side of the tower.
The Yellow Penguins on a Plank
Also located near Kampa Park, a quirky sculpture along the Vltava River may catch your eye.
The installment of 34 yellow penguins perched on a metal beam in the river has been in Prague since 2008. Created by the Cracking Art Group, based in Milan, Italy, the penguins are made from recycled plastic bottles. 
While some of the strange sculptures in Prague seem meaningless, this one has a strong message and meaning behind it.
The intention is to raise awareness of plastic waste and the devastating environmental impacts, like global warming that are destroying the natural and needed environment for Arctic animals like penguins.
The Prague sculptures are illuminated, making them easy to spot any time of day or night.
Hanging Man Statue in Prague
The same mastermind who created the crawling babies statues also designed this work in Old Town.
The statue, called Man Hanging Out, will certainly make you do a double take.
You'll just  be walking down the lovely cobblestone street, enjoying a Trdelník and then – Bam! – you glance up and see a guy hanging by one hand off the top of a building.
The 7-foot statue of Sigmund Freud can be found at along the street Husova in a busy tourist district.
What we love about this statue which has graced the intersection since 1996, beyond the fact that it is entirely unexpected and takes you off guard, is that at closer inspection, the statue isn't as hopeless and tragic as it seems.
While the man is dangling by one hand, seemingly seconds from falling to his death, his other hand is casually tucked in his pocket. He literally appears to just be hanging out, as the name of the work implies.
Creepy, Cloaked Faceless Guy
This is another statue that will creep out all who pass by. Positioned on the side of the street in a busy tourist area, you'll find Il Commendatore, or as I call it, "the creepy, cloaked, faceless guy".
The statue sits outside Estates Theater, often referred to as Mozart's Theater.
It is a depiction of the ghost in the opera, Il Commendatore. But for the slightly less cultured who are unfamiliar with the opera, it's just another one of Prague's disturbingly amusing pieces of public art.
Turning Head Statue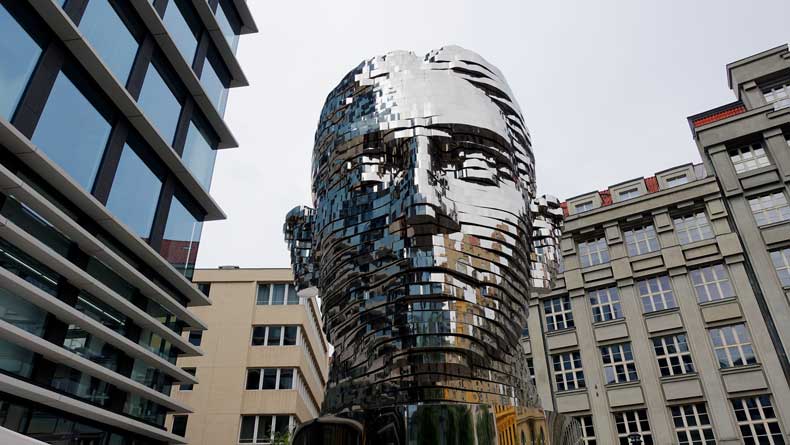 The Head of Franz Kafka is a sculpture in motion created by the same sculptor responsible for so many of the strange Prague statues, David Černy.
The 42 pieces that make up the turning head statue in Prague are stacked on top of each other in layers.
Each piece twists and turns, eventually aligning to form the face of the famous 20th Century Czech writer. The statue is kind of hard to find.
It is located outside the Quadrio business district and is tucked back off of the main road, so as a tourist, you somewhat have to be looking for it to find it.
Don't worry though, we have mapped out all the strange sculptures in Prague below to make it easy for you!
Statue of Two Guys Peeing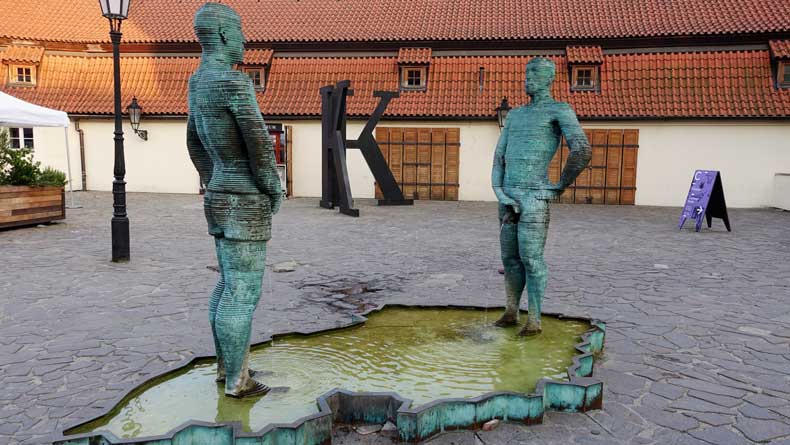 This sculpture is located in Mala Strana, one of the best places to stay in Prague. Also created by David Černy, the same artist who crafted the Franz Kafka Monument and Babies, this statue will definitely make you giggle.
It's called Piss, and it's easy to see how it got its name.
The statue depicts two men peeing. Their hips move ever so slightly back and forth. The sculpture, which was installed in 2004 also doubles as a fountain.
You can only guess where the water comes out. 🙂
Upside Down Horse Statue in Prague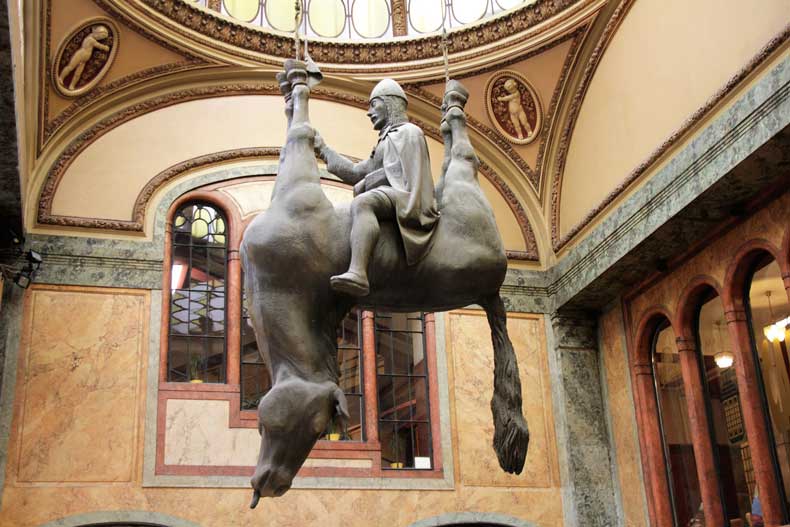 Another one of David Cerny's strange art displays in Prague is housed in the Art Nouveau Lucerna Mall, or rather hangs from its ceiling.
This unique Prague sculpture, installed in 2000, depicts King Wenceslas riding on the belly of an upside-down horse. The horse's tongue is hanging from its mouth, leading onlookers to discern that the horse is dead. 
The Lucerna Mall, also called Palace Lucerna, is located in Wenceslas Square in the central district of Prague known as Nové Město.
The Water Sprite Prague Statue
The water sprite is not only a weird statue in Prague, it is a folk legend.
The legend describes the water sprite as a friendly, kind-hearted ghost. He lives in the stream near the Charles Bridge and can be found coming up from the water to beg passersby for a mug of beer. Those who show him kindness, he rewards with fresh fish. 
This statue, sculpted by Josef Nalepa, is found on the dock next to the mill wheel at Grand Priory Mill in Mala Strana.
Small Man on the Shoulders of a Headless, Handless Man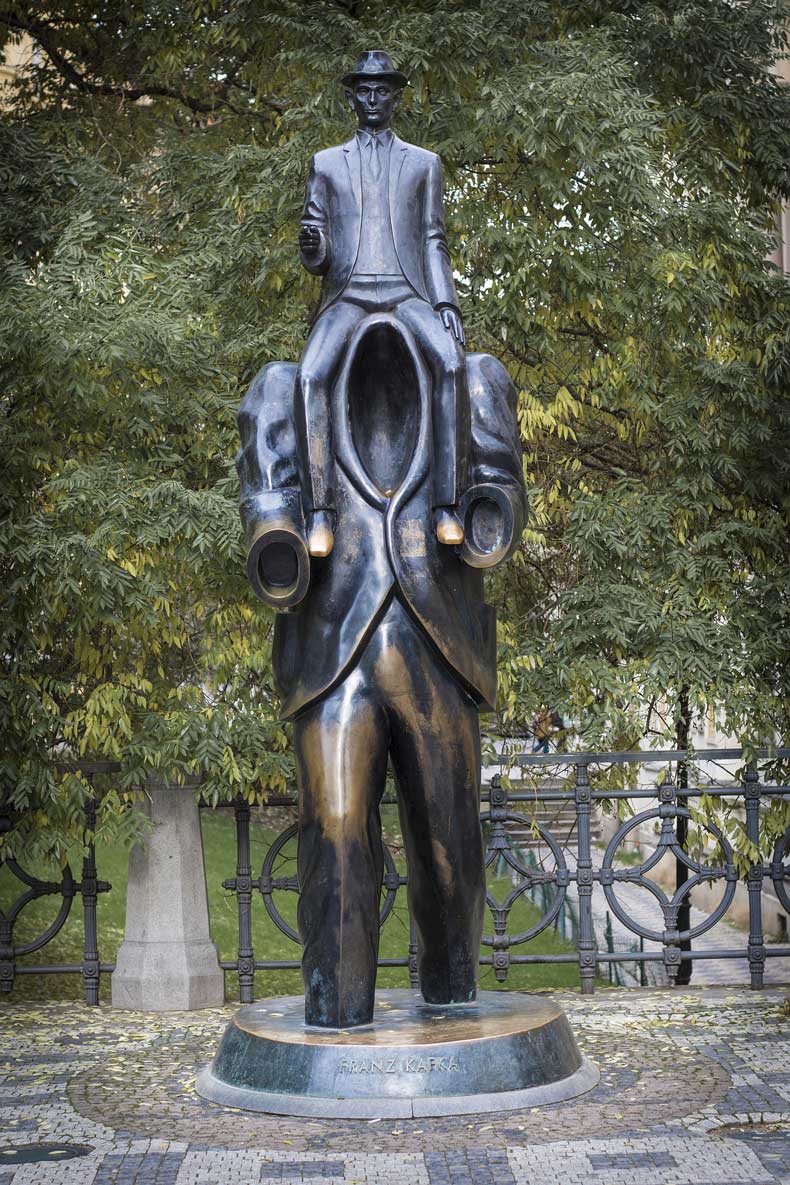 Yet another one of the weird Prague statues dedicated to Franz Kafka is the Memorial to Franz Kafka by Jaroslav Rona.
You can find this strange statue at the intersection of Dušní and Vězeňská streets.
The Prague sculpture, installed in 2003, depicts a large headless, handless man carrying a smaller man on his shoulders.
Apparently the smaller man represents Kafka, and the image of a man carrying another man on his shoulders appears in one of the famous author's stories called "Description of a Struggle".
Broken People Walking Down Stairs Statue in Prague
This particular public art display in Prague is a bit different than the others previously mentioned on this list of peculiar Prague statues. While the statue appears odd, its meaning and message is powerful, moving, and heavy.
The monument, by sculptor Olbram Zoubek, is called the Memorial for the Victims of Communism.
It depicts frail, broken, sorrowful men walking down a set of stairs.
Those near the top of the stairs, who presumably endured the most pain and torment from a life lived under communist control, are the most broken and severed. While those closest to the bottom of the stairs, and freedom as one might perceive, are more intact.
When you see it, you may initially raise an eyebrow, but this moving and historical monument established in 2002, is worth visiting.
You'll find it situated right below Petrin Hill on Újezd street in Mala Strana, or Lesser Town.
The Hanging Umbrella Man Sculpture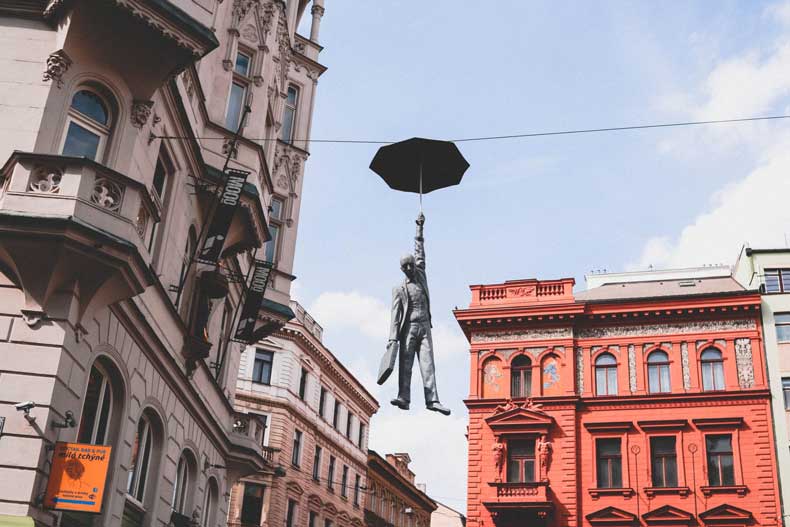 Another Prague statue that is suspended in the air, Slight Uncertainty created by sculptor Michal Trpák has graced the street in front of Mosaic House in New Town since 2015.
This sculpture of a man and woman hanging from umbrellas gives off Mary Poppins vibes. However, the people are floating down from the umbrellas like the famous Disney nanny did.
Instead, they are holding on tightly with a slight uncertainty that their umbrellas will be able to act as a parachute and keep them from falling to their death.
There is likely a deeper meaning to the sculpture, as there usually is with art, but whether you understand the sculpture or not, it is still a fun statue to stumble upon in Prague.
20 Foot Tall Pregnant Lady Statue in Prague
The In Utero statue is another one of Prague's most famous sculptures by, you guessed it – David Cerny.
Similar to the mirrored, stacked stainless steel plates on the Head of Franz Kafka, this statue depicts a pregnant woman sitting on her knees, with her hands upon her head.
Whether she is in the act of birth or labor, or just proudly displaying her baby bump, this sculpture is an ode to women and the beauty of pregnancy.
Although it was once proudly displayed in a small square in central Prague, it is much more difficult to see as a tourist to Prague.
The beautiful sculpture is located at Galerie Golf Hostivař, southeast of the city. But if you're traveling toward the cities of Brno or Vienna, Austria, it may be worth trying to get a peak at this peculiar work of art.
The People Pretending to be Statues in Prague
While not actual statues, they are peculiar enough that they make our list. In the popular plazas or squares throughout Prague where tourists tend to gather, you'll find numerous street performers working for tips.
While some street performers may make giant bubbles to amuse kids, there are others that are fully painted silver or gold and will stand still for hours, only moving when they catch the gaze of a curious passerby.
Although they aren't actually famous or weird statues in Prague, they definitely deserve an honorable mention for their efforts.
Where to Find these Quirky Prague Statues
While it is fun to simply wander the streets of Prague and stumble upon these artistic treasures, if you only have a short time in Prague and really want to seek the statues out, we've made it easy for you by mapping out where you can find these Prague monuments and statues.
Prague: Home of the peculiar and photo-worthy
These are just a few of the unique and quirky statues in Prague. Prague is a wonderful place where art doesn't have to be understood to be beautiful. Beyond these spectacular statues, there are also so many other Instagram-worthy photography spots in Prague.
During a trip to Prague, Czech Republic you'll find yourself constantly taking photos of colorful streets, gorgeous castles, and historical landmarks.
The city's incredible art and funky statues are just two of the reasons to fall in love with Czech Republic's capital.
Have you seen any of Prague's famous statues? What are your favorite statues in Prague or anywhere else in the world? Leave your thoughts in the comments below.
Like this list of the best sculptures in Prague? Pin it to save for later!
This guide to the strangest Prague statues was first written in August 2017 and was most recently updated in May 2022 for accuracy and current information.