We may earn money or products from the companies mentioned in this post.
Prague is one of my favorite European cities. It's beautiful, romantic, and filled with history and culture. But my favorite thing about Prague is that it is also filled with quirky, unique sculptures and statues. Here's a quick look at my five favorite statues in Prague.
Weird crawling baby statues in Prague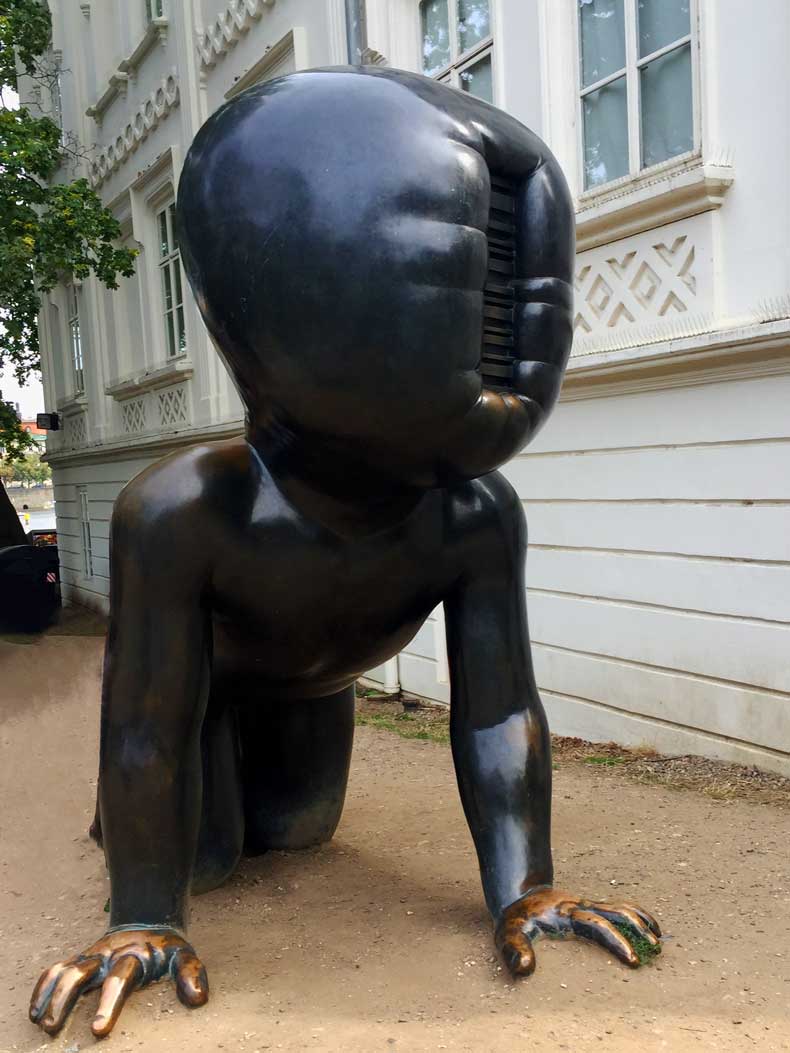 I didn't know what to think about these giant crawling baby statues in Prague. You can find them in Kampa Park just south of the Charles Bridge. This public art display called Babies was created by sculptor David Černy. While it is intriguing, weird, and kinda disturbing, it is also fun for kids. Literally, kids were crawling up the butts and mounting these faceless babies as only innocent children and drunk people would.
It was actually kind of hard to get a good picture of the crawling baby statues because there were playful children all over them.
Man hanging off a building
The same mastermind who created the crawling babies statues also designed this work in Old Town. The statue, called Man Hanging Out, will make you do a double take. You'll just be walking down the street, having a Trndlo and then – Bam! – you glance up and see a guy hanging by one hand off the top of a building. The 7 foot statue of Sigmund Freud can be found at the intersection of Husova and Skorepka in a busy tourist district.
What I love about this statue, beyond the fact that it is entirely unexpected and takes you off guard, is that at closer inspection, the statue isn't as hopeless and tragic as it seems. While the man is dangling by one hand, seemingly seconds from falling to his death, his other hand is casually tucked in his pocket. He literally appears to just be hanging out, as the name of the work implies.
Creepy, cloaked faceless guy
This is another statue that will creep out all who pass by. Positioned on the side of the street in a busy tourist area, you'll find Il Commendatore, or as I call it,
"the creepy, cloaked, faceless guy". The statue sits outside Estates Theater, often referred to as Mozart's Theater. It is a depiction of the ghost in the opera, Il Commendatore. But for the slightly less cultured, like myself, it's just another one of Prague's disturbingly amusing pieces of public art.
Turning head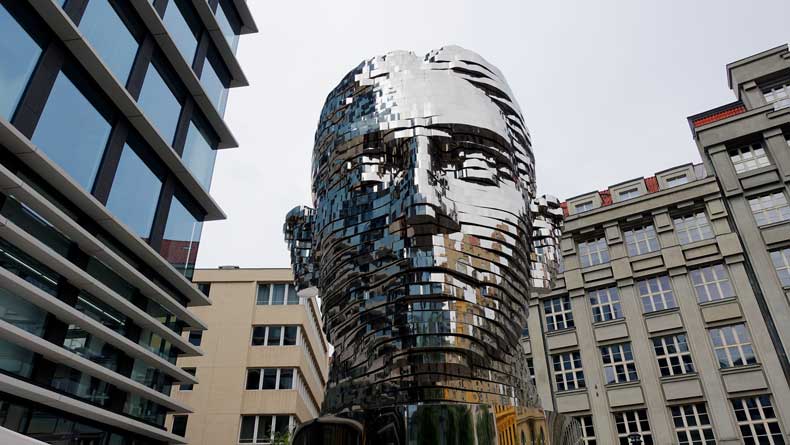 The Franz Kafka monument is a sculpture in motion. The 42 pieces that make up the turning head statue in Prague are stacked on top of each other in layers. Each piece twists and turns, eventually aligning to form the face of the famous 20th Century Czech writer. The statue is kind of hard to find. It is located in a business district and is tucked back off of the main road, so as a tourist, you somewhat have to be looking for it to find it.
Two guys peeing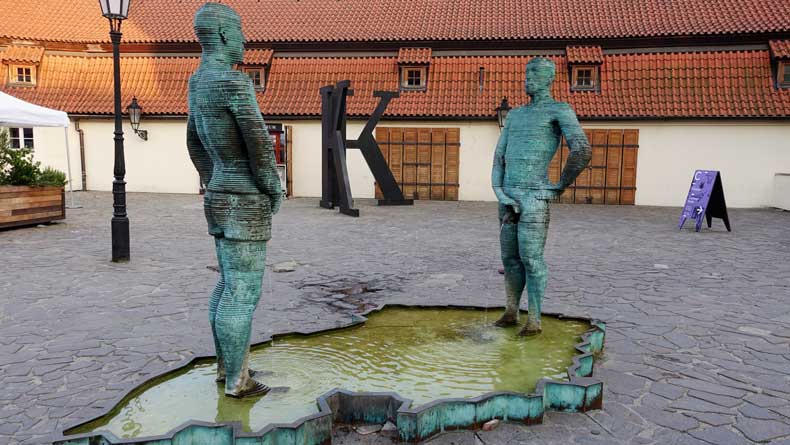 This sculpture was right outside of the hotel where we stayed. Also created by David Černy, the same artist who crafted the Franz Kafka Monument and Babies, this statue will definitely make you giggle. It is called Piss, and it's easy to see how it got its name. The statue depicts two men peeing. Their hips move ever so slightly back and forth. It also doubles as a fountain. You can only guess where the water comes out. 🙂
These are just a few of the unique and quirky statues in Prague. There are numerous more that we didn't get around to visiting. Prague is a wonderful place where art doesn't have to be understood to be beautiful. Beyond these spectacular statues, there are also so many other Instagram-worthy photography spots in Prague. During a trip to Prague, you'll find yourself constantly taking photos of colorful streets, gorgeous castles, and historical landmarks. The beauty of this city is just one of the reasons I fell in love with Prague. Have you seen any of Prague's famous statues? What is your favorite statue in Prague or anywhere else in the world?
Like it? Pin it!