Costa Rica is an ideal tropical location for a family vacation. Often considered an adventure destination, Costa Rica offers so much more than just adrenaline-pumping activities. It's also a nature-lover's paradise.
With waterfalls, rainforests, volcanoes, and exotic wildlife, visiting Costa Rica with kids can also be a learning experience. The country is one of the most family-friendly destinations in Central America and is a great place for kids to explore, have fun, and possibly even see animals like sloths and monkeys up close.
If you are considering a trip to Costa Rica with kids, there are a few things to know before your trip that will make your Costa Rica family vacation more enjoyable. But trust us, even visiting Costa Rica with a toddler or a baby can be a great experience, and you'll make unforgettable memories as a family.

This guide to visiting Costa Rica with kids includes essential information to help you prepare for your trip, plus a list of the top family-friendly activities in Costa Rica.

We also provide our detailed 6-day Costa Rica itinerary for the Guanacaste and Arenal areas and include lodging recommendations to help you book your Costa Rica family vacation.
Our experience visiting Costa Rica with kids
Visiting Costa Rica with kids can be a great experience for the entire family regardless of how old or young your children are.
In fact, we visited Costa Rica when our daughter was just a baby. Luckily, we had grandparents traveling with us on a multigenerational vacation, so they were happy to lend a hand which allowed us to do some of the activities that are not exactly baby-friendly.
Although known for its extreme sports, there is plenty to do in Costa Rica with kids who are too young for activities like zip-lining and rappelling.
Things to know before visiting Costa Rica with kids
There are so many things to do in Costa Rica with kids of all ages, but we know that planning family travel involves much more than just choosing the best kid-friendly activities in Costa Rica.
So, here are a few things to know before your Costa Rica travels.
Safety
Costa Rica is one of the safest countries in Latin America. The people of Costa Rica live by the saying Pura Vida, which literally translates to "pure life". Essentially to live pura vida is to live a stress-free life of happiness and relaxation.
For this reason, Costa Rica is a very safe place to visit with kids. Although, as with any destination, we always recommend vigilance, being aware of your surroundings, and trusting your gut instinct at all times.
We even found driving in Costa Rica safe, but more on the roads below!
Culture
Costa Rica is a very welcoming destination for families. The Ticos, as Costa Rican locals are called, generally love children, especially babies!
Everywhere we went people would stop us to talk to our daughter, and waitresses would offer to hold her while we dined in restaurants.
Language
Spanish is the native language in Costa Rica, but you can get by speaking English only. Most people in Costa Rica know some English, particularly in areas where tourism is the main industry.
However, as with any foreign country, we recommend at least attempting to learn a few words in the native language. Regardless of where we go, it has been our experience that locals always appreciate it when you at least try to speak their language.
Currency
The colón is the currency of Costa Rica. If you are staying at a resort, many offer currency exchange services. But a lot of the shops and restaurants in touristy parts of Costa Rica also accept American dollars.
While most of Central America is thought to be cheap to visit, Costa Rica is one of the more expensive Latin American countries.
However, it is possible to travel through Costa Rica on a budget. You just have to plan ahead, do a little research, and know what things cost in advance.
Water
Unlike most countries in Central America, in Costa Rica it is generally safe to drink the water out of the tap or faucet.
Although if traveling with small children, we usually opt for bottled water when traveling just to err on the side of caution. It is especially good to have bottled water handy if traveling with a baby who uses formula.
Also, it's important to note that some of the resorts use reclaimed water which is not potable. It is safe for washing, but do check first before drinking it freely.
Infrastructure
The roads are not great in Costa Rica, but they aren't horrible either. We read a lot of horror stories about the roads in Costa Rica prior to our trip, so we were pleasantly surprised to find driving in Costa Rica wasn't as bad as we expected.
Still, you will likely find some dirt roads or roads that have huge potholes due to excessive rainfall, particularly in the areas of the country that are densely covered in forests.
When to visit Costa Rica with kids
Costa Rica basically has two seasons: dry season and wet season.
The dry season, which lasts from December through April, is the most popular time to visit Costa Rica. During the dry season, you will likely experience way less pop up rain storms and way more sunshine.
The wet season, which lasts from May through November, is still a great time to visit Costa Rica, but be prepared for afternoon rain that typically comes down heavy but only lasts a short time.
The other downfall of visiting Costa Rica during the wet season is that it may be cloudy, even if it is not raining.
How to get to Costa Rica
Costa Rica has two international airports, Liberia (Daniel Oduber) and San Jose (Juan Santamaria).
Which airport you fly into will depend on where you want to visit in Costa Rica. We flew into Liberia, located in the northern region of Guanacaste.
Our 6-day Costa Rica itinerary primarily covers two regions, Guanacaste and the Arenal Volcano area. However, if you are wanting to visit the east coast of Costa Rica or the southern area of the country, flying into the capital city of San Jose is the better option.
Where to stay in Costa Rica with kids
We spent our Costa Rica family vacation in the regions of Guanacaste and Arenal. With only 6 days in Costa Rica, it is best to limit yourself to two regions, otherwise you will spend all your time driving. Here are a few hotels and places to stay in each region.
Whether you are wanting to visit the beach or the rainforest, Costa Rica offers some incredible and affordable options for both. We split our time between the beaches and the rainforests.
Guanacaste
Guanacaste is known for its arid, dry climate and stunning coastline. The coast is popular with beach-goers looking for an all-inclusive resort vacation.
We stayed at the RIU Guanacaste Resort. While the resort had everything we needed for a couple short days, it lacked amenities for kids.
If you are looking for an all-inclusive resort in Guanacaste, Planet Hollywood Beach Resort is located right on Culebra Bay only 19 miles from the Liberia airport.
The resort has a phenomenal kids club and lots of great on-site activities and off-site excursions for families who are visiting Costa Rica with kids.
Arenal
The area surrounding Arenal Volcano National Park is known for its adventure activities and majestic scenery.
We stayed at Hotel El Silencio del Campo, which offers private villas or chalets, on-site hot springs, and a complimentary farm experience.
Read our full review of Hotel El Silencio del Campo or check rates and book your stay here.
Other popular hotels in the Arenal area for those visiting Costa Rica are the Baldi Hot Springs Resort Hotel, which has on-site water slides and waterfalls that are great for both kids and adults, and Tabacon Thermal Resort, which is known for having the best hot springs in the area.
Six-Day Costa Rica Itinerary
This 6-day Costa Rica itinerary offers both relaxation and adventure. Both beaches and rainforests. Here is our complete itinerary for visiting Costa Rica with kids.
6-day Costa Rica itinerary: Day 1
Beach and resort activities in Guanacaste
6-day Costa Rica itinerary: Day 2
Relax and live the Pura Vida life
Sunset cruise
6-day Costa Rica itinerary: Day 3
Llanos de Cortes waterfall
Cafe Macadamia
Lake Arenal
6-day Costa Rica itinerary: Day 4
La Fortuna Waterfall
Arenal Volcano National Park
Hot Springs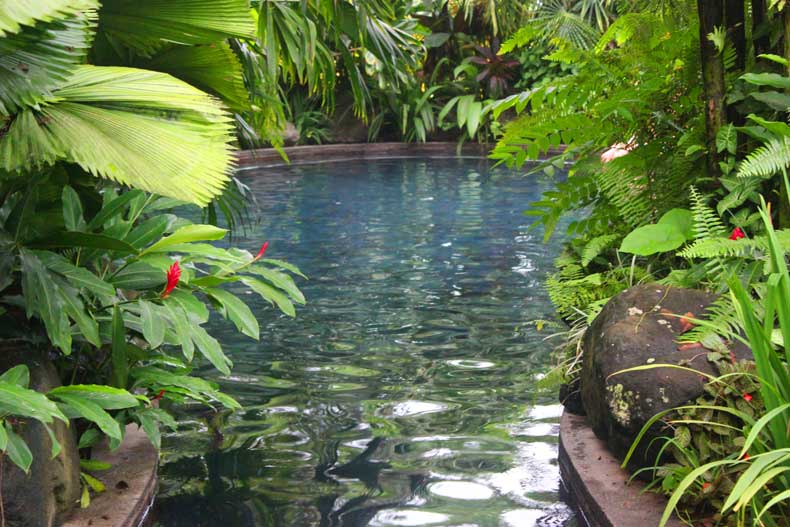 6-day Costa Rica itinerary: Day 5
Ziplining canopy tour
Hanging bridge tour
6-day Costa Rica itinerary: Day 6
Farm experience
Rafting Tour
What to do in Costa Rica with kids
Following the itinerary above, here are some of the best things to do in Costa Rica with kids, or without!
Guanacaste Beaches
Guanacaste is home to endless beaches. What makes the beaches in Guanacaste so unique is that they are all so different. You'll find unforgettable white sand beaches, as well as gold, gray and black sand beaches.
If you have more than 6 days in Costa Rica and love the beach life, spend a few extra days beach hopping in Guanacaste.
Some of the most popular beaches to check out are Playa Hermosa, Playa Negra, Playa Samara and Playa Grande.
Find the best tours and beach activities in Guanacaste
Llanos de Cortes waterfall
Llanos de Cortes waterfall is arguably one of the most beautiful waterfalls in Costa Rica. Only a 30 minute drive from Liberia, it makes for a great stop when driving between Guanacaste and Arenal.
The waterfall cascades into a shallow and calm pool of water that is perfect for swimming. The chilly water is very refreshing, particularly on a hot day.
Around the waterfall, you can often spot monkeys hanging out in the tree canopies above.
Lake Arenal
The largest lake in Costa Rica, Lake Arenal sits at the base of the majestic Arenal Volcano. The man-made lake generates power for the country and is a popular spot for adventure activities like kayaking and windsurfing, as well as fishing for rainbow bass.
Cafe y Macadamia is a great place to take in the beauty of Lake Arenal while enjoying some delicious Costa Rican cuisine.
Book a kayaking adventure on Lake Arenal
La Fortuna Waterfall
Perhaps one of the most visited and one of the best waterfalls in Costa Rica, La Fortuna Waterfall or Catarata Rio Fortuna is a 230-foot tall cascade located in a biological reserve which is part of the Arenal Volcano National Park.
Like Llanos de Cortes, the pool at the base of the water is popular for swimming. But, the hike to get there is a bit longer than the short walk to Llanos de Cortes.
It will only take about 15 minutes to descend down the 540 steps to the waterfall, but climbing back up the staircase on the return trek will take at least double that amount of time.
If hiking isn't your thing, you can book a horseback ride that also takes you to the waterfall. Either way, experiencing the beautiful Costa Rica landmark is a must for anyone visiting the Arenal region, as it is one of the most popular attractions in the country.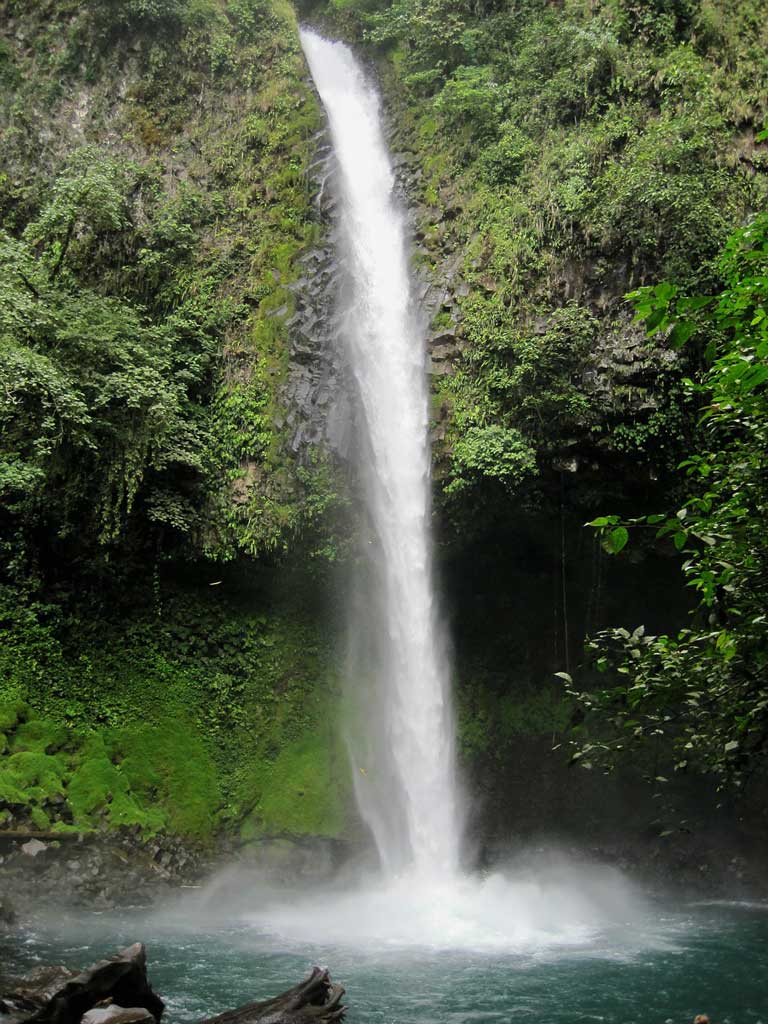 Arenal Volcano
The Arenal Volcano is not only a Costa Rican landmark, it is an important national park and conservation area.
The volcano, which is often concealed in a dense layer of fog, is Costa Rica's most active volcano. It last erupted in 2010, and is currently considered to be in a resting phase.
While you cannot climb Arenal Volcano, there are lots of great guided hikes in the national park that take you to its base and through fields of volcanic rock that remain from the lava flow from the 1968 eruption that devastated the area.
Find the best tours and hikes in Arenal Volcano National Park
Hot Springs
After hiking you'll probably be ready for some much needed relaxation. There is no better way to rejuvenate your muscles and your mind than a dip in Costa Rica's famous hot springs.
With all the geothermal activity around the Arenal Volcano, the area is also world-renowned for its beautiful thermal springs.
Tabacon Thermal Resort is home to the most popular and most beautiful hot springs in the area. A visit to the hot springs is included if you choose to stay at the swanky resort.
However, you can also book a visit separately or book a combo tour that includes the La Fortuna waterfall, a guided Arenal hike, and a visit to the hot springs.
Zip line Tour
Ziplining in Costa Rica is one of the activities the country is best known for.
Not only is this adrenaline-pumping activity safe, it is a suitable activity for kids as young as 5 years old, and doesn't require a lot of skill or physical fitness.
With 90% of the native animals and 50% of the country's flora and fauna living in the canopies of the rainforest, booking a ziplining tour is a great way to possibly spot exotic birds, monkeys, sloths, and other creatures that dwell in the rainforest.
Hanging Bridge Tour
Like a zip line tour, the hanging bridges in the Arenal Rainforest take you into the tree canopies on long suspension bridges.
During times of dense fog, it will seem like you're walking directly into the clouds, without being able to see the other side of the bridge. There are several different hanging bridge tours in Arenal.
You can easily book a hanging bridge tour online to experience Costa Rica from the tree tops.
Farm experience
Costa Rica is a very green country, not just in the way of lush vegetation, but conservation is important to them, and many Costa Ricans even grow their food.
A farm experience is a great way to teach children about respecting the planet while also entertaining them. This was included at Hotel Silencio del Campo where we stayed.
However, if you choose a different hotel, you can always book a farm experience separately.
This tour includes sloth watching, cow milking on a traditional Costa Rican family farm, and a traditional lunch prepared with farm-fresh ingredients.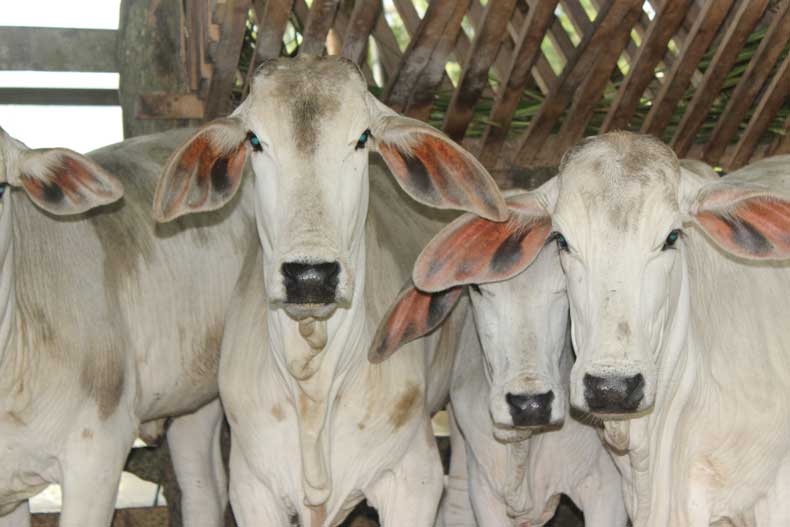 Rafting Tour
Finally, a rafting tour along Rio Balsa is another great kid-friendly activity in Costa Rica.
With class 2-3 rapids, the guided rafting experience is great for adventurous families visiting Costa Rica with kids or first-time rafters who want to test out their adrenaline.
When you aren't giggling and getting splashed with water from the river, you'll also enjoy spotting wildlife along the banks as you paddle through the slowing rolling rapids in an isolated rainforest river canyon.
Other family-friendly things to do in Costa Rica for kids
We could have stayed in Costa Rica much longer as there were many parts of the country we were unable to explore due to time constraints.
We would recommend giving yourself at least ten days in Costa Rica to see more of the breathtaking beauty Costa Rica has to offer.
Here are a few other kid-friendly things to add to your Costa Rica itinerary if you have extra time.
Manuel Antonio National Park
The most visited national park in Costa Rica, Manuel Antonio is located along the central Pacific Coast of Costa Rica southwest of San Jose.
The park is home to beautiful beaches, forest trails and of course, wildlife!
Monteverde Cloud Forest
Similar to Arenal, Monteverde Cloud Forest is a popular destination for ziplining and hang bridge tours.
Spanning more than 10,000 acres, the forest reserve draws roughly 70,000 visitors each year who come to see the colorful assortment of flora and fauna in a dream-like forest almost always covered in clouds.
Butterfly Conservatory
Located on the southern side of Lake Arenal, the Butterfly Conservatory would be an easy addition to this itinerary.
Butterflies are one of Costa Rica's biggest exports. You can see all the different species of butterflies at the conservatory.
Sloth Sanctuary
Located near Puerto Limon along the east coast of Costa Rica, the sloth sanctuary is a wildlife rescue and rehabilitation center. They offer sloth tours every day but Monday where you can meet and learn about sloths and their habitat.
Your family may even be able to see baby sloths in the sloth nursery. How cute is that?! Need I say more?
Tortuguero National Park
Another one of the fascinating national parks in Costa Rica, Tortuguero would be especially cool for those visiting during the late summer, when the Leatherback Turtle eggs hatch and the baby turtles make their way to the ocean.
Like many activities in Costa Rica, this would be an incredible learning experience for kids and adults alike. Located along the northeast coastline, the park is best explored by boat, kayak or canoe.
Read more about Tortuguero National Park here.
La Paz Waterfall Gardens Nature Park
Home to one of the most famous waterfalls in Costa Rica and the largest animal sanctuary, La Paz Waterfall Gardens is just 45 minutes from San Jose International Airport, making it an easy addition to any Costa Rica itinerary that starts or ends in San Jose.
You can easily take a day trip to the nature park or stop there on your way to Arenal.
Have a question or comment about visiting Costa Rica with kids? We'd love to hear from you! Share your thoughts in the comments below.
Like it? Pin this guide to visiting Costa Rica with kids to save for later!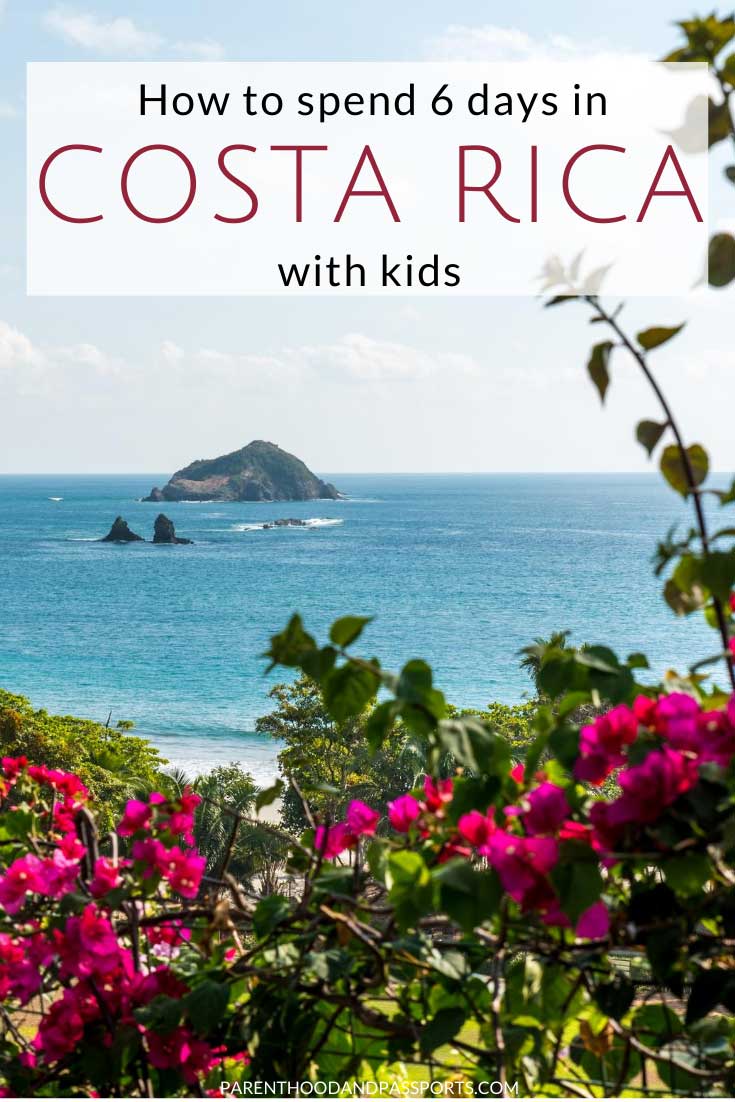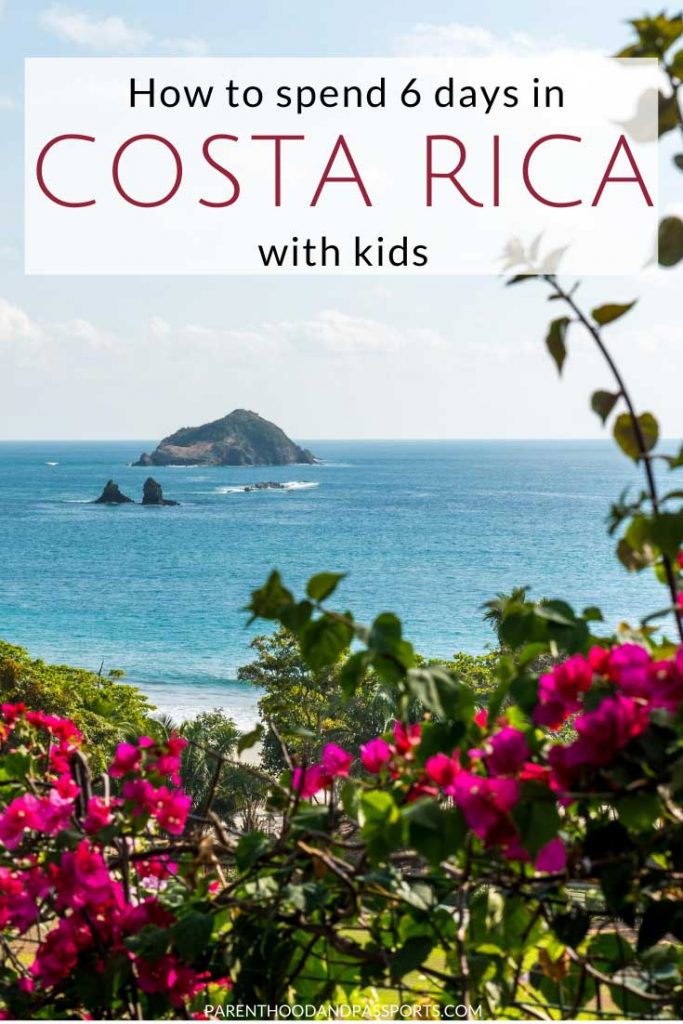 This 6-day itinerary for Costa Rica with kids was originally published in January 2016 and was updated in July 2021 for accuracy and current information.