Looking to spend 3 days in Amsterdam? This 3 day Amsterdam itinerary for first-time visitors packs in all the highlights of the Netherlands' capital to give you a true Holland experience.
Amsterdam is known for its picturesque canals, gingerbread-style architecture and the stunning flower fields surrounding the city. But the Netherlands' capital city has much more to offer visitors than just beauty and European charm. With world-class museums, history, and an interesting atmosphere, there are a lot of things to do in Amsterdam for families, couples, or solo travelers.
This 3 day Amsterdam itinerary will help you plan the perfect first-time trip to the canal city.
It is important to note that Amsterdam has a lot of really great museums. Because we were visiting Amsterdam with kids, and our daughter isn't one for museums, we chose a couple of the museums we wanted to see most.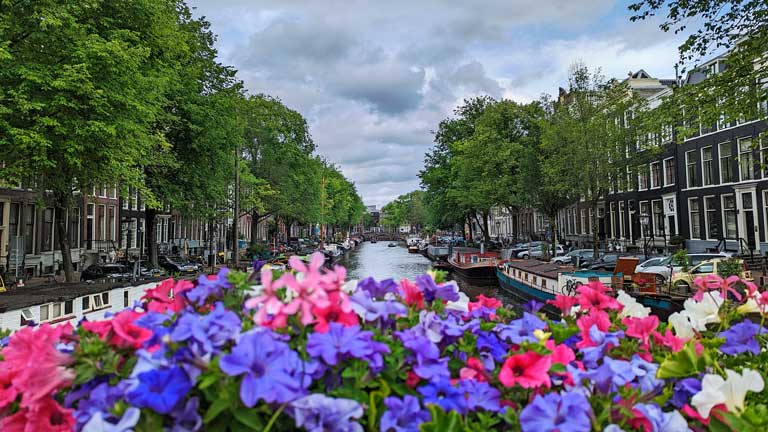 However, if you love museums and want to explore some of the incredible ones in Amsterdam, you could easily spend a full three days in Amsterdam visiting museums alone – and barely scratch the surface.
If you plan to visit several of the museums in Amsterdam, you'll save money by purchasing the Amsterdam City Attractions Card which provides free or discounted admission to many of Amsterdam's museums and experiences.
Where to stay in Amsterdam for 3 days
Where you stay in Amsterdam will greatly impact your experience and perception of the city. You'll want to stay close to the city center to be near the main attractions and within walking distance to all the things to do in Amsterdam in 3 days.
But there are parts of the city center that are much better than others, particularly for family travelers. Amsterdam's infamous Red Light District is located just a 5 minute walk from the central train station. While the area surrounding this district is nice and pretty, it is not the most family-friendly area.
So, if you are just looking for a hotel close to the train station, you could very likely end up staying somewhere surrounded by sex shops.
Here are a few hotels near Amsterdam Centraal that are NOT in the Red Light District.
For the best experience book a hotel west of Damrak, the main street that runs directly in front of Amsterdam Centraal. Jordaan is one of the loveliest and best areas to stay in Amsterdam.
3 Day Amsterdam Itinerary
This 3 day Amsterdam itinerary will begin the day you arrive.
We arrived around 10am, but depending on what time you arrive in Amsterdam, you may or may not be able to fit everything in on day one. Don't worry though, much of day one simply involves walking around Amsterdam and familiarizing yourself with the city. 
While it is fun to explore Amsterdam on foot, if you prefer using public transportation, it's a good idea to buy an Amsterdam travel ticket, which covers your train from Schiphol Airport, as well as travel on buses, ferries, metros, local trains, and trams within Amsterdam.
Like the attractions' pass, if you plan to use public transportation a lot, the travel ticket will be a huge money saver during your trip.
With that said, here is a look at our 3 day Amsterdam itinerary.
3 days in Amsterdam – Day 1
10:00 am – drop of luggage at hotel
11:00 am – Walk around the Amsterdam Canals and Damrak Waterfront
11:30 am – Royal Palace and Dam Square
12:30 pm – lunch at Frites Huys
1:30 pm – Melly's StroopWafels
2:00 pm – Window shop at De Negen Straatjes (9 Streets)
2:30 pm – Anne Frank House
4:00 pm – Board a canal tour
5:00 pm – Explore Jordaan Neighborhood
6:00 pm – Dinner in Jordaan (Our recommendation: La Oliva)
7:30 pm – Back to your hotel for bed if your jet lagged
Amsterdam 3 day itinerary – Day 2
9:00 am – Breakfast at Cafe Winkel 43
10:30 am – Bloemenmarkt
12:00 pm – Rijksmuseum and/or Van Gogh Museum
1:30 pm – Light lunch at Rainbowls Amsterdam
2:30 pm – Heineken Experience (if NOT traveling with children)
2:30 pm – Vondelpark (if traveling with children)
6:00 pm – Traditional Dutch dinner at Moeders
3 day itinerary for Amsterdam – Day 3
8:00 am – Breakfast at The Pancake Bakery
9:00 am – Catch a train to Zaanse Schans for a day trip to see the windmills of Holland
12:00 pm – Lunch in Zaanse Schans (our recommendation: Restaurant Diga)
1:00 pm – Back to Amsterdam
2:00 pm – Old Church (De Oude Kerk)
2:30 pm – Walk through Amsterdam Historic Area and Red Light District
4:00 pm – Museum of your choice: Ripley's Believe it or Not, Body Worlds, Madame Tussauds, or NEMO Science Museum
6:00 pm – Dinner
Things to do in Amsterdam in 3 days
As you can see in our itinerary above, we didn't do much in the evenings. Since we primarily travel as a family, nightlife is not important to us. However, if it is nightlife you seek, Amsterdam has plenty of it!
We prefer to pack our days full and then have a good night's rest.
Damrak
Damrak greets you as you step out of Amsterdam Centraal train station into the Amsterdam city center. This picture avenue with its colorful gable houses is directly across from the central station.
The view from the boat docks overlooking the partial canal is often considered to be one of the prettiest views in Amsterdam.
Fortunately, given its proximity to the central train station, you really can't miss Damrak. At some point during your 3 days in Amsterdam, you will walk right by this picture-perfect viewpoint.
Dam Square and the Royal Palace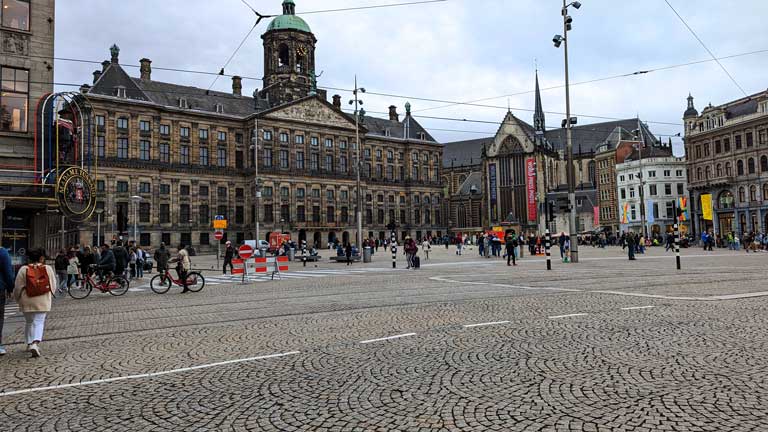 Dam Square is the main central square in Amsterdam. Roughly a five-minute walk from Amsterdam Centraal directly down the Damrak, this lively square is bustling with people both day and night.
Street performers entertain crowds, children chase pigeons, and tourists flock to the many museums and attractions in the historic plaza.
The square is home to the Royal Palace, a grand 17th century building that was once home to the Dutch Royal Family and is still used to host foreign heads of state during visits to the Netherlands.
Today, you can buy tickets to tour the palace which is open from 10am to 5pm most days. Dam Square is also home to Madame Tussaud's, Ripley's Believe it or Not, Body Worlds Amsterdam, and the New Church. If you love these types of fun museums, you could easily spend a full day exploring all the things to do in Amsterdam's Dam Square.
We built in a couple hours on day three of our 3 day Amsterdam itinerary to visit one or more of these museums if you want to.
De Negen Straatjes
De Negen Straatjes, also known as the 9 Streets, is an area of nine small streets and canals that stretch between Prinsen-Keizers and Herengracht en Singel. The area boasts local charm with quirky shops, vintage thrift stores, and little cafes.
Located just 2 minutes behind Dam Square behind the Royal Palace and just south of Anne Frank House, this small neighborhood on the way to the Jordaan District is worth an afternoon stroll through.
Duck into a few stores and shop for unique Amsterdam souvenirs, or stop for Dutch Pancakes to power you through the rest of your day of sightseeing.
Anne Frank House
One of the most famous museums in Amsterdam, the Anne Frank House, or Anne Frank Huis in Dutch, is dedicated to the life of a young Jewish girl who spent 2 years in hiding along with her family and others during World War II.
The girl, Anne Frank, documented life in hiding in her diary, which was later published after her death in a Nazi concentration camp.
Visiting the museum requires purchasing timed tickets in advance, as tickets often sell out. In the museum, you go room-by-room into the house and eventually through the door that was hidden behind a large bookcase and into the attic where the family hid from Nazi soldiers.
The audio guide, which is included with admission, explains each room and helps to paint a picture of what life was like in hiding – using young Anne's own eloquent words she penned in her diary.
Flagship Canal Tour
In front of the acclaimed Anne Frank Museum, you'll find one of the best rated canal tours in the city. In fact, this canal tour was even named the number one travel experience in the world by Travel + Leisure Magazine. The 90-minute covered boat ride includes unlimited wine and Dutch cheese.
Cruise through the UNESCO Heritage listed canals of Amsterdam, sail through the Jordaan district, the Skinny Bridge and see parts of the Red Light District and Old Harbor with a knowledgeable and entertaining guide.
For kids, there are sodas offered instead of wine.
The Flagship Canal Cruises are likely to sell out, so you'll want to reserve your spot in advance.
Jordaan District
One of the most loved neighborhoods in Amsterdam, and certainly the prettiest, the Jordaan district is known for its pretty houses, narrow canals, incredible restaurants and shops. It also boasts some of the best breakfast and brunch places in Amsterdam.
The district is home to the HouseBoat Museum and near by the 9 Streets and the Anne Frank House, on its outer edge. 
Once a poor area of Amsterdam where large families lived together in tiny row houses, this thriving area is now one of the best places to visit in Amsterdam due to its picturesque appeal.
Walk around Jordaan and simply let yourself be wowed by its beautiful bridges with ornamental bicycles decorated with flowers. It will be hard to believe as you wander the delightful side streets and scenic canals that this artistic district was once the slum of Amsterdam.
Bloemenmarkt
Amsterdam is best known for its canals, bicycles, and of course its tulips! And there is one place in Amsterdam where you can see fresh flowers daily. The Bloemenmarkt is the city's famous floating flower market on the Sungel canal.
Every Monday through Saturday, since the late 1800s, vendors have been selling fragrant and colorful flowers from stalls set up on the canal.
The world's only floating flower market, you'll not only find fresh tulips and other flowers, but lots of wooden tulips and various souvenir and gift shops, as well.
Rijksmuseum
Another one of the most popular museums in Amsterdam, Rijksmuseum should be on any art-lover's 3 day Amsterdam itinerary. The world-class museum houses more than 400 masterpieces by artists such as Rembrandt and Vermeer.
The museum's most famous painting, "The Night Watch" by Rembrandt, is prominently displayed in a beautifully lit hall. Aside from historic paintings, the museum features sculptures, ceramics, and artifacts from Dutch history.
Located in the heart of the city near several of Amsterdam's famous museums, Rijksmuseum is considered one of the top things to do in Amsterdam. For this reason, it often sells out, so you'll want to buy your tickets in advance.
Van Gogh Museum
Van Gogh is one of The Netherland's most noteworthy artists of all time. So, it should come as no surprise that there is an entire museum dedicated to the life and works of the famous artist. Found in Museumplein near Rijksmuseum, this popular attraction features 200 paintings, 500 draws and more than 750 letters written by Vincent Van Gogh during his lifetime.
The Van Gogh Museum houses the largest collection of Van Gogh's work in the world.
So, again, if you love art, this is another can't miss museum. Like the Rijksmuseum, you'll want to buy your tickets in advance to visit the Van Gogh Museum.
Heineken Experience (For Adults Only)
Amsterdam is not only the birthplace of some of the world's most famous artists, it is also the home to one of the world's favorite beers. Founded in 1867, the Heineken Brewery opened in Amsterdam.
While the popular beer is no longer brewed and bottled in the original brewery, you can now visit, tour and learn all about Heineken and the brewing process.
While the Heineken Experience can be a fun part of a 3 day Amsterdam itinerary, children are not allowed to accompany parents on the tour.
Although we have been on many family-friendly brewery tours, like Carlsberg in Copenhagen, Denmark or Ireland's famous Guinness Storehouse in Dublin, Heineken is much more strict when it comes to children.
So, because we were traveling with our daughter, we skipped this attraction and spent time exploring the canals of Amsterdam and Vondelpark instead.
Vondelpark
Vondelpark is the largest city park in Amsterdam. On a nice day you'll find the park full of people relaxing on the grass, walking their dogs, cycling or enjoying a free concert or children's show at the open-air pavilion during the summer months.
There is a nice playground for children, a restaurant where you can enjoy a refreshing beverage or Dutch pancakes, and lots of wild ducks to watch on the water.
It is a great place to spend time relaxing, let children roam and play, and recharge from a busy day of sightseeing and exploring.
Zaanse Schans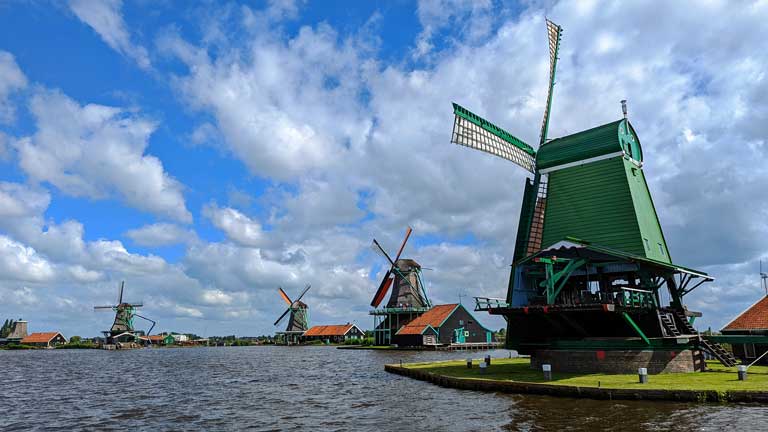 Zaanse Schans is one of the best day trips from Amsterdam. This lovely windmill village is located just 15-20 minutes from Amsterdam Centraal by train. Located in the Dutch town of Zaandam, the little village is home to eight windmills built along the River Zaan.
For a small fee you can go up into one of the working mills and see how it operates.
There are a lot of fun and unique things to do in Zaanse Schans. The picturesque village with its green wooden houses is also home to several unique museums including the Zaans Museum and Verkade Experience, dedicated to the history of biscuits and chocolate, a small bakery museum and a clock museum.
You can also visit a working cheese farm, pet the sheep, and learn about the process of making Dutch cheese. You can catch a daily cheese making demonstration presented by cheese makers clad in traditional Dutch costumes and then sample different types of cheeses.
For those interested, you can buy any of the cheese sampled to bring home with you. The cheeses are good without refrigeration for up to a month if unopened.
You can easily book a guided tour to Zaanse Schans or save money and take the train and explore on your own. There are also tours that take you from Zaanse Schans to the fishing village of Volendam, where you'll find lots of other great things to do.
One of the most popular tours from Amsterdam includes a visit to both Zaanse Schans and a trip to the fishing villages of Volendam and Edam.
Red Light District
Perhaps the most infamous district in Amsterdam, the Red Light District is known for its sex-oriented and marijuana-oriented businesses. Legalized prostitution houses, sex and erotica shops, and "coffee" houses emitting a very potent aroma that is clearly not actual coffee beans all abound in the Red Light District.
The area gets its unique name because at night the prostitution houses are all identified by their red lights. During the day, you could walk right by them without ever realizing they're there.
One of the most surprising things about this world-renowned district is that it is NOT some seedy area that you would want to avoid unless interested in the services provided. In contrast, it is located in the oldest neighborhood of Amsterdam and includes some beautiful canal streets.
Although very perceptive and curious children may have a few questions, during the day, the Red Light District is fairly tame. However, if visiting Amsterdam with kids, you should avoid walking through the Red Light District late at night.
Old Church (De Oude Kerk)
If there is one reason to venture into the Red Light District, De Oude Kerk is it. The church, known in English as the Old Church, is the oldest building in Amsterdam, dating back to 1213. It is also home to the largest medieval wooden vaulted ceiling in Europe.
It is in this historic church that Rembrandt's children were christened and his wife was buried.
You can tour the church for approximately €10 per adult and even climb its tower for a panoramic view of the oldest part of Amsterdam.
Admission to Oude Kerk is included with the Amsterdam City Card.
Is 3 days in Amsterdam enough?
Three days in Amsterdam is a good amount of time if your main desire is to see the canals, the famous bridges, and experience the beauty of the city. But you could easily spend much more time in Amsterdam if you want to visit a lot of the city's incredible museums.
Additionally, Amsterdam makes for a centrally located place to stay if you want to take day trips from Amsterdam to places like Giethoorn, Brussels, Bruges, or The Hague.
You can easily take weekend trips to places slightly farther away, like Luxembourg City or Paris, as well, making it a great place to fly into and out of if you want to explore the region.
So, while a 3 day Amsterdam itinerary is enough to see the highlights you could easily spend weeks in Amsterdam and not run out of things to do.
Have a question or comment about this 3 day Amsterdam itinerary or how to best spend your time in Amsterdam? We'd love to hear from you. Leave your thoughts in the comments below.
Like it? Pin this 3 day Amsterdam itinerary to save it for later!
Did you know…
When you make a purchase or book hotels, tours, or other travel services, through our links, we receive a small commission, at no extra cost to you. We only EVER recommend service providers, websites, or products we personally use when booking our own travels. Your support enables us to keep producing helpful travel content. Thank you!
This 3 day Amsterdam itinerary was first published in July 2022 but was most recently updated in August 2023 for accuracy and current travel information.