The American southwest is one of the best destinations in the United States for a road trip. Home to some of the most famous national parks, the most breathtaking scenery, and the most fascinating history in the US, the southwest portion of America is an outdoor-lover's dream destination.
From the ancient Indian ruins of Mesa Verde to the red rocks and slot canyons in Utah, you could spend weeks – if not months – in the American Southwest. 
But if you have limited time off, like us, you can see a lot of the sites and landmarks in the Southwest USA in just 12 days.
This southwest USA road trip itinerary includes portions of New Mexico, Southern Colorado, Utah, and Arizona. 
About this Southwest USA road trip itinerary
You can prefer to travel slowly, or if you have fewer days to spend, you can also condense this itinerary into only a Utah and Arizona road trip, or dedicate a vacation to each state.
Also read: Our top sights to see on a New Mexico road trip.
And with 5 national parks plus Grand Staircase-Escalante National Monument, you could easily dedicate a 2-week vacation just to a Utah road trip. As one of our favorite states in America, Utah really does deserve its own vacation to thoroughly explore all it has to offer.
With skiing and Ice Castles in winter to hiking and camping in summer, Utah is great for year round.
But we wanted to share a complete Southwest USA road trip guide for those who are looking to visit multiple states and landmarks in one trip.
Note: To save money, you'll want to buy a national park pass before this southwest USA road trip. It will cover admission to all 8 national parks on this adventure.
This Southwest USA road trip includes:
Great Sand Dunes National Park
Mesa Verde National Park
Moab
Arches National Park
Canyonlands National Park
Capitol Reef National Park
Grand Staircase-Escalante National Monument
Bryce National Park
Zion National Park
Grand Canyon
Horseshoe Bend
Antelope Canyon
Monument Valley
Albuquerque
Overwhelmed already? We realize this itinerary includes A LOT of places in just 12 days. This itinerary is jam packed and involves a fair amount of driving, and be warned, a fair amount of hiking.
BUT, it is doable, and if you are adventurous, it's really fun!
Although we've crammed all of these great destinations into 12 days, if you can give yourself a full two to three weeks, you won't feel as rushed and you'll get to enjoy a lot more hikes and natural wonders because you won't be as pressed for time. 
How much time do you need for a Southwest USA road trip
As we mentioned, you can spend months in the American Southwest.
Realistically, most people have full-time jobs, or they have kids in school.
The average American only has 10 paid days off per year. So, we wanted to create an itinerary that the average American could accomplish using their paid days off plus one weekend.
At the end of this blog post, we have added a few suggestions for additional things you can add if you have extra time.
Things to know before embarking on this Southwest USA road trip
There are a few things that will make this Southwest USA road trip easier and more enjoyable.
Our top recommendation is to rent a high clearance SUV, particularly if you plan to explore some of the slot canyons in Grand Staircase-Escalante National Park in Utah.
Visiting some of those slot canyons involves driving down some fairly precarious roads.
You can also save money by camping instead of staying in hotels or Airbnbs. We did a little of both. Because while camping with kids can be a great experience, after a few days I need a shower and a comfortable bed.
Also read: Family camping tips to ensure a great experience
How to spend 12 days on a Southwest USA road trip
Day 1: Albuquerque
Albuquerque, New Mexico is a great place to start and end your trip, although you can also fly into Phoenix or Las Vegas. One of the greatest cities to visit in New Mexico with kids, there are a lot of great things to keep families entertained.
To get a good feel for the city, start out with a visit to Old Town. This historic area of Albuquerque features narrow streets lined with adobe buildings and a lot of interesting locally-owned shops and cafes. 
Additionally, the BioPark Zoo and aquarium, the Natural History Museum, and Explora Science Museum are all great for kids!
You can also take the tram up Sandia Peak, just outside Albuquerque. The 2.7-mile long tramway is the longest in the United States.
The panoramic views of the Sandia Mountain Range from inside the tram and from the top are stunning!
Where to stay: Hotel Albuquerque at Old Town
Day 2: Great Sand Dunes National Park
Great Sand Dunes National Park is one of the lesser visited national parks in the United States, but it is fascinating.
The park is home to the tallest sand dunes in North America and is worthy of any Colorado Bucket List.
Visiting the park is fascinating because seemingly out of nowhere, massive sand dunes appear at the base of the Sangre de Cristo Mountains, almost like they were transported there.
The unique wind patterns in the San Luis Valley have created these huge piles of sand over time. Although the park encompasses 232 square miles, the giant sandbox in Southwest Colorado is the main attraction.
The dunes span 30 square miles! 
Visitors to the park can choose their own leg-burning path up the mountains of sand and sled down.
We recommend renting a sled when you get to the park rather than bringing your own. Not all sleds will work on the sand. The sleds rented at the park provide the fastest and most exhilarating sledding experience.
Make sure to wear sunscreen, and prepare for sand everywhere when you are done. The sand can get warm, particularly in summer, so plan to wear shoes. Closed-toe shoes or a high top boot might help prevent some of the sand from getting into your shoes.
But there is a good chance you'll be pouring sand out of your shoes regardless of what type of shoe you wear.
These Keen's favorite shoes for visiting the sand dunes.
Where to stay: Camp under the stars at Pinon Flats Campgrounds or Fairfield Inn and Suites (Alamosa)
Day 3: Mesa Verde National Park
Day three of this southwest USA road trip takes you to one of the most culturally significant national parks in the United States.
Mesa Verde National Park, located in Southwest Colorado is an incredible look back in time.
At Mesa Verde, you'll find numerous cliff dwellings built thousands of years ago by the Pueblo Indians. The indigenous tribe built their homes into the sides of mountains as a means of protection from the elements, animals, and other tribes.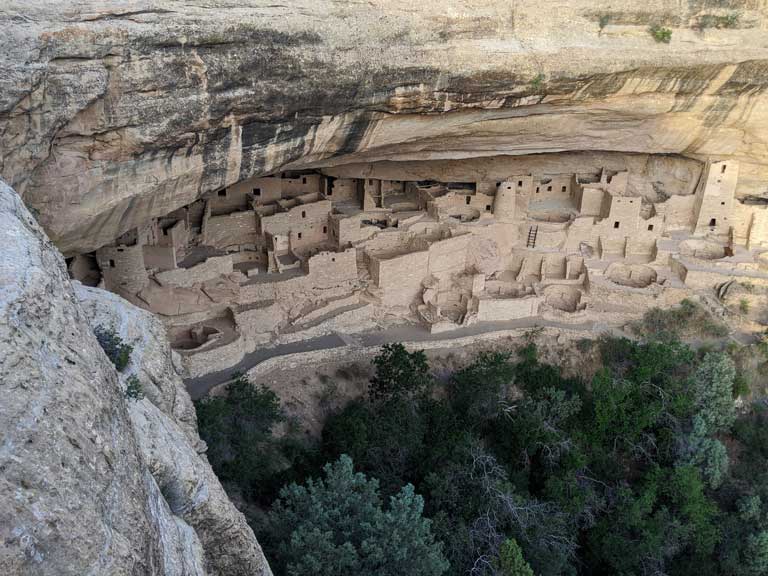 There are more than 5,000 protected archeological sites within the national park, making it the largest archeological preserve in the United States.
The Cliff Palace is the most impressive of the dwellings in Mesa Verde. It is believed that at least 100 people lived in the palace.
The Pueblo Indians abandoned their cliff-side homes in the 1300s. Although the reason for their migration remains unclear, it is believed that a series of droughts forced the tribe to migrate south to what is now New Mexico and Arizona.  
Where to stay: Retro Inn at Mesa Verde (Cortez)
Day 4: Canyonlands National Park
From Mesa Verde, it is only a short 2-hour drive to Moab, Utah which will be your base for the next two days if you are following this southwest USA road trip itinerary.
Moab is an adventure lover's paradise, with majestic scenery, fun hikes, rivers sports, and more. Within a few miles of Moab you'll find two of Utah's Mighty Five national parks. 
Canyonlands is known as Utah's mini grand canyon, although there really isn't anything mini about it.
With carved out canyons, a series of plateaus with sheer drops, and panoramic skies, Canyonlands spans more than 500 square miles. Island in the Sky is the most popular district, and the easiest to visit with kids.
We recommend the easy hike down to the Grand Viewpoint for an almost surreal sunset. It is a 2-mile hike round-trip, one mile in and one mile back out, and the views are worth every footstep!
Where to stay: SpringHill Suites by Marriott (Moab)
Day 5: Arches National Park
Second only to Yellowstone, Arches National Park is one of the best national parks in the US that we have personally visited.
It's unique topography and natural red rock arches found throughout the park are breathtaking.
Although much smaller than Canyonlands in geographical size, you could spend an entire day exploring Arches National Park. Even more if you don't really like to hike.
If you have more than 12 days for your American Southwest road trip, give yourself a few extra days in Moab to explore and truly appreciate southeast Utah. Visiting Moab with kids is a great adventure! You won't regret it.
Start your day very early with a hike to Delicate Arch, the most famous landmark in all of Utah. The massive arch is depicted on the state's license plates and Welcome to Utah signs, so you would be remiss if you don't make the 3-mile round trip journey.
The hike is easy enough that you can do it with kids, although there are a few parts where you will want to hold onto a little one's hand.
Our daughter was only five years old, and was able to complete the hike with minimal grumbling. I would recommend dressing for the desert elements. Bring sunscreen and plenty of water and wear a hat.
If hiking with kids, snacks can also be an easy diversion when they start to get bored or tired.
After completing the hike to Delicate Arch, hit up Double Arches and The Windows before calling it a day. Both are very easy, half mile to mile-long hikes that are on the way back out of the park toward Moab.
Kids will love scrambling and climbing on the rock formations. Usually, in The Windows there is a nice breeze that will cool you off if visiting in the hot summer months.
Day 6: Capitol Reef National Park
Although it seems to get less buzz than the other four national parks in Utah, it is worth spending a day in Capitol Reef National Park.
With layers of white and red sandstone, by the time you visit Capitol Reef, you will have seen sand dunes, Indian Ruins, canyons and red rock arches. 
At Capitol Reef you will feel like you are exploring the bottom of a body of water that has long evaporated or dried up, leaving behind a reef of exposed layers and ridges. The park is one of the narrowest national parks in the US.
You can either just enjoy the scenic drive through the park on the way to Grand Staircase-Escalante or you can spend one night in the park, which is listed as an International Dark Sky Park, so on a clear night, you'll see so many stars!
Where to stay: Capitol Reef Resort
Day 7: Grand Staircase-Escalante National Monument
The impressive Grand Staircase-Escalante in remote southern Utah covers nearly one million acres. The national monument is home to some of the best slot canyons in the entire state. 
As the last place in the lower 48 states to be officially mapped, this rugged and scenic area offers visitors a place to truly get away, and feel immersed in unspoiled nature. 
The public land is broken up into three distinct geological regions: the Grand Staircase, the Kaiparowits Plateau, and Escalante Canyon.
The Grand Staircase is where you'll find Utah's most extensive network of slot canyons. Peek-a-boo Canyon, Willis Creek Canyon, and Zebra Canyon are just a few of the slot canyons in this area of the national monument.
While the Grand Staircase is growing in popularity, Escalante Canyon is perhaps the most visited region of the national monument. It is especially popular among backcountry hikers for its active waterfalls, scenic trailheads, and natural arches.
Many of the trailheads throughout Grand Staircase-Escalante require a high clearance vehicle to get to.
So, a visit to the national monument is truly an off-the-grid experience, and to best experience its natural beauty, you'll have to turn off the paved roads and navigate down some very bumpy, precarious dirt paths.
Where to stay: Escalante Yurts
Day 8: Bryce National Park
Hello hoodoos! Day eight of this 12 day southwest USA road trip takes you to the land of the hoodoos, Bryce National Park.
Hoodoos are spire-shaped rock formations, created by erosion and rain until only slender pillars remain. Bryce is the hoodoo capital of the world. Not far from Zion, you can easily combine the two parks in one day if you plan to do more driving than hiking. 
When you get to Bryce National Park, head straight to Sunset Point.
If you are up for an adventure, love hiking, and don't mind some challenging switchbacks, take the Navajo Loop to Queen's Garden Loop, up to Sunrise Point, and then back across the Rim Trail.
This hike is roughly 3 miles but will take at least 3 hours, especially if hiking it will kids. It takes you down to the floor of the amphitheater where the hoodoos tower overhead.
This is a beautiful hike, and while it is doable with kids, it is not for the faint of heart. The elevation change and countless switchbacks may have you regretting your decision on the way back up.
If you prefer an easy day, just walk the paved Rim Trail that connects Sunset Point to Sunrise Point for panoramic and stunning views of the amphitheater.
Watch young kids and don't let them get too close to the edge! It's a sharp drop from the top! 
Where to stay: Cable Mountain Lodge (Springdale)
Day 9: Zion National Park
The east entrance to Zion National Park is only about 30 minutes from Bryce National Park, so we recommend making Springdale your base for both Day 8 and Day 9 of this US southwest road trip.
Zion is one of the most visited national parks in the United States, so fair warning, it is busy!
Parking within Zion is extremely limited, so you will likely have to utilize the shuttle to get to most of the popular trailheads. 
Unlike Bryce National Park that offers some of the best viewpoints just steps from the parking lot, to truly appreciate Zion's beauty you need to hike! The park is known for a couple strenuous but fun hikes.
Angel's Landing is one of the most famous. This hike is dangerous, and more than a dozen people have died hiking Angel's Landing, so if visiting Zion with kids, skip this hike and do the Emerald Pools trail instead. It's an easier hike along a cliff, so make sure you hold hands with younger hikes or wear them in a baby carrier or a framed kid carrier. 
Perhaps even more famous than Angel's Landing, The Narrows is a strenuous hike that is completely doable with kids. In fact, our 5-year-old loved it! This hike was one of the most memorable moments of our entire trip.
Hiking The Narrows with kids or without does require some preparation because the entire hike is in the river through a beautiful, wide slot canyon.
You will want hiking polls for this hike because it is a bit of a challenge to keep your footing on the rocks in the gently moving water.
You will also want to dress appropriately. The water is cold! But either water shoes, or a good pair of hiking shoes or boots are also necessary. The depth of the water can change depending on how much rainfall southern Utah has received.
Most people start this hike early to avoid any afternoon showers. However, there was no rain in the forecast when we hiked the Narrows, so we got to the trailhead in the afternoon and were able to avoid crowds. Plus it was warmer, so it made the cold water feel refreshing!
Also read: Things to do in Zion National Park with kids
Day 10: Grand Canyon North Rim
The Grand Canyon is what I would consider one of the seven natural wonders of the United States! It's sheer size can be overwhelming at times.
Covering more than 1,900 square miles, it truly is the jewel of Arizona. The south rim of the Grand Canyon is the most visited side of the Grand Canyon. It offers those expansive views that seem to stretch forever!
However, this itinerary takes you to the north rim, which is less crowded but equally beautiful.
Again, if you have extra time, the Grand Canyon's south rim is worth visiting and could easily be added to this Colorado, Utah, Arizona road trip.
You could also fly out of Las Vegas and skip Page and Monument Valley. 
Given the size of the Grand Canyon, there are countless hikes you could do. For a steep, but short half-mile long hike down a paved trail, hike to Bright Angel Point for dramatic views.
There are several pullouts along the north rim scenic drive if you prefer not to hike at all. Again, as with many of the other scenic canyons, you'll want to closely watch young children here, as there are a lot of sharp, dangerous drops.
Where to stay: Grand Canyon Lodge
Day 10: Page, Arizona / Horseshoe Bend and Antelope Canyon
Page, Arizona is another great base if you want to see two of Arizona's most notable landmarks: Horseshoe Bend and Antelope Canyon. Both are short, easy hikes.
Made a million times more popular, Horseshoe Bend is a horseshoe-shaped canyon carved by the Colorado River.
From the picturesque lookout about a quarter mile from the parking lot, the river almost appears to go in a circle.
After visiting Horseshoe Bend, head to Antelope Canyon.
Perhaps the most famous slot canyon in the American Southwest, Antelope Canyon requires a guided tour because it is on Navajo Tribal Lands. Well before you embark on your US southwest road trip, you should make your reservation to see Antelope Canyon.
Where to stay: Country Inn and Suites by Radisson
Day 11: Monument Valley
Monument Valley is the final stop on this southwest road trip itinerary before heading back to Albuquerque, where it all started. Monument Valley, in the far southeast corner of Utah was made famous by the movie Forest Gump.
In fact, in the middle of this remote desert, don't be surprised to find numerous cars stopped on the side of the road at an area now known as Forest Gump hill.
While there isn't much to do in Monument Valley besides drive through to see the pretty desert landscapes, it is only a slight detour to drive through on your way back to New Mexico. 
We even decided to spend one night in this somewhat desolate area, as we enjoy the feeling of traveling off the grid whenever we can.
Where to stay: Bluff Dwellings Resort
Day 12: Drive back to Albuquerque
Every road trip seems to have one day that is committed to simply driving. On the final day of your road trip, slowly make your way back to Albuquerque.
There isn't a lot to see or do along the journey back, but after a last 11 days of jam-packed adventure in Colorado, Utah and Arizona, your final trek back to where it all started can be one of reflection and relaxation. 
Why you should take a Southwest USA road trip
The American Southwest is a wonderful place to get away and get in touch with nature. With so many incredible hiking trails and public land to explore, you can escape the crowds and enjoy a moment of real serenity.
Although this Southwest USA road trip itinerary is jam-packed with activity, it will leave you wanting more… more slot canyons, more red rocks, and more of the American Southwest!
So, ready to hit the road? Don't forget your National Park pass!
Have a question or comment about this US Southwest road trip itinerary? We'd love to hear from you and always try to respond to our readers! Leave your thoughts in the comments below.
Like it? Pin this Southwest USA road trip itinerary to save for later!
This Southwest USA itinerary was originally published in November 2020, and was updated in June 2021 for accuracy and new information.