One of the most celebrated and adventurous states in the USA, Colorado is an incredible place to visit anytime of year. Whether you are looking for a snowy winter wonderland or a scenic summer vacation spot, there are so many places to visit in Colorado that are definitely bucket-list worthy.
If you're planning a trip to the Colorful State, we've compiled an extensive list of the best Colorado Bucket List experiences to add to your Colorado itinerary.
This ultimate Colorado bucket list guide includes the best places to visit in Colorado, things to do, and must-see attractions in Colorado's major cities and its various national parks.
About Colorado
Home to majestic mountains and fast-growing, trendy cities, Colorado is one of the best states to visit. Its capital, Denver, is often called the "Mile-High City", since it sits one mile above sea level.
With four national parks and a whopping 26 ski resorts, Colorado is an adventure-lovers paradise. 
Quick Facts about Colorado
Capital City: Denver
Established as a state: August 1, 1876 | 38th State
Population: 5.8 Million
National Parks: Mesa Verde, Great Sand Dunes, Rocky Mountain, Black Canyon of the Gunnison
State Flower: Blue Columbine
State Bird: Lark Bunting
Known as: Colorful State or the Centennial State
Culture in Colorado
Colorado is often thought to be one of the more liberal states in this region of the United States.
It was the first state to legalize recreational marijuana. So, it should come as no surprise that marijuana tourism is an actual thing in Colorado. In fact, the city of Denver is often called the Amsterdam of the USA. But, the state is hardly defined by this one recreational activity.
More so, it is defined by its gorgeous landscapes and countless outdoor activities like hiking, skiing, mountain biking, and wildlife spotting.
It is considered one of the healthiest and most active states, with 80 percent of Colorado residents surveyed reporting regular exercise.
Topography
Colorado is a playground for mountain lovers. In fact, mountains in Colorado cover an area six times the size of Switzerland.
Aside from mountains, rivers, lakes and wildlife are abundant in the Colorful State. Its scenic landscapes and varying topography are what give the state its nickname.
The Top Colorado Bucket List Experiences
With so many beautiful places to visit in Colorado and so many Colorado Bucket List experiences, you could spend months exploring the eighth largest state in the United States and not get bored.
While there are hundreds of fun and exciting things to do in Colorado, there are a few that should be on everyone's bucket list for Colorado.
See the ruins at Mesa Verde National Park
Mesa Verde is one of the most fascinating national parks in the United States, and the only national park to receive its designation due to its man-made wonders rather than natural ones.
The 52,000-acre park is home to more than 5,000 archeological sites, including impressive cliff dwellings built by the Pueblo Indians, more than 600 years ago.
The largest and most remarkable of the dwelling, The Cliff Palace, is the crown jewel of the park. At one time, it is believed that approximately 100 Pueblo people lived in the palace built into the side of a cliff.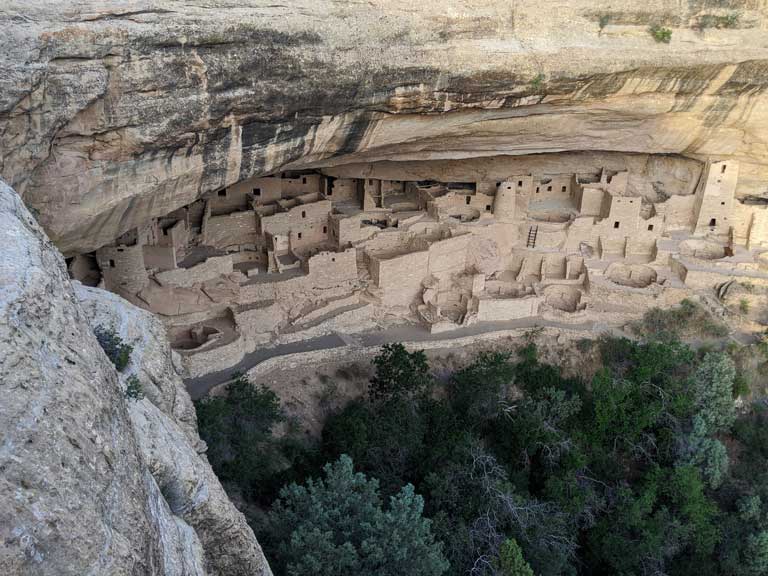 Aside from seeing the ancient ruins of the area's original indigenous settlers, there are other things to do in Mesa Verde, including hiking, camping, and star gazing.
Located in southwest Colorado, it is the perfect addition to any southwest USA road trip and a must on your Colorado bucket list!
Explore Garden of the Gods
Located in the heart of Colorado Springs, the Garden of the Gods is a popular public park and a National Natural Landmark which is roughly an hour's drive from Denver. Allow yourself plenty of time (3-5 hours) to see it.
The park features approximately 300 sandstone formations, over 21 miles of hiking and walking trails, as well as beautiful views of snow-capped hills in the distance. 
It's crammed with spectacular rock formations, from jagged mountain passes to towering cliffs and canyons of white, pink, and red sandstone.
In Garden of the Gods, you can take a guided hike or even go horseback riding or ride segways through the park. Hikes at the Garden of the Gods are ideal for taking photos and enjoying Colorado's fresh air, thanks to its jagged rock formations, diversified terrain, and stunning vistas of Pikes Peak Mountain.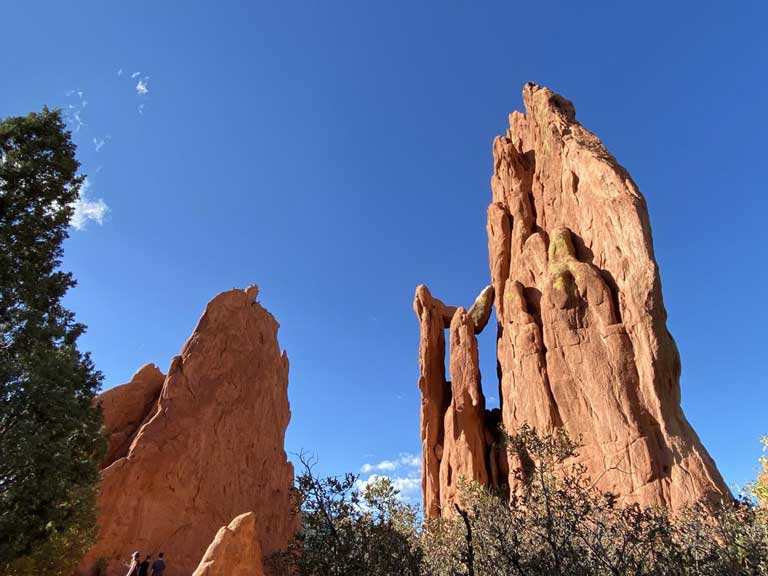 Garden of the Gods is open all year and is stunning regardless of the season. Above all, there is no entrance fee in the Garden of The Gods.
If you are looking for an affordable weekend vacation, Garden of The Gods must be included in your Colorado Springs itinerary.
You can take a break from all the physical exertion by visiting the visitor center, which features Native American artifacts as well as floral and animal exhibits. Then step out onto the balcony for some of the most breathtaking Rocky Mountains and Pikes Peak vistas.
There's even a Geo-Trekker Theater to show you how these cliffs came to be so colorful!
Recommended by Trijit Mallick from Budget Travel Buff
Go Sandboarding at Great Sand Dunes National Park
Great Sand Dunes National Park is a natural phenomenon that looks almost out of place. Nestled at the base of the Sangre de Cristo Mountains in southern Colorado, this unique park is comparable to a giant sandbox!
Over thousands of years, the distinct wind patterns in the San Luis Valley created massive sand dunes that sit at the bottom of the mountains. 
Although one of the lesser visited national parks in the United States, Great Sand Dunes is a fun place to visit with kids. The massive dunes, which reach heights of 700 feet, are great for sledding and sandboarding.
You'll want to rent a sand sled at the national park, as not all types of sleds will work on the sand. While a lot of fun, climbing the sand dunes after sledding down can be an exhausting feat.
Experience the Immersive Meow Wolf Exhibit in Denver
Meow Wolf is a unique, interactive art exhibit that can currently only be experienced in four places around the U.S: Denver, Colorado, Santa Fe, New Mexico, Las Vegas, Nevada, and a new installation under way in Grapevine, Texas between Dallas and Fort Worth.
Meow Wolf at Convergence Station can be described as a conglomerate of art installations, over 70 in fact, that were created and collated by local artists.
Visitors can expect to have all of their senses overwhelmed by music and sound effects, light shows and other visual effects, and art pieces and statues covering every surface.
An underlying story and theme woven through many of the art installations is the concept of entering the "Multiverse" – another universe that visitors explore and can interact with, including collecting "memories" of art works and revealing background information on some of the artists.
Some top tips for visiting Meow Wolf in Denver include allowing yourself 2-3 hours to explore Convergence Station and booking tickets in advance, especially for weekend entry times.
Parking is limited, especially during Denver Broncos football matches, so save the headache by taking a ride share car or public transit. Tickets should be purchased in advance with discounts available for Colorado residents with valid ID.
Recommended by Erika from Erika's Travelventures
Spend a Night at the Historic and Haunted Stanley Hotel
Another awesome Colorado bucket list experience, the Stanley Hotel in Estes Park is a must-visit for those who love ghost stories or Stephen King books.
The Historic Stanley Hotel is considered the most haunted hotel in Colorado if not in all of the United States.
In fact, it was the inspiration for Stephen King's famous novel-turned-horror-movie, The Shining. The movie plays on a continuous loop on Channel 42 in the hotel.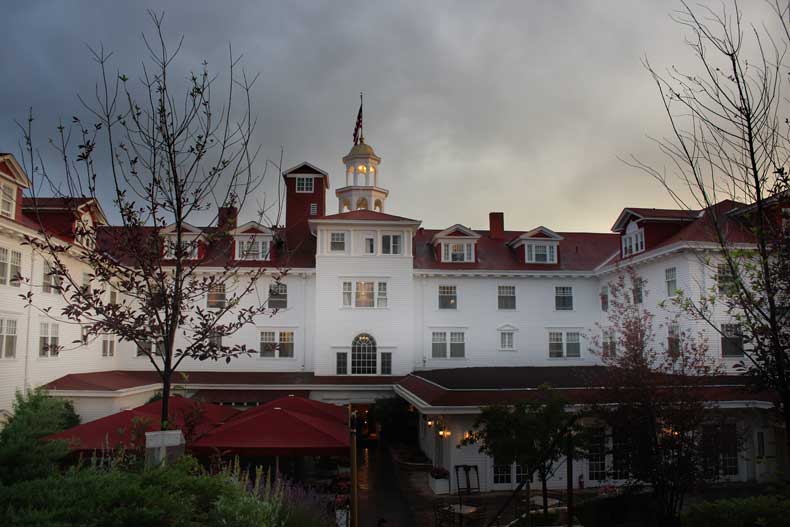 But don't let the ghosts scare you off! Although many have reported paranormal activity in the hotel, none of the ghost  encounters guests have claimed to have while staying at the hotel are particularly threatening.
The hotel also does not have a dark past that would lend itself to sinister paranormal activity either. It is actually a lovely historic hotel and a great place to stay while exploring Estes Park.
Whether you book a room at the Stanley Hotel, or simply book one of the hotel's guided ghost tours, the Stanley Hotel offers you a chance to experience the eerie side of Colorado.
Hike a 14er
Colorado is home to 58 "14ers", or mountain peaks at an elevation greater than 14,000 feet, the highest concentration of any state in the U.S. Tackling one of these high altitude peaks deserves a top spot on any Colorado bucket list!
While all 14ers are more challenging than your typical hike due to the thin oxygen available at high altitude, they vary quite a bit in terms of difficulty, with some requiring technical mountaineering skills and equipment to summit and others reachable via non-technical trails.
Before attempting a 14er, it's recommended that you acclimate at high altitude for at least a week to give your body time to adjust. Even if you're in great hiking shape, summiting a 14er will have your lungs burning and legs aching!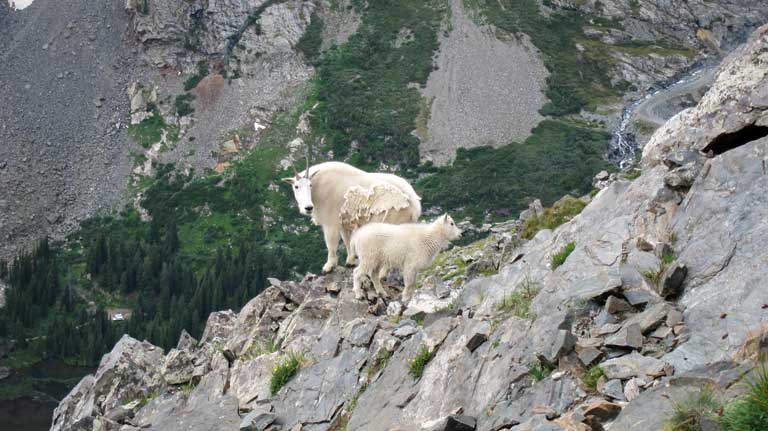 Located near Breckenridge in the White River National Forest, Quandary Peak is a great choice for tackling your first 14er.
The hike gains 3,300 feet over just 3.3 miles up to the summit, making for a challenging and steep trek. However, no technical skills are required to reach the stunning 360-degree views from the peak.
Another popular choice is Grays and Torreys Peaks in the Arapaho National Forest, an 8-mile round trip hike gaining 3,600 feet of elevation that includes two 14ers on one trail!
Recommended by Sarah & Matt from Two Outliers
Riding the Pikes Peak Cog Railway
A can't-miss Colorado experience is riding The Broadmoor Pikes Peak Cog Railway. This train starts in Manitou Springs and takes you all the way to the top of America's Mountain.
The trip takes about three hours. You'll get forty minutes at the summit, which might seem like a lot, but by the time you take a bathroom break and refill your water bottle, you'll want every minute to explore outside.
A walkway circles the peak, and there are several interactive signs that tell you about the history and geology of the area.
What about their famous doughnuts? A staff member advised skipping them and going straight for the views.
Be sure to drink lots of water; dehydration is one of the leading causes of altitude sickness and you'll gain about 6,000 feet in elevation in a short time.
It's worth noting that the train may not reach the summit. If that's the case, you can choose to take a shorter ride and get a partial refund, or you can go another day.
The Broadmoor owns the Cog Railway, so what better place to stay than the historic resort. Not only are the lodgings luxurious and the on-site restaurants spectacular, but the location also makes it a great home base for exploring the area.
Recommended by Theresa from The Local Tourist
Hike in Rocky Mountain National Park
Rocky Mountain National Park should be part of any Colorado bucket list. It is one of the best National Parks to visit in the country and has a ton of awesome hiking trails and scenic drives.
It is conveniently located about an hour and a half from Denver and is a very easy drive. 
Plan to spend a minimum of two days exploring the park, especially if you want to both hike and take the scenic drives. Rocky Mountain National Park is best visited in the summertime as all areas of the park will be open.
For those into hiking, make sure to hike the Emerald Lake Trail. This 4.2-mile hike takes visitors past four different lakes and multiple scenic viewpoints.
Hikers will also want to hike the 2.8-mile Bierstadt Lake Trail for the best views of the park. Alberta Falls is another easy 1.7-mile hike you can add to the trip. 
The Trail Ridge Road is another cannot miss in the park that makes Rocky Mountain bucket list-worthy. This 48-mile scenic drive connects Estes Park and Grand Lake, the two towns that border Rocky Mountain National Park. 
To help discover historic sites and attractions in the park, you can purchase an audio guide app that will help make your self-guided tour of the park more immersive and educational.
If looking for great places to eat in the area, make sure to grab some food from Smoakin' Dave's BBQ and Brews, Poppy's Pizza and Grill, and Rock Cut Brewing Company.
Make sure to stay at Murphy's River Lodge as it is super close to the entrance of the park.
Recommended by Francesca from Homeroom Travel
Ski in "Ski Town USA" Steamboat
While Colorado may be home to 26 ski resorts, only one has earned the esteemed title of Ski Town USA. For those who love to strap planks on their feet and glide down mountains of perfect powder, a visit to Steamboat in winter is a must.
Located in the northwest corner of Colorado, Steamboat Mountain Resort, in the town of Steamboat Springs is a wonderful, family-friendly ski resort with snow so smooth it's coined its own popular ski term – champagne snow. 
The mountain is a great place to learn to ski or snowboard. Whether you're teaching toddlers to ski or learning as an adult, this mountain h
s lots of gentle terrain, as well as daring runs for expert levels only. No ski town in the United States has produced more winter Olympians than Steamboat, thus the reason for its title " Ski Town USA". 
Hike Blue Lakes Trail
The Blue Lakes Trail in Colorado has some of the most stunning scenery in the whole state, featuring a turquoise colored lower blue lake and two upper lakes with crystal clear water. The colors of these lakes are amazing.
This hike is located near Ridgway, Ouray, and Telluride, so you can base yourself in any of those places.
The main trailhead is about 45 minutes of driving from Ridgway, 1 hour from Ouray, or 1.5 hours from Telluride. The difficulty of the hike ranges from moderate to hard, depending on how far you go before turning around.
Most people only hike to the lower blue lake since it's the most beautiful lake in the trio and relatively quick to reach.
You can hike to the lower blue lake in just 1.5 hours, and the distance from the trailhead is about 3.5 miles. If you go all the way to the upper lake, it's a strenuous hike that takes at least 2.5 hours and a one way distance of 4.5 miles.
Overall, the Blue Lakes Trail is a very manageable hike with spectacular payoffs, making it one of the most beautiful day hikes in Colorado!
Recommended by David & Intan from The World Travel Guy
Drive the Million Dollar Highway
The Million Dollar Highway is a 25 mile stretch of Highway 550 running from Ouray to Silverton that is one of the most dangerous roads in the world.
The highway twists and turns through the Uncompahgre Gorge, 11,000 feet above sea level high up in the San Juan Mountains.
Most of the road has no guardrail in place, so proceed only if you crave adventure! You will experience hairpin turns, steep cliffs, and sheer drop-offs along the way.
The highway climbs over three incredibly high mountain passes, with travel trailers, motor homes, and semi-trucks barreling around you. 
Noted to be one of the best scenic drives in the U.S., you must add this drive to your Colorado bucket list! Listen to an audio guide to make the drive even more enjoyable! The road is open year-round but in winter chains are likely to be required.
There are various claims about how this section of the highway got its name. Some say it was named for the million-dollar views, others claim the nickname stuck after people said they wouldn't drive on it for a million dollars.
The highway begins just south of Ouray, a little mountain town in Colorado known as the "Switzerland of America". This is a great place to stay if you are planning a trip along the Million Dollar Highway, with several natural hot springs to soak in after your exhilarating drive!
Recommended by Erin from Super Simple Salty Life
Go on the Daring Canyon Swing at Royal Gorge Bridge
A unique bucket list activity in Colorado is riding the Royal Rush Skycoaster at Royal Gorge Bridge & Park!
Canyon swinging is an extreme adrenaline activity. The Royal Rush Skycoaster is perched on the edge of the Royal Gorge. Riders are winched 100 feet up to the top of the tower, before you pull your own release cord experiencing a 50mph free fall.
It swings out over the canyon, putting riders 1200 feet above the Arkansas River and amazing views.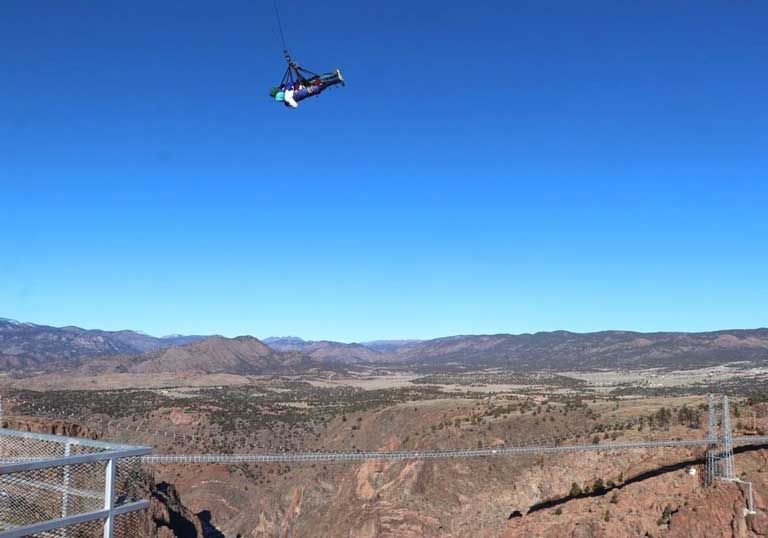 The Skycoaster has an additional fee on top of entrance to Royal Gorge Bridge & Park. Depending on the number of riders, prices for the Skycoaster start at $35. It can also be bought as an additional combo ticket for $70, which includes a ride on the Cloudscrapper zipline.
The main entrance fee includes a ride on the aerial gondolas across the gorge, a video showing the history of the park in the Plaza Theater and a walk back across America's highest suspension bridge.
Royal Gorge Bridge & Park makes a great day trip from Manitou Springs, which is around 1 hour away. There are lots of accommodation options, places to eat and things to do in the area!
Recommended by Kylie from Between England & Iowa
Explore Black Canyon of the Gunnison National Park
Black Canyon of the Gunnison National Park was created over millions of years by the Gunnison River. The canyon walls are incredibly narrow and divide the park into the primitive North Rim and more developed South Rim.
At the narrowest point, only 1,100 feet separate the rims. 
For a one-day visit, check out the South Rim. Drive along the 7-mile South Rim Drive. Stop at the overlooks and hike some of the trails. The 2-mile Rim Rock Nature Trail is a must.
To see even more of the park, drive to the North Rim. It is less visited and offers some of the most impressive views of the canyon. There are multiple overlooks and a few hiking trails to explore.
This national park has plenty to offer adventure seekers, too. Pick up a wilderness permit and hike the inner canyon, rock climb one of the routes of Black Canyon, or kayak the Gunnison River.
Black Canyon of the Gunnison National Park is located in Southwest Colorado near Montrose and costs $30 for a 7-Day pass.
There are campgrounds at both the north and south rim. For more modern convenience, stay at one of Montrose's numerous hotels or vacation rentals.
Recommended by Caitlin from Twin Family Travels
Hike to Rattlesnake Arches
A hike to Rattlesnake Arches is an adventure every outdoor lover should put on their bucket list.
Located in western Colorado, Rattlesnake Canyon is a scenic area within the Black Ridge Canyons Wilderness. It is a natural wonder near Grand Junction and Fruita.
The exciting thing about this place is that it contains nine natural arches. More rock arches you can only find in Arches National Park in Moab, Utah.
They are impressive because they are close together and huge. When you get to the arches and see how Mother Nature hollowed these arches into the scales, you admire these geological features as works of art.
But it's not easy to get there, so be prepared for a strenuous all-day hike. The terrain is deserted. Take plenty of water and snacks, and wear sunscreen and sturdy shoes.
Also, the road to the trailhead is unpaved and open seasonally and should only be traveled in a high-clearance, four-wheel-drive vehicle. You can access the Black Ridge access roads via the adjacent and famous Colorado National Monument.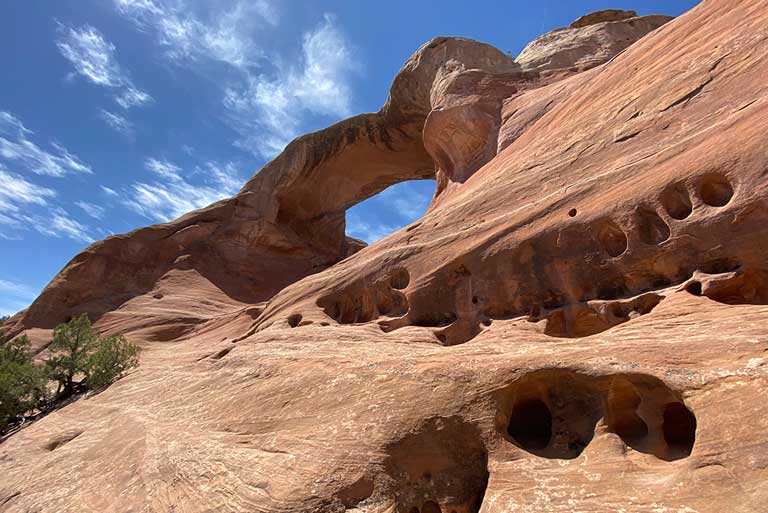 Once you reach the parking lot, head out on the trail. It's a 3.1-mile moderate route one way. It is not technically demanding. But it is strenuous because there is no shade or water in the area.
However, if you do not have a 4-wheel drive car but want to see the arches, you can go to Pollock Bench Trail. But from this point, you will have to hike 14 miles round trip. So it's more strenuous and challenging as you need a lot of water.
Therefore, it is best to start the trail early in the morning to avoid the heat.
Recommended by Agnes from The Van Escape
Rafting the Animas River
Colorado is home to the Animas River, a popular destination for rafting and kayaking. The river is fed by the melting snow of the nearby mountains, and it flows through a picturesque gorge before emptying into the San Juan River.
The Upper Animas River is more challenging and offers Class III-V rapids. This 26 mile stretch is for the extreme adventurers.
Many people run the Upper Animas on a 1-3 day trip through Rockwood Gorge, the Silverton section and the Needles section.
This trip is advanced and gets more difficult as the water level gets lower in summer. Trips range in price from $450 per person for a one day trip to $900 per person for a 3 day trip.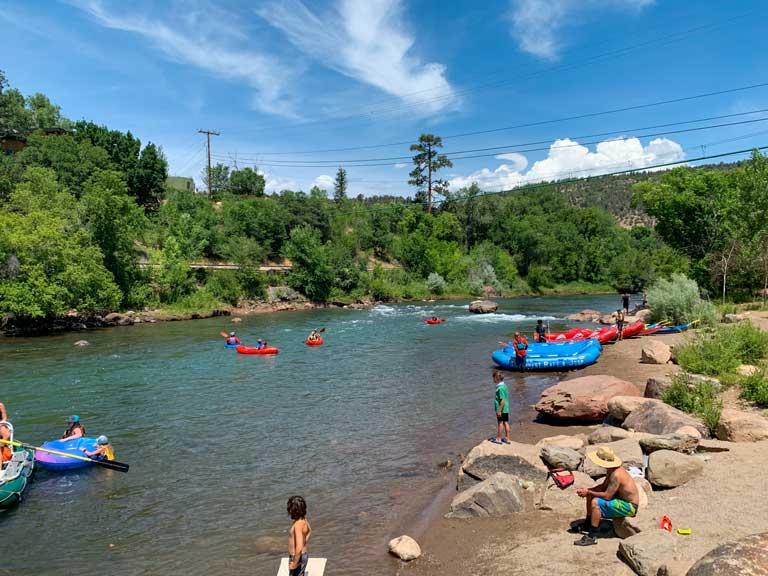 A great family option is the Lower Animas River running through Durango, Colorado with Class I-III rapids and plenty of float time. Choose a ½ day trip in a group raft (ages 4+) or inflatable kayaks (ages 11+).
The kayaks increase the adventure, allowing you to maneuver the river on your own. It is also done as a tour with a guide. The Lower Animas ½ day trip is less than $100 per person. The Holiday Inn Express Downtown Durango is conveniently located for an Animas adventure.
Whether you're looking for an adrenaline-pumping Colorado bucket list adventure or a relaxing float trip, the Animas River is sure to provide it.
Recommended by Jenifer from The Evolista
Soak in one of Colorado's Hot Springs
Visiting hot springs in Colorado is one of the best activities in the Colorful State.
Not only is it a perfect way to soak in the healing mineral waters after a day of hiking and spending time outdoors, it's also a perfect opportunity to see less explored corners of Colorado, as some of the best hot springs in the state are located well off the beaten track.
It's a perfect way to escape the crowds and enjoy the spectacular Colorado scenery, especially during summer.
Luckily, with many hot springs located near Denver and Colorado Springs, you don't have to drive too far. One of the best hot springs in Colorado is located in Buena Vista, a small town just under 2 hours away from Denver.
Cottonwoods Hot Springs offers an on-site hotel and several pools with hot water, open 7 days a week.  For best experience combine your trip to Cottonwood Hot Springs with other activities in the area like hiking the Collegiate Peaks or exploring the Arkansas River trails.
You'll also find several popular hot springs in the town of Glenwood Springs, which is home to the world's largest hot springs pool.
Recommended by Daria from The Discovery Nut
Ski Vail – Colorado's Largest Ski Resort
When one thinks of the quintessential ski resorts, Vail is often one of the first to come to mind.
Often considered one of America's best ski resorts, the resort founded 70 years ago is often thought of as the playground of the well-heeled. The resort is huge with 195 trails over several peaks including their famous back bowls.
Skiing Vail is something special, each area feels about the size of many other ski areas in the country.  Be sure to spend time in the bowls when the snow is right and take a trip over to Blue Sky Basin for some incredible runs that feel a world apart from the rest of the resort.
The town too has a lot of charm to it as well. Much of the resort area is given a feel of old Swiss ski towns as well which makes you feel a world apart from the Colorado mountains.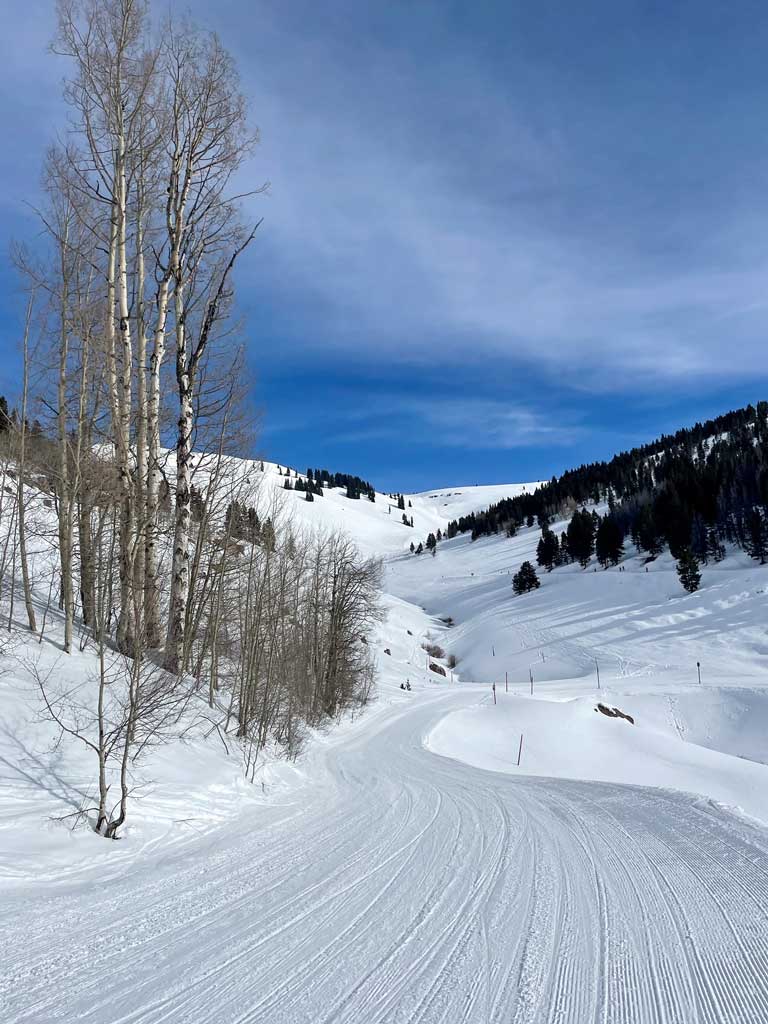 Daily lift tickets are expensive. However, for those looking for more skiing, tickets to Vail are also included in the Epic Pass.
Lodging in Vail during the ski season can be prohibitively expensive with rates soaring about $1000 a night at many hotels.
Other nearby towns such as Silverthorne ( located 20 minutes away) may be a good option, although parking at Vail would still run about $30 for the day.
Recommended by Anwar from Beyond My Door
Visit Dinosaur National Monument
Dinosaur National Monument is a really cool Colorado bucket list destination.
Located in the northwest corner of Colorado, Dinosaur National Monument has something for every type of traveler, as it's filled with history, geology, and archeology. All you need is a National Parks Pass for entry!
Start your visit at the Quarry Exhibit Hall, where you'll find over 1,500 dinosaur bones on display, many of which have been left in the rocks so you can see how they were found.
Sometimes, they require you to take a shuttle bus from the visitor center, while other times you may be allowed to drive yourself to the Quarry Exhibit Hall. 
The rest of the monument straddles the Utah-Colorado border, and the drive to Harper's Corner has many pullouts and overlooks so you can enjoy the view down to the Green River below.
There are also petroglyphs on the cliff walls along the park road. If you're feeling extra adventurous, you can even take a whitewater rafting trip through Dinosaur National Monument! 
If you have some time, the nearby town of Vernal, aka Dinosaurland, is a great home base for exploring the Dinosaur National Monument and other nearby attractions.
There are a ton of cool things to do in Vernal, Utah! 
Recommended by Leigh from Campfires and Concierges
Ride the Breckenridge Alpine Coaster
Colorado is an amazing destination for vacation! From amazing hikes, beautiful mountain peaks and scenic drives in Colorado, there's something for every vacation style.
One of the best bucket list experiences in Colorado is riding the alpine coaster in Breckenridge.
Located at the Breckenridge Resort, Epic Discovery, that turns from a ski destination to a fun center in the summertime, it's a fun spot to spend the day. Ride the gondola up 400 feet in elevation to get to the resort. 
The alpine roller coaster is a must-do for young and old – anyone who loves adventure! Younger kids will need a parent to accompany them.
Race down 2,500 feet on the mountaintop while witnessing gorgeous views surrounding you! Twist and turn down at your own speed with hand brakes.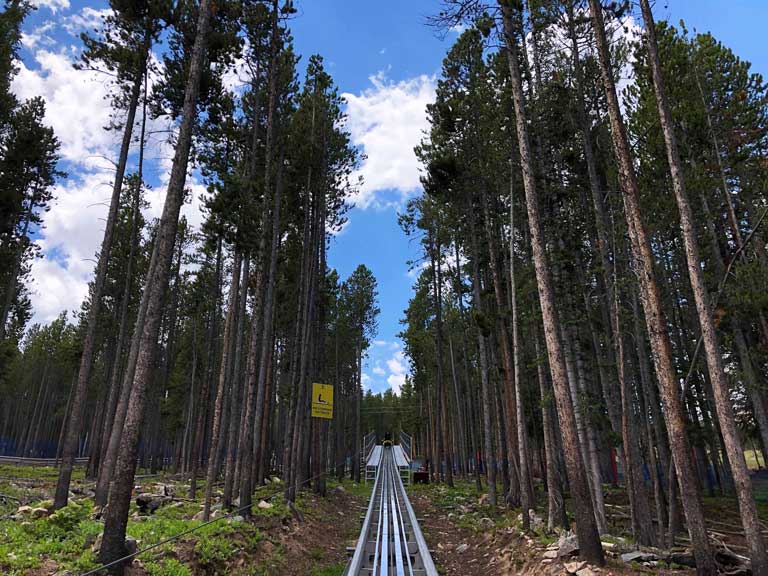 Buying tickets at the Epic Discovery includes activities like a climbing wall, bungee trampolines, scenic chair lift and of course, the alpine coaster. The ride can be a bit pricey, but is well worth it.
You'll want to allow at least two hours to arrive at the resort, purchase tickets and wait in line for the alpine roller coaster. Of course, you could do some other activities including lunch or dinner and make a day of it.
Recommended by Nikki from Inspired Routes
Kayak at Confluence Park
Confluence Park is one of the most popular Urban parks in Denver. It's located downtown, near the South Platte River.
The park presents one of the best kayaking spots in all of Denver due to the custom water chutes. You can rent kayaking gear and tubes from the local Confluence Kayaks shop, which also provides kayaking lessons. 
The water is pretty shallow, so even if visiting Denver with toddlers or young children, it is safe for kids to swim in with supervision. It's the closest thing you'll get to a beach in downtown Denver.
There are bike paths along the area, making it an excellent destination for bicyclists as well.
The family-friendly park has large grassy areas that are perfect for kids to play in. Unsurprisingly, there are a few Denver summer camps that host programs here due to the park's natural beauty and outdoor opportunities it offers children. 
It's open to the public, so there is no cost to enter, and anyone in the area can enjoy the park's facilities, including benches, picnic tables, playgrounds, and restrooms. It's pretty big, so you won't find it too crowded either.
Visitors will find a lot of restaurants in the vicinity to grab some food. There are also plenty of nearby attractions like the Denver Art Museum or the Elitch Gardens that you can check out before or after your visit.
Recommended by Mark from Summer Camp Hub
Climb the Via Ferrata in Telluride
Looking for a truly unique experience to add to your Colorado bucket list? If so then try the Telluride Via Ferrata.
It's conveniently located at the eastern end of the box canyon just below Ajax Peak and can be translated into "iron way" in English.
Therefore, It's a challenging, exposed hiking trail with iron rungs that requires special gear as you make your way along narrow cliff ledges. Because of this, you'll want to visit any time after the snow melts, which is typically between late June and September – making this the perfect thing to do this summer in Telluride.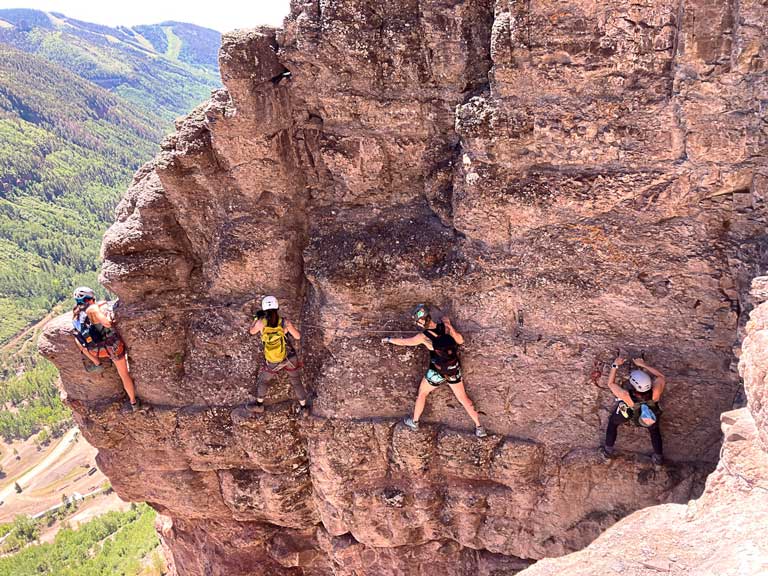 You'll also be traveling across lots of metal. So, keep an eye out for storms and potential inclement weather too. Other than that, just enjoy the sweet sweet views as you dangle from small iron footholds at about 500 feet in the air.
After all, this amazing climb provides visitors with unparalleled views of Bridal Veil Falls, which is known for being the highest free falling waterfall in all of Colorado.
Also plan to spend between 4 and 5 hours here since that's about how long it will take you to complete the route.
And if you don't have a ton of climbing experience, be sure to hire a local guide since you definitely need a fair amount of climbing skill to tackle this climb by yourself.
Recommended by Meg from Fox in the Forest
Stand at Four Corners
Have you ever wanted to be in two places at once? How about four? At Four Corners, you can physically stand in Utah, Colorado, Arizona, and New Mexico, at the same time.
This is the only place in the United States where four states meet together in one spot.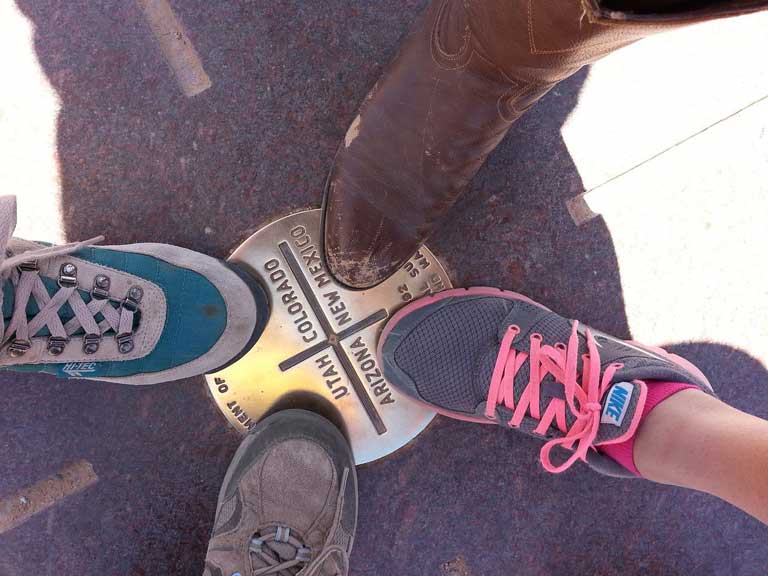 Although there is technically not a lot to do at Four Corners other than stand on the small medallion marker, and visit the gift shop, it is worth visiting if you are traveling through these four states and want to make a slight detour to see where the four states meet.
Feel Fancy in Aspen
Perhaps no Colorado town has quite the esteemed reputation as Aspen. At first mention of the town's name, images conjure of billionaires dining in high-end restaurants then returning to their mansions.
It is true that Aspen is the most expensive ski town in America. But you don't have to be wealthy to enjoy spending time in this posh resort town. 
In fact, a trip to Aspen with kids can be a memorable and fun vacation even if you aren't part of the top 1% (or anywhere close).
The mountain town draws all types of visitors, from extreme snowboarders wanting to try out the steep runs and chutes at the intimidating Aspen Mountain Resort, to families enjoying the gentler terrain at nearby Snowmass.
Whether you want to walk through the town and shop in swanky boutiques, join a guided walking tour, or sit mountainside and enjoy an ice cream or a drink at a resort restaurant, Aspen is a Colorado bucket list experience for all.
Drink a Craft Beer Brewed in the Rockies
Colorado is a bucket list state for craft beer lovers! Although the state's largest and most famous brewery, Coors Brewing in the town of Golden, is far from a craft brewery, the state has more than 400 established craft breweries.
If you love to sample local flavors and experience the local atmosphere through your taste buds, visiting one of the craft breweries in Colorado is a great way to do so. 
With many of them in Denver, in it's easy to join a craft brewery walking tour to sample multiple microbreweries in a just a few hours.
If you can't make it to one of the breweries, don't worry! You'll find lots of craft beers to choose from at basically any restaurant, pub, or establishment that sells alcohol.
Our personal favorites? Check out Avery Brewing in Boulder or Elevation Beer Company in Poncha Springs. 
Catch a concert at Red Rocks Amphitheater
One of the places that simply must be on your Colorado bucket list is the Red Rocks Amphitheater!
Located about 30 minutes away from Denver in the town of Morrison, CO, Red Rocks is considered one of the best outdoor music venues in the entire country.
Red Rocks Amphitheater enjoys a perfect location that creates a natural feeling of being nestled in a bowl of reddish-brown boulders.
The venue is iconic for its huge slab rock to the side of the seating area and hundreds of rows of seats that lead downwards towards the stage. This view is what makes Red Rocks so iconic!
You can visit as part of a guided day trip from Denver including other sites in the Denver foothills, visit it independently with public transportation or a rental car, or you can experience it in the best way possible — by seeing a show there, the way the venue was intended to be experienced!
Virtually every big name artist has played at Red Rocks since the venue opened in 1941, from the Beatles to Jimi Hendrix to Jethro Tull to the Grateful Dead to Rush.
Most people who visit Red Rocks Amphitheater for a show choose to stay in Denver, but you could also stay in other nearby areas like Boulder or Golden.
Recommended by Allison from Eternal Arrival
Like it? Pin this Colorado Bucket List to start planning your adventure!
Ready to start planning your Colorado bucket list trip? Have a question or comment about any of these places to visit in Colorado? We'd love to hear from you. Leave your thoughts in the comments below!