Thailand is known as the "Land of Smiles," and this beautiful country will definitely leave you smiling. With its ancient traditions, natural beauty and delectable cuisine, the country appeals to so many different types of travelers – from history lovers, nature enthusiasts, foodies, and families visiting Thailand with kids.
With a diverse range of experiences, such as the bustling street markets and the serene temples, Thailand is a destination that you'll remember for a lifetime. But what better way to commemorate your trip than by bringing home some authentic Thai souvenirs?
Whether you're searching for unique handicrafts, fragrant spices, or stunning pieces of jewelry, we've compiled a list of the best souvenirs from Thailand to purchase on your trip.
In this guide, we explore the best things to buy in Thailand during your trip to the captivating Southeast Asian nation.
Quick Facts about Thailand
Capital City: Bangkok
Predominant Religion: Buddhism
Government: Constitutional Monarchy
Population: 71.6 million
Known as: Land of Smiles
Known for: Food, Elephants, Massage, Nature
17 Best Souvenirs from Thailand to Buy on Your Trip
Every Thailand itinerary should include plenty of time exploring the exciting markets throughout the country.
You'll find lots of inexpensive treasures at the markets that will not only remind you of your unforgettable adventures in this incredible country but will also capture the essence of Thailand's culture and heritage.
Here are 15 things to consider buying in Thailand.
We've also included links to many of these products online, so if you miss your chance to purchase any of these Thailand souvenirs, you can find some of them online.
Fabric Elephants
In the bustling markets of Thailand, baskets in vendor stalls overflow with small, colorful stuffed elephants. These fabric elephants are not only one of the best souvenirs from Thailand, but they're a beautiful nod to the national animal of Thailand.
If you visit one of Thailand's ethical elephant sanctuaries, chances are you will gain a deeper reverence for these majestic creatures and will want to bring home some type of handcrafted elephant souvenir to remember your time in the country.
Often made from vibrant and ornately patterned Thai silk or cotton, these fabric elephants serve as popular and inexpensive keepsakes for travelers seeking a tangible memento of their Thai escapade.
BUY HANDMADE STUFFED ELEPHANTS FROM THAILAND
Hmong textiles
The Hmong people are an indigenous group from Southeast Asia. While you'll find Hmong tribes throughout the region, in Thailand most of the Hmong hill tribes live in the mountainous areas of Northern Thailand, near Chiang Mai.
The hill tribes are known for their beautiful textiles characterized by their vibrant colors, unique patterns, and meticulous handiwork.
One of the best things to do in Chiang Mai is to take a guided tour to visit a hill tribe village,  learn about the way of life and the techniques used by Hmong artisans to create intricate embroidery, batik designs, and appliqué work.
Hmong textiles are not only one of the best souvenirs from Thailand , but purchasing these textiles preserves the Hmong heritage and supports traditional craftsmanship beyond Thailand's borders.
Elephant Pants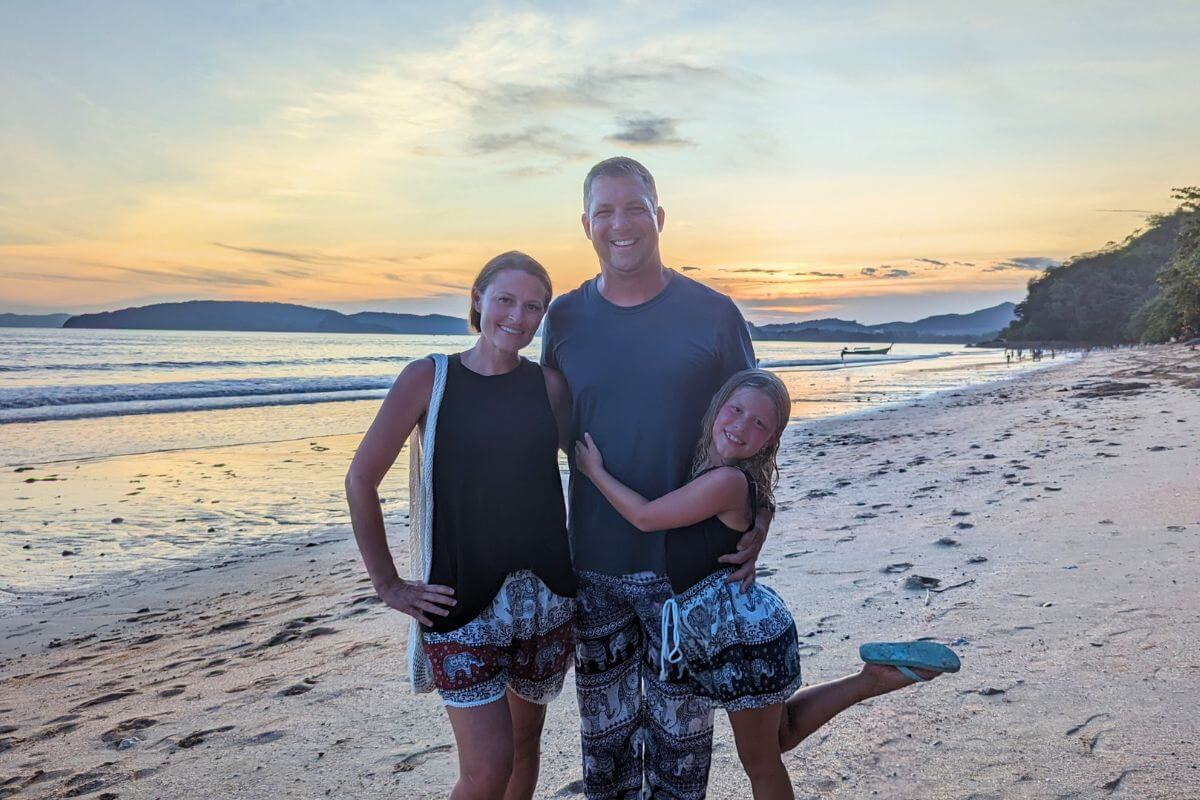 Elephant pants may be considered tourist fashion in Thailand, but you simply cannot avoid buying a pair when you travel to Thailand.
These loose, flowy pants are typically made from lightweight and breathable fabrics, offering both comfort and versatility for casual outings, beach activities, or yoga practices.
Known for their distinctive elephant print designs, these pants often feature a variety of colorful patterns and symbols that reflect Thailand's deep-rooted history living alongside elephants.
You can find elephant pants sold throughout Thailand, at night markets, in shopping malls, and even in many hotel lobbies or outside temples where pants are required.
Buying a pair of elephant pants allows visitors to carry a piece of Thailand's laid-back charm home with them. 
BUY ELEPHANT PANTS MADE IN THAILAND
Curry Paste and Thai Spices
Thai spices and curry pastes are integral components of most popular Thai dishes.
The country's world-famous flavors and aromatic appeal are created by herbs and spices, including lemongrass, galangal, kaffir lime leaves, and Thai chilies. These seasonings play a pivotal role in creating the complex, multidimensional taste profiles that define Thai food.
A trip to Thailand may very well inspire you to learn how to recreate their culinary offerings at home. Whether you take a cooking class in Thailand or order a Thai cookbook, you'll want to buy Thai spices and some Thai curry paste while you're in Thailand. Because, let's face it, the authentic spices sold in local markets are so much better than what you'll find back home. 
Similarly, Thai curry paste is available in a variety of colors and spice levels in Thailand. It makes for one of the best souvenirs from Thailand if you want to bring home the authentic flavors of Thai curries, recreating dishes such as the fiery red curry, the aromatic green curry, and the milder yellow curry. 
Hand-Carved Soap
Hand-carved soap is a unique and exquisite art form in Thailand that has gained popularity among tourists seeking authentic and unique souvenirs.
While fragrant, this isn't soap you will actually use. It is more of a decorative souvenir that reflects the beauty of the Southeast Asian country. Skilled artisans meticulously craft these delicate soaps, intricately carving them into elaborate local flowers.
The process involves using traditional carving tools to create intricate designs, resulting in a stunning yet small and realistic work of art.
These hand-carved soaps showcase Thailand's rich artistic heritage and craftsmanship.
Each soap comes in its own small hand-painted or hand-carved container.
Thai Silk
Thai silk has long been revered as a symbol of Thailand's culture and contribution to the fashion world.
Derived from the cocoons of Thai silkworms, this luxurious fabric is meticulously handwoven using ancient techniques passed down through generations.
Its shimmering appearance and soft, smooth touch have made it a sought-after material for an array of exquisite souvenirs and keepsakes thanks to its timeless appeal.
From elegant scarves and traditional clothing such as dresses and shirts, buying something made from Thai silk can be a beautiful souvenir or gift from Thailand.
BUY A TRADITIONAL THAI SILK DRESS OR A SILK SCARF FROM THAILAND
Earrings / Jewelry
Thai handmade macramé earrings are one of the best souvenirs from Thailand for women. Unique and fashionable, this is a stylish souvenir that has been crafted with intricate knots and delicate patterns.
Artisans use a variety of materials, such as vibrant threads, beads, and natural elements, to create colorful designs and patterns.
With their lightweight feel and eye-catching aesthetics, these macramé earrings not only add a touch of Thailand to any ensemble but also serve as wearable pieces of art that will remind you of Thailand every time you wear them.
BUY MACRAME EARRINGS FROM THAILAND
Handbags
Shopping for handbags in Thailand is a great way to pass time at the markets in places like Bangkok and Chiang Mai.
The country's artisanal scene provides so many great opportunities for Thailand souvenirs. 
Boutique stores and market stalls often have beautiful handbags in a variety of sizes hanging along the walls and from the ceiling. 
From bags made from woven natural fibers, to colorful textiles, and bags embellished with intricate embroidery, each handbag tells a story of Thailand's diverse culture.
As a bonus to buying a handbag as a souvenir, is that you can use it to carry even more Thailand souvenirs!
BUY A HANDBAG MADE IN THAILAND
Thai Umbrella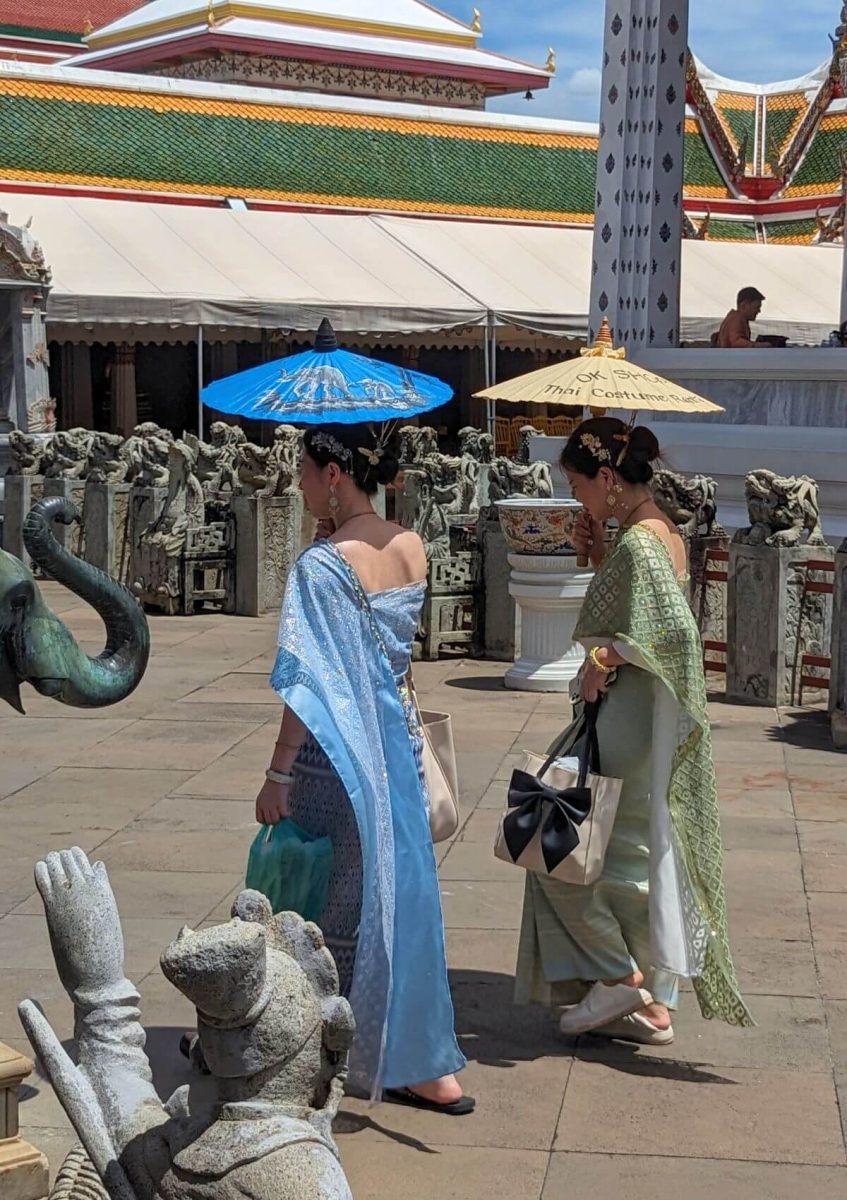 Thai umbrellas are beautiful souvenirs from Thailand that once held a very practical purpose, providing shade from the intense sun and heat in Thailand.
The hand painted umbrellas are often adorned with elaborate depictions of traditional Thai motifs, such as graceful elephants, vibrant blossoms, and scenes from local folklore.
Whether displayed as ornamental pieces or utilized as functional accessories, Thai umbrellas effortlessly infuse spaces with a touch of Thai elegance and cultural charm, making them an ideal keepsake for travelers seeking to carry on Thailand's history in a tangible way.
BUY A HAND-PAINTED THAI UMBRELLA FROM NORTHERN THAILAND
Wood Carvings and Gemstone Carvings
Created in artisan workshops and local homes, then sold at markets, wood crafts and exquisite gemstone carvings are popular things to buy in Thailand.
From delicate figurines depicting elephants, traditional Thai temples, or intricately carved Buddha statues made from wood or gemstones, these creations showcase incredible talent and craftsmanship.
Visitors to Thailand can also find intricately detailed teakwood panels featuring elaborate floral motifs and mythological scenes, serving as captivating decorative pieces for homes and businesses alike.
Muay Thai boxing shorts
Often referred to as Thai Boxing, Muay Thai is a popular combat sport in Thailand. Similar to western kickboxing, Muay Thai fighters can strike their opponent with more than just their fists. They can use elbows, shins, feet, and knees in this form of martial arts.
Muay Thai boxers are known for their distinctive shorts that are often adorned with flashy designs, Thai symbols, and bold colors.
The shorts are specifically tailored for the rigorous movements and high kicks characteristic of Muay Thai, the national sport of Thailand. They are typically shorter than regular shorts, they allow for unrestricted movement and flexibility.
Although the sport of Muay Thai is popular throughout the country, the popularity of the iconic shorts extends beyond the realm of sports. Tourists often buy them as souvenirs from Thailand and gifts to take home to family or friends.
BUY AUTHENTIC MUAY THAI SHORTS
Hammock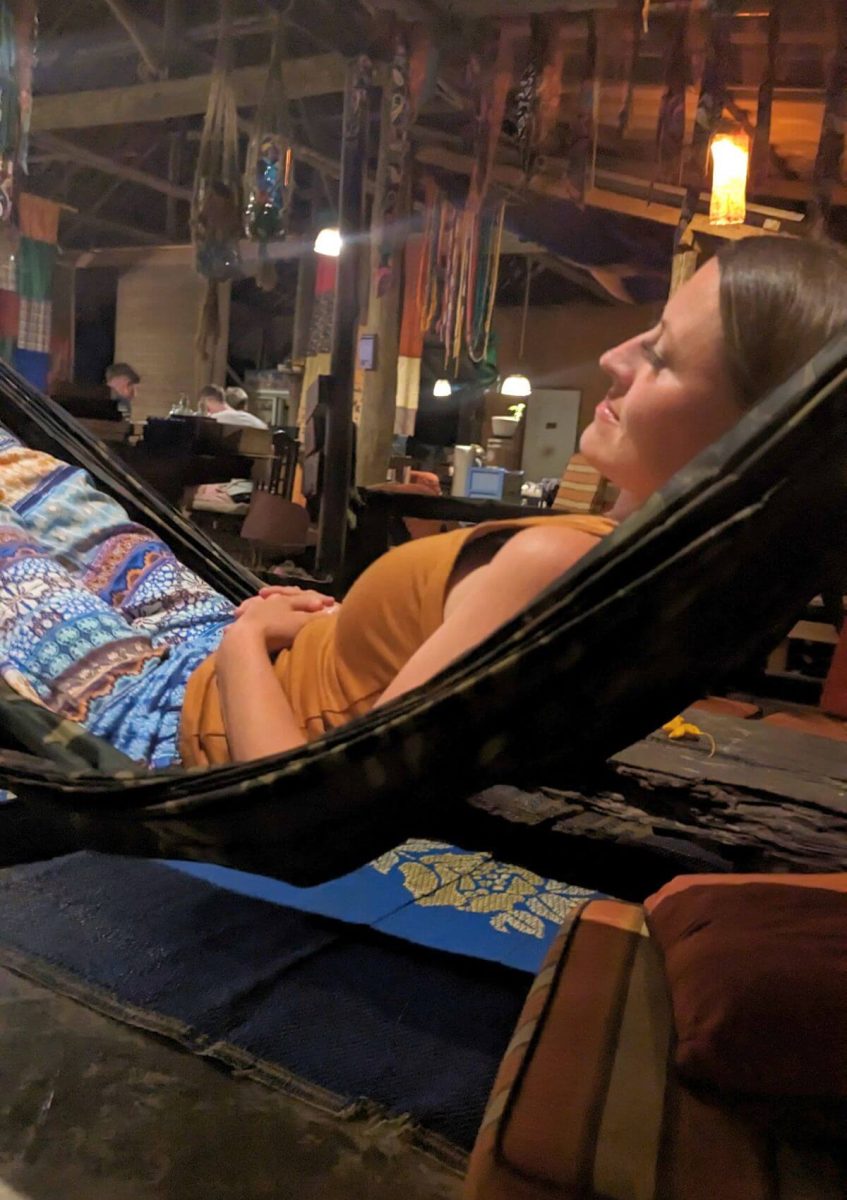 If you want to bring home the laid back vibe from the beach town of Krabi or the bohemian village of Khao Sok, a hammock may be the perfect souvenir from Thailand.
More than just a comfortable resting place; a hammock embodies the spirit of the country's leisurely lifestyle in the tropical country.
Woven with meticulous care by skilled artisans, these hammocks showcase the perfect blend of functionality and artistry.
Crafted from natural materials like cotton or woven plant fibers, hammocks from Thailand make a cherished addition to any home or outdoor space.
You'll be hard pressed to find a hammock made in Thailand online, so this is one of those souvenirs you'll have to buy there. F0or that same laid back appeal, buy a handmade yoga mat bag made by women in the Hmong hill tribe, which makes for a great gift for the yogi in your life.
Spa products
One of the things Thailand is most known for is Thai massage techniques.
Renowned for harnessing the restorative power of traditional wellness practices, Thai massage offers a rejuvenating and holistic healing experience.
Inspired by ancient Thai healing rituals and herbal remedies, there are a few spa products that incorporate locally sourced herbs, aromatic essential oils, and soothing botanical extracts that promote relaxation, detoxification, and skin rejuvenation.
The art of Thai massage was first developed at Wat Pho Temple – one of the best places to visit in Bangkok. You can still get a Thai massage from the massage school at the complex, and even buy massage and body balms that fuse together menthol, eucalyptus, peppermint oil, and other natural elements.
These self-care spa products are believed to have therapeutic benefits and can aid in pain relief and reduce inflammation.
Thai Snacks
Thailand may be best known for its delicious meals, there are a slew of Thai snacks that are delicious and worthy of bringing home from your trip.
Stop by a 7-11 or convenience store and peruse the aisles for whatever looks appetizing to you.
From potato chips in flavors that you won't find at home, to packaged noodles, and cookies and candies that are unique to Southeast Asia.
If you're visiting Thailand with kids, your young children will love picking out and trying the new snack foods that you don't have at home.
Coconut oil
Purchasing coconut oil products as a souvenir from Thailand brings a token of the country's tropical abundance home.
Renowned for its myriad health benefits and versatile applications, organic Thai coconut oil is extracted from coconuts grown in the country.
This multipurpose oil is celebrated for its moisturizing properties, its ability to nourish your skin means it is a popular ingredient in Thai skin care products and lip balms. It is also used in many culinary dishes.
Rich in nutrients and lauded for its anti-inflammatory and antibacterial properties, Thai coconut oil serves as a cherished souvenir that embodies the essence of Thailand's wellness culture that you can incorporate into your daily routine.
Thailand Magnet
Ok, so this may not be a unique souvenir, but a magnet is one of the most popular souvenirs from Thailand purchased by visitors to the country.
Magnets are small, inexpensive and easy to bring home in your carry-on bag or purse. Invest in a magnet board and proudly display your magnets from all of your travels from around the world.
Bonus Thailand souvenir for the most adventurous traveler
While many of the best souvenirs from Thailand can be given as a gift or taken home and used, there is one Thailand souvenir that you must permanently display on your body. However, it is one of the most unique souvenirs from Thailand that you could possibly get.
Sak Yant Tattoo
A traditional Sak Yant tattoo holds significant cultural and spiritual value in Thai society. Sak Yant tattoos are typically hand-etched by skilled monks or practitioners, using a metal rod or bamboo stick to inscribe intricate designs, symbols, and mantras onto the skin.
These tattoos often carry powerful spiritual meanings and are believed to offer protection, luck, and various other benefits to the wearer. Each Sak Yant design holds its own symbolism, representing virtues such as strength, wisdom, and prosperity.
Many visitors to Thailand seek out these sacred tattoos not only for their aesthetic appeal but also for the spiritual significance and blessings they are believed to impart.
Don't want to permanently ink your body? You can buy temporary Sak Yant tattoos online. Shhhh… we won't tell.
Where to find the best souvenirs from Thailand
Street markets are often the best place to find Thailand souvenirs. Whether you're perusing the Khao San Road Night Market or shopping for a souvenir at the Chatuchak Weekend Market in Bangkok, it is easy to find unique items to buy in Thailand.
Most areas in the country have local markets where you can shop for the perfect gift. 
For an even more memorable experience head to the Damnoen Floating Market or the Train Market near Bangkok, where shopping takes on a surreal form.
Whatever souvenirs from Thailand you end up buying, you are sure to leave the country with unforgettable memories – because Thailand is one of the best places in Asia for a family vacation.
Have a question or comment about these souvenirs Thailand style? We'd love to hear from you. Leave your thoughts or your own Thailand gift ideas in the comments below.
Like this list of Thailand souvenirs? Pin our Thailand gifts guide to save it for later!
Did you know…
When you make a purchase or book hotels, tours, or other travel services, through our links, we receive a small commission, at no extra cost to you. We only EVER recommend service providers, websites, or products we personally use when booking our own travels. Your support enables us to keep producing helpful travel content. Thank you!