Visiting an elephant sanctuary is one of the most riveting experiences you can have in Thailand. Walking among these gentle giants and interacting with them in a natural habitat is truly unforgettable and almost indescribable – although we're going to attempt to put our extraordinary experience at Into the Wild Elephant Camp into words.
The jungles surrounding the city of Chiang Mai, located in Northern Thailand, are home to dozens of elephant sanctuaries or rescues. Visiting one of them is among the best things to do in Chiang Mai.
The sanctuary Into the Wild Elephant Camp is among the best and most ethical elephant sanctuary near Chiang Mai.
Elephant Sanctuaries near Chiang Mai
A visit to an ethical elephant sanctuary in Thailand promises an experience like no other. You'll find elephant sanctuaries outside Bangkok, Phuket, Krabi, and even lesser visited places like Khao Sok National Park. But the largest concentration of elephant sanctuaries can be found outside of Chiang Mai.
Visitors to Thailand have a responsibility to research and only visit those establishments that abide by compassionate and humane ecotourism practices.
For example, an ethical sanctuary places the well-being of its elephants first – prioritizing natural behaviors over things like elephant riding or having the elephants perform or do tricks for tourists.
You'll also want to ensure the elephants are allowed to roam freely in spacious and enriched environments – rather than being kept in small pins or enclosures.
Look for sanctuaries that offer transparency and do not use physical restraints, like chains or ropes, or use handler tools like bull hooks. The absence of these indicates that the elephants are treated with dignity and respect.
While there are several ethical elephant sanctuaries in Chiang Mai to choose from, Into the Wild Elephant Camp is among the best. In our opinion, it is in the top three best elephant sanctuaries in Chiang Mai.
About Into the Wild Elephant Camp
Located in Chiang Mai's Mae Wang District, Into the Wild Elephant Camp is an ethical elephant sanctuary approximately 1 ½ hours from central Chiang Mai.
There are a lot of different elephant sanctuaries around Chiang Mai, however the extra time and distance it takes to get to Into the Wild Elephant Camp is well worth it.
There are about 5-6 elephants – all female – that live at Into the Wild Elephant Camp. The sanctuary is massive and includes an open valley with a river running through it surrounded by a remote jungle where the elephants forage.
Cost of Visiting Into the Wild Elephant Camp
There are both full day and half day packages you can book at Into the Wild Elephant Camp.
The half day package costs 1,700 baht per adult and 1,200 baht for children 4-9 years old. The price includes transportation from Chiang Mai to the sanctuary, a Thai lunch, plus your activities engaging with the elephants, including feeding, trekking, a mud bath, and a river bath with these graceful creatures.
The full day package is 2,400 baht per person and 1,700 baht per child. Along with the activities in the half day package, you'll also learn how to make herbal vitamin balls for the elephants and spend more time observing them in the natural surroundings.
What a visit to Into the Wild Elephant Camp entails
Because we were visiting Thailand with kids, we opted for the half day package at Into the Wild Elephant Camp and had the most magical experience interacting with and observing their resident elephants.
We not only got to witness these majestic creatures in their natural habitat, roaming freely and wild in a beautiful jungle, but we got the opportunity to learn about the elephants, their history in Thailand, and open our minds a bit to our own preconceived ideas about elephants.
Hotel Pick Up and Transportation
Our day started early, when our wonderful tour guide, Dej, picked us up from our hotel around 6:30 a.m.
We rode in a songthaews (a shared pickup truck with a covered bed and seating) for the 1 ½ hour drive. About halfway to the sanctuary we stopped at a local market where we could grab coffee, food, and use the restroom.
Travel to the Elephant Sanctuary
The road to Into the Wild is curvy and climbs uphill, occasionally making hairpin turns to navigate the steep terrain. You'll pass multiple other "sanctuaries" along the way, where you will see elephants pinned up in enclosures entirely too close to the road and too small for animals of their size.
You'll see an immediate contrast from that once you arrive at Into the Wild Elephant Camp.
Education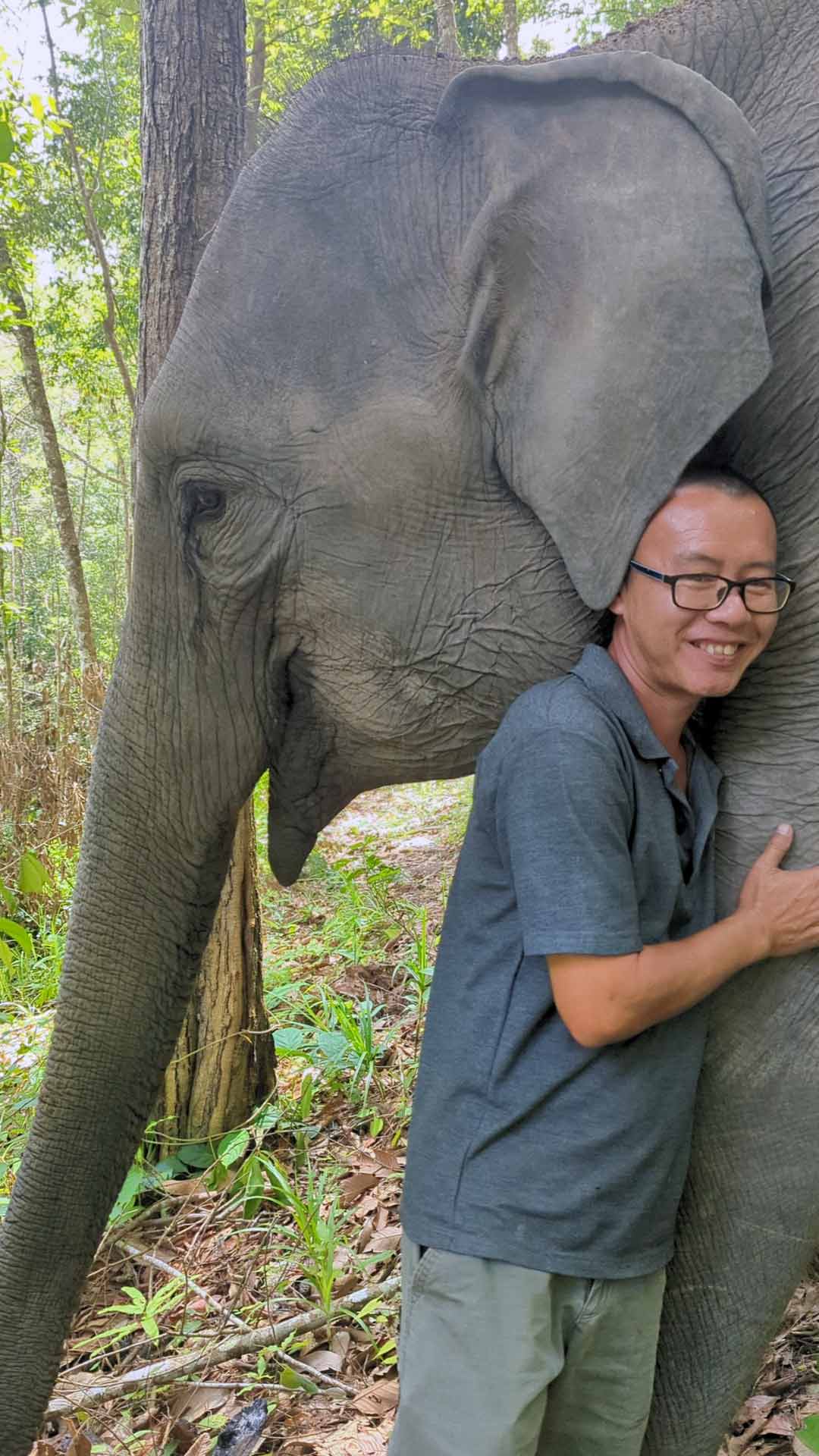 When you arrive at Into the Wild Elephant Camp, the first thing you'll notice is how far off the paved road you will drive. Your guide will turn onto a dirt road that takes you along a bumpy path through a dense jungle that opens up to a valley.
In the valley, you will likely see the elephants freely roaming, grazing, or cooling off in the river. It is a stark contrast to the places you passed on your drive where the elephants were kept in small enclosures by the road.
Once all groups arrive and get situated, you'll have a brief 10 minute introduction and educational presentation by the owner of the sanctuary, Pai.
Pai spoke about Thai culture, and the centuries-long history of elephants basically living and working alongside the Thai people. Many of the elephants were born into a domesticated situation and were raised around humans, depending on humans for food and even protection.
While the elephants did endure hard labor, mainly transporting wood in the logging industry, prior to Thailand banning logging, they were dependent on humans.
Pai asks visitors to keep an open mind and reserve judgment on the Thai people for their previous practices, like elephant riding.
As he explains the longstanding relationship between elephants and humans in Thailand – he asks visitors to his sanctuary to consider why riding other animals – like horses in places like Texas or Wyoming in the USA – or camels in Morocco – does not receive the same level of judgment as elephant riding does in Thailand.
While it did not personally change my mind about the ethicalness of elephant riding, it did make me question my own biases and the ethicalness of horseback riding or camel riding in other countries – both of which I have admittedly done.
Feeding the Elephants
After your brief educational introduction to Into the Wild Elephant Camp, it is time to meet the beloved residents – the elephants.
Pai will call them over and within a few moments you'll see 4-5 massive elephants trotting gracefully over for breakfast.
At this time, they'll line up and visitors will have the opportunity to hand feed the elephants bananas and take photos near the elephants while they eat.
Trekking through the Jungle
After they eat their bananas, it's time for their morning trek through the jungle, where they will eat even more – this time in the form of tree bark.
You'll be offered walking sticks to help you along the uneven path through the jungle. The elephants roam at their own pace, making their own path through the jungle while visitors basically pick an elephant and follow them.
Your knowledgeable guides will point out different leaves and plants in the jungle that are edible. We ate a leaf that tasted exactly like a green apple, tried wild mint, and even ate a red ant that tasted like a lemon!
The guides made the trek more than just an elephant experience – it was an educational journey through Thailand's wilderness.
Mud Bath with the Elephants
After trekking through the jungle for about an hour, it is time for the elephants to cool down with a mud bath.
Mud acts as a natural sunscreen for elephants and helps them to cool down in Thailand's hot climate. When coated in mud, it provides a protective layer that helps prevent their skin from becoming sunburned or overheated.
At Into the Wild Elephant Camp, guests are allowed to get into the mud pit with the elephants and help coat their skin in mud.
The elephants are not forced into the mud pit, or even guided with ropes. Instead, they come into the mud voluntarily and feed on baskets of bananas while they receive their mud spa treatment.
Water Time
There is a shallow river that runs through Into the Wild Elephant Camp. When we first arrived at the sanctuary a few of the elephants were cooling off in the water.
After their mud bath, the elephants head to the water to rinse off and splash around. Guests are invited to go with them and interact with them as they splash and cool off.
When the elephants are done in the water, they get out and roam about the property.
At this time, guests to the sanctuary can go clean up, change clothes, and shower in the provided facilities.
Traditional Thai Lunch
After cleaning up, the group will be presented with a traditional Thai lunch. We had friend rice and fresh fruit.
The food is great and the friendly guides and Pai – the sanctuary owner – eat along with you, further reinforcing the bond that developed over the several hours you spent with them that morning.
After lunch, it is time to say goodbye and head back to Chiang Mai with new memories and new friends!
What to Bring when you visit Into the Wild Elephant Camp
If you plan to visit Into the Wild Elephant Camp sanctuary in Chiang Mai there are a few things you'll want to bring with you.
Here are a few things to pack for your trip to Into the Wild or any other elephant sanctuary.
Swimsuit
Change of Clothes
Towel
Flip Flops
Hiking Shoes
Insect Repellant
Sunscreen
Reusable water bottle (water is provided but you might want your own during the trek)
Thai baht (if you want to tip or buy souvenirs)
Backpack to carry or store your belongings
FAQs about ethical elephant sanctuaries in Chiang Mai
If you plan to add Into the Wild Elephant Camp sanctuary near Chiang Mai to your Thailand itinerary, here are a few frequently asked questions you might have. 
Are elephant sanctuaries in Thailand good for kids?
For those visiting Thailand with kids, an elephant sanctuary will likely be your children's most memorable experience on your trip.
The owner and guides at Into the Wild Elephant Camp are wonderful at interacting with kids. Getting to hang out with and get up close to elephants will be an unforgettable experience for kids of all ages.
Ethical elephant sanctuaries near Chiang Mai are among the top reasons the city is one of the best destinations in Asia for a family vacation.
There are so many other unique experiences in Thailand for families, as well. From taking the sleeper train to Chiang Mai to visiting the floating markets, Thailand is a blast for families.
What are the most ethical elephant sanctuaries near Chiang Mai?
Elephant Nature Park is no doubt the most renowned and strictest elephant sanctuary in Chiang Mai when it comes to human interaction with the elephants.
Elephant Nature Park does not allow elephant bathing or interaction with the elephants except feeding and walking with them. For this reason, they are often considered the most ethical.
Into the Wild Elephant Camp does allow you to bathe and get in the mud with the elephants, however, there are no restraints or force placed on the elephants. They roam freely and walk into the mud and water freely, often receiving treats of bananas.
Additionally, seeing how the handlers interact with the elephants and how the elephants engage back lovingly, we could tell there was a mutual respect and fondness.
Why are there so many elephant sanctuaries in Thailand?
Elephant sanctuaries are very common in Thailand, partially because of the historical and cultural ties to elephants in Thailand.
Elephants have played a significant role in Thai culture for centuries. They were used for various purposes such as transportation, logging, and even in battles.
With the introduction of vehicles, and restrictions placed on logging practices, these elephants – who were raised and lived among humans – couldn't necessarily be returned to the wild.
Enter the tourism industry. Elephant rides became a way for families who owned elephants to make money to care for the creatures who could not be reintroduced to the wild.
In recent years, there has been a global shift in attitudes toward animal welfare, particularly with regard to wild animals in captivity.
As more information became available about the mistreatment of elephants in various tourism-related activities, travelers started seeking out ethical alternatives where they could observe and interact with elephants in a more humane and respectful manner.
Many of the elephants that were privately owned went to sanctuaries where they now live providing more responsible interactions for visitors to Thailand.
Is Into the Wild Elephant Camp an ethical sanctuary?
Into the Wild Elephant Camp is one of the most ethical elephant sanctuaries near Chiang Mai. They prioritize education and promote cultural understanding while caring for the elephants in a respectful and humane way.
The sanctuary provides a safe place for their resident elephants to live happily, roam freely, while also providing visitors to Thailand with a unique experience to interact with these majestic and graceful animals in a way that feels almost surreal.
Conclusion on Visiting Into the Wild Elephant Camp
Ultimately, an ethical elephant sanctuary not only provides an unforgettable and transformative experience for visitors but also contributes meaningfully to the long-term welfare and conservation of these incredible creatures.
At least it does when you visit an ethical elephant sanctuary in Chiang Mai – like Into the Wild Elephant Camp.
We left the sanctuary feeling like we made new friends – not only with the beautiful elephants we spent the day with – but with the humans who care for them.
Looking for other unique experiences in Thailand? Check out the Damnoen Floating Market and the Railway Market outside of Bangkok.
Do you have a question or comment about visiting Into the Wild Elephant Camp or about finding an ethical elephant sanctuary in Chiang Mai? We'd love to hear from you. Leave your thoughts in the comments below.
Like it? Pin this guide to visiting Into the Wild Elephant Camp to save it for later!