Bangkok is a fascinating city. It's busy and chaotic and might take some time to adjust to its fast-paced atmosphere! It is a place where modern marvels merge with ancient traditions and long standing heritage.
The city of more than 10 million people is often the starting point for many travelers wanting to explore Thailand. But with its ancient temples, exciting night markets, and countless street food stalls selling inexpensive, mouthwatering cuisine, you'll need to give yourself at least 4 days in Bangkok to get a feel for this captivating metropolis.
This Bangkok 4-day itinerary takes you on a whirlwind tour of the best things to do in Bangkok and popular nearby experiences to make the most of your time in the lively capital of Thailand.
About Bangkok
Bangkok is a city of stark contrasts. You'll see opulent temples and dilapidated buildings existing side by side. On the same note, grandiose hotels and modern high rise buildings share a street with older homes built with cinder block walls and tin-roofs.
While this contrast may seem off-putting, it simply adds to the fascination of the metropolis, which is one of the world's most visited cities.
Renowned for its budget-friendly street food scene, bustling markets, tantalizing culinary experiences, and exotic nightlife, Bangkok has become a haven for backpackers and digital nomads.
However, if you're visiting Thailand with kids, don't shy away from the vibrant capital city.
It is one of the best destinations in Asia for a family vacation!
Bangkok is home to an array of captivating attractions, from ornate temples and busy, lively districts like Chinatown and Khao San to posh rooftop pools and high-end shopping areas, Bangkok's blend of modernity and tradition add to the city's unique charm and appeal.
Quick facts about Bangkok
Population: 10.72 Million
Currency: Thai baht
Language: Thai
Famous landmarks in Bangkok: Grand Palace, Wat Arun, Wat Pho
Getting Around Bangkok
Bangkok is a massive city, but like New York City, we would not recommend renting a car and driving in Bangkok. Why? For one, driving in Bangkok requires a level of aggressive driving skills that many of us simply do not have.
You'll be sharing the road with tuk tuks and motorcycles that weave in and out of traffic, drive on the shoulder of the road and seem to play by their own traffic rules.
A car accident or even a minor fender bender is enough to ruin a trip. Instead, when you arrive in Bangkok, catch a cab or arrange a private transfer to your hotel.
Do this especially if Bangkok is the first stop on your Thailand travel itinerary because you'll be exhausted from your long international flight and navigating public transportation while jet lagged is not fun. 
For the rest of your 4 days in Bangkok itinerary, you can utilize public transportation or take a tuk tuk – which was our personal favorite way to travel around the city.
Bangkok's transportation system includes a modern sky train and a metro system that connects parts of the city. There is also a network of canal ferries and the Chao Phraya Express boat and tourist boat you can take along the river to get between popular tourist attractions and stops.
Where to Stay in Bangkok for 4 days
As previously mentioned, Bangkok is a massive city. Unlike many European cities where most of the attractions are centrally located in a charming Old Town area, Bangkok is very spread out. However, there are a few areas in Bangkok where you can stay that will conveniently position you near tourist attractions or public transportation.
Riverside District
The Riverside District is perhaps the most convenient place to stay in Bangkok because many of the tourist attractions are located along the Chao Phraya River.
While the attractions aren't all within walking distance to the hotels, you can easily take an inexpensive ferry boat or even a private river taxi to get to the temples and popular markets and shopping areas.
Many of the hotels along the river also have rooftop pools or restaurants which are wonderful places to hang out, cool off, and get some reprieve from Thailand's intense heat.
Khao San District
Khao San is an older area of Bangkok. Along the popular Khao San Road, you'll find lots of bars, restaurants, street food stalls, and backpacker hostels. While Khao San can get busy and a bit noisy at night, there are plenty of family-friendly hotels in the area at a very reasonable price.
You will not find high-end luxury hotels, but there are plenty of smaller, charming boutique hotels and hostels for families. And yes, if it matches your travel style, you can totally stay in hostels with kids.
Bangkok Itinerary 4 Days Complete Overview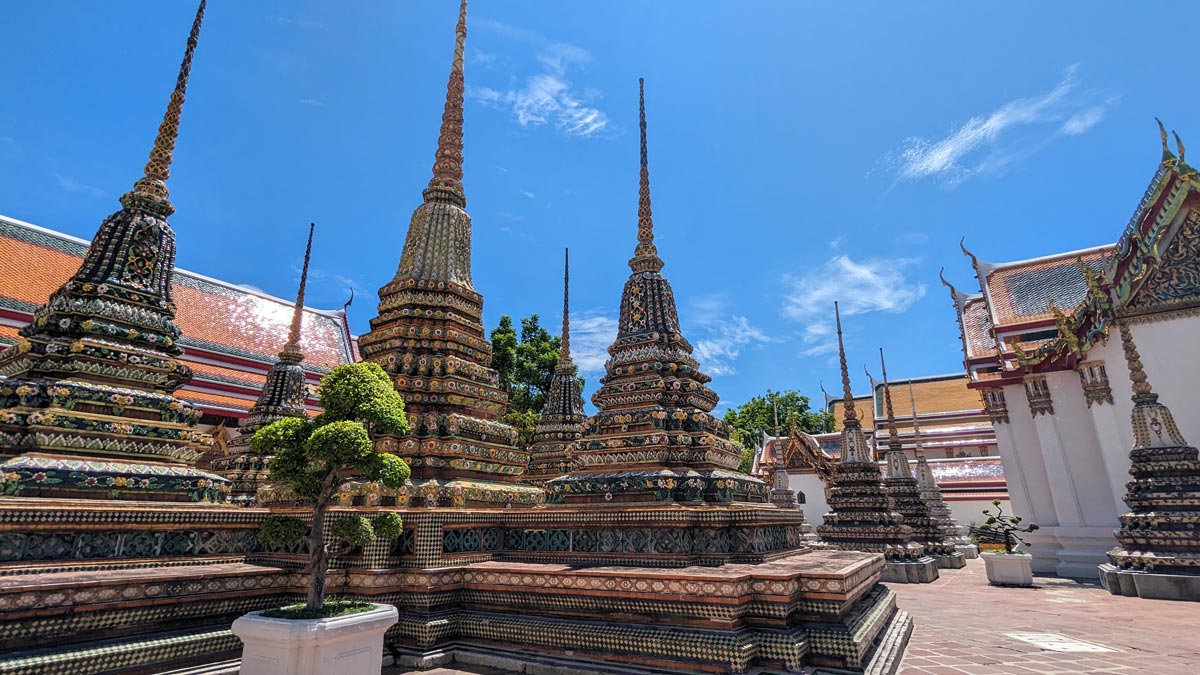 Now that we've covered some of the most important things to know when planning a 4-day Bangkok itinerary, here is a brief look at our 4 days in Bangkok.
Day 1 of 4 days in Bangkok
8:30 am – Grand Palace
11:00 am – Wat Pho
1:00 pm – Lunch
3:00 pm – Wat Arun
5:00 pm – Khao San Road Night Market
Day 2 of 4 days in Bangkok
9:00 am – Pickup for Day Trip
10:30 am – Maeklong Railway Market
12:00 pm – Damnoen Saduak Floating Market
5:00 pm – Dinner in Chinatown
Day 3 of 4 days in Bangkok
7:30 am – Leave for Ayutthaya
9:30 am – Bang Pa-In Royal Palace
11:00 am – Wat Maha That
11:45 am – Wat Na Phra Men
12:30 pm – Wat Lokayasutharam
2:00 pm – Lunch and River Cruise
7:30 pm – Cabaret Show
Day 4 of 4 days in Bangkok
9:00 am – Flower Market
10:30 am – IconSiam River Park
11:30 am – Indoor floating market
12:30 pm – lunch at IconSiam
1:30 pm – shopping
5:00 pm – Sky Bar (if traveling with kids 7 and older)
6:30 pm – Asiatique Night Market
FIND THE BEST TOURS AND EXCURSIONS IN BANGKOK
4 Days in Bangkok, Thailand – Day-by-Day breakdown
Having laid out the complete Bangkok itinerary for 4 days, let's dive into each activity to give you a little bit of information on what you'll see and why you want to see it.
Day 1 – Temples, temples, and more temples
The first day of your Bangkok itinerary for 4 days is all about the temples that are among Bangkok's top tourist attractions.
You'll want to knock them out all in one day because they are close together in proximity (and Bangkok is a massive city) and because there is a strict temple dress code in Thailand that isn't ideal given the hot, humid climate in the country.
Grand Palace
The Grand Palace in Bangkok is an awe-inspiring complex that embodies the history and cultural heritage of Thailand.
Situated on the banks of the Chao Phraya River, this magnificent and massive complex of buildings covers more than 218,000 square meters.
Established in 1782, the palace itself serves as the ceremonial residence of the Thai royal family. While one of Bangkok's most popular tourist attractions, it is still used for state functions and official events. The royal family, however, maintains a private residence elsewhere.
Within the walls of the Grand Palace complex, you'll find a dazzling array of golden spires, colorful mosaics, and elaborate sculptures.
Visitors can explore the revered Temple of the Emerald Buddha (Wat Phra Kaew), which houses a precious statue of Buddha carved from a single block of green jasper, as well as various palatial buildings, pavilions, and courtyards.
Take some time to sit in Wat Phra Kaew, admire the craftsmanship and beauty of the temple, and reflect on this special moment during your 4 day Bangkok itinerary.
Wat Pho
Wat Pho, also known as the Temple of the Reclining Buddha, is a renowned cultural and spiritual landmark nestled in the heart of Bangkok, Thailand.
This majestic temple is not only one of the oldest in the city but also one of the largest, spanning an impressive area of 80,000 square meters.
Wat Pho is celebrated for its stunning architecture, intricate design, and its awe-inspiring centerpiece—the Reclining Buddha. Measuring an astounding 46 meters in length and covered in shimmering gold leaf, the Reclining Buddha is a sight to behold. The statue is said to depict Buddha before he passed into the afterlife, lying on his side with a calm and content expression.
Visitors to Wat Pho can also wander through the temple's peaceful courtyards, adorned with countless chedis (stupas) and ornate statues.
The temple is also renowned for being the birthplace of traditional Thai massage, with a dedicated massage school within its premises.
Whether you get a massage at Wat Pho or elsewhere in Thailand, be sure to add a Thai massage to your Thailand itinerary. It can cost as little as $7 USD and is one of the most relaxing things to do in Thailand.
Wat Arun
Wat Arun, also known as the Temple of Dawn, is a Bangkok landmark nestled on the banks of the Chao Phraya River. Its towering spires adorned with vibrant porcelain tiles make it one of the most stunning temples in the city. But with its mesmerizing display of colors and photogenic appeal, the temple has become a hot spot for photographers.
At any given time, you'll be dodging dozens of photographers taking photos of young women, couples, or families in traditional Thai costumes posing along every single walkway.
Although Wat Arun's rich history and significance make it a must-visit destination, the dozens of Instagram models trying to capture their perfect angle is off-putting and takes away from what would otherwise be a serene and harmonious experience.
Still, the temple is worth seeing, but if you don't want to feel like you are crashing someone's private photography session, you may want to plan to visit Wat Arun first thing in the morning on Day 4 of your Bangkok itinerary.
Khao San Road
The Khao San Road Night Market is one of Bangkok's most exciting and dynamic places for nightlife.
Located in one of the older areas of the city, this famous street transforms into a bustling market as the sun sets, offering a kaleidoscope of sights, sounds, and flavors.
Walking along Khao San Road, you'll encounter lots of stalls selling everything from trendy clothing and accessories to souvenirs and street food delicacies. You'll even find some of the more interesting offerings like fried scorpions and fileted alligator.
The street is filled with the sound of motorcycle engines and rhythmic beats of music pouring from the bars and clubs lining the street, creating an exciting and lively ambiance.
While it may not be everyone's primary scene, Khao San Road Night Market is an essential experience for visitors wanting to see the vibrant street life of Bangkok.
Day 2 – Markets and Chinatown
On the second day of your 4 day Bangkok itinerary, you'll take a day trip to some of Thailand's most unique day markets. After returning to Bangkok, you'll round out your day exploring Chinatown and indulge in some authentic Chinese cuisine.
Maeklong Railway Market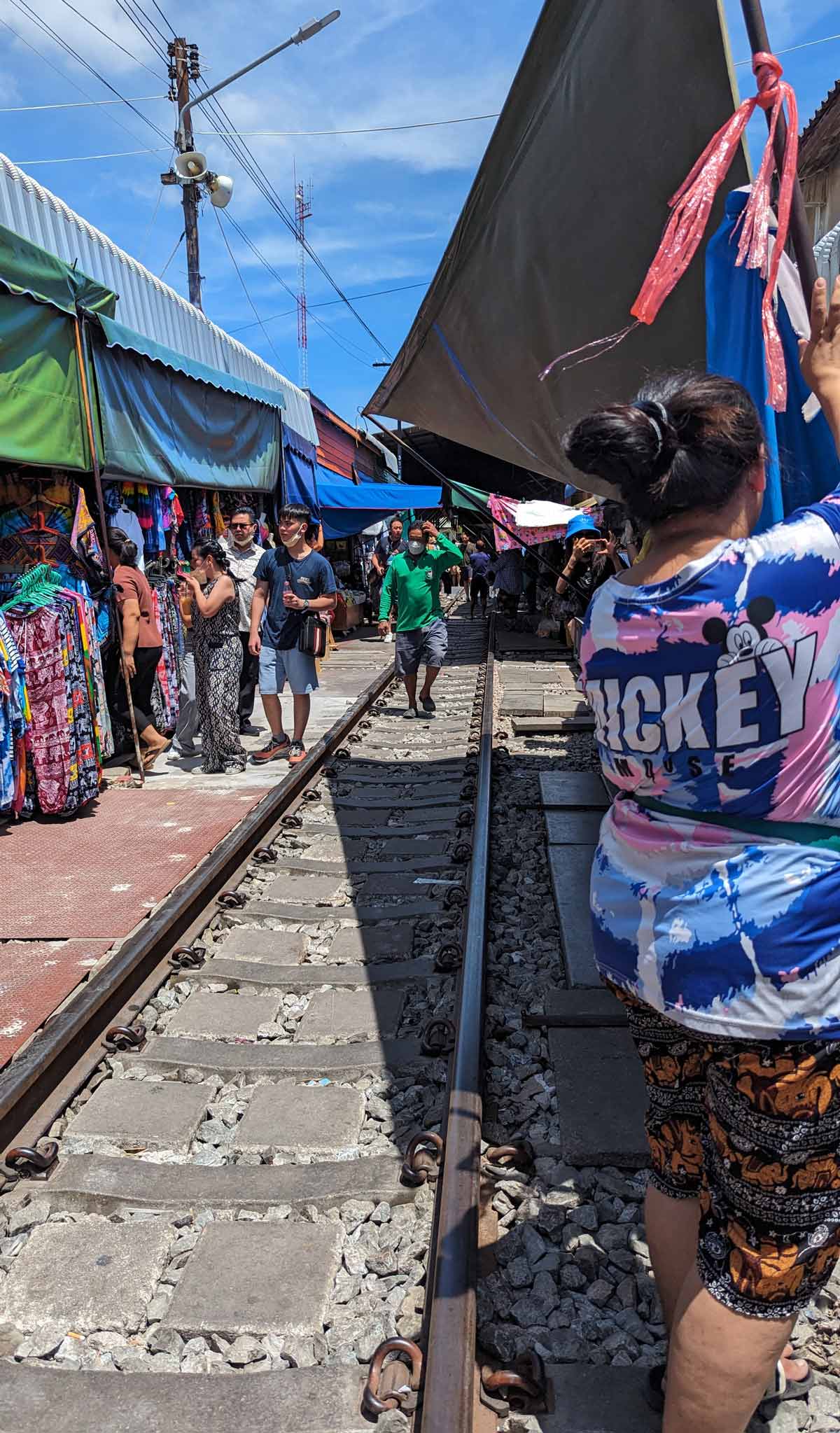 Your day trip starts at the Maeklong Railway Market which is truly one of the most exhilarating markets in Thailand.
Situated in the town of Samut Songkhram, just 80 kilometers southwest of Bangkok, this market is like no other, as it operates directly on an active railway track.
A marvel to witness, the market stalls are set up along the railway lines, and as the train approaches, vendors deftly retract their awnings and goods, making way for the passing train with practiced precision.
Once the train has rumbled through, the market miraculously reassembles itself and business resumes as if nothing just happened.
On your day tour, you'll take the train into the market, stop there to shop, eat, and then watch the train depart before moving on to your next stop – the most famous and largest floating market in Thailand.
Damnoen Saduak Floating Market
Damnoen Saduak Floating Market is renowned for its vibrant and unique shopping experience.
Located about 100 kilometers southwest of Bangkok, this iconic market is a must-visit destination for travelers seeking an authentic glimpse into traditional Thai life.
As the sun rises, long-tail boats gracefully navigate the narrow canals, carrying an array of colorful fruits, vegetables, aromatic spices, and local crafts.
Visitors can board a boat, pull up alongside, and haggle with Thai vendors selling their wares from boats laden with an assortment of goods.
Chinatown
Bangkok's bustling Chinatown District is perhaps the most authentic Chinatown we've ever visited. We've visited Chinatowns in Singapore, London, and Vancouver but the one in Bangkok reminded us most of Beijing, China.
Striking red and gold facades adorned with lanterns and traditional Chinese characters line the streets, while the air is filled with the tantalizing scents of street food. From steaming dim sum to sizzling woks preparing savory stir-fries, Chinatown is a food lover's paradise.
Beyond the culinary delights, the district also offers an eclectic mix of shops selling everything from ornate Chinese antiques and traditional herbal remedies to contemporary fashion and electronics.
If you book this day trip to the markets, you will be picked up at your hotel but dropped off at the MBK Center. From there, you can take a tuk tuk or the metro to Chinatown where you can wander the picturesque streets and have a scrumptious dinner.
Day 3 – Culture and ruins
Your third day on your 4 day Bangkok itinerary takes you north of the city to explore the ancient ruins of Ayutthaya – often called the Angkor Wat of Thailand. This is another day trip that is best booked as a guided experience.
Ayutthaya
Ayutthaya is one of Thailand's most treasured historical sites.
Once the capital of the Kingdom of Siam, Ayutthaya flourished from the 14th to the 18th century and was a thriving metropolis renowned for its grandeur and cultural wealth. Today, it stands as a UNESCO World Heritage Site greeting guests with a blend of majestic ruins and well-preserved temples that tell the tales of an ancient era.
Visitors can wander through the sprawling archaeological park, located 45 minutes to an hour away from Bangkok.
Marvel at the iconic stone Buddha statues nestled among the overgrown trees, and admire the ancient crumbling stupas and imposing red-brick prangs that stand as testament to the city's former glory.
The tranquil atmosphere, complemented by the Chao Phraya River meandering through the city, adds to the charm of Ayutthaya, making it an ideal destination for history enthusiasts, culture seekers, and those seeking a serene respite from the bustling city life.
River Cruise
After touring the different parts of Ayutthaya, you'll board a large boat and take a river cruise back to Bangkok.
The cruise is approximately 90 minutes and includes a delicious buffet lunch as you cruise down the river on the upper deck of a large ship. You'll pass the Grand Palace and Wat Arun as you make your way back to River City, where you will disembark and continue about your day.
Cabaret Show
After you return from your day trip to Ayutthaya, head back to your hotel, relax and get ready for a fun night out! You'll want to arrange transportation to and from the Mirinn Theatre where you'll catch a family-friendly cabaret show.
The show combines dance, music, stunning costumes and headdresses, and even a Muay Thai boxing demonstration.
For an additional fee, you can purchase a ticket that includes a dinner, which is served about 30 minutes before the show.
Day 4 – Shopping and SkyBar
The last day of your four days in Bangkok itinerary is all about seeing the swankier side of Bangkok. This is a great day to buy your Thailand souvenirs, take it easy and reflect on all you've seen and done in this busy city.
Flower Markets
Before you jump into the posh part of the city, start your morning with a stroll through the Pak Khlong Talat flower market – one of the largest flower markets in the world.
This market isn't your typical tourist attraction. In fact, you'll feel like you are walking through the back-of-house of a massive flower shop.
Twenty four hours a day, flower shipments are coming in and going out and workers are busy creating flower arrangements and floral wreaths or pruning freshly cut flowers.
IconSiam
After your morning stroll through the flower market, board a ferry and take it across the river one or two stops to IconSiam – Bangkok's newest and largest shopping center.
Complete with an indoor floating market, IconSiam features both high-end luxury brands, and local specialty stores.
The extravagant shopping center also features a state-of-the-art cinema, Michelin star restaurants, and an interactive multimedia art gallery and museum.
For an alternative to the opulence of IconSiam, you can go shopping at the Asiatique Night Market. However, Asiatique doesn't open until after 5pm. It is a great place to spend an evening, grab dinner and find souvenirs, if you prefer an authentic, outdoor shopping experience instead.
Sky
Perched atop one of Bangkok's most iconic hotels, Sky is a glamorous experience boasting breathtaking views and sophisticated ambiance.
Located at Lebua State Tower, this rooftop bar stands as one of the highest rooftop bars in the world, providing an unrivaled panoramic vista of the dazzling Bangkok skyline and the majestic Chao Phraya River below.
If visiting Thailand with kids, keep in mind, this is a bar not a restaurant. Although kids at least 7 years old can accompany their parents to Sky, it won't be all that entertaining for them.
We recommend getting there right at 5pm when it opens if visiting with children. That way you can enjoy the spectacular view, have one drink, and then move on to dinner elsewhere.
Sky is renowned for its chic and modern design, featuring plush seating, elegant décor, and ambient lighting that sets the perfect mood for a memorable evening. Be sure to dress the part, as a smart, casual dress code is required, even for children.
Whether one wishes to savor your favorite drink while gazing out over the city lights or simply soak in the stylish setting, Sky in Bangkok guarantees an opulent and unforgettable rooftop experience.
Travel Tips for visiting Bangkok
If you plan to visit Bangkok there are a few things to know before you go to make for the most enjoyable experience.
Dress for the temples
There is a strict dress code when visiting temples in Thailand. Men must wear pants and avoid sleeveless shirts. While women should avoid tight clothing, mid-drifts, and wear clothing that covers their shoulders and knees.
Flip flops and sandals are very beneficial because you'll need to remove your shoes each time you enter a temple.
Be Aware of Scams
As with in any tourist destination, scams are common in Bangkok. From taxis telling you the meter is broken to tuk tuk drivers telling you attractions are closed to try to sell you special tours of the city, scams can happen anywhere.
It is a good idea to know the exchange rate, what things typically cost, and the opening times of attractions to make sure you do not get scammed.
Carry Cash
Cash is very much the preferred form of payment in Thailand. In fact, many small businesses and vendors do not accept credit cards. So, when you arrive in Bangkok, stop by an ATM at the airport and withdraw some Thai currency to pay for your day-to-day expenses.
FAQs about this 4 Day Itinerary – Bangkok
When planning our family trip to Thailand, we had so many questions. Many of them centered around the busy city of Bangkok. Here are a couple other frequently asked questions about Bangkok that are not already addressed above.
Is 4 days in Bangkok enough?
Four days in Bangkok is a good introduction to the city and allows you the time to explore some of the main attractions within the city and even see some of the sites surrounding Bangkok.
If you want to delve deeper into the city, you can certainly spend more time there. However, if you have a limited time in Thailand – a 2 week itinerary, for example, we'd recommend limiting your time to 3 or 4 days in Bangkok.
By doing so, you will have plenty of time to visit some of Thailand's other incredible places like the very family-friendly Chiang Mai known for its many ethical elephant sanctuaries, or the pristine beaches in Southern Thailand near Phuket or Krabi, or some of Thailand's stunning national parks, like Khao Sok.
Is Bangkok worth visiting?
Yes! You cannot appreciate Thailand and get a true feel for the country without visiting Bangkok. It is dynamic and busy and chaotic, but it is a must-visit.
The city boasts an array of iconic landmarks, ornate temples and exciting night markets that capture the essence of Thailand and provide a glimpse into the country's heritage and way of life.
Plan to spend at least 3 to 4 days in Bangkok to get a taste of the city before moving on to the other regions of Thailand. After exploring Bangkok, fly or take the overnight sleeper train to Chiang Mai, Phuket, or Krabi to experience other parts of Thailand.
Like it? Pin our Bangkok itinerary 4 days of things to do – to save it for later!
Have a question or comment about this 4 day itinerary for Bangkok? We'd love to hear from you! Leave your thoughts in the comments below.
Did you know…
When you make a purchase or book hotels, tours, or other travel services, through our links, we receive a small commission, at no extra cost to you. We only EVER recommend service providers, websites, or products we personally use when booking our own travels. Your support enables us to keep producing helpful travel content. Thank you!